Newsletter
Transform your life through journaling & Writing is a thinking tool
A product backlog that doesn't stay still, Doing Content Right, Muse launching v3, Make classics not content, and a lot more in this week's issue of Creativerly.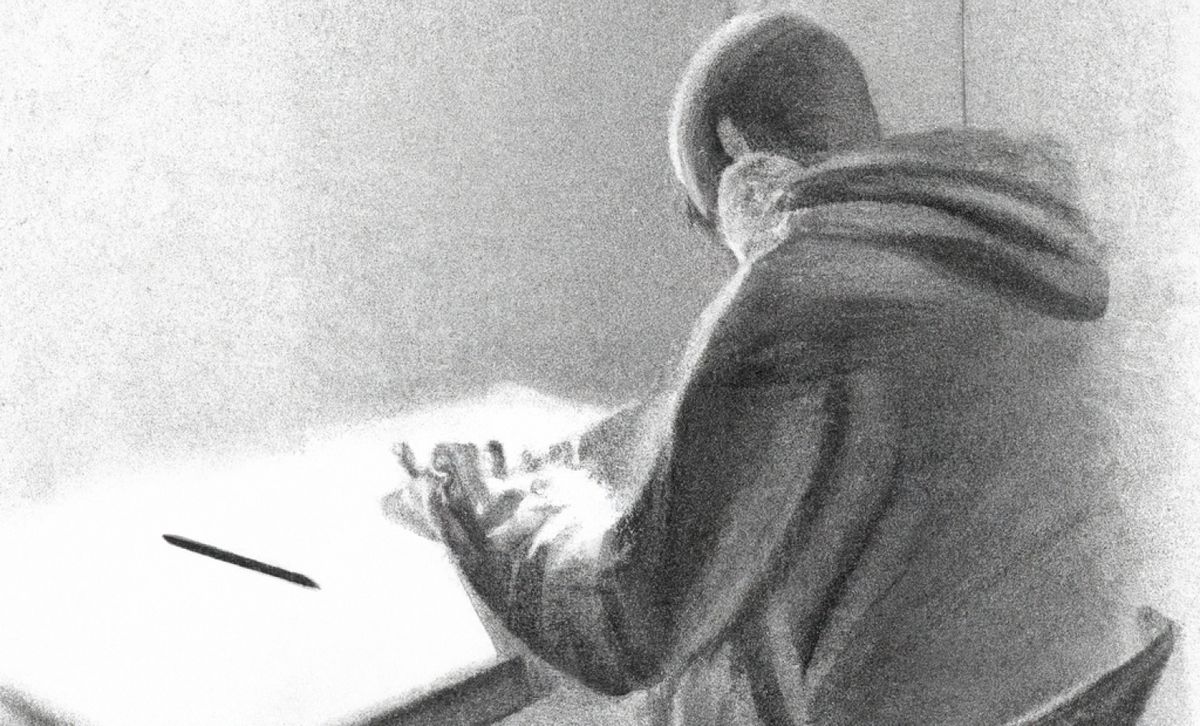 My name is Philipp and you are reading Creativerly, the weekly digest about creativity and productivity-boosting tools and resources, combined with useful insights, articles, and findings from the fields of design and tech. The newsletter built for the creative community.
---
Hey and welcome to Creativerly 241 👋
There is no doubt that Adobe took a monopoly-like control over the entire design tool market. With its acquisition of Figma, the company made another step to offer the full range of design tools for all kinds of use-cases. I feel a bit frustrated by this. Do not get me wrong, I am all for having great design tools at our disposal, and I love the fact that people who want to get started within the field of design, can choose from a variety of different tools. But when one company holds a near-monopoly on the market, it can start to cause some problems. While I have the feeling that an increasing number of designers turn their backs onto Adobe products, they are still called "industry standard", especially at universities, there are way too many lecturers only teaching the dealings with Adobe products. Maybe because they do not know about all the amazing alternatives out there, maybe because they actually think that they are industry standards.
The fact that Adobe products are called industry standards, gave Adobe the possibility to essentially charge whatever they want for their products. And let us be honest, Adobe products aren't cheap. Especially, as a designer who wants to get started within the field of design, getting the image that you need to use Adobe products, you will find yourself confronted with a hefty monthly subscription to get access to Adobe products.
But even beyond the cost, there is a bigger issue at play. When one company holds such a massive influence on the design tool market, it stifles innovation. Smaller companies who might have come up with something truly unique and exciting simply can not compete with Adobe's resources and brand recognition. This means that we are left with a lack of diversity in our design tools, and fewer creative possibilities.
So why does all of this matter? Well, simply put, creativity thrives on diversity. When we have access to a range of different design tools, we are able to explore new techniques and approaches that we might not have thought of otherwise. But when there is only one player in the game, we're limited in what we can create. So what can we do about this? It might be unrealistic to expect Adobe to simply dismantle their empire (though I am sure plenty of us would love to see that). Instead, we can start looking for alternative design tools.
Luckily, Adobe alternatives like the Affinity Suite by Serif are getting increasingly popular and more powerful to consider them as serious alternatives, but more importantly the better deal. Affinity is offering Designer 2 (an Adobe Illustrator alternative), Photo 2 (an Adobe Photoshop alternative), and Publisher 2 (an Adobe InDesign alternative). I bought Affinity Designer back in 2020, and one year later I already made the switch to the complete Affinity Suite, canceled my Adobe subscription, and since then never looked back or missed anything. The whole Affinity Suite is available for macOS, Windows, and iPadOS. The single license for Affinity Designer 2, Photo 2, and Publisher 2 will cost you €74.99 each (for macOS and Windows, the iPadOS versions will cost you €19.99 each), but you can also grab the bundle in form of a universal license for €179.99, which will give you access to Affinity 2 for macOS, Windows, and iPadOS. There is no need to buy a subscription. All licenses are available a single, one-off payment. This makes Affinity incredibly affordable, and it is a clear advantage compared to Adobe.
There is no need to use Adobe products, when there are great alternatives, which are more affordable, while offering the same or even better features, easier interfaces, and a more joyful experience. The design industry needs to stop drawing the image that Adobe products are industry standards and that you have to know them if you want to get started in the field of design. Tools only matter to some extent. We need to start supporting a variety of design tools, so we can start to break free of restrictive systems and create something truly new.
---
Apps, Software, Tools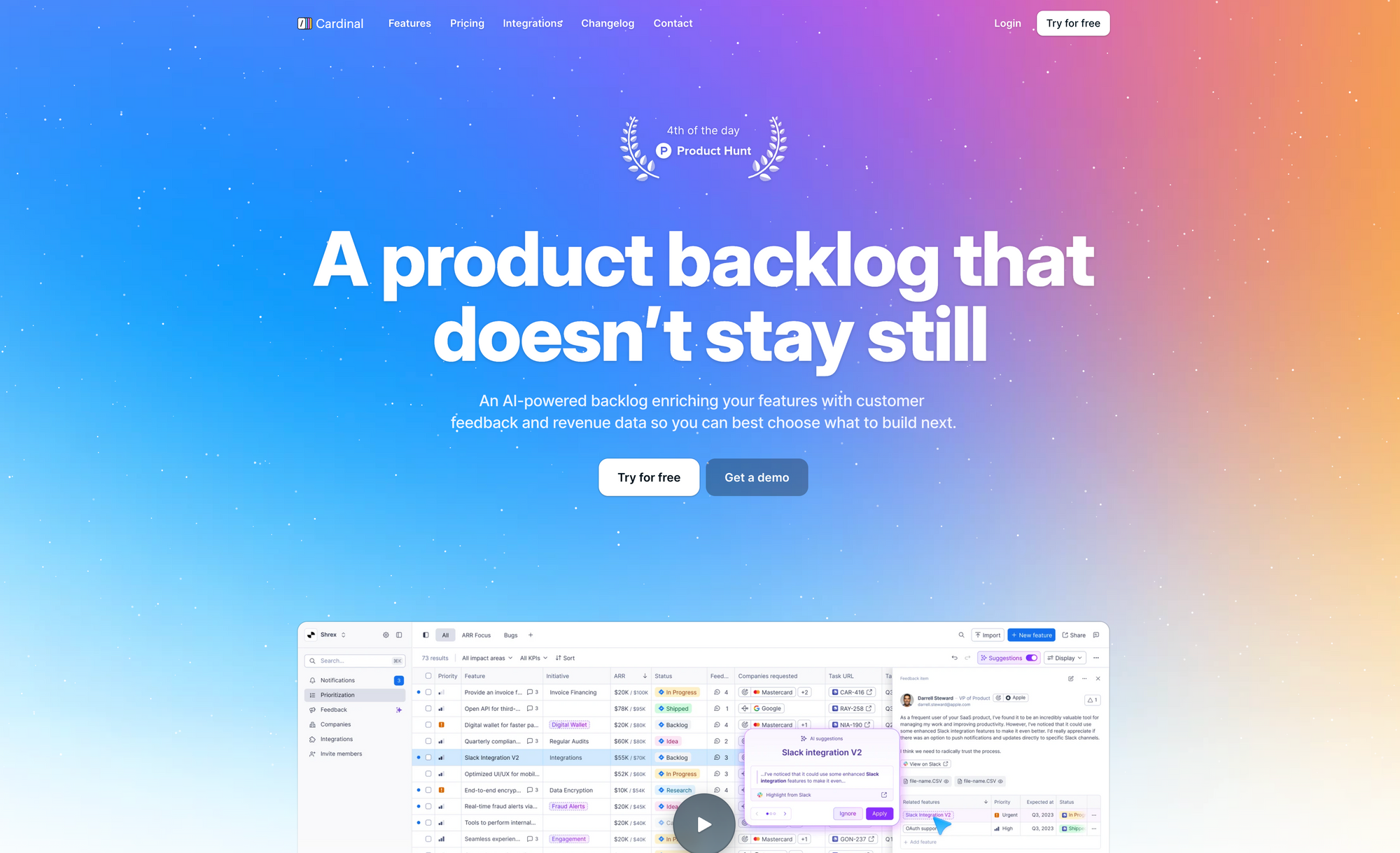 Product Management is hard. Knowing your customers is hard. Prioritizing what you want build and what your customers are requesting is hard. Cardinal is an app offering an AI-powered backlog enriching your features with customer feedback and revenue data so you can choose what to build next.
Being part of an early stage startup often means, that product management is scattered across teams and systems, which is nothing bad in first place (Linear is a great example for a company that works and delivers an incredible product, without any product managers, as product management duties are distributed across engineering and design), but it can sometimes result in chaos. If you ever wished for a tool that had perfect memory, access to all systems, and what was shared by all teams, that is opinionated and intelligent, simple and powerful, Cardinal might the tool you were looking for. Cardinal is customer led, as it gives you the possibility to sync your customers' data from your CRM and CS tools, so you have a single place to learn about your customers' worth, deal stage, and more. Additionally, you can bring in their feedback, again from various sources. If you have customer and prospect feedback, you can pull it into Cardinal, either manually or automatically. With a few clicks, Cardinal gives you the possibility to map your customers' feedback to actual features and requests. This allows you to extract who wants what, when, and how important it really is for them. Simultaneously, this feature will help you to discover blocks, low-hanging fruits, last requests, or common needs.
With Cardinal, you not only know your customers, but you also know your features. With a dedicated Features CRM, you can keep your ideas and features up to date, with their dollar value, business impact, and progress with ease. By grouping features into initiatives and under key impact areas, you can develop a clear product strategy. Grouping and filtering lets you see how the whole picture comes together and it helps you prioritizing features in their context. Besides that, smart revenue KPIs help you understand current and future ARR, and with live features progress you get features status and dates auto-synced from their source of truth.
As mentioned earlier, Cardinal is packed with AI-powered features. By analyzing customer feedback, Cardinal helps you finding features requests. AI will identify needs and features in your feedback calls and messages. Besides that, it will also place each feature in your greater product strategy automatically. But that is not all, Cardinal's AI technologies surface revenue opportunities by calculating and forecasting revenue value for each feature that has been identified beforehand.
To get started with Cardinal, you only have to connect your CRM, import feedback, feature lists, and sync to your task management tool to clearly see what you should build next. Simple as that. As of now, Cardinal is offering integrations for HubSpot, Salesforce, Slack, Jira Service Management, Typeform, Linear, Notion, with Intercom, Zendesk, GitHub, and other coming soon. You can try out Cardinal's Pro Plan for free for 30 days. After that, it will cost you $400 per month (billed annually). There is the possibility to reach out for a startup discount if you are working at an early-stage startup.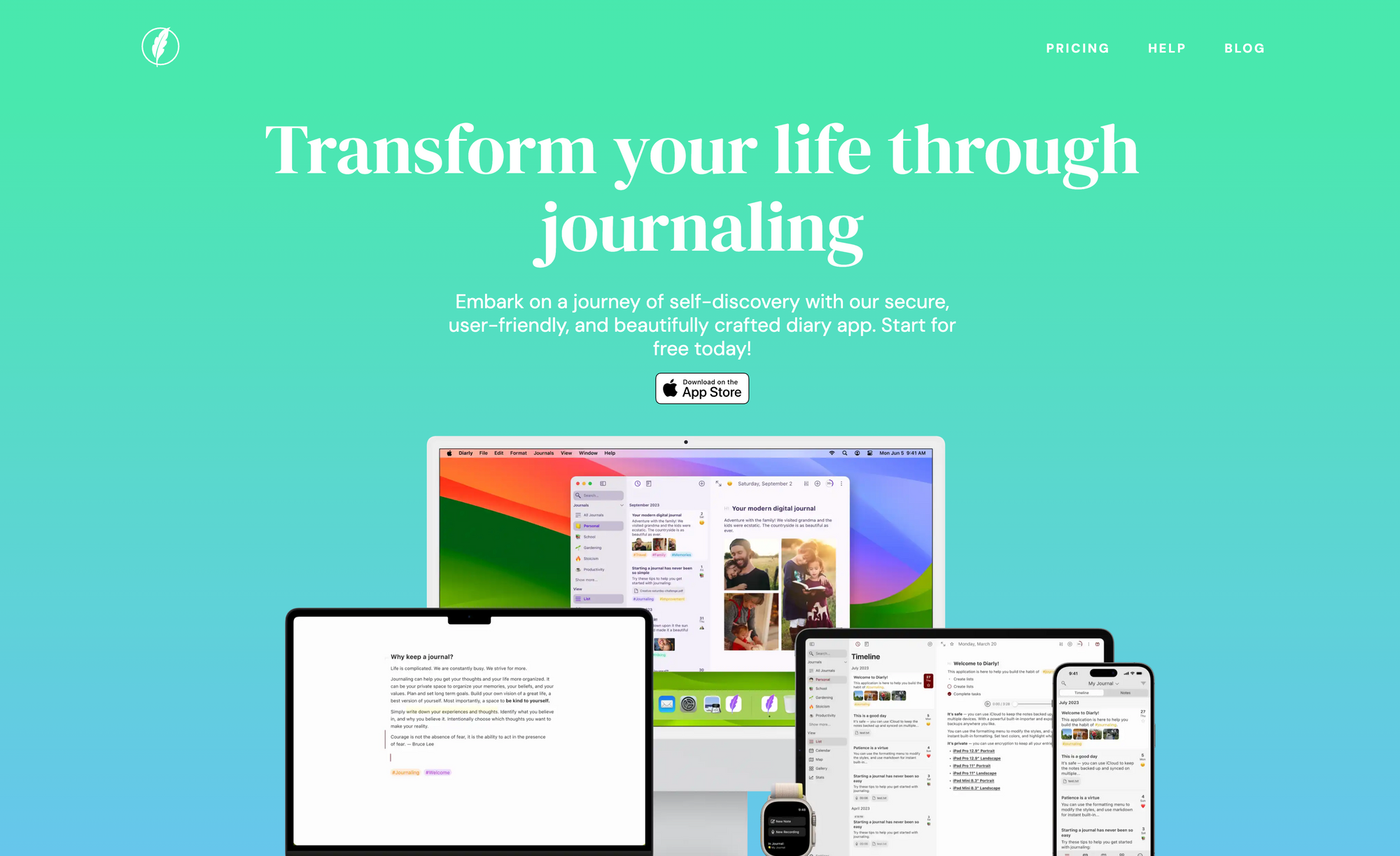 Are you on the hunt for a secure, user-friendly, and beautifully crafted diary app? Then, Diarly is worth taking a look at. It is a lovely app, available for macOS, iPadOS, iOS, and WatchOS.
Journaling is like having a heart-to-heart conversation with yourself. It provides a safe space to pour out your thoughts, emotions, and reflections. By taking the time to express yourself honestly, you gain valuable insight into your experiences, goals, and aspirations. And this works for both your personal and your professional life. With the rise of knowledge management apps, taking daily notes and journaling became increasingly popular. Most of those PKM apps can feel a bit overwhelming and complex, especially if you are looking for a straightforward, simple, and minimal space to jot down your thoughts and reflect on them. Diary offers an effortless and lovely journaling experience. A beautiful interface give you the possibility to seamlessly navigate through time with dedicated timeline, notes, and calendar views. The timeline view will neatly display and sort all your notes chronologically, the notes view simply displays them in a more general view, and with the calendar view you can quickly jump between different dates and get visual indicators for all the days you have been jotting down your thoughts.
Besides those three views, Diarly offers two special views to relive your memories and explore your past adventures, thanks to the map and gallery views. With a vast selection of themes, fonts, and custom daily prompts, you can express yourself freely and uniquely, and personalize your journals. With custom notifications and insights, stats, and goals, Diarly helps you to develop your journaling habit and monitor your writing progress.
One of the most important aspects when it comes to writing and journaling is to having access to a distraction-free interface. Diarly offers a minimalistic interface and built-in markdown editor for focused writing sessions. But if you need to, you can enrich your journals with multimedia elements, including photos, galleries, videos, files, emojis, links, map locations, vibrant tags, mood tracking, and much more.
Diarly is packed with lovely features like a markdown editor, encryption and password protection, sync via iCloud, tags, stats, export and backup, typewriting mode, and a lot more. At the same time, Diarly offers a simple, lovely, minimalistic experience to support jotting down your thoughts and ideas and reflecting on them. The free plan of Diarly offers unlimited entries and unlimited media, offline access, apps for Mac, iPhone, iPad, and Apple Watch, basic stats, goal tracking, custom reminders, streaks, drawings, advanced search and more. If you need unlimited journals, password protection, cross-device sync, encryption, biometrics, advanced stats, as well as advanced themes, audio recordings, and an AI assistant, you need to upgrade to the Premium plan which will cost you $24 per year. If you have an active Setapp subscription, you can download and install Diarly straightaway, since it is included in Setapp's awesome catalog of apps.
---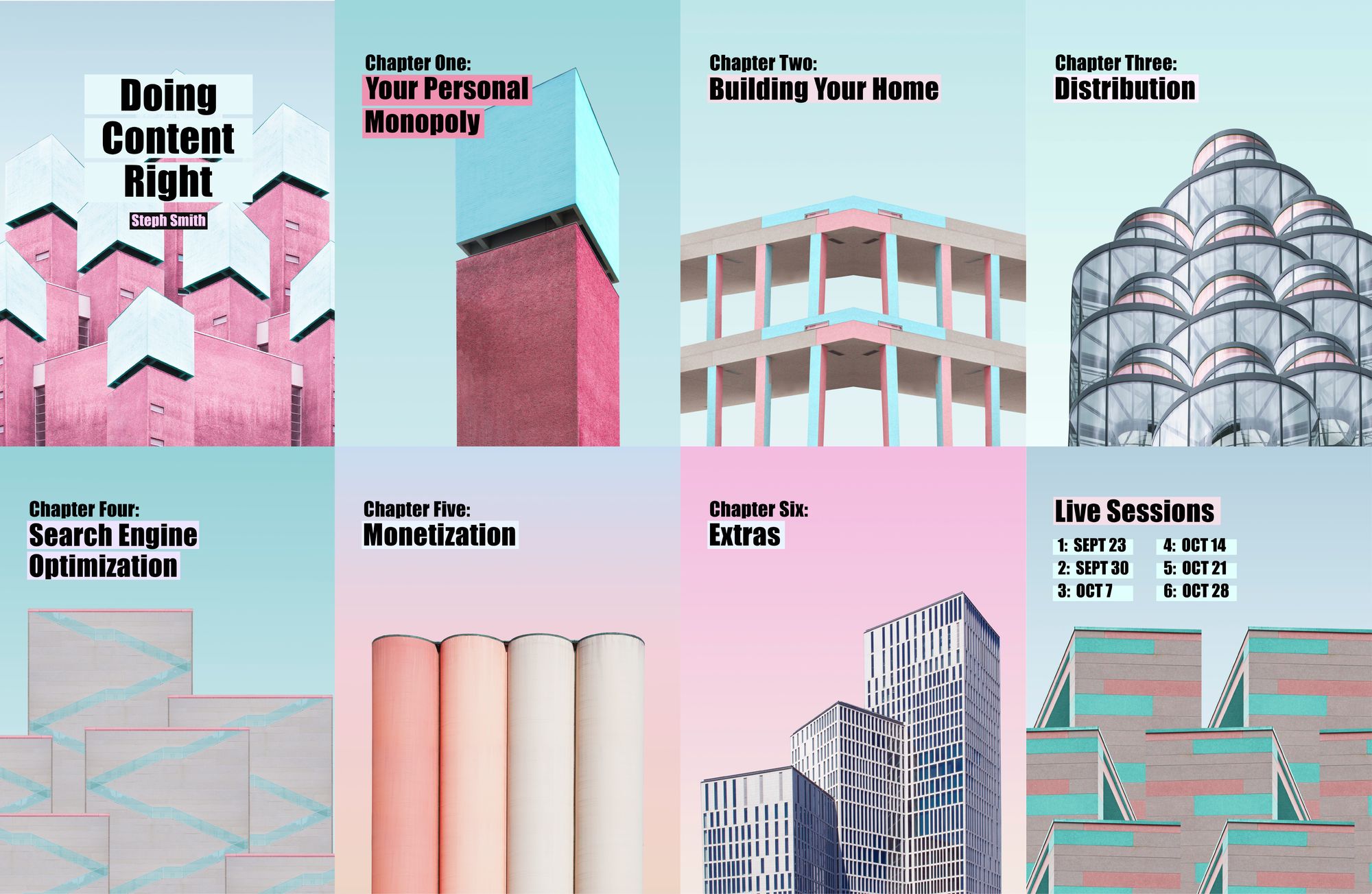 Standing Out in 2023: Doing Content Right

Whenever I get asked about resources on the topic of starting a newsletter, a blog, or a publishing side-project or business in general, there is only one I recommend, Doing Content Right by Steph Smith. No matter if you want to create a blog, write a newsletter, grow your audience, or try to get your content to stand out, after taking Steph's course you will know why you can still start a successful, evergreen blog in 2023 and onward, you will know how to identify a niche and stand out in a sea of competition, how to distribute your content across dozens of channels, how to do SEO right, and a lot more.

Steph Smith has led large publications teams in the past, and scaled her personal blog to 400k page views in its first year, she led Trends by The Hustle, and currently works as a Podcast host at a16z. If there is one person from whom you should learn about doing content right, Steph Smith is precisely that person.

By buying the course, you get access to 270 pages in PDF, EPUB, and MOBI format, a community of hundreds of creators, 22 actionable exercises, 12 video sessions going over the material, and a bonus section on podcasting.

The course has sold over 3900+ times, and it has over 160 five-star ratings. Use the code INTERNET to get 50% off. If the code is no longer working you can also use the code philipp20 to get 20% off your purchase.
This is an affiliate link to support Creativerly. If you are interested in putting your tool, product, or resource in front of over 2000 creative minds, consider advertising in Creativerly and book a sponsor or classified ad spot. Find all the important information at creativerly.com/advertise.
---
Fresh Updates & News
Cosmos became one of the most popular tools recently, as designers and creative minds are seeking to bring order to their creative universe. The newest update included new features and several bug fixes. Among them: the ability to reorder elements inside clusters, a UI facelift for tweets and links, a new explore page on desktop, and additional bug fixes and improvements. Besides that, the team at Cosmos also gave a glimpse at what is coming up next: importing features, content recommendations, and all new search engine, light mode, and invite codes.
After announcing the downsizing of Muse back in August 2023 and leaving the operation to Adam Wulf who will continue developing the app as a solo-developer, v3 of the canvas for thinking just landed and introduced a bunch of new features and improvements. Version 3 of Muse brings realtime collaboration in the form of shared workspaces to the app. Besides your private workspace, you can now create shared workspaces and invite others to work alongside you. Additionally, a new in-app search makes it easy to find the content you care about, the app indexes boards, text, filenames, and notes to make it easy to find what you are looking for.
The UI of Muse has also been improved. A new breadcrumb navigation has been added, which should help you keeping context, a new sidebar shows you who is online, and the new toolbar adds one-click access to new ideas.
Outverse, the tool to create support forums, documentations, and enable knowledge-sharing for modern product communities, raised a $6m seed round led by Wing. Outverse will use the investment to deliver on the vision of being the engine powering product communities, giving software companies a modern, streamlined alternative to old-school forums or Slack and Discord. Outverse aims to become a place where knowledge is open, easily discoverable, and retains its value over time.
Outverse got started in 2021 and since then emerged into a beloved product. As we moved into the second half of 2023, Outverse plans some exciting new features, including full API access, advanced configuration, and it will continue rolling out AI features as a core part of the Outverse toolkit.
---
Mental Wealth
❯ Make Classics, Not Content – 'Imagine walking into a gallery of your favorite artist's work. You see beautiful paintings lining the walls, spaced out in a manner that allows you to take your time with each piece. Each one is accompanied by a short blurb that describes the background of the piece, its origin, and how it ties in to the rest of the artist's work. But what if upon closer inspection, you see that the blurb also emphasizes the piece's publication date, down to the particular day of the week?'
❯ Writing is a thinking tool – 'What's uniquely human that can improve your decision-making, creativity, and productivity and is completely free? The answer is: Writing. To date, we haven't found any other animal on Earth that has developed any form of writing, whether carved symbols or inked patterns, as a tool for transcribing ideas. We humans are the only ones with access to this powerful tool.'
❯ 'The office is for socializing': how work from home has revolutionized work – 'The work from home backlash is in full swing. In what seemed like an oxymoron brought to life, the video conferencing company Zoom has asked employees to return to the office. Amazon is reportedly tracking employees to make sure they are at their desks. The two companies are just the latest to sour on work from home (WFH), but does this mean the impending end of WFH as we know it?'
❯ The Importance of Play at Work – 'Employers' attempts to mix work and play are often met with employee skepticism—"For some, there's nothing less fun than company-sponsored 'fun' with coworkers," declared one recent Wall Street Journal article—but a thoughtful approach to play is a powerful way to make workplaces more dynamic, argues Michelle Lee, partner and managing director at IDEO North America and a leader of the design firm's Play Lab.'
---
Do not miss out on this ...
❉ Consolidate calendars, schedule meetings, and block time for work that matters,, with Morgen*. Get 10% with the code "CREATIVERLY10".
❉ Think tasks, not apps. Setapp* is you one-stop subscription to solving every task on Mac and iPhone.
❉ Fathom is cookie-free, GDPR compliant, privacy-first website analytics software. Get $10 off your first invoice and a 7-day free trial when you use this link*.
These are paid promotions or affiliate links to support Creativerly. If you are interested in putting your tool, product, or resource in front of over 2000 creative minds, consider advertising in Creativerly and book a sponsor or classified ad spot. Find all the important information at creativerly.com/advertise.
---
Appendix
❯ ICYMI
ProductivePrivacy, the directory website that highlights privacy-focused, open-source, and end-to-end encrypted productivity apps, is available to everyone. I built the site already some time ago, but now I gave it an update, added some more apps to it, created content around the topics of privacy and productivity apps, and added a casual newsletter to inform interested folks whenever I add additional apps, publish a new blog post, or find some interesting news to share.
❯ Quick Bits
---
Till next time! 👋‌‌‌‌
Support: Do you have a friend who is looking for inspiration, news about design, and useful tools and apps? Forward this newsletter to a friend or simply share this issue and show some support. You can also show some love by simply clicking the button down below and keep this newsletter a sustainable side-project by buying me a coffee. ☕️ 🥰
---
---
Some of the links in my newsletter and my blog posts are affiliate links. Those links are marked by an asterisk. If you buy something through the link, the product will not cost you anything more, but I will receive a small commission which not only supports Creativerly and my work but also helps me to keep this publication a sustainable side-project.
Creativerly is proudly published with Ghost*.