Newsletter
What is productivity anxiety & Free up your calendar
Launching ProductivePrivacy, Clover getting acquired by Figma and shutting down, Subconscious Beta, and a lot more in this week's issue of Creativerly.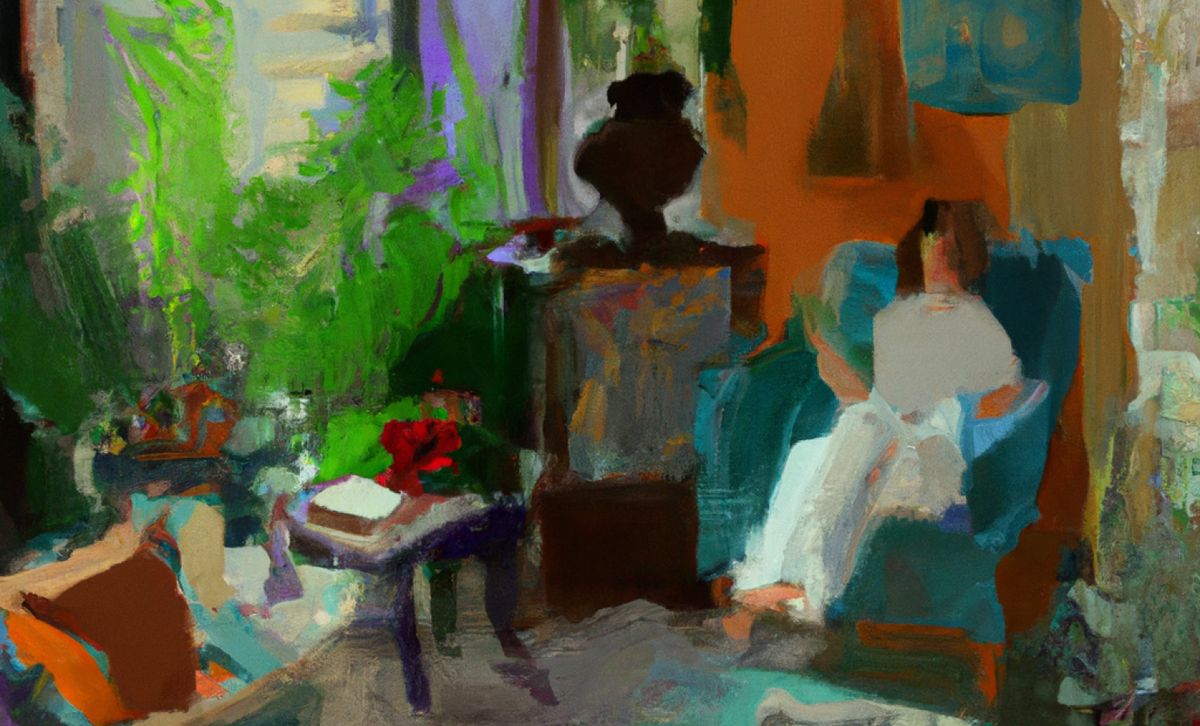 My name is Philipp and you are reading Creativerly, the weekly digest about creativity and productivity-boosting tools and resources, combined with useful insights, articles, and findings from the fields of design and tech. The newsletter built for the creative community.
---
Hey and welcome to Creativerly 235 👋
As announced in last week's issue of Creativerly, ProductivePrivacy is now live. ProductivePrivacy is a directory website showcasing and highlighting privacy-focused, open-source, and end-to-end encrypted productivity tools. For quite some time, I maintained a personal database within Airtable, gathering privacy-focused apps from the fields of project management, task management, and note-taking. The database grew over time, and since Creativerly always had been a place where I wrote about and curate privacy-focused apps and alternatives, I wanted to make this personal database publicly available to raise more awareness about all the awesome privacy-focused, open-source, and end-to-end encrypted productivity apps out there.
I am excited to share this new version of ProductivePrivacy with you, the readers and subscribers of Creativerly, first before spreading the word anywhere else. ProductivePrivacy has been online for a while now. For the first version, I used Softr, which is a lovely no-code app to turn your Airtable databases or Google Sheets into websites and modern business tools. With the website I built for ProductivePrivacy, I just scratched the surface of Softr's capabilities. Browsing through the community and the available templates gives you a taste of what creative minds are building with Softr. The only drawback you might encounter is the fact that customization options are limited. You do not have the full creative freedom to design and build the website you are dreaming of. But that is not the goal of Softr anyways. As Softr progressed and evolved over the years, it is mainly suited to building portals, project management tools, and lightweight CRMs to content calendars, applicant trackers, and more.
This new version of ProductivePrivacy has been built with Super.so, a lovely tool that allows you to create websites that are easy to manage, look great, load fast, are SEO ready, and are powered by no code. Super turns your Notion pages into browsable websites that can be customized with templates and custom code. Loads of companies like Gumroad, Circle, Spline, or Clubhouse already use Super to quickly publish lovely-looking websites in minutes not hours. If you already have a bunch of content in Notion that you would like to publish, Super is the way to go.
So, what is next for ProductivePrivacy? Well, since it has been the focus for the last couple of weeks to build a new site, create some content, and add new tools it is done for now. But as part of this new version of ProductivePrivacy, I also set up a casual newsletter in which I will inform subscribers about new apps that have been added to the directory, new blog posts that have been published, and news from the fields of privacy and tech. Additionally, the goal is to always improve the website. Since I am currently in the process of building my new personal website with Framer, I already realized that there are great opportunities to build an even better website for ProductivePrivacy with Framer. So, I might look into this next. But for now, I focus on gathering more privacy-focused apps for the directory and creating more content to raise awareness about those apps.
Stay tuned for updates.
---
Apps, Software, Tools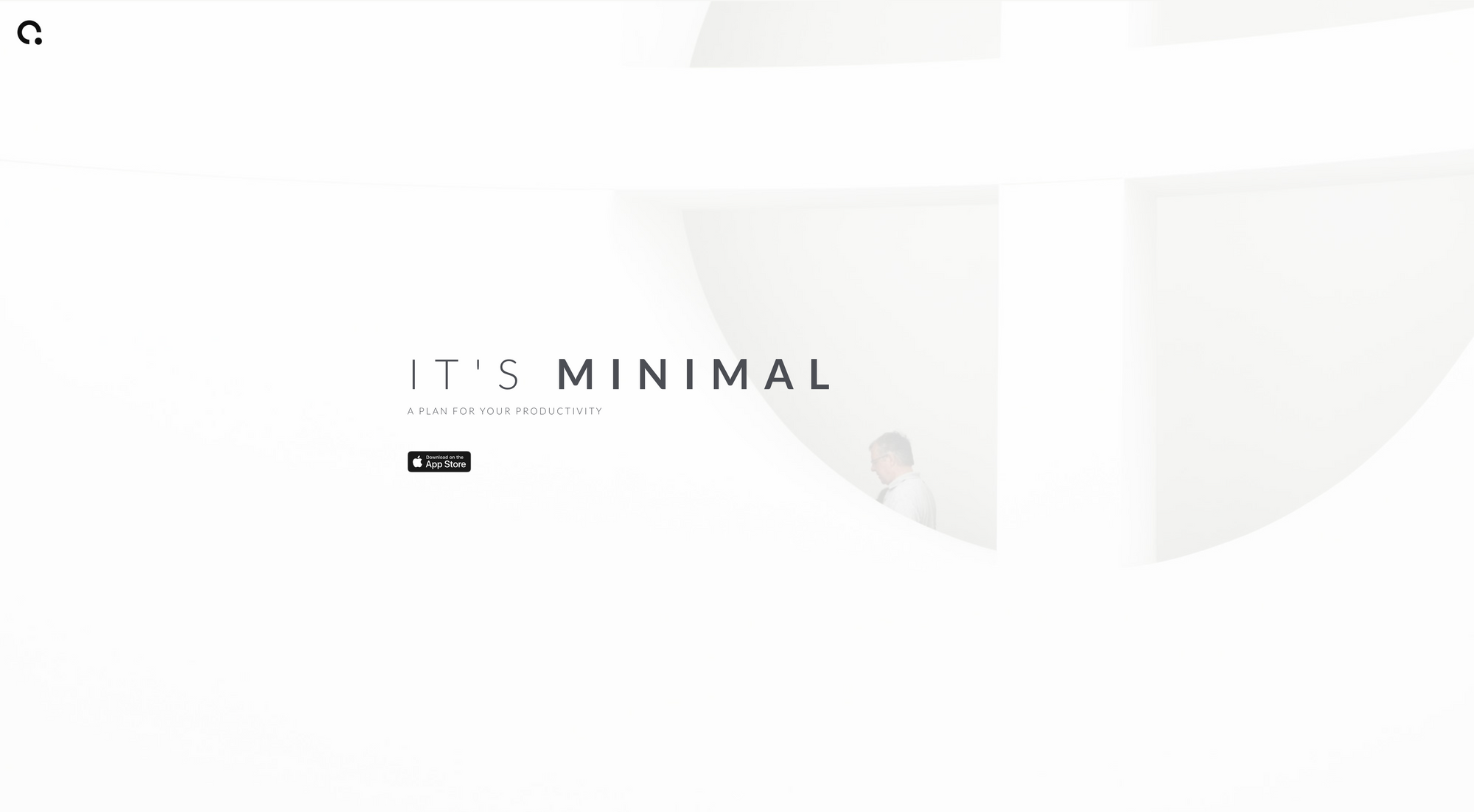 Have you been on the hunt for a place where you can keep track of your tasks, thoughts, notes, and lists? I recently stumbled across an app called Quarterplan which wants to help you get things done by offering a place to plan your day-to-day activities.
Quarterplan is a simple, minimal, and clean iOS app packed with features that give you full control over anything you have planned for a specific day. First of all, Quarterplan is offering a built-in Calendar which you can use to schedule your tasks and keep track of upcoming appointments. In various past issues of Creativerly, I highlighted the benefits of keeping track of your tasks within a calendar view instead of creating countless lists in which your tasks pile up over time. If you give your tasks more context and schedule them within a calendar view, it means you need to get them done. There is a saying "If it's not on my calendar it's not going to happen". Once you build up a habit of scheduling your tasks and getting them done in time, you will experience a productivity boost. And Quarterplan with its calendar feature is here to support you on that journey. Sometimes, you probably want to jot down a task to just keep track of it since you are unsure when you have time to work on it. For that, Quarterplan has an inbox. You can use that inbox for ideas, lists, projects, and any tasks that do not have a fixed date.
Usually, when working on a task it is not just one thing you need to get done. Tasks can be broken down into smaller chunks, so you get a better picture of what you need to work on. With Quarterplan you can create checklists as part of your tasks, so you can break them down into smaller actions. With the repeating tasks feature, you can also use Quarterplan as a habit manager, but repeating tasks are also a handy feature if there are specific things you need to get done daily, weekly, monthly, or yearly, and with Quarterplan you can keep track of them.
To structure and organize all your tasks within Quarterplan, you can use categories. You can set up up to five custom categories and prioritize your tasks within them to define your own workflow. With the statistics feature you get a clear overview of your activity daily or weekly. Quarterplan is a great app if you are performing time blocking or GTD, but with features like custom categories, prioritization, and the inbox, you have the possibility to create custom workflows that fit your needs.
Most features of Quarterplan are available for free. If you want access to notifications, categories, priorities, and statistics, you need to sign up for Quarterplan Pro which is available for €1,99 per month or €12,99 per year. If you have a Setapp* subscription, you can install and use Quarterplan straightaway, since it is part of Setapp's awesome suite of macOS and iOS apps*.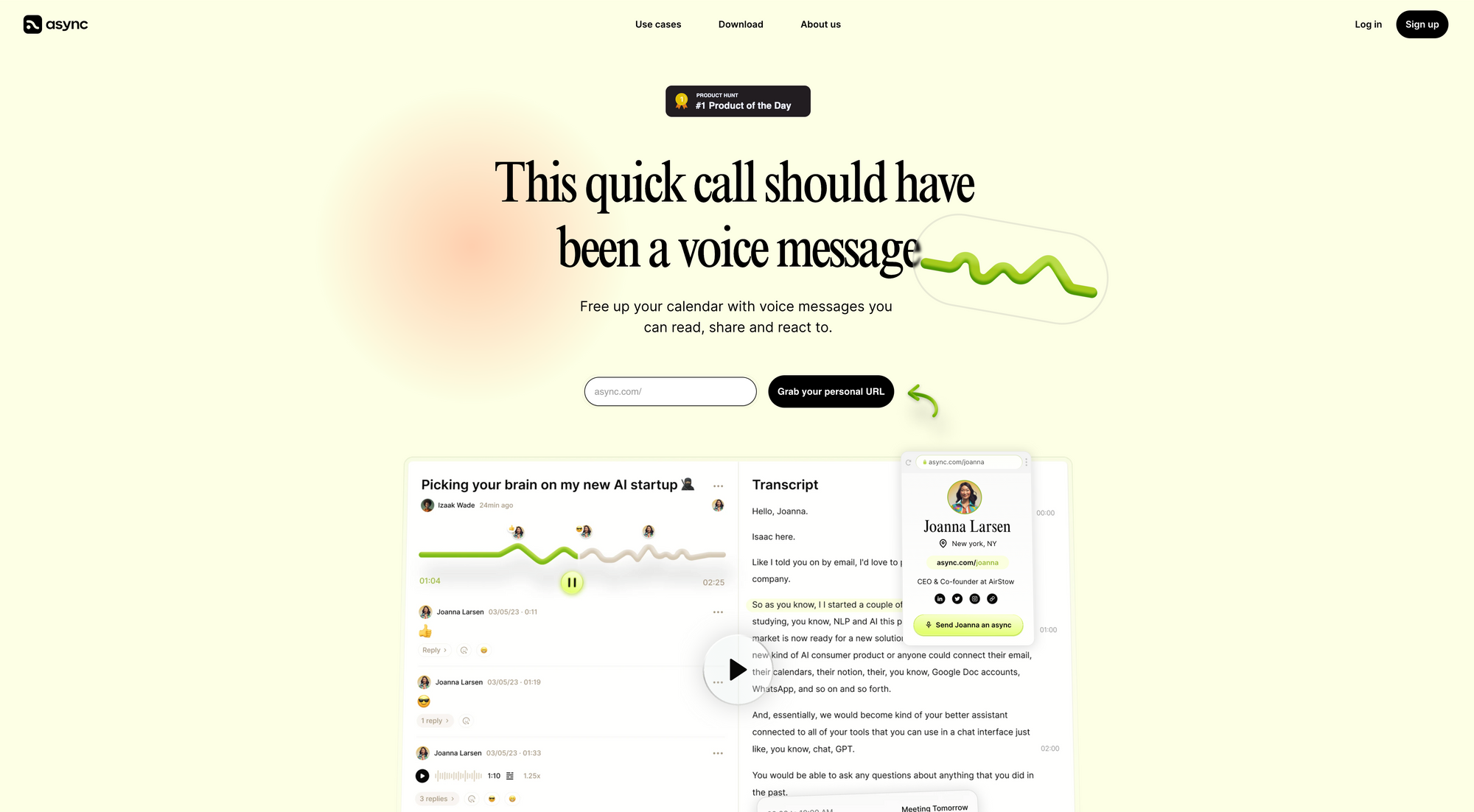 During the pandemic loads of people started working remotely. This led to the fact that people needed to adapt their workflows and how they communicated and interacted with their colleagues to stay up-to-date about work and share progress. Hot guess: everyone who is reading this newsletter found themself thinking that a call they just got off from could have been a message, during the time they started working remotely. I had countless calls that lasted two minutes or even less. You might think, what is wrong with a two-minute call? Well, it completely disrupts my workflow. Especially, when the topics that have been discussed during those two minutes are not urgent or could have been a message to which I would then have reacted. The tools we use on a daily basis need to adapt to the new workflows that got established while loads of people started working remotely around the globe.
Async is a tool that tackles the exact problem I have just described. Getting bombarded with messages like "Do you have time for a quick call" should not be a thing. With async instead, you get the chance to free up your calendar with voice messages you can read, share, and react to. Quick calls should be voice messages you can get back to on your own timeline, so your work does not get disrupted, and async is here to make it possible. If you are getting faced with crammed calendars, never-ending emails, and non-stop Zoom meetings, you probably have the feeling that none of your time is your own. Therefore, async came up with a voice app for when meetings take too long and writing feels impersonal.
Once you have signed up to async, you receive your personal URL which you can share whenever someone asks you to book some time, but you have the feeling connecting asynchronously would be just as productive. The recording you receive gets accurately transcribed, which means they become skimmable and searchable. If you need to react to a specific moment, you can do so with time-stamped reactions. With async you can send private notes with a single link and share them anywhere with anyone.
Async will probably not replace Slack, but that also isn't its goal. Async is suited for both internal and external communications. They see themselves as the next evolution of email. With async you have access to fully asynchronous conversations. So, if you are overbooked with meetings it might be time to give async a try and connect with people on your time. No matter if you are CEO hosting loads of 1<>1, an investor asking founders for updates, an executive coach with the need to keep in touch with your clients, an executive in the need of constantly updating your team, or a head hunter mainly working on approaching candidates, async can help you boost your productivity and communicate more freely.
You can download async for macOS and iOS.
---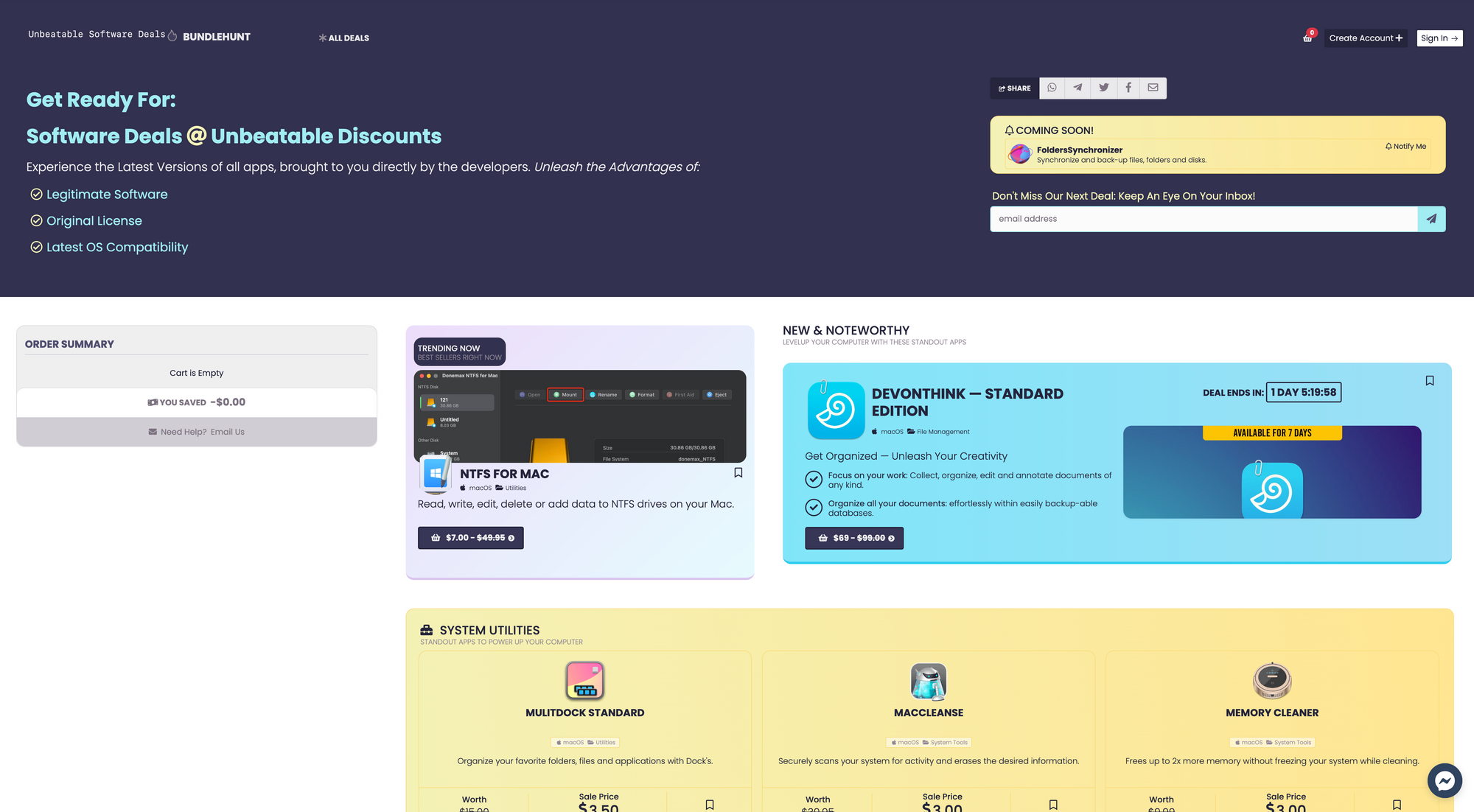 Already some time ago, while researching for a specific app I was writing about, I stumbled across
BundleHunt
, which is a lovely site that offers incredible software deals at unbeatable discounts for a limited time only. I now regularly check the site whenever they add more deals. I do not know how much, but I assume it already saved me a lot of money.
To give you an example, as of writing this, you can get NTFS for Mac, an app to read, write, edit, delete, or add data to NTFS drives on your Mac, for $7 which usually costs $49.95. Another great deal that is currently available is DEVONthink Standard, a popular app to collect, organize, edit, and annotate documents. The regular price of DEVONthink is $99, but on BundleHunt you can get it for $69.
Some other apps that are currently on sale are Multipack Standard, Maccleanse, Macpilot, or Seonify. Make sure to sign up for BundleHunt's newsletter to never miss out on deals and bookmark the page so you know to regularly check it.
This is an affiliate link to support Creativerly. If you are interested in putting your tool, product, or resource in front of over 2000 creative minds, consider advertising in Creativerly and book a sponsor or classified ad spot. Find all the important information at creativerly.com/advertise.
---
Fresh Updates & News
It was the biggest surprise I experienced last week (and also in a while to be honest), when I read the news that Clover, the app that unified daily notes, tasks, knowledge management, and whiteboards within a single place, got acquired by Figma. As if this wasn't already surprising enough, the founders announced that they will shut down Clover at the end of October. I have a hard time understanding that kind of move, probably because I never was in such a situation. I always had the impression Clover was doing well, they were shipping constantly, and they built a lovely app. Sure, once you received VC money, you have to think of how to get their investment back. But agreeing to an acquisition that includes shutting down the app always gives me the feeling that the founders do not really care about their users.
I do not have any numbers, but I am sure that loads of users and teams are now forced to search for an alternative, export all their data, move it somewhere else and hope that they can continue their work where they left off. The message on Clover's website reads incredibly bland and generic. The most fun thing for me is the FAQs section which includes the question "Do you have recommendations on tools I could migrate to?" as an answer they wrote FigJam for whiteboarding (of course, since they got acquired by Figma), and Notion for notes and tasks, while the goal of Clover has been to bundle those apps and offer a more unified, simple, and calm solution to bloated apps like Notion.
My way of thinking about this might be naive since I was never confronted with the amount of money Figma paid for Clover, no matter if it was cash or equity. But, deep down I think if you are building a product that solves a problem, and helps loads of people so they invest in you and the app by buying a subscription, and if you then care about those people, I would never agree to an offer that includes shutting down the app. Again, this might be naive, since I have zero insights about the overall money situation, but in the end, the goal should be to build something that lasts and satisfies user needs.
Those are just my thoughts based on the to me available information about Clover which is basically just the bland and generic message on their website.
With the latest update, Snipd, the lovely podcast app that lets you highlight, take notes, and summarize your favourite podcasts, opened up AI Notes for everyone. With AI notes you have your personal AI-generated summary of everything you have snipped in a podcast. This gives you the possibility to gather insights from podcasts and never forget them again. Additionally, you can share your AI notes directly with friends.
All your AI notes with automatically be synced to Notion and Readwise. After completing an episode within Snipd, it will send you your personal AI notes via email the next day, so you can automatically keep track of them.
Gordon Brander, co-founder of Subconscious, just announced that they have started with a soft launch for the Subconscious Beta. Two years ago, Gordon and Chris started working on Noosphere, a decentralized hypertext protocol, with the goal to unlock collective intelligence with a credibly neutral protocol for thought. You can think of it like an Obsidian or Logseq graph, but an open protocol that lets you connect your personal knowledge graphs into a worldwide shared mind. After raising a seed round and recruiting a team, they started integrating their idea into a mobile app. And that mobile app, called Subconscious now entered the beta status.
Invites will roll out slowly since it still is a private beta. But the team plans to add more people from the waitlist faster as they land additional privacy, encryption, and moderation features.
I have been following Gordon Brander, his work, and his thoughts for a while now, so I am incredibly excited about this milestone, and very much looking forward to giving Subconscious a try.
---
Mental Wealth
❯ What Is Productivity Anxiety? – 'Do you ever feel crushed by the weight of relentless expectations and the never-ending pursuit of productivity? If so, you're trapped in the clutches of an all too familiar foe called productivity anxiety.'
❯ Five ways AI might destroy the world – 'Artificial intelligence has progressed so rapidly in recent months that leading researchers have signed an open letter urging an immediate pause in its development, plus stronger regulation, due to their fears that the technology could pose "profound risks to society and humanity". But how, exactly, could AI destroy us? Five leading researchers speculate on what could go wrong.'
❯ The Optimization Sinkhole – 'I am an adult who has purchased too many coffee makers. Maybe you are too. Maybe, like me, you keep buying one of the three that Wirecutter — a "best of the best" Consumer Reports-style site now run by the New York Times — has recommended. And maybe, like me, you keep realizing they suck.'
❯ The psychopathic path to success – 'Think of a psychopath and any number of Hollywood villains might come to mind, from charming killers like Hannibal Lecter to Anton Chigurh, portrayed with chilling menace by Javier Bardem in the film No Country for Old Men. But the traits and symptoms of psychopathy run along scales that range from weak to strong. So, someone may be mildly psychopathic or severely so. There could be a psychopath sitting next to you right now.'
---
Do not miss out on this ...
❉ Get smarter with Refind. Every day we pick 5 articles that make you smarter, tailored to your interests. Refind is loved by 200,000+ curious minds. Subscribe for free.
❉ Think tasks, not apps. Setapp* is you one-stop subscription to solving every task on Mac and iPhone.
❉ Fathom is cookie-free, GDPR compliant, privacy-first website analytics software. Get $10 off your first invoice and a 7-day free trial when you use this link*.
These are paid promotions or affiliate links to support Creativerly. If you are interested in putting your tool, product, or resource in front of over 2000 creative minds, consider advertising in Creativerly and book a sponsor or classified ad spot. Find all the important information at creativerly.com/advertise.
---
Appendix
❯ ICYMI
Last week, I wrote about the most recent app I have added to my workflow tool stack. It is called Screen Studio* and it gives you the possibility to raise screen recordings to another level. If you ever wanted to highlight features of an app, create tutorials, presentations, tips, and tricks videos with ease and edit them to boost engagement, Screen Studio* is the app you should check out.
❯ Quick Bits
---
Till next time! 👋‌‌‌‌
Support: Do you have a friend who is looking for inspiration, news about design, and useful tools and apps? Forward this newsletter to a friend or simply share this issue and show some support. You can also show some love by simply clicking the button down below and keep this newsletter a sustainable side-project by buying me a coffee. ☕️ 🥰
---
---
Some of the links in my newsletter and my blog posts are affiliate links. Those links are marked by an asterisk. If you buy something through the link, the product will not cost you anything more, but I will receive a small commission which not only supports Creativerly and my work but also helps me to keep this publication a sustainable side-project.
Creativerly is proudly published with Ghost*.