Newsletter
What makes a strategy great & Your personal writing assistant
A new project management tool, Frond launching v2.0, Supernotes introducing v3.0, The macOS App Icon Book, and a lot more in this week's issue of Creativerly.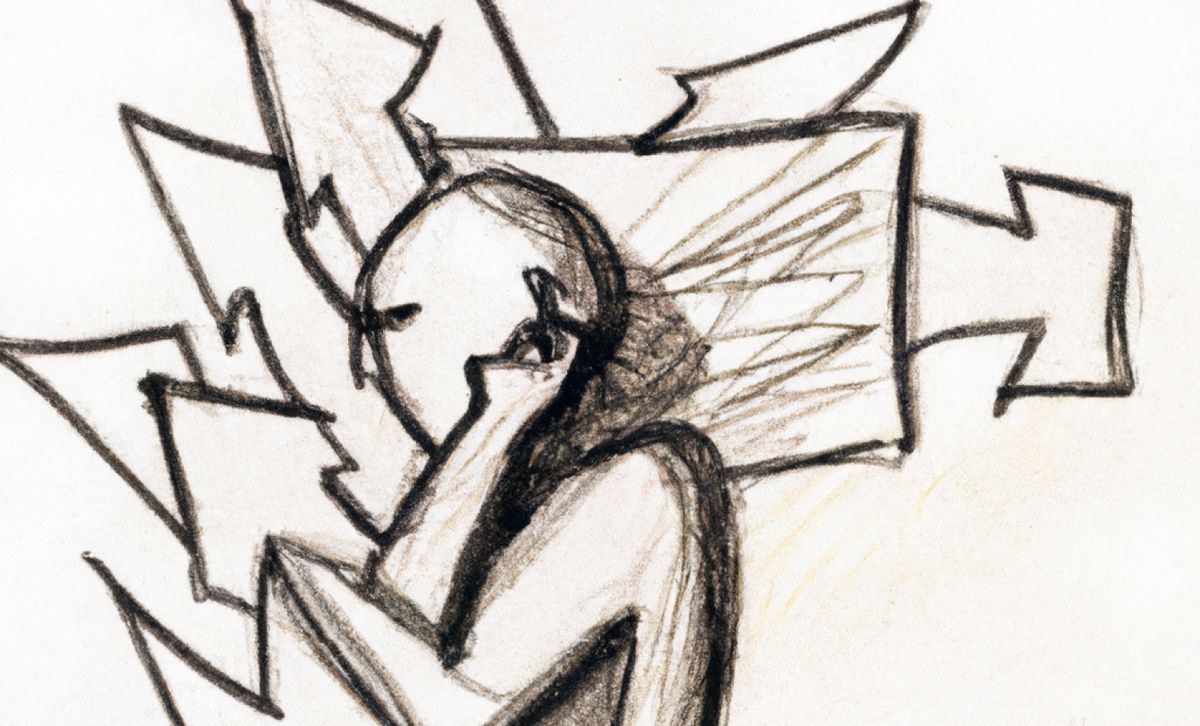 My name is Philipp and you are reading Creativerly, the weekly digest about creativity and productivity-boosting tools and resources, combined with useful insights, articles, and findings from the fields of design and tech. The newsletter built for the creative community.
---
Hey and welcome to Creativerly 238 👋
As I recently re-launched my side-project ProductivePrivacy (a directory featuring privacy-focused, end-to-end encrypted, and open-source productivity apps), I always sit down to do a bit of planning on what to work on next. In the last issue of Creativerly, I wrote about my current focus which is designing and building my new personal website with Framer. This means, I am not touching on any other side-project until I am done with my personal website. But that does not mean that I do not keep track of new ideas.
On the other hand, this leads to ever-growing todo lists, which is nothing bad per se. I embrace long todo lists for my side-projects, since then I get to choose from a pool of things I want to work on. This keeps my creativity steadily flowing. I do not want to clear out my todo lists, since that would mean that I am basically done with the project, but I need side projects to challenge my creativity, learn and acquire new skills, and create a balance between my professional work and the things I am working on on the side.
While I was working on ProductivePrivacy, I jot down loads of todos I want to work on for Creativerly. Once I am done with my personal website, I am getting back to the planning part and deciding whether I am going to focus on Creativerly, getting some of todos on my list done, or starting something new.
Once I implemented this way of working on my side-projects, I am not only getting way more done, but I am also no longer feeling stressed out about working on too many things at the same time and experiencing no progress.
I will keep you informed about my progress with my personal website and with my other side-projects.
---
Apps, Software, Tools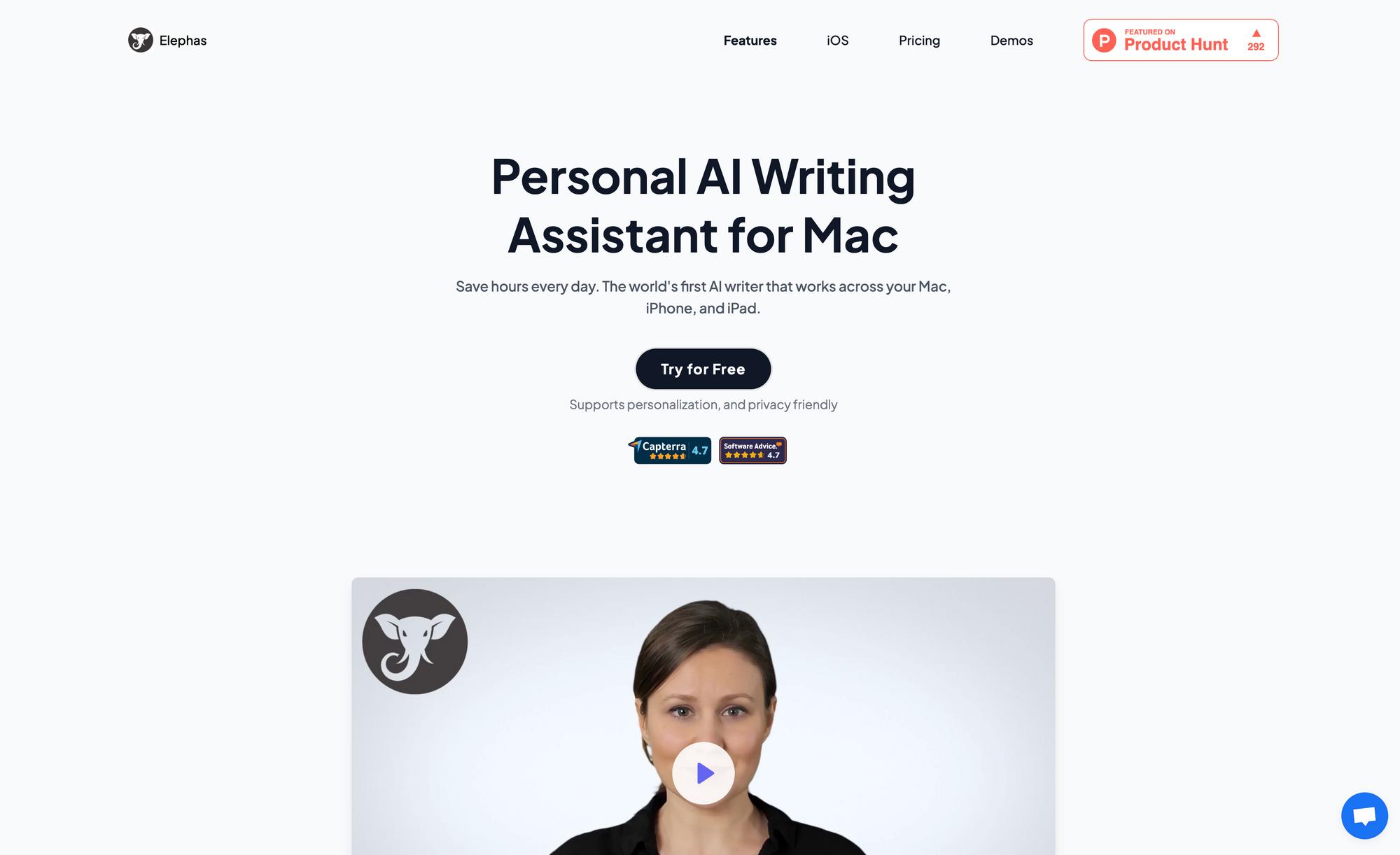 I love writing, it is one of my favorite hobbies, and I am always interested in apps and tools that help me writing out my thoughts and ideas. It is always exciting for me try out new writing apps, that offer a different experience and writing-focused features compared to standard note-taking apps. With the rise of AI, an increasing number of existing writing apps introduced AI integrations. In most cases, those integrations offer assistance to some extent. Elephas* takes the term "assistant" onto another level.
Elephas is your personal AI writing assistant, available for macOS, iOS, and iPadOS. As a writer, you probably already have some kind of data stored in different files and apps. Elephas gives you the possibility to load your data from a variety of sources, including PDF, Word, Notion, Obsidian, and even webpages. With a dedicated feature called "Super brain" you can build a "brain" around a single topic, by bringing in your existing data from bespoke sources. All the files you are uploading will get indexed by Elephas locally while using OpenAI to generate embeddings. From there, the local data is referred to using a suitable algorithm and used in conjunction with OpenAI whenever you use the brain. This Super Brain feature can be used in four different places.
The first one is the Super Chat, a place where you can pick the brain you want to chat with and start asking questions. Secondly, the Share Brain allows you to share your brain with your friends and followers. The third place is called Snippets, allowing you to set up snippets that use a particular super brain, which means every time you invoke a snippet, it will reference an existing brain that you have created before. The fourth and last place is called Smart Reply. With the Smart Reply feature you can set up a snippet that uses a brain to reply to emails or social media posts.
To summarize, a brain within Elephas refers to a set of files and data that has been imported into the app. With the power of AI and LLM's by OpenAI, Elephas turn this data into a connected network, called a brain.
Elephas wants to help you to never get stuck while working on your writing tasks. Its smart AI assistant can help you with everything from proposals and cover letters, to blogs and creating social posts. And the incredible powerful thing: it works across all your favorite apps. With Elephas, you get ChatGPT on top of all your apps. The super-command bar lets you run any kind of task, from filling out your Google Sheets to summarizing articles with you.
Since Elephas is also available on iOS and iPadOS, you can leverage powerful features like the AI Smart Keyboard to write content seamlessly on your iPhone and iPad. In terms of privacy, Elephas states that it respect its users' privacy and will not store or analyze your text content, but while using the AI-powered features, your content will get sent to OpenAI for processing.
Signing up to Elephas will give you a 30-day free trial to test out all its features. After that, it will cost you $5 per month plus, since you will use your own OpenAI key for Elephas, you will need to pay per usage. If you have an active Setapp* subscription, you can download and install Elephas right away, since it is part of Setapp's incredible suite of apps.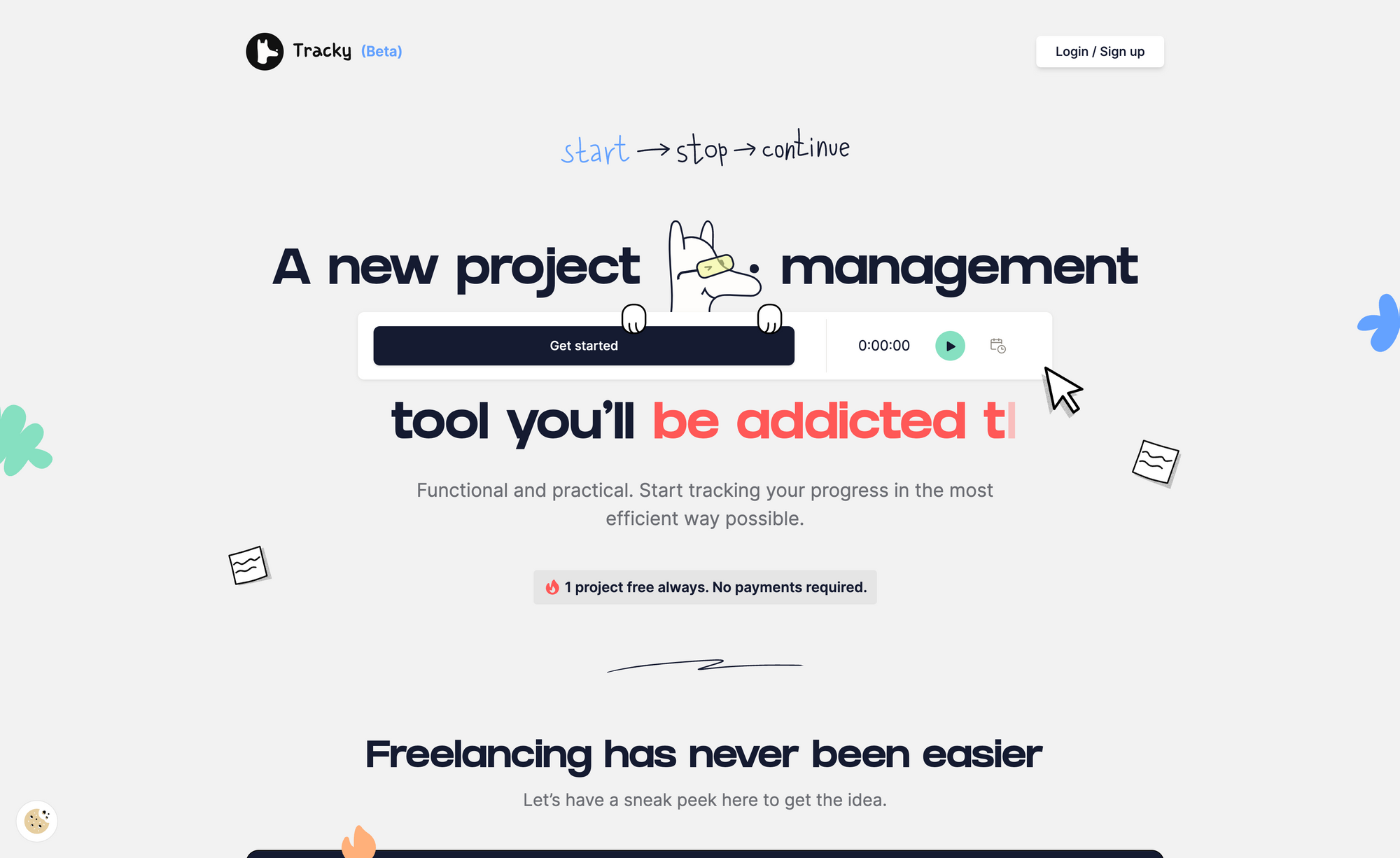 It has been some time since I wrote about a dedicated project management app. Recently, I stumbled across Tracky and immediately got curious to find out more about about it.
Tracky has a dedicated focus on freelancers and individuals, since it offers features that are assisting you from tracking the time you are spending on specific projects, keep track of open tasks, and preparing the invoices to wrap everything up (sidenote: Invoicing is not yet available but coming soon). Once you have set up the projects you are working on, within Tracky, you can start tracking time immediately. Tracky will help you measuring your performance. Manage your time on your tasks with ease and increase your efficiency. Since your work probably consists of multiple projects, there is no limit when it comes to creating projects in Tracky. You can create as many as you want and need. To get a clear image of your progress and your efficiency, Tracky features reports which you can create of your separate projects, at any range of time as you wish.
Besides the possibility to manage your projects and manage the time spent on them, Tracky features a Notebook, which you can use to note down your thoughts and keep what is important to you, related to your projects and tasks you are working on. With this Notebook feature you can also plan ahead to achieve your goals.
To tackle larger projects, it is helpful but also crucial to break them down into smaller bits and tasks. Therefore, Tracky is packed with to-do functionality to handle and make things easier. With the to-do feature you can list your task fast and with ease. Since Tracky currently is in beta, there are a couple of features that are still in the making and on the roadmap. One of them is task management. Compared to the to-do feature, task management within Tracky will give you the possibility to manage your tasks instead of just listing down your to-dos. Besides that, Tracky will also implement Tables and Invoicing, so you can create your personalized worksheets and invoices to send them over to your clients fast and increase your productivity.
You can give Tracky a try with its Free Plan, which gives you access to a single project (while in Beta you can create unlimited projects though), time tracking, notebook, todo, reports, and an archive. Additional plans offering additional features are coming soon.
---

I have been a
Setapp
user for years and it is one of those subscriptions I do not want to miss anymore. With Setapp you get access to over 240 first-class apps, but you need a single subscription. It is worth checking out if and how many of the apps you use regularly on macOS or iOS are available within Setapp, since there is the opportunity to save a lot of money.
My personal Setapp highlights are Craft (the Pro Plan would cost you $5 per month), CleanMyMac X (which costs $40 per year), Elephas (again, $5 per month), Ulysses (another $40 per year), NotePlan (which adds $99.99 per year to the bill), and Paste (which usually costs you $14.99 per year). As access to all of those apps wouldn't be already awesome, Setapp continuously adds new apps to its subscription.
No matter if you want to save money on all the apps you are using on a daily basis or if you just want to have access to a growing library of incredibly powerful apps, Setapp is the one subscription to check out. Pricing starts at $9.99 per month for one Mac.
This is an affiliate link to support Creativerly. If you are interested in putting your tool, product, or resource in front of over 2000 creative minds, consider advertising in Creativerly and book a sponsor or classified ad spot. Find all the important information at creativerly.com/advertise.
---
Fresh Updates & News
Frond, which is a refreshingly simple take on forums, launched v2.0 introducing public communities and a large set of additional features. Early users of Frond asked for communities being more open, public, and searchable. The team at Frond delivered. With From 2.0 public communities get introduced, which let visitors view all groups and content without the need to sign into Frond. This specific update will improve the discoverability of communities, but it also promotes conversion from visitors to active members.
While public communities is the major highlight of this new version of Frond, the team shipped a bunch of exciting features and improvements. Among them, you will find search capabilities, private groups, pinned posts, polls, roles, localization in German, Spanish, French, and English, community insights dashboard, and a lot more.
Besides all of that, they announced that they are open-sourcing Frond, to underscore their belief in the power of community and user autonomy.
Supernotes launched v3, introducing mobile apps for iPhone, iPad, and Android publicly available, Offline Mode that lets you create, edit, and re-arrange cards while having no connection to the internet, and a fresh new multiplayer editor, which lets you editing the same card with all your friends and seeing their cursor making changes in real time.
To celebrate the launch of the mobile apps, Supernotes gives everyone  7-day free trial to Supernotes Unlimited for anyone downloading the iOS or Android app.
After an incredibly success with the iOS App Icon Book, Michael Flarup is back, introducing the macOS App Icon Book. Michael Flarup is one of the most successful App Icon Designers out there. To celebrate the art and craft of app icon design, Michael Flare created the iOS App Icon Book, launched it on Kickstarter, and attracted over 1,400 backers pledging over $130,000. And now, the successor is here, the macOS App Icon book just landed on Kickstarter, attracting over 700 backers pledging over $80,000 in a couple of days, exceeding the goal of $10,000 with ease.
I am a huge fan of Michael Flarup's work, and it is awesome to see his success independently publishing those two beautiful books. If you are into app icon design, both books are a must-buy.
With the newest update, Amie introduced a Linear integration. This integration will give users the possibility to sync any Linear issues assigned to them, or issues from any project of your choice to any todo list in Amie. From within your Amie settings you can decide whether to keep things in sync between Amie and Linear to to only import the issue one way.
---
Mental Wealth
❯ How to do product positioning – 'Making products is hard. The advice you get doesn't help much; either it's too vague to be useful or too specific to be applicable to your situation. These notes build a model of how products work that's internally coherent (hopefully) and can be used to derive the right advice yourself!'
❯ The psychopathic path to success – 'Think of a psychopath and any number of Hollywood villains might come to mind, from charming killers like Hannibal Lecter to Anton Chigurh, portrayed with chilling menace by Javier Bardem in the film No Country for Old Men. But the traits and symptoms of psychopathy run along scales that range from weak to strong. So, someone may be mildly psychopathic or severely so. There could be a psychopath sitting next to you right now.'
❯ What makes a strategy great – 'You can debate the form a strategy should take, whether a four-sentence "master plan" or a few dozen bullets or a six-pager or an eighty-pager or a template like Salesforce's V2MOM or a Notion template you found on the Internet or answering three questions from a Twitter pundit or some sort of "Canvas." Regardless, its job is to communicate "how we will win." There are a lot of documents titled "Strategy," but very little great strategy. The formula for great strategy isn't decided by the format of the output document.'
❯ More Software Projects need Defenses of Design – 'I was gonna write an rant about the potential probabilistic model checking, then realized I needed to look at projects besides PRISM and STORM. Then I checked out simpy and saw it had a Defense of Design (DoD).'
---
Do not miss out on this ...
❉ Carrd *is the easiest and fastest way to set up and create a landing page for your project, newsletter, or anything else. Give it a try. Start for as low as $9 per year.
❉ Think tasks, not apps. Setapp* is you one-stop subscription to solving every task on Mac and iPhone.
❉ Fathom is cookie-free, GDPR compliant, privacy-first website analytics software. Get $10 off your first invoice and a 7-day free trial when you use this link*.
These are paid promotions or affiliate links to support Creativerly. If you are interested in putting your tool, product, or resource in front of over 2000 creative minds, consider advertising in Creativerly and book a sponsor or classified ad spot. Find all the important information at creativerly.com/advertise.
---
Appendix
❯ ICYMI
Bundlehunt* is the number one destination to grab the greatest pieces of software at incredible discounts. As of writing this, you can grab deals on NTFS for Mac (available for $7 instead of $49), Macpilot (available for $3 instead of $29.95), Data Recovery Pro (available for $5 instead of $129), iPhone Manager (available for $4 instead of $79.95), and a lot more. Make sure to sign up to Bundlehunt's newsletter, since new apps get added to bundle regularly. If there is a specific deal you want to grab, better be fast, since some of them are available only for a limited amount of time.
❯ Featured Newsletter
If you are one lookout to receive thought provoking ideas and insights delivered to your inbox on a daily basis, then I suggest signing up to Smartr Daily, a lovely newsletter sourcing the smartest articles on the Web, so you do not have to and instead sit back and enjoy the content. Subscribe now for free.
❯ Quick Bits
---
Till next time! 👋‌‌‌‌
Support: Do you have a friend who is looking for inspiration, news about design, and useful tools and apps? Forward this newsletter to a friend or simply share this issue and show some support. You can also show some love by simply clicking the button down below and keep this newsletter a sustainable side-project by buying me a coffee. ☕️ 🥰
---
---
Some of the links in my newsletter and my blog posts are affiliate links. Those links are marked by an asterisk. If you buy something through the link, the product will not cost you anything more, but I will receive a small commission which not only supports Creativerly and my work but also helps me to keep this publication a sustainable side-project.
Creativerly is proudly published with Ghost*.