Newsletter
Why creativity matters & Organize like a genius
In this week's issue of Creativerly: The simple and smart way to manage your work, the future of note-taking, fly through your calendar, and a lot more.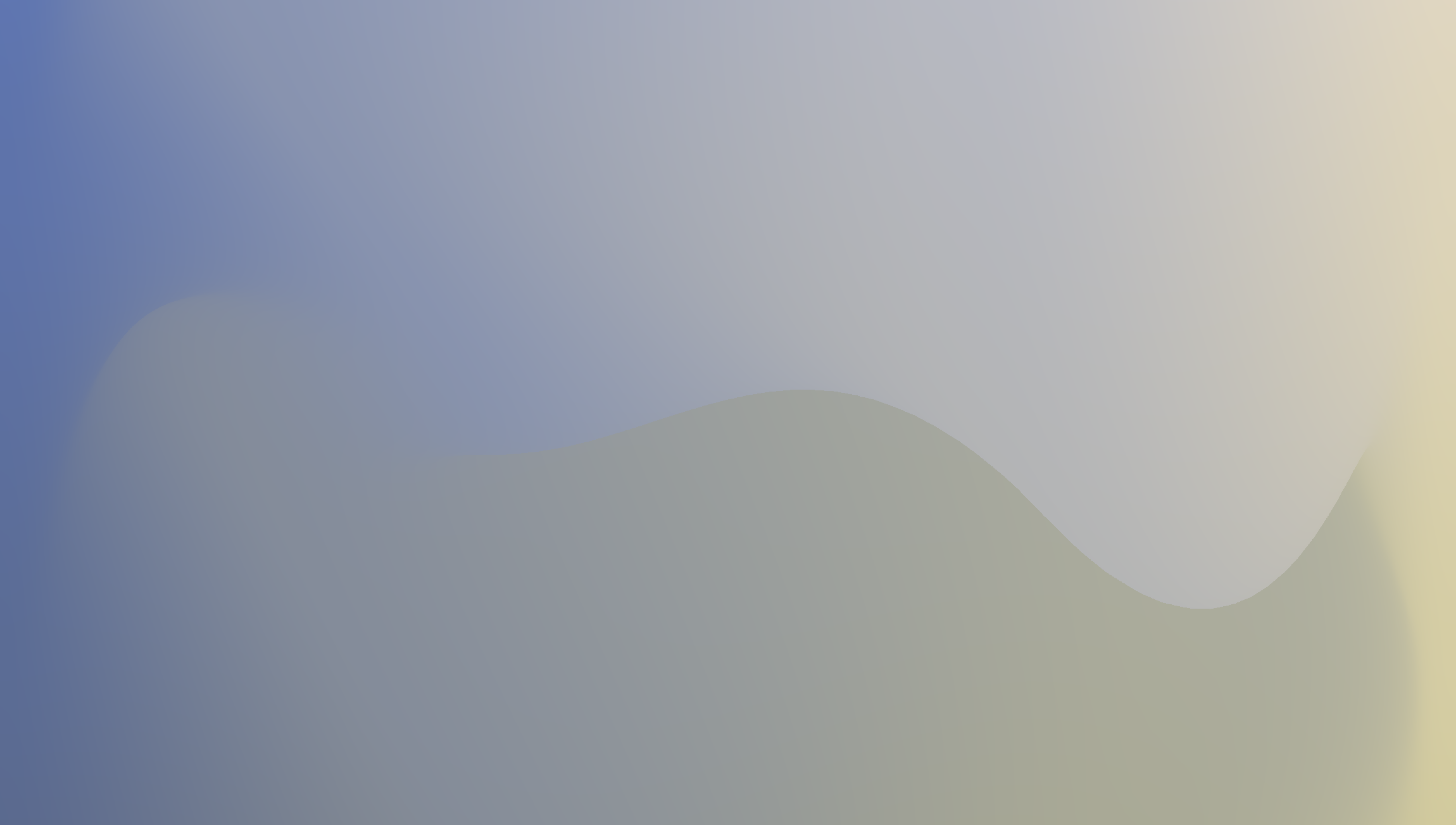 You are reading Creativerly, the weekly digest about creativity and productivity-boosting tools and resources, combined with useful insights, articles, and findings from the fields of design and tech. The newsletter built for the creative community.
---
Hey and welcome to issue 136 👋
Well, besides the fact, I share new tools and resources on a weekly basis, so you can probably find your next favorite tool, I am asking for your help now. I am currently in the process of building my new personal website but I can not decide which tool or service I should use to build it. Until now, I used WordPress and Semplice, but I want to make the switch to something more lightweight. Since I am not able to code, I am looking for website builders just like Webflow, Squarespace, Readymag, etc. but more lightweight and minimal.
I really like the idea of blot.im, therefore, I will give it an in-depth try, but I am open to any other suggestions and recommendations. From all the big players of which I mentioned already a few, Squarespace might be my last resort if I do not find any other lightweight solution to build the personal website I have in mind. Since I will use this personal website also for my blog, one of the most important aspects I am looking for is the fact that I do not get locked in by using a specific tool or service. Owning your content on the internet is important. So, whenever you want to switch to a dedicated blogging service, make sure you are able to export your content and move on whenever you want to. If that is not the case I would avoid the tool or service.
So, I need your help! Let me know what you are using for your personal website, blog, or portfolio. Do you know of any super lightweight and minimal solutions to create a personal website? Simply reply to this email, and get in contact. I will gather all the different options in a dedicated post, so all of you can profit from it.
If you have recommendations or feedback, drop me an email or a tweet. For now, enjoy the newsletter!  🥰
---
Apps, Software, Tools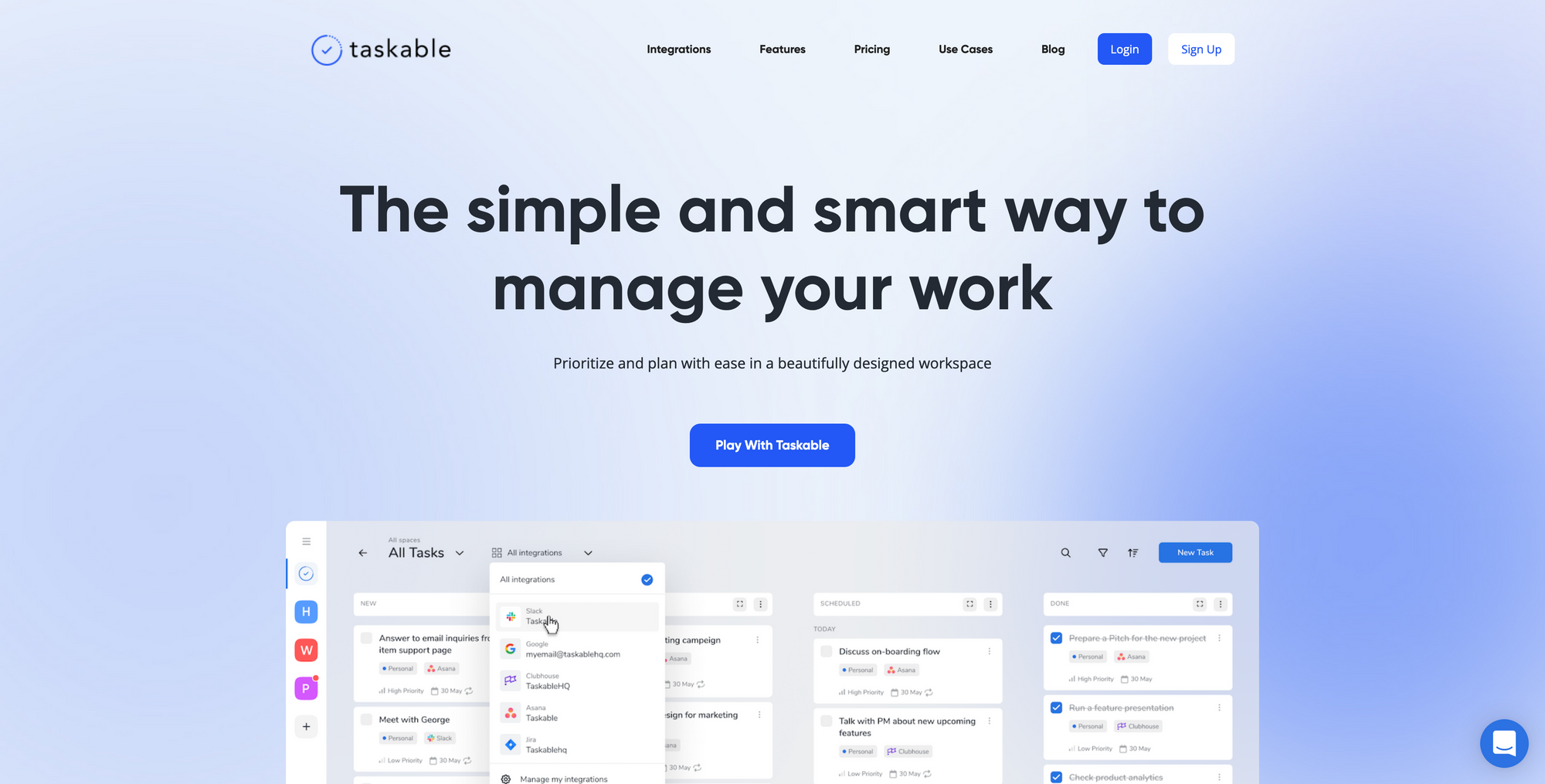 It has been a while since I wrote about a full-fledged task manager in Creativerly, so I am happy to introduce you to Taskable, a unified to-do list, and task manager for your entire workflow, which supercharges your productivity with powerful integrations. Taskable makes it possible to plan, structure, organize, and prioritize all your tasks in one beautiful workspace. If you are already using a wide range of different tools and services you can integrate those with Taskable and bring your files, tasks, and communication together in one place.
For example, Taskable is offering integrations for Trello, Asana, Jira, Slack, Github, and many more which are coming soon. You can even check out their integrations roadmap to see what they are working on next or to submit your own idea. All those amazing integrations are helping you that no important tasks will ever slip through your fingers again. Spend less time on searching and more time on getting stuff done. Taskable acts like your personal assistant. Whenever you get distracted throughout your day, Taskable's browser extension gives you subtle notifications to get back to work and focus on your priorities.
If you do not want too much time on setting up a system within Taskable, they are offering templates and productivity tools ready to use so you can focus on your Product Hunt Launch or on improving your conversions for example. Taskable is available for free, forever.
If you want to use their premium integrations you will need to upgrade to the Pro plan which will cost you $5 per month or $50 per year. If you want to find out more about Taskable make sure to head over to their website.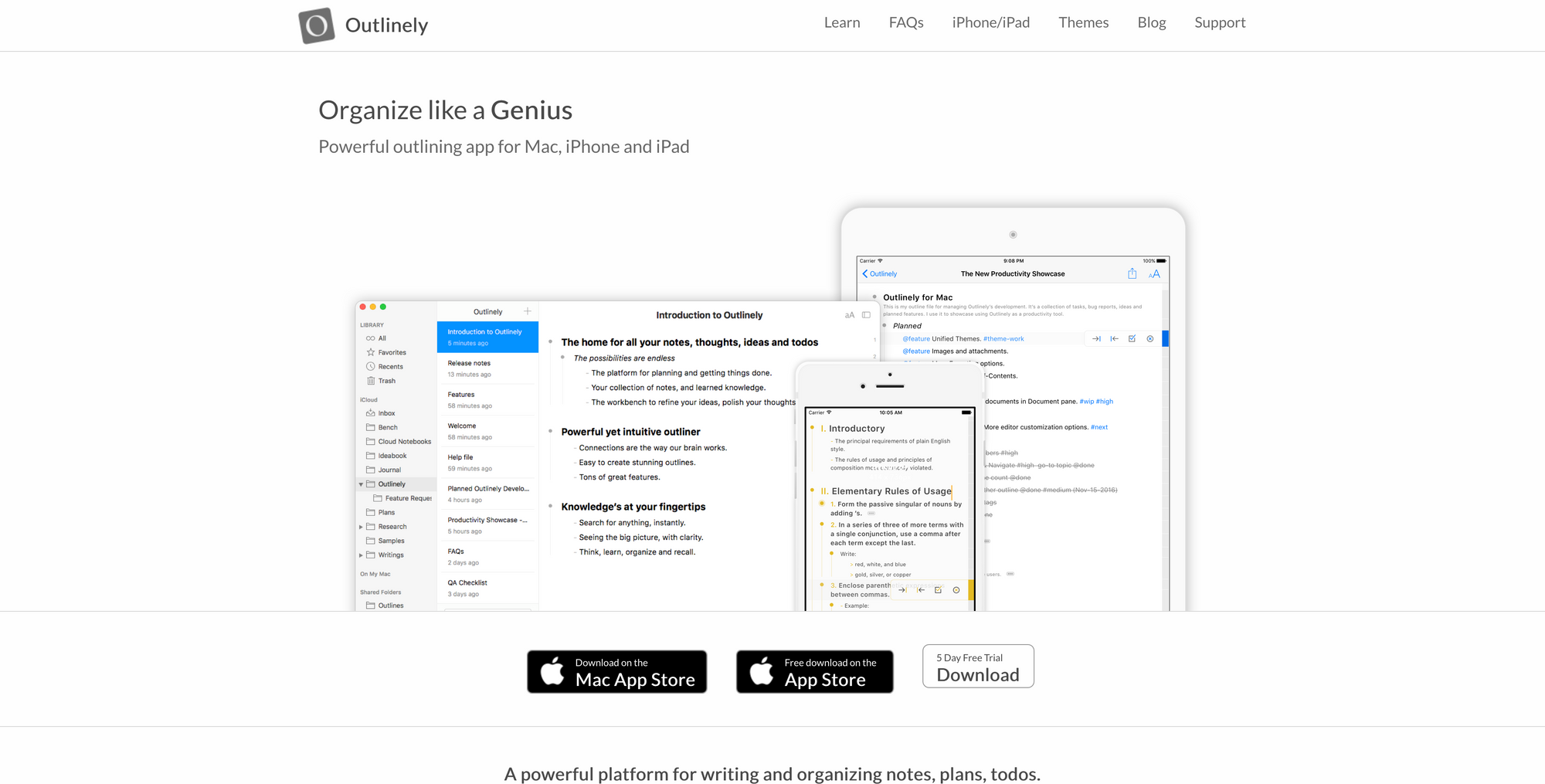 As most of you already know, I am a huge fan of note-taking and productivity tools which are based on the outliner approach. If you want to learn more about the outliner approach for note-taking you can check out this article from GoodNotes. Basically, when you are using the outliner approach for note-taking every single note will be a bullet point.
To create dependencies you can then indent or outdent bullets. My favorite outline app is Workflowy, but I am always excited to find out about other tools also using this approach. Just like Outlinely. Outlinely is a powerful tool and platform to write and organize your notes, plans, and todos. The app is available for macOS, iPadOS, and iOS and features a beautiful, distraction-free interface. Outlinely is elegant, minimalistic, and the perfect place to focus and bring out your ideas. Outlinely's native apps for Mac, iPhone, and iPad keep your notes and todos always in sync across all your devices. Besides that, Outlinely is also a very keyboard-centered app, so you can work faster and focus on your productivity without ever leaving your fingers off the keyboard.
Outliner tools are by far the best tools to structure your notes, at least in my opinion. Outlinely helps you free your mind but keep track of all your notes at the same time. To give your notes and todos an additional structural layer, you can create folders, set up tags, and use mentions to create one powerful productivity system. On top of that, Outlinely also features a full-text search, custom themes, markdown highlighting, a focus mode, to-do lists, library management, and much more. Outlinely is available as a separate purchase for Mac, iPhone, and iPad.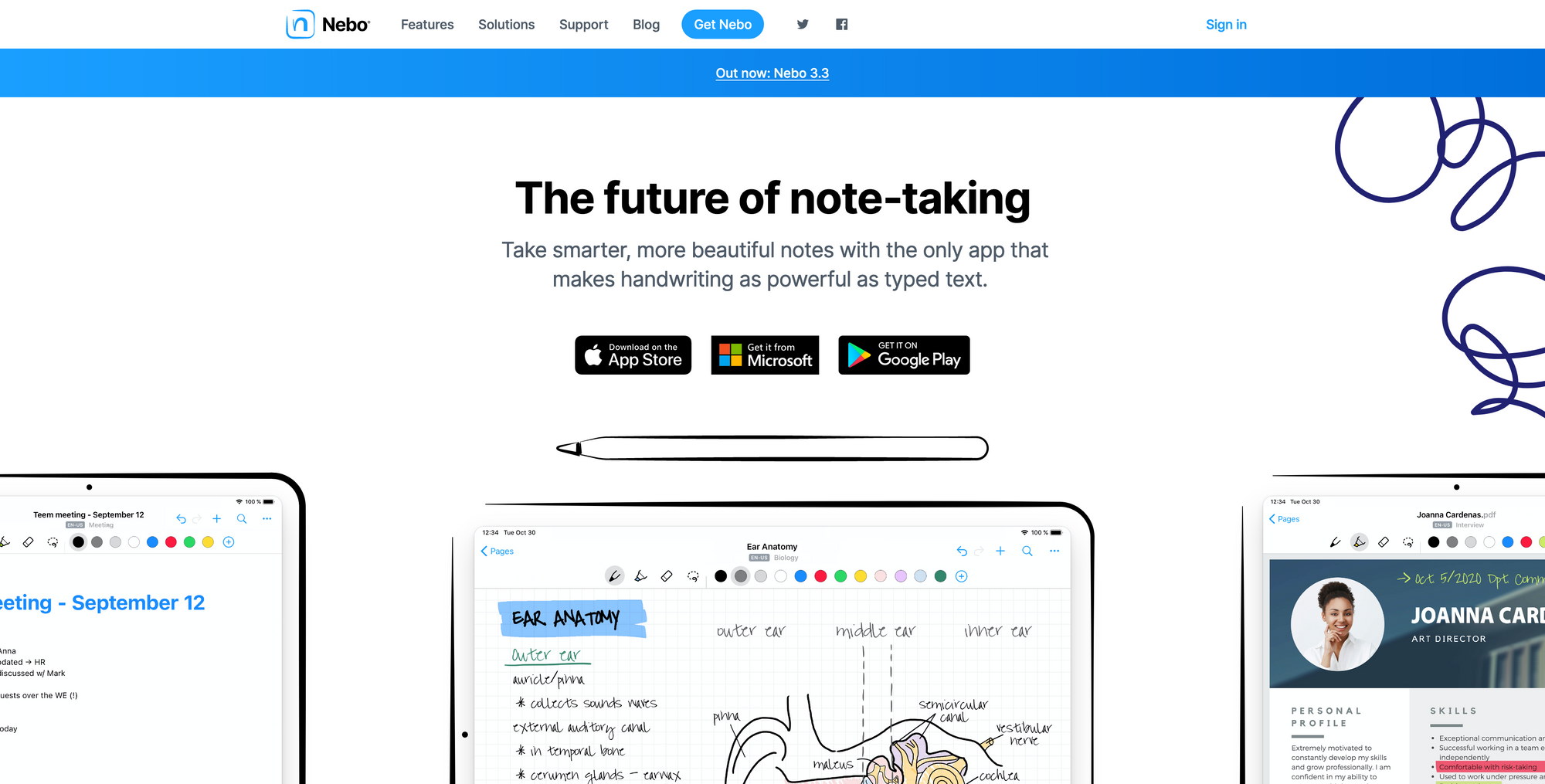 I have never been a huge fan of handwritten note-taking on a digital device because I never counted a tablet to my stack (but I am planning to do so soon), but nevertheless, I always found it incredibly interesting how versatile handwritten note apps can be. Nebo is one of the most popular and most powerful since it makes it possible to make your handwriting as powerful as typed text.
Nebo makes it possible to turn your handwritten notes into professional documents with what they call "world's best write-to-text conversion". Nebo is powered by MyScript ink, which makes it possible that your handwritten notes are editable (Nebo offers intuitive ink gestures to edit your content), responsive (Enjoy optimal readability) and multimodal (mix handwriting with typed text). If you want you can combine your handwritten notes with rich content by adding diagrams, editable equations, freeform sketches, or annotate images. Within Nebo you can set up notebooks to structure all your notes.
But, you can also add PDF to those notebooks and start annotating straight in the document. Once you are done, Nebo lets you easily export the annotated document as PDF so you can share it. Besides that, Nebo gives you all the creative space you need since it features an infinite canvas so you can write and draw freely. No matter if you are working in the field of marketing, HR, engineering, design, or anything else, there are countless use cases for Nebo, and you can see all of them on Nebo's website. To get insights about all the amazing features Nebo is offering make sure to check out their feature section on their website.
Nebo is available for iPadOS, Android, and Windows. If you want to take your handwritten notes with you everywhere, also if you do not have your tablet device with you, you can download the companion app for iOS to search and share your content on the go.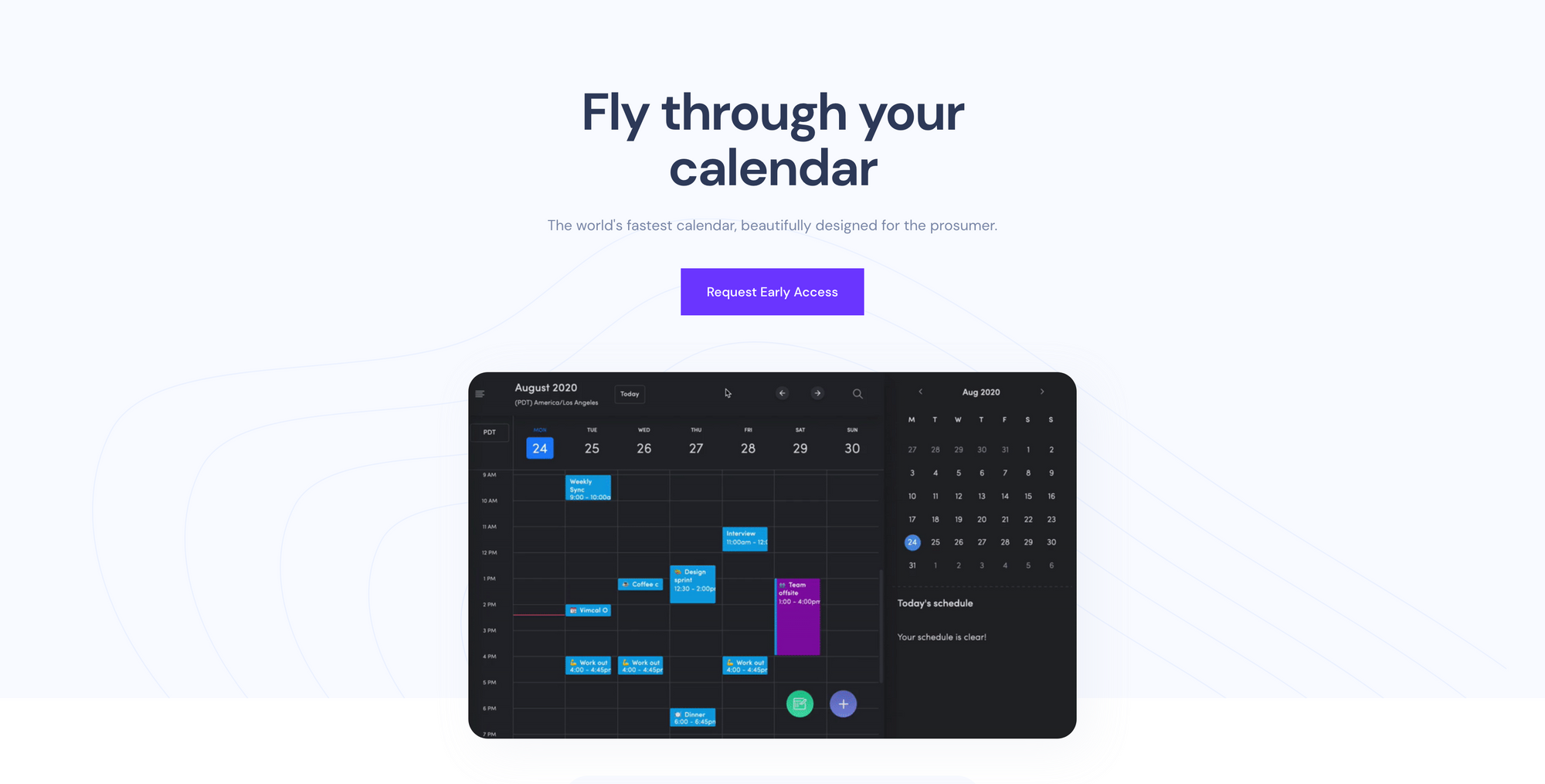 There are two types of people, one of them likes to structure all their work within their calendar, they are basically living in a calendar, setting up meetings, events, scheduling their tasks and to-dos, and even jot down quick notes, and then there is the second type who likes to structure all their work in a note-taking or project management tool. If you count yourself to the first group, Vimcal could be of interest to you.
Vimcal is a calendar tool designed for the prosumer. If you ever wanted to share your availabilities fast and easily, Vimcal has everything built-in to get you started. With just a few clicks you created a booking link ready to be sent out to your colleagues or clients so they can book a meeting with you. Are you working in a remote team and struggling with time zones? Vimcal helps you keep track of time zones. You can easily pull up time zones for any city in the world to make complex scheduling a breeze. As a prosumer, you are always looking to execute any tasks and operations fast.
Vimcal is a keyboard-centered app with different hotkeys for literally every action, so you can be sure to always fly through your calendar and get your work done. Vimcal is currently only available upon requested access, so head over to their website and set up your account now.
---
Useful Resource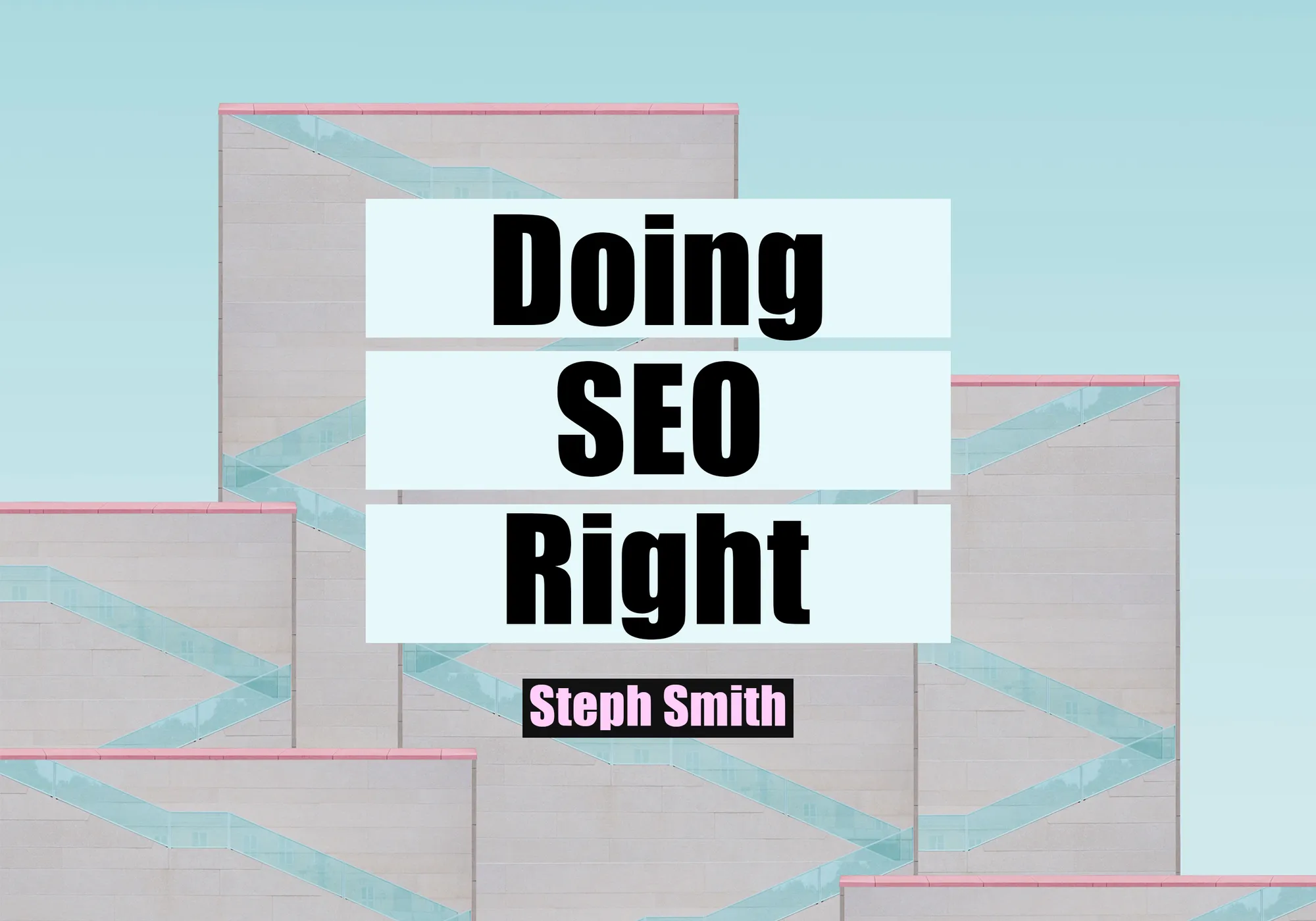 Avid Creativerly readers know that there is one superior resource I recommend to almost everybody who wants to start a newsletter or publishings business or is already running one, and that resource is Doing Content Right by Steph Smith*, a guide in which she shares everything she knows about creating, writing, and scaling successful blogs and newsletters to millions of readers. After over 3,000 sales, Steph kept on giving back to the community by launching Doing Time Right* together with Calvin Rosser, a simple and actionable course on how to make the most out of your time.
And now, Steph shares all her insights about leveraging SEO to build several publications to consistently 6 or even 7 figures in monthly pageviews. Her newest guide is called Doing SEO Right and includes 80+ pages with 6 bonus exercises. In it, you will learn what 3 key inputs really matter for SEO and why, how to build up your domain authority, how successful creators have leveraged SEO to strike gold, and much more. If you found your personal monopoly, built your digital home, and started gaining traction on social platforms, this is the guide you need to nail SEO.
Steph was so kind to offer all Creativerly readers a super generous discount of 20%, all you have to do is use the code "philipp20" at checkout, and you are ready to go.
Side-note: the discount code works for all the other guides by Steph Smith too.
---
Mental Wealth
➢ List one task, do it, cross it out – "I have the reputation, at least among some friends and family, of being 'good in a crisis' – such as (to give a somewhat minor example) the day last year, deep in lockdown, when a shard of flying flowerpot ended up halfway through my partner's hand, sending her to hospital and upending our finely calibrated work and childcare plans for the week. In such circumstances, I never get stressed by having to change my plans, or add to the anxiety of the situation by freaking out. I just get on with whatever needs doing, calmly and resourcefully."
➢ Why Creativity Matters – "When you want to make a change in your life—really make a change—where do you start? Do you listen to a podcast? Read a self help book? Talk to a trusted friend? Are you a ponder, figure-it-out-yourself type? Or a leave-no-stone-unturned, talk-to-everyone type? No matter how you go about it, this post is for you. Because however you approach personal change, there is one thing you're always, always going to need: creativity. And that, more than anything else, is why creativity matters."
➢ Less doesn't have to be more. It can just be less. – "So many of us espouse slogans like "less is more" yet practice the opposite. Or, more commonly, we apply them incorrectly. For instance, we are enthusiastically "less is more" when we can do more with less, but not so when our audience does less with our more. Yes, it's impressive when we can create something with the appearance of more investment than it actually had to draw upon — when we can make something that feels big and important. But to what end?"
➢ Learning and Being Wrong – "Being actively open minded means "searching for reasons why we might be wrong—not for reasons why we must be right" (25) because "the purpose of learning isn't to affirm our beliefs; it's to evolve our beliefs." (26) Don't put your confidence in your knowledge, put it in your ability to learn. Learning means changing, modifying, and updating your knowledge. If you consider yourself a learner, your confidence will quickly shatter if it's placed in your own knowledge because learning—by definition—changes, modifies, and updates your knowledge."
---
Appendix
➢ ICYMI
Mailchimp, one of the biggest and most powerful tools to send out newsletters, got bought by Intuit for $12b. This is a huge number and a huge deal thinking of the fact that Mailchimp started their business 20 years ago. The only weird thing about this acquisition is the fact that Intuit is not very well-known for being part of the email marketing space so it will be interesting to see where this acquisition will lead.
➢ Quick Bits
Google is testing using Drive as a newsletter platform called Museletter / You can now put your Tumblr posts behind a paywall / Facebook's latest "apology" reveals security and safety disarray / Bitcoin mining producing tonnes of waste / Apple is reportedly working on mental health monitoring using iPhone data / Analyst says Spotify is close to overtaking Apple Podcasts in number of users / Google to Spend $2.1 Billion on Manhattan Office Building / iOS 15 is here, but we're still waiting on a few new features / Google has more cross-site trackers than other popular websites
---
Twitter thoughts
---
Till next time! 👋‌‌‌‌
Support: Do you have a friend who is looking for inspiration, news about design, and useful tools and apps? Forward this newsletter to a friend or simply share this issue and show some support. You can also show some love by simply clicking the button down below and keep this newsletter a sustainable side-project by buying me a coffee. ☕️ 🥰
---
Some of the links in my newsletter and my blog posts are affiliate links. Those links are marked by an asterisk "*". If you buy something through the link, the product will not cost you anything more, but I will receive a small commission which not only supports Creativerly and my work but also helps me to keep this publication a sustainable side-project.