Newsletter
Why great design is timeless & The new face of presentations
In this week's issue of Creativerly: Pitch launched publicly, Why great design is timeless, Introducing Quick Bits, and a lot more.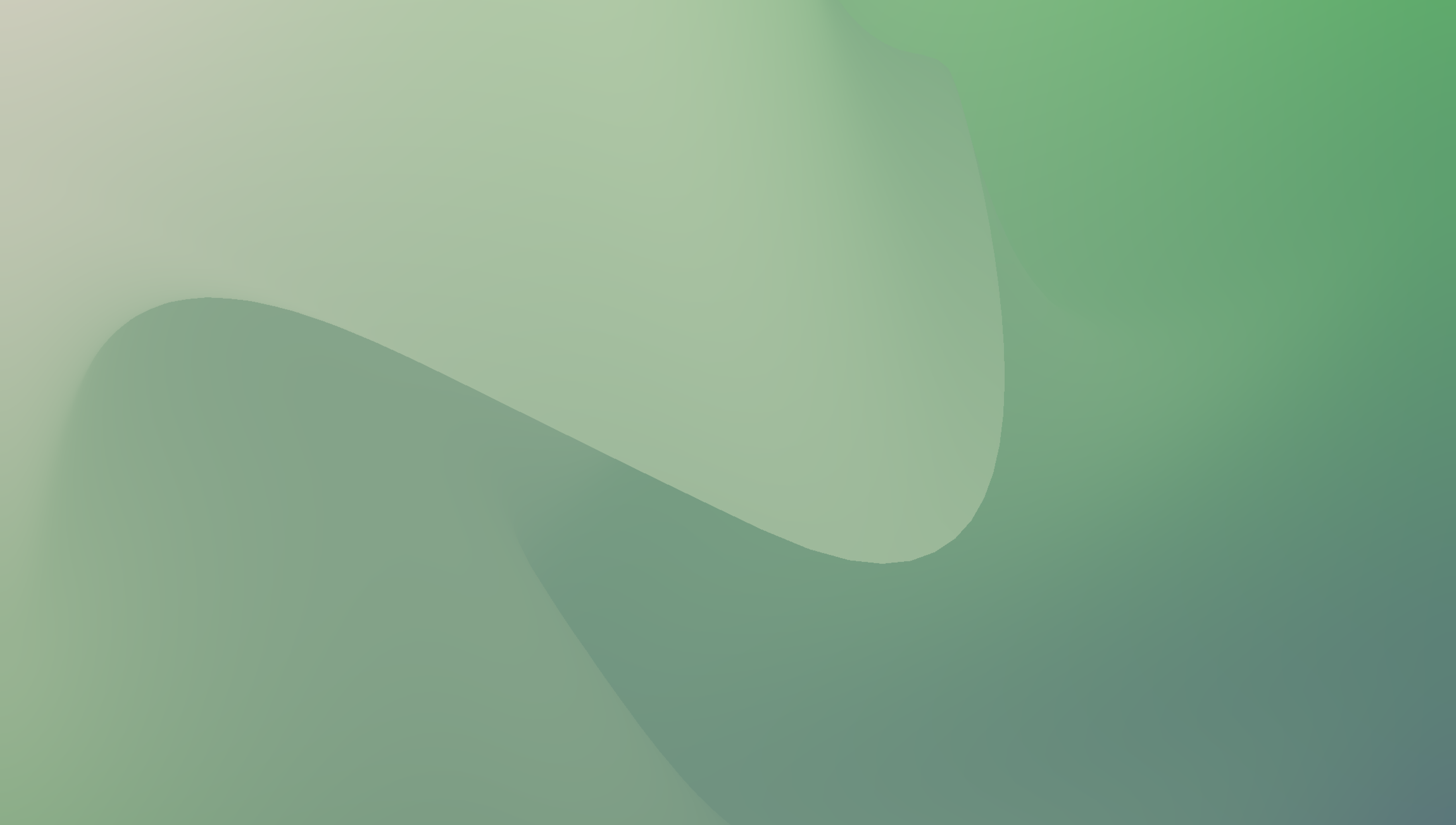 You are reading Creativerly, the weekly digest about creativity and productivity-boosting tools and resources, combined with useful insight, articles, and learnings from the fields of design and tech. The newsletter built for the creative community.
---
Hey and welcome to issue 88 👋
What a busy week! I am not 100% sure if it was a super short, long, or something in-between week.
Nevertheless, it is time again to share some updates regarding Creativerly. Well, this week's issue went out to 545 creative minds, which is just amazing. I would have never thought that I will ever be able to send out a weekly newsletter to over 500 people, who are actually interested in the stuff I write and curate.
Since I always try to keep pushing Creativerly forward I am currently in the process of setting up a Ghost publication for Creativerly. What does that mean? Well, Ghost is an open-source CMS that is super popular for its interface, which was built for writers publishing their content. They also have a newsletter function, which makes it an incredible out-of-the-box experience. I am still testing everything out, but so far I really enjoy Ghost, and I will definitely move the whole Creativerly publication to Ghost, later that year.
Nothing will change for you! Although, I am pretty sure you will enjoy reading Creativerly even more.
I will keep you updated!
If you have recommendations or feedback, drop me an email or a tweet. For now, enjoy the newsletter!  🥰
---
Apps, Software, Tools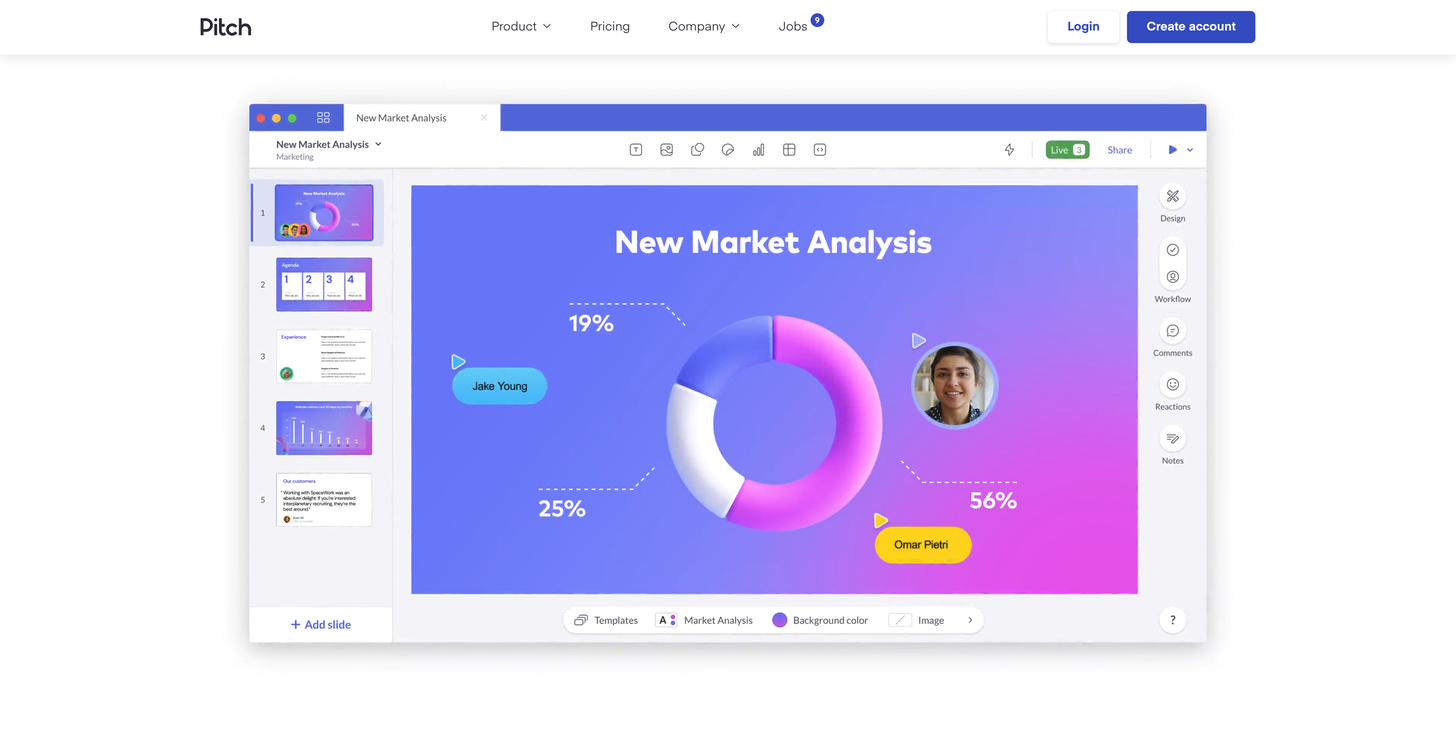 I am pretty sure most of you already know about Pitch, the presentation tool of the 21st century, built by the creative minds who also brought us Wunderlist, which sadly shut down couple of weeks ago (but Christian Reber and Team are already working on something new called Superlist). Pitch has been in a closed beta for quite some time. When we take a look at their website, seeing which companies are using or have been using Pitch, we kinda get the impression that Pitch has been tested by some of the greatest teams out there. But, Pitch is now open to everyone. So, if you are looking for a modern presentation tool, with a gorgeous interface, an incredible user experience, and the possibility to boost your teams creativity and productivity, you might want to look into Pitch. Pitch let's you create, collaborate, and celebrate in one place.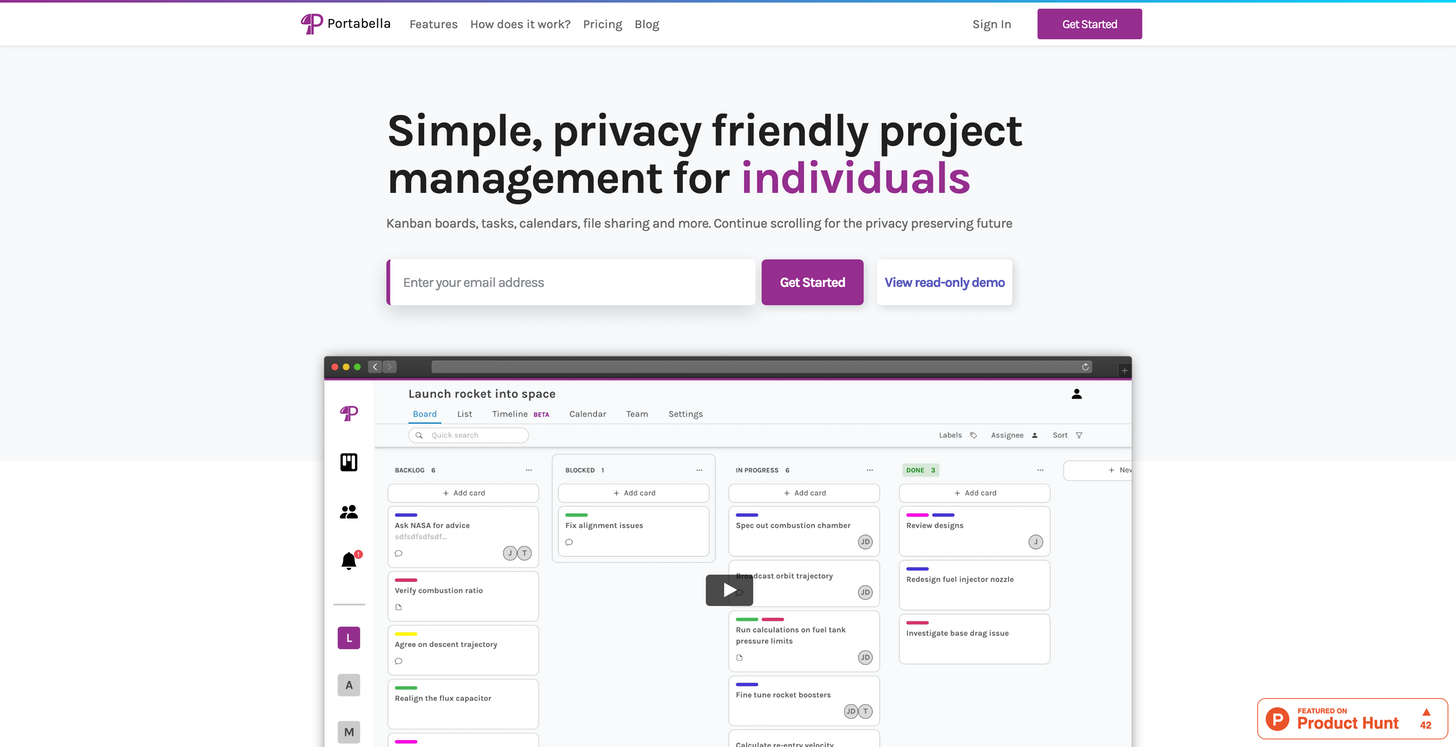 There are a lot of different project management tools out there, but I always love to see it when an indie hacker enters such an competitive space, with a privacy-first approach in mind. Portabella is such a tool, built by Alex Harley. If you are on the lookout for a lightweight project management solution for yourself or your team, you should definitely check out Portabella. It supports a rich kanban experience, calendar support for longer term planning and a timeline (Gantt chart) view. On top of that, Portabella contains no third party tracking scripts or pixels. Your movements and actions are never mined for insights, you are not the product. Your data is safe and sound via a combination of AES and ECIES encryption. There is no need to feed companies like Asana, Trello, or Jira with all your data. Portabella has all the features to kick off your project management.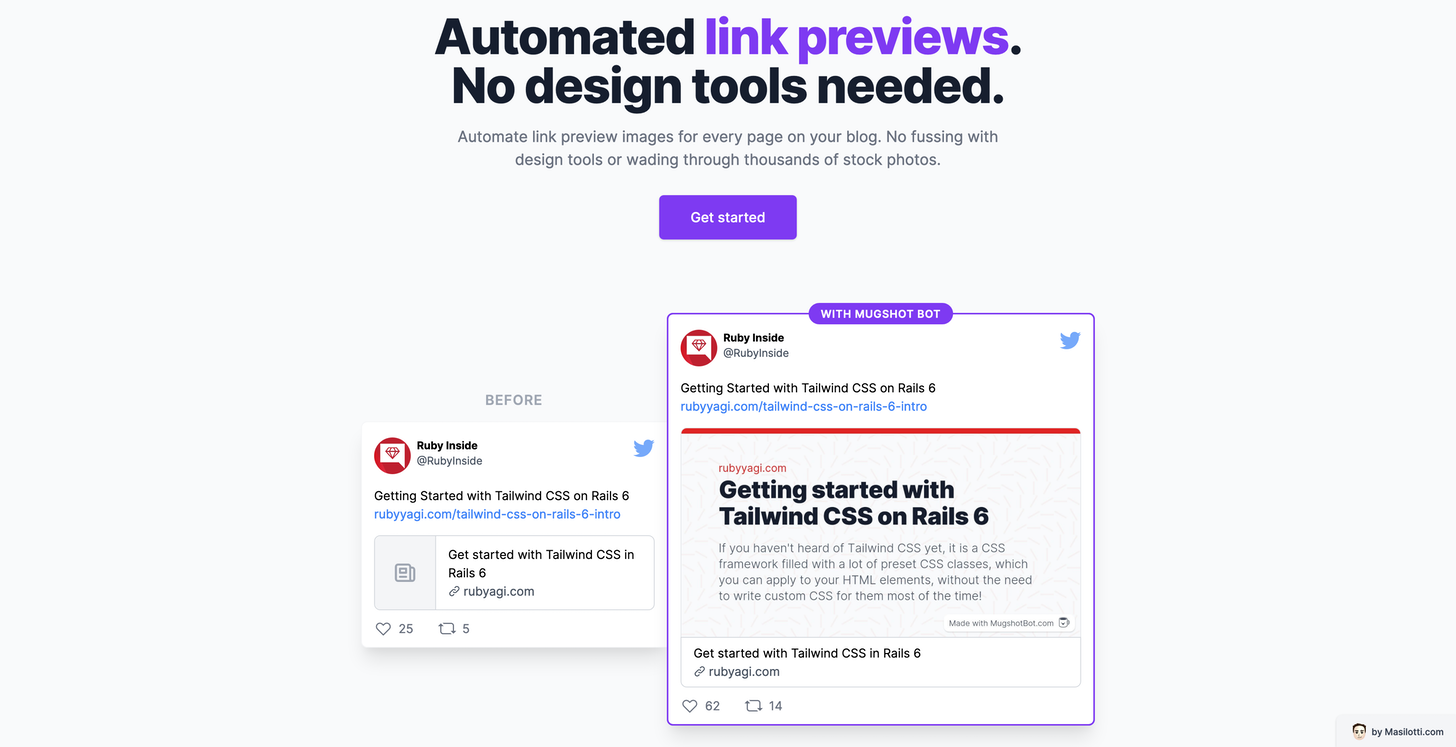 Buffer knows it best "Tweets with images receive 150% more retweets than those without." - therefore, it should be one of your priorities if you are a creator, to be sure that you nail your link preview images of the content you are sharing. Mugshot Bot is here to help you and boost your productivity by providing a super simple solution to automate link preview images for every page on your blog. No fussing with design tools or wading through thousands of stock photos. Super simple, fast, and easy.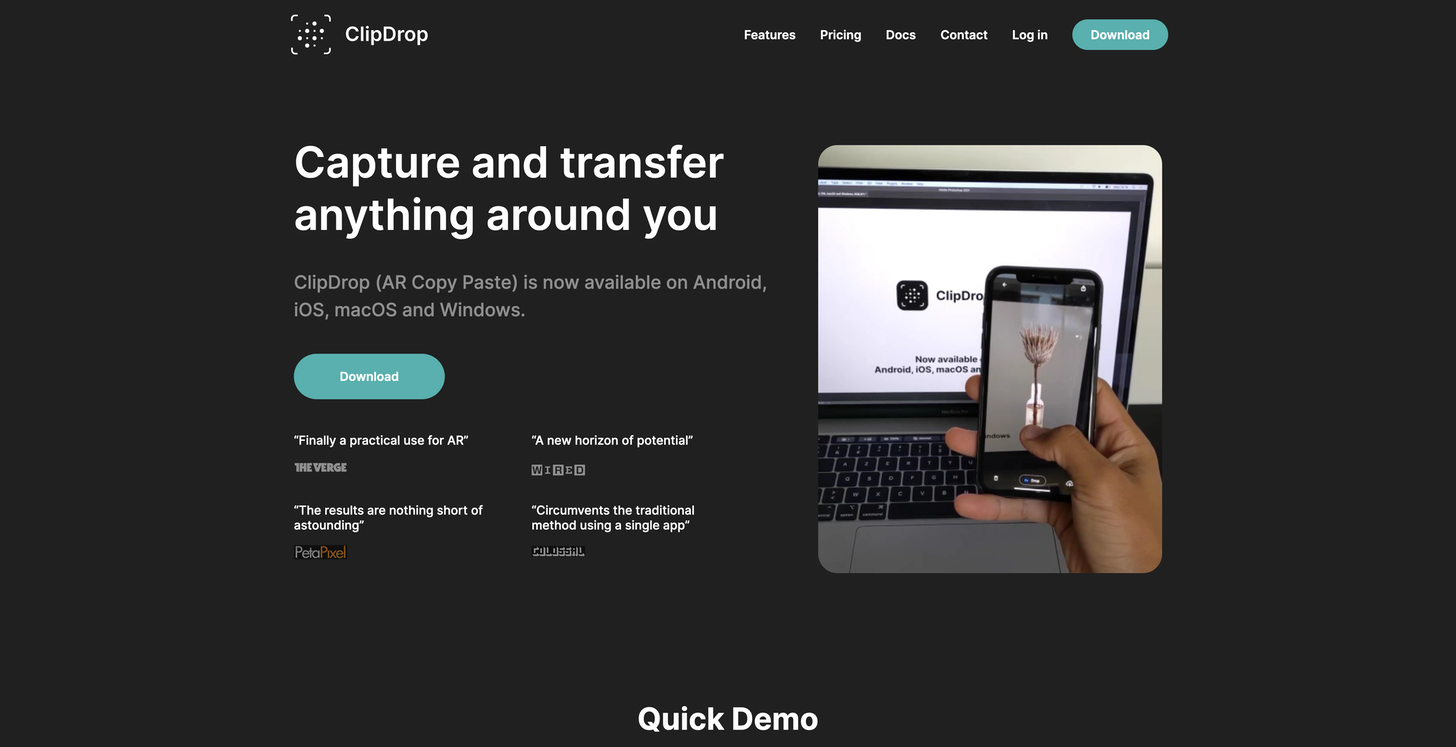 ClipDrop is the stuff that amazes me. I saw a very early demo on Twitter couple of months ago. I thought it was fake, or edited in post production, because I could not handle it. But now, ClipDrop is live and just launched on Product Hunt. ClipDrop is an AR Copy Paste App. So, what does that mean? Well, speaking of the mobile apps, it lets you scan different objects around you. After that, ClipDrop uses state of the art AI technology to cut out those object, no-matter what you are scanning. Lastly, ClipDrop integrates with your worklfow, and lets you place your scanned object directly to any other app or website (Photoshop, Sketch, Figma, etc.). My mind is blown.
---
Goods & Gadgets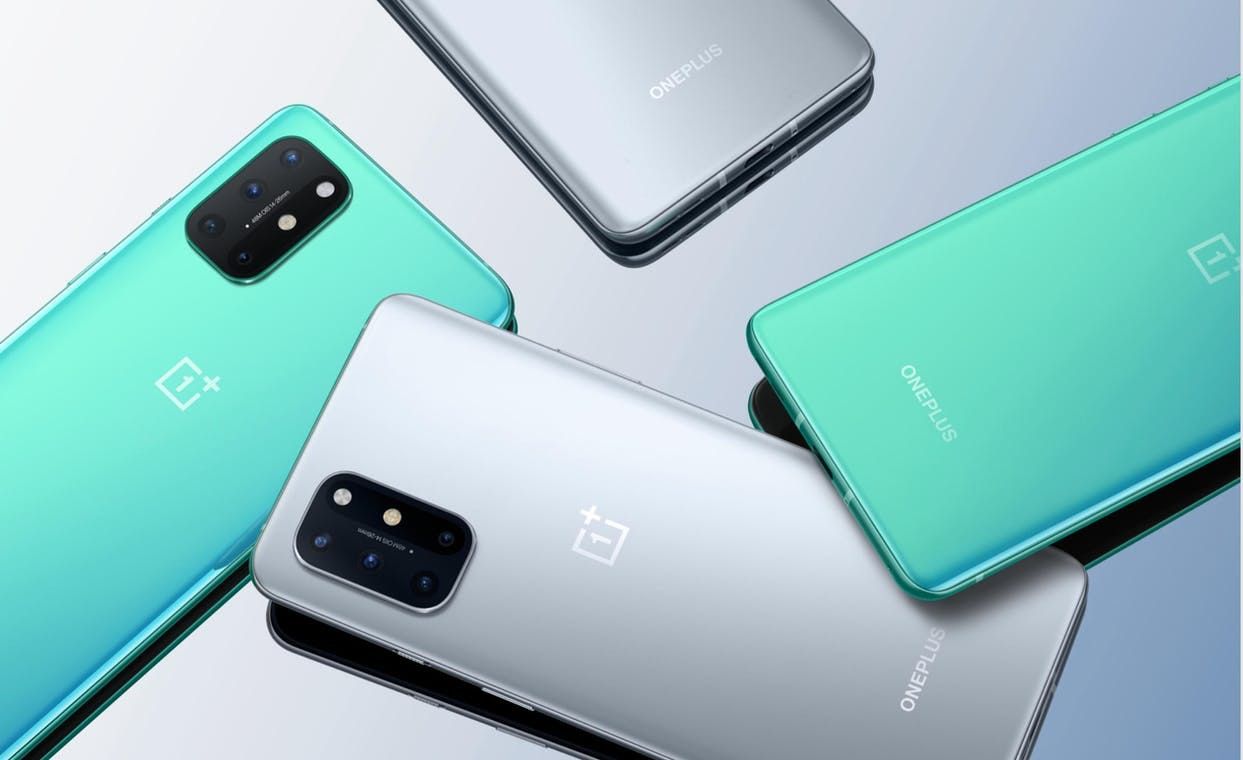 Another week, another new Smartphone. OnePlus just introduced its newest flagship smartphone, the OnePlus 8t. It features a stunning 120hz display, the newest Qualcomm Snapdragon 865 with 5G, a 48MP Quad Camera, and Warp Charge 65. On top of that, it has a massive 4,500 mAh5 battery powers your mobile life all-day long. But speed matters too. That's why Warp Charge 65 is the fastest ever charging solution. Enjoy a day's power in 15 minutes. Impressive!
---
Useful Resource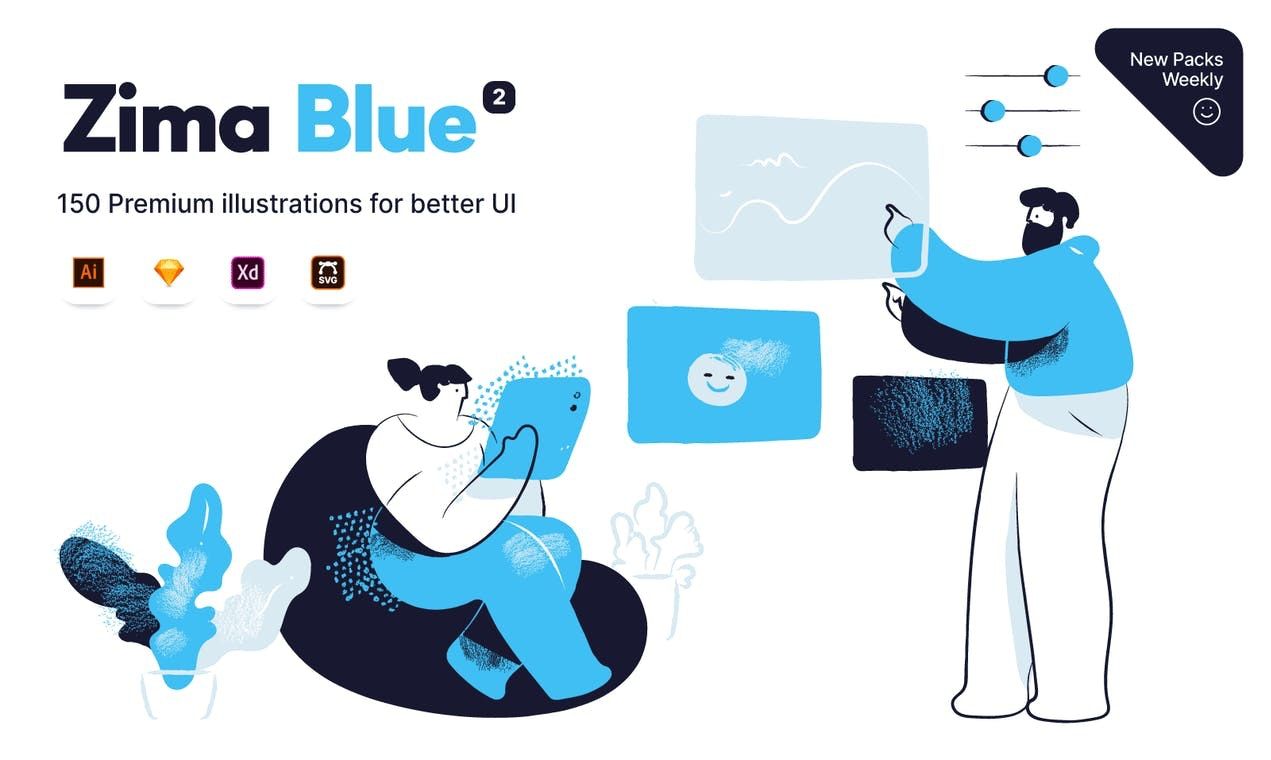 I am a big fan of illustration packs, because I just really bad at doing illustrations. There are so many creative illustrators out there who create impressive illustrations. ZimaBlue is one of those awesome illustrations packs. It features 150 illustrations, all 100% vector and full editable. Perfect for websites, apps, print and presentations, available in 6 formats.
---
Mental Wealth
➢ Being Smart is Not Enough – "In business, it's never enough to have a great idea. For any innovation to be successful, it has to be shared, promoted, and bought into by everyone in the organization. Yet often we focus on the importance of those great ideas and seem to forget about the work that is required to spread them around. Whenever we are building a team, we tend to look for smarts. We are attracted to those with lots of letters after their names or fancy awards on their resumes. We assume that if we hire the smartest people we can find, they will come up with new, better ways of doing things that save us time and money. Conversely, we often look down on predominantly social people. They seem to spend too much time gossiping and not enough time working. We assume they'll be too busy engaging on social media or away from their desks too often to focus on their duties, and thus we avoid hiring them."
➢ An introduction to Inclusive Design – "A very personal journey to understanding how inclusive design can win hearts and minds — and generate business value. During this article, I try to explain this fast-growing practice, and why taking inclusive design seriously is essential in today's environment. I also look at specific examples from healthcare, and how reframing our concept of the user can create more compelling customer pathways, leading to positive trickle-down effects in society. This article is an introduction to inclusive design, as experienced by an individual and also collectively. It's the first of a four-part series that explores the consequences of inclusive design for business and how they create value, taking in current perspectives, insights and best practices while looking to the future of this crucial — and fast-developing — area of design and product thinking."
➢ Storytelling is great, but is it enough? – "Companies work to unlock the story of their brand, to tell the story of their target customers, use data to tell stories about their industry or provide further insights. The word has popped up in job descriptions: rather than writers and editors, companies hunt for storytellers who can bring their content to life (Microsoft even has a chief storyteller). Meanwhile, CEOs are increasingly seen as leading their companies by the stories they tell. This trend gets at a central truth: we like hearing stories. They engage our imagination, they inspire us, they reveal morals and promote values. So it's no surprise that storytelling has become such a popular part of brand marketing. Here at Intercom, we love to tell the story of how our founders brewed up the idea for Intercom over a steaming cup at a 3FE coffee shop in Dublin. And yet, all this emphasis on storytelling glosses over the quality that's even more crucial for a brand's content marketing to find success: personality."
➢ Why great design is timeless – "More than a decade ago, Apple introduced the iPhone 4, with its new boxy rectangular design. It was the first time we got to experience the Retina display. Fast forward to today, and the new iPhone 12 is slowly making its way into the hands of iPhone buyers. To the joy of many, it has the same design language as the iPhone 4. You can read John Gruber's thoughts on his blog, Daring Fireball. A lot of commentary has followed the launch of the iPhone 12, some of it praising Apple for going back to the old design and some complaining about Apple's inability to do something different from a design perspective. Both sides miss the point: Enduring design doesn't need constant reinterpretation. It needs tweaking, polishing, and subtle improvement. I think of the iPhone and its design language very similar to Porsche's design language. Or, for that matter of a classic Leica camera."
---
Quick bits
I always like experimenting with different formats in my newsletter. A couple of weeks ago, I silently removed the "Typeface of the week" section. Why? Because I realized that it got basically no attention, and therefore there is no need to display content which is not of interest to you. If you are still into fonts and typefaces, I highly recommend the Fresh Fonts newsletter by Naomi Stauffer. Since Creativerly explores topics from the fields of design, tech, productivity, creativity, and more, I am going to introduce to you a new section (experiment) within this weeks issue: Quick Bits / Weekly Bits where I will gather some super short bits of news I came across throughout my week, which do not fit within the intro section but are still worth sharing with you. As always, let me know if you like a section like this and if I should continue with it. But for now, enjoy last week's quick bits.
---
Twitter thoughts
It's not about having something to say — it's about having the guts to say it.

— Josh Spector (@jspector) October 23, 2020
---
Till next time! 👋

Support: You have a friend who is looking for inspiration, news about design, and useful tools and apps? Forward this newsletter to a friend or simply share this issue and show some support. You can also show some love by simply clicking the button down below and keep this newsletter a sustainable side-project by buying me a coffee. ☕️ 🥰
Disclaimer: My posts may contain affiliate links. If you buy something through one of those links you won't pay a penny more, but I'll get a small commission, which supports this blog and also my side-projects. So consider buying something through my links. Thank you!
---