Newsletter
Write Tangentally & How to perform well under pressure
In this week's issue of Creativerly: The web-based motion design platform, make remote work actionable, end procrastination, and a lot more.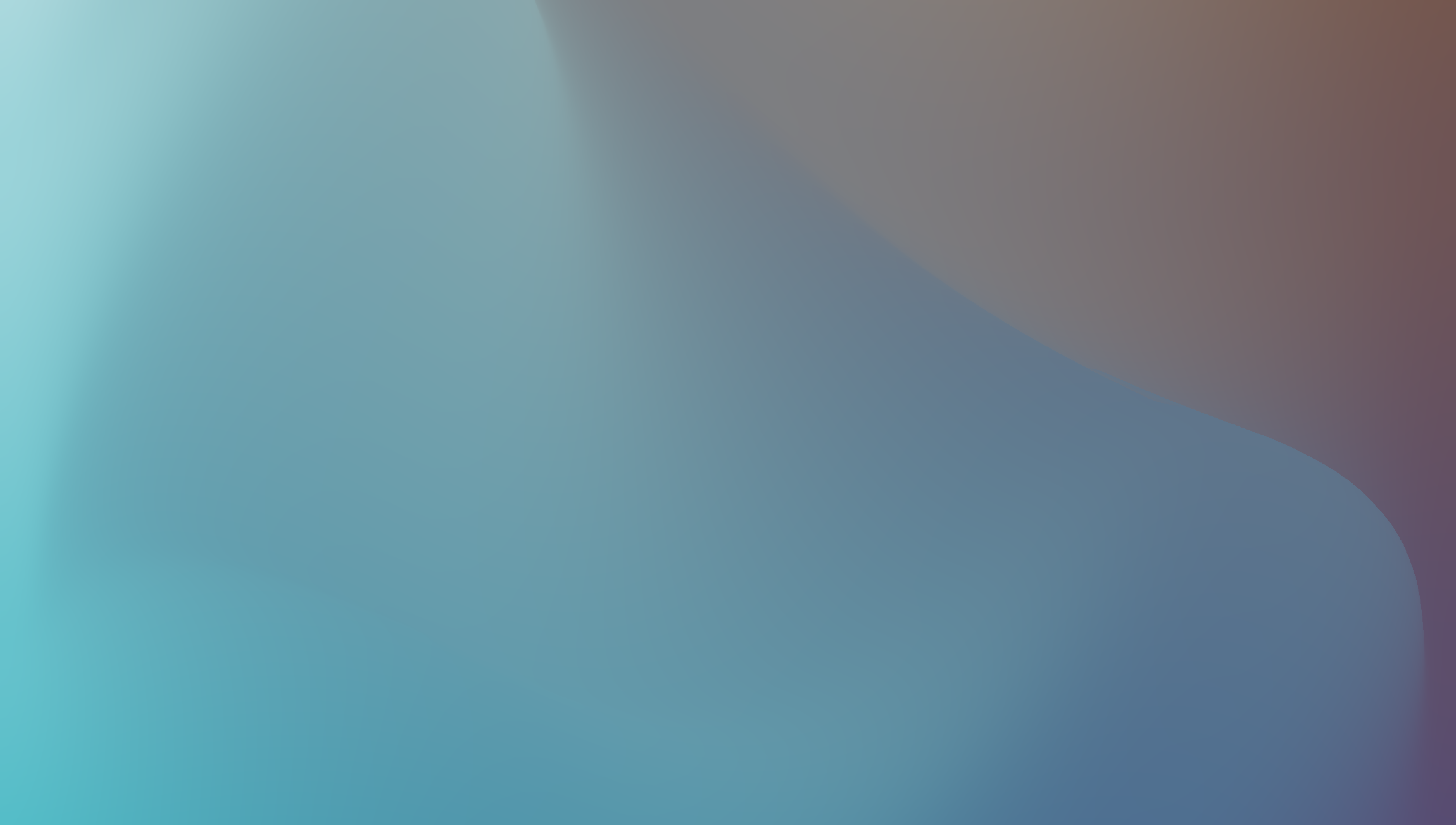 You are reading Creativerly, the weekly digest about creativity and productivity-boosting tools and resources, combined with useful insights, articles, and findings from the fields of design and tech. The newsletter built for the creative community.
---
Hey and welcome to issue 147 👋
Over the last couple of days, I was thinking about how I could improve the readability of this newsletter by making changes to the layout. A lot of people are reading newsletters on their phones. As a newsletter creator, I think about ways to make my newsletter enjoyable and readable across any screen size. There is one thing within my newsletter that disrupts the reading experience and makes it hard to skim through it, and that is the use of images. Currently, there are six images within the newsletter, one for the main sponsor, four for the featured apps and tools, and one for the resource. While I like the visual effect of images (especially for the featured tools), they are also disrupting the reading flow when I consume the newsletter within an email client on my phone or even on the desktop, at least that is my personal opinion. Whenever I open a newsletter on my phone or in general within my email client, I especially enjoy those which are pure text without any images, simply formated with different text styles, and minimal layout elements like dividers for example.
Therefore, I want to make a quick survey. If you have literally one minute, please head over to this link, which will guide you to a survey containing one simple question: Do you want to keep the images within the email newsletter version of Creativerly? I would really appreciate your thoughts and opinions on that. If you want, you can also drop me an email and we can start a discussion based on that topic. I am looking forward to hear from you soon. Once again, you can find the survey here.
If you have recommendations or feedback, drop me an email or a tweet. For now, enjoy the newsletter!  🥰
---
More tabs, more problems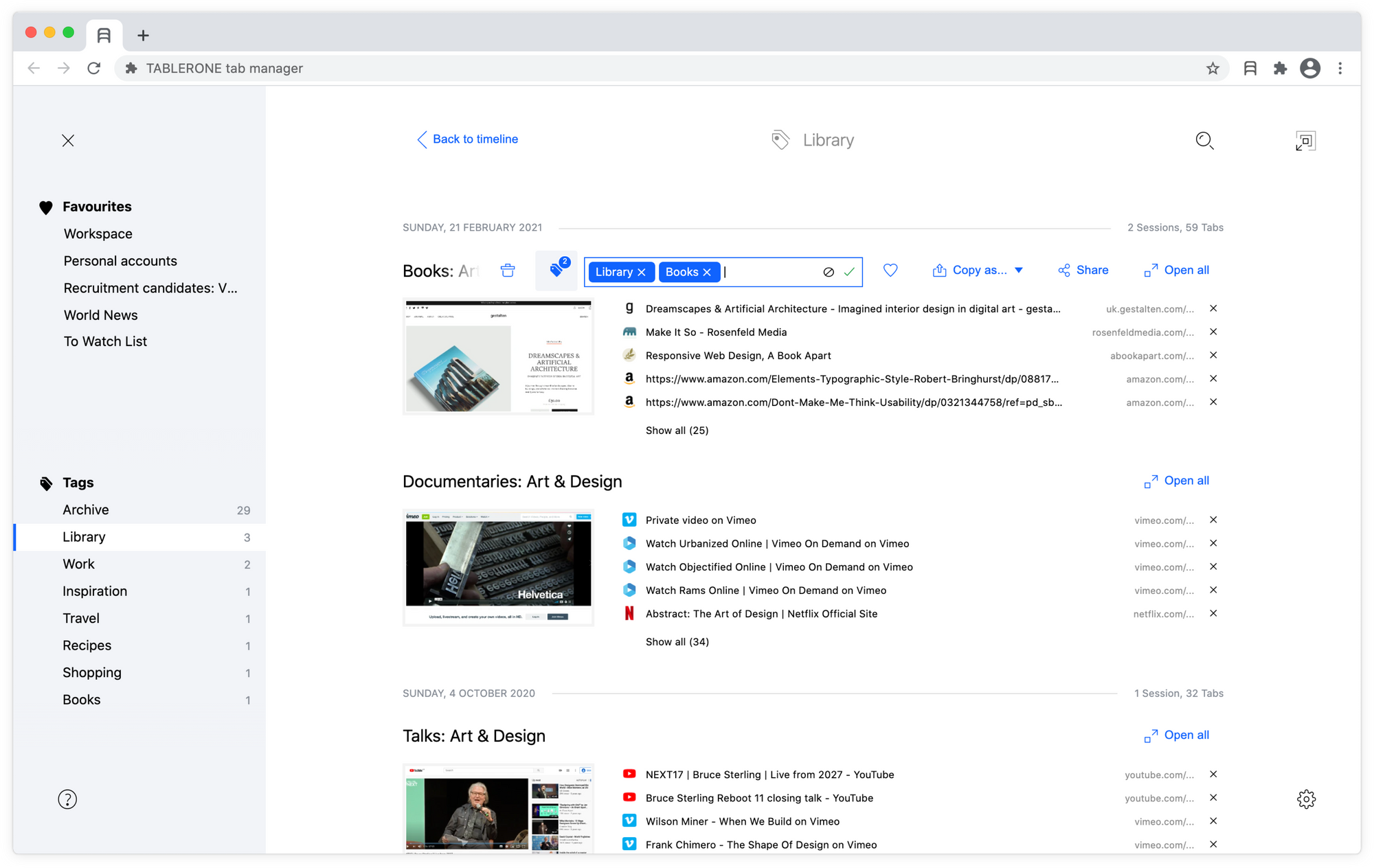 As browser tabs pile up, your focus dilutes. The more you open, the longer it takes to find the right one and you often get distracted in the process. Stay in the flow with new superpowers:
🗂 Save and close tabs
🗄 Organise bookmarks with tags and notes
📚 Set-up and switch workspaces
🔄 Reopen sessions
---
Apps, Software, Tools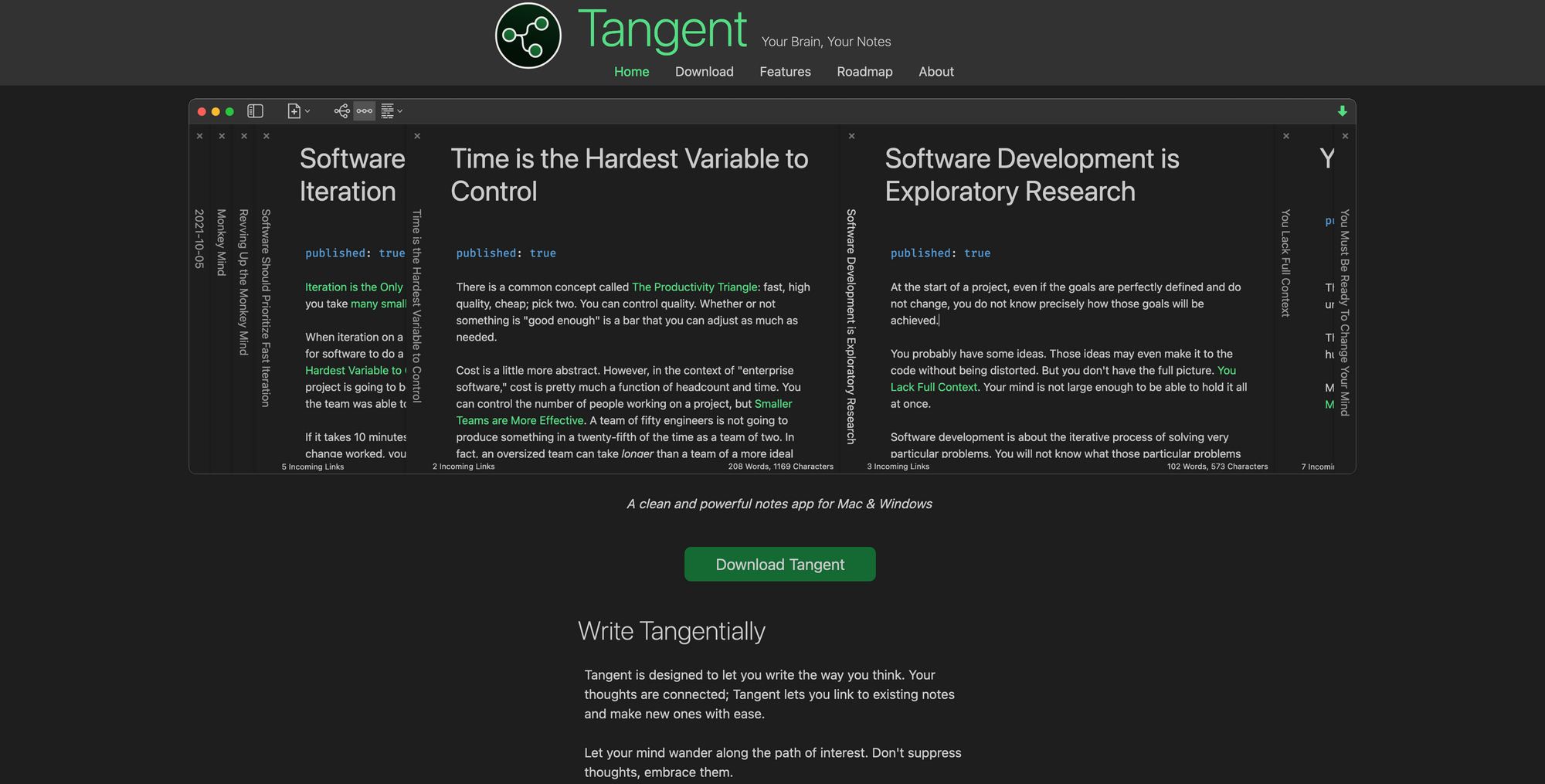 An avid Creativerly reader recently introduced me to Tangent Notes, another interesting tool within the Personal Knowledge Management (PKM) area. Compared to popular tools like Obsidian, Roam, or Logseq, Tangent is following a new approach you have probably not yet experienced. At the core, Tangent is designed to let you write and jot down your thoughts just like the way you think. As with all PKM tools, Tangent gives you the power of connecting your thoughts and notes as you can link existing notes and create new ones with ease.
Here is what makes Tangent Notes really interesting and also distinguishes it from other PKM tools: While you take your notes and jot down your thoughts with Tangent, it visualizes the path of your thoughts. This path is accessible with elegant sliding panels and a branching map that simply builds itself as you write and extend your thought process. This neat feature gives you the possibility to keep track of your notes and thoughts in a completely new way, you will always know where you are and where you have been. It almost feels like a natural thinking process build into a digital tool, that lets you wander your mind along a path of your interest. No matter which direction your thoughts and notes take, Tangent panels and branching map will take care of them so you never get lost. Besides that, Tangent fully works with local files straight from your device.
All your notes are stored as markdown files, which means they can be read and edited by any text editor. If you are already using PKM tools like Obsidian or Logseq which are also based on local markdown files, you can simply connect your existing vault or workspace to Tangent to get an idea of how notes and files are treated within Tangent. Since Tangent is based on local files, you can be sure that your data will always be yours. While you take your notes you can fully style everything with markdown just as you type. If you want to connect your thoughts and link your notes, you can use the already known format of wiki-style double brackets. Based on that, if you are making the switch from Obsidian to Tangent, all your notes you already have created within Obsidian and linked together by using wiki-style links, will stay linked within Tangent too.
I am incredibly impressed by the way Tangent is using sliding panels to visualize your thought process and I can totally see the value of that. Whenever I start writing on a new blog post, I am beginning with an outline where I simply jot down some thoughts and ideas I would like to include within the blog post. At some point, I would like to explore some thoughts and ideas a little bit deeper and then I start to add some notes, links, and new thoughts to those ideas. Tangent's sliding panels could really improve my workflow thinking of this use case, as it would give me a clear overview of my thought process and would make it incredibly easy to keep track of every bit I add to it. Tangent is currently available for macOS and Windows. On top of that, it is free-to-use and in constant development. If you want to get a glimpse on upcoming features, make sure to check out their public roadmap.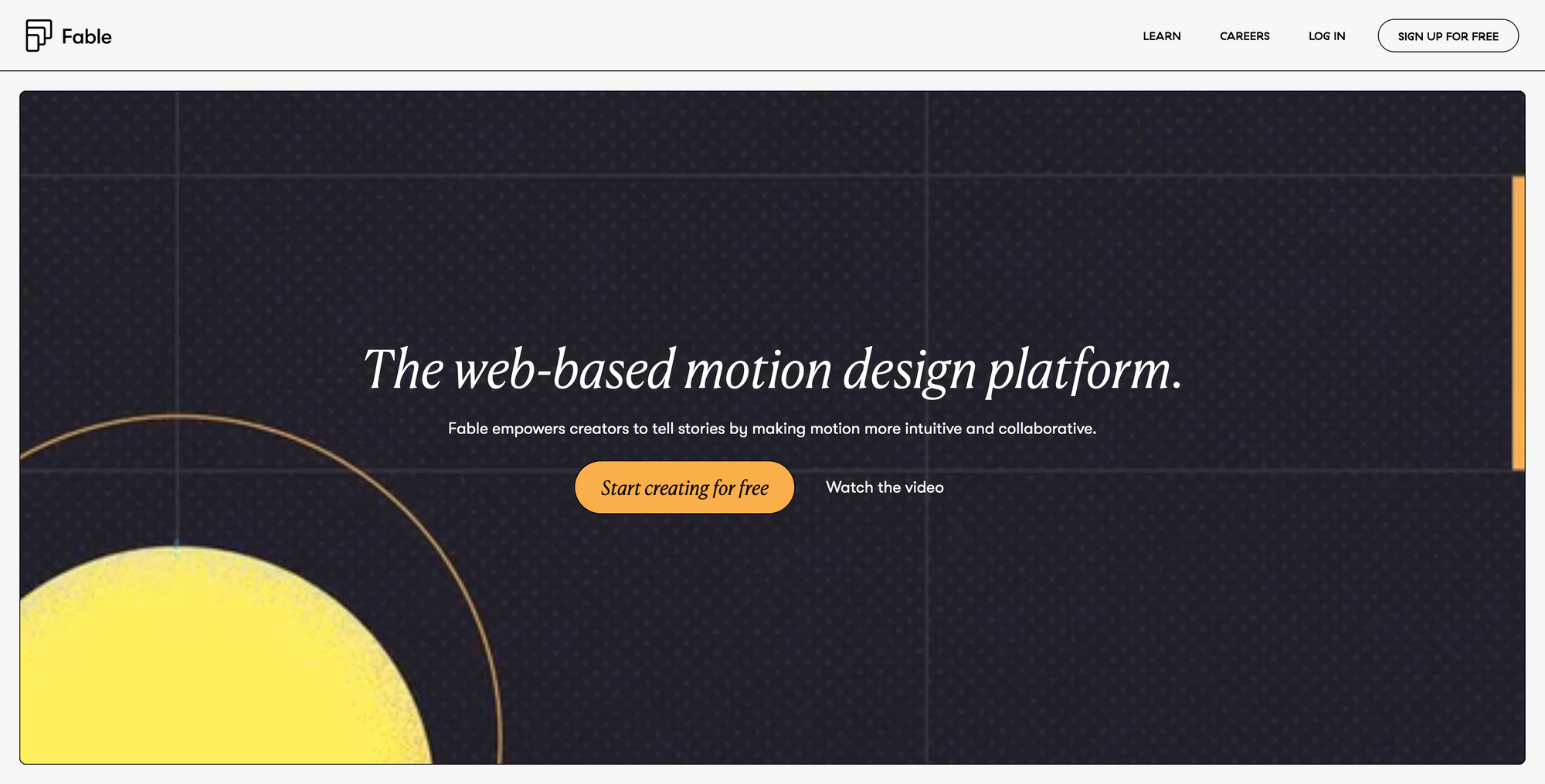 Most of you might already know, that I am not a big fan of Adobe's monopoly within the design industry and that I do not understand while universities always claim you have to use Adobe CC tools because they are "industry standard". There are great alternatives, which are not only more affordable, but also offer great features, and are even more powerful. With the Affinity Suite by Serif, I managed to replace Photoshop, Illustrator, and InDesign. The only reason why I am still holding onto my Adobe CC subscription is that I still need to find a good alternative for After Effects.
Fable could be the final replacement to finally say goodbye to Adobe. Fable is a next-generation motion design software, that sits directly within your browser. One of the biggest drawbacks of After Effects is the fact that it has a steep learning curve to actually get great results. Fable was designed and built for pros, as well as beginners. On top of that, Fable puts team collaboration at the heart of its experience. Fable gives you the possibility to set up team workspaces to share projects or media libraries with your team and collaborators. Fable will make sure to keep everything in sync within the cloud, so you can focus on creating. Folks who have already used After Effects know the possible pain points of motion design.
Fable was designed to get you going. With its intuitive and lucid interface, it never has been that easy and joyful to take your first steps within motion design and develop your skills. But that does not make Fable a tool only for beginners. If you are already seasoned within motion design and call yourself a professional, Fable offers a pro-grade suite of features, tools, and effects to make your complex projects shine. All the projects you have created with Fable can be shared with a single link. Your colleagues can then leave comments and feedback inline to keep feedback loops short and quick.
Fable has been in constant development for the last three years but just launched publicly and opened its platform for everyone. If you want to give Fable a try and learn more about their revolutionizing motion design tool, you can sign up for free, right now.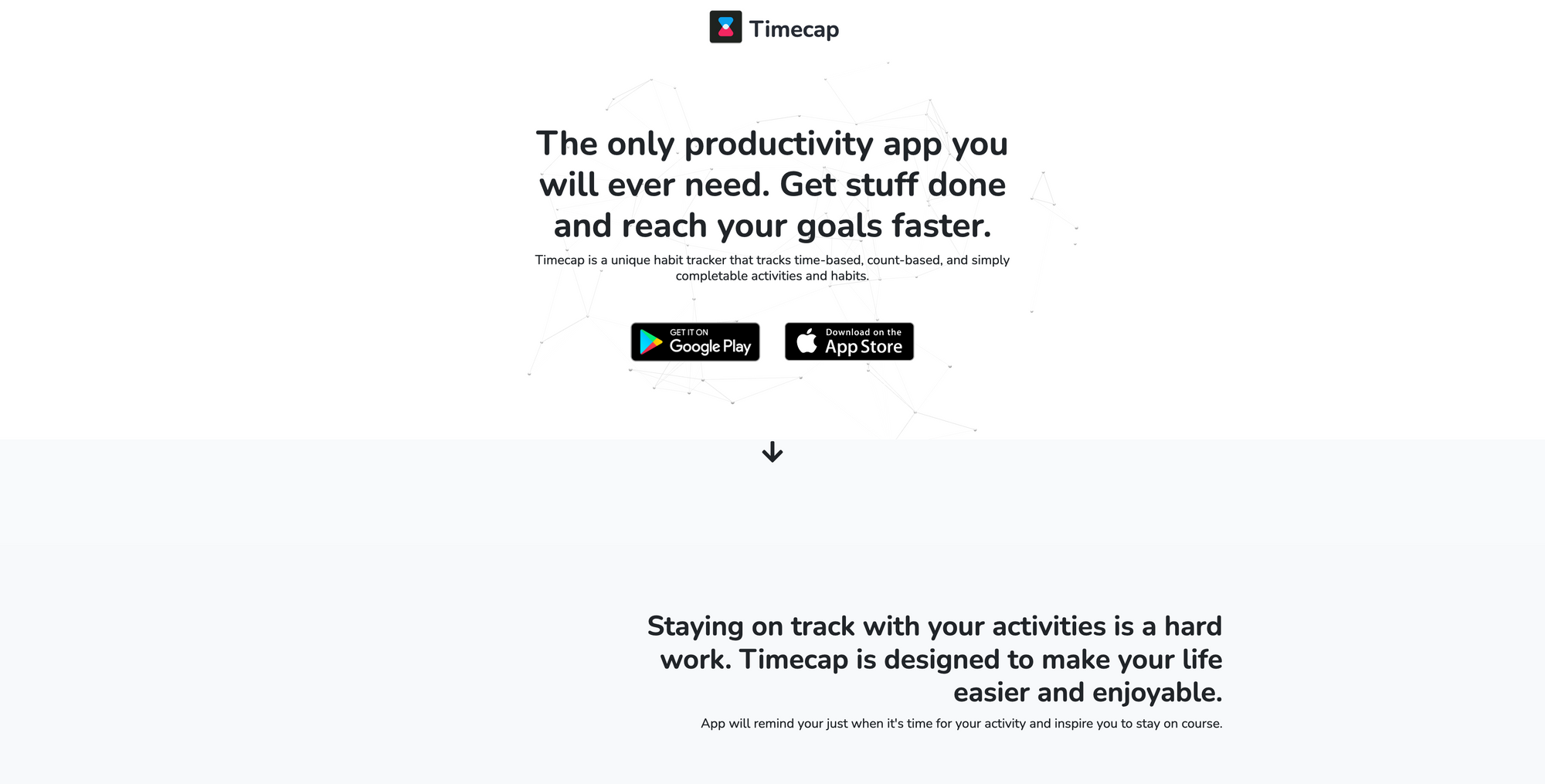 If you are into habit-tracking to strengthen your current habits, build new ones, and get stuff done, you should take a look at Timecap, a neat little app that helps you get your stuff done faster and actually reach your goals. Timecap is not just another habit-tracker, it tracks time-based, count-based, and simply completable activities and habits, all within one app. The hardest thing while developing new habits is to actually stick with them. Staying on track with all your activities is hard work.
Timecap wants to help you during that phase, as the app will remind you just when it's time for your activity and inspire you to stay on course. Timecap is your companion on your journey to focus on building new habits and reaching your goals. No matter if you want to track your reading time, the number of workouts you have completed within one week, the time you have spent writing, or how often you meditated within one week, Timecap lets you set up beautiful advanced widget types to keep track of everything. If you are on a streak, Timecap will provide you with statistics to keep you motivated on your journey of building and strengthening your habits.
Besides that, Timecap will not only help you do specific activities more often, it will also help you limit activities you want to get rid of. Do you want to stop smoking, or stop drinking alcohol? Set up limits on those activities and keep track of how you are doing. Timecap is available for iPhone, iPad, and Android, and you can use it for free. According to their App Store listing, there is also a subscription available, but I was not able to find out what features are included within the free version and which ones are included in the paid version. The landing page of Timecap is pretty barebones, not giving away much information. Nevertheless, Timecap is an interesting Habit Tracker which is worth giving a tr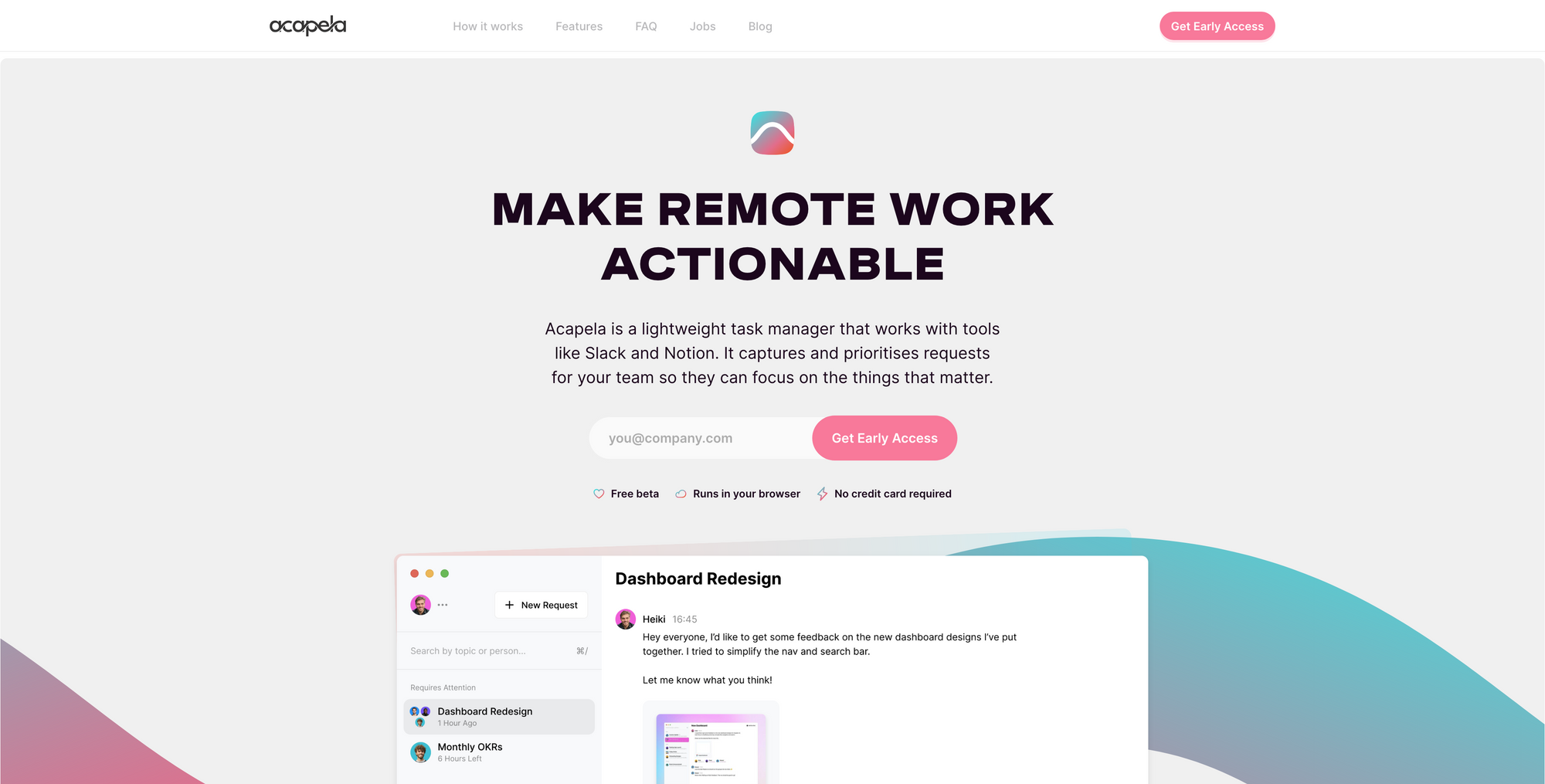 As more and more people are moving towards a remote-friendly or more hybrid way of working together, Slack became an even more popular tool for cross-team communication. Therefore, more and more people realize that Slack can be incredibly overwhelming, as it is hard to keep track of conversations within busy channels, and actually drive action to feedback coming from your colleagues. Often, a discussion with your team can end in an endless thread, full of comments, messages, and feedback, and ultimately you came to no result and no conclusion. Slack is great for collaboration, but it surely wasn't built to actually act on the things that have been discussed.
This is exactly where Acapela comes in. Acapela wants to make remote work more actionable. Acapela is a super lightweight task manager that lets you capture and prioritize requests for your team so they can focus on the things that matter. On top of that, it already works with tools like Slack and Notion. If you find yourself within a discussion in a busy channel on Slack, you can flag a request with just a few clicks. This request could be a dedicated task you need a colleague to do, feedback on a document, a new feature or a new idea, or simply a group decision made. Simply type "/acapela" within Slack and add your request. Once you hit send, you will be able to keep track of this request straight within Slack.
If you want to see all your capture requests in a broader image, Acapela is providing you with a dedicated dashboard and interface. Heading there, your team will always know what they need to do and in what order they need to do it. To avoid any further distractions and getting lost within countless messages within Slack, Acapela gives you the power to simply place a request for a dedicated task or feedback and automatically keep track of the status of it. With Acapela never-ending comment threads turn into clear next steps. If you want to give Acapela a try, make sure to sign up for early access now.
---
Useful Resource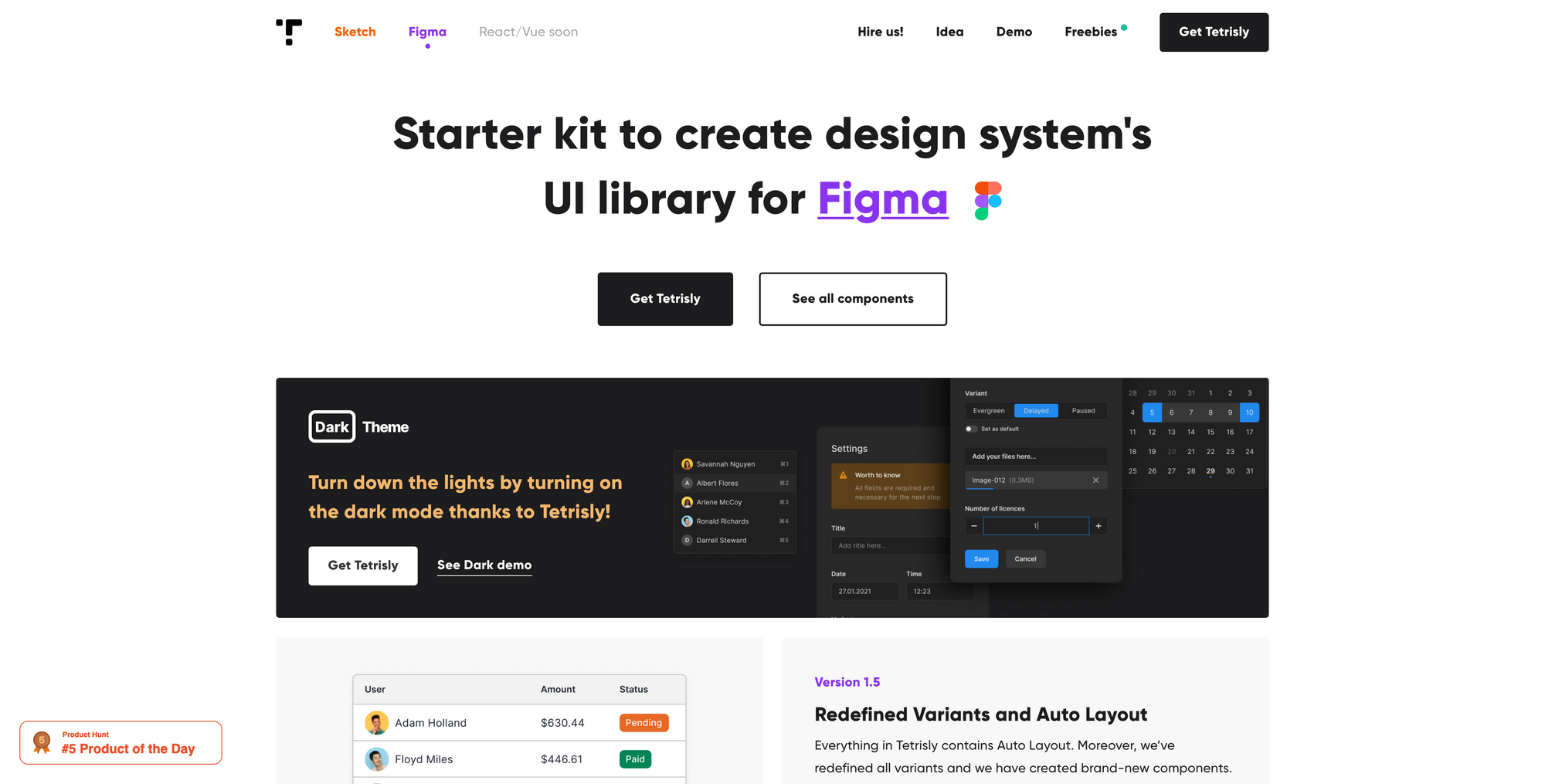 If you are working in the field of Product Design, you definitely got in touch with Design Systems and therefore probably know how hard it can be to actually build and maintain one. Tetrisly is one of the biggest and most organized starter kits to create a UI component library in Figma and get started with your next design system. It already is trusted by more than 2000 designers and teams. With the newest release, Tetrisly 1.5, the overall look got refreshed, the structure got improved, and loads of variants within the library got redefined. Over 2500 components give you a great starting point to build out your own UI component library. All of them are already organized with Atom Design methodology out of the box. Tetrisly will cost you $59 for the individual lifetime license, and $99 for the Team lifetime license.
---
Mental Wealth
➢ How to perform well under pressure – "Whatever sphere you inhabit, whether you're a pro or amateur athlete, businessperson, teacher, full-time parent or something else entirely, you're bound to have felt the pressure of your own expectations and the expectations of others. Almost everyone must cope with daunting situations, in which they don't feel they have the skills needed to succeed and meet the weight of those expectations. I'm a sports psychologist and I help teach my clients mental techniques to deal with this kind of pressure. I've found the same practical techniques and principles that I teach to athletes are also invaluable to my clients from many walks of life, including business and theatre."
➢ Notes on newsletters – "Email newsletters are older than the web, and paid newsletters are older than the internet. Fred Hickey has been writing the High Tech Strategist since 1987, when he sent it by fax, and 'newsletters' themselves are almost as old as print. Meanwhile, there's been a steady flow of people scaling personal email newsletters and blogs into media companies - Dany Levy sold Daily Candy for $125m back in 2008, Rafat Ali built and sold Paidcontent and Imran Amed has built Business of Fashion to ~100 people. Morning Brew sold for $100m last December."
➢ What Designers can do about Internet Addiction – "In 1996, Dr Kimberly Young was one of the first scientists to warn against the addictiveness of computer use. That's right, 25 years ago. Fast-forward to today, dark patterns are still rampant, and by forcing us to spend more time inside and online, the pandemic has accelerated the harmful effects of these mechanisms. Let's take a look at Internet addiction, persuasive & addictive patterns, and what designers can do to avoid them."
➢ End Procrastination – "The most influential companies in the world put all their energy into getting us to click, react, and consume. If you work on a computer, procrastination awaits you everywhere, all the time. How do you beat it and get things done?"
---
Classified Ads
Capture your Mac's screen like a pro. CleanShot X provides over 50 features making it the ultimate screen capturing tool. Grab it now!
The essence of the web, every morning in your inbox. Thousands of busy people start their day with their personalized digest by Refind. Get yours, for free.
Bonsai is everything you need to run your freelance business. Get access to features that every Freelancer needs, like Time Tracking, Task Tracking, Invoices, and Client CRM.
If you are interested in putting your tool, product, or resource in front of over 1300 creative minds, consider advertising in Creativerly and book a sponsor or classified ad spot. Find all the important information at creativerly.com/advertise.
---
Appendix
➢ ICYMI
The Creativerly Community is here. If you are looking for a dedicated place to discuss all sorts of topics relating to creativity, productivity, apps, and tools, or if you want to connect with like-minded creative folks, join the Creativerly Community on Discord now. Simply follow this invite link and become a member. I am looking forward to meeting you all on Discord.
➢ Quick Bits
Quill is joining Twitter! / Russia Blocks TorProject.org and Begins Blocking of Wider Tor Network / GPU shortage rages on despite increase in total shipments / Apple finally makes a firmware updater for AirPods, but you can't use it / Twitter's 7 acquisitions in 2021 show its ambition to move beyond the live feed / Apple's app tracking transparency feature isn't an instant privacy button / Kickstarter is making a new Kickstarter, but this one's on the blockchain / Amazon fined $1.2bn by Italian regulators / Apple launches redesigned website with its open source projects and others from the community / Google issues warning to location-sharing apps
---
Twitter thoughts
---
Till next time! 👋‌‌‌‌
Support: Do you have a friend who is looking for inspiration, news about design, and useful tools and apps? Forward this newsletter to a friend or simply share this issue and show some support. You can also show some love by simply clicking the button down below and keeping this newsletter a sustainable side-project by buying me a coffee. ☕️ 🥰
---
---
Some of the links in my newsletter and my blog posts are affiliate links. Those links are marked by an asterisk "*". If you buy something through the link, the product will not cost you anything more, but I will receive a small commission which not only supports Creativerly and my work but also helps me to keep this publication a sustainable side-project.