Newsletter
You don't need goals to be happy & Your thinking and learning workspace
In this week's issue of Creativerly: Organize your thinking - master your craft - grow your knowledge, simple web analytics, a 100% free photoshop alternative, and a lot more.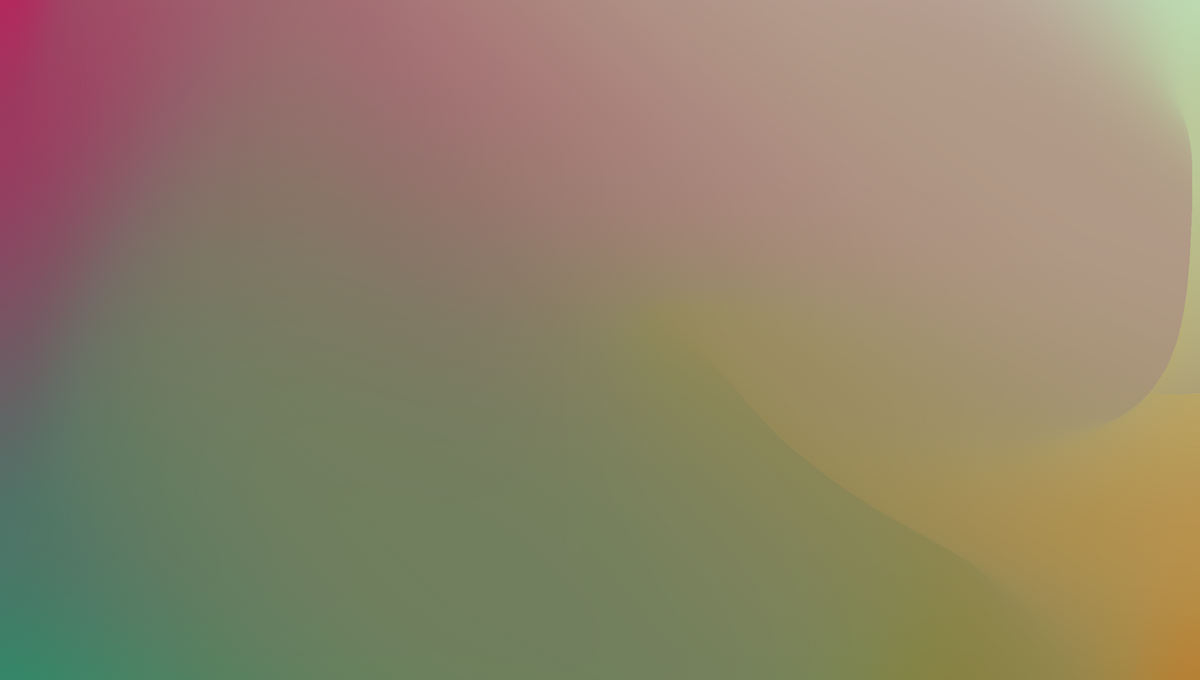 You are reading Creativerly, the weekly digest about creativity and productivity-boosting tools and resources, combined with useful insights, articles, and findings from the fields of design and tech. The newsletter built for the creative community.
---
Hey and welcome to issue 113 👋
This new version of Creativerly just went out to 940 subscribers. I can not believe it that we are that near of hitting the huge milestone of 1000 subscribers. I have never thought, that Creativerly would make it that far, but I am just incredibly thankful how the project evolved thanks to you, my loyal subscribers.
I got quite a lot in the pipeline for Creativerly. As mentioned in the previous issue, I want to experiment more with the native members feature of Ghost. Since all of my post are currently available for the public, I want to create content that is explicitly available for members (which means subscribers) of Creativerly. I am planning to launch most of the stuff in my pipeline once we hit 1000 subscribers. So, may I ask you to help me out? I would really appreciate it if you could share Creativerly with fellow creative minds, forward this newsletter, or simply post it on Twitter, Facebook, Instagram, or wherever. If you share Creativerly on Twitter make sure to tag @creativerly or @philipptemmel_ since I happily going to retweet your support.
Besides the stuff I got planned, I am also finishing up new interviews. I love doing them. If you missed out on the recent ones, you can check them out here. Also, I am still open to any suggestions regarding future interview partners, if you have somebody in mind who would fit Creativerly's interview series, let me know, write me a DM or simply reply to this email.
Anyways, thank you to all of you for your ongoing support. This project turned into what it is today, because of the awesome conversations, suggestions, and feedback sessions I had with loads of my subscribers. Thank you!
If you have recommendations or feedback, drop me an email or a tweet. For now, enjoy the newsletter!  🥰
---
Apps, Software, Tools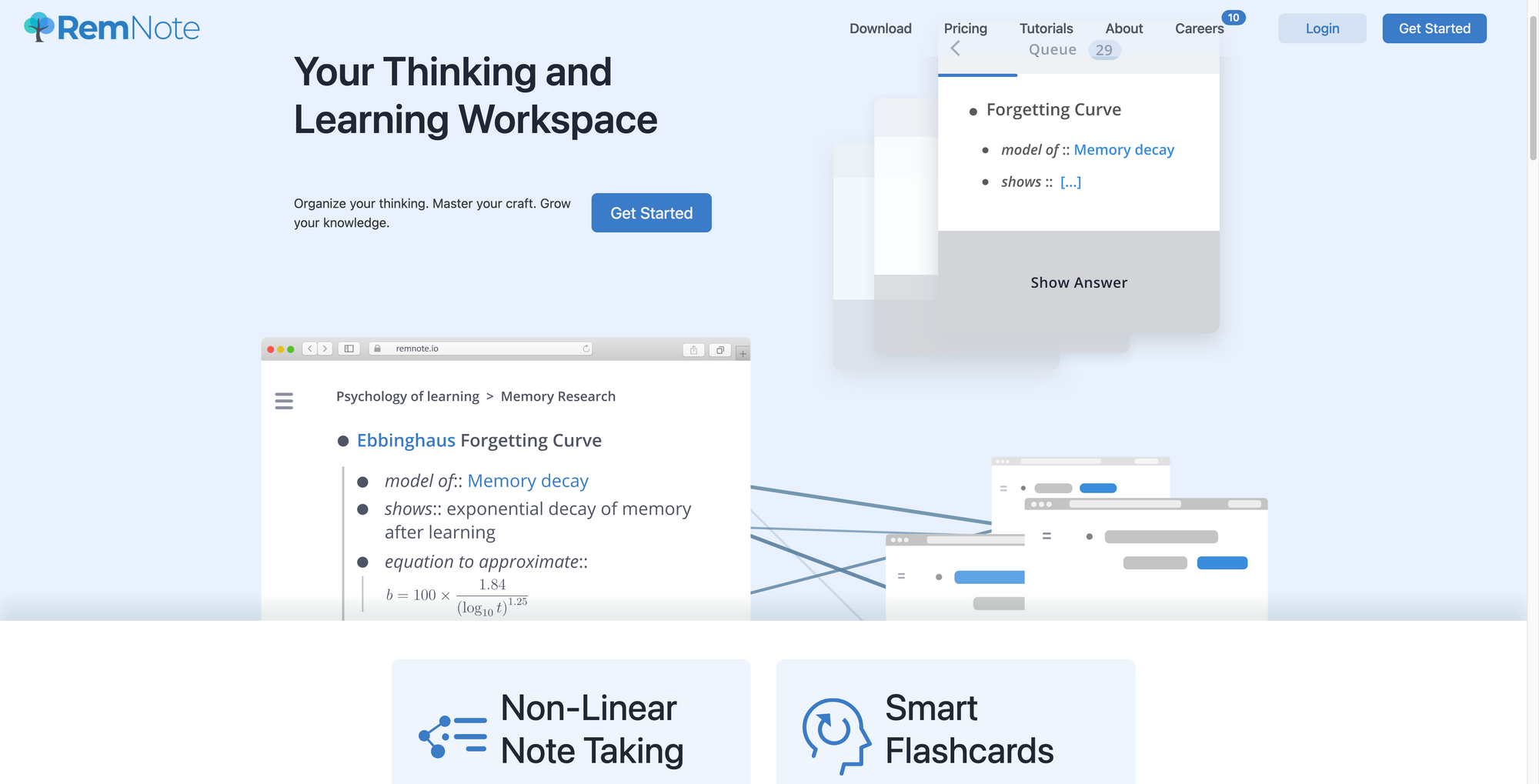 I recently started to use RemNote as I wanted to test it as a personal knowledge base tool. With the ever-growing interest in tools like Roam Research and Obsidian, more and more people started to build personal knowledge bases over the last couple of years. My tool of choice for this use case is definitely Obsidian, as it is a privacy-first tool since all your notes get stored locally (with the possibility to sync it with whatever cloud you want to use) and never leave your computer. While my knowledge base is growing, some information certainly gets lost in the fields. At this point, I recently decided that I want to look into what is called Spaced Repetition.
Basically, it is a learning technique that helps you remember what you learned by encountering certain bits of information over and over again (for a more in-depth explanation check out this article). RemNote is at the core another knowledge base tool like Roam Research and Obsidian. But, with a super interesting and important twist. RemNote aims to be a dedicated tool for learning purposes. It features non-linear note-taking, every note is a bullet, which you can indent to go deeper on a specific topic. By clicking on a bullet you focus it, which basically turns it into a dedicated page where you can gather even more information.
The one feature that makes RemNote so special and incredibly useful, is called Smart Flashcards. You can create flashcards directly within your notes to rapidly break down and remember any body of knowledge. Spaced Repetition is deeply integrated within RemNote. On top of that, you are able to link notes and ideas to supercharge your memory, organization, and thinking skills. You can use RemNote for free (with some limitations) and their subscriptions start at $6 per month, which will also give you access to a graph view and editor, search portals, PDF uploads, templates, and more. If you sign up through the link provided by me, you will get a $6 credit, which will give you one month of RemNote Pro for free.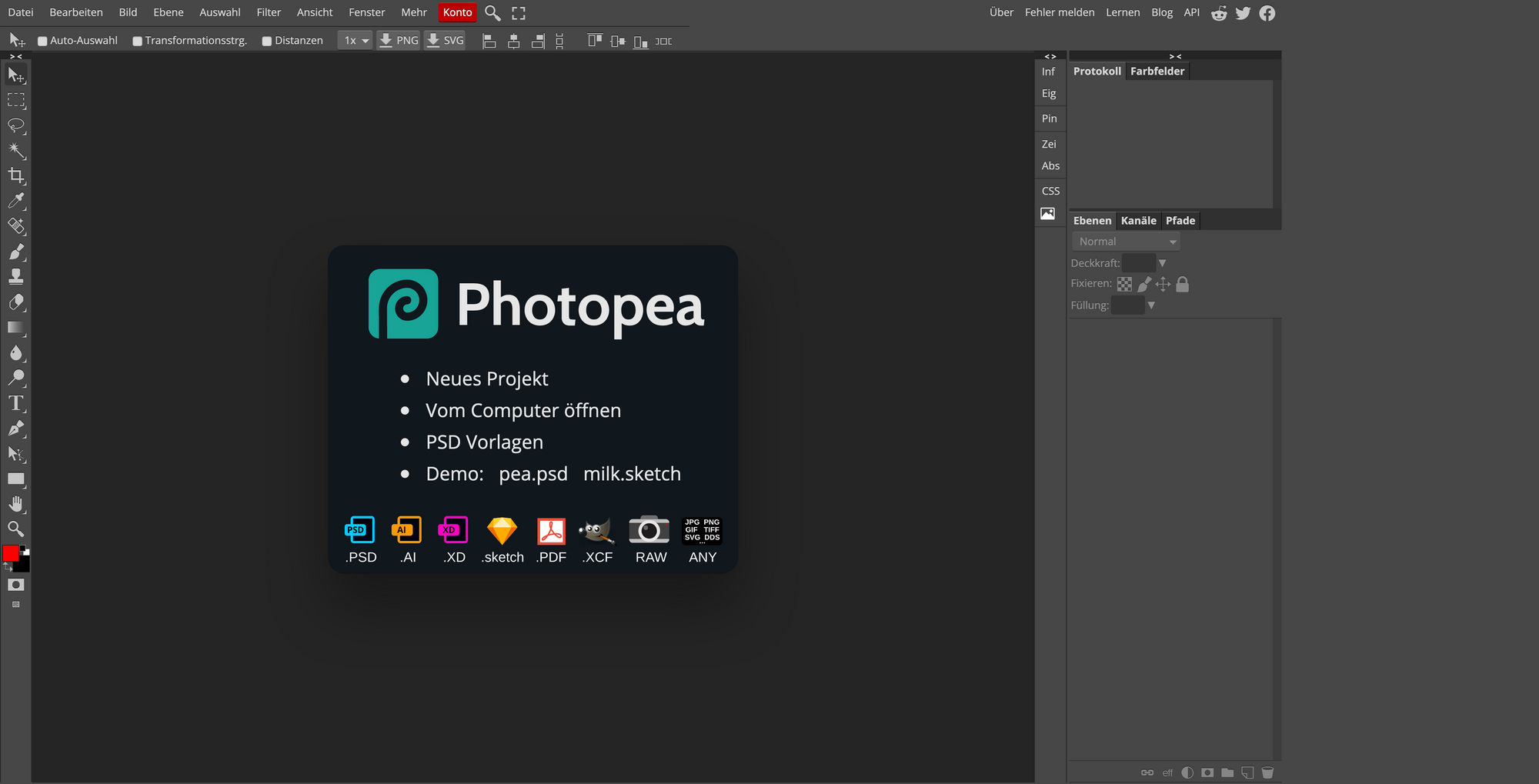 I heard about Photopea for the first time quite a few years ago, but it suddenly popped up on my Twitter timeline, since the project operated by one single person, Ivan Kutskir, is now making $1m ARR. Ivan bootstrapped Photopea solo every single day for years. There is no team behind the project, it is all Ivan by himself. Photopea is a 100% free, browser-based photo-editing tool, that pretty much offers the same features as Photoshop by Adobe. It is an incredibly popular tool since it attracts over 300,000 daily users. No matter if you need to design a simple graphic or perform basic retouches to a picture, to advanced filters and scripting programming, Photopea has got you covered.
Photopea lets you open .PSD, .sketch, .XD, .PDF, .XDF, .RAW, and almost any other image file formats. It always blows my mind when I found out about tools just like Photopea, extremely powerful, loved by hundreds of thousands users, completely free, and one single maker pushing the product forward. If you want to read a more in-depth interview with the founder of Photopea getting some more insights about the product itself, you can do so here.
Back when I studied Design at university I had courses teaching us the whole Adobe Creative Suite and our professors always told us we need to master the Adobe tools since no matter if we want to work as freelancers, at an agency or at a company, Adobe is an industry-standard. And that felt so wrong to me. Use the tools you want to use and are comfortable with. I know that if you work at an agency or at a company you mostly have to use the tools which are getting suggested by the agency/company and you need to adapt to the team. But, most of the Adobe alternatives already let you open Adobe files and most of them can also export back to Adobe files. As a designer, or generally speaking as a creative person, you should be able to use the tools that let you express your creativity the most and not because someone calls something an industry standard. Photopea is a great Photoshop alternative, giving you incredibly powerful features, and a super-fast interface, that does not limit you to a specific OS since it is browser-based.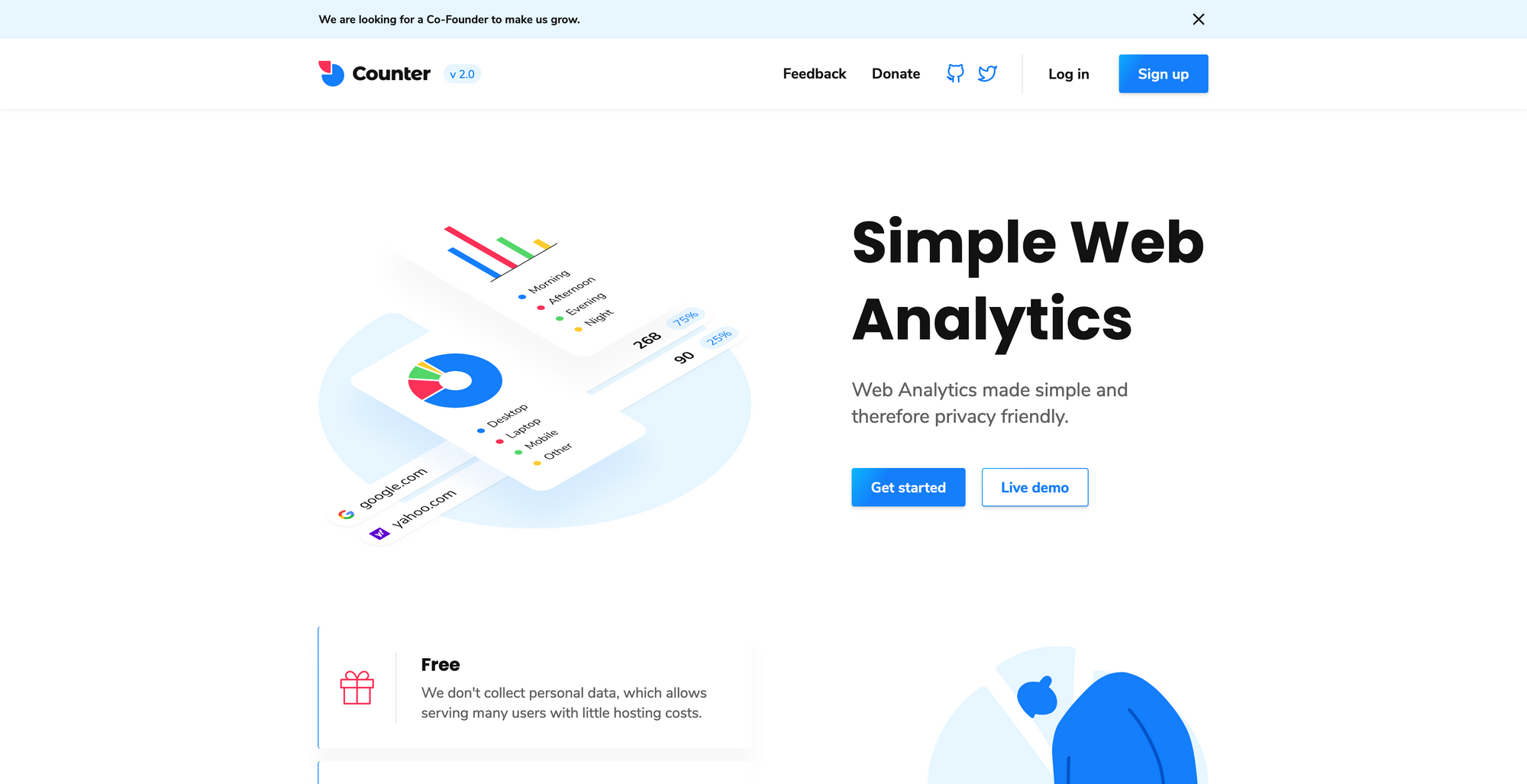 Back in January, I shared a Twitter thread containing privacy-first, ethical, and simple to use Google Analytics alternatives built by solopreneurs, indie hackers, and makers. A couple of weeks ago, I then decided to turn this Twitter thread into a more in-depth blog post which I am going to share on creativerly.com. The blog post should be an ever-growing list of more ethical and privacy-first Google Analytics alternatives. While doing my research for the blog post, I stumbled across Counter, a privacy-friendly, free, open-source, and super simple web analytics tool. The dashboard will give you all the important insights at first glance, visits, sources, devices, countries, and more. As already mentioned earlier, Counter is 100% open-source and you can view the whole project on Github. If you want to get a taste of Counter's dashboard you can check out a live demo of it if you want to . Counter does not use any cookies, there is no logging, and no IP fingerprinting, so can be sure that your data and the data of your website visitors is always treated with privacy in mind.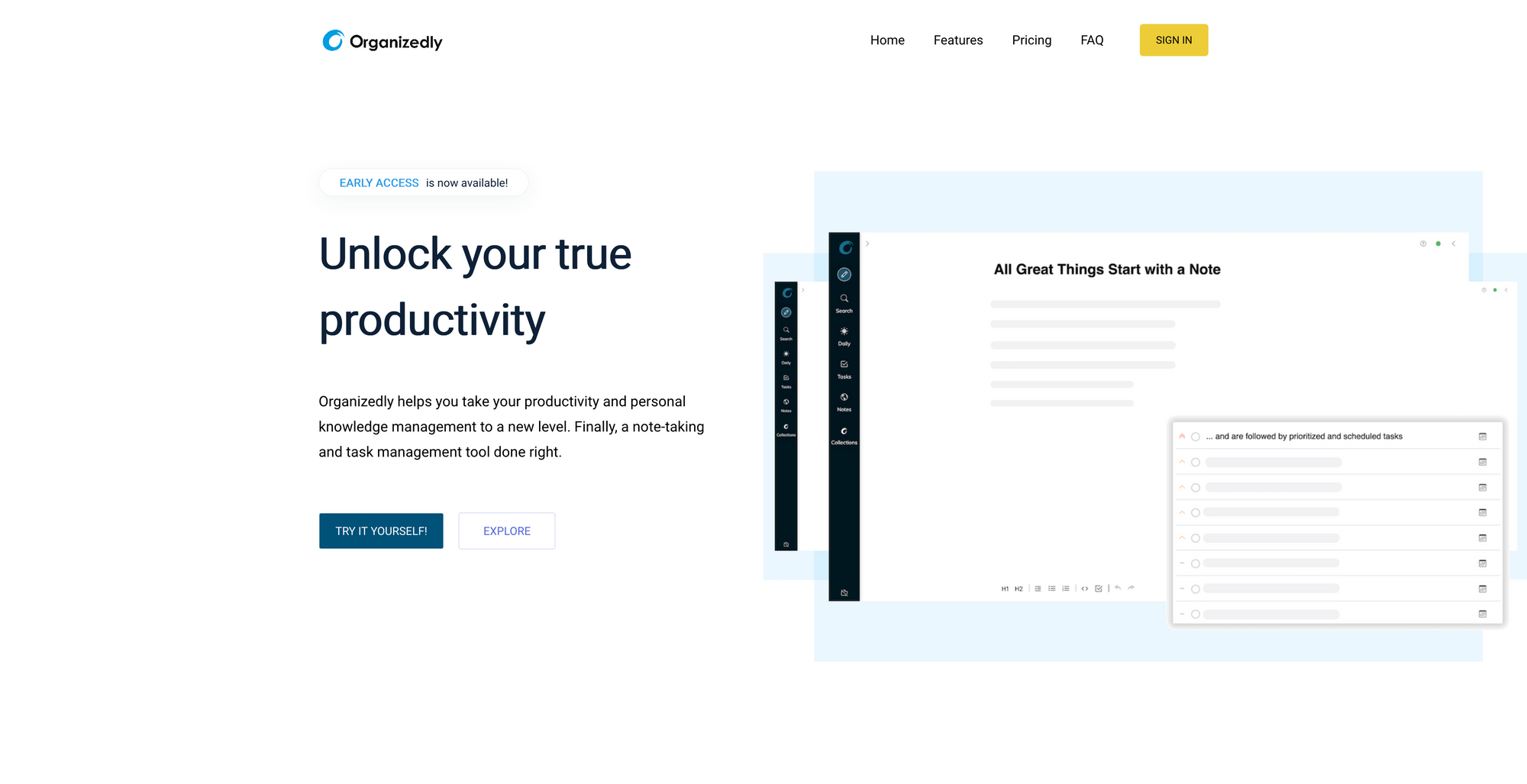 Organizedly combines personal knowledge management, task management, and note-taking all within one single tool. As mentioned earlier as I was writing about RemNote, more and more people starting to build up personal knowledge bases. Spreading knowledge across different mediums is a nightmare to maintain. I experienced this myself recently, as I was searching for a very specific piece of information, but had no idea where I wrote it down, although I would call myself a pretty organized person when it comes down to my personal notes. Organizedly wants to get rid of the chaos, as it wants to help you to structure your notes, tasks, and calendar live together in perfect harmony. Organizedly lets you create connected notes, write, schedule and keep track of your to-do's, and plan your day and week.
As most networked-thought tools, Organizedly provides bi-directional linking for your notes, so you can create connections between them. As your number of notes and backlinks grow, Organizedly lets you visualize your knowledge base on a graph. On top of that, you can use and save queries for finding information effectively through logical operators. Task management is seamlessly integrated into Organizedly. Simply capture tasks as soon as they enter your mind. Organizedly features kanban and scheduling tools for drag-and-drop organizing of all of your tasks. If you are using bullet journal techniques during your workflow, the daily note feature of Organizedly will also come in handy. The daily note works well for linking to and from other notes. The second part of the daily view is a calendar view that is connected to your to-do list. You can simply drag and drop items from your to-do list to schedule your day. Super interesting tool, that is definitely worth checking out.
---
Useful Resource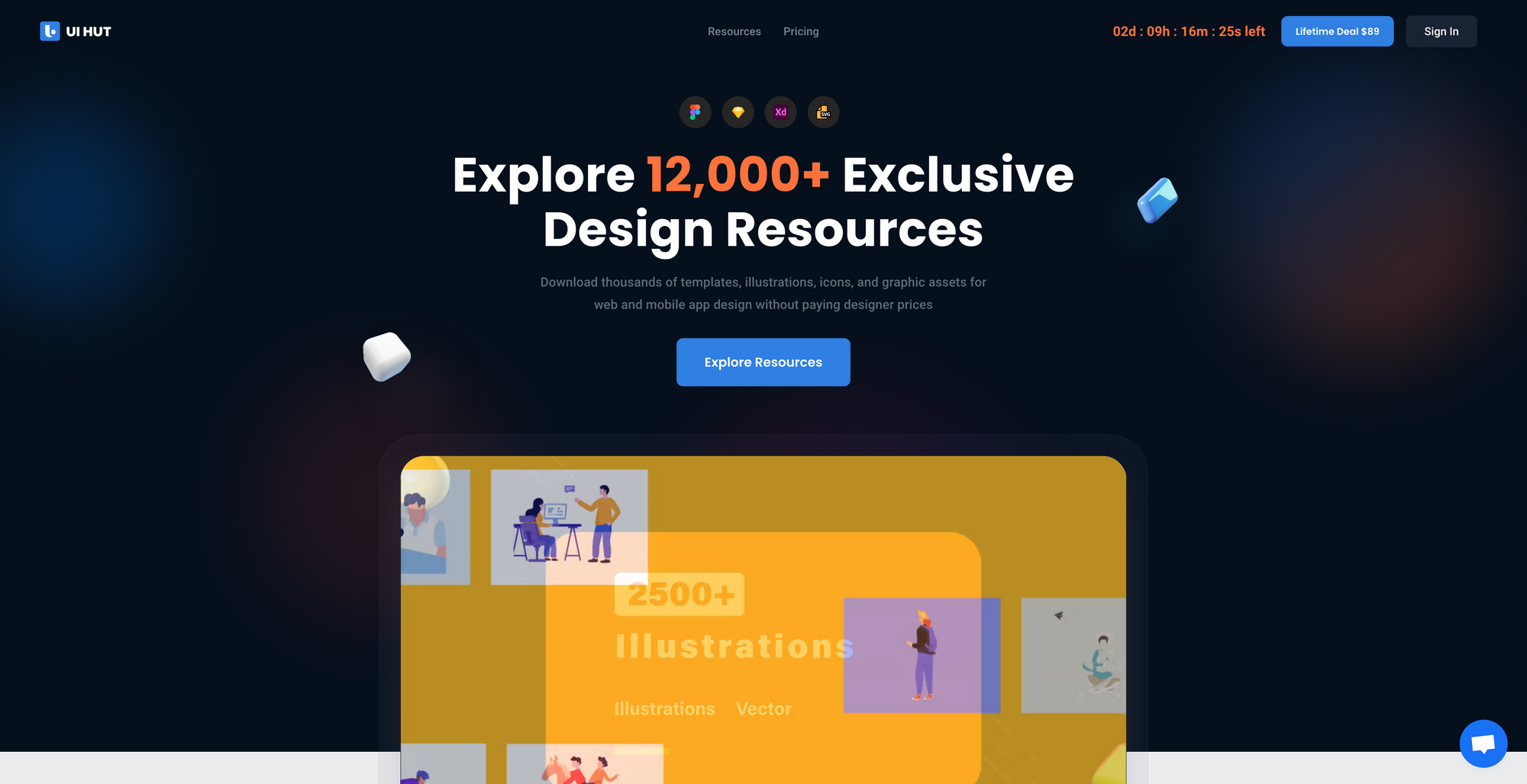 UI Hut is a huge library full of useful and exclusive design resources. UI Hut contains over 12,000 resources ranging from templates, illustrations, icons, and graphic assets for web and mobile app design. All of UI Hut's resources are exclusively available on their platform. Free users can download up to 25 resources per day, premium users will enjoy 150 downloads. UI Hut is currently running a lifetime deal, which will give you premium access for a one-time payment of $89. Check it out.
---
Mental Wealth
➢ You Don't Need Goals to be Happy – "In a society that over glorifies goals and life purposes, sometimes we forget that at the end of it all, what we are seeking is happiness. Our end goal is to enjoy life. Even in my articles, I often emphasize the importance of having a purpose and goals. And I'm not saying that's not important; instead, I want to share another angle of seeking happiness. In my previous article, I've written why we shouldn't compare ourselves to other people. The main reason is that it will not be an apple to apple comparison when you compare yourself. Your privilege, experiences, and effort can't be compared objectively."
➢ Money for Nothing – "The recent hullabaloo over NFTs has mostly produced a lot of confusion. In nearly every article about them they are framed as an incredibly complicated technological phenomenon requiring careful explanation, rather than an incredibly boring one that tends to repel one's focus. This dissonance produces doubt: You may say to yourself, "Okay, what I am understanding about this seems ridiculous, but it's pretty high-tech and there's apparently a lot of money in it, so maybe I'm missing something?" Reader, you are not. NFTs are just as absurd and banal as you probably believe."
➢ What No One Explains About the Design Process – "The UX industry puts a lot of emphasis on process. As a result, I hear from stressed-out designers all the time asking questions like this: Where do I start on a new project? How do I know what to do next? Which process should I learn? It'd be great if UX design was as simple as, "do this, then do this, then do this." In practice, unfortunately, it's not that simple. So what method do we use to answer these questions? What is a better way of looking at the practice of UX design?"
➢ What's Good About Tech Bubbles – "Let's talk about what Britain's bicycle bubble more than a century ago has in common with current crazes for nonfungible tokens, technology start-ups and electric vehicle companies. We're more than 10 years into a technology gold rush that in some corners makes absolutely no sense. If and when the zaniness fades, people could lose a fortune. But collectively, tech manias do bring some good. As my colleague Erin Griffith said: "Bubbles, while messy, lead to progress." I spoke recently to William Quinn, a lecturer at Queen's University Belfast and co-author of "Boom and Bust," a history of financial bubbles including the 1929 stock market crash in the United States and the financial crisis more than a decade ago."
---
Appendix
➢ Featured Newsletter
Fresh Fonts is the one and only newsletter for typeface lovers, written and curated by Noemi Stauffer. Noemi does an awesome job picking beautiful typefaces and fonts from independent designers and type foundries and puts them into a nicely curated selection delivered straight to your inbox.

Fresh Fonts has a free newsletter but also a membership version, that gives you additional benefits like a free license to use a new font family in both personal and commercial projects (more information here).

If you want to get some more information about Noemi and how she operates a newsletter with over 20,000 subscribers you can check out the interview I did with her.
➢ ICYMI
Apple announced an event for April 20th. As part of this event rumours say they could possibly announce new iPads, a new iMac, and AirTags.
➢ Quick Bits
Spotify's touchscreen media player is here and it's free (for now). / iOS users—and only iOS users—face NSFW content ban on Discord app. / Facebook users can now petition oversight board to remove content. / Epic Gaming raises $1 billion with the help of Sony's $200 million investment.
---
Twitter thoughts
---
Till next time! 👋‌‌‌‌
Support: Do you have a friend who is looking for inspiration, news about design, and useful tools and apps? Forward this newsletter to a friend or simply share this issue and show some support. You can also show some love by simply clicking the button down below and keep this newsletter a sustainable side-project by buying me a coffee. ☕️ 🥰
---
---
Disclaimer: My posts may contain affiliate links. If you buy something through one of those links you won't pay a penny more, but I'll get a small commission, which supports this blog and also my side-projects. So consider buying something through my links. Thank you!