Newsletter
Your idea deserves better & The Time Trap of Productivity
In this week's issue of Creativerly: The next-generation workspace, the community platform for your knowledge business, open source alternatives, and a lot more.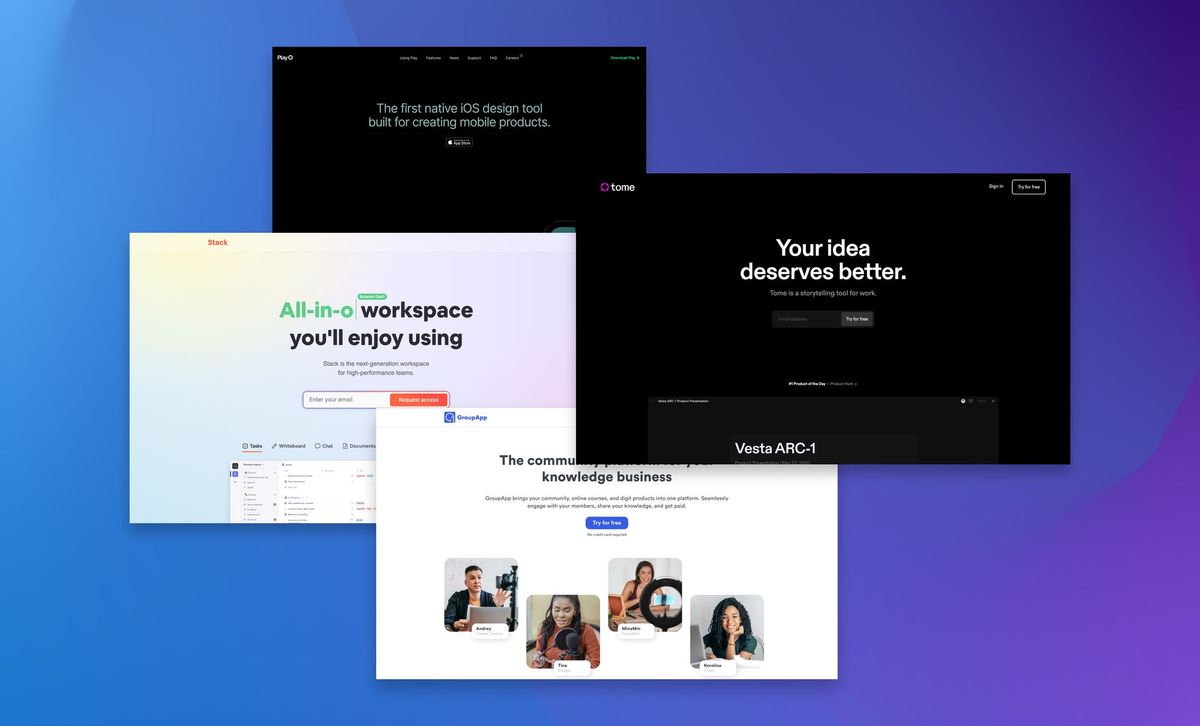 You are reading Creativerly, the weekly digest about creativity and productivity-boosting tools and resources, combined with useful insights, articles, and findings from the fields of design and tech. The newsletter built for the creative community.
---
Hey and welcome to Creativerly 162 👋
First of all, I want to say a warm welcome to all the new subscribers who have joined Creativerly recently. I am excited to have you on board. Currently, there are over 1600 creative minds part of Creativerly, which is beyond exciting. As we are wrapping up Q1 of 2022 already, it is about time to give some insights about what I have planned over the upcoming months. Avid Creativerly readers know that those updates are more on the casual side since Creativerly is still something I am building and operating on the side. There are a lot of things I have planned and I want to try out or experiment with.
As I have announced earlier this year, one of my main focus points for 2022 is bringing back the interview series. A couple of weeks ago, I published the first interview of 2022 with Elizabeth Butler from Calmer Notes*. It was well-received, and I received a lot of responses packed with excitement about seeing the interview series coming back. Therefore, I am happy to tell you, that the next interview is set to release upcoming Wednesday, March 30. At this point, I keep the interview partner a secret, but I am sure you will enjoy this one too. Besides the interview series, I was also looking into the idea of repurposing my newsletter content as a podcast. There are a few content creators I admire who are following this idea, and I have to say I got intrigued by it. Not only because I am a huge podcast fan, but also because I think it would be a great addition to Creativerly giving people the possibility to listen to the newsletter on their commute, during a walk, or while they are doing sports.
Another focus point will be deep dives on specific tools. As you might know, I love to write about new tools, explore them and give them a try. Additionally, there are a couple of tools I am spending more time with than others. Simply because I want to explore and craft different workflows. To give those tools a dedicated focus, I am planning to write deep dives, which cover not only the apps themselves but also the whole companies and teams behind them. There are already some deep dives in the pipeline, which I still need to finish. Please bear with me, as I mentioned earlier, Creativerly is still a side project, although I call it a passion project, that means I am writing and building it in my free time of which I sometimes have more and sometimes a little bit less. Ultimately, I do not want to publish any kind of content just for the sake of content. The content I create and share involves a lot of time, effort, work, and passion. Sticking to this gives me the possibility to only publish content I am proud of.
As usual, if there are any kind of recommendations, suggestions, or feedback, please do not hesitate and get in contact with me. I am always open-minded to your messages, and I love to connect with my audience. When you write me an email, you can be sure to get a response, always with the hope to create a discussion out of it. Thank you for sticking by, thank you for supporting Creativerly, my work, and my passion project.
---
Visual space to organize & manage work with clarity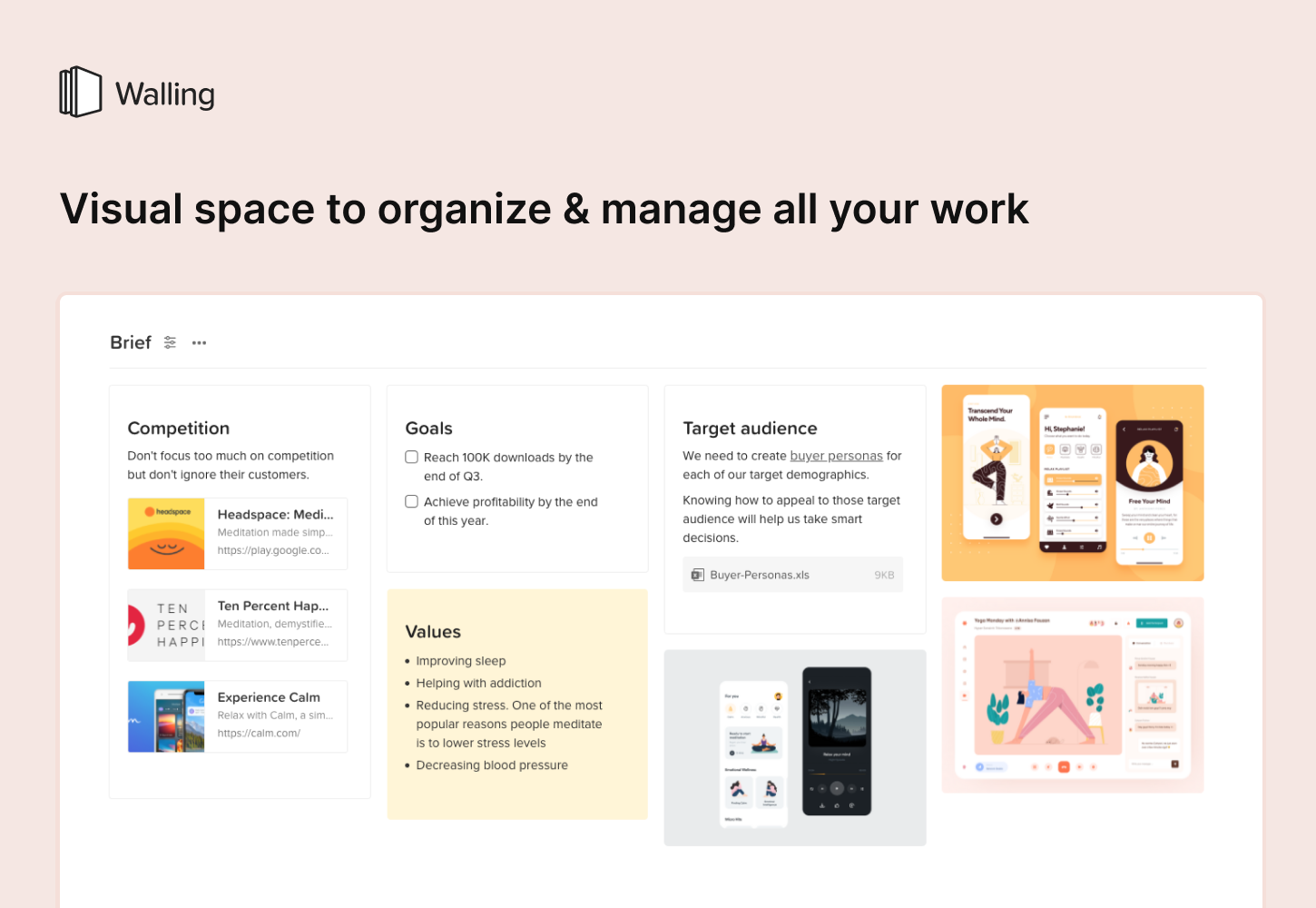 Drowning in ideas and tasks? Meet Walling, a visual tool to organize all your ideas, tasks and inspirations, side-by-side, all in one place. Get a bird's eye view of your entire work to see clearly what needs to get done and what is important to your projects. Try Walling For Free!
---
Apps, Software, Tools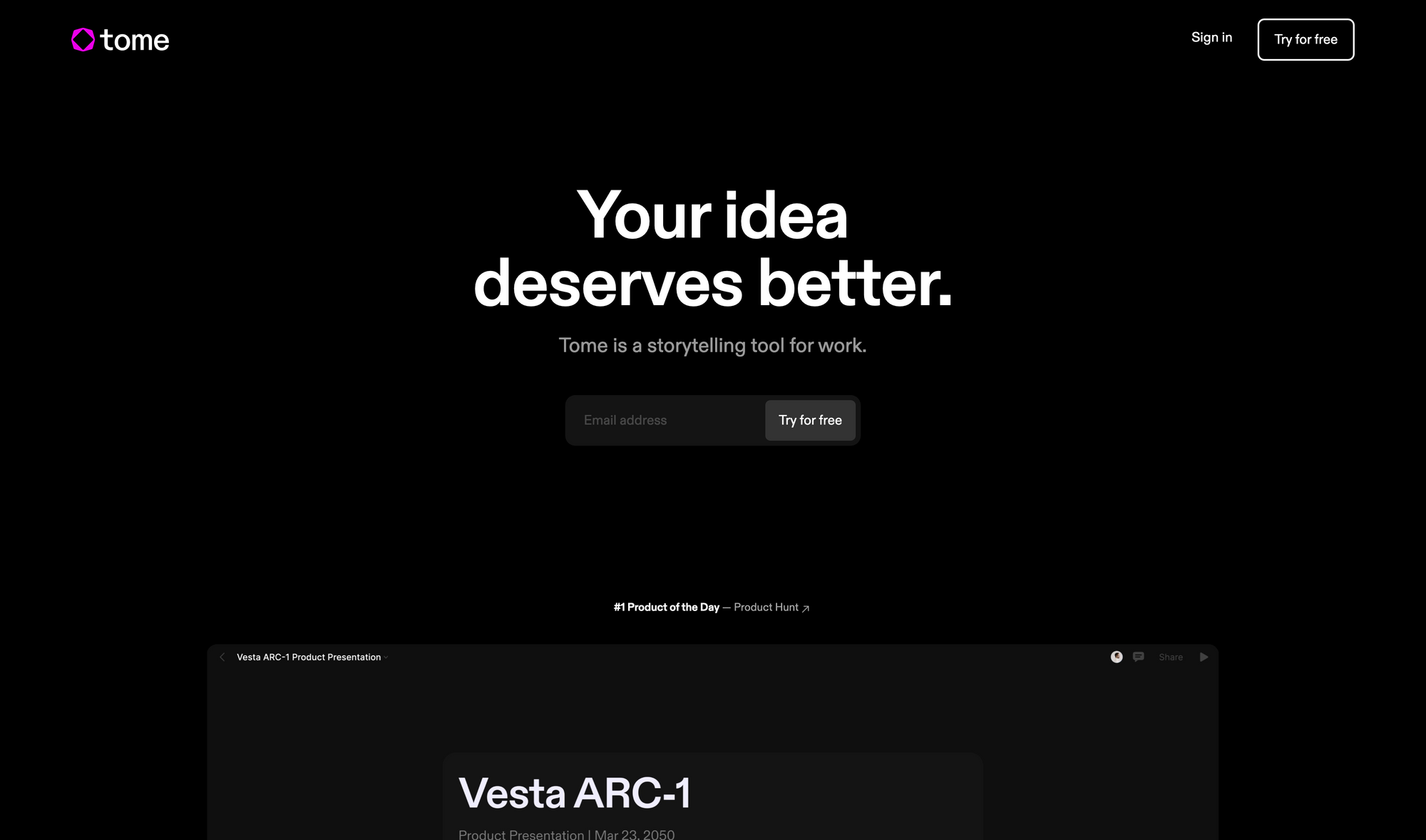 Tome is a tool that got announced on Twitter back on Wednesday March 23. 2022 by its founder Henri Liriani. That means, Tome has been in stealth mode, at least for me, since I heard about it for the first time back on Wednesday. Other than that, I am excited to have stumbled across Tome, as it is an interesting product that currently has no equal. If you ever were looking for a dedicated tool to present your ideas as you would tell and share a story, Tome is the right tool for you, as it is the storytelling tool for work.
At the core, you can think of Tome as a presentation tool. But instead of creating Slides as you would in traditional presentation tools, Tome is built on a system of tiles and those tiles can power every type of content you can think of. No matter if you want to write down your ideas in a dedicated markdown editor, crop and frame images, or trim and autoplay video, Tome got you covered. To make your story interactive, Tome lets you display content from the web from tools like Airtable, Figma, Framer, Codepen, and others. On top of that, Tome was designed to display your content and showcase your story always beautiful, no matter if you are on a desktop or on mobile, Tome always feels native.
Since working together and collaborating with your team is always fun, Tome lets you collaborate in real-time and keep everyone in the loop. No matter if you want to create small stories like sharing an open job position or a design tutorial, or if you want to share big stories like demoing products and showing off your hard work with clarity and elegance, Tome is an incredible tool to achieve all of that. Currently, Tome is still in Beta and you can sign up to their waiting list.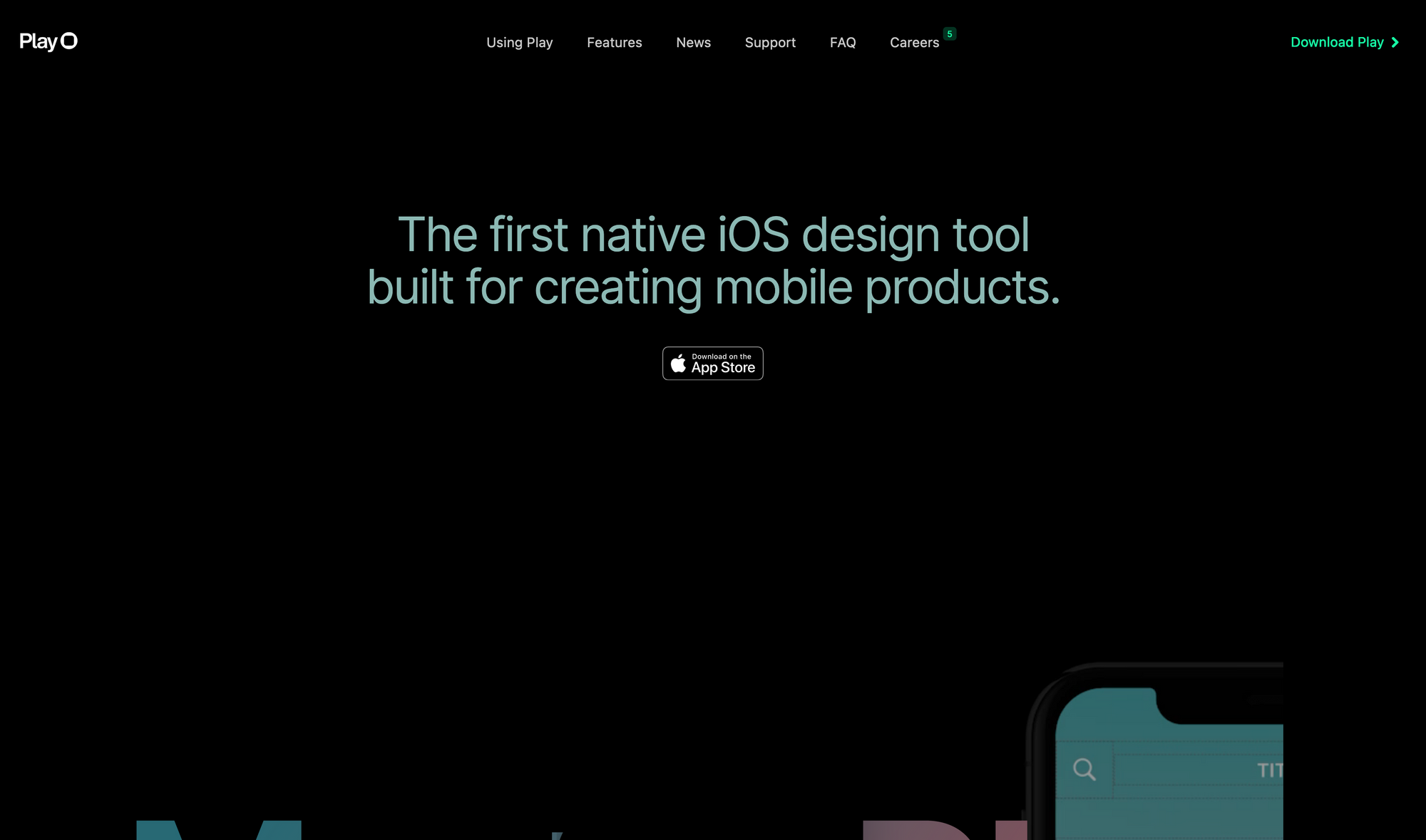 I have been following Play for quite some time now because the company is working on a tool, that most of us have never experienced. I heard about Play for the first time back in 2019, and since then the app has been in beta and waitlist only. Being a waitlist only tool for that long, I get the impression that the team behind Play are aiming to craft a powerful experience by letting a controlled number of users onto their platform to get insights and feedback from them.
If you never heard of Play, let me give you an introduction about it. Product Designers who are working on the design and experiences of mobile products usually have a very similar workflow: they craft the interfaces in their preferred design tool, Sketch, Figma, Adobe XD you name it. They preview their design on mirror apps on their mobile devices to get an idea of how the designs look and feel on the actual device. They create prototypes and preview them too. This process goes back and forth until the design goes into development. Play is aiming to remove the friction of creating your designs on your desktop computer and previewing them on your mobile devices.
With Play, you get the chance to design and experience the designs as you create them. Play allows you to design, prototype, and collaborate directly from your phone. Craft interfaces and apps directly on your iPhone while taking full advantage of native iOS features to bring your product to life. This is a unique workflow. Play is the first tool enabling designers to make contextual design for mobile possible. Traditional design tools force you into context switching and simulating the mobile experience. Play instead gives you the possibility to iterate and experiment with your product as you create it.
Play does not limit your creativity and workflows in anyways. With Play, you can design components, tweak design tokes, and adjust spacing as you would do it within a desktop app, but Play enables you to do it straight from your phone. On top of that, you get access to powerful native iOS features like live maps, input text fields, camera and AR, pickers, and more. For designers working across a bigger team, Play offers you to bring your teammates together and collaborate with them. With Play, you have a full-fledged design tool in your pocket. Creating, iterating, and experimenting has never been so much fun. No matter if you would like to design from scratch, import your designs from Figma, or use the Play Library and Page Layouts, Play lets you start your next project with speed.
As mentioned earlier, Play is still only available in beta, meaning you need to sign up to their waitlist to get access.
Within Creativerly, I already wrote about the bundling and unbundling of software. There are advantages and disadvantages for both sides. Ultimately, it comes down to personal preferences. There are folks who love to keep all their productivity workflows within one app or tool. On the other hand, it is also common to unbundle software and use single-purpose tools for specific processes and workflows.
Stack bundles several workflows within one app. It is an up and coming tool. Based on their website, there is not that much information available besides some screenshots and an email input field to request access to the tool. Stack combines task management, note-taking and whiteboarding, messaging, documents, and soon audio and files (at least that is my impression I get from the icons on their website) within one tool. First things first, Stack features a beautiful and lucid interface. The task management interface reminds me of issue tracking tools, which means there is a table structured with different columns like Title, Tags, or Deadlines, and the whole table is divided into different sections like Todo, or In Progress. The main difference to a traditional task management tool is simply the layout used for the tasks.
Additionally, Stack features a digital whiteboard to quickly jot down and layout ideas, thoughts, and projects. You can think of it like Miro or FigJam but incorporated into a productivity tool with additional features. Besides that, it seems like a messaging functionality like Slack is also part of Stack. The screenshot on their website showcases a channel titled "crash-messages" and we can also see some users answering messages in a thread, just like you would do it in Slack. Ultimately, Stack has a built-in editor (inspired by Notion) to take notes, create documents, or share information across your team. It will be exciting to see what Stack is hiding behind the headphone and paperclip icon on their website.
To get access to Stack, head over to their website and sign up for their waiting list.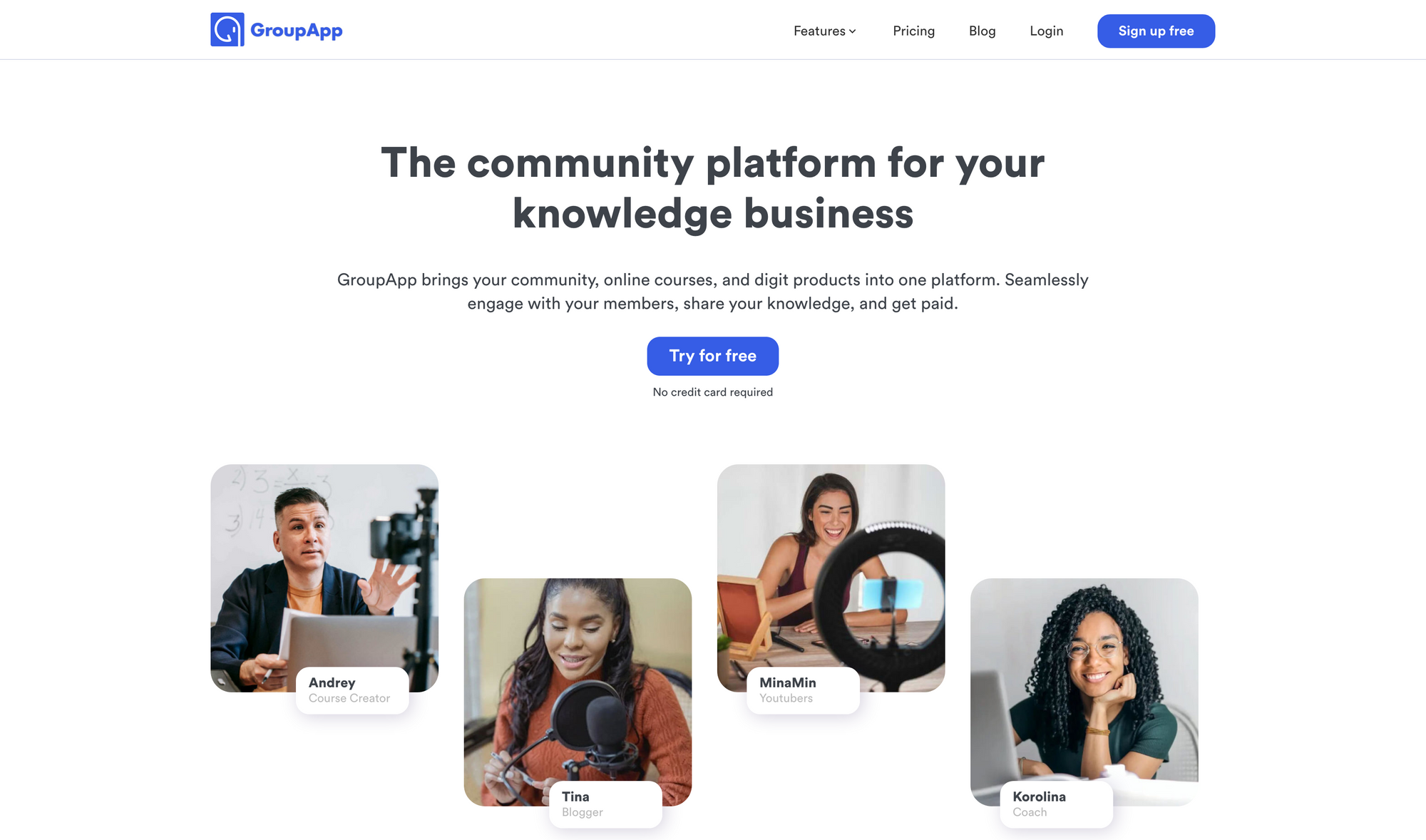 As a content creator, you spend a lot of time thinking about and researching ways to evolve your content, build new products to engage with your members, and share knowledge with them. GroupApp is a dedicated tool to bring your community, online courses, and digital products you created as a content creator into one platform. The goal of GroupApp is to seamlessly engage with your members, share knowledge, and ultimately get paid for the content you create.
Growing and evolving your business as a content creator is hard and involves a lot of passion. GroupApp is here to help you. With GroupApp you are able to build an online community as it has the possibility to start community discussions, group chats and DMs, as well as a dedicated members directory. On top of that, GroupApp lets you create and sell online courses directly within your community. There is no dedicated additional tool or services needed. With GroupApp you have the possibility to create sales pages, drip lessons, and get insights on and keep track of your progress.
As a content creator seeking to create an online community you probably have thought about turning it into a recurring subscription business by selling membership plans. GroupApp gives you the power to create and set up membership tiers, offer your audience a free trial, and get insights about the revenue you make within a beautiful dashboard. Besides that, GroupApp is also capable of turning your digital products like online courses, coaching, paid newsletters, or ebooks and PDFs into a viable business. All your products can be stored within your community with GroupApp.
You can try out GroupApp for free to see if it is a fit for your content creation business. The basic plan of GroupApp costs $19 per month (billed yearly) and gives you access to three team seats, 10 channels, 20GB storage, and up to 1,000 members. The Pro Plan will extend your channels to 30, your team seats to 10, your storage to 50GB and your members to 10,000. For large businesses and organizations, GroupApp is offering a Premium Plan for up to 100,000 members, 100 channels, 100 team seats, and 200GB of storage.
---
Useful Resource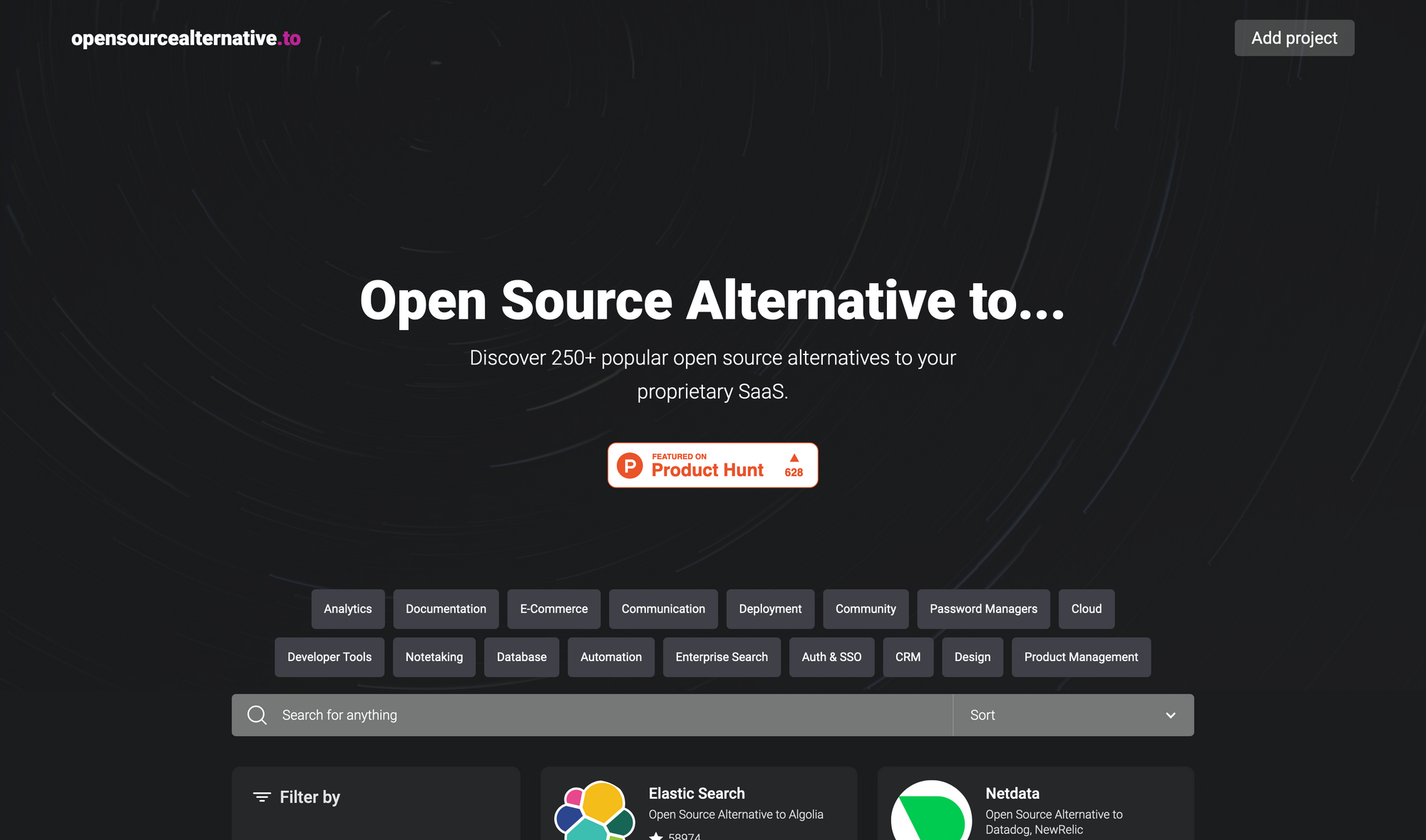 I am an admirer and advocate for open-source software. Therefore, I always try to highlight apps and tools which have open-sourced their code. Recently, I stumbled across a resource, which is packed with over 250 open source alternatives to proprietary SaaS. The directory is beautifully built and lets you search and filter for popular categories, licenses, and languages. On top of that, it also gives you daily updated GitHub metrics. Just like with open source software, you can also contribute to opensourcealternative.to by submitting open-source tools through an easy form on their website.
---
Mental Wealth
➢ The Time Trap of Productivity – "In Seneca's opening letter to his friend Lucilius, he writes: "Everything we have belongs to others; time alone is ours." If I were to sum up the culture of productivity in one sentence, that would be it. The reason why time management software and note-taking apps are multi-billion dollar industries is because they help us manage the most precious resource we have. Even though we use money to gauge how we spend our time (hourly wages, rates, etc.), the reality is that there's no adequate stand-in for it. This is why almost no one would trade places with 98-year-old Charlie Munger, despite all the wealth that would come with that identity switch."
➢ Fractal creativity – "In 2014, Julie Zhuo presented a framework for understanding design maturity. 8 years later, I think about this framework often. In the better design process, we have branches of exploration, forming a tree structure. The idea is, a mature designer has the discipline to know which branches to kill, and which to pursue further. Let's look at this process in a different way. Here is a more common view of the traditional design process, pioneered by IDEO and the Stanford d.school."
➢ The vibe shift in Silicon Valley – "Last month, Allison P. Davis wrote a widely read article in New York titled "A Vibe Shift Is Coming." In it, she posited that the third year of our pandemic would reveal an obvious, and perhaps wrenching, evolution of the culture. A vibe shift, she wrote, is "a relatively simple idea: In the culture, sometimes things change, and a once-dominant social wavelength starts to feel dated." I have been thinking about Davis' piece more or less ever since. In particular, I've been working on how to apply it to my chosen field: tech journalism, which is driven as much by social wavelengths as any other part of our culture. For some time, I had been attempting to work out which stories felt relevant in 2022 that may not have in, say, 2020. Today, I want to tell you what I've come up with."
➢ The Craft in Design – "I spoke to many senior designers in Jan-Feb 2022 to learn more about their career motivations. One particular point kept being repeated by some of the individual contributors and it got me intrigued; They said that they wanted to 'focus on their craft'. So I decided to spend some time to understand the relationship between craft and design and answer some of these questions: Why does the craft in design matter? What does it mean to invest in craft?"
---
Classifieds
Are you feeling immobilized by change and uncertainty? The CATALYST digest will inspire you to think bigger, discern opportunities and transform anxiety into insight. Get it now!
Need a logo? Don't settle for a bland looking icon that comes out of an algorithm. Get one crafted with soul. WOO Branding creates agency quality logos for a fraction of the price.
Taking 5+ calls a day? Lumina is a 4K studio-quality webcam that uses AI to make you look good. Learn more about Lumina.
If you are interested in putting your tool, product, or resource in front of over 1500 creative minds, consider advertising in Creativerly and book a sponsor or classified ad spot. Find all the important information at creativerly.com/advertise.
---
Appendix
➢ ICYMI
If you are on the hunt for productivity tools that have a strong focus on privacy, respecting their users' data, featuring end-to-end encryption, and are open-source, I am excited to showcase ProductivePrivacy to you, a directory website packed with privacy-focused productivity tools ranging from note-taking, task management, and project management tools. Head over to productiveprivacy.com and browse through the director.
➢ Quick Bits
---
Twitter thoughts
---
Till next time! 👋‌‌‌‌
Support: Do you have a friend who is looking for inspiration, news about design, and useful tools and apps? Forward this newsletter to a friend or simply share this issue and show some support. You can also show some love by simply clicking the button down below and keep this newsletter a sustainable side-project by buying me a coffee. ☕️ 🥰
---
---
Some of the links in my newsletter and my blog posts are affiliate links. Those links are marked by an asterisk. If you buy something through the link, the product will not cost you anything more, but I will receive a small commission which not only supports Creativerly and my work but also helps me to keep this publication a sustainable side-project.