Newsletter
Your inbox, upgraded & From idea to final draft in no time
In this week's issue of Creativerly: Make the most out of your time, a new social network and content sharing platform, why the blockchain matters, and a lot more.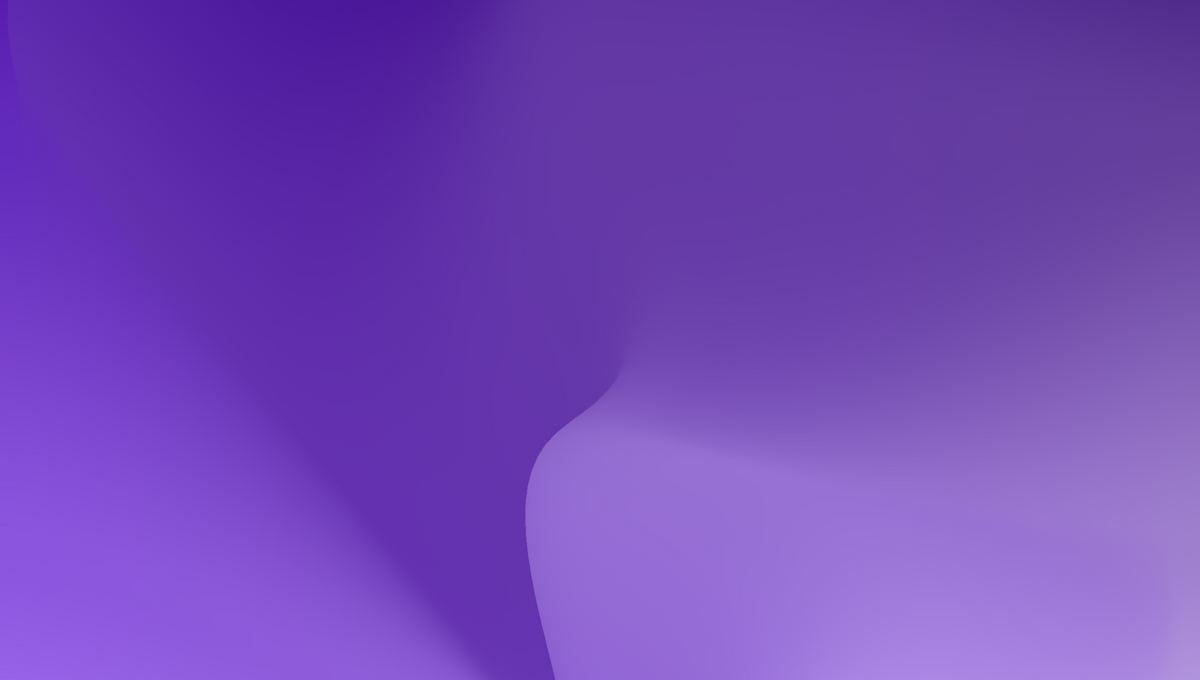 You are reading Creativerly, the weekly digest about creativity and productivity-boosting tools and resources, combined with useful insights, articles, and findings from the fields of design and tech. The newsletter built for the creative community.
---
Hey and welcome to issue 119 👋
I would have never ever thought that I will write those following words but here we go: this issue of Creativerly just went out to over 1000 subscribers. It happened. Creativerly just crossed the magical milestone of 1000 subscribers. I am still kind of speechless, because I would have never thought that a passion project like Creativerly could grew like this and become such an important resource for creative minds. I am thankful. I am thankful for every single subscriber.
I am thankful for all the conversations, for all the people I have met, and for all the lessons I have learned and all the experiences I have gained. As most of you know, Creativerly has always been a place to share my insights, the things I have learned, and the experiences I have gained, as I always wanted to create an informative medium for creative minds who are interested in tools, creativity, productivity, tech, self-development, side-projects and more. I am proud to have made it that far, but mostly I am simply flattered that this project attracted so many people. I truly appreciate every single one of you!
---
To celebrate this milestone, I am working on quite a lot of new features for Creativerly, here is some information about one of them:
Last week I kind of soft-launched some updates to Creativerly. Some of you might have realised that the website changed a little bit. This is the result of switching to a new version of Ghost's default Theme called Casper. Additionally I also launched a work in progress feature: the Creativerly database. The Creativerly database is an Airtable database which contains every single tool, resource, and articles, that have been featured in the newsletter. As already mentioned, the database is still a WIP as I have to go through the old newsletter issues manually and add them to the database, but I decided to release the database early on, so you can see how it grows. This database is also a members-only feature.
So, if you want to access it via the website, you need to log into Creativerly. No worries, if you are subscribed to this newsletter you are automatically a member and therefore you automatically have an account. To access members-only content you simply need to head over to creativerly.com, click the Subscribe button and then click on sign in. After that, you have to enter the email you have used to subscribe to Creativerly. You will receive a secure link to sign into Creativerly, and that's it, you can now view and read members-only content, just like the Creativerly database.
Over the upcoming months, I will add more and more tools and resources to the database, and on top of that, I will also experiment with more members-only content.
Again, thank you so much for all the support and love. This journey has been incredible so far. This is just the beginning.
If you have recommendations or feedback, drop me an email or a tweet. For now, enjoy the newsletter!  🥰
---
Apps, Software, Tools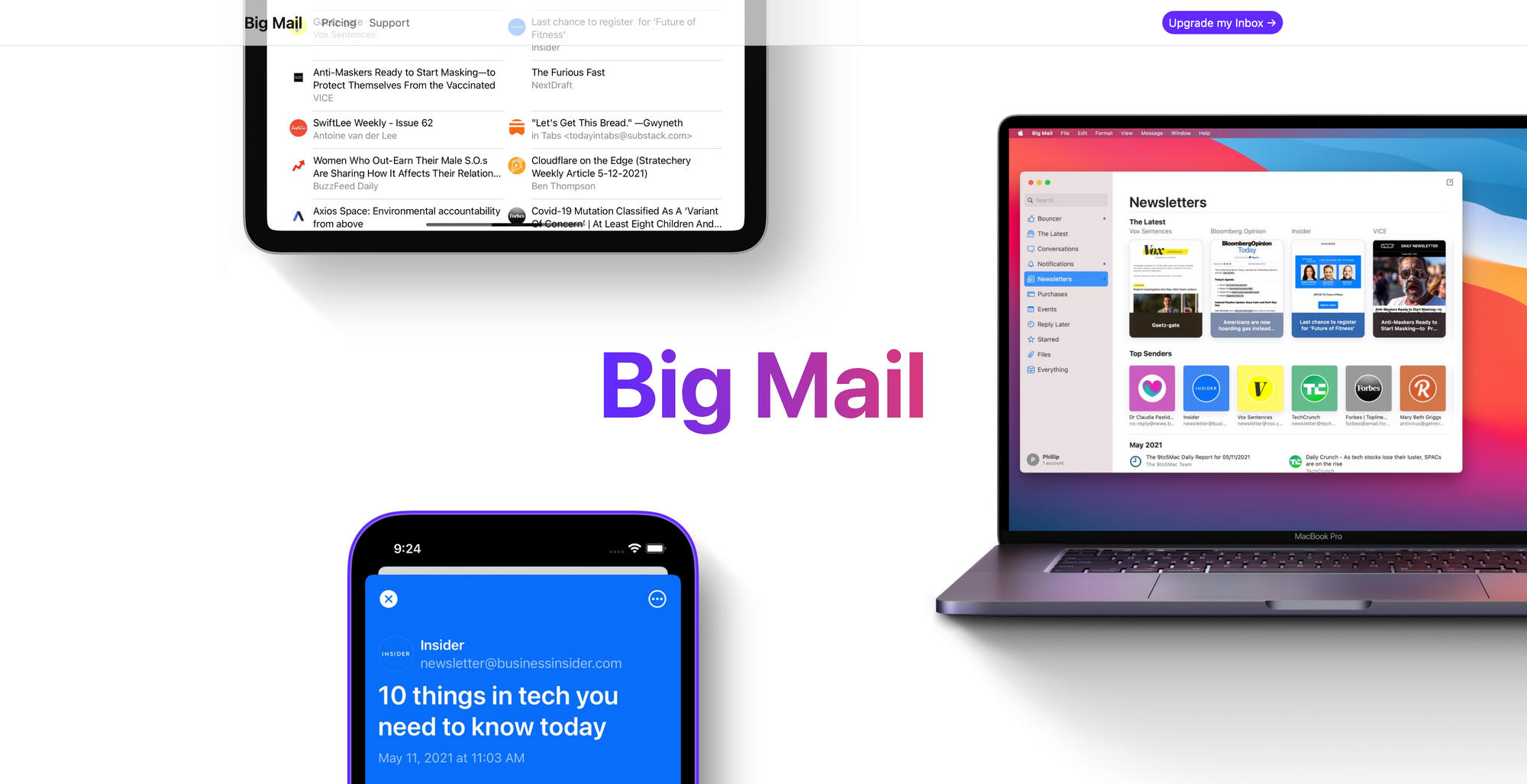 I already wrote a lot about email clients, and I probably will continue writing about them, but I still did not find the email experience I am 100% satisfied with. Superhuman (yeah, the email client, which only supports Gmail and GSuite, costs $30 per month, invite-only, and spied on their users with a default tracking pixel, that not only showed if and how often you opened an email, but also tracked geographical data) almost had me, because their interface and the user experience were top-notch, and basically exactly what I was looking for, but in the end, I could not justify the monthly cost since Superhuman was (and actually still is) a Gmail overlay.
I got excited when I tried out Tempo the first time, it was a completely new approach, but in the end, it was also only available for Gmail exclusively, and I do not use Gmail, in fact, I do not use any Google product. Big Mail could possibly bring the change, Big Mail could possibly be the email client I was looking for. Big Mail is set to launch on June 10th, it is an email client for iOS, Mac, and iPad (yeah I know, we have 2021 and there are still folks who do not develop cross-platform but exclusively for Apple Devices) and it is developed by The Not So Big Company.
Big Mail wants to upgrade your inbox by bringing a beautifully designed experience to your devices as well as an entirely new way of working with it. Big Mail is powered by AI that helps you with the categorization of all the emails that reach your inbox. What I absolutely love about Big Mail is the fact, that it works with all modern email providers (that is the way to go). Big Mail's core feature is making your inbox smarter, and that is happening through on-device categorization, which means your emails never leave your device, or are shared with Big Mail or anyone else. Big Mail automatically organize your inbox and structure your emails through categories. Big Mail is calling them Scene. Big Mail features six Scenes - Conversations, Newsletters, Purchases, Notifications, Events and Files -  in every Scene Big Mail optimizes the layout specifically for it. New senders, which are reaching your inbox for the first time can be approved by The Bouncer, a feature we already know from Hey (the Screener).
As you know, I am big newsletter fan and read every single day, just by looking at the screenshots and mockups on the landing page of Big Mail already gives me the impression that reading newsletters within Big Mail will be pure joy, and I can not wait to try it out. As I am scrolling through Big Mail's website reading about all those incredible features, my excitement is already crashing through the roof, and then I see the section about privacy, and now I am just hoping that Big Mail meets my expectations. Big Mail is the first mail client to be built from the ground up with privacy in mind. Big Mail's Spy Scanner automatically detects and blocks any trackers within emails, there are no third-party servers, all your emails are downloaded directly from your mail provider, Big Mail is truly private by design. Big Mail will never collect any data or harvest your emails and sell them to advertisers or whatsoever.
Therefore, Big Mail is charging a subscription fee to keep a business model aligned with their interests. Big Mail will cost you $6.49/month (if billed yearly) which is an insane value. I can not wait to try it out.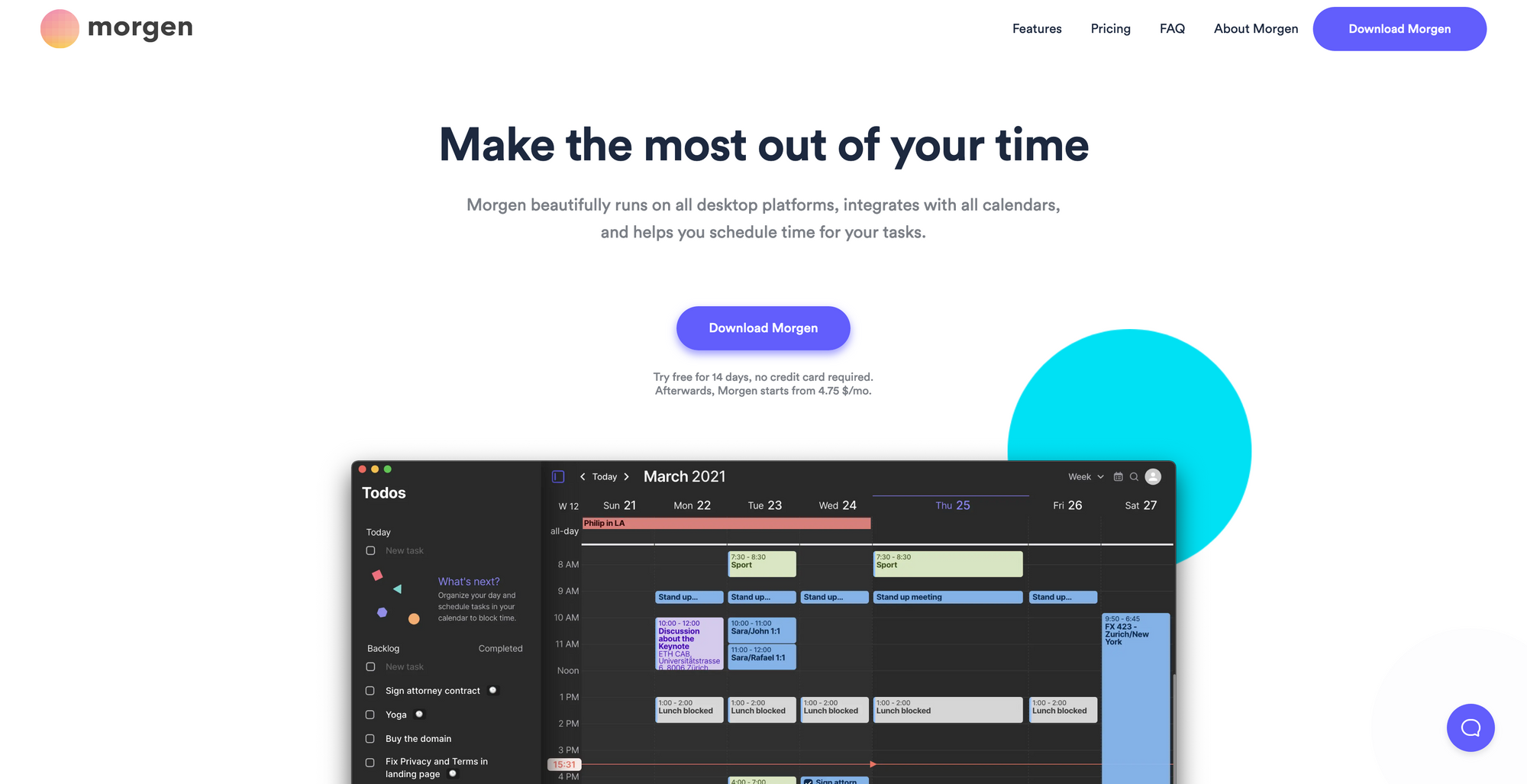 Morgen is a beautiful calendar app that helps you to make the most out of your time and runs smoothly on your preferred desktop (macOS, Windows, Linux). Morgen integrates with all calendars and helps you schedule time for your tasks. I have always been an advocate for task management tools that allow the user to connect their tasks to a certain date since, without a feature like that you are simply jotting down tasks within a list, the list grows bigger over time and ultimately some tasks get lost. Morgen combines your calendar with all your tasks in one beautiful place.
With Morgen you can be sure to get your things done, as you organize your to-do's and block your calendar to avoid others fragmenting your time. Morgen's quick peek feature lets you recall your agenda whenever you want, just hit Option + C (or Alt + C on Windows) and view your calendar with ease. On top of that, Morgen is completely keyboard-driven, rise to new productivity without ever leaving your finger off your keyboard. Morgen implements tons of shortcuts to do the most common actions as you would expect it to be able to. If you do not have any connection, do not worry, since Morgen lets you update and create events even without any access to the network, Morgen will store all changes and sync the events to the right calendars as soon as the network is available again.
Morgen is available for $4.75/month (if billed yearly), free for students, and they offer a 20% discount for academics and non-profits.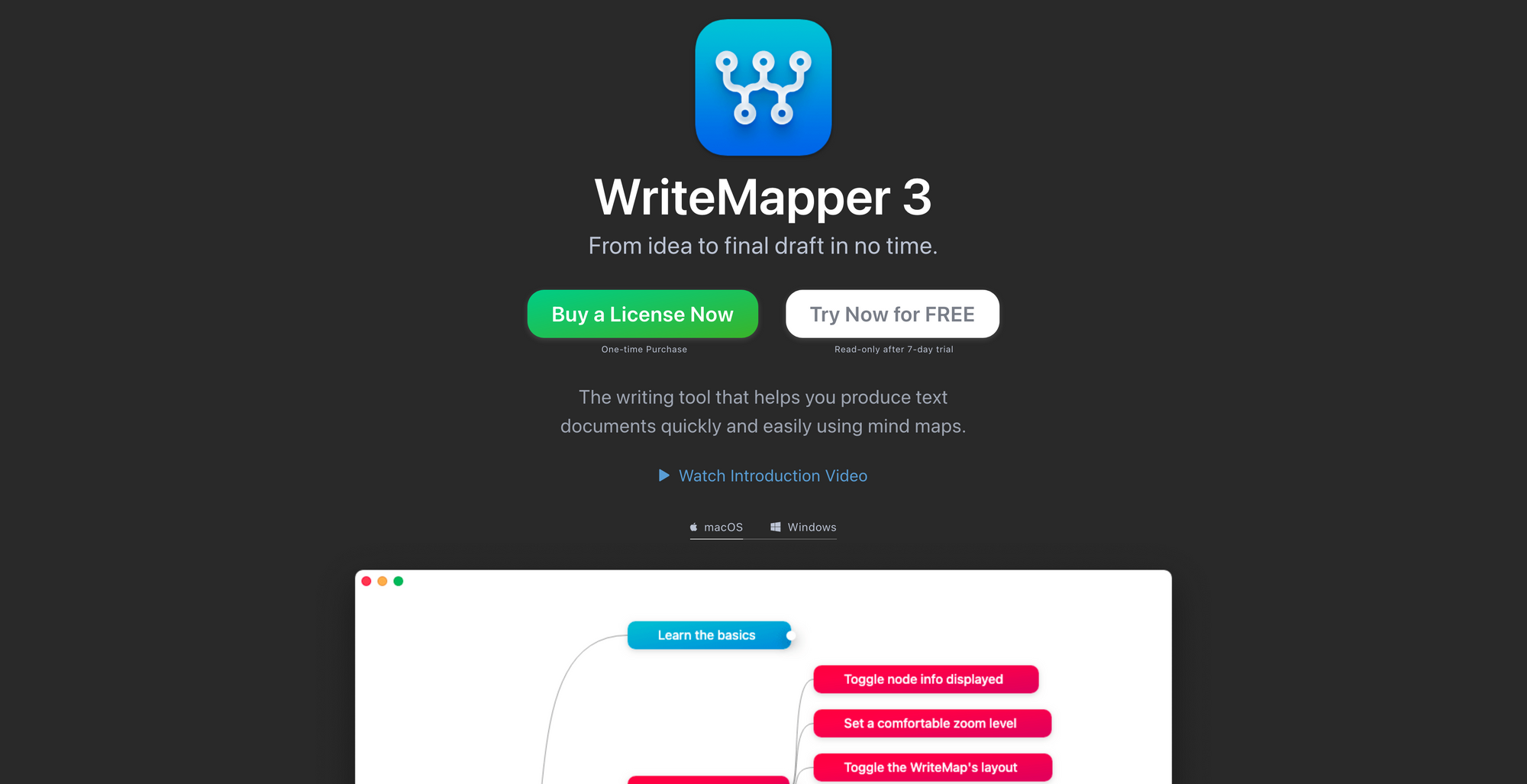 When I start to write a new blog post I probably use some kind of outlining technique 90% percent of the time (the other 10% I am in a flow state where I simply write down all my thoughts). Writing an outline of a blog post (or even a book) helps you to quickly focus on the topics you actually want to write about. If you set the topics, you can focus on them afterward. WriteMapper helps you to go from idea or outline to final draft in no time.
While WriteMapper is not based on the outlining technique it uses another similar technique, mind-mapping. Although I have never used a mind map for my writing process, I already like the idea of that. WriteMapper seems like the perfect tool for that. The beauty of a mind map is the fact, that it lets you visualize the outline that you have created for your writing. Therefore, you get a bird's-eye view of your content structure.
WriterMapper could become really handy whenever you experience a creative block and struggle with finishing your writing since the mind map approach helps you to structure and outline your content first by kicking off your writing process with a brainstorming exercise while you create your mind map. But WriteMapper is not only a great tool to outline your content structure, but each node you create also has its own content section you can jump to and delivers you a beautifully distraction-free writing interface, so you can straight focus on your words. After finishing your map and adding your writing to each node, WriteMapper uses the nested structure of a mind map to automatically create and export your complete writing into a variety of file formats.
This feature is incredibly useful since you therefore can write everything in WriteMapper without having to jump back and forth between different tools. Additionally, WriteMapper has an incredible set of different features, that will skyrocket your productivity.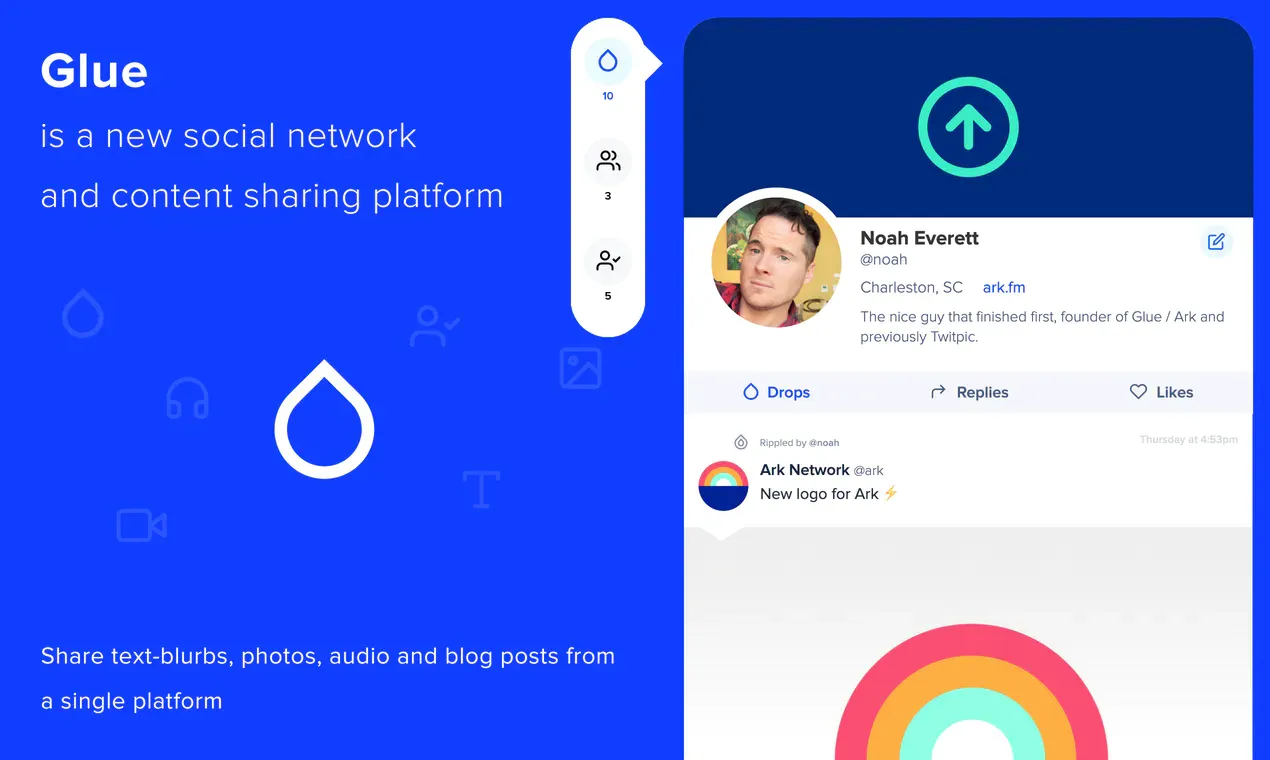 Glue is a new social network and content-sharing platform. Usually, I am not that excited when I read about a new social network as most of them do not tackle most of the problems with have with the current big social network platforms. Glue on the other hand already caught my eye because of the beautiful interface. And what makes Glue really interesting is the fact, that it is built around popular microblogging features. When you have created your profile on Glue, you can share ext blurbs, photos, audio, and full blog posts, powered by a simple and clean UI. The posts you share on Glue are called Drops. When you post a Drop it will get posted on your timeline and is visible to all of your followers.
One of the main features of Glue, that also differentiate it from other microblogging services is Glue's built-in blog editor. So, if the message or post you want to share does not fit within a text blurb you can turn it into a blog post by clicking the "expand" icon which will open the full blog editor in Glue. Glue also features built-in audio sharing which gives you the power to share podcast straight to your timeline on Glue, without the need to upload it somewhere else or use a specific podcast service. Noah Everett the founder of Glue is hard at fixing all kinds of bugs with Glue since it is currently in beta. More and exciting features are planned. So, sign up now, secure your username, and post your first drop.
---
Useful Resource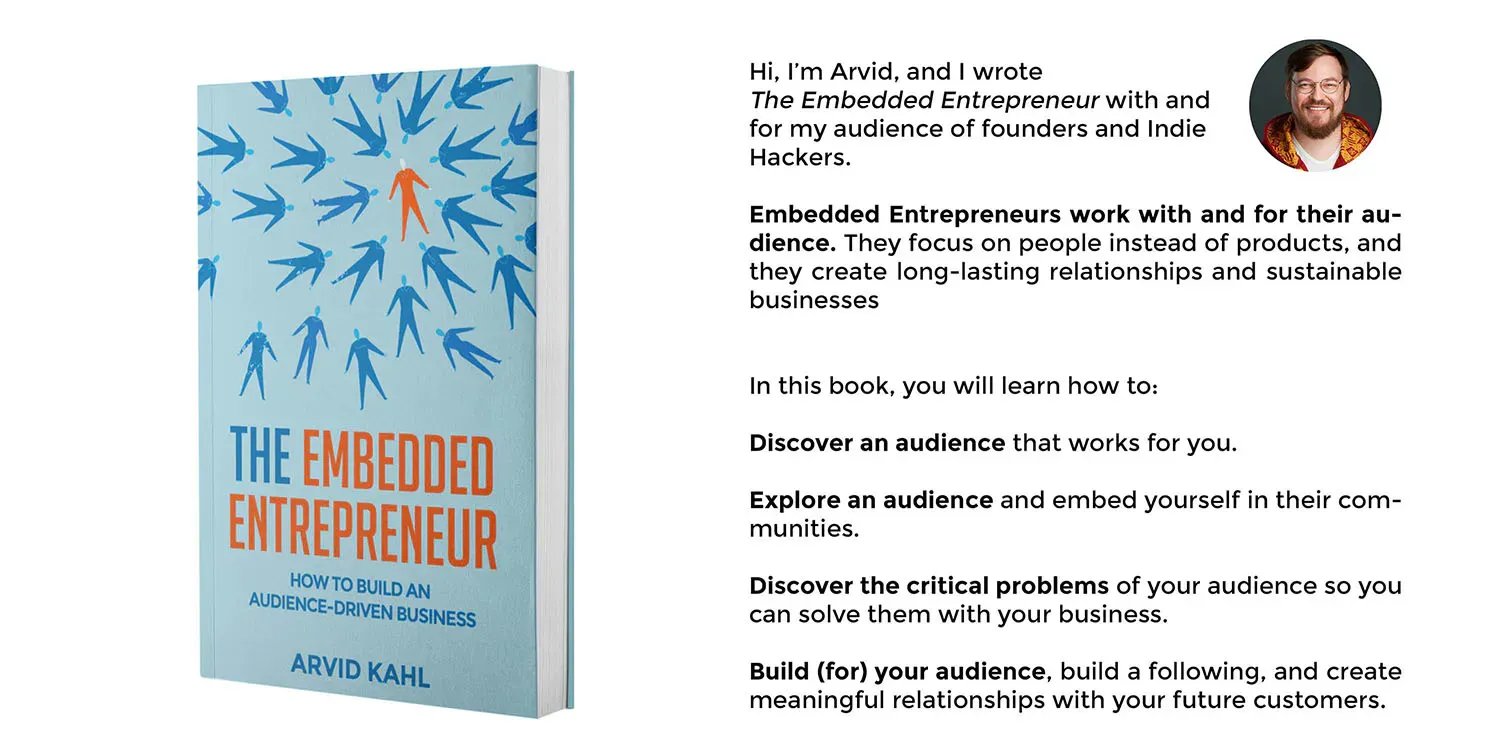 Arvid Kahl bootstrapped an EdTech SaaS business, grew and scaled it to over $55k MRR, and ultimately sold it. He documented his journey, his learnings, and his experience in his very first book Zero To Sold, which quickly became one of the most important books for Makers, Indie hackers, Bootstrappers, and probably everybody who wants to build successful side-projects.
Arvid just released his second book, which is called The Embedded Entrepreneur, a book about the topic of finding your future customers, discover how you can help them, and build an audience while growing your business. What I really love about Arvid's books, is the fact that he writes them actionable and practical advice, that you can implement straight away. In Arvid's new book The Embedded Entrepreneur, you will learn about audience discovery, audience exploration, problem discovery, and audience building. I can definitely recommend this book.
---
Mental Wealth
➢ Explicit Economics – "We live in a time of radical monetary policy and dramatic technological change. Cheap money finances innovation, and innovation helps hide the full effects of cheap money. In the process, everything we know about work, investment, and consumption is being redefined. To understand what this means in practice, let's start with a familiar example. Uber has more than 100 million customers and is synonymous with "getting from A to B." But this does not mean it has a good business. On average, every time someone takes an Uber, the company loses money. Over the past decade, investors kept Uber from going bankrupt by pouring more money into the company. In essence, these investors are subsidizing Uber's customers."
➢ What if Remote Work Didn't Mean Working from Home? – "In the late nineteen-sixties, the writer Peter Benchley and his wife, Wendy, were looking for a quiet place to live near New York City. They considered Princeton, New Jersey, but couldn't afford it, so they settled for Pennington, a small community eight miles to the west. It was here that Benchley got to work on his first novel, a sensationalist tale of a great white shark terrorizing a beach town. I've long been familiar with the connection between "Jaws" and Pennington because I grew up down the street from the house that the Benchleys had bought. Their home was a classic converted carriage house on a sizable property, framed by conifers. As a kid, doing homework in my attic bedroom, I sometimes liked to imagine that Benchley had looked out over a similar lawn down the street, crafting his iconic scenes."
➢ Self-knowledge is a super power – if it's not an illusion – "It seems we know a lot about the contents of our own minds. We know, for instance, that we want our friends and family to be healthy, that we intend to pay this month's electricity bill, that we believe Myanmar was formerly called Burma, or that we're experiencing a particular sensation, such as pain. Philosophers have a term for such (alleged) knowledge of facts about our own minds: self-knowledge. Dating back at least to René Descartes in the 17th century, it has seemed to a number of philosophers that not only do we possess self-knowledge, but that there's also something special about the nature of some of the self-knowledge we possess. We can begin to see why by investigating our knowledge of other people's minds. Consider, for instance, how you might come to know that a friend of yours is in pain from a headache."
➢ Why the blockchain matters – "But first, let's understand some words... Bitcoin is not the blockchain. If the blockchain is a printing press, Bitcoin is a kind of paper money. There are countless things that one can do with a printing press, in fact, it changed the world, but the invention of paper money isn't even one of the top 100 most important outputs the printed press created. Cryptocurrency has a terrible name. Most people associate "crypto" with spies and secrets. And a currency is generally backed by a nation, with a treasury, an exchequer and banks. It's more accurately thought of as a token."
---
Appendix
➢ Featured Newsletter
Well, for most of you Morning Brew will be nothing new, as it is one of the biggest newsletters in general (being acquired by Insider Inc. for $75m last year) and probably the most popular newsletter for topics like tech, business, stocks, and startups. But anyway, I want to highlight yet another newsletter I really like to read. Morning Brew gets published daily, and every single day it is a beautiful email packed with high-quality news that is actually enjoyable.

As their publication grew over time, Morning Brew expanded with more newsletters focused on different topics. Besides Morning Brew, you can also sign up to Marketing Brew (Marketing), Sidekick (Entertainment, productivity hacks, and more), Retail Brew (insights on retail), and Emerging Tech Brew (Drones, automation, AI, and more). It is incredible to see how Morning Brew scaled their newsletter business, and constantly deliver and send out one of the most insightful newsletters out there, definitely worth subscribing.
➢ ICYMI
Five months ago I published a blog post on the topic of why I decided to leave Substack and host my newsletter on Ghost. Since more and more people are doing the same, leaving Substack for Ghost, I thought I might update my blog post with some additional information about the pros and cons of both platforms. The update is already nearly done, I will edit everything during the upcoming week, and you as my subscribers will get informed first when the updated blog post is live.
➢ Quick Bits
Amazon buying MGM for $8.45B after talks with Apple fizzled out / EU suspects Facebook of abusing power with Marketplace, report says / Have I been Pwned goes open source, gets FBI data feed / Epic v Apple: What have we learned? / Google reportedly made it harder to find Android privacy settings / WhatsApp gives up limiting app features for users who haven't accepted new privacy policy / Facebook Tracks Your iPhone Location—This Is How To Stop It
---
Twitter thoughts
---
Till next time! 👋‌‌‌‌
Support: Do you have a friend who is looking for inspiration, news about design, and useful tools and apps? Forward this newsletter to a friend or simply share this issue and show some support. You can also show some love by simply clicking the button down below and keep this newsletter a sustainable side-project by buying me a coffee. ☕️ 🥰
---
---
Disclaimer: My posts may contain affiliate links. If you buy something through one of those links you won't pay a penny more, but I'll get a small commission, which supports this blog and also my side-projects. So consider buying something through my links. Thank you!