Newsletter
Better meetings at your fingertips & The fastest way to jot down a note
In this week's issue of Creativerly: Stop feeling frazzled, bookmarking like your brain thinks, why is everyone feeling so stuck right now, and a lot more.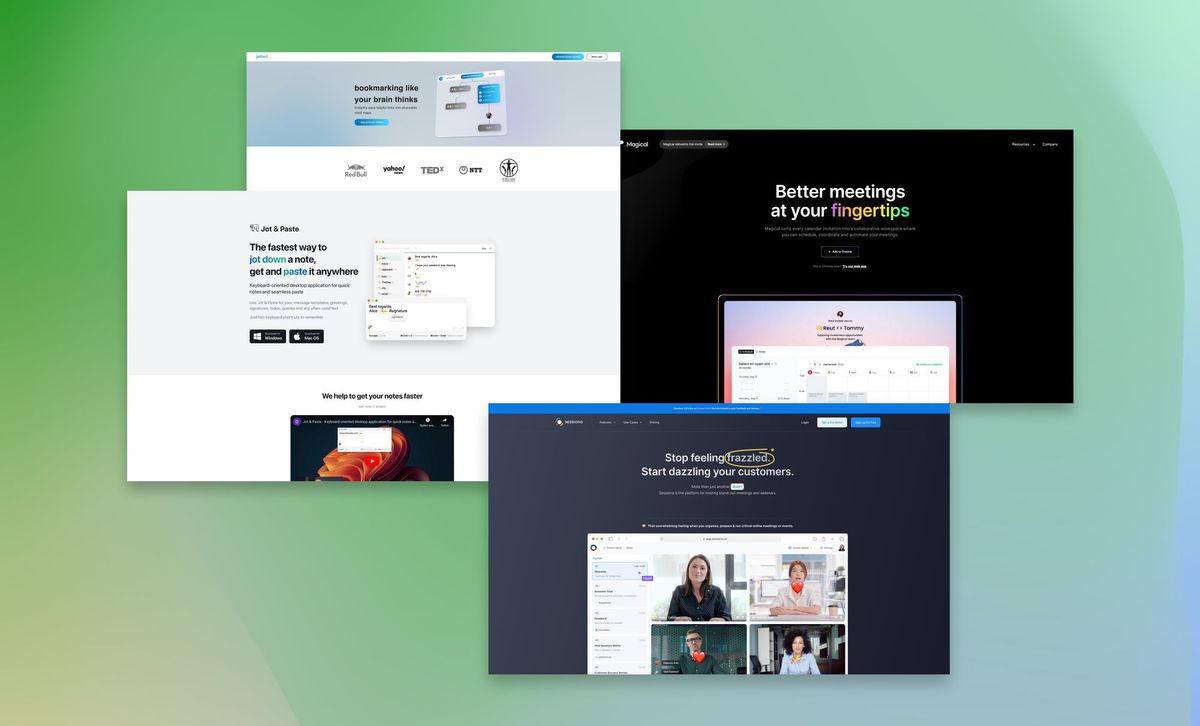 My name is Philipp and you are reading Creativerly, the weekly digest about creativity and productivity-boosting tools and resources, combined with useful insights, articles, and findings from the fields of design and tech. The newsletter built for the creative community.
---
Hey and welcome to Creativerly 199 👋
One of the currently most popular note-taking and knowledge management tools is without a doubt Tana. Shortly after Tana came out of stealth, my Twitter timeline went crazy. One one hand, I saw loads of people getting excited about (yet) another note-taking and knowledge management tool, on the other hand, some folks who are well-known within the field of productivity and note-taking software shared their first impressions as they were already using and testing the tool for a couple of months.
I have received access to Tana recently. Until now, I did not find that much time to give it an in-depth test, but I want to share some early impressions with you. Tana is using the outliner approach when it comes to note-taking and just because of that, I am already attracted to the tool. The core element of Tana is the daily note page, where you start every single day and jot down your notes. When you are active within the same Twitter bubble as I am, you might have heard of Supertags in context with Tana. Well, these Supertags not only allow you to structure and organise your notes, these Supertags give you the power to build systems for literally anything. Do you want to keep track of books, podcasts, articles, movies, or anything like that within Tana? Sure thing! Do you want to manage your projects, writings, create a content pipeline, or a CRM with Tana? You can definitely do that, thanks to the power of Supertags.
Supertags are not just tags. You can add content fields to Supertags, you can edit and customise them to your needs. Whenever you add a Supertag to a note, these content fields will be visible underneath the note you just tagged. Then you can fill out the content fields to add more context, information, or notes to the note you just tagged.
Without experiencing Supertags it might be hard to actually see the value Supertags can potentially add to your workflows. I am using Tana since a couple of days, and I am still struggling a little bit to wrap my head around all the functionality. But the beautiful thing about Tana is the fact that you can just start writing your notes, and creating your Supertags to explore its features. Since once you understand how Supertags work, you can always extend your previously created Supertags with more content fields.
Now I have experienced Tana myself, I do get all the hype around the app. But I definitely need to stick with it for some time, to form a strong opinion about it. Nevertheless, it is exciting to give a fresh new tool within that field a try.
What do you think about Tana?
---
The daily planner for busy professionals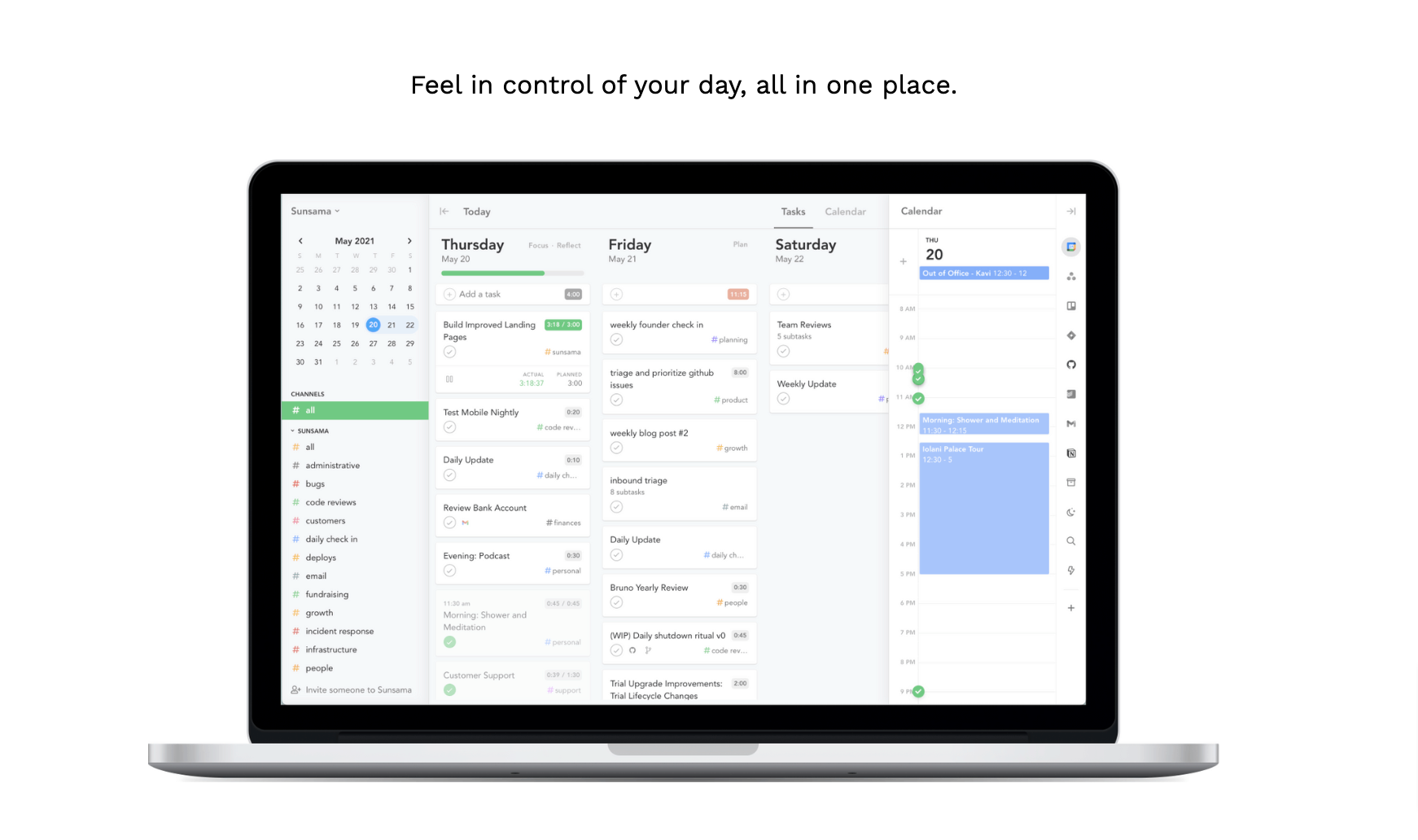 Sunsama helps you create the daily planning routines and atomic habits that lead to working less each day while getting more done! Stay on track with your goals and prevent burnout.
This is a sponsored message to support Creativerly. If you are interested in putting your tool, product, or resource in front of over 1900 creative minds, consider advertising in Creativerly and book a sponsor or classified ad spot. Find all the important information at creativerly.com/advertise.
---
Apps, Software, Tools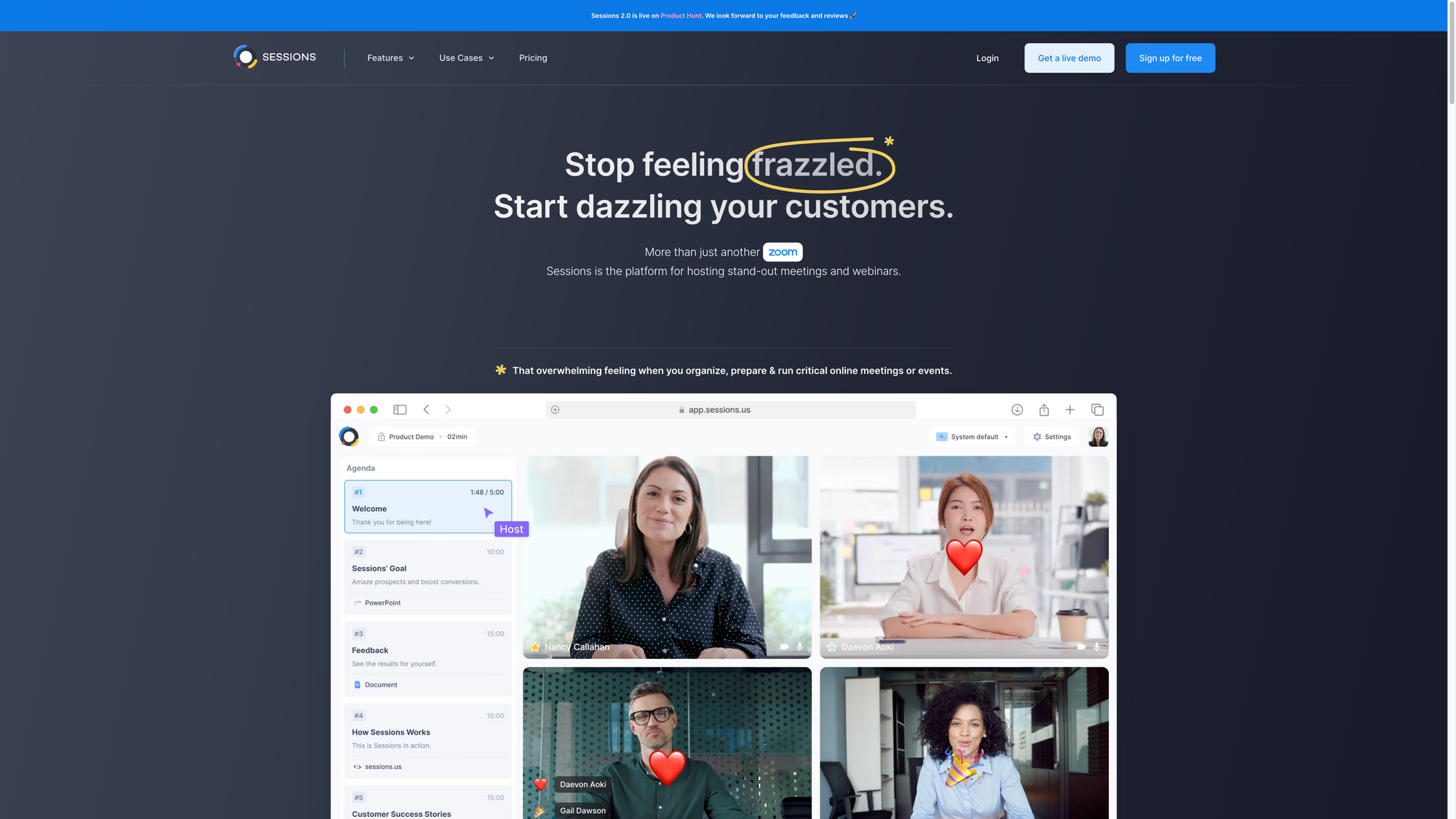 Videoconferencing tools at once again rising in popularity. But it is not the tools which are offering basically the same experience as big players like Zoom or Google Meet, which are becoming more popular, it is tools like Sessions which are taking videoconferencing, meetings, and webinars to another level.
Sessions is delivering probably the most frictionless experience when it comes to conducting effective meetings, webinars, and events that impress everyone involved. With Sessions you get the end-to-end solution to manage and host meetings with one single platform. Creating effective meetings and events involves different procedures like booking, inviting, preparing, live sessions, collaborating, and following up. Usually, you need to use multiple tools like for example Calendly for booking, Luma for inviting, SessionLab for preparing, Zoom for the live sessions, Switchboard for collaborating, and Zapier for following up on webinars or meetings you have created. But with Sessions, you get all of this in one single platform.
Instead of delivering yet again another meeting platform that relies soley on the presenter, Sessions combines everything you need to have effective meetings, with a strong focus on teams working in Sales, Marketing, and Customer Success. By bringing all your collaboration tools in one single place, Sessions is redefining hybrid communication across teams. With Sessions, you can say goodbye to screen share, since it allows you to embed your product or app directly in Sessions, this takes collaboration and multiplayer functionality to another level. Sessions features a wide range of integrations which make your meetings more productive without the need to switch back and forth between different apps. By embedding your digital product or website directly into meetings  you can make sure everyone is (literally) on the same page. This is a truly interactive experience and a huge productivity boost.
Besides that, Sessions features ultra HD audio and video. If you ever wanted to experience crystal clear audio and video within your meetings, Sessions is the way to go. It is offering ultra HD video quality and recordings, advanced background noise suppresion, and more. To get rid of endless scheduling ping-pong, Sessions lets you synchronize your calendars to give everyone a full overview of your schedule, you can generate booking links with custom formats and time allotments, and you can pre-load agendas and presentation materials for each meeting. With Sessions' interactive agendas, you can keep everyone on track and control your narrative. Since you can obviously record your meetings with Sessions, it safely stores all your data in the cloud, you can view, download or re-share recordings and files with just a few clicks, and access all the presentation materials and agendas from previous meetings.
To get a taste of Sessions, you can use it for free. The Free Plan includes all features plus 30 active contacts per month, up to 90 minutes per session, up to 30 participants per session, unlimited team member accounts, 90 days memory backup, the integration of one of your own products, and standard support. If you need more active contacts, more time per session, more participants per session, unlimited memory backup, and integrations, you can sign up for the Pro Plan, which will cost you $72 per month and includes a 60-day free trial (which is pretty generous).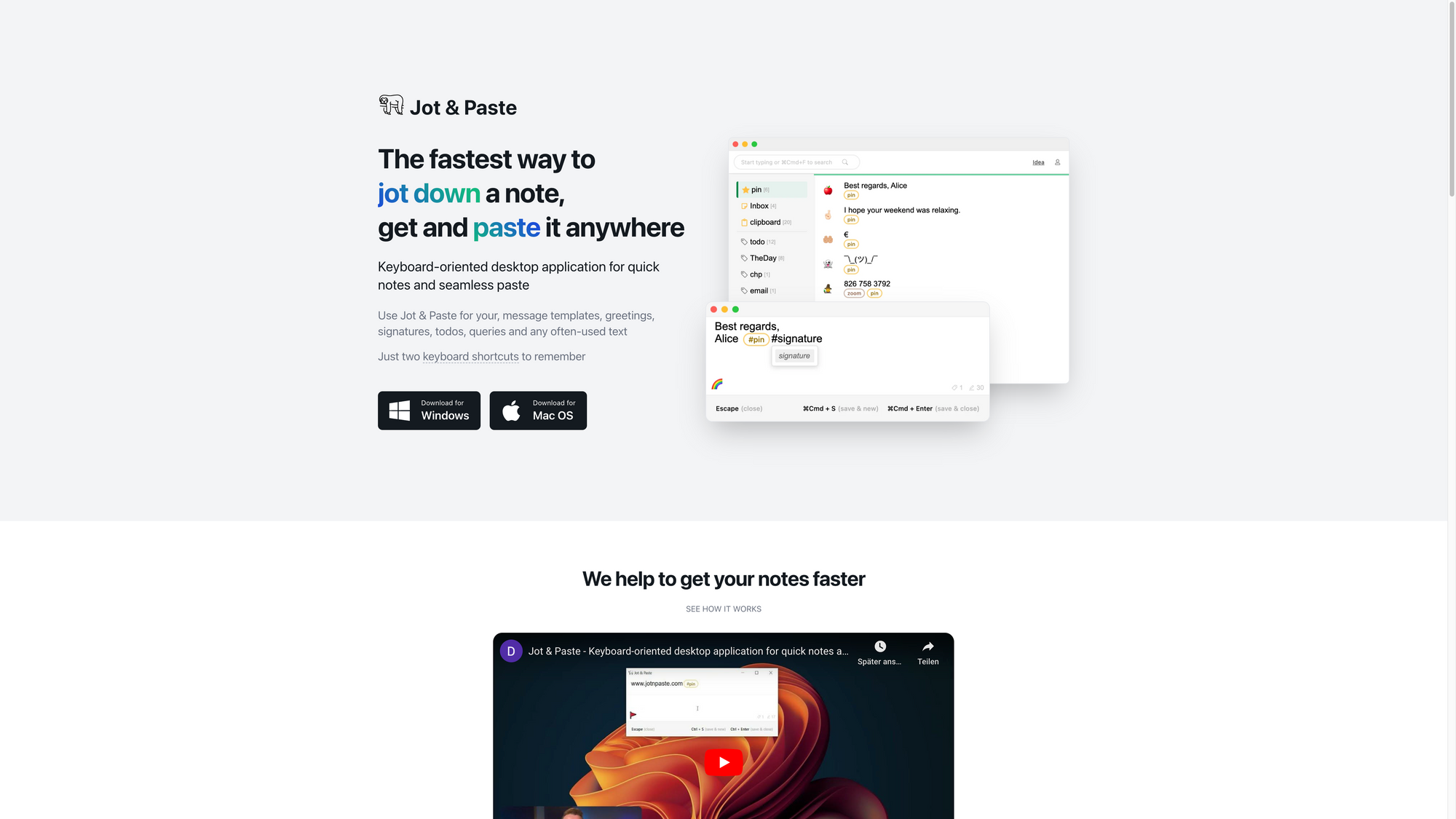 The space around note-taking and knowledge management tools is growing, steadily and incredibly fast. Every single year, we get flooded with new tools, most of them claiming to be the right space to set up your second brain, allowing you to take focused notes, and build up your knowledge base. I have the feeling that the makers of these tools do not realise that note-taking does not always happen in front of our computers, in a focused and distraction-free environment. A lot of my personal note-taking happens on the go, on my phone or iPad when I want to quickly jot down an idea and store it somewhere so I can come back to it at a later point. The possibility to quickly capture a thought, idea, or note, without the friction of thinking about where to put it, should be baked into every single note-taking tool. Do not get me wrong, there are ways to achieve this with Obsidian, Craft, or Logseq, but most of the time you need to set up plugins or shortcuts for it.
I am seeing a demand for quick capture apps or at least possibilities to quickly capture notes, thoughts, and ideas, and somehow connect them to your general notes. Most of the apps I have discovered within that field over the last couple of months were all built for mobile operating systems. Jot & Paste follows a similar approach of giving you the possibility to quickly jot down and save a note, but compared to all the mobile-oriented quick capture apps, Jot & Paste was built for Windows and macOS as a desktop application. On its website, Jot & Paste even states it be "the fastest way to jot down a note, ...". Jot & Paste was built to help you get your notes faster, by delivering a truly keyboard-driven experience. All you need to do is to remember two keyboard shortcuts. The first one is Cmd+Shift+Enter (or Ctrl+Shift+Enter on a Windows PC) to bring up the Jot & Paste input window. No matter which app is currently open on your desktop, hitting this shortcut lets you quickly jot down a note.
While jotting down a note, you can use tags to sort the notes you take. Once you are done with jotting down your note, you simply press Cmd+Enter to save it and simultaneously close the window again. The second shortcut you need to remember is Cmd+Shift+L (or, again, Ctrl+Shift+L on Windows) to see a list of your notes. Again, this should work in any kind of app (although, you need to check if the shortcut might be already assigned to a different action within the app you are currently using when you want to bring up Jot & Paste). With your keyboard arrows, you can then neatly navigate through your notes. From here, you can easily copy pieces of text to use them somewhere else. Besides that, Jot & Paste keeps a history of the last 20 copied text elements so you can easily reuse copied text. If you are using the same Jot & Paste account on different computers, you can easily sync your notes through Jot & Paste's cloud synchronization.
I like the idea of Jot & Paste. It is a frictionless way of jotting down some quick notes and thoughts to re-use them afterwards. On its website, Jot & Paste itself states, that the app was made for message templates, greetings, signatures, todos, queries, or any kind of often-used text. Here is the thing: if you are already using a note-taking or PKM tool like Obsidian or Craft, you probably already have a file or document that includes that kind of text bits. Both Obsidian and Craft offer powerful quick-open commands that give you access to those files or documents. And you can even open up those tools with hotkeys. So, while I like the overall idea of Jot & Paste (since there is definitely a demand for something like it), I do not see a use case for someone who already uses and heavily relies on a note-taking tool with a dedicated system, because then it might makes more sense to just set up a file with some hotkeys that quickly gives you access to your most-used text bits.
Nevertheless, give Jot & Paste a try. It is always exciting to find out about new note-taking tools. While it seems, the tool itslef is still in an early phase, it is great to see that things like notes with reminders, markdown support, smart to-do lists, the possibility to share lists and collaboration, or pasting templates are already on the roadmap and marked as upcoming features.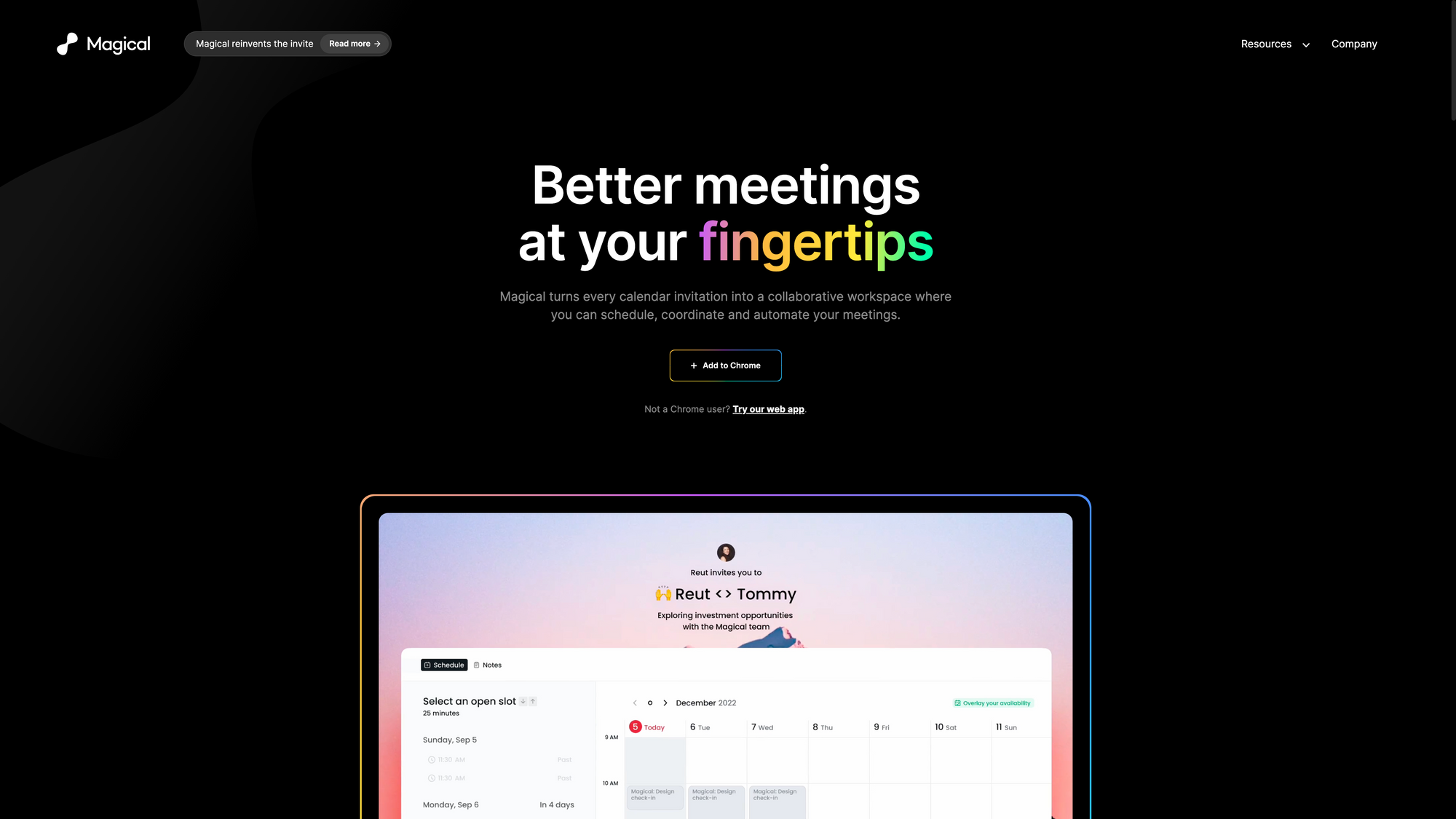 I wrote about Magical for the first time back in August 2022, featuring it in Creativerly 184. In that version of Creativerly, I wrote about their mission to fix the calendar. Besides the landing page of MagicalHQ, there has not been any kind of updates regarding that specific calendar tool. Instead, Magical launched timeOS (a Chrome extension that populates your screen when you open a new tab, letting you take meeting notes and sync them to Notion, see your upcoming meetings, and receive hassle-free reminders) four months ago, and now they are back with Magical.so. At this point, I am not sure if MagicalHQ and Magical.so are either two different products or if they are the same now. On one hand, the landing page at MagicalHQ is clearly directed towards a new calendar tool, but if you visit Magical.so you quickly realise that with this product (or update?), Magical is re-imaging the process of sending out meeting invites. Anyways, let us take a look at Magical (going to stick with that naming throughout the post).
Magical jumps right onto the AI-hype train, and introduces AI-powered invitations. Every calendar invitation you send out will get turned into a collaborative workspace by Magical. Within that workspace, you are able to schedule, coordinate, and automate your meetings. Every time you open a new tab, Magical lets you speed through the scheduling process with personalized links of preferred meeting slots. Once you send out meeting invitations, the already-mentioned AI comes to work. Dynamic Availability powered by AI helps you and your attendees always find the ideal time to meet. This should reduce the back-and-forth emails to find a time that fits for both parties. The invite pages of Magical are not just invite pages, they are collaborative hubs with meeting templates, notes, and apps to supercharge your meeting productivity.
Besides that, Magical allows your recipients to overlay their availability without creating an account. They can also decide how much time they really need, so durations are always flexible. To fly through your time, Magical is optimized to be used with powerful keyboard shortcuts. The notes you take during a meeting will get auto-synced and auto-organized in Notion and Salesforce. Magical's smart reminders will always keep you on track when it is time to jump to the next meeting.
Magical is available as a chrome extension. You can add it to your browser right away.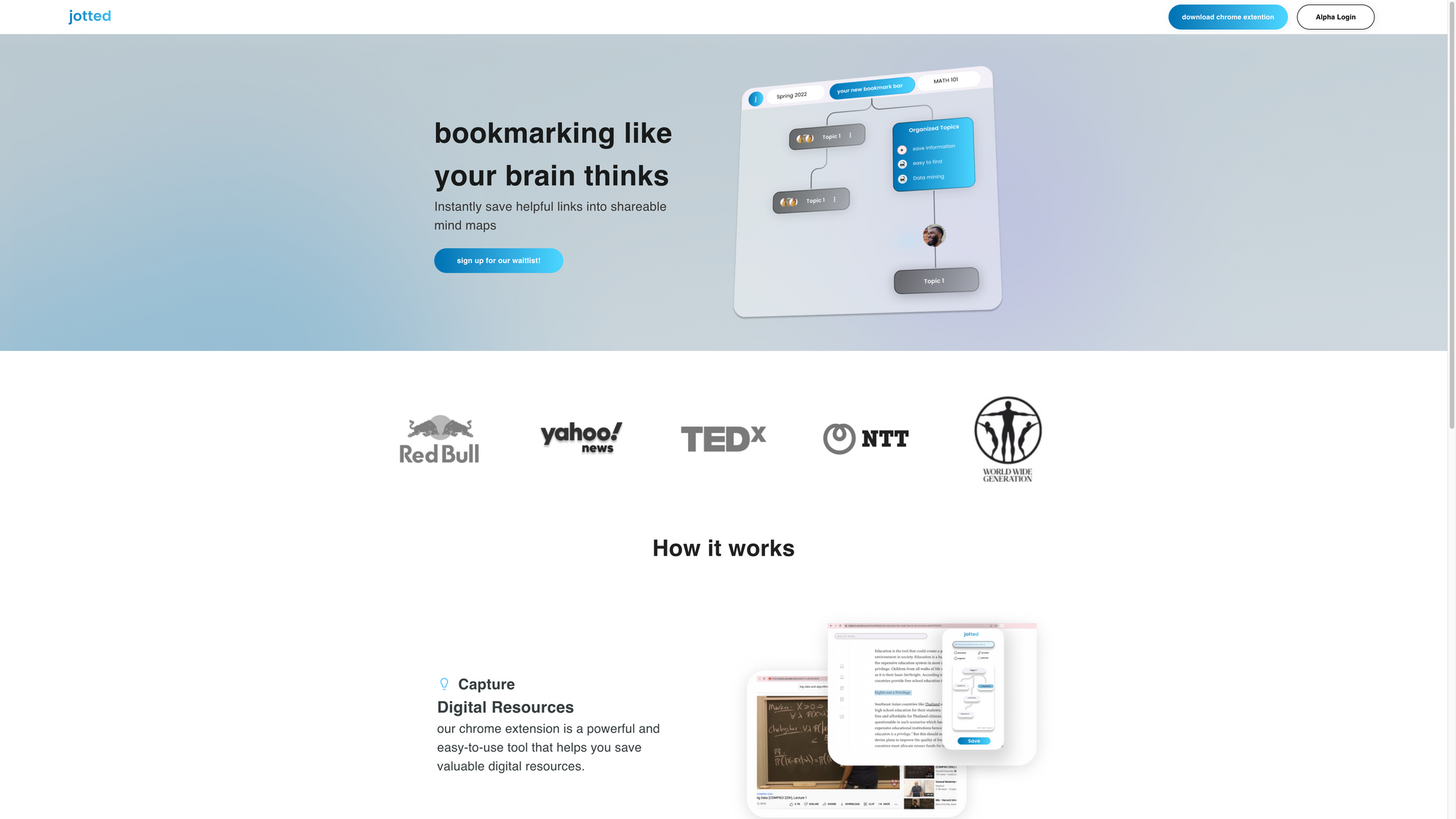 Jotted is an incredibly interesting tool since it follows a completely new approach to saving helpful links you are stumbling across online. If you ever wanted to bookmark links and save them into shareable mind maps, jotted is the tool you should check out. Bookmarking as your brain thinks.
It is no secret that human brains recall and process visual information better and faster by nature, compared to plain text. Therefore, mind maps can become magical tools to visualise your thoughts, ideas, and notes. Jotted was built with that in mind. Its Chrome extension allows you to save valuable digital resources you stumble across online fast and incredibly easily. Its web app is powered by mind mapping, so you can transform all the information you gather into your knowledge. You can take notes in the web app directly or upload digital texts like online textbooks and PDFs. All your notes within jotted are compiled into different digital notebooks.
According to a report by Red Bulletin Innovator jotted will also be capable of identifying keywords in the documents you are uploading to the platform, and based on that generate practice tests and flashcard sets to actively recall this information to seed retention. This turns jotted into a powerful tool for students but also folks who want to learn new stuff in general. Adding context and repetition of the keywords jotted detects through flashcards, can help the brain naturally retain new information. Since jotted is a web app, you can access it from any computer.
Jotted is still in its early days. The two founders, Brinlee Kidd and Sylvia Lopez, are both just 19 years old. Both are currently studying and during late-night brainstorming sessions between Kidd and Lopez, they ultimately born the idea to build a tool that helps students and folks to study and learn more efficiently and effectively. Jotted was built to solve this problem. It is definitely an exciting tool, and I will keep an eye on it to see how it will evolve. Currently, jotted is available as an alpha version. You can sign up to the waiting list to receive access to it.
---
Mental Wealth
➢ Why Is Everyone Feeling So 'Stuck' Right Now? – "If you feel like you're in a funk at the moment, you're not alone. But simply recognising that you're feeling stuck is a great step on the path to feeling more motivated for anything life throws at you. We can all better our mental state by being a little more mindful each day, and by taking a moment to reflect and assess what we want from our future, we can help live each day with a sense of purpose."
➢ When — and How — to Say No to Extra Work – "Consider your average work week. What percentage of your daily tasks fit into your job description? If you're like most high-achievers, chances are that over time you've assumed many responsibilities outside your main scope of work. But how much do these new obligations contribute to your professional advancement versus running you ragged?"
➢ Is it better to be a Generalist or Specialist in your Career? – "What I do have are a very particular set of skills, skills I have acquired over a very long career. Skills that make me a nightmare for people like you. If that sounds familiar it is verbatim Liam Neeson from the (not very good film) Taken. You could say that Liam's character is a career specialist. As a recruiter in my past life, I would have been very excited to hear Liam as my candidate say this during an interview. My clients were paying top dollar to find a highly-distinguished skillset and it was my responsibility to find the people with said skillsets. Specialists typically have an easier time in the job market. They can easily explain what they do, how they do it and point to tangible returns on investment. But does that mean it's inherently better to specialise?"
➢ How to find a job that energizes (rather than drains) you – "Doing work that doesn't feel meaningful can be a drain. You wake up, clock in, put in your hours, then clock out. Rinse, repeat. Although this sort of routine may feel dreary, you may still find yourself hanging onto it for the sake of maintaining consistency and predictability."
---
Classifieds
These are paid promotions or affiliate links to support Creativerly. If you are interested in putting your tool, product, or resource in front of over 1900 creative minds, consider advertising in Creativerly and book a sponsor or classified ad spot. Find all the important information at creativerly.com/advertise.
---
Appendix
➢ ICYMI
The newest Creativerly is out now. Read about why Emmanuel Lefort (founder and CEO of Weavit) decided to shut down its PKM app, what challenges he faced while building a startup, how he observes the whole productivity and PKM space, and what he is working on next, make sure to head over to creativerly.com and check out the interview with Emmanuel Lefort.
➢ Quick Bits
---
Twitter thoughts
---
👋
Till next time!
Share or forward this post to your friends, if they are also looking for creativity and productivity-boosting tools and resources. If you need help discovering your next favourite task management, note-taking, or PKM app, Creativerly delivers the insights you need. Creativerly is an independent publication and I am writing and maintaining it in my free time. You can support Creativerly and my work by sharing it with the world,
booking an advertising spot
, or by
buying me a coffee
.
---
---
Some of the links in my newsletter and my blog posts are affiliate links. Those links are marked by an asterisk. If you buy something through the link, the product will not cost you anything more, but I will receive a small commission which not only supports Creativerly and my work but also helps me to keep this publication a sustainable side-project.