Newsletter
Capture at the speed of thought & Don't optimize your downtime
In this week's issue of Creativerly: Beautiful screen recordings in minutes, find everything you need, private group newsletters, and a lot more.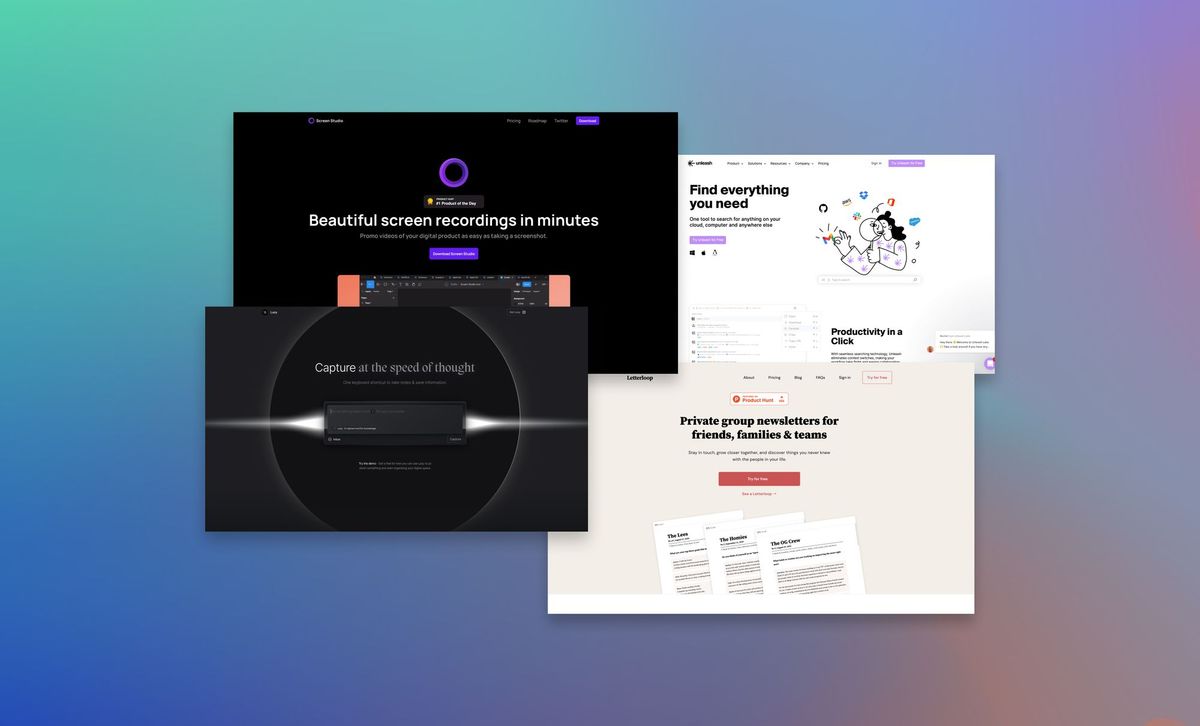 My name is Philipp and you are reading Creativerly, the weekly digest about creativity and productivity-boosting tools and resources, combined with useful insights, articles, and findings from the fields of design and tech. The newsletter built for the creative community.
---
Hey and welcome to Creativerly 195 👋
Recently, Ghost* (the platform I am using to send out Creativerly every single week), has been on a roll when it comes to shipping new and exciting features. As I have been focusing on creating content lately, I haven't had time to fully look into those new features, but let me tell, they are exciting.
First of all, I just turned on comments. This means, every post I share on Creativerly, no matter if it is an interview, a newsletter, or a blog post, as a member of Creativerly you can now join the discussion about the post right on creativerly.com. In the past, you were able to achieve that with some third party integrations. But just like the site-wide search, Ghost now also implemented comments natively into their platform. To join in on the discussion about what I am writing, all you have to do is sign into your Creativerly account. So, use the email you have used to sign up for the newsletter, head over to creativerly.com, click on "Subscribe", on the modal click on "Sign In", type in your email, and click the activation link you will receive to your email. After that, you successfully signed into your Creativerly account and you are ready to go and join the discussion. It is such an awesome feeling, whenever I receive an email as an answer to what I have been writing and sharing with my audience. I made some great connections through those email discussions. Now, I am excited to bring another discussion layer directly to creativerly.com, which gives all members of Creativerly the possibility to share their thoughts, feedback, and suggestions with everyone at creativerly.com. This is an important fact. If you have not subscribed to Creativerly, meaning you are no member, you are not able to comment on posts. An implementation like this, helps me with content moderation, since I can be sure that only "real" people are commenting. I still have to moderate what is happening within the comment section, but since Creativerly is an open-minded medium, I have the feeling that my readers and subscribers are too.
Another great feature released recently by Ghost* is called "Audience feedback". See, I love when I receive feedback by my readers, but I do get it that sometimes, there is a lot of friction involved to actually sit down and write an email including feedback. Therefore, Ghost added this neat feature called Audience feedback, which adds two buttons at the end of the newsletter. The two buttons give readers the possibility to quickly share their feedback with the newsletter creator, just press thumbs up or thumbs down. I turned this functionality on for Creativerly, so whenever you want to leave some quick feedback whether you enjoyed the most recent issue of Creativerly or not, you now have a super simple solution to do so. At the end of the newsletter, you should find two buttons to choose from.
It is exciting to see how fast Ghost* is growing and how they keep shipping features that turn the platform into a publisher's dream, at least for me. I moved my newsletter to Ghost in January 2021, and since then, I never looked back or thought about switching to another platform, since Ghost literally offers everything I need. If you want to check out more of the recently shipped features, make sure to check out Ghost's Product Updates page. If you are on the fence and thinking about making the switch to Ghost, I am open to answer any of your questions. I have been using Ghost for nearly two years now and it has been pure joy.
---
Your next business idea, delivered weekly.

Trends tells you the next big thing – months before everyone else. Their dynamic team of business analysts already outlined 1,000+ vetted business ideas you can start in a weekend, and they send new ideas and market signals straight to your inbox weekly.
This is a sponsored message. If you also want to highlight your app, tool, resource, newsletter, job offer, in front of over 1900 creative minds, head over to creativerly.com/advertise* and get in contact.*
---
Apps, Software, Tools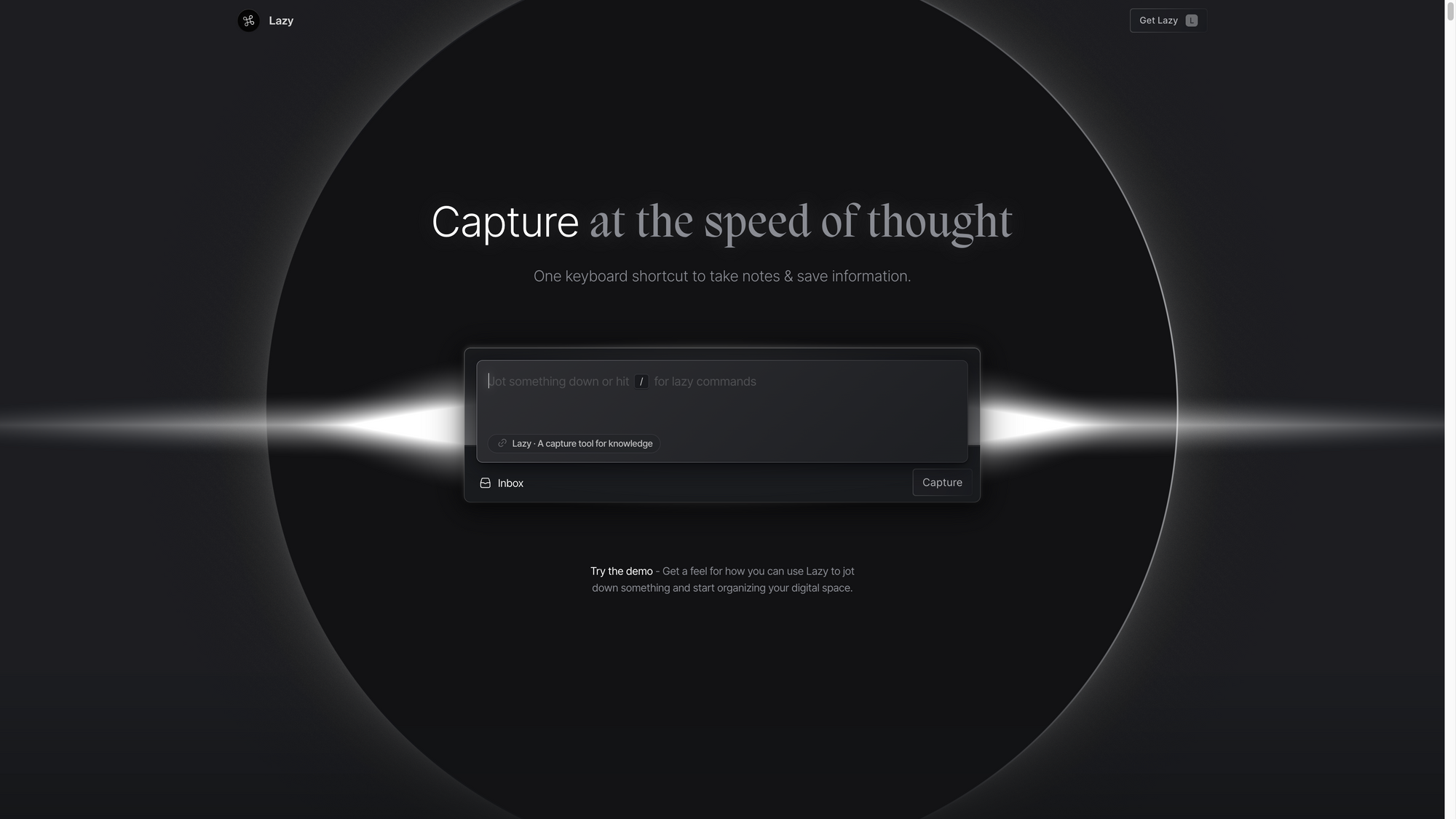 I stumbled across Lazy just a couple of days ago, after a fellow newsletter creator (thank you Land of Random) pinged me on Twitter to check out this tool. Lazy is a capture tool for knowledge. I have not seen anything like it before, which got me extremely excited about the product.
In the past, I have written a couple of times about one of the biggest struggle points with note-taking and PKM software: the fact, that a lot of them do not support quick input. You need to open the app, search for the right note, open that note, and add your information there. A quick input of information should be faster, and I should not need to worry about where I need to put it. When you want to capture a quick idea, most of the time you need to switch context or open up another app, which might interrupt your workflow. That should not be the case. Lazy does solve this problem. It introduces the end of context switching by delivering a keyboard shortcut to take notes and save information. Never interrupt your workflow again, no need to switch apps to take notes, just hit a keyboard shortcut and you are ready to go. Lazy's website not only features a live demo of the product so you can get a feel for how you can use Lazy, but it also shows a real-world example of how it can boost your workflow while browsing the internet or reading articles and stumbling across the information you would like to safe. Whenever you come across a certain piece of information, highlight it, press CMD + L on your keyboard, Lazy will pop up with the highlighted part already pre-populated, also including the link to the source of your information, you can add some notes, and hit CMD + Enter to capture and safe your notes and thoughts.
Besides that, Lazy allows you to clip anything for later. No matter if you want to store articles, Twitter threads, videos, or anything else. When you come across an article you would like to read later, simply press CMD + L, Lazy will save the link, the author details, and the optional notes you add for your future self. Simple as that. Capturing Twitter threads with Lazy gives you the possibility to read threads later, even if the original tweet got deleted. By storing YouTube videos with Lazy, you have the power to capture key points mentioned in the videos and take actionable notes. The universal clipper of Lazy work wherever you are. No matter if you want to capture or clip anything within your browser, Slack, YouTube, your emails, Twitter, or anywhere else.
At this point, you are probably asking yourself where all the information that you capture with Lazy gets stored. Lazy delivers a dedicated app and interface, which is a universal inbox to organise your knowledge. Within the app, you structure random captures or organise your whole knowledge with a dedicated hierarchy. To defeat information overload, Lazy allows you to split your content streams. On top of that, Lazy features a command center for all actions accessible with the popular keyboard shortcut CMD + K. What I really love about Lazy is the possibility to save newsletters with one shortcut. There is no need to forward those to any other email address, just open up Lazy, save the email, and author details, add your notes, and mark it as to-read-later. You can also automatically sync your highlights and notes from your Kindle, to bring them to Lazy too. On mobile, you are able to capture ideas the instant you get them.
Lazy is not only a tool to capture information and store it in a dedicated interface. You can also take notes with Lazy, write down ideas, jot down todos, keep track of connections, and more. Lazy does feature bi-directional links and a dedicated text editor to format your notes.
I am not sure if I need yet another app to store some sort of notes, thoughts, and information. But I am always open to try out new things, since I do not see an issue with switching apps frequently, as long as you can take your content and files with you, everything is fine. The number one reason I want to give Lazy an in-depth try is the power to capture literally everything with a simple keyboard shortcut. The possibility to quickly capture content and have it organised in a dedicated place is a key feature for me.
As of writing this, Lazy is only available upon signing up to their waiting list. There is no information which platforms will be supported. Since the marketing copy includes the mentioning of keyboard shortcuts like CMD + K, I belive only the Apple ecosystem will be supported for now. The screenshots of the mobile application only shows an iPhone 14 Pro device, which strengthen my assumptions.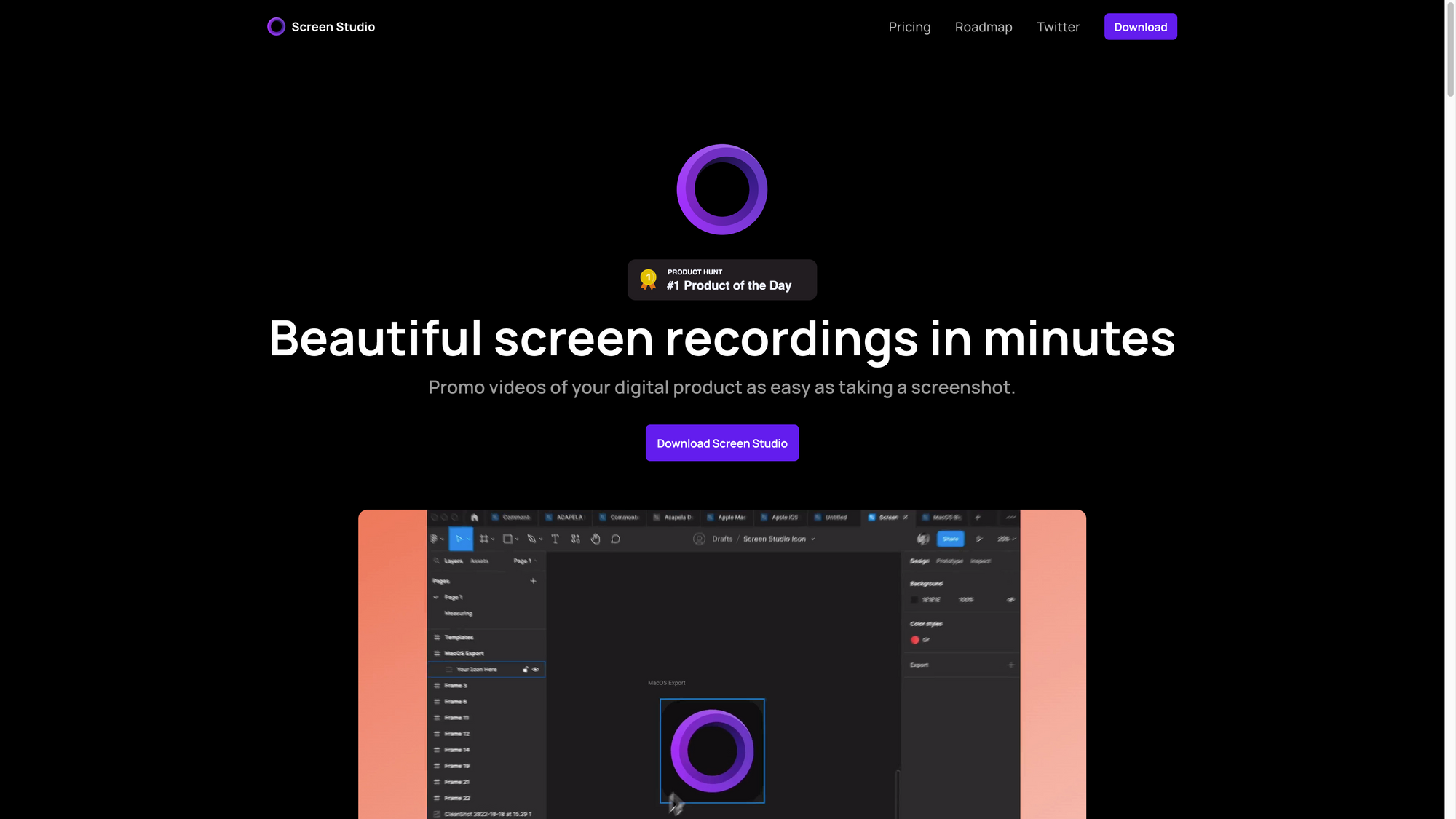 Screen Studio is a lovely tool that lets you take beautiful screen recordings of your digital products with ease. Whenever you are building a digital product, you probably want to showcase it and its features at some point. Recording your screen is easy. But to make your product videos stand out, it needed editing skills, until now.
With Screen Studio, you can create high-quality videos without any editing skills. All the things you had to do in video software earlier are done automatically by Screen Studio. This includes smooth cursor movement for example. This feature removes all shakiness of the mouse cursor, giving you an instant studio-quality feeling. Additionally, Screen Studio features zoom and following mouse clicks, which means you can pick parts of the video you to want to focus on the mouse actions. Screen Studio will then create all the animations for you. Furthermore, Screen Studio applied motion blur to all moving pieces and animations, making the video feeling smooth.
When you are publishing your recordings to social media, you want your screen recordings to not be busy or noisy. Therefore, Screen Studio lets you add background padding which adds breath to your videos. With a single click, you can easily switch between horizontal, vertical, or square output sizes. All animations you have used so far will be automatically re-calculated. As of writing this, selfie camera support and full screen slides are already in the works.
Screen Studio is available for macOS, supports up to 120FPS 4K video, and lossless quality. You can purchase Screen Studio for a one-time fee of $89. This will give you access to one license, including all features. There is also an Extended License that allows you to install and use Screen Studio on up to three devices.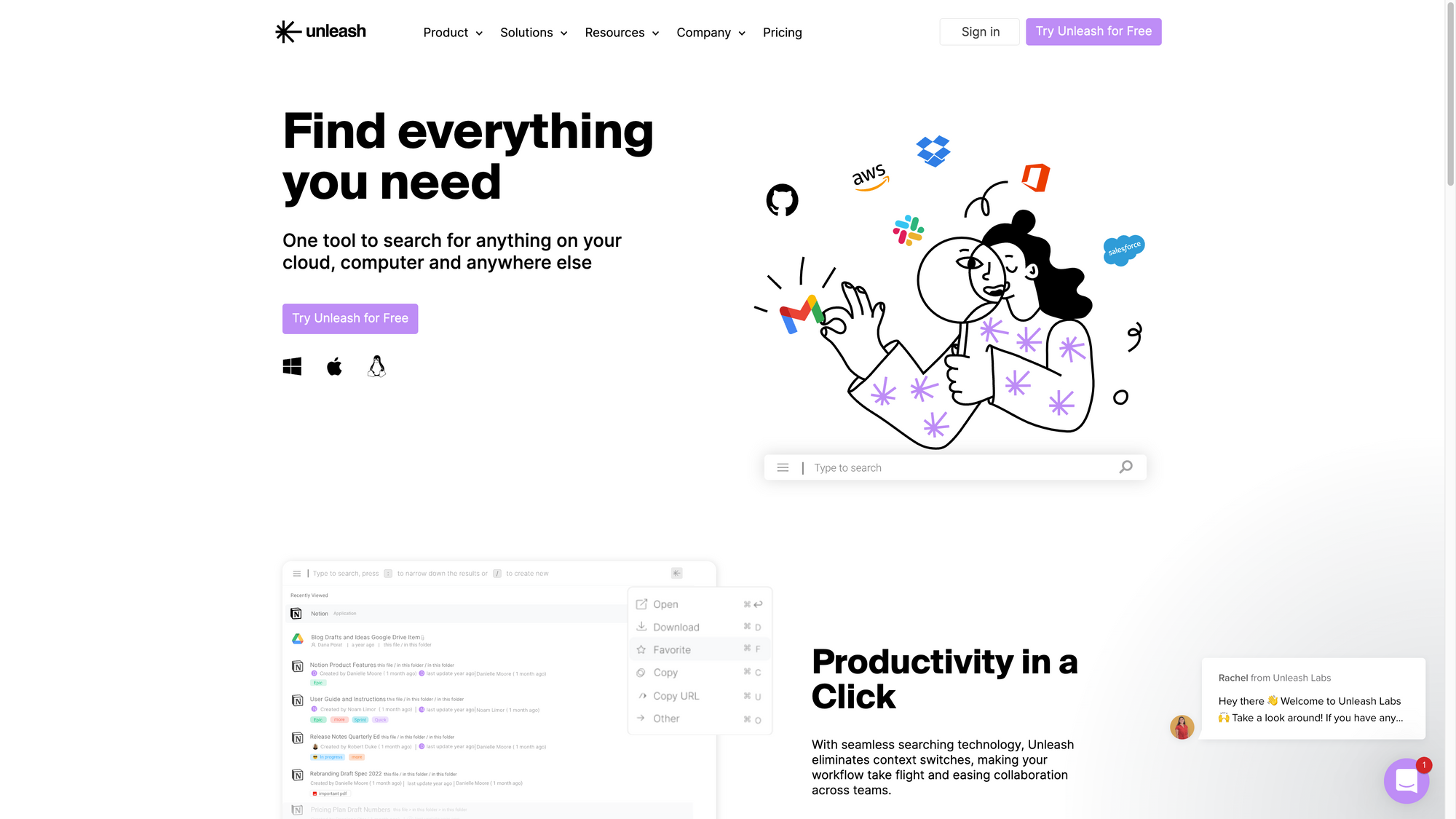 When you are relying on loads of cloud services for your work, it can happen that all your files and assets are scattered across different tools. Finding the one specific file you are looking for can become a real struggle. Unleash is a tool that allows you to search for anything on your cloud, computer or anywhere else.
With Unleash you no longer have to switch context when searching for a specific file. It uses seamless searching technology, making your workflow take flight and easing collaboration across teams. Unleash lets you integrate with some of the most widely used and popular applications, so you can get more work done with less mess and switching back and forth between multiple apps. Searching with Unleash helps you finding what you are looking for. With a single search query you receive clear results and relevant ranked results in lightning speed. You can use Unleash to find everything and anything, literally. No matter if you are searching for files, emails, meetings, code repositories, issues, tickets or anything else, Unleash got you covered.
On top of that, Unleash is capable of launching commands, so you can seamlessly create a new task or issue, an event on Google Hanout or Outlook, start drafting a new email, and loads of other actions. To access those actions and commands or perform a powerful search, you only need to remember a single keyboard shortcut to pull up Unleash.
When you are integrating loads of the apps you use on a daily basis with another app, you want to make sure that your data stays private and secure. Unleash's top priority is to go to infinity and beyond to protect you and your data. Unleash is SOC2 Type II and GDPR compliant. Additionally, it follows the highest practices of coding, security, and PII protection. You can be sure that your data always stays yours as Unleash has a dedicated focus on privacy and security.
Unleash is available as a desktop app for macOS, Windows, and Linux. There are three different plans available, Personal, Teams, and Enterprise. Unfortunately, there is no information about the pricing structure available on Unleash's website.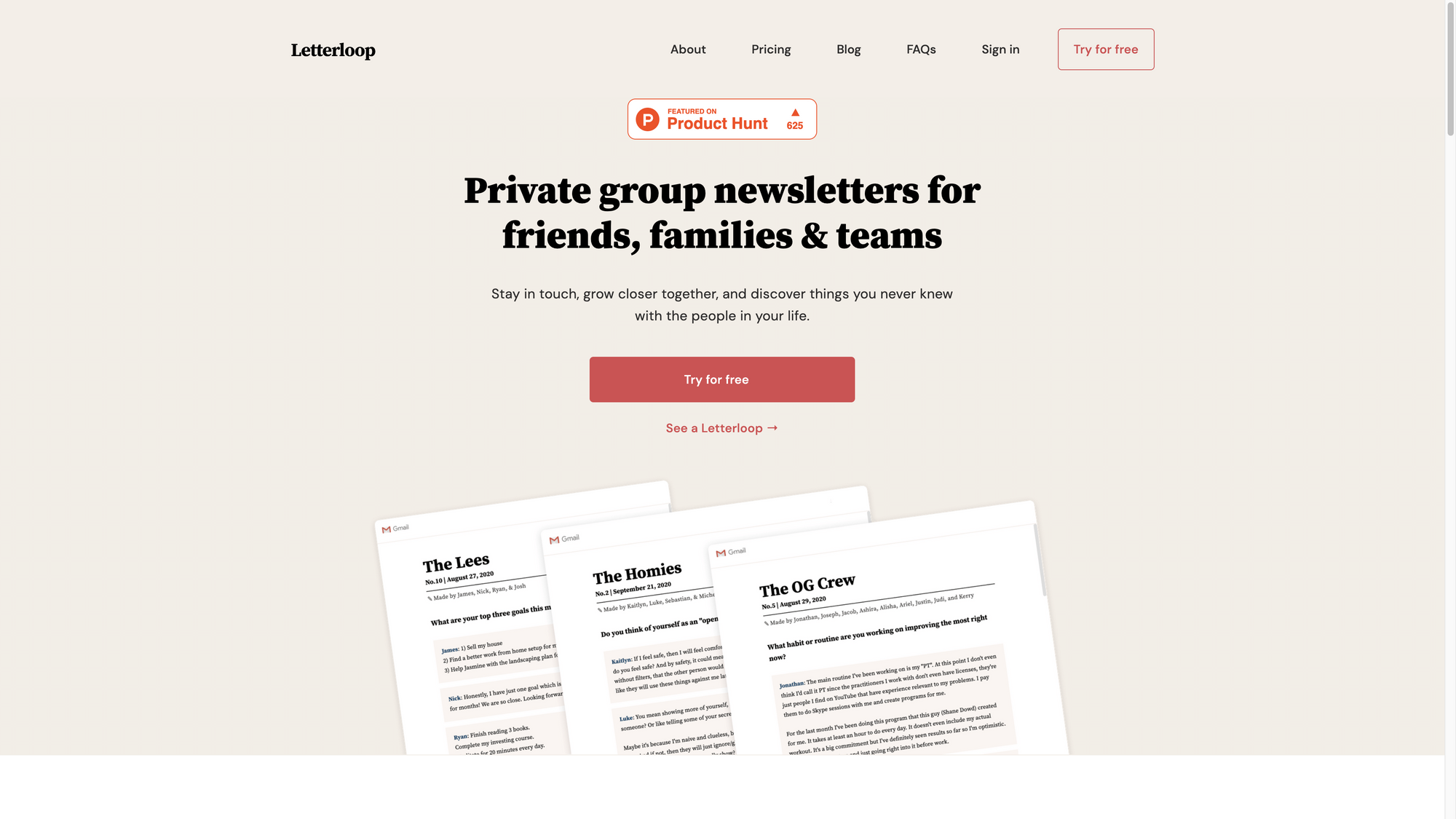 Sometimes, staying in touch and grow closer together with your family, friends, or even teams can be hard. In a fast-paced world as ours, we often find ourselves decked out with work, projects, or personal stuff, so we can not find the right time or even motivation to give your family or friends a life update on a call. I recently stumbled across a tool called Letterloop, and I am highly attracted to the idea of it.
Letterloop lets you create and setup private group newsletters for family, friends, and teams. Stay in touch, grow together, and write and share updates about your life on your own terms and on your own timeline. We get flooded with communication apps on a regularly basis. Most of those apps connect you with more people ever. While the idea behind those messaging apps is to bring you and your family and friends closer together, more and more folks feel disconnected instead. Through phone calls or chats, we have some basic conversations. The deeper conversations about our biggest goals and achievements, hardest challenges, and truest feelings, rarely get shared because of all the distractions we are experiencing on a daily basis.
The core mission of Letterloop is to deliver a space to slow down, a space to get real, a space to connect better. With Letterloop you invite your loved ones to hop out of life's fast lane and hear from the people that matter the most to you. Ask inquisitive questions that lead to meaningful experiences, deepening your most important relationships.
Setting up Letterloop only involves three steps. First, you pick inquisitive questions. You can choose from dozens of thoughtful questions or add your own ones. Secondly, you invite your inner circle. Just add your people and Letterloop will take care of the rest. Since Letterloop uses emails, there is no need to install yet another app. Third, you share your experience. Receive bite-sized stories in a fun and beautiful email from everyone you added to your inner circle.
Letterloop is a great tool to spark new conversations with groups of all kinds. No matter if you want to use it with your family, team, university, mastermind group, friends, communities, or anyone else. Letterloop is a great way to grow closer together.
Using Letterloop with your family or friends will cost you $5 per month and gives you access to customization options, the ability to let everyone ask and answer fun and interesting questions, access to unlimited archives of your Letterloop's historical issues, reschedule, pause or extend a Letterloop issue as need, and you are always in control fo your Letterloop data. The Teams & Work Plan will cost you $50 per month.
---
Mental Wealth
➢ The Senior Shift – "In most tech companies, the first few levels of an engineering career ladder are pretty straightforward. You must grow from someone who needs a lot of oversight to an independent engineer. You need to develop your best practices and have evidence that your code is of high quality. You build and eventually take ownership of bigger and more complex things, and show that you are capable, independent, and trustworthy."
➢ Don't Optimise Your Downtime – "One bad habit of being a productivity nerd is trying to optimise every moment for usefulness. And I've been no exception to this tendency. Ten minutes into enjoying some music or sitting on the balcony doing nothing and my mind goes to: Should I be reading a book or coming up with blog post ideas instead of doing this? I've lost count of the number of times I've jumped from activity to activity in pursuit of making my time worthwhile."
➢ If You Want Success, Pursue Happiness – "Without going too far out on a limb, I believe almost everyone would like two things from their jobs and careers: success and happiness. They want to do relatively well financially, receive fair recognition for their accomplishments, enjoy their work as much as one can, and become happier as a person as a result. These are reasonable goals, but they can be a lot to ask—so many people, especially ambitious, hard-working people, simplify them in a logical way: They first seek success and then assume that success will lead to happiness."
➢ Giant steps: why walking in nature is good for mind, body and soul – "Six weeks after my daughter was born, I found myself on the packed dirt path that runs along the River Cam in Grantchester Meadows. It was seven in the morning and cold. Frost lined every blade of grass, and my breath made clouds in front of me. But it was a bright, sunny day. After weeks of settling into motherhood indoors – unceasing night feeds, tears, and exhaustion – a walk in the sun seemed like the best possible thing to do."
---
Do not miss out on this …
Want to receive the latest in business, entertainment, and internet culture every single morning? That's what TheFutureParty newsletter is all about.
Start your morning with The Newsette - a newsletter for women, written by women, about topics that are important to women.
Smartr Daily - The Essential Newsletter For Curious Minds. Sourcing the smartest articles on the Web - Thought provoking ideas and insights delivered straight to your inbox daily!
These are paid promotions or affiliate links to support Creativerly. If you are interested in putting your tool, product, or resource in front of over 1900 creative minds, consider advertising in Creativerly and book a sponsor or classified ad spot. Find all the important information at creativerly.com/advertise.
---
From the archive
Back on July 3rd 2022, I wrote about ...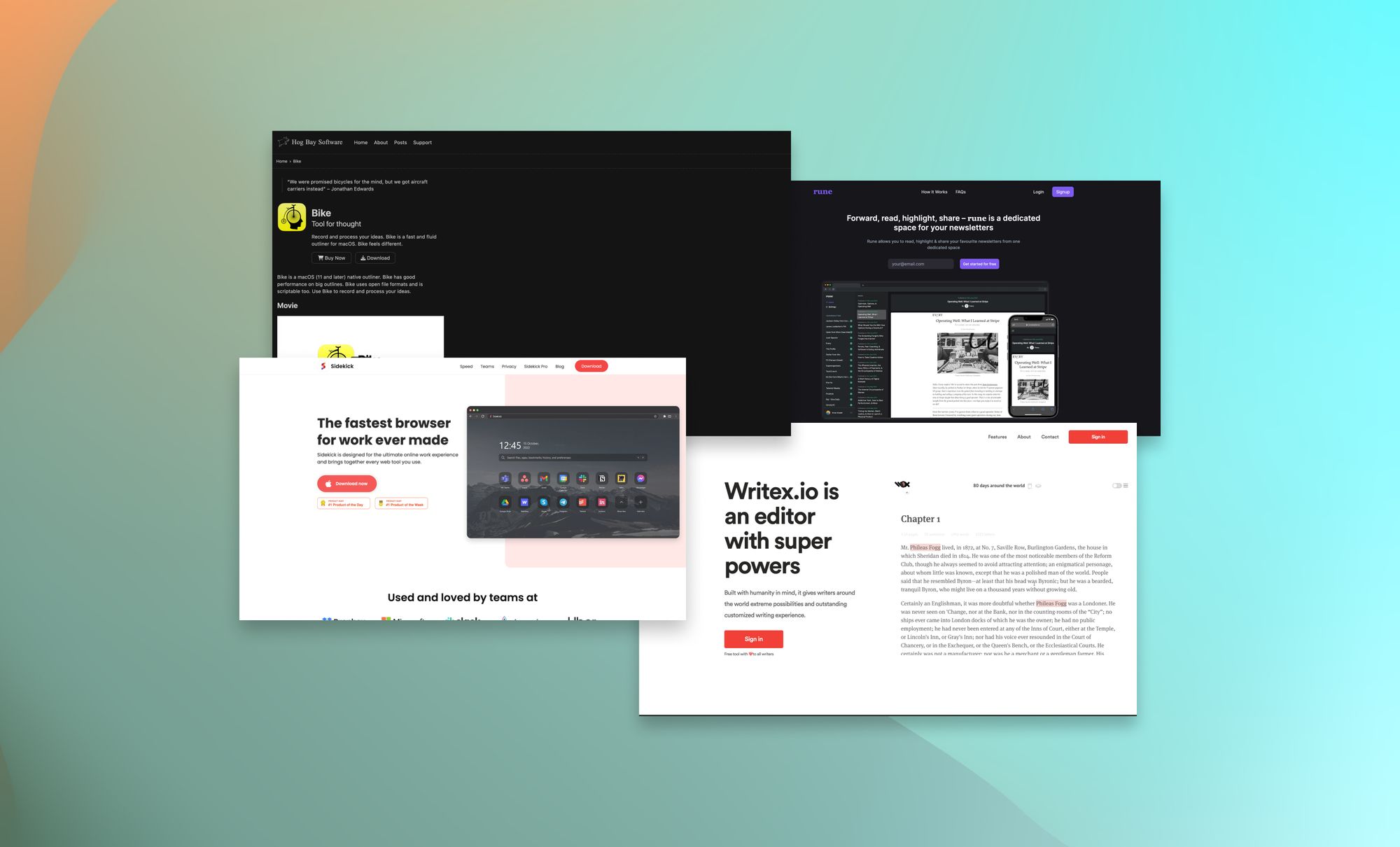 ---
Appendix
➢ ICYMI
Highlight your app, tool, resource, or service in front of over 1900 creative minds coming from different backgrounds like design, development, journalism, VC, Indie Hacking, and others. The Creativerly audience is actively looking for tools and resources which boost their creativity and productivity. If you are interested in booking a sponsor spot in Creativerly head over to creativerly.com/advertise for all the important information.
➢ Quick Bits
---
Twitter thoughts
---
👋
Till next time!
Share or forward this post to your friends, if they are also looking for creativity and productivity-boosting tools and resources. If you need help discovering your next favourite task management, note-taking, or PKM app, Creativerly delivers the insights you need. Creativerly is an independent publication and I am writing and maintaining it in my free time. You can support Creativerly and my work by sharing it with the world,
booking an advertising spot
, or by
buying me a coffee
.
---
Some of the links in my newsletter and my blog posts are affiliate links. Those links are marked by an asterisk. If you buy something through the link, the product will not cost you anything more, but I will receive a small commission which not only supports Creativerly and my work but also helps me to keep this publication a sustainable side-project.