Newsletter
Collect a box of curiosity & Why you hate your job
In this week's issue of Creativerly: Stunning designs in a flash, the all-new Obsidian, the sleep advice no one tells you, and a lot more.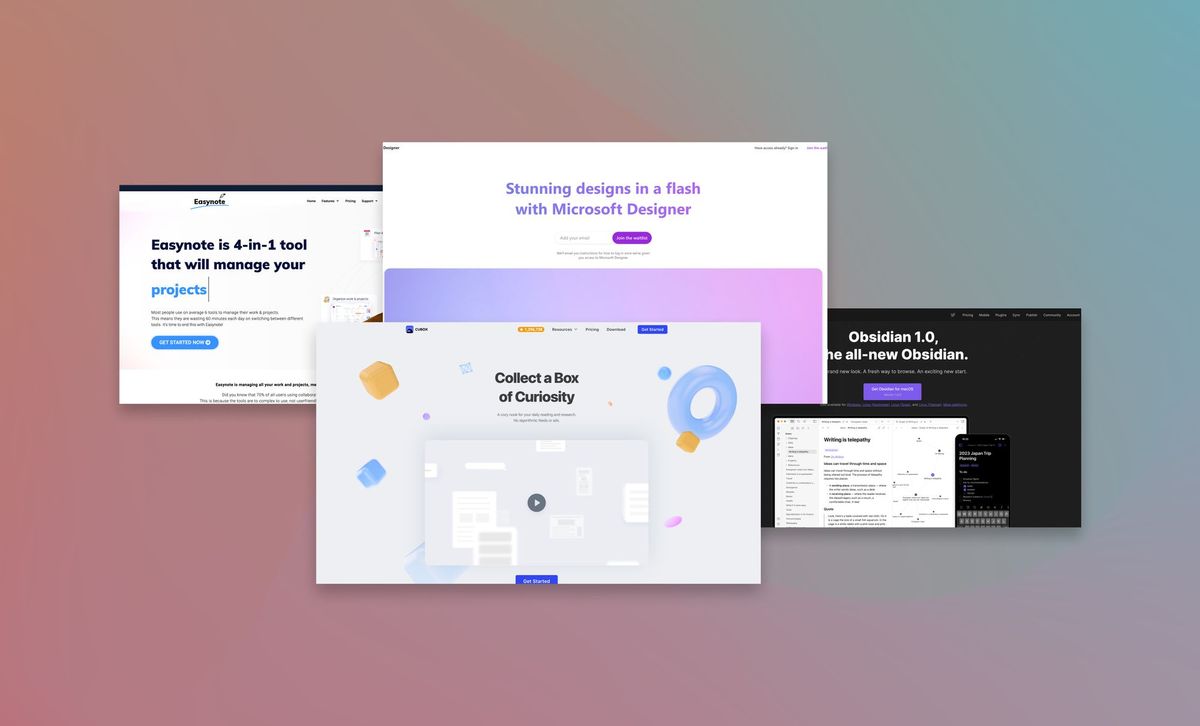 My name is Philipp and you are reading Creativerly, the weekly digest about creativity and productivity-boosting tools and resources, combined with useful insights, articles, and findings from the fields of design and tech. The newsletter built for the creative community.
---
Hey and welcome to Creativerly 191 👋
AI is on the advance. It has been for a while, but after the introduction of AI software just like DALL-E 2, which gives you the possibility to create quality images from text input, the whole topic of AI became increasingly popular across groups of people who have not known about AI in general. Software like DALL-E 2 or JasperAI (an AI writing assistant) makes AI understandable for laypersons. It is now as easy as ever to understand how powerful AI technology became over the last few years. AI can now write code, headlines, paragraphs, and complete blog posts, and it can even create images that basically replace stock photography, digital art, paintings, and a lot more. Those examples are only the ones which are within my understanding and my field of interest.
While browsing Twitter recently, I stumbled across a number of Tweets by different folks saying that they tried out a new AI-powered writing app. The app itself is still in stealth mode, but it gave Nat Eliason goosebumps, left Seyi Taylor speechless, and ultimately Amanda Natividad confirmed that it is ridiculous. High-profile writers, who are getting excited about an AI-powered writing app, but at the same time seem a little bit concerned about the actual power it delivers?
The recent AI boom leads me to the question "how many jobs AI will probably replace in the future?"on the other hand "how big of a role will AI play in the creation of future business?". I am excited about AI, but probably because I only know a small bit about it. It excites me to see what we are able to create with DALL-E 2, Jasper, or others. But I have way too less insight to understand what this technology means for our future, for the future of tech, for the future of writers, designers, content creators, indie hackers, and developers.
How do you feel about AI?
---
Get smarter every day.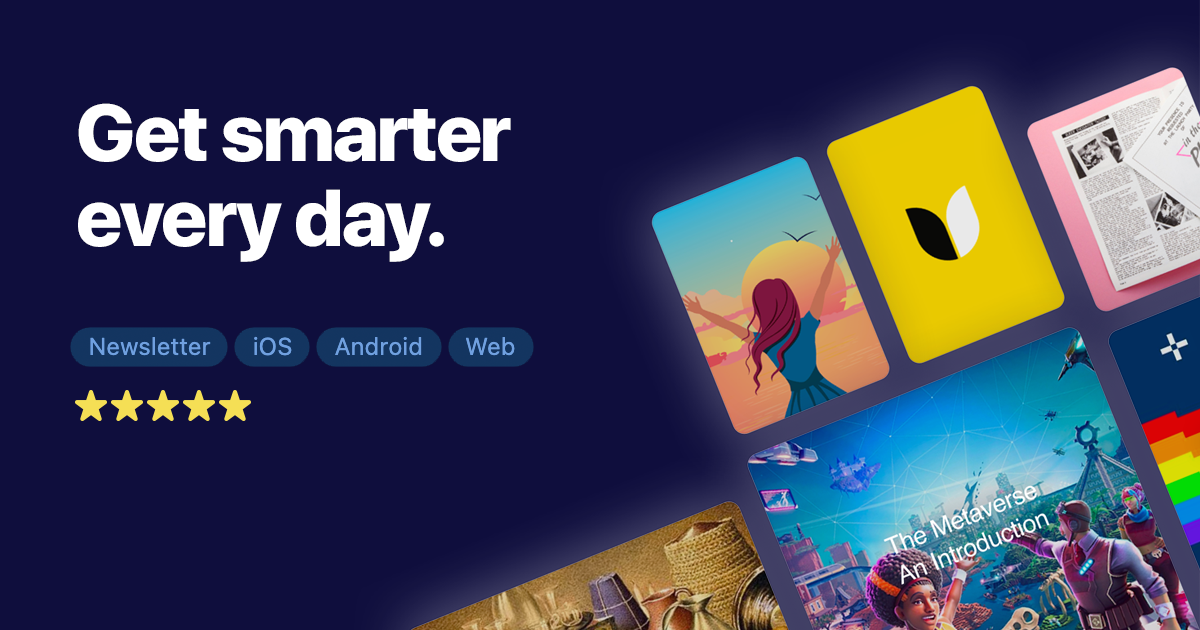 Every day Refind picks 7 links from around the web for you, tailored to your interests. Loved by 50k+ curious minds.
This is a sponsored message. If you also want to highlight your app, tool, resource, newsletter, job offer, in front of over 1800 creative minds, head over to creativerly.com/advertise and get in contact.
---
Apps, Software, Tools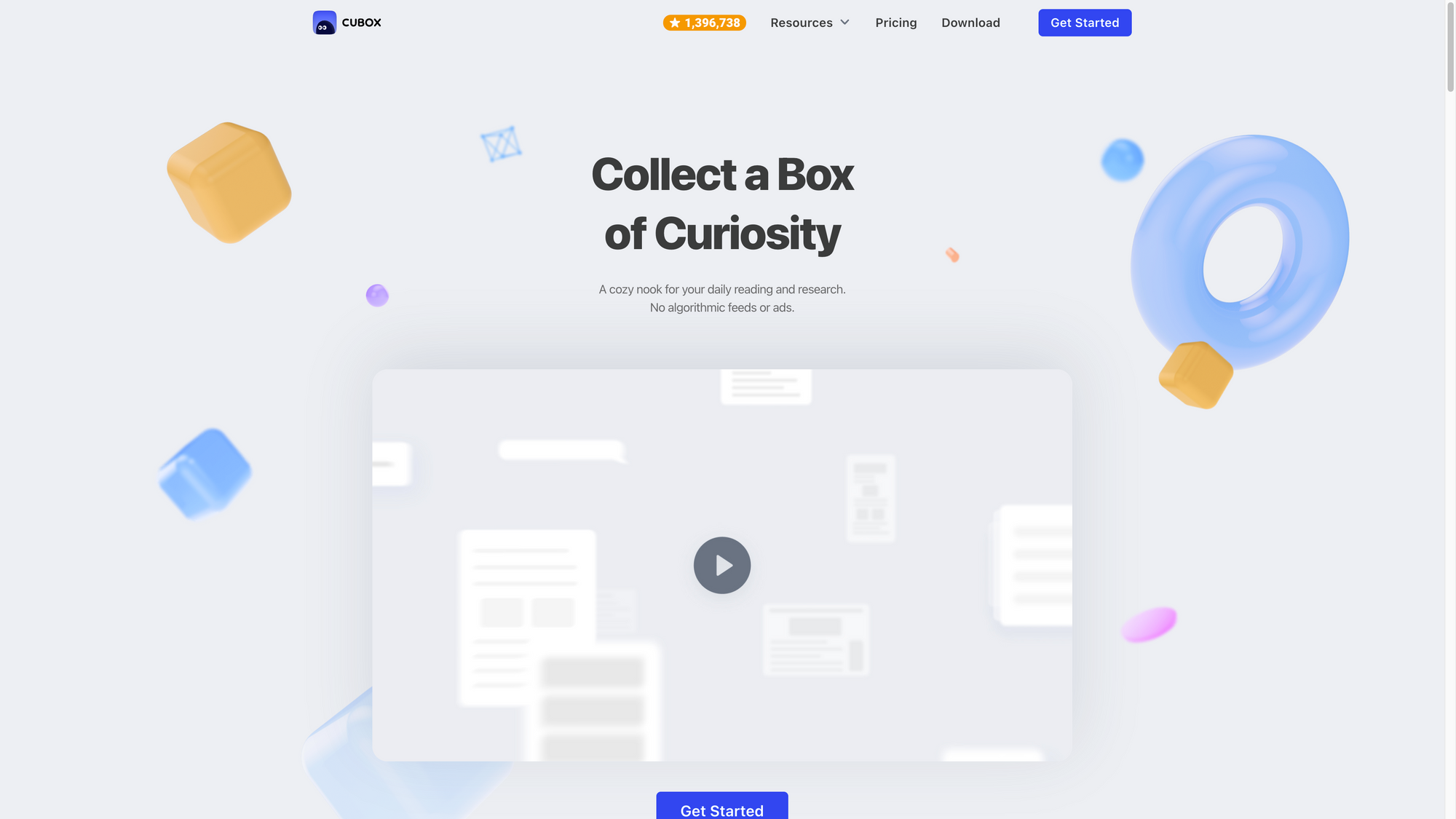 Cubox has been on my radar for quite some time, but since I stumbled across the app on Product Hunt recently, I decided to finally add it to Creativerly and write down my thoughts.
At the core, Cubox is an app for collecting, reading and researching your daily information. Read-it-later apps are becoming increasingly popular since some of them create a dedicated reading experience within the app, instead of just turning their users into hoarders of articles and blog posts. Cubox gives you the possibility to effortlessly organise everything that matters to you by cutting out the noise and focus on better content. Everything you want to keep track of, add and save it to Cubox. With Cubox you will be able to cultivate the habit of reading and making your daily work more enjoyable. While Cubox helps you to stay focused by reading only what matters to you, it also delivers the tools you need to get insights from the content you are consuming. Annotate, organise, and review in one tool.
Cubox can turn the content you consume into your personal knowledge base. In the end, all that matters is how the information and content you are consuming help you to think better and grow. If you ever wanted to get the most out of the information and content you are consuming on a daily basis, Cubox can be a great tool to try out. With Cubox, you have access to apps, APIs, system extensions, and browser extensions, which means you can save web pages and ideas effortlessly. Cubox makes it easy to collect anything, anywhere. A lovely feature of Cubox is the article parser and snapshot functionality. It gives you the possibility to take a webpage snapshot and extract the main article from it for a better reading experience. Cubox also lets you subscribe to your favourite newsletters with a dedicated @m.Cubox.pro email address. To organise all the content you are saving within Cubox, you can set up nested folders and nested tags.
Since Cubox is not only a great app for saving and collecting content but also for reading and consuming it in the same space, it delivers a beautiful and customisable reader. On top of that, while reading any kind of information, Cubox allows you to highlight certain quotes and even add and write down your thoughts and notes. Additionally, Cubox features full-text search, dark mode, browser history sync, hotkeys, custom icons, tag suggestions, web clipper, and a lot more. On their roadmap, you will also find integrations to connect and integrate Cubox with Readwise and Notion.
Cubox is available for iOS, iPadOS, WatchOS, macOS, Android, Windows, and Web. A nearly perfect (Linux is missing) cross-platform compatibility. Besides that, Cubox is committed to building a privacy-focused experience, since the apps does not use any commercial ads, all your data is exportable, and you can use an app lock.
The Basic Version of Cubox is free-to-use and includes 200 card storage, unlimited saves, three annotations per page, tags and Smart Folders, and the content grabber. The Cubox Pro plan will cost you $3.30 per month (billed annually) and gives you access to everything within the Basic Plan plus everything unlimited, full-text search, batch export, email drop and API, webpage snapshot, app lock, image-to-text, and more.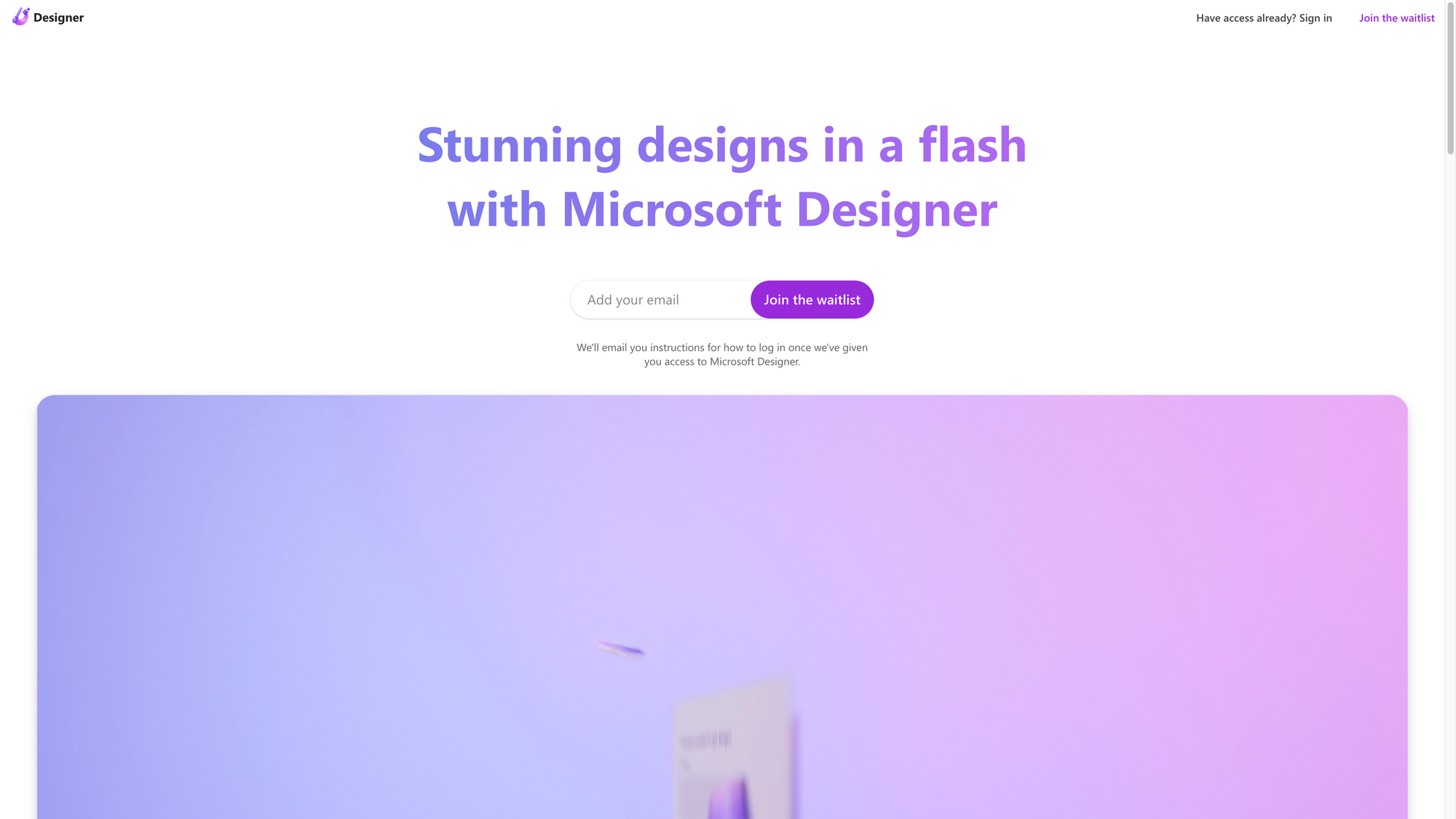 As part of their annual keynote, Microsoft announced a couple of new products, both on the hardware and software side. One of the most exciting announcements was Microsoft's design software, which will be part of Microsoft 365 and powered by AI.
After cloning Notion with Microsoft Loop last year, I have the feeling that Microsoft wants to take on Canva, a super-simple creative software solution, that recently reported over 100 million monthly active users and which is valued at $40b (which is double the value what Adobe paid for its Figma acquisition, mind-blowing). So, it seems like Microsoft is not that great at coming up with unique ideas and instead takes a lot (!) of inspiration from other already established tools and basically clones their features. Microsoft Designer is aimed to create designs and graphics for social media, websites, and others blazingly fast. The main idea behind Designer is that you never need (although you can if you want) to start from scratch, since Microsoft is offering a wide range of templates and on top of that, integrated the OpenAI DALL-E 2 model, which allows users to create custom images using text or images.
AI is becoming an increasingly popular integration and feature across loads of tools. Within design tools, AI gives designers and creative minds a range of possibilities which still might be beyond our imagination. Microsoft Designer plans to empower anyone to create designs with ease, using the power of AI. With Microsoft Designer you will be able to add your own content like photos, logos, or anything else and Designer can generate design suggestions from it, with just a single click.
For people who prefer to create custom images, Designer uses the latest AI technology by OpenAI, DALL-E 2, which lets everyone create images based on a description you entered. On top of that, Designer gives you access to powerful image tools like background removal, AI photo filters, and a lot more. With just a few clicks, you can download, copy to a clipboard, send your design to your phone with a QR code, or post it directly to social media, all within Designer. Microsoft itself claims that you need no design skills at all to start using Designer and create the designs you need for your social media accounts, brochures, posters, websites, or anything else.
Microsoft Designer is currently only available with an invite. So, if you want to give it a try make sure to sign up and join the waiting list.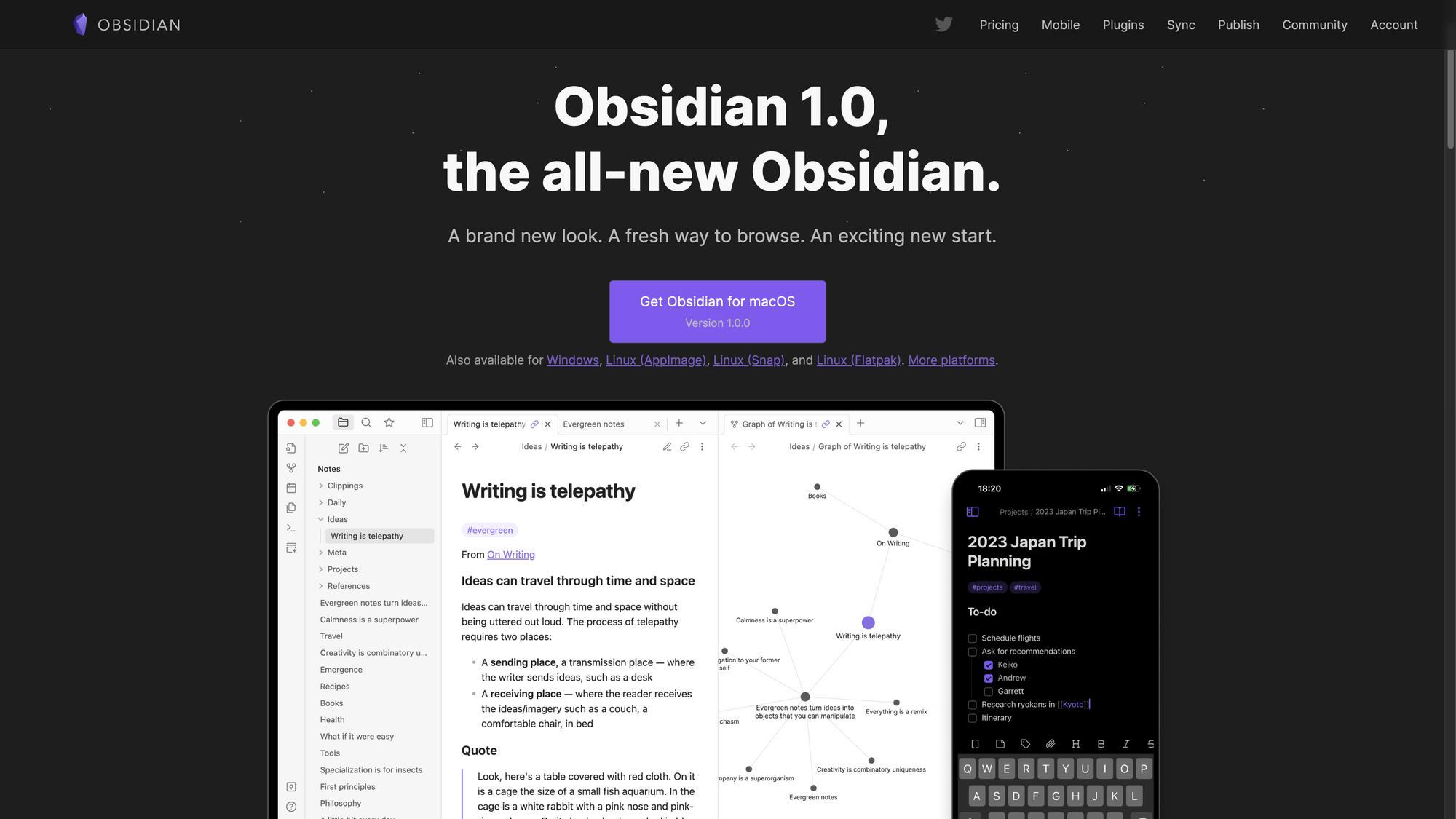 Most of my readers probably already know about Obsidian, but since Creativerly is not only highlighting new tools and instead also important updates about already featured apps, I wanted to take the chance and share some insights about Obsidian 1.0, the newest update introducing the all-new Obsidian.
For anyone who does not know about Obsidian, here is a quick introduction: Obsidian is probably the most popular personal knowledge management tool to create a knowledge base or a second-brain. Obsidian brought powerful features within the PKM space like backlinks and knowledge graphs to the public. It became widely popular since it is based on local markdown files, which means your files always stay on your machine, and you can move your whole knowledge base and all your notes to any other tool supporting markdown import, whenever you want to. With Obsidian 1.0, the team behind the tool is introducing a brand new look and a fresh way to browse your files. When Obsidian launched, it had a solid user interface design, but it was nothing special, in fact, in some cases users wished for an update as it was lacking in user experience. As a quick win, Obsidian opened up their platform for developers to create custom themes, and customize the app to their liking. One of the most popular themes is called Minimal by Stephan Ango. It became so popular that Obsidian decided to start working together with Stephan Ango to update Obsidian's default theme and give it a UI overhaul. The result is magnificent.
Obsidian 1.0 has been thoroughly redesigned for both desktop and mobile. The focus has been to make the design more robust, accessible, and easier to theme. Obsidian 1.0 is one of the best examples how UI changes that might seem subtle at first sight, influence the whole product and experience while using it. Besides the visual update and redesign, Obsidian 1.0 introduces a new way to browse your brain and your notes: tabs. You are now able to open your notes in tabs (this has recently only be possible by installing a third-party plugin). With tabs, you are able to explore multiple ideas at once and Obsidian becomes a browser for your brain. Another nice feature, tabs can be stacked, so you can glide through your thoughts.
Releasing and shipping a 1.0 version of an app comes with a lot of expectations. Obsidian made clear, that this update does not mean Obsidian is feature complete, it also does not mean that the app is bug free. For the whole team, it marks an exciting and important milestone. Ultimately, releasing the 1.0 update means, the team is proud enough to drop the beta status of Obsidian. It also means, that there are still more core features to come. The focus of the Obsidian team is to continue building more useful features to make Obsidian easier to use. To get an idea about those features, you can check out Obsidian's public roadmap.
Obsidian did not make any changes to its pricing models. Obsidian is still free for personal use, if you need features and services like Sync or Publish, you can get a commercial license for work, or support the development of Obsidian with a Catalyst license.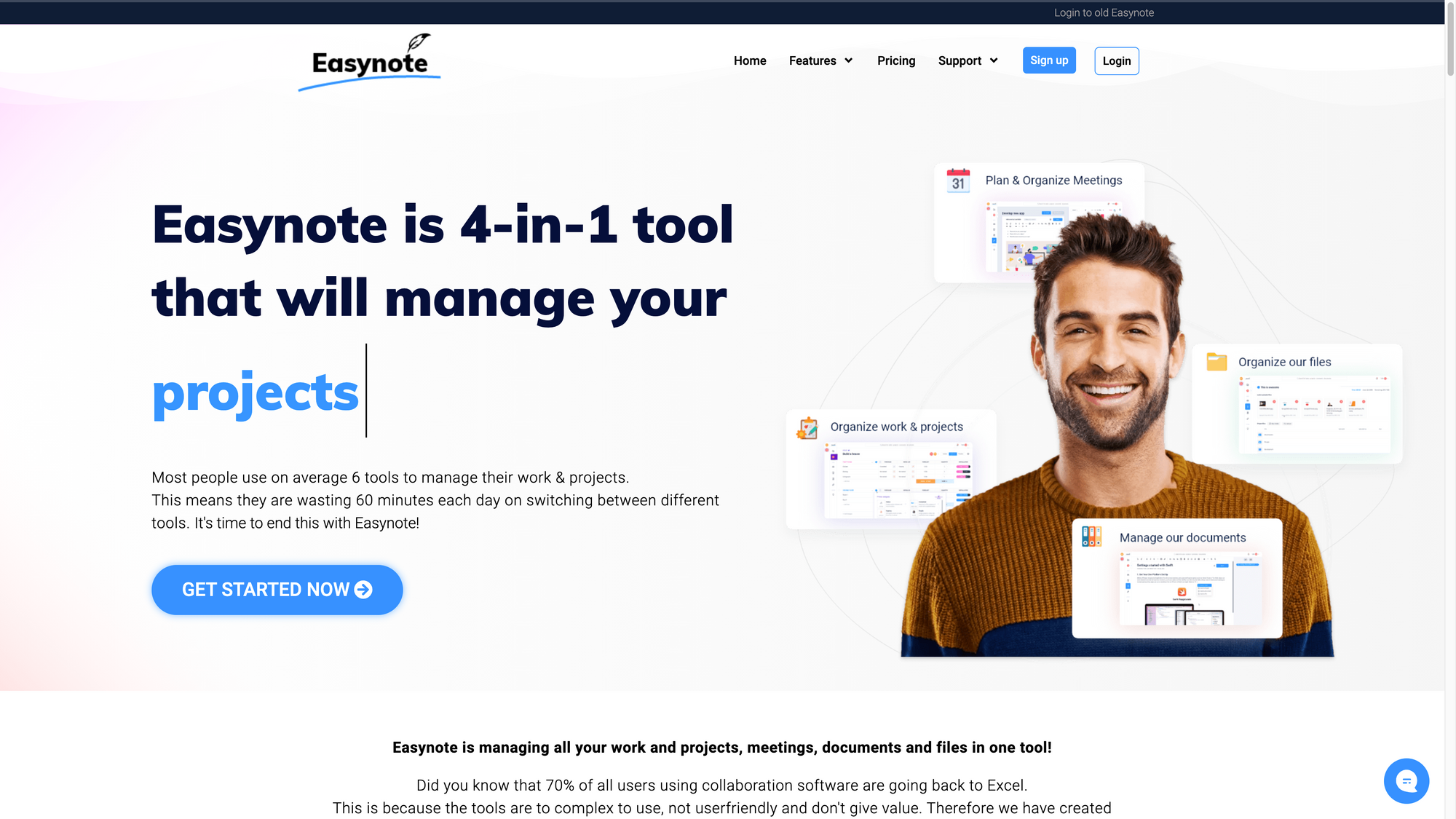 Easynote is a 4-in-1 tool to manage all your projects, meetings, documents, files, and more within one space. While loads of people use multiple tools to manage their work and projects, Easynote wants to help you structure and organise your work within one tool.
Easynote is a powerful collaboration workspace. You and your whole team can manage any type of work project within Easynote. Easynote adapts to your business needs since it is based on a unique grid-based working structure that allows you to customize your experience. Easynote is achieving that with widgets. That means, within Easynote you have access to pre-defined widgets which can be added to your projects. Easynote's widgets range from status, email, numbers, people, deadlines, text, date, and other ones. Besides managing all your projects, Easynote lets you also track meeting minutes and organise your meetings in general. Simply connect unlimited Google and Outlook Calendars with Easynote, write meeting minutes, and see what happened previously in your meetings. Thanks to this integration, you are also able to create and set up calendar events from Easynote. With just a few clicks you can always switch between a weekly or daily view to keep track of your agenda.
On top of that, Easynote replaces all your documents spread across Notion, Confluence, or Google Docs, since you can write and collaborate with your team on documents right within Easynote. Creating documents in Easynote lets link tasks, projects, other documents, and files. Once your document is done you can export it to PDF or Word, and save the best part of the document as a template, you can re-use it in any future document you need to write.
As mentioned earlier, Easynote also takes care of your file management with a full-fledged files app, that lets you work seamlessly no matter how many files you need to structure and organise. Simply drag and drop files from your file explorer to Easynote.
Easynotes dashboard is the place where you get an overview of everything. Easynote is available at a flat fee of $99 per month and it includes a 7-day free trial. It gives you access to all features and all apps including unlimited users and projects. Using the link provided by Creativerly will give you 20% off.
---
Mental Wealth
➢ Why You Hate Your Job – "Three years ago I was working as a management consultant intern at a top firm. I wore fancy suits and flew around the country. I pretended to take notes during high-powered meetings and drained hours aligning the margins of graphics in PowerPoint slides that surely would never be seen by anyone. I was getting paid more money than I could ever spend, especially given the precious few hours I had outside of those wasted away in Excel. I was miserable."
➢ Asking one simple question can entirely change how you feel – "The pursuit of happiness is many people's primary goal in life, and a subject that's occupied countless philosophers and psychologists over the millennia. It is usually painted as an effortful and difficult aim to accomplish, especially in trying times. Indeed, it's through their promises to help us reach a happier place that many self-help gurus pay for their mansions on the beach. However, taking the first step to being happier could be a lot simpler than many people realise."
➢ Microbreaks may help to prevent workplace burnout – "Short conversations that aren't work-related – so-called 'water cooler moments' – can be a welcome break from everyday office life. Now, a new meta-analysis published in the journal PLOS One, has pulled together evidence to look at whether short microbreaks could help with workplace wellbeing. Scientists at Romania's West University of Timișoara (WUT) have examined data from 22 studies from the past 30 years to find out whether the type of activity a person engages in during a 10-minute microbreak can affect overall mood. Tasks varied between the featured experiments, and included work simulations, actual work-related tasks or cognitive tests. After the tasks, the participants took a 10-minute microbreak, where they could enjoy activities like stretching, walking, watching videos, or just relaxing. The microbreak som"
➢ The sleep advice no one tells you – "If you've ever had a terrible, or even middling, night's slumber — which studies and surveys suggest is a fair number of people — you're well aware of the effects of poor sleep. Aside from the sluggishness and lethargy, lack of sufficient shut-eye can blunt thinking and reaction time and negatively impacts judgment. Long-term sleep deprivation has been linked with higher likelihoods of depressive moods, anxiety, diabetes, and obesity."
---
Do not miss out on this …
Want to receive the latest in business, entertainment, and internet culture every single morning? That's what TheFutureParty newsletter is all about.
Start your morning with The Newsette - a newsletter for women, written by women, about topics that are important to women.
Each morning, The Sample sends you one article from a random blog or newsletter that matches up with your interests. When you get one you like, you can subscribe to the writer with one click. Sign up here.
These are paid promotions or affiliate links to support Creativerly. If you are interested in putting your tool, product, or resource in front of over 1900 creative minds, consider advertising in Creativerly and book a sponsor or classified ad spot. Find all the important information at creativerly.com/advertise.
---
From the archive
On January 10th 2021 I wrote about ...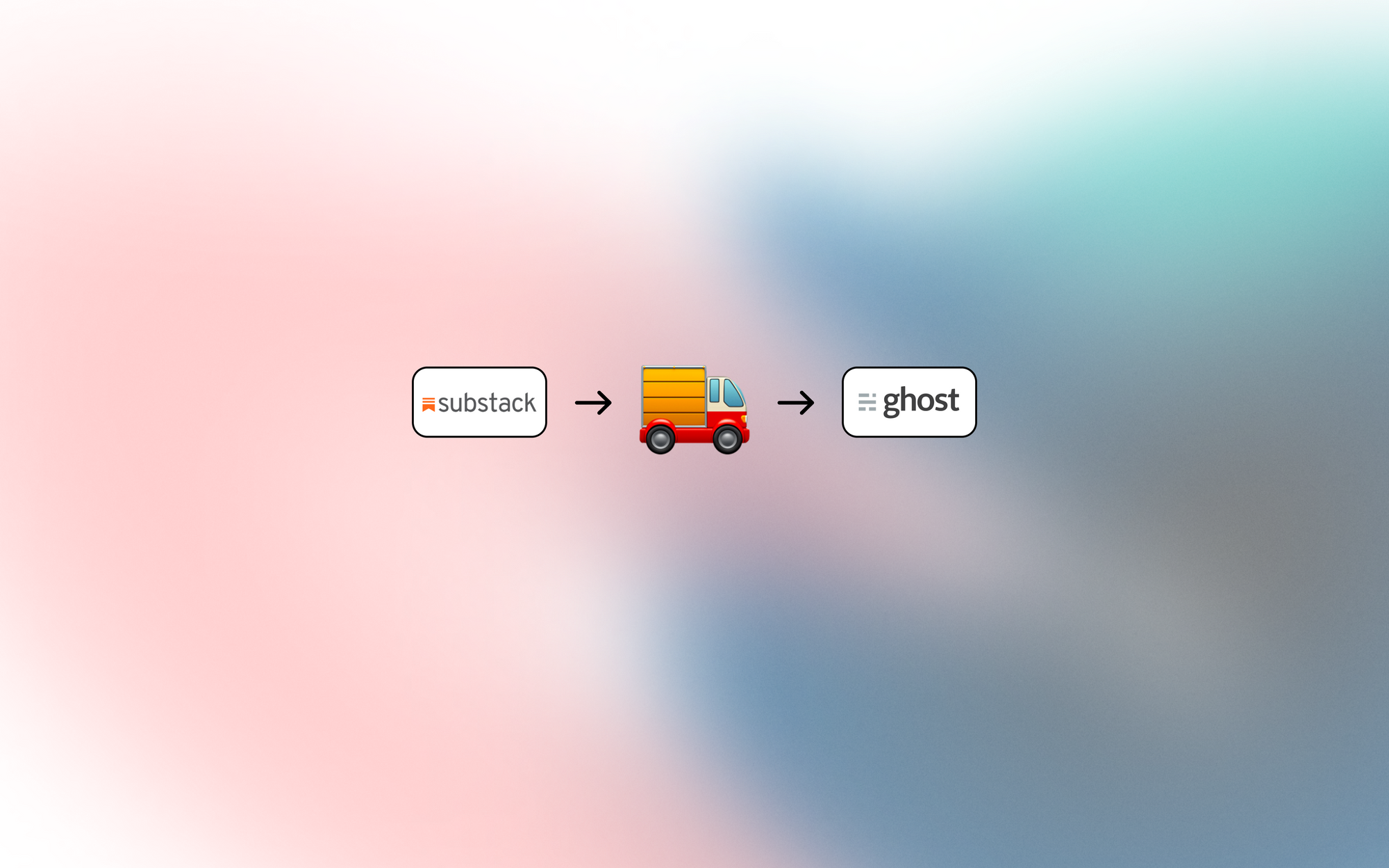 ---
Appendix
➢ ICYMI
Napkin* is one of the most-exciting tools within the field of personal knowledge management and Tools for Thought. In Creativerly's deep dive about Napkin, you will find out David Felsmann and Fabian Wittel, founders of Napkin, decided to build Napkin and how their vision looks like, you will get profound insights into the product, its features, and how Napkin's roadmap looks like, and you can read about use-cases and workflows to give you an idea of how you could incorporate Napkin into your productivity tool stack. Check it out here!
➢ Featured Newsletter
One of the hardest parts of working on a new project is coming up with ideas. Whether you're building a dedicated business or a side-project, the search for an idea can be overwhelming and could sap your energy completely.

What if there was a newsletter, that found new and exciting ideas for you? There is! It's called Unvalidated Ideas. Unvalidated ideas sends business and projects ideas to your inbox every week. It is an interesting read since you get the chance to dive into the thought process and further develop the idea if you want to.

Check out Unvalidated Ideas, get inspired by fresh startup and SaaS ideas. To get an idea of the newsletter content itself make sure to check out the archive, or directly subscribe here.
➢ Quick Bits
---
Twitter thoughts
---
👋
Till next time!
Share or forward this newsletter to your friends, if they are also looking for creativity and productivity-boosting tools and resources. If you need help to discover your next favorite task management, note-taking, or PKM app, Creativerly delivers the insights you need. Creativerly is an indepentend publication and I am writing and maintaining it in my free-time. You can support Creativerly and my work by sharing it with the world,
booking an advertising spot
, or by
buying me a coffee
.
---
Some of the links in my newsletter and my blog posts are affiliate links. Those links are marked by an asterisk. If you buy something through the link, the product will not cost you anything more, but I will receive a small commission which not only supports Creativerly and my work but also helps me to keep this publication a sustainable side-project.