Newsletter
Create together & Mindful context switching
The image editor you have been waiting for, a social bookmark tool for people in tech, Futureland launches native apps, and a lot more in this week's issue of Creativerly.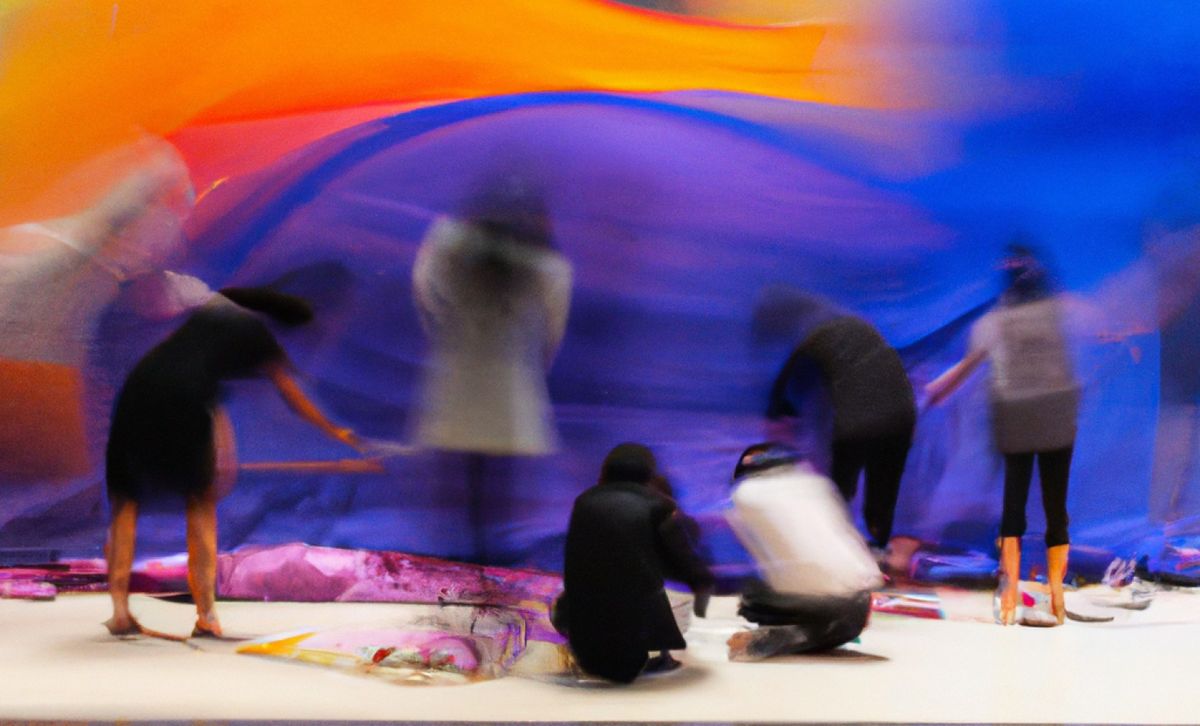 My name is Philipp and you are reading Creativerly, the weekly digest about creativity and productivity-boosting tools and resources, combined with useful insights, articles, and findings from the fields of design and tech. The newsletter built for the creative community.
---
Hey and welcome to Creativerly 234 👋
First of all, I want to say a warm welcome to all the new subscribers who came from Clo and her wonderful Digital Wellness newsletter. I am a long-time subscriber and admire the content, insights, tips, and articles Clo shares and creates on a regularly basis, helping folks like me to live a healthier relationship with my devices and technology in general. I hope you do enjoy my content as well. I am passionate about everything at the intersection of design, creativity, productivity, writing, learning, self-development, tech, psychology, mental health, and more. My DMs and my inbox are always open for my readers, so feel free to get in contact with any kind of questions, inquiries, opportunities, feedback, or suggestions.
I am exciting to let you know that ProductivePrivacy, the directory website highlighting privacy-focused, end-to-end encrypted, and open source productivity tools, that I am working on for some time now is ready to be launched during the upcoming week. I built the first quick version of ProductivePrivacy already some time ago. Since I had a personal database of those apps within Airtable, I decided to go with Softr which gave me the possibility to quickly turn the database into a browsable website.
For the new version of ProductivePrivacy, I went on the hunt for new privacy-focused productivity apps, but I also created blog posts and contents to give visitors some more insights into specific tools. This will be an ongoing project, which means more blog posts and deep dives on specific apps will follow. Additionally, I will set up a casual newsletter in which I will inform subscribers about the content I create, the tools I have added to the site, and I will curate some general content regarding privacy, end-to-end encryption, and open source software.
A couple of months ago, I found myself stressed out since I was working on too many things on the side at the same time. Therefore, I decided to plan and organize all my projects. The most important change I did was to make sure to only work on one thing and only focus on that before jumping into a different project. My focus over the last couple of months was to get ProductivePrivacy ready and launch it. This is also the reason why there has not been any new content on creativerly.com besides the weekly newsletter, since my only focus was ProductivePrivacy. Once that is done and launched, I can check that off my list, and move onto the next project.
Prioritizing my projects and the things I am working on and building on the side was one of the best decisions I have made. I have much more joy now working on them, since I do see consistent progress while only focusing on one thing and making sure I finish it before handling myself to the next thing.
Therefore, I am incredibly excited to launch ProductivePrivacy, but at the same time, I am already looking forward to focus on the next thing over the upcoming weeks and months.
---
Apps, Software, Tools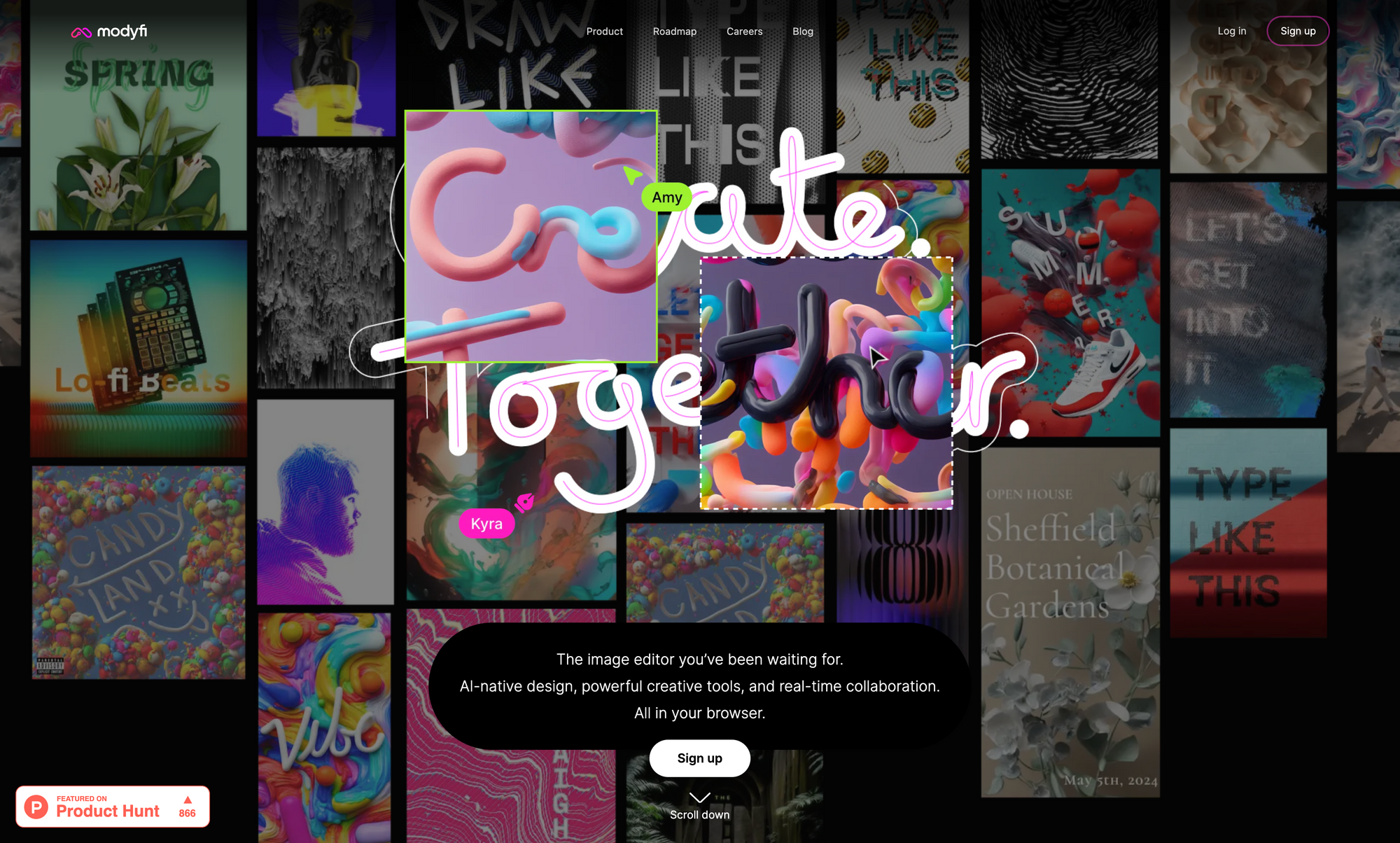 It does not happen that often that I come across a fresh new design and creative tool that raises my excitement. But it happened last week.
Over the last couple of years, there is no doubt that Figma became one of the most popular design tools out there. While the initial intention of Figma was to create a tool to raise user interface design onto another level, and increasing number of users started to use Figma as a more general design tool, meaning going beyond UI and Product Design and leverage Figma's suite of features to create Social Media Graphics, App Icons, Pitch Decks and Presentations, and even Illustrations. During Config 2023, Figma's own conference during which they share product news and updates, Figma announced that it had acquired Diagram, the AI focused design and tech company founded by Jordan Singer. This lead to the expectation, that Figma will soon introduce its own suite of AI-powered features. While Figma might be the designer's dream, there are still some areas in which the app lacks features, especially when it comes to image editing. This is the reason why I got excited when I found out about Modyfi, an AI-powered image editor, featuring powerful creative tools and real-time collaboration, right within your browser.
Modyfi offers next-gen image editing by combining creativity and productivity in one tool. If you ever looked for world-class image editing, intuitive vector tooling, and AI-driven art direction in one package, make sure to give Modyfi a try. I got intrigued by Modyfi's beautiful interface. The free floating windows and controls gives this feeling of having an infinite canvas to let your creativity flow. With designer-focused AI features and fine-tunable controls, you are in control to create stunning results that work in the real world, no matter if you are working on illustrations, images, posters, or other graphics. Modyfi itself states that it is building the "Figma for Photoshop" with AI baked into the core of the app.
With features like AI image-guided generation, background removal, gradients, and the pen tool, you have everything you need to create the design that have only existed in your imagination. The beautiful thing about a tool like Modyfi is the fact that it opens up the design and creative world to everyone. If you have no experience but would like to start working on your own designs, Modyfi's AI-powered features are the helping hands you are looking for. Especially its command bar is a core element to type prompts and make your ideas happen. Modyfi offers the ultimate flexibility and non-destructive edition to allow unmatched freedom and capability in exploring and iterating for designs. Besides that, you will find all the features you already know from other design tools, but reimagined with the power of AI.
Modyfi is browser-based which means you can access it anytime anywhere, and thanks to WebGPU you can experience a lightning fast image editing platform. You can sign up to Modyfi right away to give it a try and experience lovely and powerful AI features that raise your design work onto another level.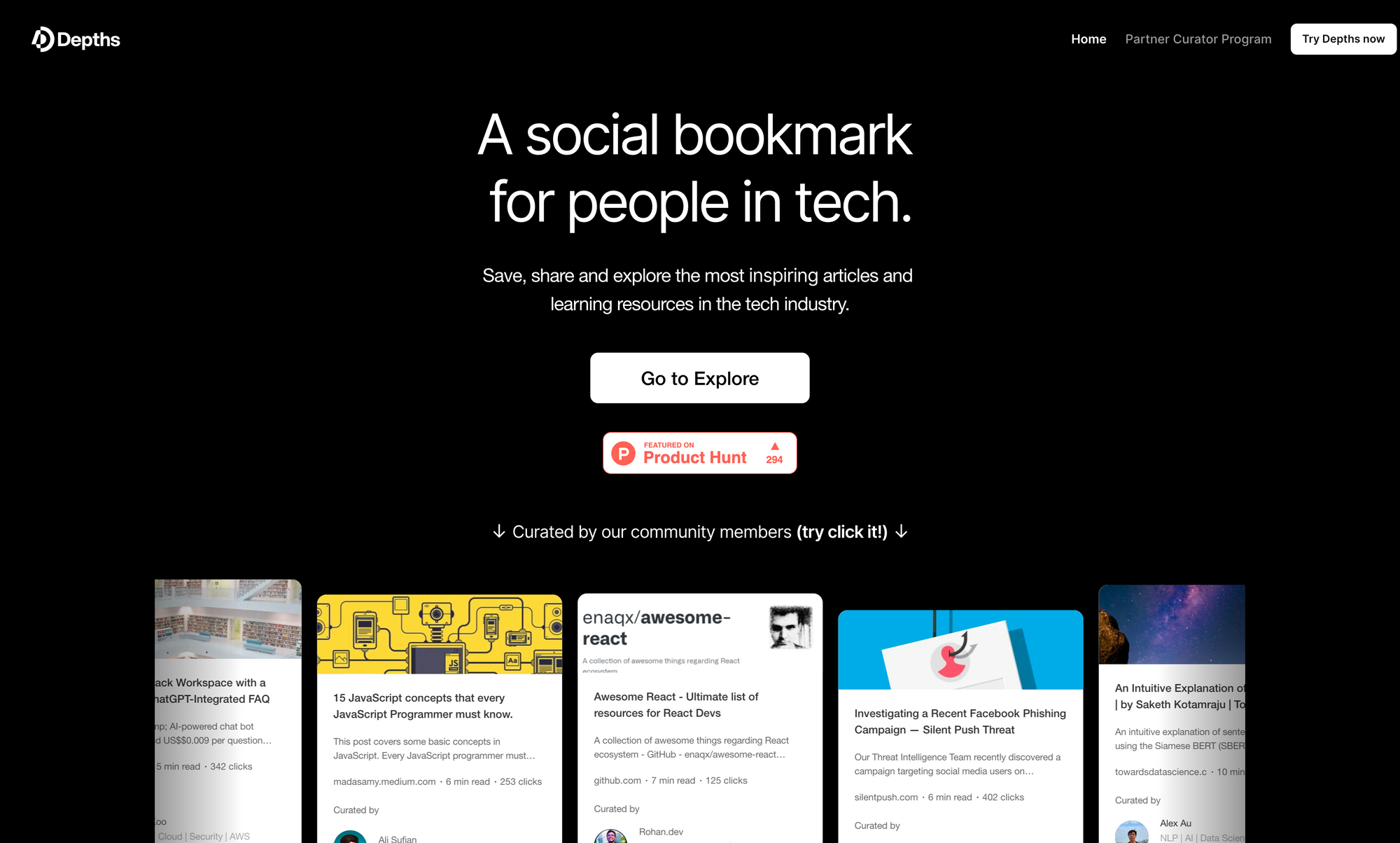 Back in issue 186 of Creativerly, I already wrote about Depths. Every now and then, I write about specific tools multiple times. The reason for that is some of the apps I have featured and wrote about some time ago, rebranded, shifted their focus, or decided to go a new route and transform the product they are building. It seems like this is the case for Depths. When I wrote about it on September 11, 2023, Depths entitled itself as "the bookmark manager for developers". Back then, that claim sounded a bit weird to me, since all the features it offered were not specifically tailored to developers in my opinion.
After revisiting Depths' website, I found out that it now entitles itself as "a social bookmark [app] for people in tech". The focus of Depths now is to create an app that gives people the possibility to save, share, and explore the most inspiring articles and learning resources in the tech industry. You can use Depths as your daily learning feed as it provides you with insights on what is inspiring the tech world, from domain experts's perspectives. Besides that, Depths can become your bookmark manager. Once you found an amazing article, simply save it to Depths with a single click by using its browser extension. But that is not it, since Depths can also be used as a way to connect with like-minded folks, as it introduces a social aspect to bookmarking and curation. Your Depths profile is your new social profile built based on your knowledge and knowings.
The Partner Curator Program Depths is offering makes clear that it is now focusing on the social aspect of curation and bookmarking. The Partner Curator Program is a way to become a part of Depths, grow a following and earn extra income. Although, the application of the Partner Curator Program, I still want to take the opportunity to share more insights about it, since it seems like an interesting way to grow the platform and pay the folks who help you growing it. Since Depths is a social bookmarking tool, every user of Depths is considered as a curator. The main role of a Partner Curator who is part of the Partner Curator Program, is to actively curate inspiring articles and resources to their account. This gives you the possibility to build a following, create exposure for your own content since you can curate your own content to reach a larger group of a tech audience, and earn money by actively curating. Depths states that "anyone with passion to contribute and share their knowledge to the tech world is welcomed to apply" to the Partner Curator Program. As of writing, the application is closed, and I do not have any information when and if it will open up again. But if you are interested in it, keep an eye on their website or social accounts.
If you want to give Depths a try you can check out a live demo on their website or sign up for an account straightaway.
---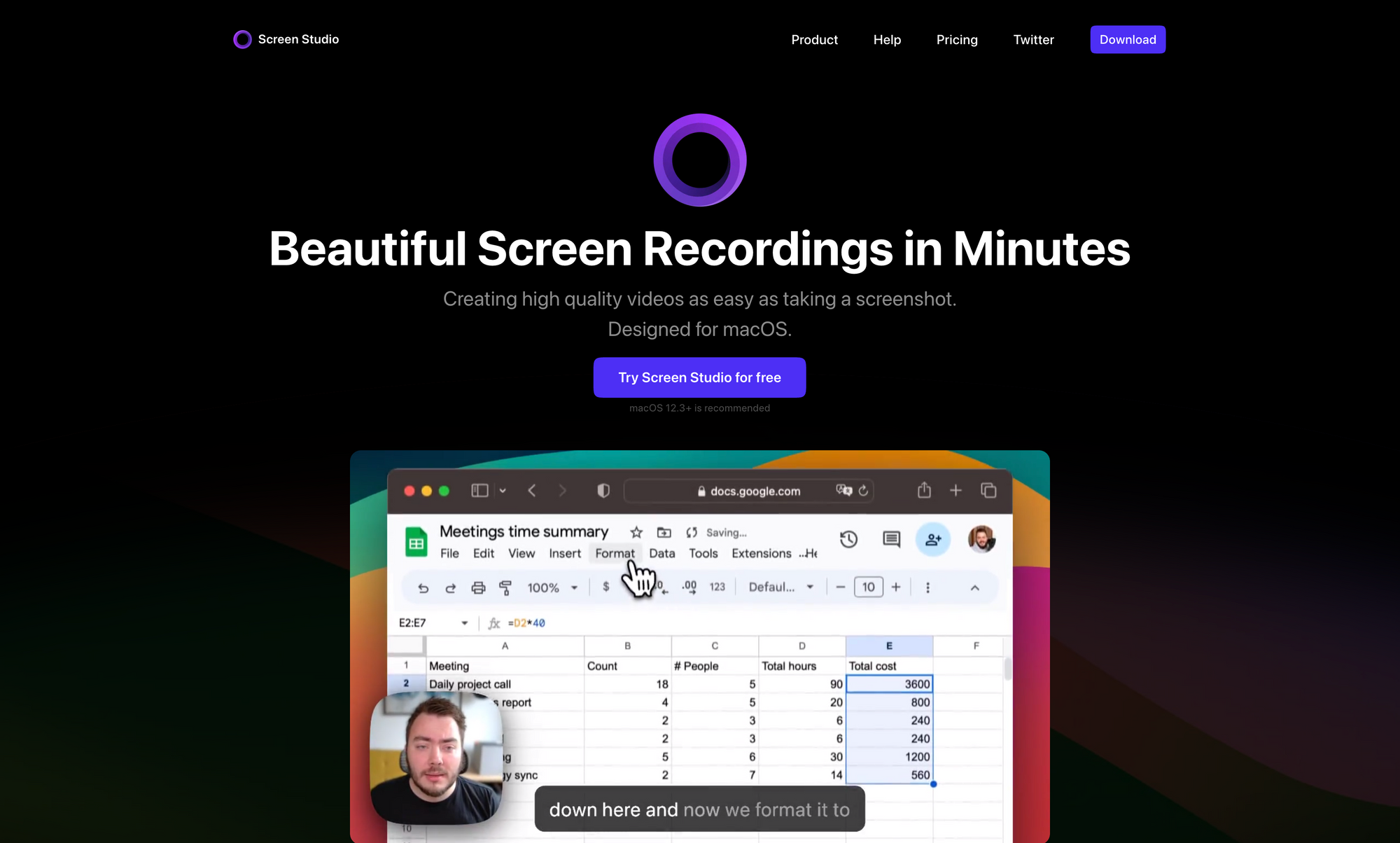 Recently, I added a new app to my tool stack of awesome apps I am heavily relying on, and that app is called
Screen Studio
. I was on the hunt for an app to create a bit more exciting screen recordings of my workflows in different apps which I could use for my articles instead of showing static screenshots. Screen Studio was exactly what I was looking for and it even exceeded my expectations. With Screen Studio you can create high quality videos as easy as taking a screenshot. No matter if you need to create videos for social media, YouTube channels, or for your articles, Screen Studio is incredible powerful yet super simple to use.
With lovely features like automatic zoom, focusing on the main action and automatically zooming in on action you perform on your screen, you can create engaging videos. Additionally, it features smooth cursor movement, you can easily change the cursor size, automatically hide static cursors, loop cursor positions, and rely on high-quality system cursors. With just a few clicks you are able to easily change the background or spacing around your video. After recording your video, you get access to editing features like shadow and inset, cut and speed up, to adjust the video to your needs. If you want to record tutorials, presentations, tips, or guides, Screen Studio lets you add your webcam video, voice, and system audio to your recordings.
Screen Studio is an incredible powerful, easy-to-use, and lovely app to create outstanding and engaging screen recordings for different use cases. It quickly became one of my favorite apps.
Screen Studio has been exclusively designed for macOS and it is available for $89. You just pay once and use it forever. The Standard License gives you the possibility to install Screen Studio on one macOS device and you will get one year of updates. The Extended License for up to 3 macOS devices will cost you $189. Check it out.
This is a affiliate link to support Creativerly. If you are interested in putting your tool, product, or resource in front of over 2000 creative minds, consider advertising in Creativerly and book a sponsor or classified ad spot. Find all the important information at creativerly.com/advertise.
---
Fresh Updates & News
Back in 2020, I discovered Futureland. A lovely and beautifully designed app, that helps you track habits, build routines, journal, improve sleep, and more. It hasn't been that kind of product right from the beginning, but rather evolved into a space to track any kind of habit you can think of, see your progress, and maintain streaks. Just a couple of days ago, I rediscovered Futureland, and immediately got hooked, mainly because I found out that Futureland introduced its new MacOS and iOS apps.
With the new apps, you can enjoy the full Futureland experience right on your Mac and your iPhone. Organize all your habits and projects into a daily routine you can stick to, maintain a consistent sleep schedule for more energy and better overall health, make notes along the way, and explore the real time progress of others and choose to share your own or keep it private.
Readdle, the company which created and built apps like Spark Mail, PDF Expert, Calendars, or Documents, just turned 16. Throughout those years, Readdle became one of the world's leading productivity brands used by companies like Siemens, BMW, Vestas, along with busy professionals who want to maximize their workflows. Spark Mail has been probably the first third-party client I started using, and it is still my preferred email client until today.
It is incredibly exciting to hear that the Readdle team now consists of 296 people from over 30 global locations. What started with a team of three back in 2007 in Ukraine, became a productivity powerhouse generating over 200 million app downloads worldwide in 2022. Congrats to the whole Readdle team for going strong for 16 years, shipping lovely apps, that millions of people enjoy worldwide.
With its newest update, Fabric introduced smart suggestions. As Fabric pursues the mission to offer a self-organizing digital mind, the newest update brings the app one step closer to achieve that. With the power of AI, Fabric now connects the dots between all your content. You can think of it like moving between related ideas and memories in your mind, and now Fabric is also capable of moving between related items. Select any kind of item within Fabric and click "See similar items" to see any related files, images, or content with AI. Additionally, you can also click "Similar" inside any note or PDF. Just highlight some text, click on "Similar", and see content that relates to the highlight.
---
Mental Wealth
❯ Taste - On subjectivity, gatekeeping, and the risk of leaving words undefined. – 'People think taste is subjective, until they start to design things. Paul Graham argues that most people keep their thoughts on taste as unexamined impulses, starting from childhood. When they like something, they have no idea why—it could be because their friends like it, because it's fashionable, or because a movie star uses it. Once they become designers, they start to realize the relationship between taste and good design. We all need to examine taste more objectively.'
❯ Running up that hill: Creativity, AI, and the human pursuit of uphill thinking – 'We find ourselves in an era of paradox. On one hand, AI promises unparalleled efficiency and limitless potential for creatives. On the other, it threatens to spawn a masterful new generation of cookie-cutter designs that could spell the end of many creative careers. So which is true? And how do we reconcile these two contradictory perspectives?'
❯ Devote Yourself to the Cause of Your Life – 'For most of my life I was pretty useless. My career in tech consisted of creating slides for the pre-meeting, tweaking said slides for the actual meeting, and conducting the obligatory post-meeting debrief gags. Some of my finance-oriented roles had me do more spreadsheet work, but the workflow was the same. At times, I would be on the strategy team or would be doing work for VC funds, but the job was basically identical. Perform analysis, convince people it was right, move on to the next thing—all without ever having a stake in the idea. Being a glorified intellectual butler was a great way to make money.'
❯ Mindful context switching: multitasking for humans – 'So many things to do, so little time. When you juggle work, personal projects, and are hoping to have any sort of social life, managing your time can feel like an impossible endeavor. There are many tips out there—the most common one being to focus on the most important task first—but few address the systemic complexities of managing your time and energy when you have a very long list of important and competing tasks as well as other people to take into account.'
---
Do not miss out on this ...
❉ Get smarter with Refind. Every day we pick 5 articles that make you smarter, tailored to your interests. Refind is loved by 200,000+ curious minds. Subscribe for free.
❉ Think tasks, not apps. Setapp* is you one-stop subscription to solving every task on Mac and iPhone.
❉ Fathom is cookie-free, GDPR compliant, privacy-first website analytics software. Get $10 off your first invoice and a 7-day free trial when you use this link*.
These are paid promotions or affiliate links to support Creativerly. If you are interested in putting your tool, product, or resource in front of over 2000 creative minds, consider advertising in Creativerly and book a sponsor or classified ad spot. Find all the important information at creativerly.com/advertise.
---
Till next time! 👋‌‌‌‌
Support: Do you have a friend who is looking for inspiration, news about design, and useful tools and apps? Forward this newsletter to a friend or simply share this issue and show some support. You can also show some love by simply clicking the button down below and keep this newsletter a sustainable side-project by buying me a coffee. ☕️ 🥰
---
---
Some of the links in my newsletter and my blog posts are affiliate links. Those links are marked by an asterisk. If you buy something through the link, the product will not cost you anything more, but I will receive a small commission which not only supports Creativerly and my work but also helps me to keep this publication a sustainable side-project.
Creativerly is proudly published with Ghost*.