Newsletter
Introducing the no-compromise browser & Task Management made easy
In this week's issue of Creativerly: Make work wonderful, the bookmark manager for developers, designers deserve purpose, and a lot more.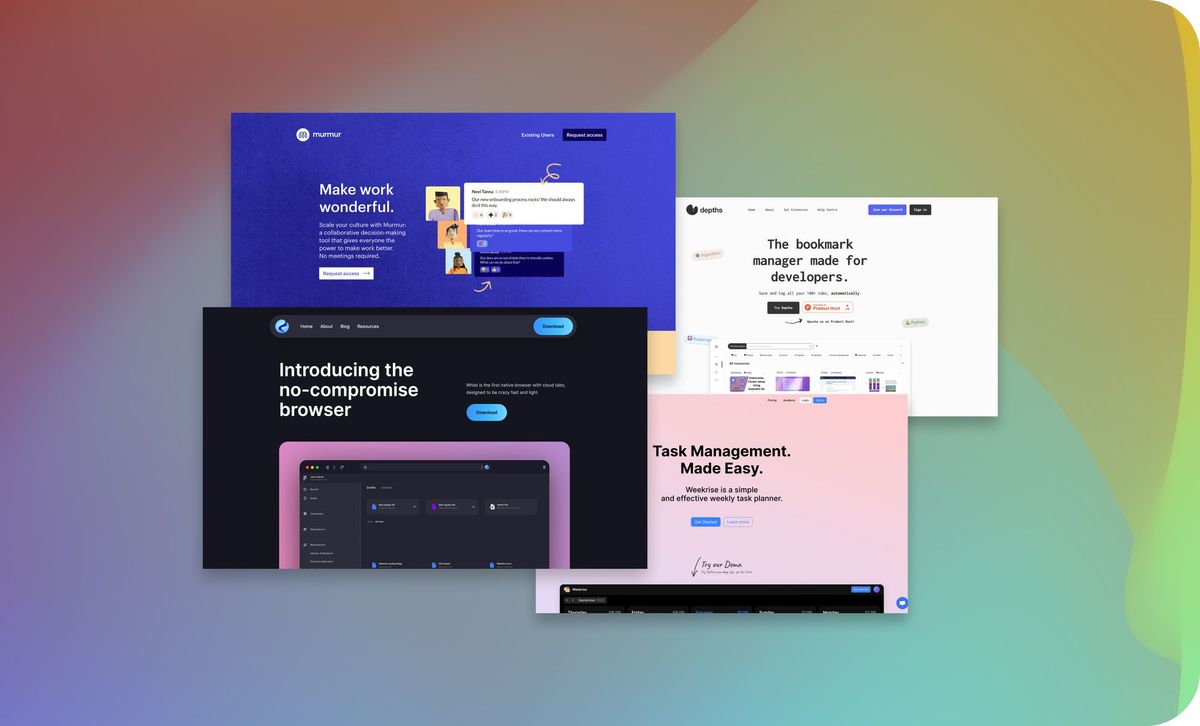 My name is Philipp and you are reading Creativerly, the weekly digest about creativity and productivity-boosting tools and resources, combined with useful insights, articles, and findings from the fields of design and tech. The newsletter built for the creative community.
---
Hey and welcome to Creativerly 186 👋
A couple of months ago, I thought I have settled with a tech stack for my personal website philipptemmel.com. In the past, I have mainly used WordPress and Semplice to build my personal website and portfolio to display my work, projects, and the blog posts I have written. Instead of focusing on creating content for my personal website, I found myself iterating on the design of the website multiple times. I wanted to have a more lightweight solution, simply to display some of my work, focussing on publishing posts, and some basic customisation options.
Therefore, I decided to set up my personal website with Kirby, a CMS that consists just of files and folders. It is fast, lightweight, and easy to maintain. I found a minimal theme by Themes for Kirby, so I even did not have to look into Kirby's codebase. The whole setup was streamlined: downloading the PlainKit and uploading it to my server, done. Kirby's Panel (the dashboard) looks awesome and minimal, everything you need is right at your fingertips, and thanks to the theme I am using, I can even build custom pages with a visual page builder. So, it seems like I have found the perfect solution, right?
Guess what, every now and then, I get excited about new tools. I got extremely excited when I found out about Framer Sites a few months ago. Framer is a design tool that launched back in 2015, and since then it seems like it struggles to find the right spot within the field of creative tools. Over the course of five years, Framer reshaped the product multiple times until they launched Framer Sites earlier this year. Framer Sites give you the possibility to visually design your website on a canvas as you would expect it from other design tools like Sketch or Figma, but with a single click you can set your design live and it will be published as a website. They even launched a CMS, several plugins and integrations, and have a library with loads of themes and pre-built blocks to kick off the design process of your next website. This gives designers who do not code (or people who are not into coding in general) the creative freedom to design, build and launch the website you have ever dreamed of.
While this sounds awesome, there are still some things that holding me back to move my website to Framer. For example, the code it generates is incredible messy. So, in case Framer runs out of business and you want to export your website to take it with you somewhere else, to a different provider, you will have a hard time to get a sense of the code that has been created.
So, while there are definitely benefits for a tool like Framer, there are also some parts which keep holding me back from fully committing to it. Nevertheless, I will definitely spend some time to look into Framer more, because it is always nice to explore a new design tool, and we will see, maybe I will make the switch and host my personal website with Framer in the future.
---
Get smarter every day.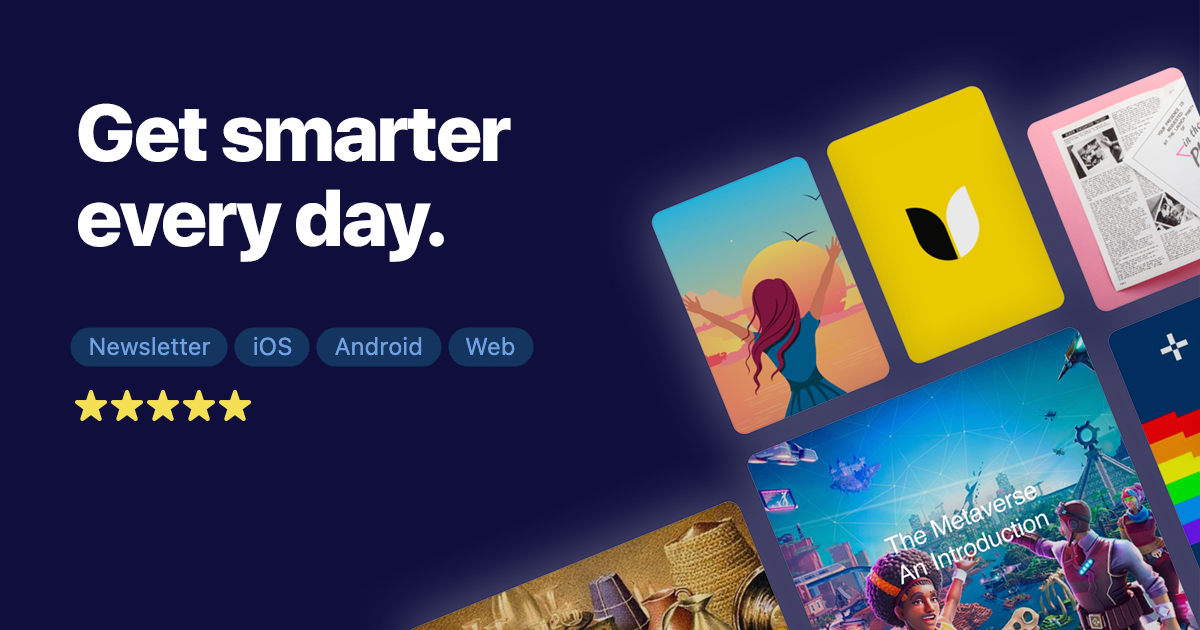 Every day Refind picks 7 links from around the web for you, tailored to your interests. Loved by 50k+ curious minds.
This is a sponsored message. If you also want to highlight your app, tool, resource, newsletter, job offer, in front of over 1800 creative minds, head over to creativerly.com/advertise* and get in contact.*
---
Apps, Software, Tools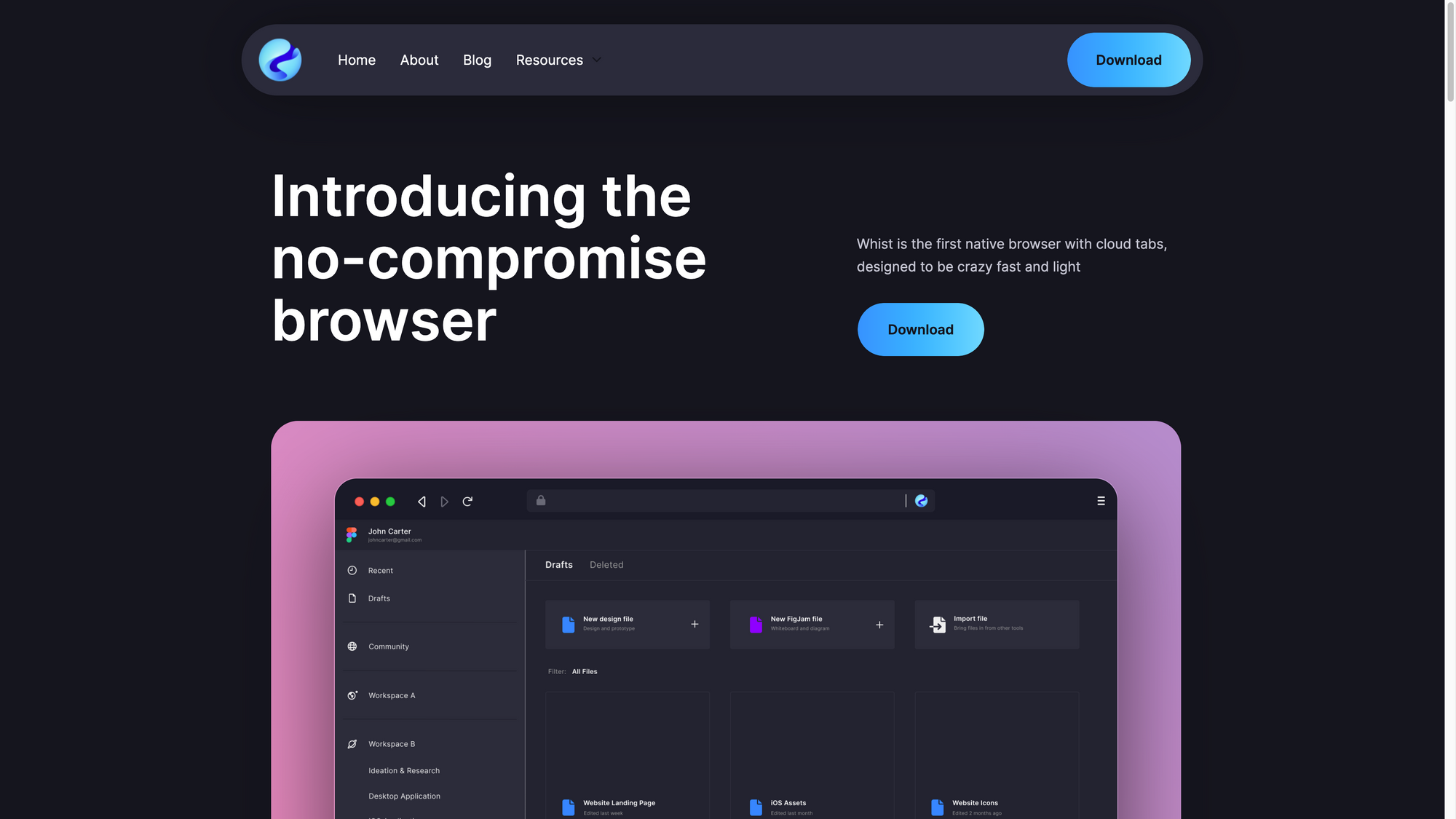 Over the course of the last couple of weeks, I have settled with Arc as my current preferred browser. It is an incredibly beautiful piece of software, with powerful keyboard-centred workflows, and loads of details. Arc truly revolutionises the way we interact with and work on the web. But Arc is not only a radically different browser that is gaining in popularity. There are a couple of companies that are all taking on browser giants like Chrome or Safari, with new features and new workflows. Besides Arc, Whist is one of them.
Whist is focused on performance. It is a native browser with cloud apps, designed to be lightning fast. People who are working across many different tabs, have definitely experienced the case in which your browser took over all your RAM, your laptop fans were going crazy, and the web apps you were relying on for work started to freeze. Whist wants to prevent that by building the first cloud-hybrid browser. In a traditional browser, a single tab can consume over a GB of memory. Cloud tabs within Whist almost use none. No matter if you want to load and work on massive spreadsheets, dashboards, or any kind of productivity app, with Whist you can load them instantly.
Cloud tabs within Whist are powered by NVIDIA cloud GPUs to run the most demanding web apps. Another advantage of cloud tabs is the fact that Whist extends your laptop's battery life by up to 2 hours. Browsers became incredibly powerful. Based on this, an increasing number of people heavily rely on web apps during their working days. Therefore, performance for those web apps is incredibly important. Whist's core mission is to make web apps fast. No matter if you are working across an Engineering Team, running hundreds of tabs, or in a Design Team with the need to instantly load 2D or 3D assets in Figma and other design tools with cloud graphics acceleration, or in a Marketing Team running dozens of concurrent heavy dashboards and sales tools, Whist got you covered.
To supercharge your browser experience, Whist lets you choose between four modes: Ultralight (all tabs are cloud tabs), Accelerated (certain tabs, decided by you, are cloud tabs), Smart (when your computer is running low on memory, Whist will switch to cloud tabs), and Native (no cloud tabs, fully native browser). Whist is a fork of Brave, which is a nearly identical browser to Chrome but enhanced with better privacy and security. Therefore, Whist leverages Shield, which is Brave's built-in ad blocker. Additionally, Whist is planning to open-sourcing Whist's key components, as they think that is the best way to build user trust and encourage innovation. This is an important step since there are definitely some privacy concerns when it comes to offloading tabs to a cloud server.
Currently, Whist is only available for macOS. You can download the browser right away, but cloud tabs will be locked behind an invite code. That means you can use the native browser, but for the cloud tabs, you will be put on a shortlist. But no worries, Whist is onboarding hundreds of new users every week, so you should be able to give cloud tabs a try fairly soon.
The asynchronous working model is becoming more popular across remote companies. Therefore, there are more and more tools being developed, that empower remote and asynchronous work cultures.
Murmur is a collaborative decision-making tool that gives everyone on your team the power to work better. At the core, Murmur is a document editor, but you can not compare it to traditional editors as you know them. With Murmur you get the possibility to streamline the process of going from ideas to proposals to agreements, in just a few minutes a day. No matter what ideas you have, make the whole process of making a decision easier, by setting up a document in Murmur and starting the discussion. Murmur was built to elevate everyone's ideas since you can invite your team to propose and activate solutions to the issues they care about the most. Kicking off a discussion starts with a dedicated question first. As a next step, you get your whole team involved to improve and come up with solutions. In the third and final step, it is time to decide. Even when you disagree with something, you can still make progress together.
A lovely feature within Murmur is called Agreements. Agreements are collaborative documents that align teams on things like roles, norms, and processes. All the topics that help you and your team to clarify how to work together can be documented in an agreement. On top of that, you can set expiration dates, collect feedback, and propose changes to agreements. So you and your team can be sure that there is the possibility to constantly evolve, grow, learn, and improve together.
Murmur is a lovely tool that empowers asynchronous work. Without Murmur, you would find yourself in a mess of comments and messages, chasing people to join the discussion, and documents scattered across different places when it comes to making important decisions. Murmur follows a process consisting of three steps, so you can be sure to move from idea to agreement in no time. It is a powerful tool to improve how you and your team work together.
Since you will probably use a wide range of different tools on a daily basis, Murmur integrates with the products you already use. According to their website, it seems like Murmur integrates with Discord, Notion, and Slack, but there is no further information regarding other integrations available. As of writing this, Murmur is only available upon requesting access. So, if you want to try it out, make sure to join the waitlist.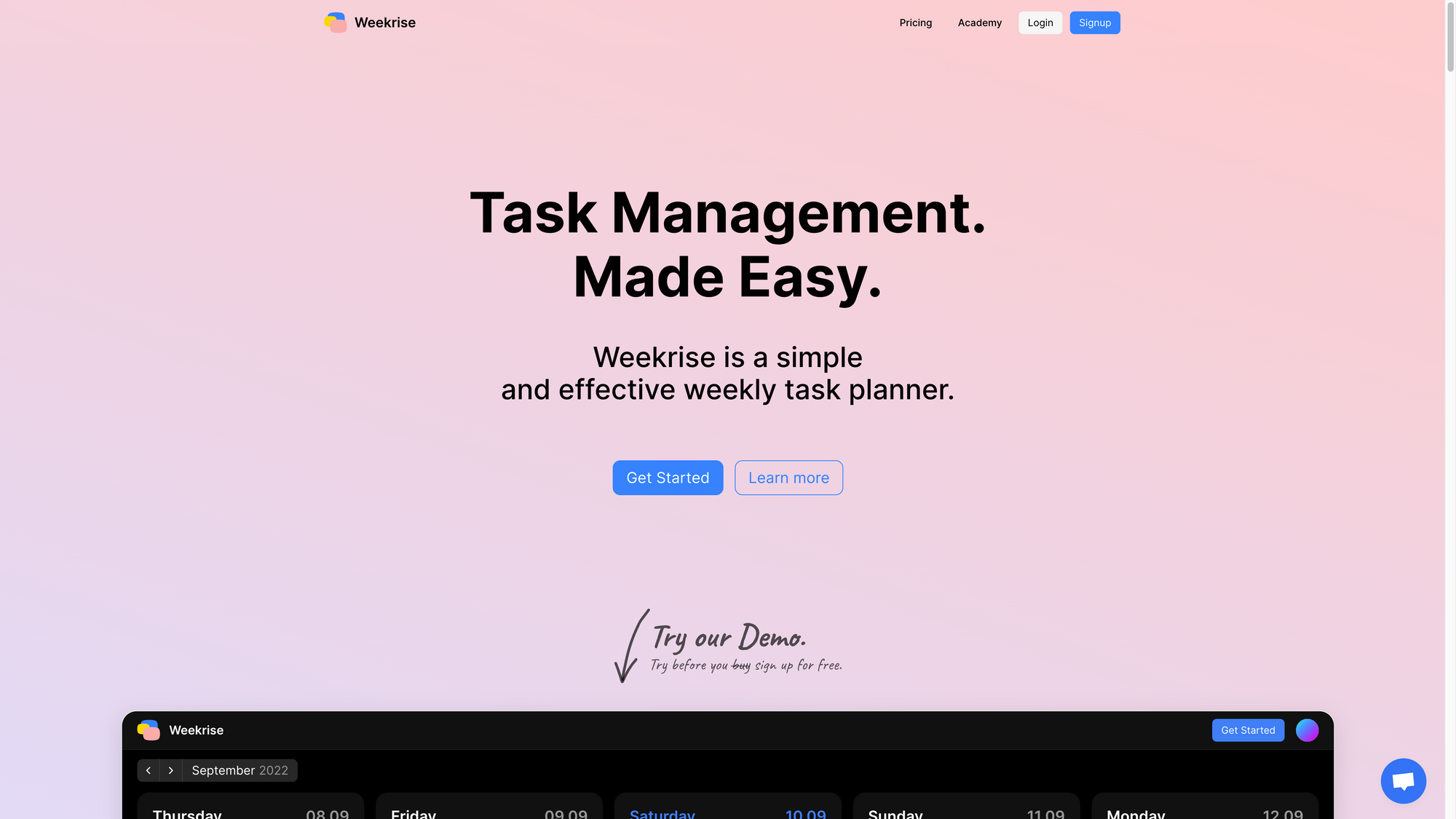 Weekrise is a beautiful task manager. Recently, I have been struggling to keep and maintain a dedicated system for all my tasks. On one hand, I am a huge fan of interstitial journaling, which combines daily journaling, task management, and time tracking. But Craft, the tool I am currently using to take notes, journal, and maintain my personal knowledge, does not feature a unified task view, which means the tasks I jot down are scattered. Therefore, I started to put tasks which are long-term back into a dedicated task manager. Based on that, I am excited to give Weekrise a try.
First of all, I love that Weekrise displays a demo of the tool right on the homepage of the website. This is such a lovely pattern since you can get a glimpse and idea of the tool without the need to sign up, even for a free account, and therefore handing over your email. This should be a common practice. The core mission of Weekrise is to build a simple and effective weekly planner. It was designed for people, not for robots. While the features are limited, they have been carefully chosen to give you the right tools to get your work done. First and foremost, Weekrise has a built-in command pallet, that supercharges your productivity by giving you the possibility to fly through the whole app by only using your keyboard.
Weekrise is ready to get your whole team involved and embrace collaboration and sharing. On the one hand, you can invite people to Weekrise to work together. Assign tasks to your team members and keep an overview of who is working on what. On the other hand, you can make your Weekrise calendar public for everyone to see. People who are accessing it do not even need a Weekrise account. Another lovely feature of Weekrise is the built-in Pomodoro timer, so you can set up dedicated focus sessions while you are working on your projects.
While Weekrise displays your tasks in a calendar view, there are some projects that probably do not fit in a calendar. For those use cases and projects, Weekrise features boards. Boards can be used to organise tasks and projects on a kanban-board. But that is not it. Weekrise is packed with features like a daily digest, which is a report of your tasks for the day delivered to your inbox, mobile optimisation so you can use Weekrise on the go, repeating tasks, subtasks to bring more context to your tasks, Google Calendar sync, projects, comment on tasks to discuss any kind of progress, attachments, and more.
You can use Weekrise for free for unlimited tasks, one calendar, one board, and one synced calendar. The Pro Individual Plan will cost you €4 per month for up to five collaborators, unlimited calendars, boards, and synced calendar, attachments, analytics, Pomodoro, and daily digest email. There is also a Team Plan available for €12 per month for up to 15 team members.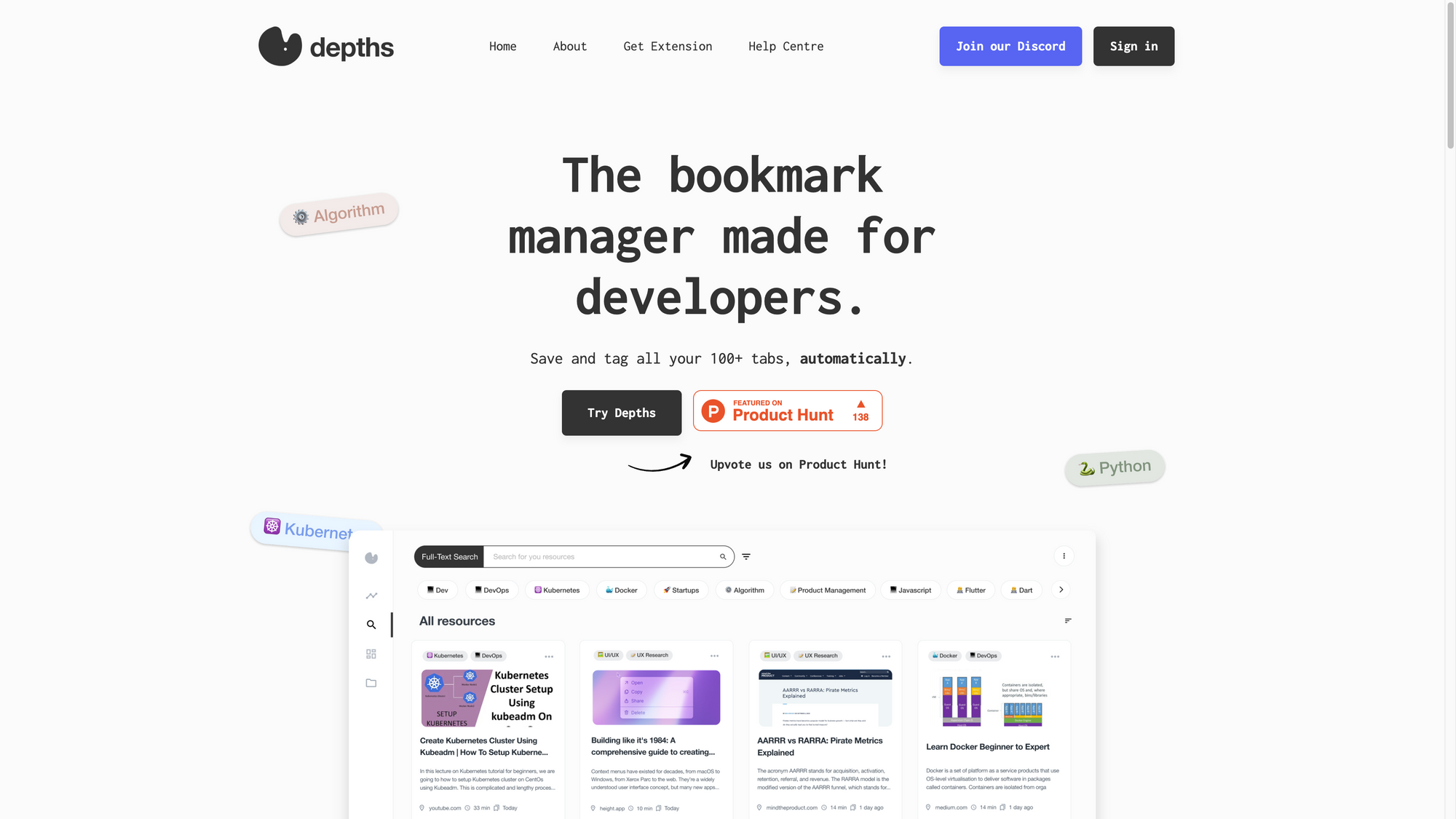 Depths is a new bookmark manager which I recently stumbled across. At first glance, I was confused because Depths claims to be "The bookmark manager made for developers" but as I was exploring the tool, I had the feeling that all the features are also made for non-developers, meaning it follows a more general use-case.
People who are browsing and working within a browser will probably find themselves in a scenario in which the browser was packed with hundreds of tabs. Some of the tabs might be articles you would like to save you can read them later. If you actually do so, it will take time to sort, tag, and organise all the articles for you. Depths is powered by AI, which means you no longer need to spend time tagging and organising the links you would like to save. Depths AI does all the sorting, tagging, and organising for you, so you can spend more time digesting information instead of organising it.
To give users an additional organisational layer, Depths also features workspaces in which you can save different resources. On top of that, Depths shares insights with you, so you can an idea about what subjects you have saved most. Every resource you save with Depths is clearly marked with an estimated read time. As you save more and more content to Depths, the full-text search makes sure you always find the content you are looking for. With Depths workspaces, you can structure and organise your saved content and knowledge for different projects. Powered with an advanced 256-encryption you can be sure that your saved content always stays secure while syncing.
Based on all of that, I have the feeling Depths is not only a superb bookmarking manager for developers, it definitely is useful for everyone who is looking for bespoke features in a bookmarking manager.
Depths is available as a web app, and there are extensions for Chrome, Edge, Brave, and Firefox.
---
Mental Wealth
➢ Don't Think to Write, Write to Think – "This is one of the lessons that every writer comes to appreciate: writing is thinking. Writing is not the artifact of thinking, it's the actual thinking process. There's no shortage of great quotes on this topic, the implications are less clear: Writing is the planning process and the final product: You don't design a final piece of writing the same way you might design a computer on paper. No writing emerges complete; everything has a starting point, and it's usually a really crummy first draft. (It might also appear as an interview, a note, etc.)"
➢ To Get Out of Your Head, Get Out of Your House – "One hundred and sixty years ago, in this magazine, Henry David Thoreau lamented that humankind was losing contact with nature. "Here is this vast, savage, hovering mother of ours, Nature, lying all around, with such beauty, and such affection for her children, as the leopard," he wrote, "and yet we are so early weaned from her breast to society, to that culture which is exclusively an interaction of man on man."
➢ Designers deserve purpose – "Humans are funny creatures. We have developed in such a strange and complex way, all in the name of survival, yet with the tools we learned to survive, we began to develop a range of experiential sensations. One of these tools, storytelling, enabled us to make sense of what it was we were experiencing. It enabled us to join the dots of who we are within our world. This formation of identity paved the path for purpose, the thing that gives us an intrinsic sense of reason. It is the motivation that keeps us going. It's like some kind of psychological fuel that steers every action and every behaviour. Unlike goals, it cannot be achieved. It is more like a lens, or a filter that we apply to everything we do. It is like our internal compass. It is never-ending and ever-present. It is the single reason why we do what we do."
➢ How I regained concentration and focus – "For years, I enthusiastically produced content: books, articles, blog posts, and talks – averaging a book and a half plus five articles per year. Since about 2020, my productivity has plummeted – leaving me totally frustrated. There were no external causes, even the pandemic didn't affect me, thanks to a nice home office and online work options — so no excuses. To find a way out of the misery, I put my own working habits to the test – and diagnosed a massive loss of concentration.​​"
---
Do not miss out on this …
Founders' Book is built to educate, encourage and empower founders and startups to equip them with the best-curated tools and resources.
Start your morning with The Newsette - a newsletter for women, written by women, about topics that are important to women.
Each morning, The Sample sends you one article from a random blog or newsletter that matches up with your interests. When you get one you like, you can subscribe to the writer with one click. Sign up here.
These are paid promotions or affiliate links to support Creativerly. If you are interested in putting your tool, product, or resource in front of over 1800 creative minds, consider advertising in Creativerly and book a sponsor or classified ad spot. Find all the important information at creativerly.com/advertise.
---
From the archive
On January 2nd 2022 I wrote about ...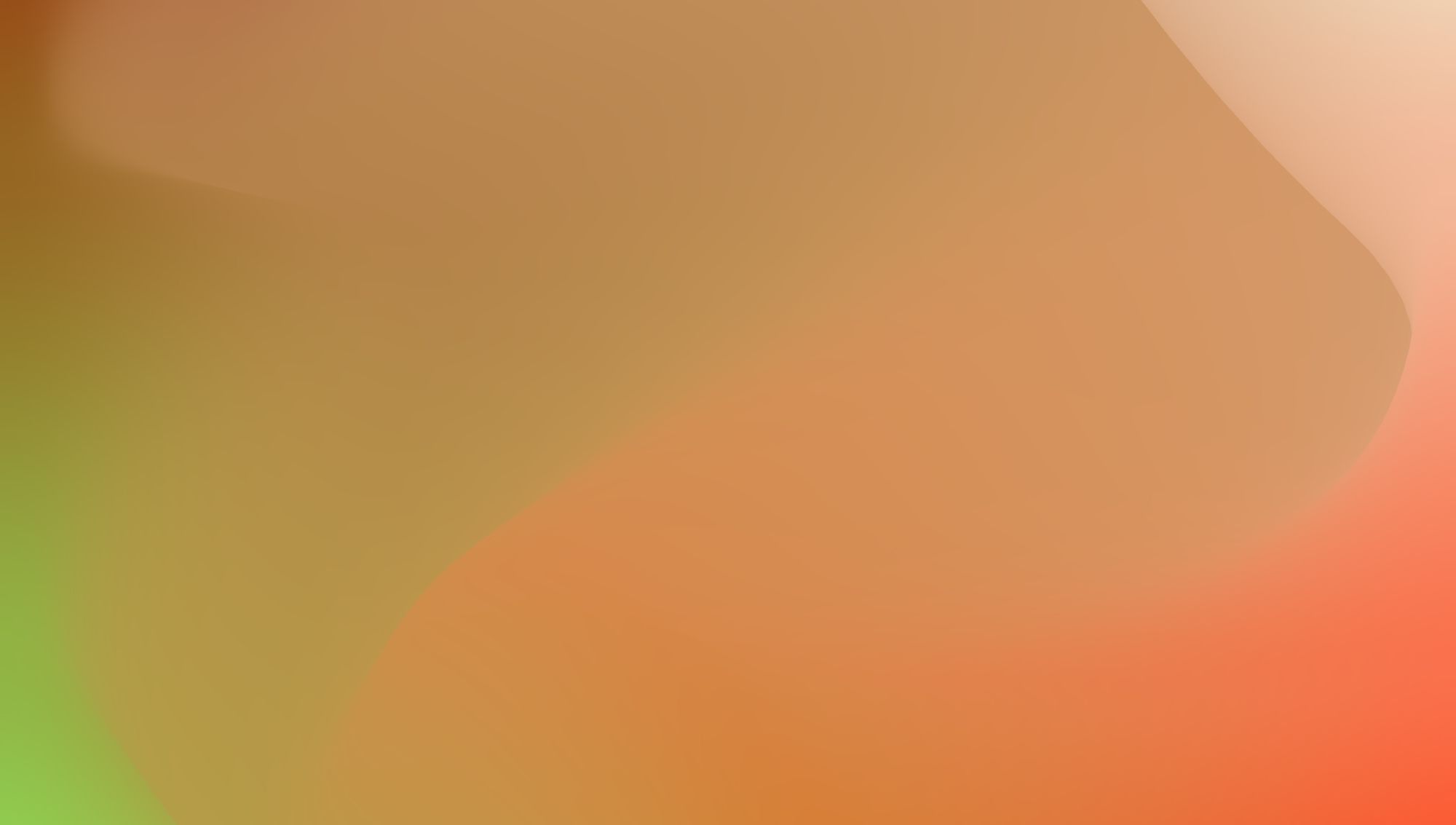 ---
Appendix
➢ ICYMI
Highlight your app, tool, resource, or service in front of over 1800 creative minds coming from different backgrounds like design, development, journalism, VC, Indie Hacking, and others. The Creativerly audience is actively looking for tools and resources which boost their creativity and productivity. If you are interested in booking a sponsor spot in Creativerly head over to creativerly.com/advertise for all the important information.
➢ Quick Bits
---
Twitter thoughts
---
👋
Till next time!
Share or forward this newsletter to your friends, if they are also looking for creativity and productivity-boosting tools and resources. If you need help to discover your next favorite task management, note-taking, or PKM app, Creativerly delivers the insights you need. Creativerly is an indepentend publication and I am writing and maintaining it in my free-time. You can support Creativerly and my work by sharing it with the world,
booking an advertising spot
, or by
buying me a coffee
.
---
Some of the links in my newsletter and my blog posts are affiliate links. Those links are marked by an asterisk. If you buy something through the link, the product will not cost you anything more, but I will receive a small commission which not only supports Creativerly and my work but also helps me to keep this publication a sustainable side-project.