Newsletter
Note taking for the next decade & The Art of Listening
In this week's issue of Creativerly: Leave Paper behind, Activate your community, iterate. iterate. iterate. and a lot more.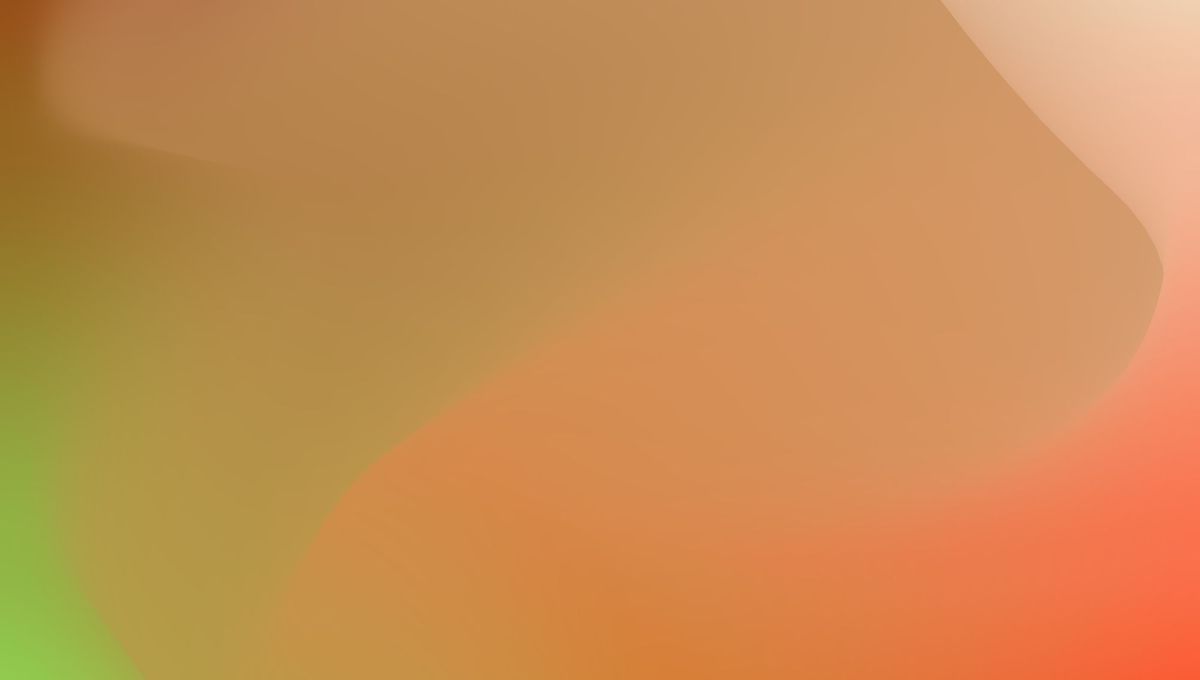 You are reading Creativerly, the weekly digest about creativity and productivity-boosting tools and resources, combined with useful insights, articles, and findings from the fields of design and tech. The newsletter built for the creative community.
---
Hey and welcome to Creativerly 150 👋
Welcome, welcome to 2022, a new and fresh year, with new and exciting opportunities waiting for you. It is exciting to have you all still around as we are entering a new year. I want to take the opportunity to give you a little insight into what I would like to work on regarding Creativerly in 2022. Those are just the things that I currently have in my mind. I do not want to set myself new years resolutions, just to realise a couple of months later, that I did not touch one point of those resolutions. I have some ideas and things I want to focus on. If there are any other opportunities that will rise over the next couple of months, and I see the possibility to create value out of those opportunities, I will definitely shift my focus. But, in general, I want to focus on creating additional content besides my newsletter.
In 2021, I started to publish blog posts just like "You do not need Google Analytics - A list of privacy-friendly alternatives" and "A list of tools and services to build your personal website". Additionally, I also kicked off a content section, in which I wanted to do deep dives on specific apps and tools I have used or still use, to show off my workflow and particularly how I use different tools on a daily basis. Over the last couple of months, I grew a backlog of blog posts about how I use different apps. This backlog includes apps like Workflowy, Craft, and iA Writer. Over the next couple of months, I want to focus to finish these blog posts and ultimately publish them.
On top of that, in 2022 I also want to bring back Creativerly's interview series as it went into the background throughout 2021 as I struggled to set up new interviews with creative minds. But I am excited to tell you, that I already have some new interviews in the pipeline which will also get published over the next couple of months. Besides that, you can be sure that I will try my best to cover any new and upcoming creativity and productivity-boosting tools and resources. I am pretty sure we will have an exciting year ahead, and I am thankful to share another year with you, my beloved subscribers, and the community.
All the best for 2022!
---
Apps, Software, Tools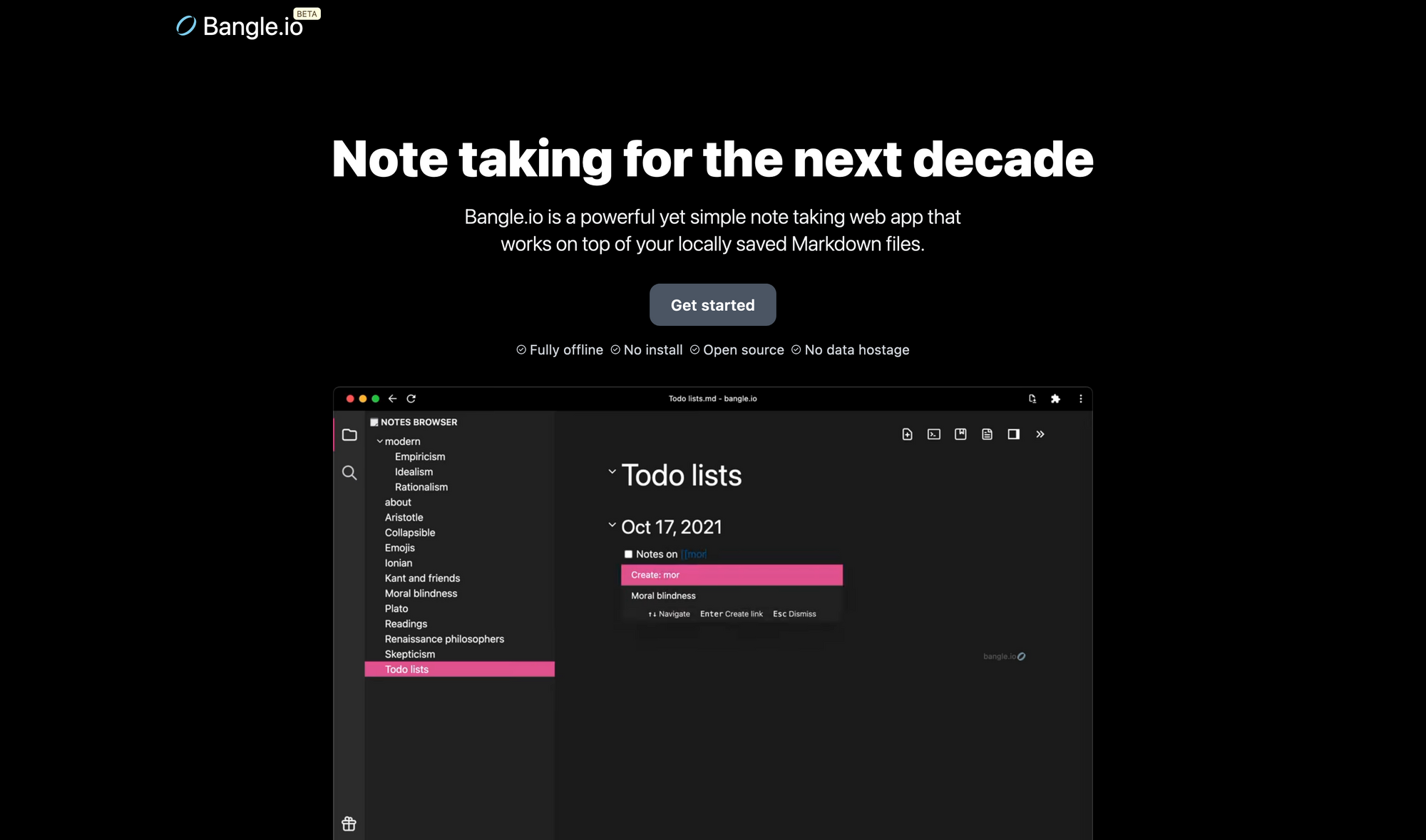 As I have wrapped up 2021 within the last issue of Creativerly as I shared Creativerly's Favorite Apps 2021, I highlighted Logseq as my preferred tool for building and maintaining a Personal Knowledge Management system. What I love most about Logseq is the fact that it is based on local markdown files. Bangle is another contender entering the PKM area, that is also based on local markdown files. On top of that, Bangle works fully offline, is open source, and since it is a web app, you can use it on literally any device.
When opening up Bangle you will need to choose a local folder that will then contain your plain Markdown files. Bangle is a modern web app that does not need an internet connection to work. So, no matter if you have access to the internet or not, you will always be able to access your notes and build up and maintain your personal knowledge base. Bangle offers a wide range of features to organise and structure your notes. No matter if you prefer to create folders or if you want to connect everything with backlinks, Bangle has you covered. Bangle is also capable of creating different workspaces for different use-cases. For example, if you want to use Bangle for both personal projects and work, you could create two dedicated workspaces for that. You can then switch between those workspaces with just a few keystrokes, as Bangle has a built-in action palette that lets you perform quick actions just like switching workspaces or creating new ones.
As your personal knowledge base grows, you want to make sure to always stay on top of all your notes. Bangle makes sure that you are able to find all your notes with ease with its built-in search feature. Bangle's editor features a clear and distraction-free interface, with WYSIWYG functionality, which makes it easy to create collapsible headings, date parsing, and even create to-do lists. Bangle is free-to-use and the main and core product will stay free. To keep Bangle sustainable the makers behind the tools might consider offering add-ons and additional features which then will cost money.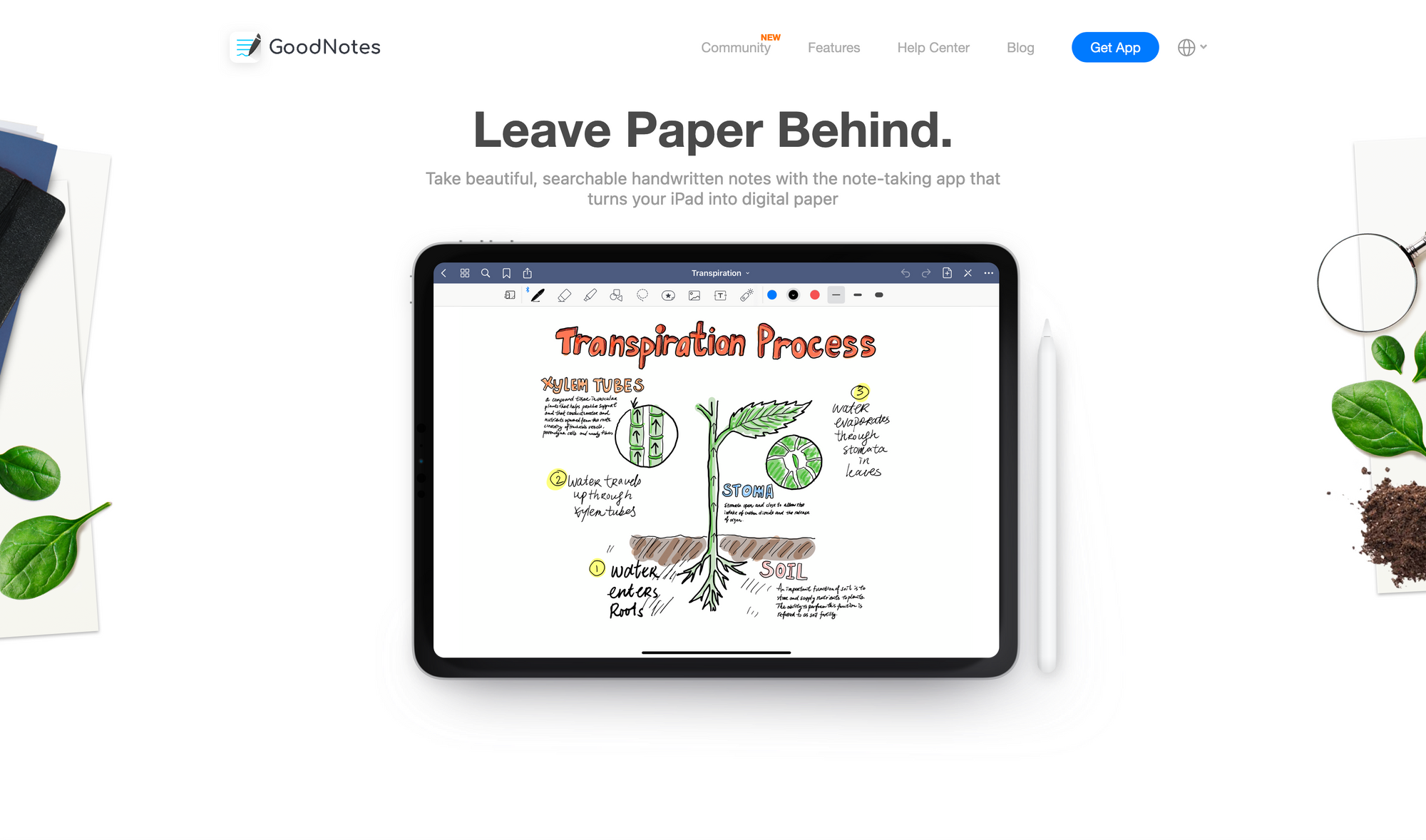 Recently, I invested in my hardware stack, by buying an iPad Pro, and it probably has been one of the best investments I have ever made. It is such an awesome experience to take this device wherever I go and have all the important bits like tasks, notes, and files straight at my fingertips. As I am still new to the iPad in general, I am currently exploring apps and tools which were specially designed for the iPad. GoodNotes is one of my most recent finds. It is an app that turns your iPad into digital paper, so you can use it to take beautiful, searchable, hand-written notes.
What really amazes me about GoodNotes is their OCR technology which makes it possible to detect and recognize your handwritten notes so you can search your entire library of digital notes. Writing notes in GoodNotes feels like writing notes with a pen on paper. GoodNotes gives you the power to effortlessly write out quotations, draw mind maps, mark up PDFs, and a lot more. If you are looking for limitless note-taking on your iPad by using handwritten notes, GoodNotes is a very interesting app to check out. To always stay on top of your notes, GoodNotes lets you organise and structure your notes within folders and subfolders.
You can create as many folders and subfolders as you want or need. This gives you the possibility to separate your notes regarding private projects from your work notes. To keep your notes safe and backed up you can integrate GoodNotes with Google Drive, OneDrive, or Dropbox, so you can be sure that your notes are always safe. If you want to also sync your notes between your Apple devices, you can do so by syncing with iCloud so you have access to your notes on every of your Apple devices. GoodNotes is an incredibly powerful tool if you want to make the most out of your handwritten notes, no matter if you are quickly jotting down some thoughts, annotate PDFs, if you want to have documents and notes side-by-side, or if you are looking for a powerful app for your studies, projects, or work, GoodNotes definitely got you covered.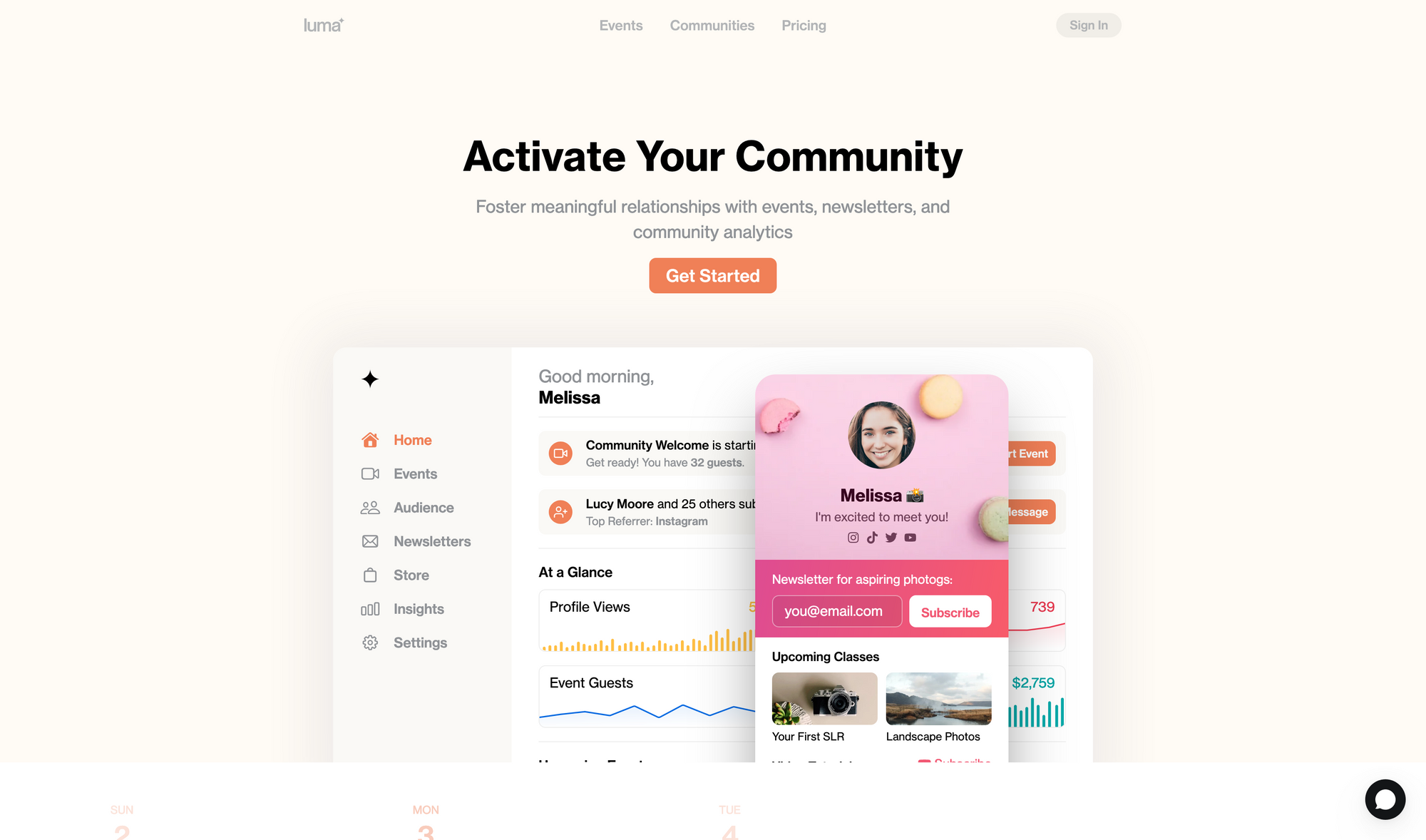 Throughout 2021, one of the most popular terms was "community". I am pretty sure that this term popped up on your timelines somewhere over the last twelve months. Community spaces from different backgrounds and about different topics became incredibly powerful places and turned into mastermind groups full of motivated creative minds sharing their experiences, thoughts, and knowledge. Most of those community spaces were hosted using Slack or Discord. As these two tools got really popular to set up communities, we also saw new dedicated community tools launching. One of them is Luma. Luma is a dedicated tool to create meaningful relationships with events, newsletters, and community analytics.
Luma gives your members one, beautiful place to register for events, find resources, and meet each other. As you create your community space with Luma, you will have the possibility to host delightful events, as luma gives you all the important features just like calendar invites, automatic reminders, analytics, referral program for guests, Zoom integration, event pages, and more to create and set up events for your community members. Your dedicated community space is divided into a homepage, which gives you an overview of events, chats, members, then a calendar page to keep track of any upcoming events, a members page to see all your members at one glance, and a library page where you can create resources for your members.
On top of that, Luma lets you send out newsletters to your members, so you can share any upcoming events or community updates with them. Luma also makes it incredibly easy to collect any feedback from your members, so you know what your community is thinking, and what you could improve. If you want to get insights about your community space, Luma got you covered, by providing you with beautiful analytics to see where your traffic is coming from, how many events your members visited, how often they open your newsletters and more. You can try out Luma completely for free, as there is a free plan available, that includes features like selling digital products, collecting donations, creating events, sending unlimited newsletters (up to 500 recipients), and more. If you already have a growing community space that you want to move to Luma, Luma Plus which is available for $39 per month (billed annually) gives you access to everything that is included in the free plan, plus 5,000 invites per event, and up to 10,000 newsletter recipients, as well as priority support.
If you are looking for a dedicated community tool, make sure to give Luma a try.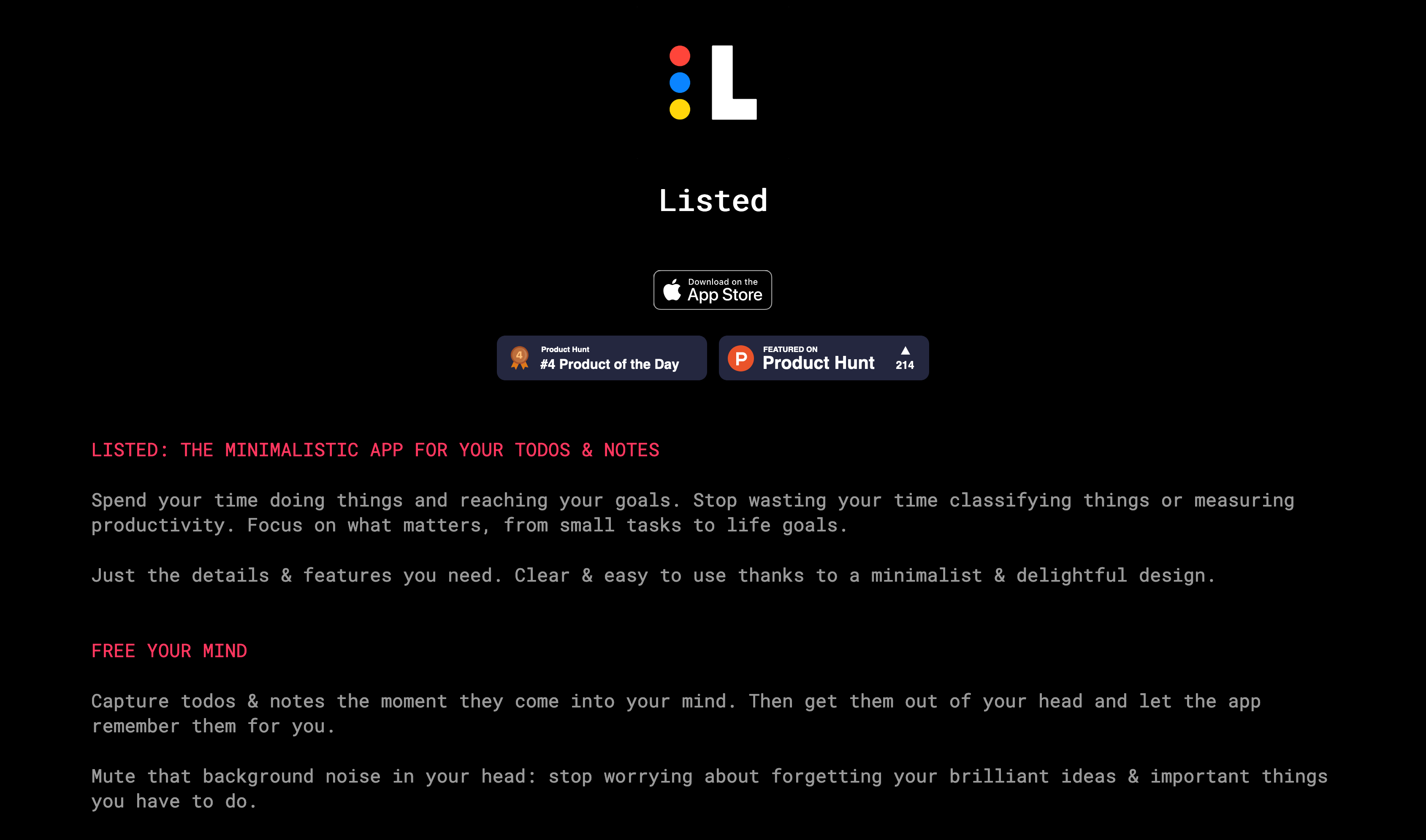 Nowadays task management and note-taking tools can sometimes feel overwhelming, as you will probably find yourself spending loads of time on structuring, organising, and classifying things and elements, instead of actually getting your work done. Being productive does not come down to building a full-fledged productivity system or workflow within a tool. Ultimately, what really counts is the fact of getting the things on your list done, that is the reason you are keeping track of them. Listed is an app that wants to help you to focus on what matters, no matter if you want to keep track of small tasks or life goals.
Listed is a minimalistic app for your todos and notes. At the core, Listed is very barebones, as it only includes the features you really need. So, you will always have a clear and lucid image of your tasks and notes, thanks to Listed's minimal and delightful design. Listed does not feature folders, tags, or lists. All you have to do is to capture todos and notes the moment they come into your mind. Listed will remember them for you so you can get them out of your head. Listed follows the approach of preventing you to spend and wasting your time classifying the things you jot down. Loads of us probably were already in the situation in which we spent way more time setting up a system within a tool instead of actually getting things done. Listed creates a dedicated space for things you want to keep track of, without having to think where to put it, how to tag it, or anything else, just jot it down and it is there.
Listed is available for iOS and feature intuitive gesture features just like swiping an item to the left to mark it as done, or swiping an item to the right to reschedule it for another day. Listed has also a strong privacy focus. Everything you put into Listed stays on your device. No data gets collected or shared with any third parties. There is even no signup and no ads. The app is fast and native, developed 100% with SwiftUI, without any external framework. François Goldgewicht, the maker behind Listed, did an awesome job in developing this beautiful piece of software.
---
Useful Resource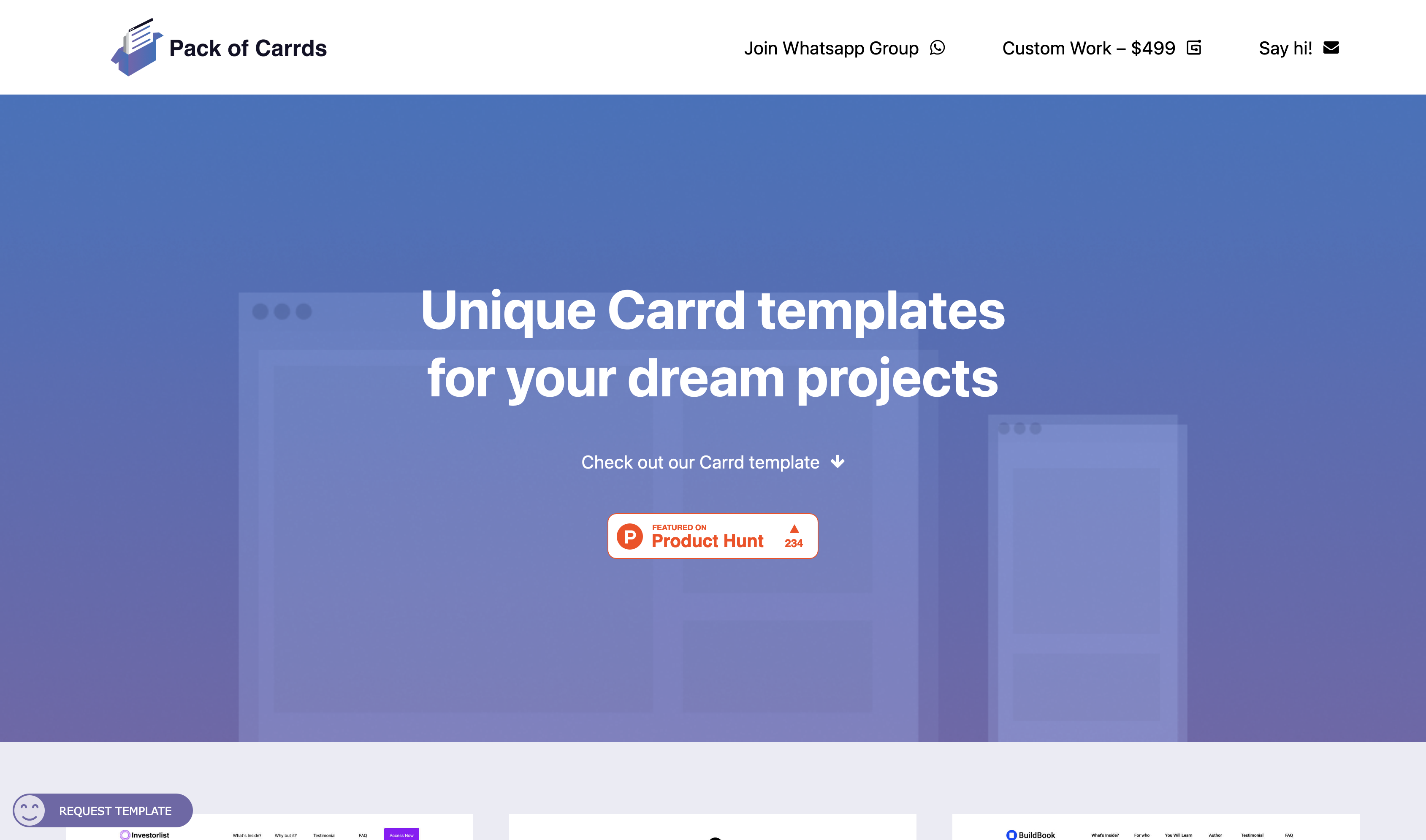 Avid Creativerly readers will know that I created the very first version of Creativerly's landing page with Carrd*, a powerful, easy-to-use and versatile website builder. If you want to cut the time it takes to build effective and beautiful landing pages, you should definitely check out Pack Of Carrds, a superb resource and library full of professionally designed, high-converting, and affordable templates for Carrd. No matter if you are looking for a product or eBook landing page, personal website, or coming soon templates, Pack Of Carrds got you covered.
Head over to Pack Of Carrds and browse through their library of Carrd templates. All templates can be previewed with a one-click demo.
---
Mental Wealth
➢ The Art of Listening – "Many of us probably have a nagging feeling that we don't listen enough to other people. Here we're not going to make the guilt worse by telling you that listening is a good thing, worthy but in fact rather dull. We're going to show you that listening to others is first and foremost an interesting thing to do, something that could be as pleasurable for you as it is for your speaking companion."
➢ Can "Distraction-Free" Devices Change the Way We Write? – "For a long time, I believed that my only hope of becoming a professional writer was to find the perfect tool. A few months into my career as a book critic, I'd already run up against the limits of my productivity, and, like many others before me, I pinned the blame on Microsoft Word. Each time I opened a draft, I seemed to lose my bearings, scrolling from top to bottom and alighting on far-flung sentences at random. I found and replaced, wrote and rewrote; the program made fiddling easy and finishing next to impossible."
➢ A Summary of Growth and Fixed Mindsets – "Carol Dweck studies human motivation. She spends her days diving into why people succeed (or don't) and what's within our control to foster success. Her theory of the two mindsets and the difference they make in outcomes is incredibly powerful. As she describes it: "My work bridges developmental psychology, social psychology, and personality psychology, and examines the self-conceptions (or mindsets) people use to structure the self and guide their behavior. My research looks at the origins of these mindsets, their role in motivation and self-regulation, and their impact on achievement and interpersonal processes." Her inquiry into our beliefs is synthesized in Mindset: The New Psychology of Success. The book takes us on a journey into how our conscious and unconscious thoughts affect us and how something as simple as wording can have a powerful impact on our ability to improve."
➢ Iterate. Iterate. Iterate. – "This weekend I caught up with a founder to check in on the progress of her startup. It's been a few months since I caught up with her last and the product has come a long way in the detail and polish. It wasn't like that when we first met. The product was rough on the design side and needed some love. However, it was real, functional, and allowed a conversation to improve. It was clear the team has been iterating on a new feature but a lot of polish and iteration—super impressive. Iteration is the repetition of a process in order to generate a sequence of outcomes. This can be confused with divergent design, but it's different. Iteration focuses on repetition which evolves in the final solution."
---
Classifieds
If you are interested in putting your tool, product, or resource in front of over 1300 creative minds, consider advertising in Creativerly and book a sponsor or classified ad spot. Find all the important information at creativerly.com/advertise.
---
Appendix
➢ ICYMI
If you want to put your product in front of over 1300 creative minds with a high interest in creativity and productivity-boosting tools and resource, you can now book a sponsor or classified ad spot within Creativerly. New sponsor slots and classified ad spots for January, February, and March are available now. Head over to creativerly.com/advertise for more information. If you want to book a spot, message me at advertise[at][creativerly.com](http://creativerly.com).
➢ Featured Newsletter
If you are interested in the intersection of UX - Tech - Mindfulness - Digital Wellness, then this week's featured newsletter is definitely of interest to you. "This Too Shall Grow" is a one-person mindful UX studio and digital wellness consultancy founded by Clo S. who has been working in the field of web project management, UX Design, UX Research, and tech in general for over 6 years. She now offers workshops, consulting, and coaching. With her digital wellness newsletter, she sends out a carefully crafted email packed with the best resources, tools, and tips on mindful UX, digital wellness, mental health, and privacy, every two weeks. I am subscribed to her newsletter for a couple of months now, and it quickly became one of my absolute favorite reads, I am always looking forward to receiving it in my inbox. Clo does not only write an outstanding and thoughtful newsletter, she also captures her thoughts and suggestions on bespoke topics on her blog. Recent posts included topics like "How to Make your Email Inbox Calmer" or "What Designers can do about Internet Addiction". Head over to thistooshallgrow.com/newsletter and make sure to subscribe, I can not recommend this newsletter enough.
➢ Quick Bits
---
Twitter thoughts
---
Till next time! 👋‌‌‌‌
Support: Do you have a friend who is looking for inspiration, news about design, and useful tools and apps? Forward this newsletter to a friend or simply share this issue and show some support. You can also show some love by simply clicking the button down below and keep this newsletter a sustainable side-project by buying me a coffee. ☕️ 🥰
---
---
Some of the links in my newsletter and my blog posts are affiliate links. Those links are marked by an asterisk "*". If you buy something through the link, the product will not cost you anything more, but I will receive a small commission which not only supports Creativerly and my work but also helps me to keep this publication a sustainable side-project.*