Newsletter
Fly through your work & Accomplish more every day
In this week's issue of Creativerly: Write it down - get it down, one magic shortcut that does it all, on self-assertation, and a lot more.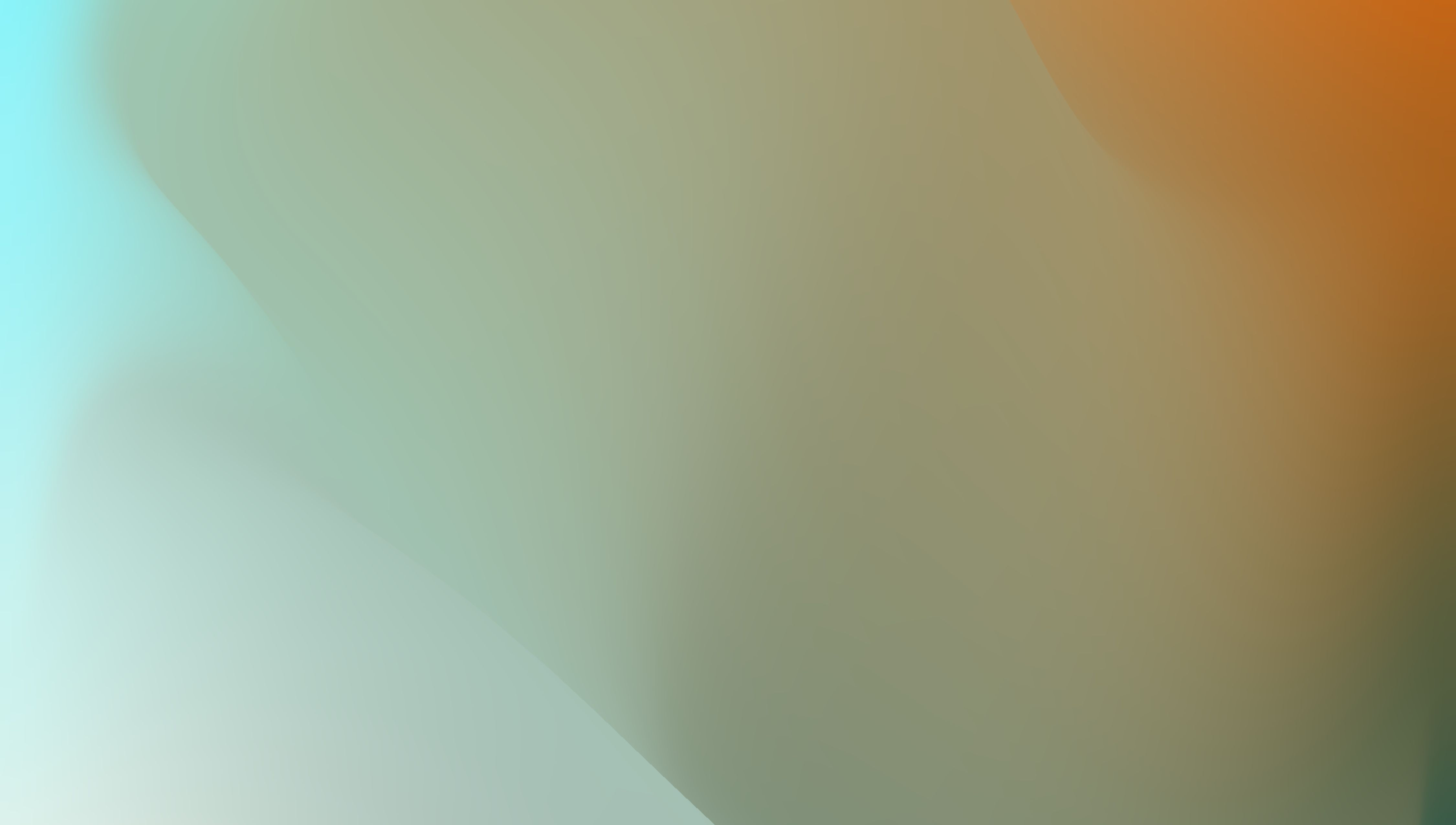 You are reading Creativerly, the weekly digest about creativity and productivity-boosting tools and resources, combined with useful insights, articles, and findings from the fields of design and tech. The newsletter built for the creative community.
---
Hey and welcome to issue 131 👋
This week I am happy to introduce you to a new content section that is coming to Creativerly as part of Creativerly's blog. As most of you know, I love to write about tools. Therefore, from now on I will do deep dives on certain creativity and productivity-boosting tools, which means I will showcase them, write about their features, highlight what I love, but also gather some thoughts on things they could improve on. Besides that, I want to focus on tools that might be on the rise and not all of you already know. If you have some recommendations or if there are any specific tools you want me to write about, you know the process, send me an email, simply reply to this newsletter, or send me a DM on Twitter, I would love to read about your recommendations.
To kick this new series off, I decided to give you an in-depth view of Morgen*, the calendar tool aiming to help you make the most out of your time. I have recently featured Morgen within Creativerly, and I immediately got excited about the tool, as I am still looking for the right calendar tool to fit my workflow.
Within the blog post, you will find out about all the amazing features of Morgen, the one crucial features that excited me the most, and also some thoughts and feedback about what I love to see within Morgen in the future. I am planning to do those kinds of deep dives on different tools more regularly now, as I really enjoy writing them.
As always, I am super curious to hear your thoughts and feedback about the post, and if you decide to give Morgen a try, make sure to read the post until the end as you will find a little special only available for Creativerly readers there.
You can find the blog post right here.
If you have recommendations or feedback, drop me an email or a tweet. For now, enjoy the newsletter!  🥰
---
Apps, Software, Tools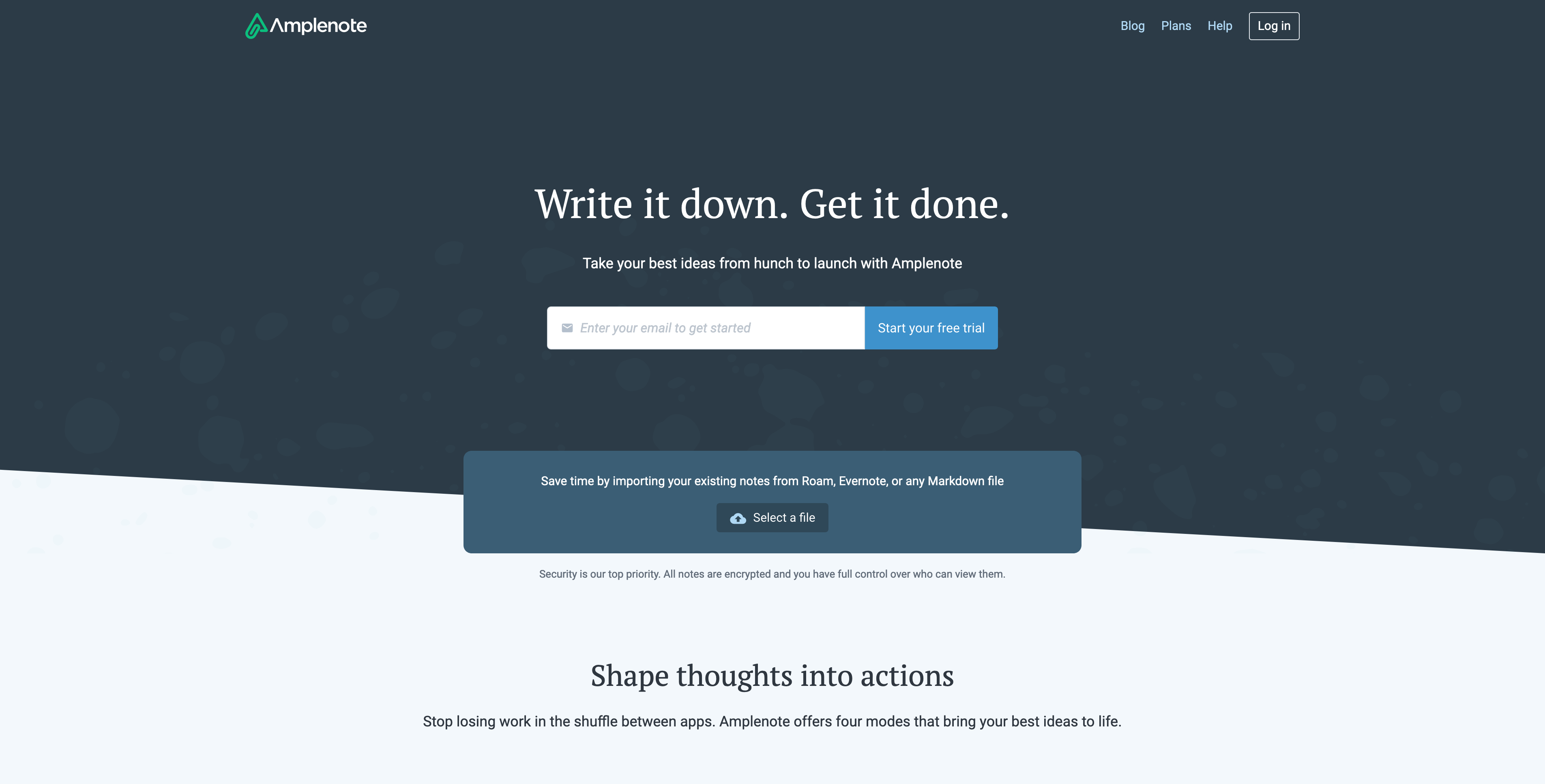 Amplenote is a lovely note-taking app, that offers features which extend the app to task and project management. At the core, Amplenote offers four modes: Jots, Notes, Tasks, and Calendar. Jots can be compared to daily notes just like in Roam, Obsidian, or Logseq. Use Jots to log your daily activity, capture thoughts, ideas, and inspiration, and simply jot down whatever you want to keep track of. People who are used to bullet journaling will love the ability to do this digitally too.
The Notes mode is the place to go to connect and refine your ideas which you previously jotted down within your daily notes. Amplenote also features bi-directional linking and the ability to build up your knowledge graph, so if you decide to switch from Roam or Obsidian to Amplenote you do not have to worry that your notes might get broken. Besides that, Amplenote has a first-class exporter which ensures that you and your notes are not locked in within their system, so whenever you decide to leave Amplenote you can export all your notes to different formats and import them to your new tool of choice. The next mode of Amplenote is Tasks.
I really like the idea of separating those within your note-taking tool. If you are using Roam or Logseq as your preferred note-taking tool, your to-dos will most likely sit within your daily notes or within other notes not visibly in first place. With Amplenote, you can keep track of all your tasks, and still connect them to the dedicated notes. The fourth and last mode of Amplenote is the Calendar. The calendar makes it incredibly easy to drag-and-drop tasks into a schedule, so you can keep track of those on a dedicated timeline. This is a very cool idea, and I never saw something comparable within a dedicated note-taking app. Besides all those great features, Amplenote is also a security-first app. They offer two-factor authentication, and your notes are all end-to-end encrypted.
Notes stored within your vault can even are even safer with a password-encrypted token, so you are the only person who has access to it. Amplenote is also available cross-platform, which means they have apps for iOS, Android, macOS, Windows, Linux, and are also available on the web. There is even a Chrome Extension, and a Firefox extension which is coming soon.
The basic plan of Amplenote will cost you $5.84 per month (if billed annually), the Pro plan comes in at $10 per month (if billed annually) and features bigger storage for attachments, vault notes, and the ability to publish notes as web pages, and the Founder Plan will cost you $20 per month (if billed annually) and will give you added to everything included in basic and Pro, early access to new features and priority voting on their feature roadmap.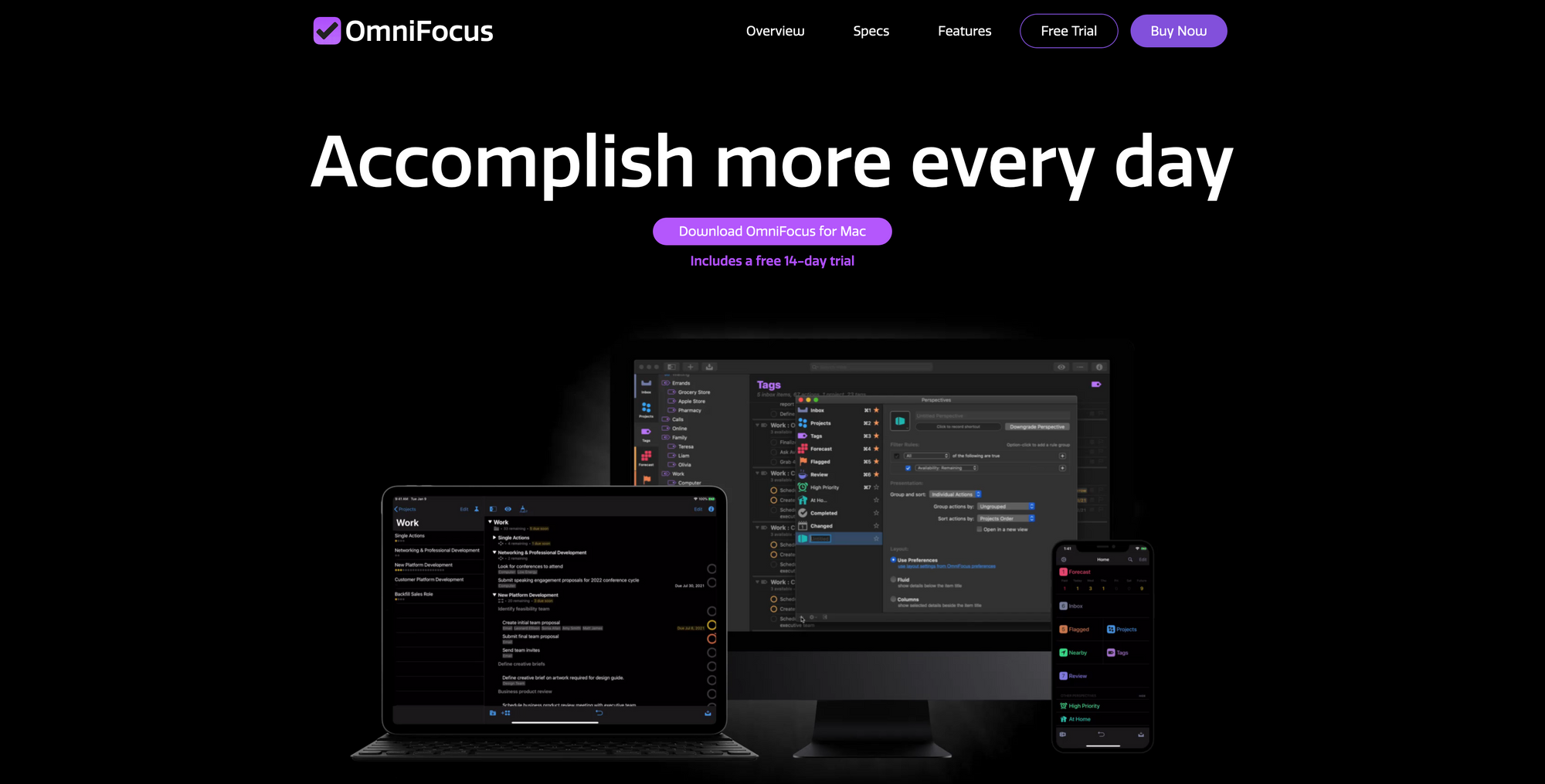 OmniFocus might be nothing new to most of you, as The Omni Group, the company behind Omnifocus, and other productivity tools like Omnioutliner or Omiplan, is already making productivity software for quite some time. Therefore, I thought that OmniFocus definitely needs a place within Creativerly and should get featured.
OmniFocus is a powerful task manager (only available for Apple products, sorry Android and Windows folks), with features and functionalities to tame the chaos, structure your tasks and to-dos, and focus on what matters so you get your stuff done. It happens quite a lot to me, that there are random tasks popping into my mind, that I quickly want to jot down as they do not need to be tackled straight away but I still want to keep track of them.
OmniFocus acts as a second brain, making it super easy to capture all your tasks and allowing you to organize them in a powerful system. Add all the tasks that come to your mind straight to your inbox, you can always manage, structure, and organize them at a later point. With OmniFocus you always see the big picture. OmniFocus offers different ways of structuring and organizing all your tasks, you can use projects, tagging, and due dates to quickly layout your week. There is also the so-called "Forecast" view which gives you a great overview of what is coming up next.
There is one feature of OmniFocus that really excites me and it is called Review. Every week you will receive a review of everything that happened over the last week, so you can stay up to date and can be sure that nothing important slips through.
OmniFocus is available on iOS, macOS, and iPadOS, the Pro version will cost you $99.99 as a traditional license, and the subscription will cost you $9.99 per month.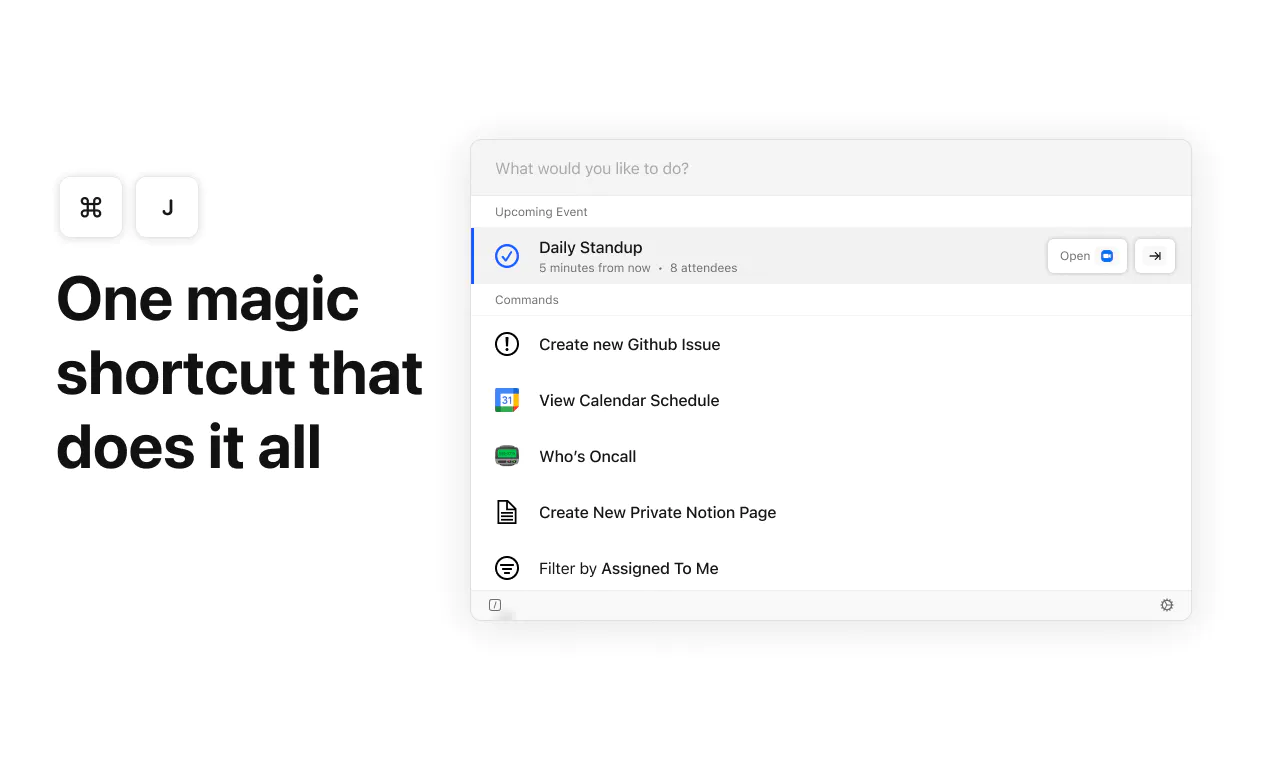 I am a huge fan of Command Bars to quickly access apps, find folders and documents, and simply execute any actions without leaving my hands from the keyboard. When I got my first Macbook I immediately started to use the Spotlight to quickly perform any actions right from my keyboard. Then I found out about Alfred, which basically is Spotlight on steroids. Alfred is the one app, I immediately install on every Mac I use.
Currently, I am testing a new tool that recently got featured in Creativerly, called Raycast. Last week I found out about yet another new command bar tool, this time it comes from the folks from Slapdash, and it has a little twist to it. At the core, Slapdash' command bar works like Spotlight on Mac, except it is focused on your cloud apps, features full programmability, and is designed to boost your workflow. There is only one shortcut you have to remember, and that is Command + J.
Command Bar seamlessly integrates with your Calendar, so you launch your next meeting blazingly fast or simply take a quick peek at your calendar. If you want to quickly open a document or start writing a new one, Slapdash provides you with insane speed in doing so. Also, if you want to open a specific Notion document, simply type in the name and open it (the Notion document will open within the desktop app). But it does not stop there.
Slapdash' command bar also features an enhanced clipboard, so you can search your whole clipboard history or create snippets to paste into any app. Besides that, Slapdash also does what Spotlight can, so you can execute maths operations, units conversions, simply launch apps, or open the preference panels.
On top of that, Slapdash is also secure by default, since your data is encrypted, isolated, and not visible to the company. You can use Slapdash completely for free (with some limitations), the Pro plan will cost you $12 per month, there is also a Team license available.
I am using Firefox as my preferred browser for the longest time now. But, I always get excited when I find out about creative folks who try to reimagine the browser as we know but also the way they work within the browser.
SigmaOS is a perfect example of that. SigmaOS is specifically designed to make you faster and better at working on the web. Within SigmaOS you can organize all your work within workspaces. Your pages and web apps which you use constantly can then be organized by project. I am a huge fan of their Split Screen feature. When I am drafting a new newsletter issue, I am always working across different pages.
Having the possibility to display two active pages at the same time within the browser I am currently working in is a huge advantage for me. If you are using SigmaOS at work, you can collaborate seamlessly with your colleagues. It works blazingly fast to simply send any page to your colleagues and friends, right into their browser. SigmaOS was also designed as a keyboard-first experience. Therefore, you can literally do everything from your keyboard, so your hands do not need to leave the keyboard.
Additionally, all your workspaces, projects, and pages get synced across all your devices, so you can pick up your work from anywhere. SigmaOS is also privacy-focused, as they will never monetize your data since SigmaOS is a paid product. I was not able to find out what the ultimate pricing will be, a reason for that might be that the product is still in beta for now, but I am not sure about that.
---
Useful Resource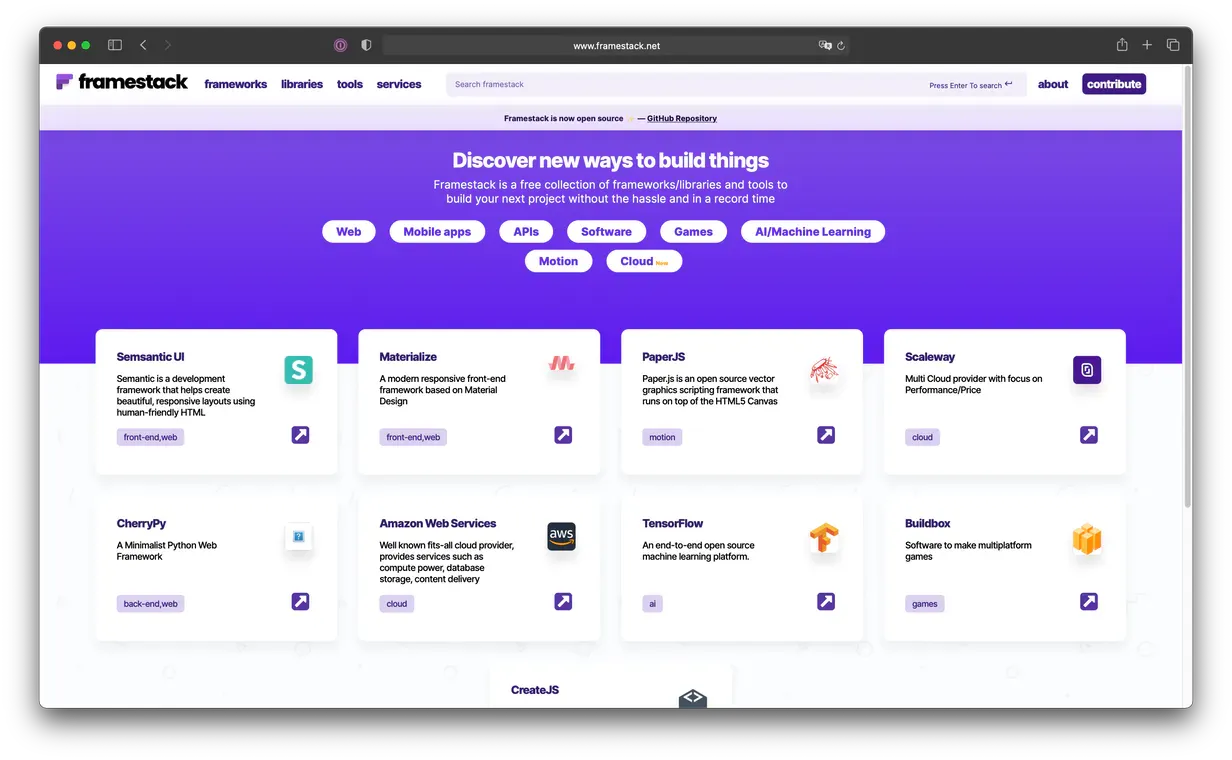 Framestack is a lovely open-source resource and collection of frameworks, libraries, and tools to kickstart your next project. Within Framestack you will find different categories to filter down your search. No matter if you are looking for resources or tools for web, mobile, APIs, Motion, Machine Learning, or Games, Framestack got you covered showcasing amazing frameworks and tools which will surely help you get started with your next project. Since Framestack is open source you can also contribute to the project by adding more frameworks, libraries, or tools.
---
Mental Wealth
➢ On Self-Assertion – "One of the reasons why our lives are harder than they might be is that most of us have not got a firm handle on the art of mature self-assertion; that is, the ability to put forward our interests in the face of contention in a way that comes across as credible, dignified, serene and effective. We are daily confronted by challenges to our positions that would require us to find a voice: a partner who subtly denies us affection; a colleague who malignly undermines our proposals; a parent who treads on our aspirations. And in response, we tend to behave in two equally unfortunate ways."
➢ Emotional exhaustion: a leading indicator of burnout – "The modern world operates in such a way that we all face a torrent of stressors throughout the day, at work and outside of work. Unfortunately, this means some of us live in a constant state of stress, which can lead to emotional, mental, and physical exhaustion. Emotional exhaustion is one of the most invisible and insidious of the three states of exhaustion, and is considered one of the leading indicators of imminent burnout. So how can we identify it and deal with it?"
➢ The three-or-four-hours rule for getting creative work done – "There aren't many hard-and-fast rules of time management that apply to everyone, always, regardless of situation or personality (which is why I tend to emphasise general principles instead). But I think there might be one: you almost certainly can't consistently do the kind of work that demands serious mental focus for more than about three or four hours a day."
➢ How Twitter can ruin a life – ""In a war zone, it is not safe to be unknown. Unknown travelers are shot on sight," says Isabel Fall. "The fact that Isabel Fall was an unknown led to her death." Isabel Fall isn't dead. There is a person who wrote under that name alive on the planet right now, someone who published a critically acclaimed, award-nominated short story. If she wanted to publish again, she surely could. Isabel Fall is a ghost nonetheless. In January 2020, not long after her short story "I Sexually Identify as an Attack Helicopter" was published in the online science fiction magazine Clarkesworld, Fall asked her editor to take the story down, and then checked into a psychiatric ward for thoughts of self-harm and suicide."
---
Appendix
➢ ICYMI
Twitter recently rolled out an update to all platforms featuring some new design and accessibility changes. The most significant change might be the fact that Twitter is now using their Chirp font, which got developed together with Grilli Type, as their new product font for Twitter's interfaces. Did you recognise the changes? If so, how do like the new font?
➢ Quick Bits
The child safety debate intensifies / A popular keyboard for blind iPhone users shuts down after Apple rejections / OnlyFans is banning X-rated content, abandoning the sex workers who made the platform popular / Why Jeff Bezos and Blue Origin are suing NASA / Adobe acquires collaborative video editing platform 'Frame․io' for $1.3 billion / Apple photo-scanning plan faces global backlash from 90 rights groups / 40 million T-Mobile customers hit by US data breach / Google gave phone makers extra money to ditch third-party app stores
---
Twitter thoughts
---
Till next time! 👋‌‌‌‌
Support: Do you have a friend who is looking for inspiration, news about design, and useful tools and apps? Forward this newsletter to a friend or simply share this issue and show some support. You can also show some love by simply clicking the button down below and keep this newsletter a sustainable side-project by buying me a coffee. ☕️ 🥰
---
Some of the links in my newsletter and my blog posts are affiliate links. Those links are marked by an asterisk "*". If you buy something through the link, the product will not cost you anything more, but I will receive a small commission which not only supports Creativerly and my work but also helps me to keep this publication a sustainable side-project.