Newsletter
How to fix the internet & Design and build beautiful websites
Priority access to Napkin's mobile beta, simple to-do lists are powerful, motivation vs. discipline, and a lot more in this week's issue of Creativerly.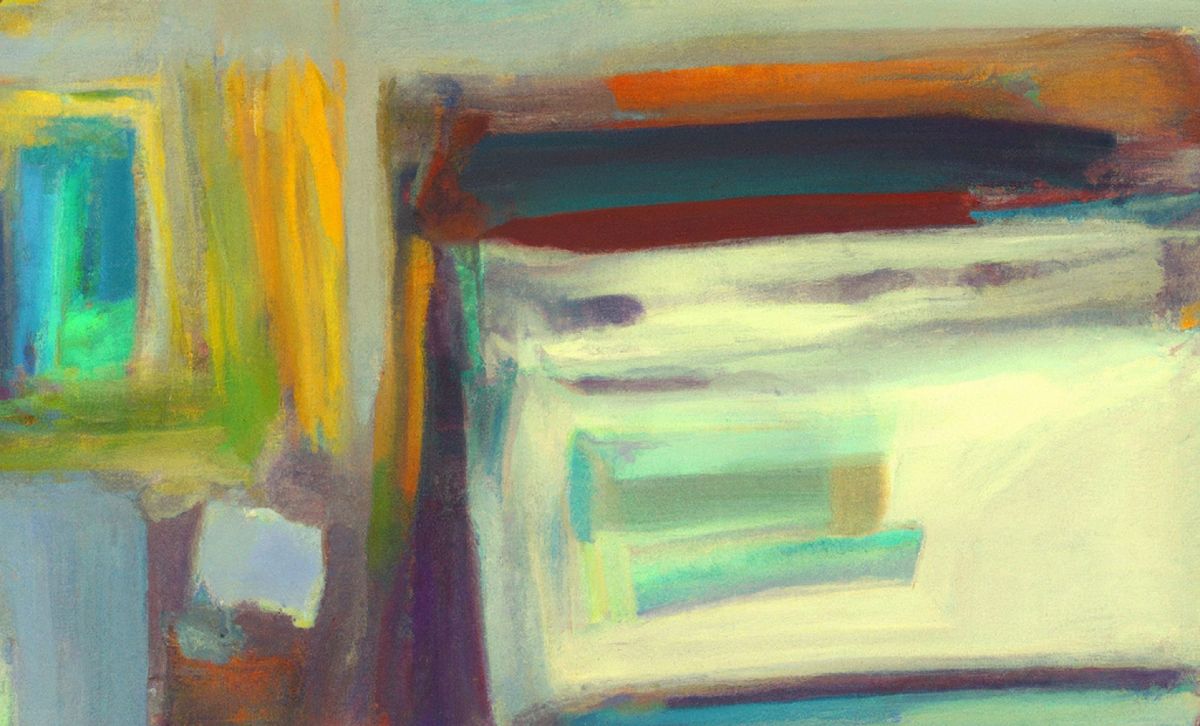 My name is Philipp and you are reading Creativerly, the weekly digest about creativity and productivity-boosting tools and resources, combined with useful insights, articles, and findings from the fields of design and tech. The newsletter built for the creative community.
This newsletter is brought to you by
Napkin
, the first app for intentional collection and mindful reflection on ideas. It magically connects them by topic, and curates flows of your ideas and insights, ensuring they remain fresh and continue to inspire you daily.
Napkin is almost ready for the big launch, but Creativerly subscribers get priority access to the Napkin Beta, read on.
---
Hey and welcome to Creativerly 244 👋
In last week's issue of Creativerly I wrote down my thoughts on the topic of simplicity regarding today's note-taking, knowledge management, and productivity apps. It seems like, the short write up struck a nerve for loads of readers as I received numerous emails and notifications from people who agreed with my point but also experienced the same trend, going for simplicity again. While the short write up included my most recent and important thoughts, I had the feeling that I could write a whole blog post about that topic. And I will probably do exactly that.
Suddenly, I got reminded how big of an opportunity the intro section of my newsletter is. It is a great opportunity for repurposing and distributing content, content that I have already written, that could get easily extended to long-form posts, content that could lead to even more ideas. In the past, I often struggled with repurposing and distributing content, since I simply wasn't sure about the how's and where's. But the excitement for my most recent intro section motivated me to go through some past issues of the newsletter to search for interesting topics and write ups that could be turned into long-form content.
Additionally, I decided to go through Steph Smith's incredible book "Doing Content Right"* again, since it features a whole chapter about the topic of distributing the content your create, but also teaches how discover opportunities regarding repurposing the content for different platforms.
I really appreciate the support of my readers, who shared the recent newsletter across different platforms, but it warms my heart even more when I receive emails which are saying that my write up about simplicity led to them writing their own piece about that topic. Being an inspiration for other creative minds is a lovely and rewarding feeling. I will try my best to continuously create great content. I love writing, and I love it even more when I see that people enjoy reading what I am writing.
---
Apps, Software, Tools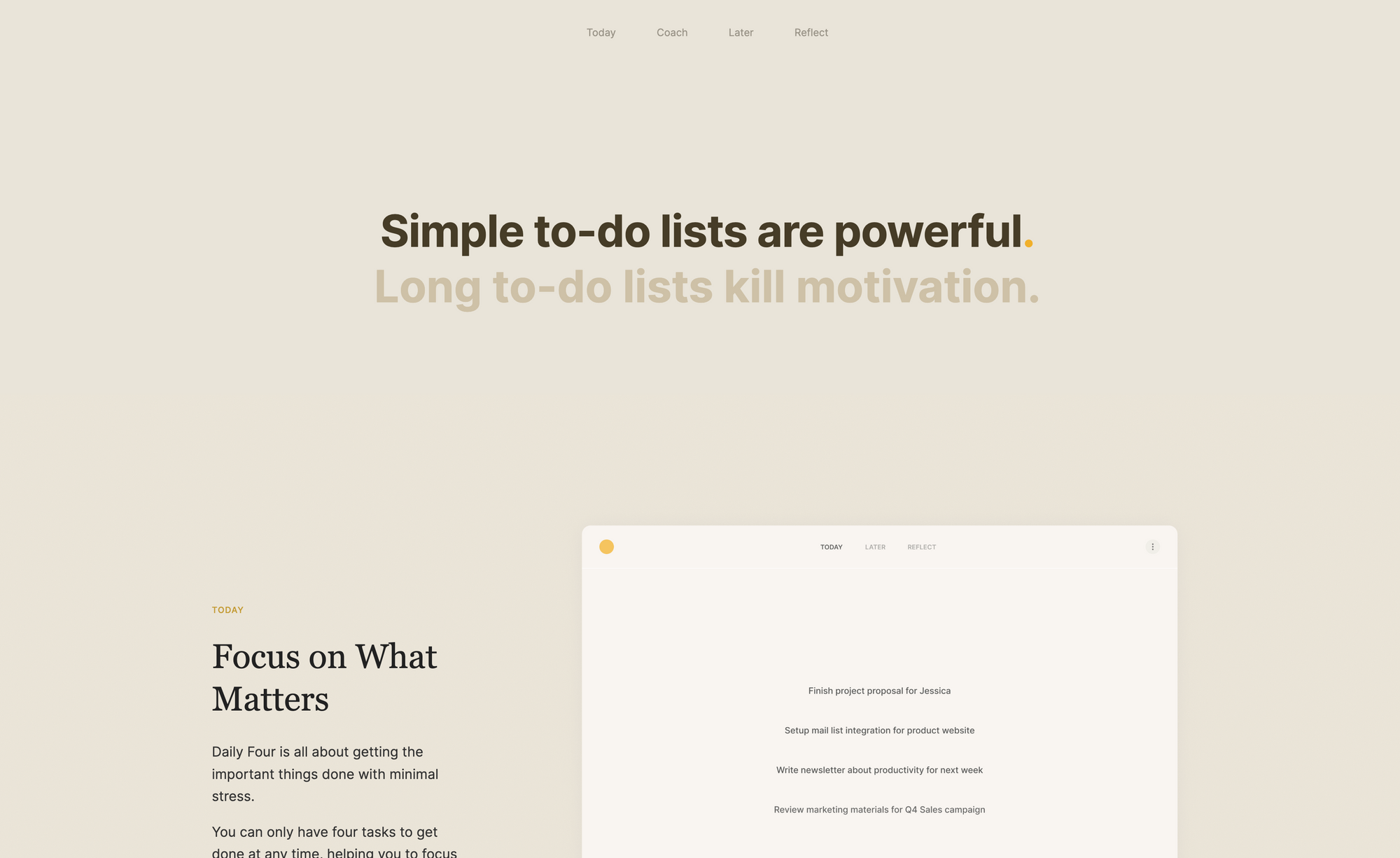 People are obsessed with task management apps. There are people who are that much obsessed with task management apps, that they write down tasks that have already been completed just for the satisfaction of checking them off. It is a behavioural tactic that some individuals use for a motivational boost or at least experience as such. It can be a useful psychological trick to enhance productivity by creating a sense of progress, even if some tasks are minor or have already been finished. On the other hand, people also love to write down tasks in general, everything is a task, everything gets turned into a checkbox. Chances are high, that you will only get done a small percentage of the tasks on your lists, as it will grow continuously over time.
"Simple to-do lists are powerful. Long to-do lists kill motivation." Those are the two sentences you get presented with if you head over to Daily Four's website, a simple, minimal, and lightweight task management app. The goal of Daily Four is to help getting the important things done with minimal stress and a clear focus on those tasks and nothing else that could possibly distract you and your productivity. With Daily Four you can only have four tasks to get done at any time. Those four tasks are the only one in focus helping you to focus only on them, only on what is important at that specific time. This dedicated view in Daily Four is called the "Today" view. I am highlighting the name of the view, since there are two additional views. Besides highlighting only the four most important tasks to work on next, Daily Four also features a so-called "Later" view. The Later view is the place where you can capture tasks that you do not need to get done right away, but are still important enough to keep track of. While working on different projects, priorities are always changing, which also means that tasks are naturally fading. Therefore, make sure to review your Later page daily, to decide on and maintain a workload that aligns with your goals.
The third view Daily Four is offering is called "Reflect". The Reflect view gives you access to a non-judgmental view of your productivity. It displays all your completed tasks grouped by week and month. By reflecting regularly or simply whenever you need a dose of perspective, the Reflect view helps you keeping your motivation by displaying what you already have achieved while working on your projects.
Besides that, Daily Four features an AI integration called "Coach" which is available at all times, has been trained on the latest productivity research, and includes everything that makes Daily Four great. As of writing this, Daily Four is in private beta. To get early access to you need to sign up for the waitlist on its website.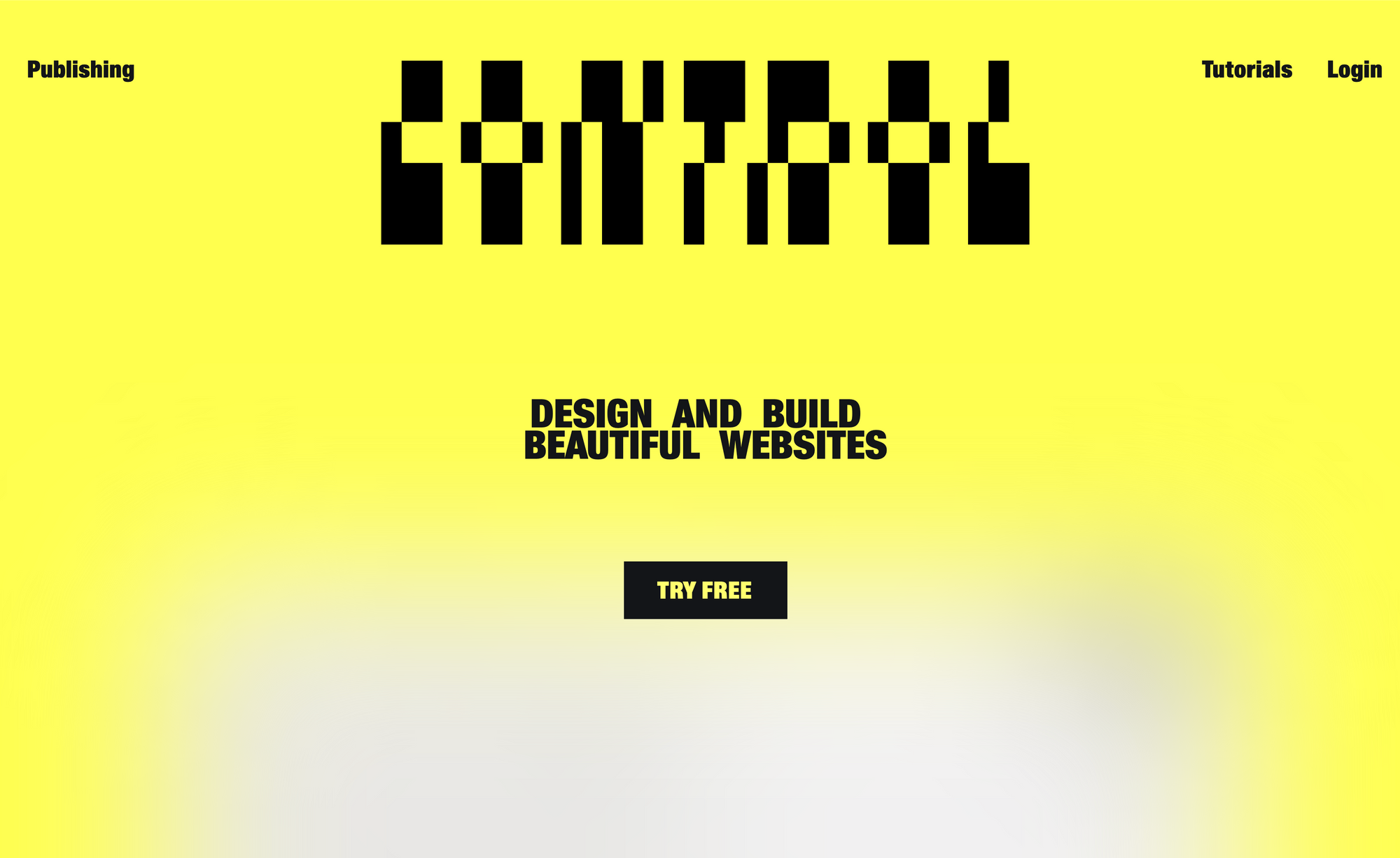 Webflow and as of recently, Framer became one of the most popular solutions to design and actually build a website incredibly fast. Recently, I started using Framer to build my new personal website, and from the very beginning of me exploring the app, I was amazed by the fact that I was not only designing but actually building my website. Within my social media bubble, it became clear that Webflow and Framer are dominating the market right now. Therefore, I was more than surprised when I stumbled across Control, a new contender in the space of web design tools.
Control is a tool that gives everyone the possibility to design and build beautiful websites with ease. No matter if you want to build a website for yourself and for one of your clients, Control gives you the creative freedom to start from scratch. At any stage you can share your work with your client or art-director. If there is the need to collaborate, you can totally do so and make edits on the go. Once you are done with your design, all you need to do is hit "Publish" and your website is live. Additionally, Control gives you the possibility to go beyond static layouts and websites thanks to a built-in animation engine. With just a few clicks, you can create beautiful and modern scroll and hover effects. Zero translation efforts needed. Control features a beautiful interface that is unobtrusive and puts the spotlight solely on your design and your website, it is distraction-free and gives you access to all the important and powerful features with just a few clicks.
Control has been built for web professional and studios to bring back the spirit of craftsmanship the internet deserves. It is easy to get started with Control and start creating the websites you have dreamed of. The tool has a dedicated focus on typography, as it features type settings that newer editors are sorely missing. Thanks to its built-in animation engine you can create simple animations and preview them right within the editor. The perceptive color model Control is featuring lets you easily adjust lightness of your color without affecting the hue, adjust hue without affecting the lightness, and easily pick the richest saturation value for each hue.
Thanks to the autoscale feature, which currently supports four layouts, you can be sure that your websites scale. Control also states that an advanced layout/breakpoint range builder is coming in one of its next releases. With Gaussian and Background blur you can create lovely effects by using it as a property for scroll or hover based animations, or easily mix it with other properties to achieve unique effects. By fixing an element on your layout you can nail it down where you want it fixed and unfix it with a single click. Since Control is a headless tool, it allows you to run any project locally on your machine, enjoy out-of-the-box CI via Github integrations, and add custom components.
You can try Control completely for free.
---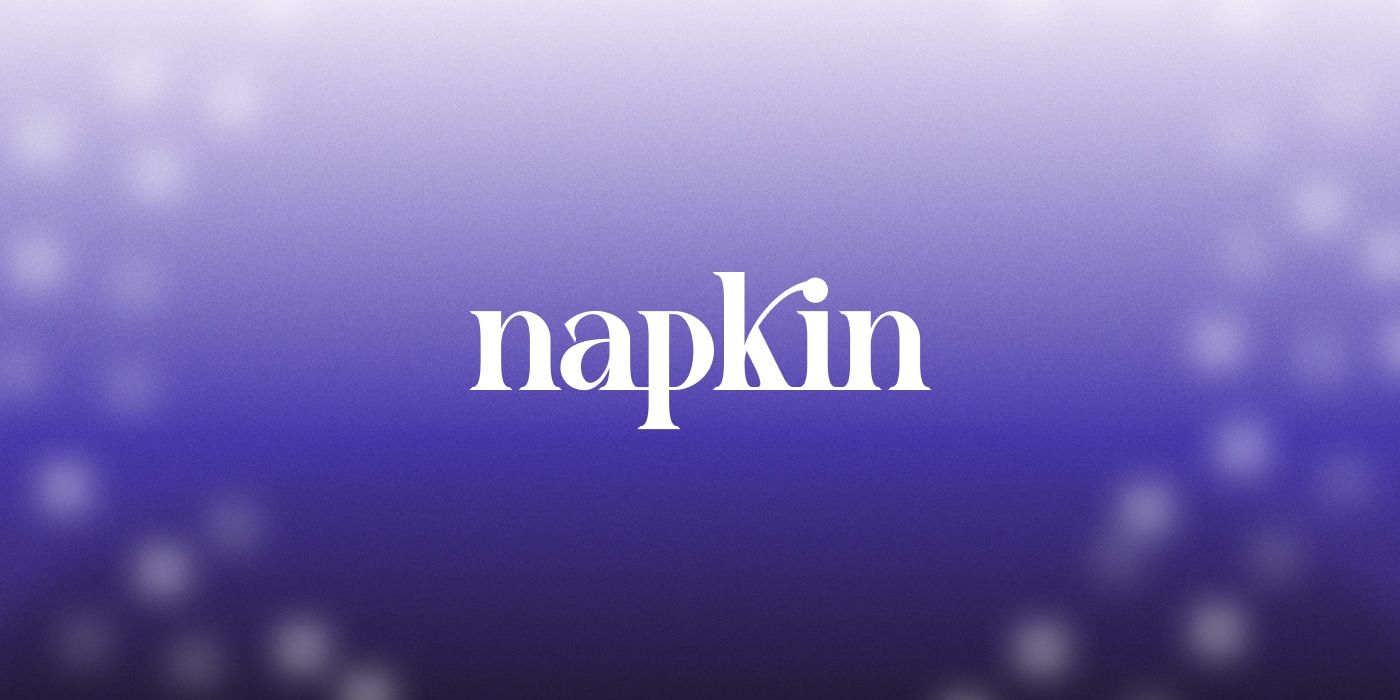 Ever let a great idea slip away?
With Napkin, that's a thing of the past. It's like having a digital extension of your mind, always ready to catch and cultivate your brightest thoughts. Napkin intelligently resurfaces ideas, stretching your memory to limitless bounds. I still remember when I experienced Napkin for the first time and was amazed by its idea, which also led to me writing
a deep dive
on the tool, its founders, features, and the workflows it gives me access to.
Napkin offers a system that reliably brings information from different sources together and present it inspiringly in a single space. With Napkin, you get a companion for the mission to explore novel solutions for better thinking. If you ever asked yourself how to be more inspired, how to leverage your ideas, how to close mental loops and get into a feeling of coherence, Napkin delivers the answers to those kind of questions.
While Napkin already offers a solid web app which extends your note-taking system with the power of capturing and connecting your ideas,
Napkin for iPhone is coming soon
. As of writing this, Napkin is onboarding pioneers to its mobile beta.
The best thing about it: Creativerly readers get priority access to get inspired and unlock new levers of creativity. Get early access to the most sophisticated thinking companion.
This is an affiliate link to support Creativerly. If you are interested in putting your tool, product, or resource in front of over 2000 creative minds, consider advertising in Creativerly and book a sponsor or classified ad spot. Find all the important information at creativerly.com/advertise.
---
Fresh Updates & News
Blocksurvey, the privacy-focused tool to create forms and surveys without invading your users' privacy, shipped a new update packed with improvements. This new update introduced survey and form creation powered by AI. Now you are able to create forms and surveys from a large block of text, a document, or a URL like an import directly from SurveyMonkey or a Google Form URL. Besides that, this new update introduces builder improvements, three new market research components, two new open ended components, a new integration, and a lot more.
Ulysses is one of the most-popular writing apps to create long-form content. In a recent email update, Ulysses shared insights into how they worked on being compatible with Apple's newest OS versions. Besides that, they announced that they silently launched a community site for writers, called The Draft. The Draft is a community to help you find inspiration, support, and the opportunity to connect with fellow writers who share the same passion.
The newest update to one of the best privacy-focused, if not even the best, browsers, Tor, introduced refreshed application icons, a new homepage, and bigger windows. Those three updates probably do not sound that exciting but the third one is without a doubt worth mentioning. Most tracking techniques rely on fingerprinting your browser's viewport, but Tor's new feature, bigger new windows, defeats exactly that. With the newest update, users can resize their browser windows without the fear of being fingerprinted by rounding the inner content window (sometimes referred to as the "viewport") down to multiples of 200 x 100 pixels.
In order to preserve these protections when opening new windows, Tor Browser overrides platform defaults and will instead select a size that conforms to our letterboxing steps up to a maximum of 1000 x 1000 pixels. However, while that may have been fine in the past, a max width of 1000px is no longer suitable for the modern web. For example, on many newer websites the first responsive break point lies somewhere in the range of 1000 – 1200px, meaning by default Tor Browser users would receive website menus and layouts intended for tablet and mobile devices. Alternatively, on certain websites, users would receive the desktop version but with the annoyance of a horizontal scroll bar instead. This, naturally, would lead to users of these websites needing to expand each new window manually before it's usable.
---
Mental Wealth
❯ How Hard Should I Push Myself? – 'How hard should I push myself? It's a question I ask myself a lot, and I bet you do, too. On the one hand I really want to push myself. I'm ambitious, and I want to leave it all out on the field. Some of my peak work moments have come when I've pushed myself to a place where I didn't think I could go. We all have more ability to adapt to stress and pressure than we think we do.'
❯ Avoiding Stupidity is Easier than Seeking Brilliance – 'Scientist and statistician Simon Ramo wrote a fascinating little book that few people have ever bothered to read: Extraordinary Tennis Ordinary Players. The book isn't fascinating because I love tennis. I don't. However, in the book Ramo identifies the crucial difference between the Winner's Game and a Loser's Game. Ramo believed that tennis could be subdivided into two games: the professionals and the rest of us.'
❯ How to fix the internet – 'We're in a very strange moment for the internet. We all know it's broken. That's not news. But there's something in the air—a vibe shift, a sense that things are about to change. For the first time in years, it feels as though something truly new and different might be happening with the way we communicate online. The stranglehold that the big social platforms have had on us for the last decade is weakening. The question is: What do we want to come next?'
❯ Motivation vs. Discipline: Which Helps You Go Further? – 'There is something wrong with our society. A fact I have been aware of ever since I realized the difference between motivation and discipline. While we are literally bathing in motivational slogans that promise to help us go outside our comfort zone. People fail to permanently change their condition because they are not disciplined enough to embrace the struggle associated with a life well lived.'
---
Do not miss out on this ...
❉ Experience the ultimate vector editor for macOS, iOS, and iPadOS. Get started with Amadine*.
❉ Think tasks, not apps. Setapp* is you one-stop subscription to solving every task on Mac and iPhone.
❉ Fathom is cookie-free, GDPR compliant, privacy-first website analytics software. Get $10 off your first invoice and a 7-day free trial when you use this link*.
These are paid promotions or affiliate links to support Creativerly. If you are interested in putting your tool, product, or resource in front of over 2000 creative minds, consider advertising in Creativerly and book a sponsor or classified ad spot. Find all the important information at creativerly.com/advertise.
---
Appendix
❯ ICYMI
If you are on the hunt for privacy-focused, open-source, and end-to-end encrypted productivity apps and tools, head over to ProductivePrivacy and browse through a packed directory full of apps that respect your privacy. No matter if you are looking for note-taking, task management, or project management apps, ProductivePrivacy got you covered.
❯ Quick Bits
---
We're inundated with information, but making sense of it is overwhelming. Amidst the noise, valuable ideas can be overlooked. Napkin changes how we think, resurfacing what truly matters. Cultivate a lifelong well of inspiration.

Step up on the ladder and grab early access by signing up for Napkin's waitlist.
Till next time! 👋‌‌‌‌
Support: Do you have a friend who is looking for inspiration, news about design, and useful tools and apps? Forward this newsletter to a friend or simply share this issue and show some support. You can also show some love by simply clicking the button down below and keep this newsletter a sustainable side-project by buying me a coffee. ☕️ 🥰
---
---
Some of the links in my newsletter and my blog posts are affiliate links. Those links are marked by an asterisk. If you buy something through the link, the product will not cost you anything more, but I will receive a small commission which not only supports Creativerly and my work but also helps me to keep this publication a sustainable side-project.
Creativerly is proudly published with Ghost*.