Newsletter
Liminal Creativity & The key to career progress
In this week's issue of Creativerly: The ultimate writing app for memos and articles, a habit tracker for celebrating daily goals, making PDFs easy, and a lot more.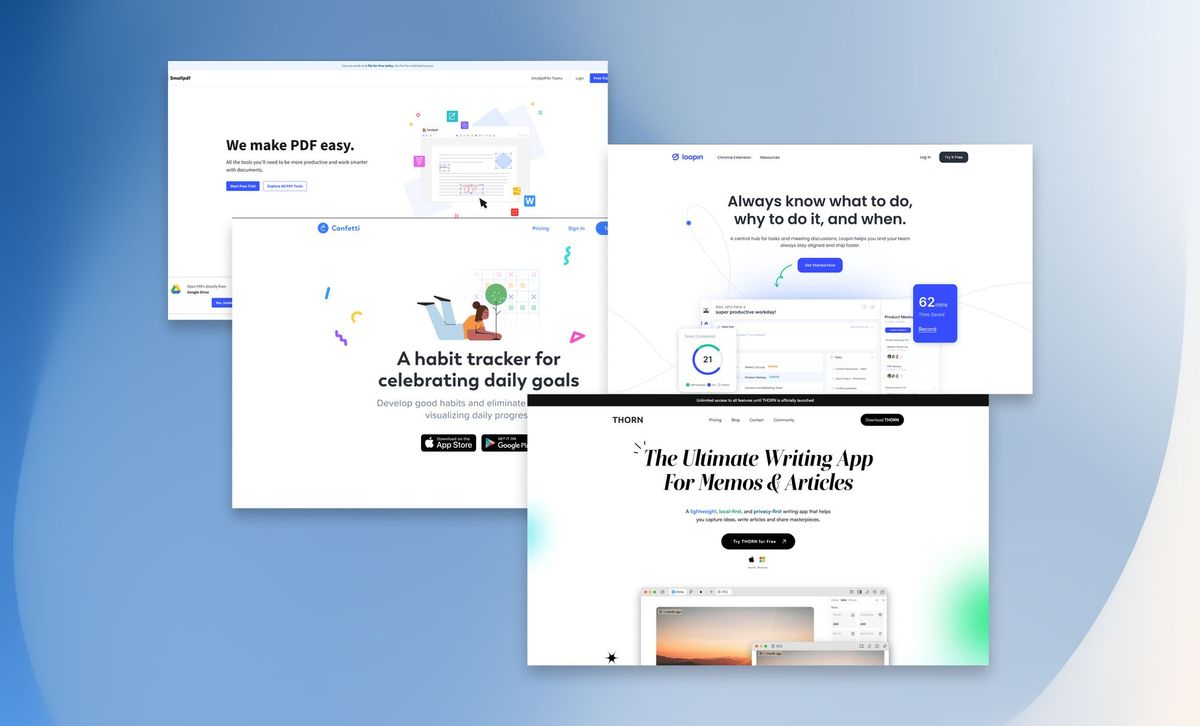 My name is Philippand you are readingCreativerly, the weekly digest about creativity and productivity-boosting tools and resources, combined with useful insights, articles, and findings from the fields of design and tech. The newsletter built for the creative community.
---
Hey and welcome to Creativerly 185 👋
Over the last week, I was overwhelmed by the great feedback for the introduction of my newest content section for Creativerly, Deep Dives, but also for the first post I published about Napkin. It is always a great feeling when a piece I deeply enjoyed writing is well-received by readers. Back when I received my first readers and kept growing an audience, I always thought I need to write about the things my readers want to read. The result of that was the fact, that I did not enjoy writing as much as I did before. I realised that I am not writing to gain more subscribers, more readers, and grow a bigger audience. I started writing because I simply enjoy putting down my thoughts and ideas, and share problems I am facing and how I found solutions for those problems.
When I started to write about the things I wanted and loved to write about, I was able to develop a writing habit. I fell in love with writing, and all of a sudden, my readers started to enjoy my writings even more, because it were authentic, personal, and honest posts.
One of the most concrete business advices, that says "Focus on solving a personal problem first" can directly be adapted to your writing process. Do not write for a mass audience, write for one person first, write for yourself, write about your personal problems and struggles, and how you solved them. If you want to start writing, write about what you are interested in, what you love, and what you are passionate about. The people who have the same interests and the same passions will find you and your writing, as long as you put yourself and your content out there. It is a great feeling when your writing gathers like-minded folks with the same interests and passions. And if those people enjoy your writing, based on the fact that you wrote about what you love, it is even more special.
Write about what you love, everything else does not matter.
Side-note: I just opened up the last advertising spots in Creativerly for this year. Classified and Sponsor spots are now available throughout Q4 of 2022. Creativerly is on route to cross 2000 subscribers. If you want to highlight your app, tool, resource, newsletter, or job offer in front of over 1900 designers, writers, indie hackers, solopreneurs, developers, VCs, and creative minds in general, head over to creativerly.com/advertise to get informed about advertising options within the newsletter and get in contact with me if there are any additional questions or if you would like to book an advertising spot. Recent sponsors of Creativerly have been companies like Refind, Clay, BlockSurvey, Walling, Maker Stations, For The Interested, Centered, and others.
---
Get smarter every day.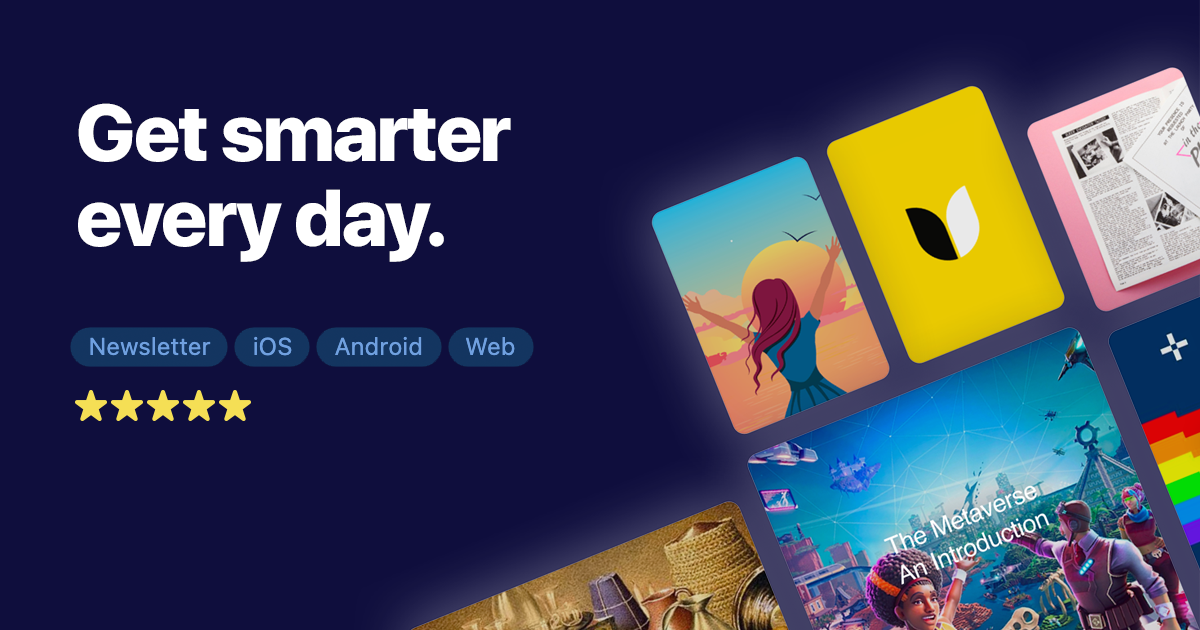 Every day Refind picks 7 links from around the web for you, tailored to your interests. Loved by 50k+ curious minds.
This is a sponsored message. If you also want to highlight your app, tool, resource, newsletter, job offer, in front of over 1900 creative minds, head over to creativerly.com/advertiseand get in contact.
---
Apps, Software, Tools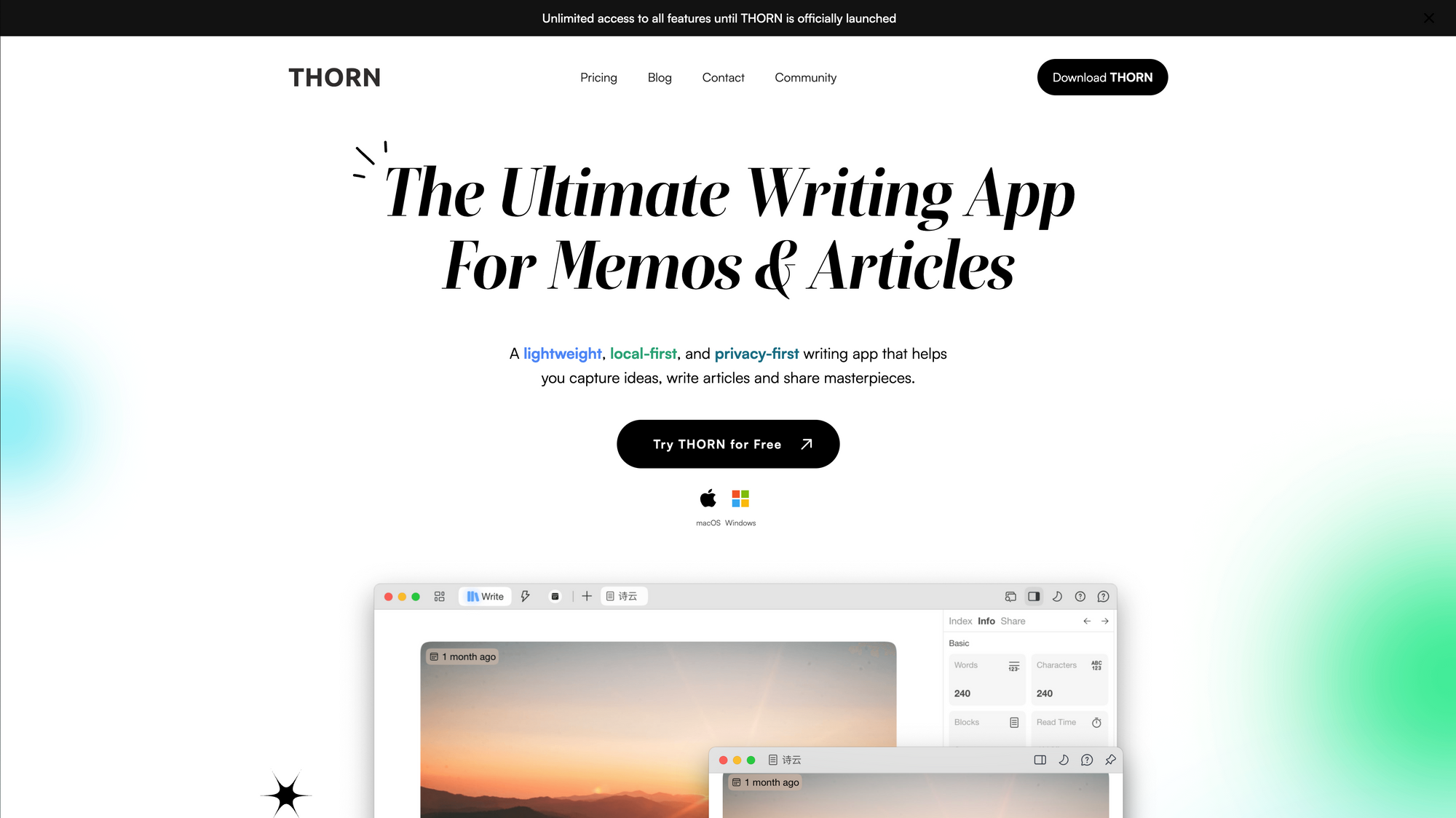 THORN is an interesting lightweight, local-first, and privacy-focused writing app, with a dedicated focus on writing memos and articles.
As popular note-taking and PKM tools Obsidian or Logseq, THORN follows a local-first approach, which means all your data is stored locally and will be available right away at any time, without the need for a network connection. THORN has a dedicated focus on delivering an app and an experience to create and write memos and articles. Memos can be short-form notes and bit of information. Since Memos within THORN are assigned with a date, you can also use it as a digital journal to create daily notes. The second focus point of THORN is creating and writing articles. It is powered by markdown which gives you the power to write and edit your text fast and simultaneously. Additionally, THORN features a powerful editor and a slash command menu. The command menu gives you direct access to insert commands like headings, blockquote, bullet lists, todo lists, code snippets, tables, images, but also shortcuts like exporting your writing to markdown, as a PDF or as an image.
To structure and organise your memos and articles, THORN lets you set up and create multi-level tags. On top of that, as a meta organisational layer, you can create up to five workspaces, and each workspace features its own memos and articles. While writing an article in THORN, you have access to a sidebar on the right of the app, which features an Index view that gives you an outline of your article. This is a lovely feature, since it lets you quickly jump back and forth and highlight certain sections in your Article. Especially if you are writing long-form content, you can always keep an overview of your writing with this outline view. The right sidebar also gives you insights like how many words you wrote, how many characters you used, or how long it takes your readers to read through the whole article. Besides that, the sidebar houses share options, to export the article to markdown, as a PDF or image, a TextBundle or Microsoft Word File.
According to THORN's website, among the upcoming features are things like bi-directional links to connect and link your memos and articles, article snapshots, creating secret links to share your articles with people who are not using THORN, personal sites to directly publish your articles to a website hosted by THORN, and the possibility to set up a membership program for your writing, allowing readers to directly pay you for your articles.
THORN is currently available for macOS and Windows, but it seems like additional platforms like Linux, and mobile operating systems will also be supported in the future. I used THORN on my Mac Mini, and the app fells incredible fast. The interface of THORN indeed has a modern approach, but there are certain kind of UI elements that feel a little bit unnatural to me. There are icons that do not trigger an action and it seems like they are for future features, which leaves me with the question why those icons are already in the live version of THORN. On top of that, I think that the overall navigation experience could be improved. There is the workspace view from which you can navigate to your memos or articles, there is a highlighted "Write" button in the menu bar with a constant active state which takes you to your articles or memos, depending on whether you have been writing a memo or an article beforehand, pressing on the button takes you to the writing interface, a left sidebar is hidden by default although it would probably makes sense to display it by default to give the user an idea of the different views within the app, if you select "Daily Memos" from that sidebar pressing a plus icon in the menu bar adds a new article instead of a memo. You need to spend some time with THORN to get used to the interface and certain actions. You can not compare the experience with other writing apps like iA Writer or Ulysses, which follow an approach that lets everyone simply open the app and start writing without any hassle.
I have the feeling that THORN tries to come up with design patterns that might feel new, exciting, and different at first, but it needs additional muscle memory to basically learn a new tool if you are coming from a different writing app. This is legitimate though. But I am asking myself if some of the newly design patterns within THORN actually improve the experience or are beneficial for the user. "The Ultimate Writing App" as THORN entitles itself, should not force it users to learn a new interface, when the focus relies on delivering a lightweight but still powerful interface to set up a clear and lucid writing space.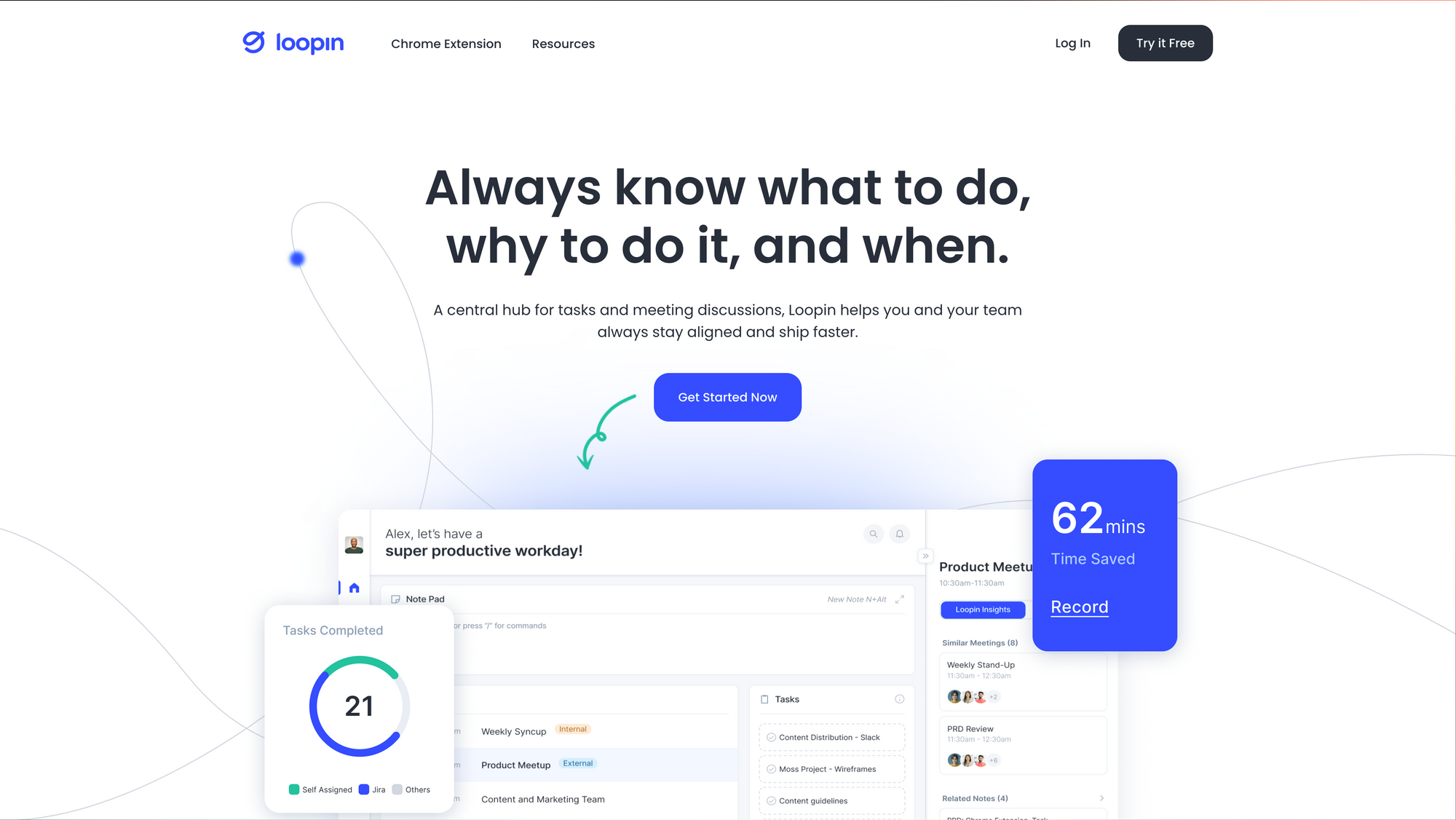 Besides numerous calendar and note-taking tools that have been launching recently, apps that lets you set up a central hub for tasks and meetings have also become increasingly popular. Loopin is such an app, looking to help you and your team to always stay aligned and ship faster.
At the core, Loopin is a calendar app but with its features it goes beyond just meetings. First and foremost, Loopin gives you the possibility to connect meeting notes and action items directly to your meetings. To make the most out of your meetings, taking notes and setting up action items while being in a meeting can make a significant difference. With a tool like Loopin you have a centralised work hub right at your fingertips. Join meetings and take notes in the same place, directly connecting your meetings with your notes. Additionally, Loopin creates a dedicated view for all your tasks, so you can see them in context with your meetings. With Loopin you can view tasks across meetings, emails, or Slack. Once you created a Loopin account you can integrate and connect your favorite work apps to pull in information. Besides that, you can always create tasks manually in Loopin. Currently, integrations for Gmail, Slack, and Asana are already supported, further ones for Jira, Zoom, and Microsoft Office are already on the roadmap.
A powerful advantage of having your tasks right within your calendar, is the fact to perform time blocking easily. Loopin helps you to protect your time since you can block time for the tasks that matter. With Loopin you have all the relevant meeting information right at your fingertips, with the possibility to resurface it whenever you need it. If you want to be able to focus on the important stuff, Loopin is the right productivity companion for you to reduce busy work. Loopin features task reminders to keep you in the loop about your open tasks, automated follow-ups, silent meetings, and a lot more.
Getting started with Loopin involves only three steps: sign up with your Google Workspace account and provide calendar permissions, connect and integrate your work tools to sync your tasks, and after that you are all set up to enjoy supercharged productivity across meetings, tasks, and notes, with Loopin.
Loopin is currently only available as a Web App. There is also a Chrome Extension that gives you quick access to your agenda.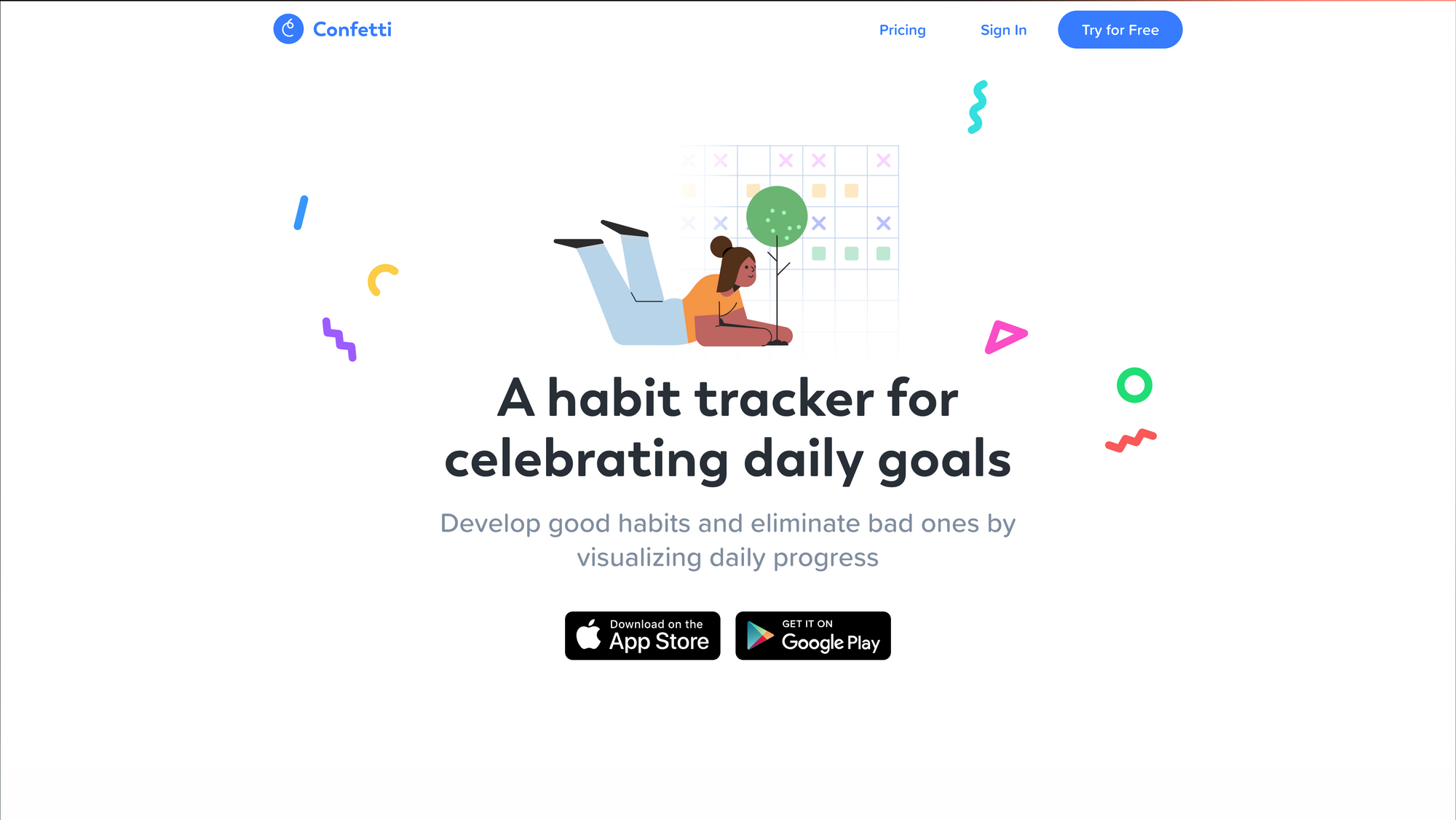 A lot of people are striving to develop good habits and eliminate bad ones. While there are a lot of techniques that give you a starting point to incorporate new habits, it often helps to visualise your daily progress while developing new habits. Confetti is a habit tracker for celebrating your daily goals so you can start developing good habits and eliminate bad ones by visualising your progress.
No matter if you want to learn a new language, work out daily, read for 30 minutes, or anything else. With Confetti you have a beautiful companion to manage your daily habits and achieve your goals. Besides that, Confetti lets you to track what is stopping you from achieving goals and building better daily habits. Confetti uses gamification in forms of streaks to visualise each small win and provide motivation to keep going and fuel to continue building your habit. The progress view of Confetti lets you measure your success with daily, weekly, monthly, yearly, and all time progress for your habits.
No matter what habits you would like to develop and which one you would like to get rid off, Confetti is a beautiful app that is flexible enough to track any kind of habit. It delivers a beautiful interface that makes it fun and enjoyable to use the app on a daily basis. Since Confetti is available for iOS, Android, Chrome and as a Web App, you can take your progress with you no matter where you are or which operating system you are using.
Confetti features a forever Free Plan, which gives you access to all the features and lets you track up to three habits. The Premium Plan gives you access to unlimited habits and will cost you $2.50 per month or $25 per year.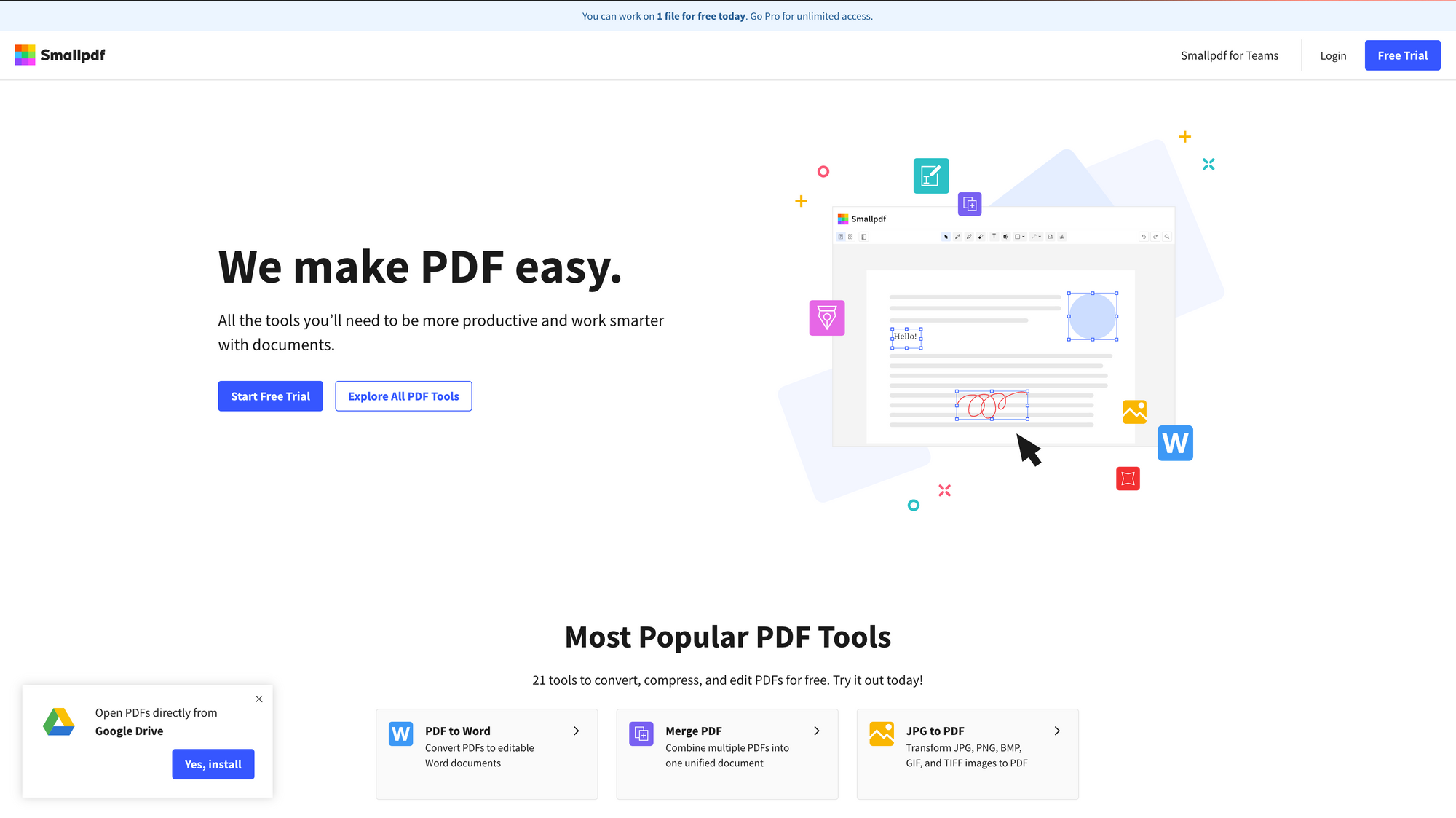 Recently, I am hearing about more and more designers that are planning to unbundle the Adobe Creative Suite. For the longest time, I am planning the same. I can not tell you when was the last time I opened an Adobe product on my Mac. Instead of Illustrator, I am using Affinity Designer, instead of Photoshop I use Affinity Photo or Pixelmator, instead of InDesign I use Affinity Publisher. Smallpdf is a great alternative for Acrobat. It includes all the tools you need to be more productive and work smarter with documents.
In fact, Smallpdf features 21 tools that give you the possibility to convert, compress, and edit PDFs. With Smallpdf you can convert your PDFs to editable Word documents, combine multiple PDFs into one unified document, transform JPG, PNG, BMP, GIF, and TIFF images to PDF, add text, shapes, images, and freehand annotations to your PDF, and a lot more. Smallpdf truly is the all-in-one tool to start, create, manage, and finish your work with digital documents. It lets you work directly on your files by highlighting and adding text, images, or shapes to your documents. Personally, I am a huge fan of Smallpdf's eSign feature, which makes digital signatures incredible easy. Fill in forms, e-sign contracts, or close deals in a few simple steps. Additionally, Smallpdf lets you request e-signatures and you can track your document every step of the way.
No matter if your PDF is too big, you are in the need of a specific file format, or if things are getting chaotic and messy, Smallpdf got you covered with the power to compress, convert, and merge and split your PDFs.
The beauty of Smallpdf are not only the powerful features, but also the dedicated workspace it delivers. With Smallpdf you no longer need to work across multiple apps. You can save time by storing, managing, and sharing files across your devices straight from Smallpdf's web platform. Additionally, Smallpdf is available on Android and iOS. The mobile apps of Smallpdf let you create PDF scans, organise documents, and share files from all your connected devices. When storing your documents in Smallpdf you can be sure that your data is safe, since Smallpdf uses 256-bit TLS encryption for secure information transfer, and it is GDPR and CCPA compliant.
You can sign up for a 7-day free trial to give Smallpdf a try. After the trial, Smallpdf Pro will cost you 7,50€ per month billed annually, and the Team Plan will cost you 6€ per month per user, billed annually. Smallpdf is available for Windows, iOS, Android, and there are also web extensions for Chrome, G Suite, and Dropbox.
---
Mental Wealth
➢ Liminal Creativity – "Liminality (from the Latin word līmen, "threshold") is the ambiguity that emerges in the middle of a fundamental transition. Liminality is the "in-between", where the space and the participants no longer hold their past status, but have not yet fully transformed to their post-transition self."
➢ Quiet Quitting and the Death of Office Culture – "I am sick, everybody. My tummy hurts, and I was sick yesterday, which was a Sunday. I wanted to sleep, but my stomach refused to let me, nagging me to get up. And this is exactly how I feel about Quiet Quitting, a term invented by bosses that refers to workers "only doing what they're meant to at work" with a side helping of "finding their new work balance." But I want to be specific about what Quiet Quitting means and even more specific about how utterly disgraceful a term it is."
➢ The Key to Career Progress – "How do you find work you truly love? Not just work that pays well, but work that keeps your interest and is genuinely compelling? The most common answer to this question revolves around choice. A great career comes from following your passion. That means sitting down, thinking about what you really love to do, and then finding the courage to chase your dreams. The only problem is… most of us don't have passions that neatly correspond to job titles. As Cal Newport argues in his book, So Good They Can't Ignore You, the innate passions people seldom lead to viable or compelling careers. You might have a passion for collecting stamps, but pursuing it full-time is hardly a reasonable career path."
➢ How to Learn from Your Failures – "Sooner or later, everyone fails at something. But does everyone learn from their failures? In fact, the evidence suggests that most people struggle to grow from mistakes and defeats. When researchers Lauren Eskreis-Winkler and Ayelet Fishbach developed the "Facing Failure" game, they wanted to test how well people learn from failure. The game consists of successive rounds of multiple-choice questions, where feedback from earlier rounds can help you perform better in later rounds—and getting more correct answers means making more money."
---
Do not miss out on this …
Founders' Book is built to educate, encourage and empower founders and startups to equip them with the best-curated tools and resources.
Get your daily entertainment, business and culture rundowns before anyone else. TheFutureParty newsletter features all the news you need to be the most plugged-in person in the room
Each morning, The Sample sends you one article from a random blog or newsletter that matches up with your interests. When you get one you like, you can subscribe to the writer with one click. Sign up here.
These are paid promotions or affiliate links to support Creativerly. If you are interested in putting your tool, product, or resource in front of over 1900 creative minds, consider advertising in Creativerly and book a sponsor or classified ad spot. Find all the important information at creativerly.com/advertise.
---
From the archive
On December 26th 2019 I wrote about ...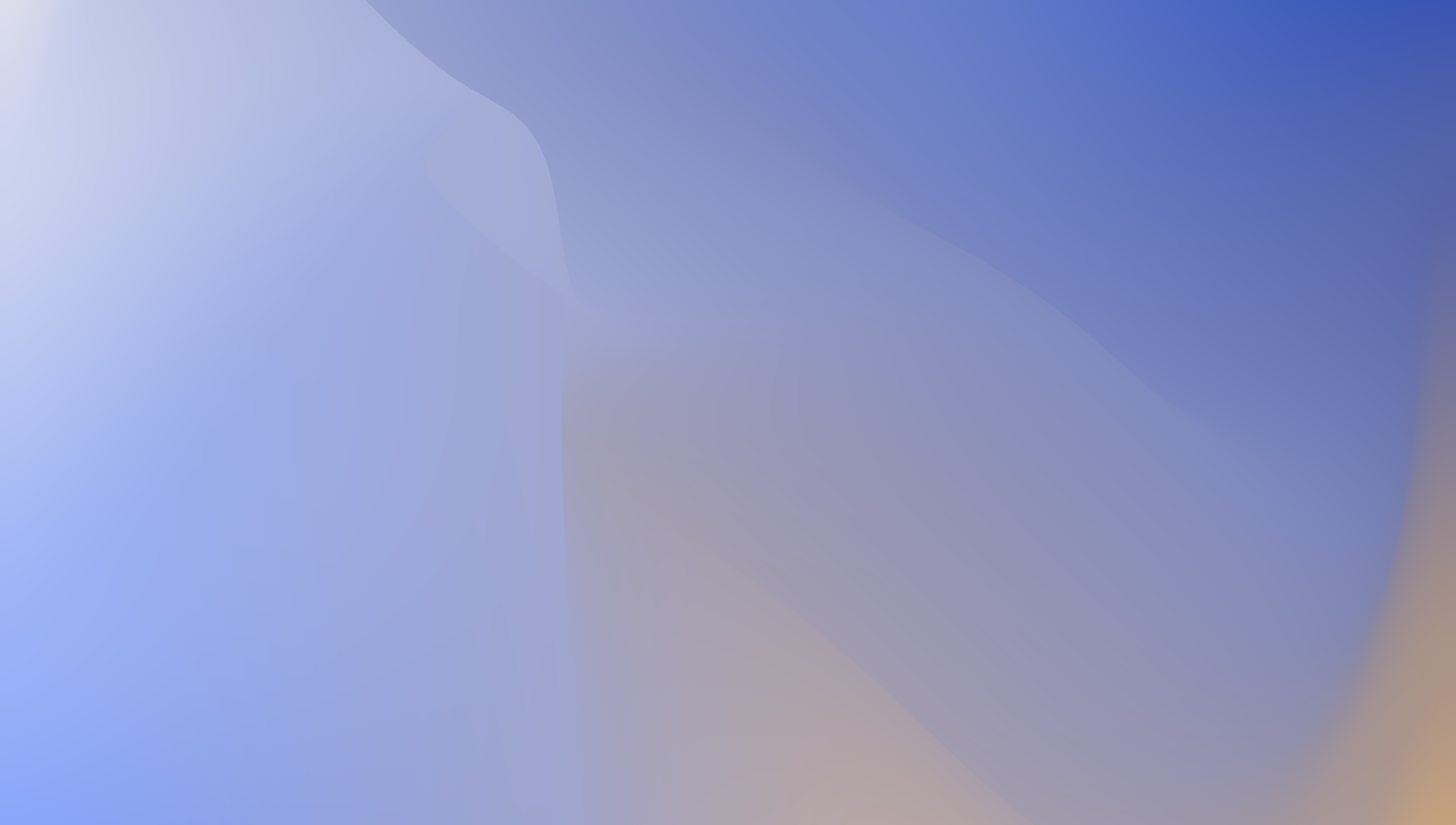 ---
Appendix
➢ ICYMI
With privacy-friendly analytics services you get the chance to get insights about the traffic happening on your website, without invading your users' and visitors' privacy. You do not need to use Google Analytics. There is a wide range of Indie Hackers, Solopreneurs, and companies building ethical and privacy-focused analytics tools. If you are looking for an overview of privacy-focused analytics tools, I gathered some of them in a blog post to find the right service for your needs.
➢ Featured Newsletter
The Newsette curates news and culture so you don't have to.From world news to TikTok trends, there's a lot of information a gal wants to know. The Newsette packages all the info you want to know into a daily newsletter that will leave you informed and inspired.

Sign up for The Newsette today!
➢ Quick Bits
---
Twitter thoughts
---
👋
Till next time!
Share or forward this newsletter to your friends, if they are also looking for creativity and productivity-boosting tools and resources. If you need help to discover your next favorite task management, note-taking, or PKM app, Creativerly delivers the insights you need. Creativerly is an indepentend publication and I am writing and maintaining it in my free-time. You can support Creativerly and my work by sharing it with the world,
booking an advertising spot
, or by
buying me a coffee
.
---
Some of the links in my newsletter and my blog posts are affiliate links. Those links are marked by an asterisk. If you buy something through the link, the product will not cost you anything more, but I will receive a small commission which not only supports Creativerly and my work but also helps me to keep this publication a sustainable side-project.