Newsletter
Make time for what matters & A better way to align your team
In this week's issue of Creativerly: A modern writing app, the end of social media, three models of creativity, and a lot more.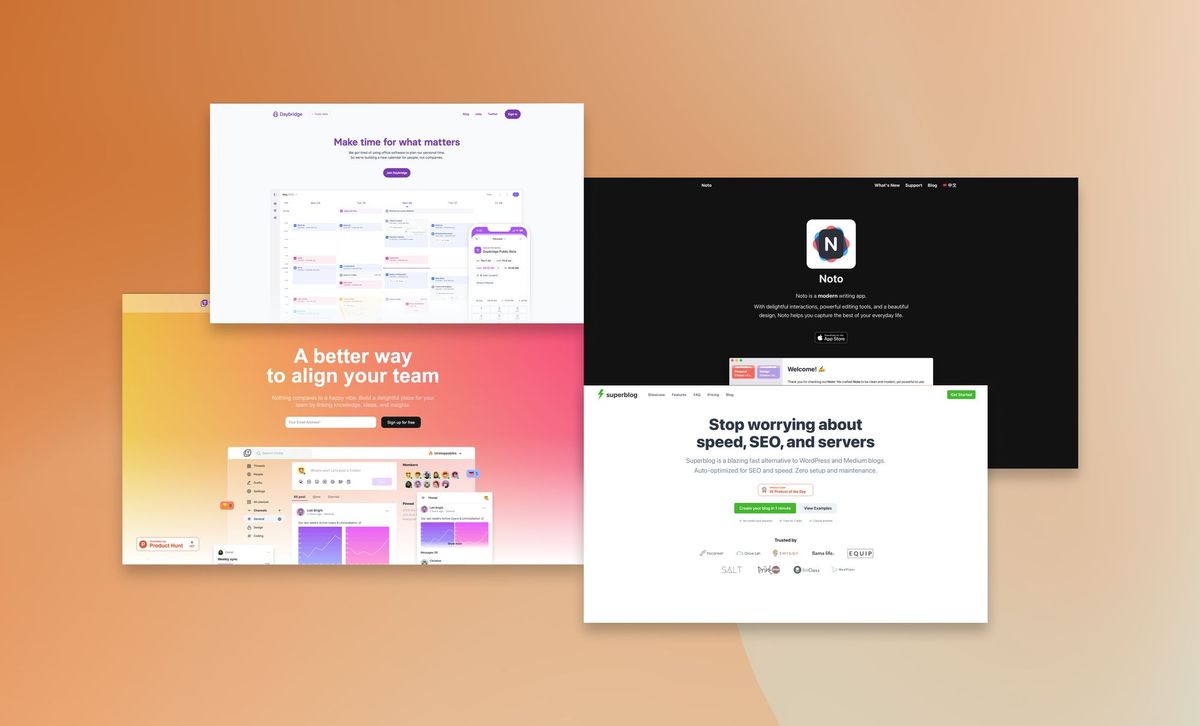 My name is Philipp and you are reading Creativerly, the weekly digest about creativity and productivity-boosting tools and resources, combined with useful insights, articles, and findings from the fields of design and tech. The newsletter built for the creative community.
---
Hey and welcome to Creativerly 181 👋
People who are active within the area of productivity tools and also engaging with this kind of topic on Twitter, will probably came across a meme which kind of went viral last week. The meme shows a graph that displays the IQ. Basically, the message of the meme is that mid-level workers tend to stress over complex note-taking systems with the aim to connect everything, while high-level workers use simpler methods (like Apple Notes which is displayed within the meme). This meme led to a productivity backlash on Twitter, with loads of folks joining in and sharing their thoughts about note-taking, PKM, and productivity tools in general.
One thing stood out to me. Folks who entitled themselves as Apple Notes users, tended to rant about people who are trying out every new note-taking and PKM app and declaring it as useless to try to interconnect your whole productivity system. On top of that, they also discredited folks who are creating content within the productivity field, reviewing and writing about apps and tools, and sharing workflows with like-minded people. It seems weird to me that a topic like this can lead to people ranting about whether you should use a productivity app or not, or saying that productivity apps in general are pointless and useless. We all have different workflows. Some people feel the need to take notes about everything, some people do not see any necessity for that. I am a serious note-taker, and I clearly see the value it brings to my work, my projects, and my knowledge. While this works perfectly for me, should I judge people who have a different opinion about that? Clearly, no. I like to write about productivity and productivity tools because I have discovered the value of them for me personally. But, I would never ever tell you that you have to use the tools too, or more importantly I would never tell you that if you are using Apple Notes or no app at all, that you are doing something wrong or missing out on an opportunity.
In the end, the only thing that matters is if you have found a system that works for you, stick to it and leverage it. If you like to switch things up, change systems, and try out new apps, that is also totally fine, no one should ever be allowed to judge you for that.
When switching back and forth between different apps, you should also make sure that you are not getting blinded by some fancy productivity systems someone else is using. I am sure that a lot of folks feel the need to switch productivity, note-taking, and PKM apps frequently, because they discover a dedicated system by someone else. Keep in mind, that someone else's system might work for them but it might not work for you, no matter how fancy and interconnected it is. If you feel pressured to use tools like Obsidian or Logseq because they are among the most popular PKM tools nowadays, but you realise after using them for a couple of days or weeks, that they do not work they way you want to take notes and store your thoughts, no worries, just move on and use whatever works for you best.
In the past, I have used tools like Evernote, Notion, Workflowy, Roam, Logseq, Obsidian, and others after settling with Craft as my main note-taking environment (although I am also using tools like Scrintal, Napkin, Muse for dedicated purposes, and recently I have also been exploring Mem). Craft is a beautiful app and it features such a great experience across all platforms. That is something which is incredible important for me personally. As I am working across different devices and platforms, I want to have access to my notes wherever I am. Could I achieve that with different apps? Probably. So, why would I then stick to Craft? Well, it all comes down to personal preference. I love Craft, the team behind it and the community it has created. You are using a different app for the same reasons? Perfect, great for you.
I am not writing about productivity and creativity tools because I want you to switch apps every single time I send out my newsletter. I am writing about them because I simply enjoy to explore apps and tools, and the folks creating them. Feel free to do whatever you want with that information.
---
Build SEO reports your clients will love - in under 5 minutes.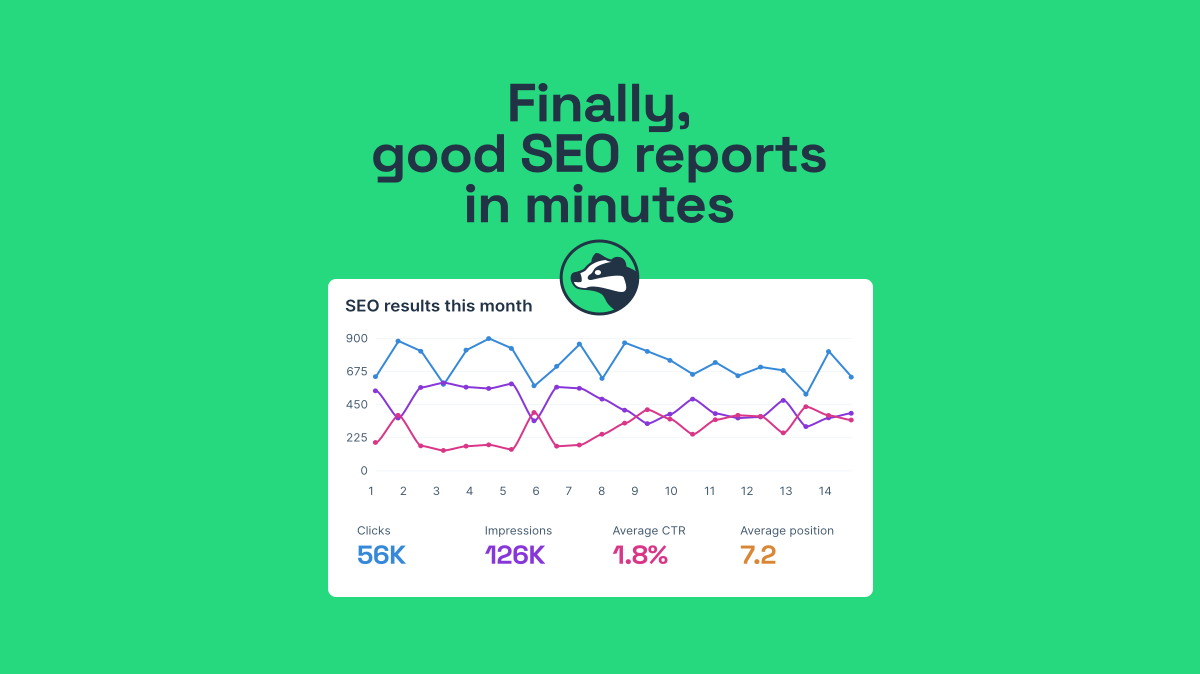 Are you manually creating SEO reports and struggling with Data Studio? Stop! Badger gets your clients' SEO data onto a single platform and lets you present it the way you want. Automate your client reporting and get your time back to focus on the things that actually matter. Get notified as soon as it launches.
This is a sponsored message. If you also want to highlight your app, tool, resource, newsletter, job offer, in front of over 1800 creative minds, head over to creativerly.com/advertise and get in contact.
---
Apps, Software, Tools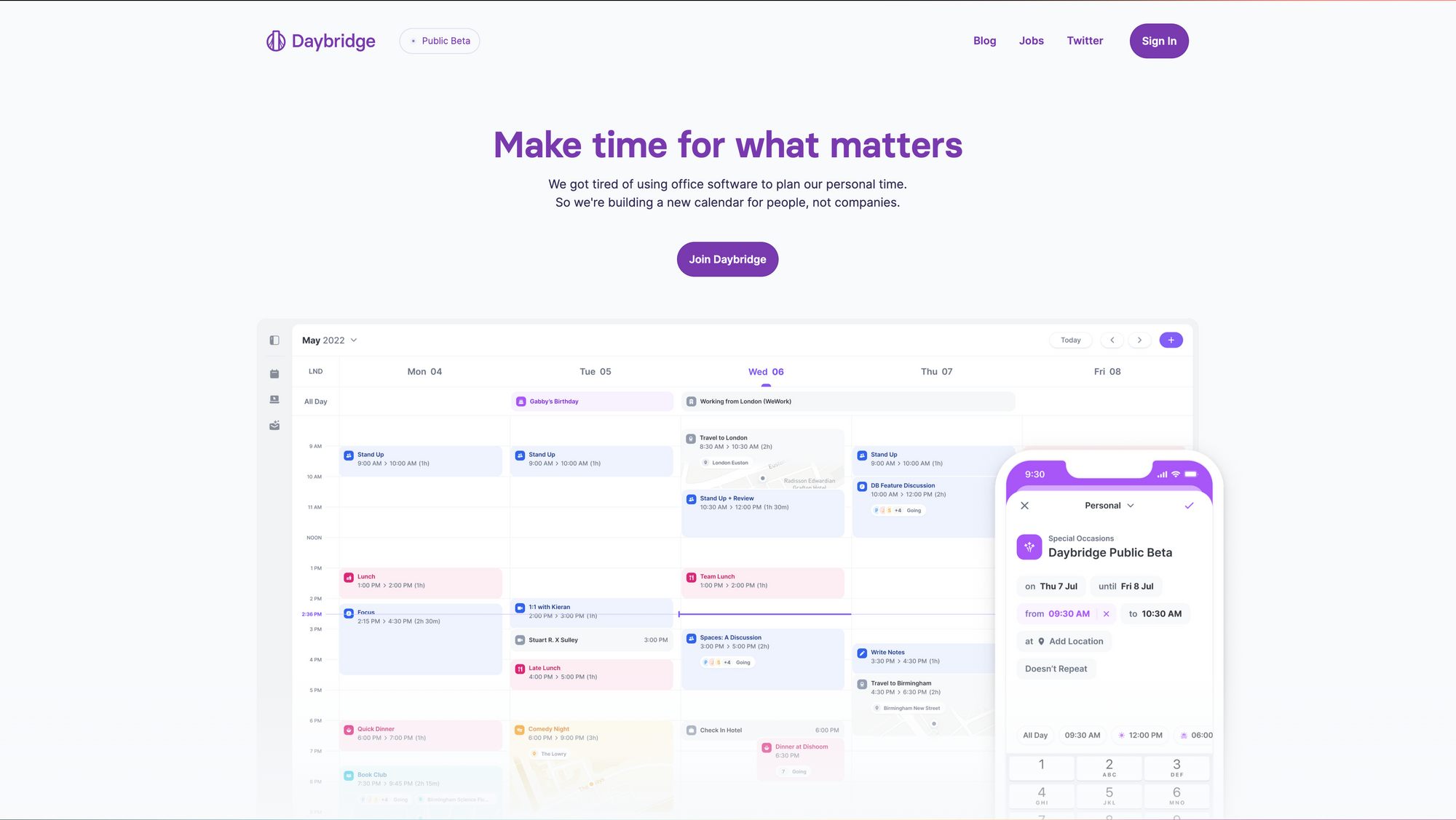 Over the last couple of months, I constantly wrote about different calendar apps, that recently entered the market. Cron (which has been recently acquired by Notion), Vimcal, Track, Amie, and others are all getting more and more popular. Daybridge has been on my watchlist since I discovered it on Twitter almost two years ago. I love the fact how Kieran McHugh and team kept sharing updates, insights, and UI glimpses of the product throughout its development. Daybridge recently launched its Public Beta, which means that you can now head over to its website and sign up to get access.
Daybridge core focus is to build a tool to make time for what matters. Instead of building calendar for companies, Daybridge is building a calendar for people. This might be the biggest differentiation between the other apps that I have mentioned above. While Cron, Vimcal, Track, and Amie are all focusing on getting a team involved, sharing availability, keeping track of tasks and meetings, Daybridge is seeking to build a deeply personal, beautiful, cross-platform calendar app. This is exciting. While you can use most of the above mentioned apps (and also others in general) for personal use, you can feel the focus on teams and companies, since you will stumble across features that do not have a use-case for individuals. Thinking of all the recently launched apps and tools within the productivity field, it became a rarity to find one that has a clear focus on individuals, just like Daybridge.
Taking a peak into the future, Daybridge set itself the goal to be the way the internet makes plans together. It want to make meeting with friends and family as easy as dropping a link into a group chat. If you ever wanted to collaborate with your friends and family, planning trips, staying in sync with your partner or housemates, Daybridge wants to help you solve these problems and make you enjoy your calendar again. Signing up to Daybridge right now gives you access to probably the most beautiful calendar app, colourful and categorised events (choose from suggested titles, icons, and categories), event pages for your events (anyone can RSVP from the event page, even if they do not have Daybridge), muting work (see when you have work events, without getting overwhelmed with the finer details), viewing your calendars in one place (connect all your Google accounts to view and update all your calendars in one place).
But that's not it. According to Daybridge's Public Roadmap, you can expect features like connecting other calendar accounts like Microsoft or iCloud, shared calendar, availability checker, todos, natural language parsing, and a lot more. I am a huge fan of Daybridge, and I am excited to see that they will bring support for other calendar accounts and todos to the platform in the future, as these are both features I am currently missing. Managing my tasks directly within my calendar is a key feature for me, to bring context and clarity to my todos. Daybridge features such an awesome and beautiful UI, that it is pure joy to use, across all the available platforms.
Explore Daybridge on your own, sign up to the public beta, test the app, and provide feedback. Daybridge is currently available as a web app, and on mobile for iOS and Android.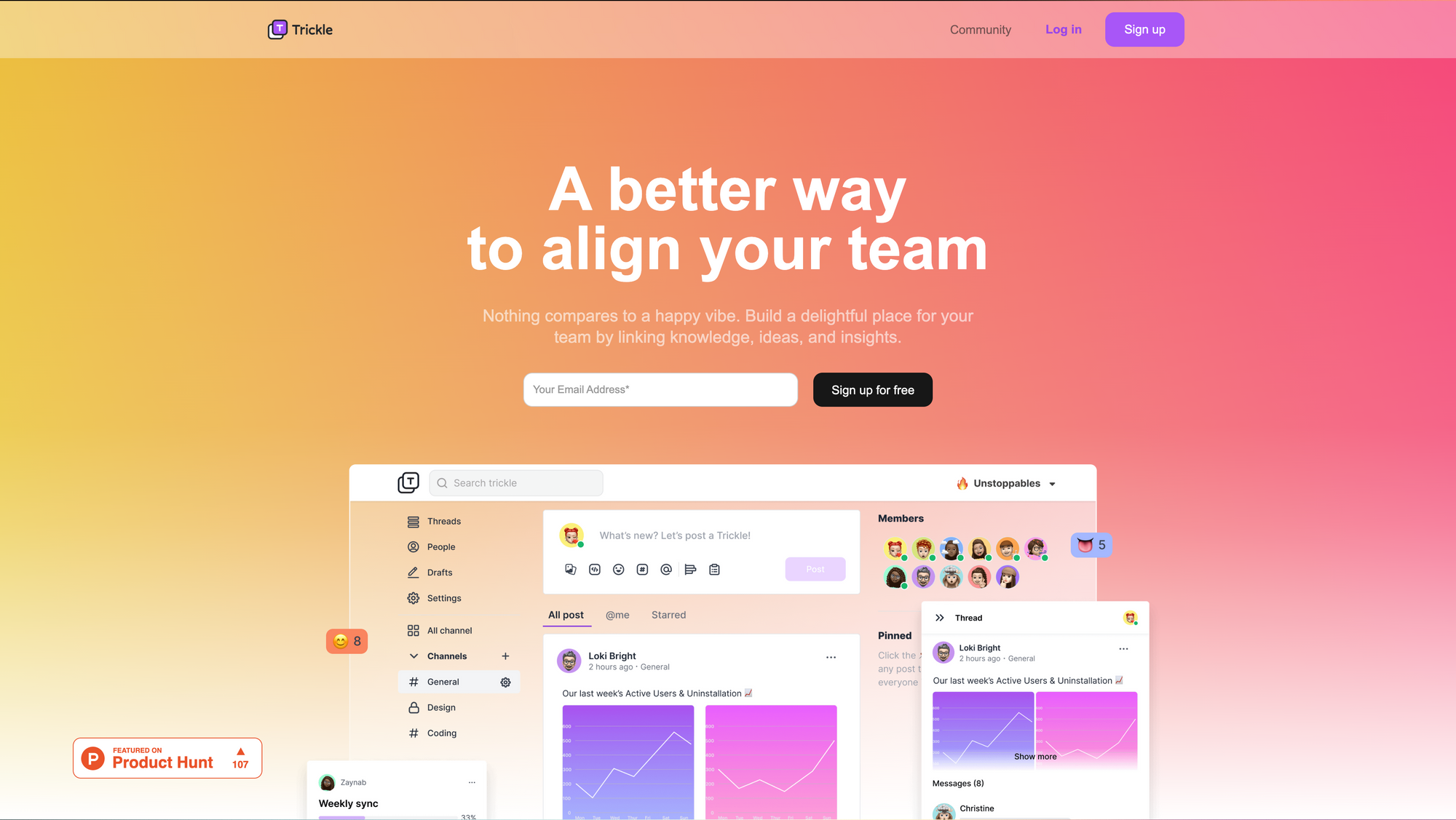 Trickle is a beautiful tool to align your team in a better way. It gives you access to a delightful place for your team by linking knowledge, ideas, and insights together. You can think of Trickle as a unified workspace where your team can collaborate, communicate and hang out. With news feed, embeds, live threads, and reactions, everyone can voice their ideas and have fun at work.
A lot of companies spread their knowledge, wikis, and internal messaging to share news and announcements across different tools. It is a challenge to keep track of everything and get the overall overview. Trickle wants to help you get rid of these challenges by combining in-depth content sharing and real-time conversation within one dedicated space. Once you signed up to Trickle and created your workspace, you can facilitate an idea or share content in-depth with text, images, videos, and embeds. To keep your whole team up to date about what you are working on, you can post to your workspace's feed and engage with your whole team. You can organise your discussions around a specific post within threads, so there is no need to parse through disjointed back-and-forth messages to catch up.
Trickle's feed is the place where you can evolve your team, stick people together and make better decisions. With the power of threads you can always join-in on discussion, cut through the noise and make the collaboration feedback loop much faster, as you no longer have to search for the messages you are looking for. To make your posts as meaningful as possible, you can add embeds and images, or use Trickle's templates to synthesise all your thoughts into your post.
Within a Trickle workspace, everyone's voice matters. The communication of your team becomes open and transparent, which gives you the possibility to make your workplace a happier place.
Currently, there is no information available for which platforms Trickle is available. Also, there is no pricing information available on the website.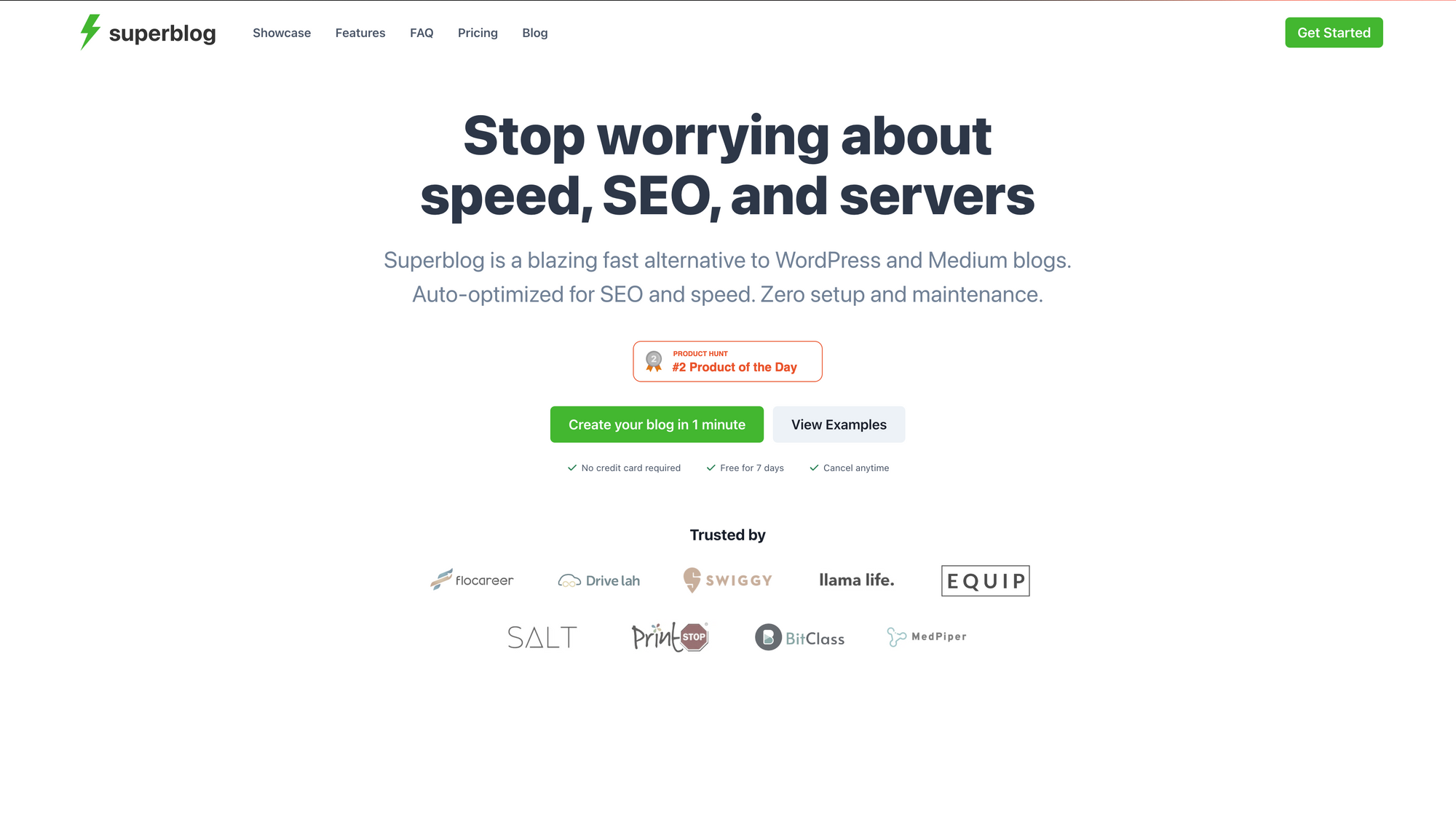 Are you looking for a WordPress or Medium Alternative? Without having to worry about speed, performance, SEO, or servers? Without having any development knowledge, zero setup, and no need for maintenance? Then you should take a look at Superblog, a blazing-fast WordPress alternative, Auto-optimized for speed and SEO.
As you can probably assume, I am a huge fan of writing, and therefore, I am also interest in writing tools and platforms. On top of that, I am especially interested in platforms that are hassle-free, allowing everyone to set up a blog and start writing online with ease. Superblog is a platform that perfectly fits that description. It lets you create and set up your blog in 1 minute. Once you create your blog, you can customise it to your needs by selecting a layout, pick your brand color, and connecting your domain. While most folks who want to start a blog do not care about SEO, Google Lighthouse and Core Web Vitals in first place, Superblog makes sure that you never have to think about it, since it will automatically optimise your blog, so you can always be sure that your content and blog loads incredible fast, is accessible, reachable, and discoverable through SEO.
Additionally, Superblog features all the tools you need to run your blog without any hassle. You can connect your own domain, it includes free SSL and CDN, there is no server maintenance needed, it has privacy-friendly analytics built-in, you can add team members and set up roles, and a lot more. With Superblog you can focus on writing better content instead of constantly fixing your site. Superblog features an intelligent editor that gives you real-time hints for your posts and fixes on-page SEO errors automatically.
Superblog is also built for business blogs. It features lead generation forms to get more leads, call to action buttons to bring customers to your product pages, and it handles your entire blog stack. On top of that, it features built-in privacy-friendly analytics to get insights and important metrics about your blog without the need of displaying obtrusive cooke-popup notices. If you have an existing blog on WordPress, Medium, Blogger, Ghost, or Webflow, Superblog offers a seamless migration process.
The Basic Plan of Superblog is available for $9 per month and features unlimited posts and pages, up to 10,000 pageviews per month, free SSL and CDN, 2 team members, and the ability to connect your domain. The Pro Plan gives you everything included in the Basic Plan, plus up to 100,000 pageviews per month, 5 team members, super-fast search, privacy-friendly analytics, a Zapier integration, collaborative review of posts, the ability to share drafts via links, and a search-bar on the homepage. The Super Plan includes everything from the Pro Plan, plus up to 1m pageviews per month, API access and dedicated support.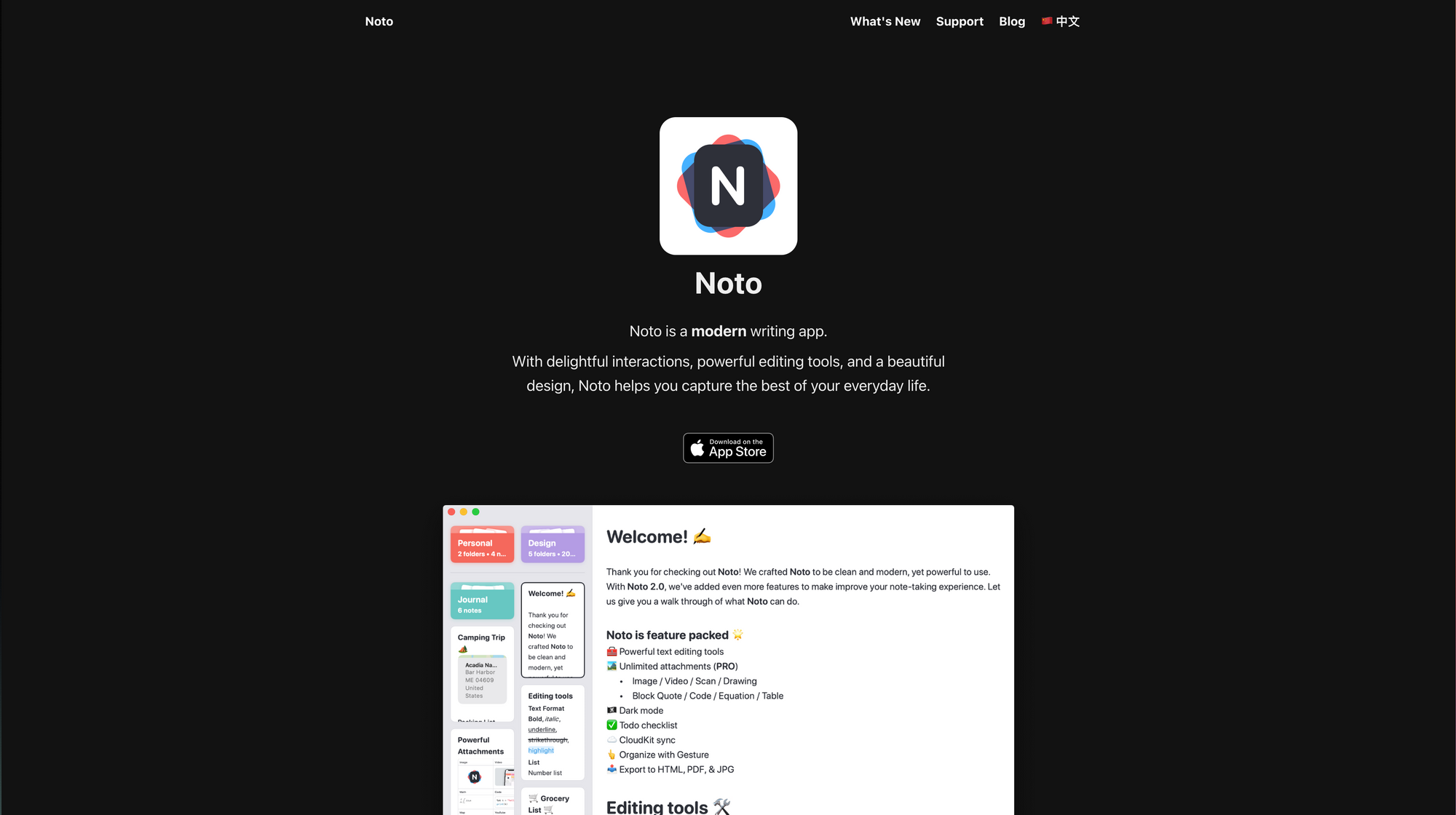 Noto is a beautiful and modern writing app, built for the Apple ecosystem as it is available for iOS, iPadOS, and macOS.
Noto stands out of the huge crowd of writing apps because of its beautiful UI, delightful interactions, powerful editing tools, and great features that help you to capture the best of your everyday life. The first version of Noto got released back in October 2019. It became the Product of the day on Product Hunt by attracting more than 650 upvotes. It already showed and incredible love for delightful interactions and a beautiful UI. Taking a look at Noto's editing tools make it clear that the app was built for a delightful writing experience. With basic formatting options like bold, italic, underline, strikethrough, and highlight you are able to create beautiful documents. On top of that, you are also able to further edit your writing by using checklists, block quotes, drawings and handwriting, math equations, code syntax, or even embed maps, YouTube videos, links and files. Noto is incredible powerful to not only jot down notes and thoughts, but also managing your projects and your life.
To structure and organise your notes, Noto gives you the possibility to create folders and even sub folders. Your notes within those folders will get displayed as cards. This visual implementation always gives you a glimpse at the content within the note. On top of that, it makes it easy to re-arrange your notes, drag and drop them to different locations, or drag to pin items to the top which is super convenient if some notes should always stay within your focus. Noto also features beautiful widgets that give you quick access to your notes and folders on your iPhone and iPad. If you are a fan of keyboard shortcuts, you will like the workflow in Noto, since you can access actions like creating a new note or a new folder, or add elements like a table, blog quote, math equations and code syntax with powerful shortcuts.
With Noto 2.0, Noto moved from iCloud to CloudKit to provide its users with a faster and more secure sync between all devices. All of your notes are stored inside the CloudKit private database which is only readable by you. The developers behind Note have no read permission over your content. So, you can be sure that the content and notes you have created are always private and only accessible by you.
Noto is available for iOS, iPadOS, and macOS through a universal purchase. The monthly plan will cost you €0,99 per month, the yearly plan €10,99 per year, and the lifetime purchase will cost you €24,99 once.
---
Mental Wealth
➢ The End of Social Media – "Last week, Meta announced that the Facebook newsfeed would be shifting towards an algorithmic, recommendation-based model of content distribution. This announcement marked the most recent example of a major platform to formally make this shift, while other major platforms, including Meta's Instagram, have been headed in this direction for a while. Given Facebook's relevance as the world's largest social network, this change signals the end of social media as we've known it for the past decade and a half."
➢ Levels of knowledge and levels of designs, the growth path of a designer – "The last two months were exciting; I had two remarkable talks with outstanding people about design experiences; as expected, I walked out of those conversations full of thoughts and reflections. First, I had the honor of being part of a beautiful project whose main idea is to discuss real-world design experiences to broaden knowledge in the UX community. Second, I had the chance to mentor a brilliant designer with exciting questions about transitioning from a designer role into a team management position. Both conversations reflect a high UX maturity and a heightened understanding of the next steps in a career."
➢ Nobody optimizes happiness – "Everyone I know is scheming for the future. They've got big goals and get up every day and work like mad to try to achieve them. I've always found something odd about that: Despite all this effort, people don't seem to think too much about the specifics of what would happen after their goal is achieved. Like—say your startup goes public and you become a billionaire. What now? What will you buy, where will you live, what will you eat for lunch?"
➢ Three Models Of Creativity – "I mentioned a month or two ago that I was taking over as the host of The TED Interview podcast, which has been true delight so far—and unsurprisingly many of the initial conversations have drifted into some of the core themes about the creative process (and how technology can enhance it) that we've been discussing here at Adjacent Possible. The most recent episodes have been particularly relevant, so I thought I would share a few key excerpts from them, though naturally I encourage you to listen to the conversations in their entirety."
---
Do not miss out on this …
These are paid promotions or affiliate links to support Creativerly. If you are interested in putting your tool, product, or resource in front of over 1800 creative minds, consider advertising in Creativerly and book a sponsor or classified ad spot. Find all the important information at creativerly.com/advertise.
---
From the archive
On June 28th 2020 I wrote about ... ---
Appendix
➢ ICYMI
Highlight your app, tool, resource, or service in front of over 1800 creative minds coming from different backgrounds like design, development, journalism, VC, Indie Hacking, and others. The Creativerly audience is actively looking for tools and resources which boost their creativity and productivity. If you are interested in booking a sponsor spot in Creativerly head over to creativerly.com/advertise for all the important information.
➢ Featured Newsletter
I am a fan of both mobile OS, iOS and Android, and I am also using two smartphones, an iPhone and an Android Smartphone, not only because I need both for my work as a Product Designer but because I simply enjoy using both OS.

One of my favorite newsletters to stay up-to-date about everything regarding Android is Android Intelligence written by JR Raphael. There are countless blogs, newsletters, magazines covering Android stories, but Android Intelligence is a lovely write-up consisting of practical tips, personal recommendations (love that), and a plain-English perspective on the news that matters.

Android Intelligence goes beyond product announcements, it is a better way to stay informed about Android news. Sign up here!
➢ Quick Bits
---
Twitter thoughts
---
👋
Till next time!
Share or forward this newsletter to your friends, if they are also looking for creativity and productivity-boosting tools and resources. If you need help to discover your next favorite task management, note-taking, or PKM app, Creativerly delivers the insights you need. Creativerly is an indepentend publication and I am writing and maintaining it in my free-time. You can support Creativerly and my work by sharing it with the world,
booking an advertising spot
, or by
buying me a coffee
.
---
Some of the links in my newsletter and my blog posts are affiliate links. Those links are marked by an asterisk. If you buy something through the link, the product will not cost you anything more, but I will receive a small commission which not only supports Creativerly and my work but also helps me to keep this publication a sustainable side-project.