Newsletter
Organize the social interactions with your loved ones & No Meetings, No Deadlines, No Full-Time Employees
In this week's issue of Creativerly: Celebrating 100 issues, Work together better, expression is compression, finally a cure for insomnia, and a lot more.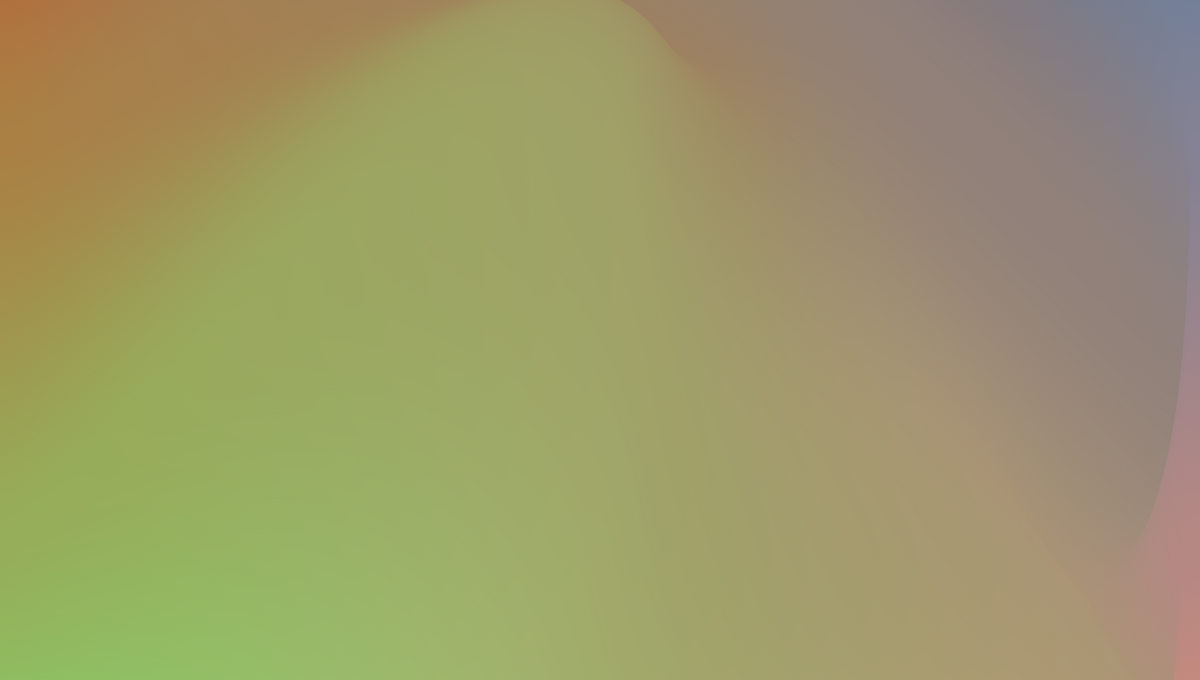 You are reading Creativerly, the weekly digest about creativity and productivity-boosting tools and resources, combined with useful insights, articles, and learnings from the fields of design and tech. The newsletter built for the creative community.
---
Hey and welcome to issue 100 👋
This issue marks the anniversary of Creativerly, 100 issues send out, one issue every single week, for the last 100 weeks (with one break I think). Writing and curating this newsletter helped me build up a writing habit, I am sticking to for 100 weeks. What a great feeling this is. Starting a newsletter, starting creating and curating content, building up a community, and working on a side-project constantly, was the best decision I have made. I learned a ton, I challenged myself every single week, it boosted my creativity and productivity. Writing is an incredibly creative process, and sticking to it for over 100 weeks feels just great. Writing is now part of my normal workweek. I love to get write my thoughts down and come back to them at a later point. Writing is truly a magical process.
During those 100 weeks I had a little bit of help. There were several tools that helped me sticking to my writing habit, and actually making it joyful to write. Since Creativerly is all about creativity and productivity-boosting tools and resources, I just finished a blog post about all the tools I use to operate my weekly newsletter. So, if you want to know how my productivity/workflow tech stack looks like, you can now find out by reading through Creativerly's tech stack.
I love to try out new tools, and I even love it more to share those tools and my thoughts about them with you!
If you have recommendations or feedback, drop me an email or a tweet. For now, enjoy the newsletter!  🥰
---
Apps, Software, Tools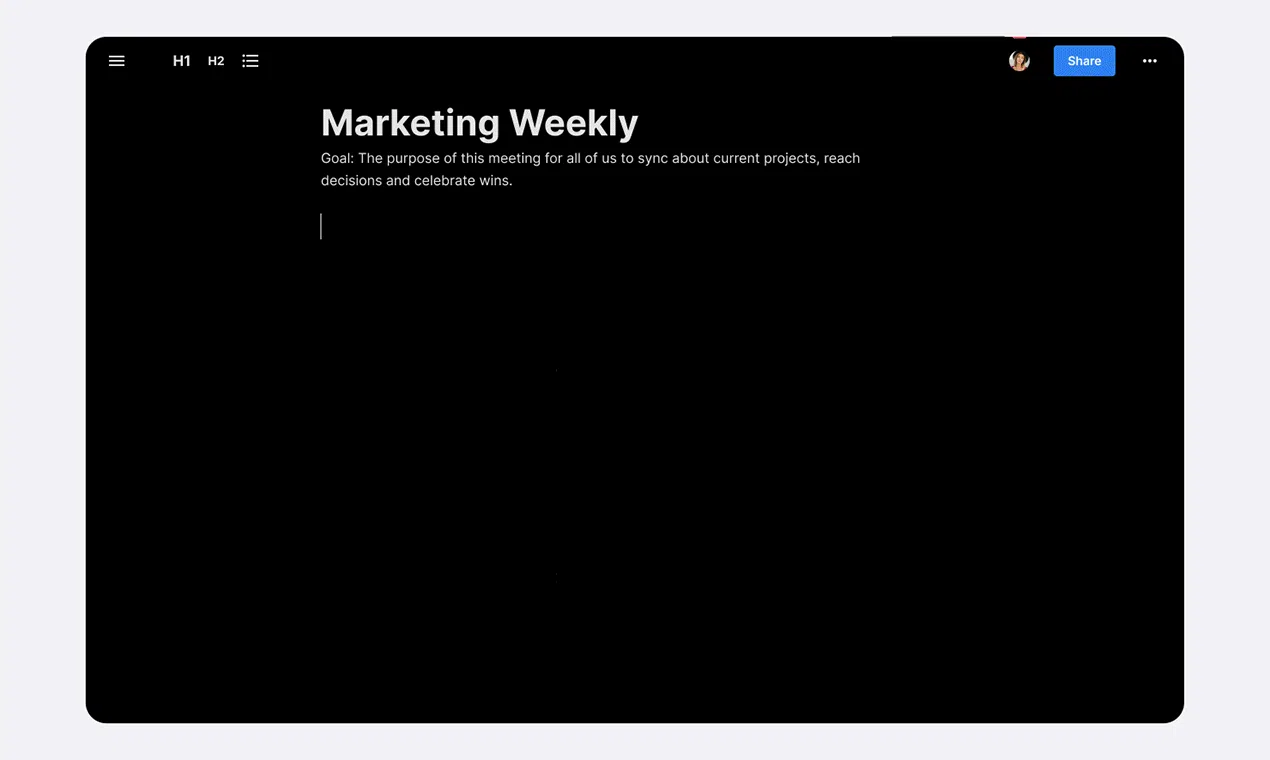 It is remarkable how many productivity tools with a focus on remote work recently launched. Input is another tool that tries to make remote collaboration as easy as it can get. Input is about collaboration docs, but easy to use, flexible, smart, and gorgeously designed. At the core, Input has all the features you know from other doc tools, but on top of that, they combined writing in docs with powerful project management features and functions, to boost your remote team's productivity. What I really like about Input, is the fact, that it gives you a live, birds-eye view of where the whole projects stand. Real-time editing and viewing activity gives you the feeling you are all in the same place. As already mentioned Input is not only a tool to write docs, it is way more than that. Input features tasks at your fingertips, since just about anything in Input can be turned into a task, additionally, you can assign to-dos across your whole team, and stay in the loop with notifications. With a bigger team, all working across docs, they can become pretty messy. Not with Input: In-line commenting helps you to keep all your docs clean and lightweight. Input is currently available as a Web App, but they also have a macOS version, and an iOS version currently being in Beta.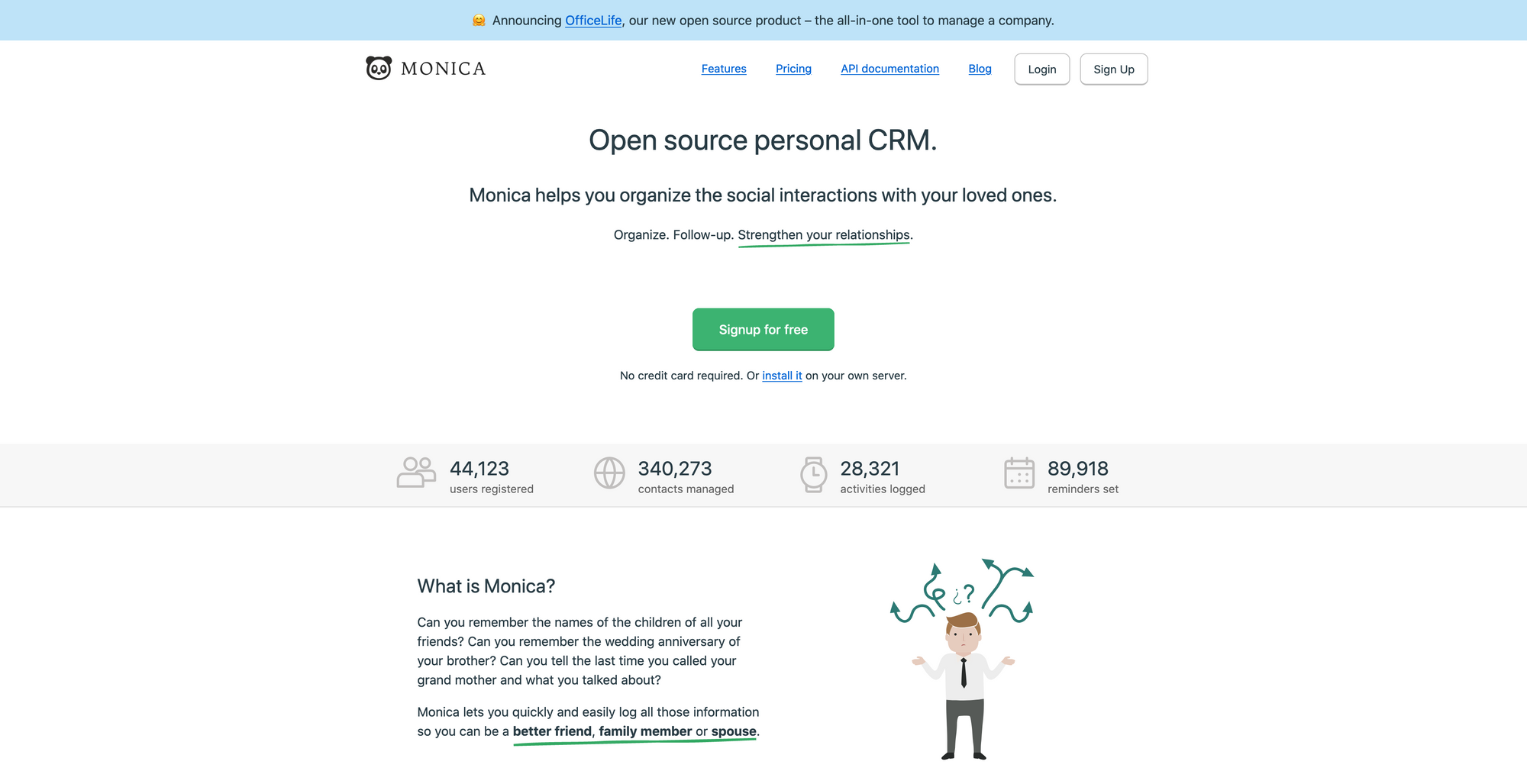 I am searching for the longest time for a personal CRM to keep track of people which are important to me. Currently, I am testing a tool called Monica, an open-source CRM to keep track of your personal connections. You might ask yourself why would anyone need a tool like that. Well, I just like the idea having a tool to keep track and gather information about my family, work information, gift ideas or gifts I have made, relation between contacts, and so on. Monica does offer exactly that and even more. Monica lets you quickly and easily log all those information so you can be a better friend, family member or spouse. What I really love about Monica is the fact, that it is a private place for your eyes only, that you own, without any ads or malicious software that will read your data, where you can safely document what you know about who you love. When using a tool like Monica to gather important information about family and friends, the privacy aspect is the most important one, because I do not want to share any of these information with third-party trackers. For people who prefer another level of security, there is also the option to host Monica on your own servers, completely for free. There are also other personal CRMs that I am definitely going to try out, and those are Amicu, Hippo, and Revere.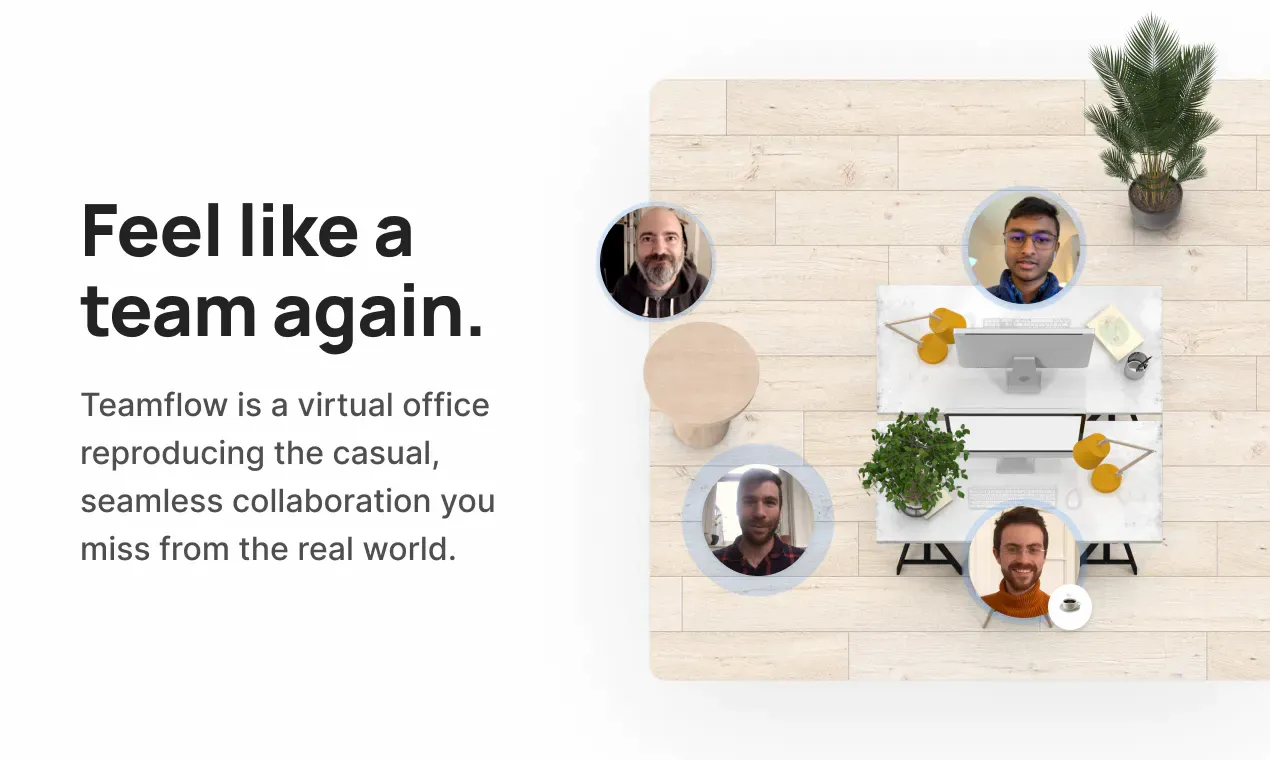 I have now been working from home for nearly one year, and therefore did not see or talk to most of my colleagues for the same time. When there is one thing I am really missing about working from the office, is the fact of having all my awesome colleagues around me, especially during lunch break, talking to each other, discussing certain topics and just having some time off and fun. Teamflow wants to tackle exactly that problem (and a lot more actually). Teamflow is a startup, that came out of stealth just recently and announced their $3.9M Seed round. Teamflow wants your company to feel like a team again, by creating a virtual office for your team to hang out, bringing back the presence of being in the office, the energy of working in the same room, the spontaneity of hallway conversations — the joy of feeling like a team. So, how does this exactly work: Teamflow provides you with a virtual office plan, on this virtual office plan your video gets displayed as a bubble. With the arrow keys on your keyboard you can move your video bubble around on the virtual office plan. Whenever you come across another video bubble you only hear people around your bubble. This means that when you want to check in on someone, you can just walk up to them. No more back and forth on Slack or Zoom scheduling nightmares. Walk or move to join a conversation just like you would in the office. You can only hear or be heard by people around you. Teamflow's spatial audio makes for the most natural happy hours, hangouts, or spontaneous chats. Super interesting tool, and never have seen something like that before.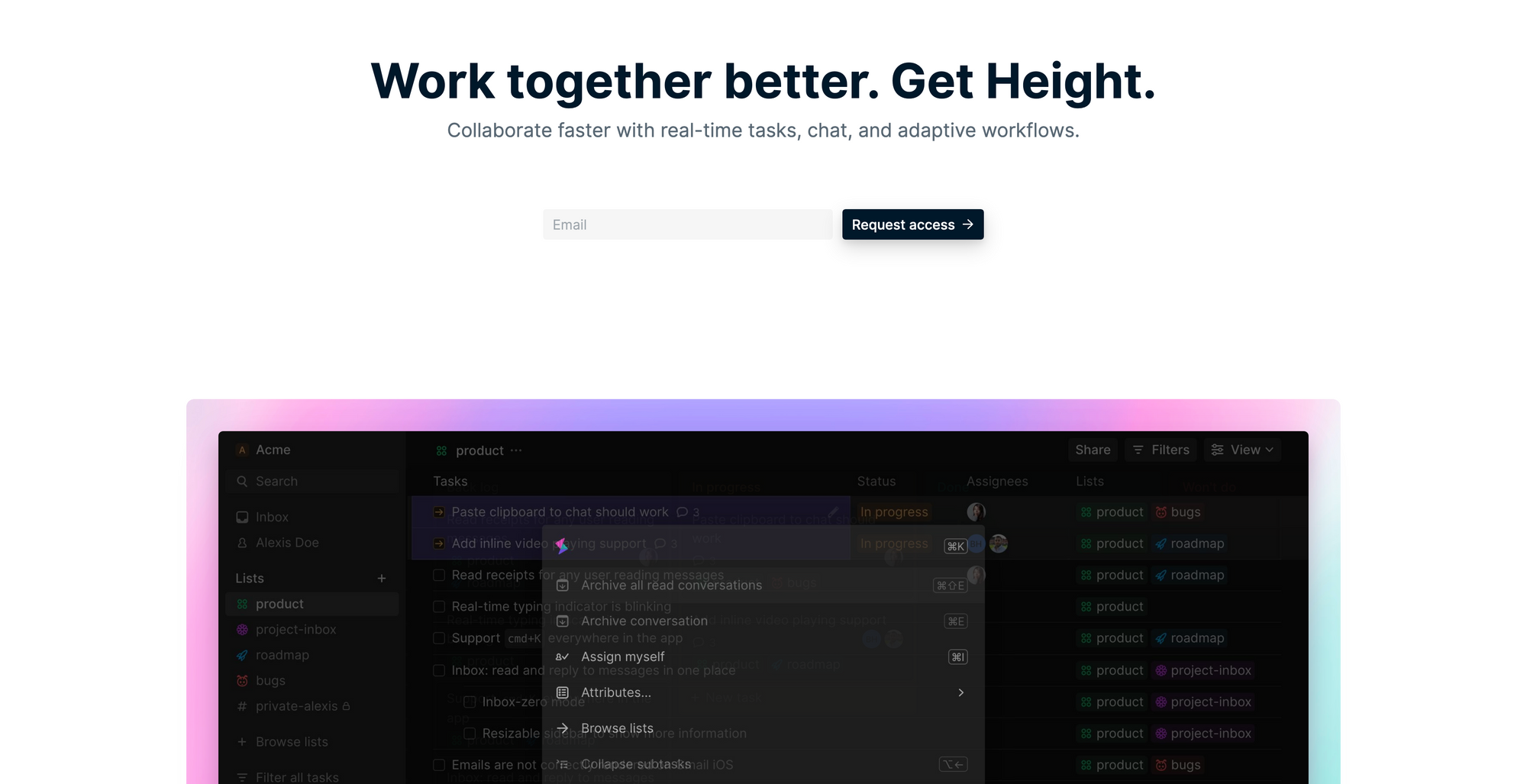 If you are in the market for a productivity tool that helps you collaborate faster with real-time tasks, chat, and adaptive workflows, I recommend checking out Height, a super interesting task and project management tool. With Height you create tasks and subtasks inline with a powerful spreadsheet interface. Inline editing, multi-select, and shortcuts help you to stay in the loop and keep all your tasks up-to-date. What makes Height a real productivity boost is the chat feature. It lets you resolve and discuss open tasks with real-time chat directly within the tasks. No reason to switch back and forth between your project management tool and team messenger platform. Being able to quickly discuss things directly within the project and task management is super helpful. Also, a lot of productivity tools force into some kind of workflow, but Height is different. With Height you can customize your workflows, and do not have to be constrained. Custom attributes, smart lists, group by, filters, and ordering make it possible to create the workflow, that works for you best. Height is also a tool, that actually works for your whole team. Within a team, individuals could possibly prefer to work with lists, recurring tasks, sprints, milestones, roadmap, or anything else, Height is a flexible tool and powerful enough to fit your needs and your workflow. As all of this wasn't already super exciting, Height also features the one and only keyboard shortcut, to supercharge your productivity, CMD + K gives you access to everything within Height. You can sign up now for early access, as Height is currently invite-only.
---
Useful Resource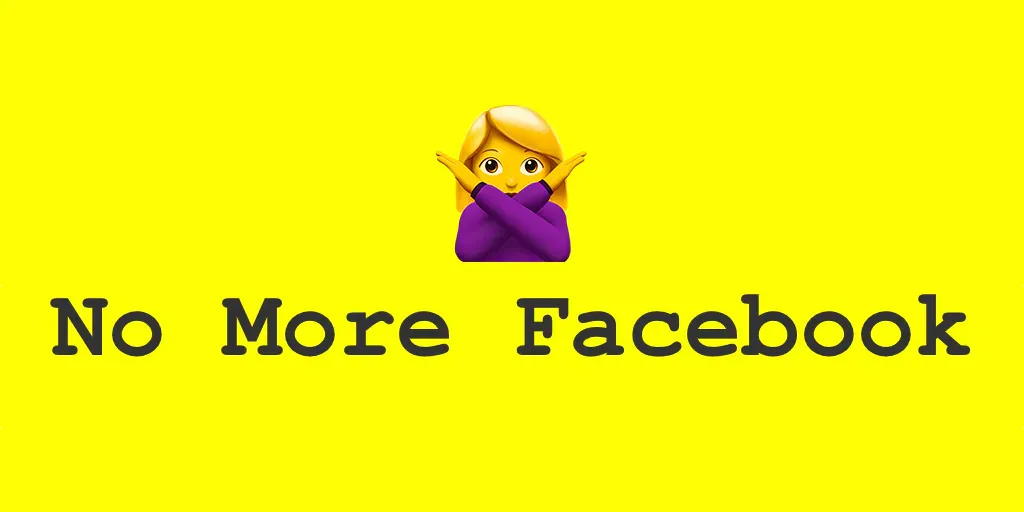 nomoregoogle.com by Levelsio has been an incredibly useful resource for everyone who wants to get rid of Google services and products, or is looking for great alternatives. Kai Oelfke got inspired by that idea and created the very same resource but for Facebook services and products. So, if you are looking for alternatives for Facebook Messenger, WhatsApp, Instagram, Facebook Friends/Birthdays, and more, make sure to head over to nomorefacebook.xyz and find privacy-friendly tools, that do not track you at all.
---
Mental Wealth
➢ No Meetings, No Deadlines, No Full-Time Employees – "I started Gumroad in 2011. In 2015, we reached a peak of 23 full-time employees. In 2016, after failing to raise more money, I ended up back where I began: a one-person company. Today, when I'm asked how many people work at Gumroad, I respond with "ten or so." That's how I convert the number of people we have into what others expect. But the truth is more complicated: If we include everyone who works on Gumroad, it's 25. If we include full-time employees, it's none. Not even me. We have no meetings, and no deadlines either. And it's working: our creators earn over $175 million a year, and we generate $11 million in annualized revenue, growing 85% year-over-year."
➢ Expression is Compression – "Experiences become shareable creations the way tree sap becomes maple syrup. It takes 50 gallons of sap to make one gallon of syrup. So whenever I feel like I don't have enough ideas to create something meaningful, I go collect more experiences and spend time processing them by writing and talking to friends. Even writers who work full-time spend most of their hours away from the keyboard. Full-time authors, for example, don't actually type for 40 hours per week because they'd have little to say if they did. Instead, they spend most of their time collecting experiences. By the time they sit down to write, they've already experienced what they plan to write about, even if they aren't entirely sure about what they're going to say. By sitting down to make sense of their existing ideas instead of trying to invent new ones, writers at their computer mold the wet clay of experience into shape."
➢ Facebook Is a Doomsday Machine – "The Doomsday Machine was never supposed to exist. It was meant to be a thought experiment that went like this: Imagine a device built with the sole purpose of destroying all human life. Now suppose that machine is buried deep underground, but connected to a computer, which is in turn hooked up to sensors in cities and towns across the United States. The sensors are designed to sniff out signs of the impending apocalypse—not to prevent the end of the world, but to complete it. If radiation levels suggest nuclear explosions in, say, three American cities simultaneously, the sensors notify the Doomsday Machine, which is programmed to detonate several nuclear warheads in response. At that point, there is no going back. The fission chain reaction that produces an atomic explosion is initiated enough times over to extinguish all life on Earth. There is a terrible flash of light, a great booming sound, then a sustained roar. We have a word for the scale of destruction that the Doomsday Machine would unleash: megadeath. "
➢ Finally, a cure for insomnia? – "We live in a golden age of sleeplessness. The buzz of the all-night streetlamps, the natter of 24-hour news anchors, the scrolling Niagaras of social media feeds have built a world that is hostile to sleep. Night is no longer clearly delineated from day. The bedroom is no longer a refuge from the office. The physical and psychic walls that once held back the tides of work and social interaction have failed. As the essayist Jonathan Crary put it, sleeplessness is the inevitable symptom of an era in which we are encouraged to be both unceasing consumers and unceasing creators."
---
Last week's quick bits
---
Twitter thoughts
---
Disclaimer: My posts may contain affiliate links. If you buy something through one of those links you won't pay a penny more, but I'll get a small commission, which supports this blog and also my side-projects. So consider buying something through my links. Thank you!