Newsletter
Private email simplified & Become your new habit
In this week's issue of Creativerly: Remote collaboration that's as good as in person, build your vision, trends are dead, and a lot more.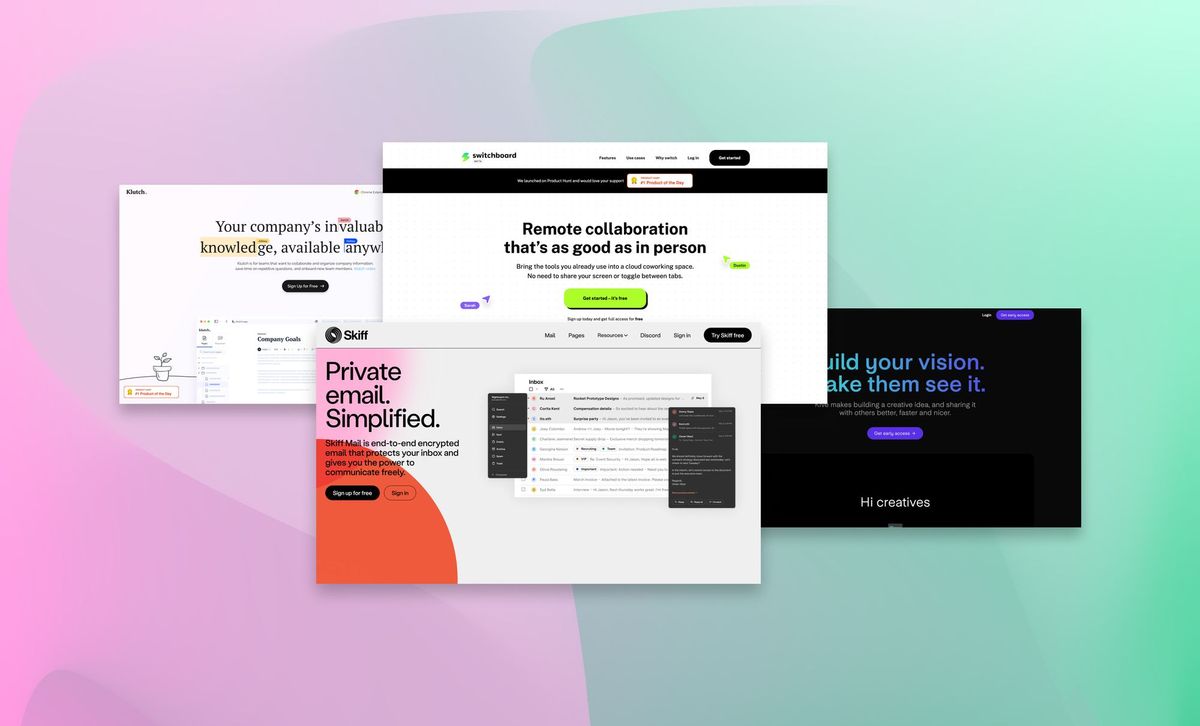 You are reading Creativerly, the weekly digest about creativity and productivity-boosting tools and resources, combined with useful insights, articles, and findings from the fields of design and tech. The newsletter built for the creative community.
---
Hey and welcome to Creativerly 170 👋
First of all, I want to say thank you to everyone who took part in Creativerly's first giveaway for two copies of Alex Hillman's highly acclaimed book The TinyMBA, congrats to the winners John B. And Drew M. The feedback for this giveaway was great. I will definitely try to make giveaways like this happen more frequently. If you did not win this giveaway I still have good news for you. Alex was kind enough to provide all Creativerly readers with a discount code for his book The TinyMBA.
Grab yourself a copy of The TinyMBA and use the code creativerly at checkout to get 20% off your purchase. This is an incredible value. As I already stated in the last issue of Creativerly, I am a huge fan of The TinyMBA, since you can not compare it to any other business book out. The TinyMBA provides you with 100 ideas to evaluate and execute on your built-in advantages, to play the Long Game of Business, and to build your own business that lasts. The book triggers you to actually think and act on what you are reading. So, if you are looking for a book with thought-provoking ideas about entrepreneurship and business practice, I can highly recommend The TinyMBA, and therefore I am beyond excited and thankful, that Alex provides all Creativerly readers with a discount of 20%, when you use the code creativerly at checkout.
Thank you to everyone who took part in this giveaway. Get in contact and let me know if you would like to see more giveaways in the future. Also, tell me if you want to take part in book giveaways or software giveaways, or anything else. I am, as always, open to all of your suggestions.
---
Workspace Tours From Creators and Makers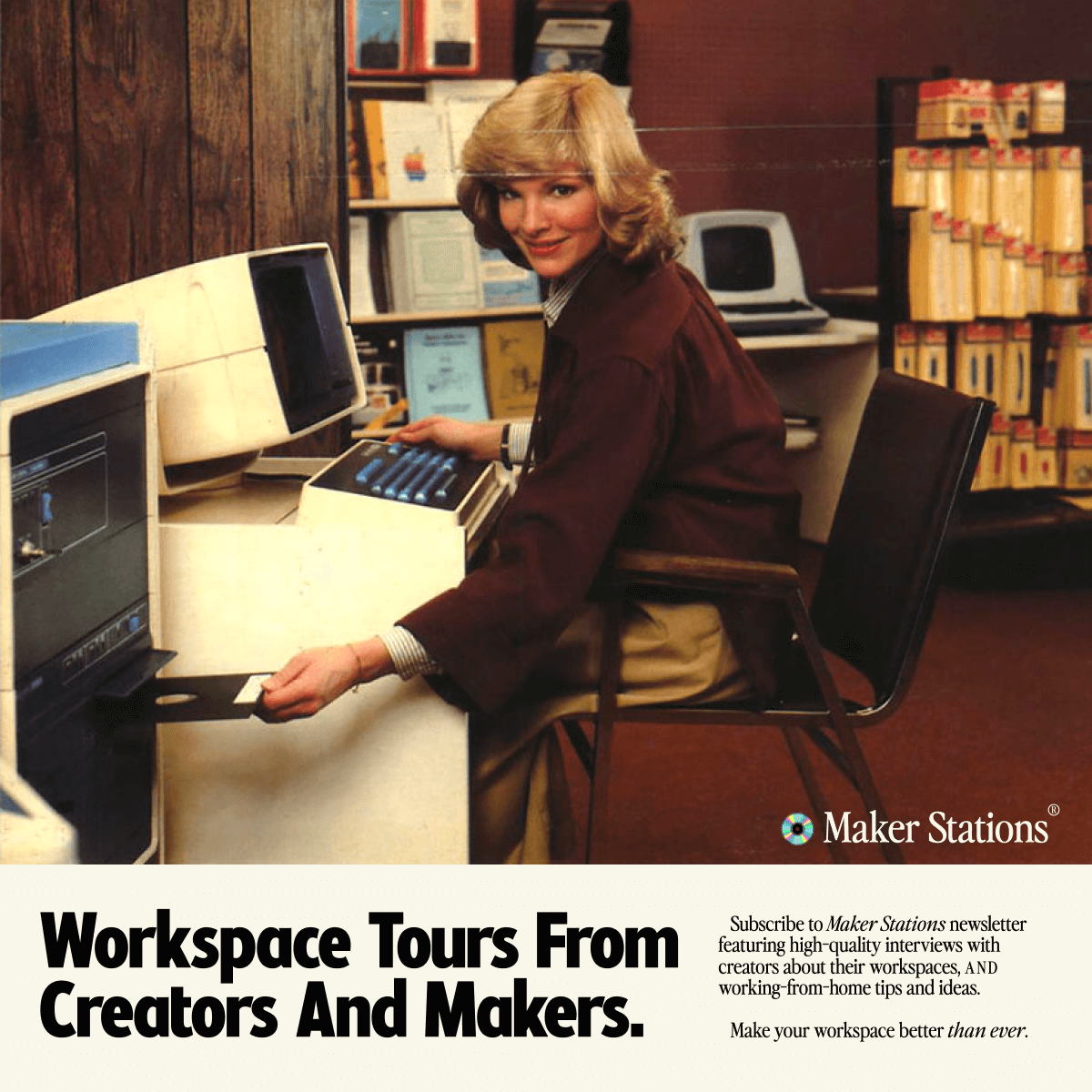 Maker Stations is a free Sunday newsletter with high-quality workspace tours. We feature in-depth interviews with creators and makers about their beautiful and functional desk setups. We also share useful WFH tips and ideas.
This is a sponsored message. If you also want to highlight your app, tool, resource, newsletter, job offer, in front of over 1600 creative minds, head over to creativerly.com/advertise* and get in contact.*
---
Apps, Software, Tools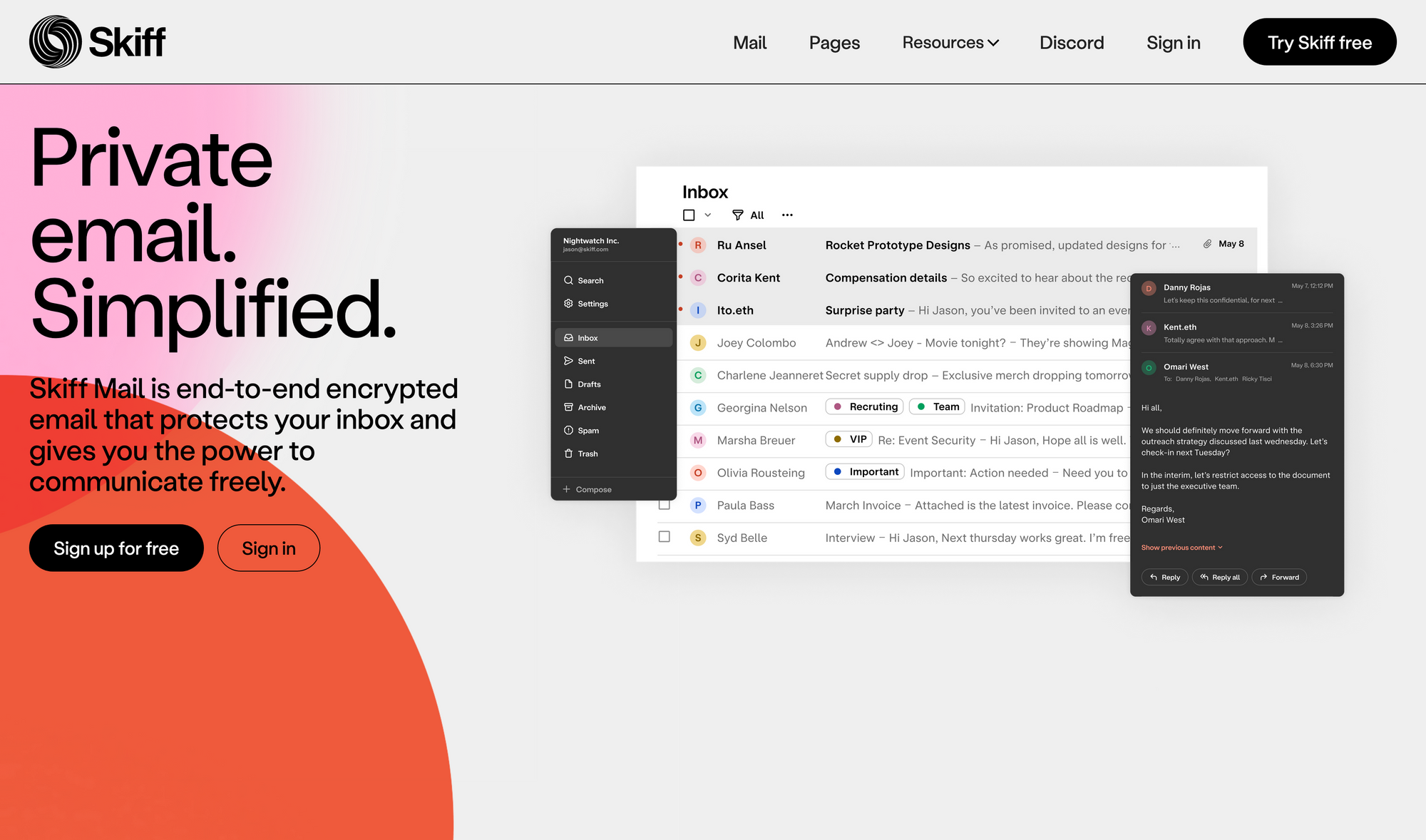 Back in issue 145 of Creativerly, I wrote about Skiff for the first time and although I liked their idea of building a privacy-focused collaboration platform, I was not attracted to their landing page since it was lacking in information about what Skiff actually does. With their most recent update, Skiff expanded its product suite by now providing an end-to-end encrypted email service. That means, Skiff now not only provides your own personal end-to-end encrypted workspace with Skiff Pages, but you can also leave your privacy-invading Gmail account and set up your new inbox with Skiff Mail.
As mentioned in issue 145 of Creativerly, Skiff has one of the strongest privacy focuses out there. With Skiff Pages, you get the freedom of complete privacy while creating notes, wikis, and pages. On top of that, as you set up your end-to-end encrypted workspace you get the possibility to write and edit together with your team in real-time. Skiff Pages lets you securely and confidently share your notes and pages with your collaborators. Besides that, Skiff stepped into the world of Web3, as users can now log into Skiff with Metamask or store their data on the InterPlanetary File System (IPFS). Skiff brought the same strong focus and high standards regarding privacy now into the field of email. It is beyond insanity to think about the fact that as of January 2020, Gmail had more than 1.8 billion active users. That is a serious number, especially when we take into consideration that there are around 4.1 billion email users as of 2021. Gmail is indeed a reliable email service, but it has its fair share of issues especially when it comes to privacy.
Users who are looking for an end-to-end encrypted email service that protects their inbox should consider a more privacy-focused email service, like Skiff Mail. Skiff Mail has the same strong focus on privacy as Skiff Pages. Additionally, Skiff Mail is open source, which means Skiff's privacy statements, claims, and encryption protocols can be verified by anyone. Skiff Mail and Skiff Pages are connected to the same account, which means you can seamlessly jump from docs to email, to remote collaboration without any kind of compromise to your privacy. One of the most powerful features of Skiff Mail is its fast search. No matter if you are a paid or free user of Skiff Mail, you will get access to its blazing-fast and secure search to find and get access to the full content of your emails. What makes Skiff Mail's search even more powerful is the fact, that it is carried out client-side, which means on your device, so the end-to-end encryption remains intact.
With a free account of Skiff Mail you get access to 10GB of storage which is more than any other privacy-focused and end-to-end encrypted email service is offering. On top of that, Skiff Mail is also available on iOS and Android, so you can sync your emails across your devices. According to Skiff's website, it seems like it is also supporting custom domains, although there is no information in which plan custom domains are included. It is exciting to see another company entering the same of privacy-focused email services. As companies like Skiff are offering a generous free plan, a beautiful interface, a strong privacy focus, and an easy way to migrate from Gmail or Outlook, I have hopes that more and more people will get attracted to switching to privacy-focused email services.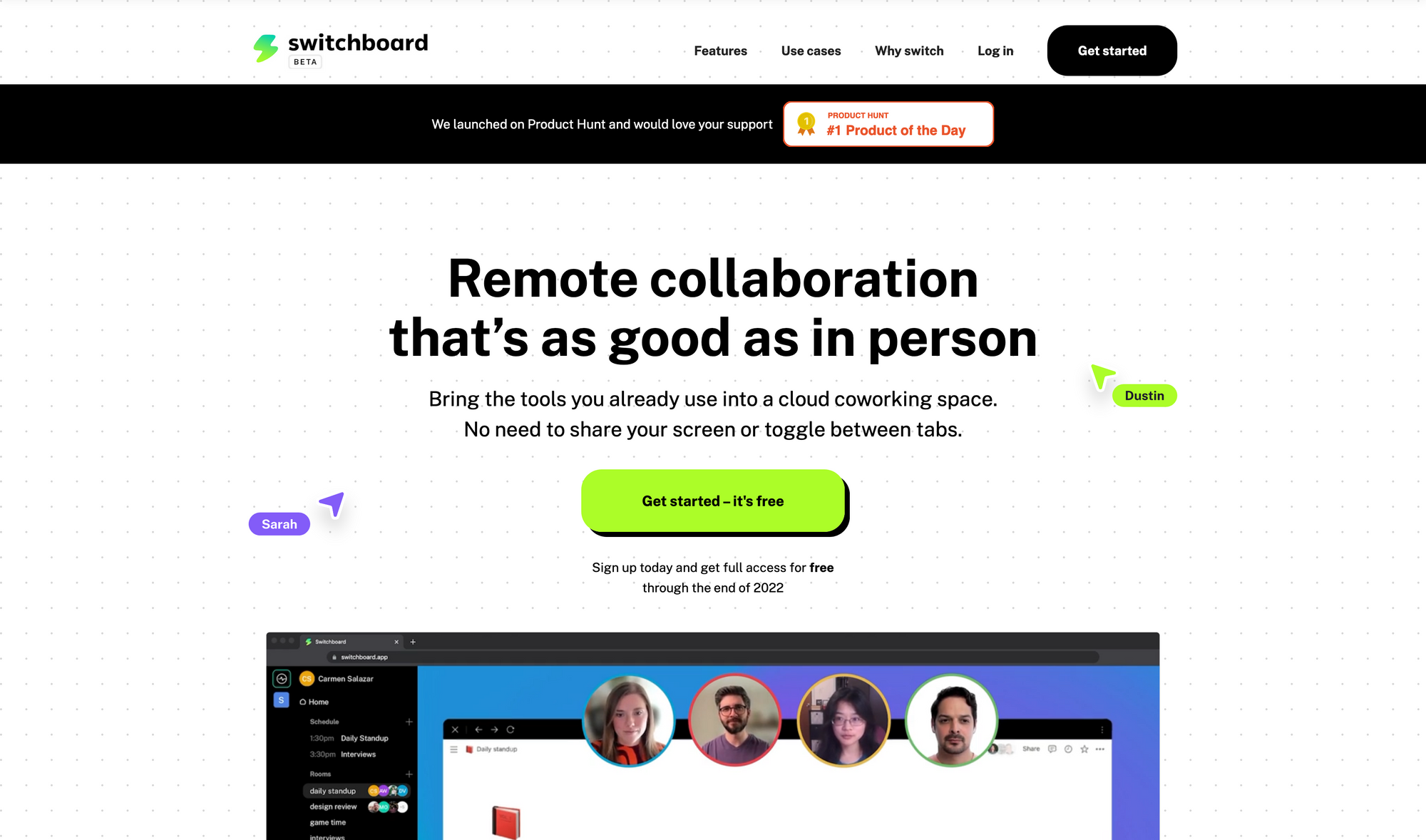 Over the last couple of months, I wrote about a lot of tools with a dedicated focus on supporting remote work culture and teams who collaborate on a daily basis. Switchboard is another tool witch such a strong focus on making remote collaboration as good as in person.
Switchboard gives you the possibility to set up a coworking space in the cloud, packed with all the tools you already use. When you have to manage countless browser tabs on a daily basis to handle all the apps and files you need for your work, then Switchboard can help you to gather everything in one structured and organised workspace. No matter if you are already using tools like Trello, Figma, Notion, Asana, Miro, or others for your daily business, if it is on the web, it works with Switchboard. With your dedicated workspace within Switchboard you can draft specs in Google Docs, review prototypes in Figma, plan your next sprint in Jira, track a project in Asana, and a lot more. The beauty of that, you do not have to work alone, everyone can jump in at any time. To save time, Switchboard lets you keep all the apps and files you need for specific projects or recurring meetings open, so you can reuse your setup over and over again. Besides that, Switchboard features the possibility to make spontaneous conversations in 1:1 rooms. All you need to do, is tap someone on the shoulder by selecting your colleague or teammate from the sidebar within Switchboard.
During meetings within your rooms, anyone on the team can add apps, websites, files, images, and videos to each room. What makes Switchboard powerful is the fact that you can then see all the apps, websites, files, etc. you have added side-by-side instead of jumping back and forth between countless browser tabs. With Switchboard you can browse the web and apps together instead of constantly sharing your personal desktop. Switchboard makes remote work feel like actual collaboration, everyone can scroll, type, click, and co-browse. Every single room within Switchboard is equipped with video conference tools too, you decide if you want to use audio-only, video, or chat to keep your team connected. No matter if you want to set up project rooms to work in all the apps you need, creative and design reviews to share your actual work and not your screen, sprint planning to keep everyone on track, or anything else, Switchboard gives you the features and tools to stay productive while working remotely.
Compared to other tools, Switchboard features a strong focus on privacy. Each room within Switchboard is protected. You are in control of member and guest room access, you can sign in with SSO and 2FA. Besides that, you can be sure that your work is secure as Switchboard features state-of-the-art encryption. Switchboard is currently still in an early stage, therefore the tool is still in beta. You can sign up to Switchboard right now and get full access for free through the end of 2022.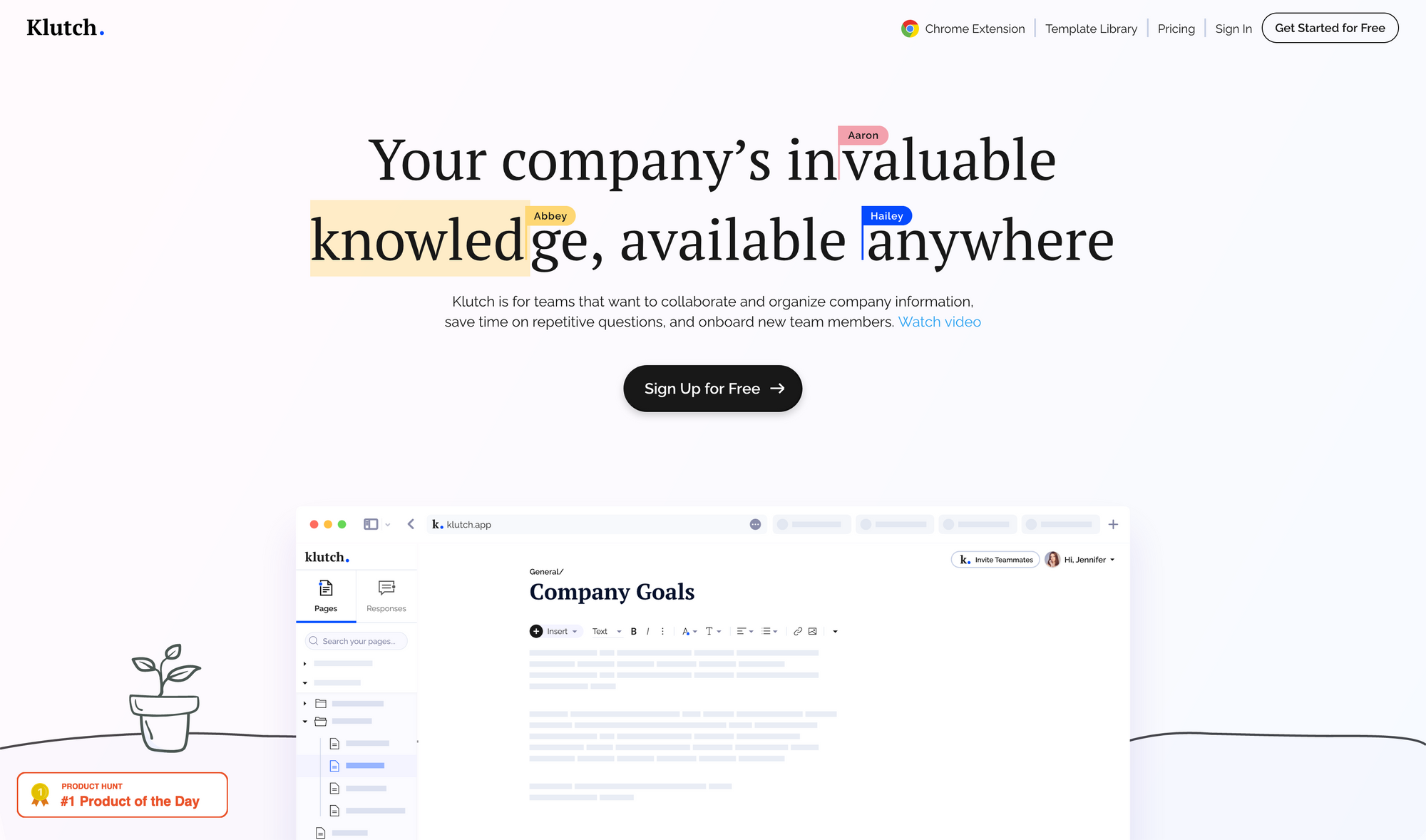 The Personal Knowledge Management space is an ever-growing one. More and more tools launch in that space, and already established ones are growing, raising money, hiring a lot of new talents, and expanding their features. The same growing interest we have experienced in PKM and visual-first note-taking tools is now coming to creating, maintaining, and sharing knowledge across companies. Let us call this space Company Knowledge Management (CKM) for now. Klutch is such a tool, that has a strong focus on giving teams the possibility to collaborate and organise company information, save time on repetitive questions, and onboard new team members.
Klutch's main goal is to give you the tools and features you need to document your company's valuable knowledge. The base layer of knowledge creation within Klutch happens on Pages. Pages within Klutch give you the freedom to create, note-down, and keep track of long-form, critical company information which you can then share to individuals, teams, or the whole company. Noting down your company's knowledge in a dedicated space saves you time while searching for answers and guides. With Klutch you can document all the important company information and keep knowledge base leads up-to-date to form a more informed team. The power of creating a company knowledge base is also noticeable when you onboard new employees. Setting up Pages within Klutch leads to better and quicker employee onboarding. A strong company knowledge base prevents mistakes and leads to faster and smoother workflows.
The second layer of knowledge creation within Klutch is called Responses. While you use Pages within Klutch for long-form content, Responses are used for short, copyable answers to help you stop repeating yourself. With Responses you save time searching and replying to repeated questions. This leads to better and quicker support. When you and your team are struggling to keep everyone on the same page, Klutch gives you the possibility to make it easier to find the information you are looking for. With Klutch you can use categories, tags, permission, comments, and more to organise and structure the information and knowledge you create. Klutch wants you to access the knowledge you create wherever you work. Therefore, Klutch is available as a desktop app, Chrome Extension, Edge Add-On, and a mobile responsive web app.
You can use Klutch for free for up to 50 items, up to 2GB storage, unlimited members, access to the Chrome Extension, Gmail Integration, Permissions, User Groups, Templates, real-time Collaboration, and more. There is also a Pro Plan which will cost you $4 per user per month (billed annually) and gives you access to everything from the free plan, plus unlimited items, up to 100GB storage, and premium support.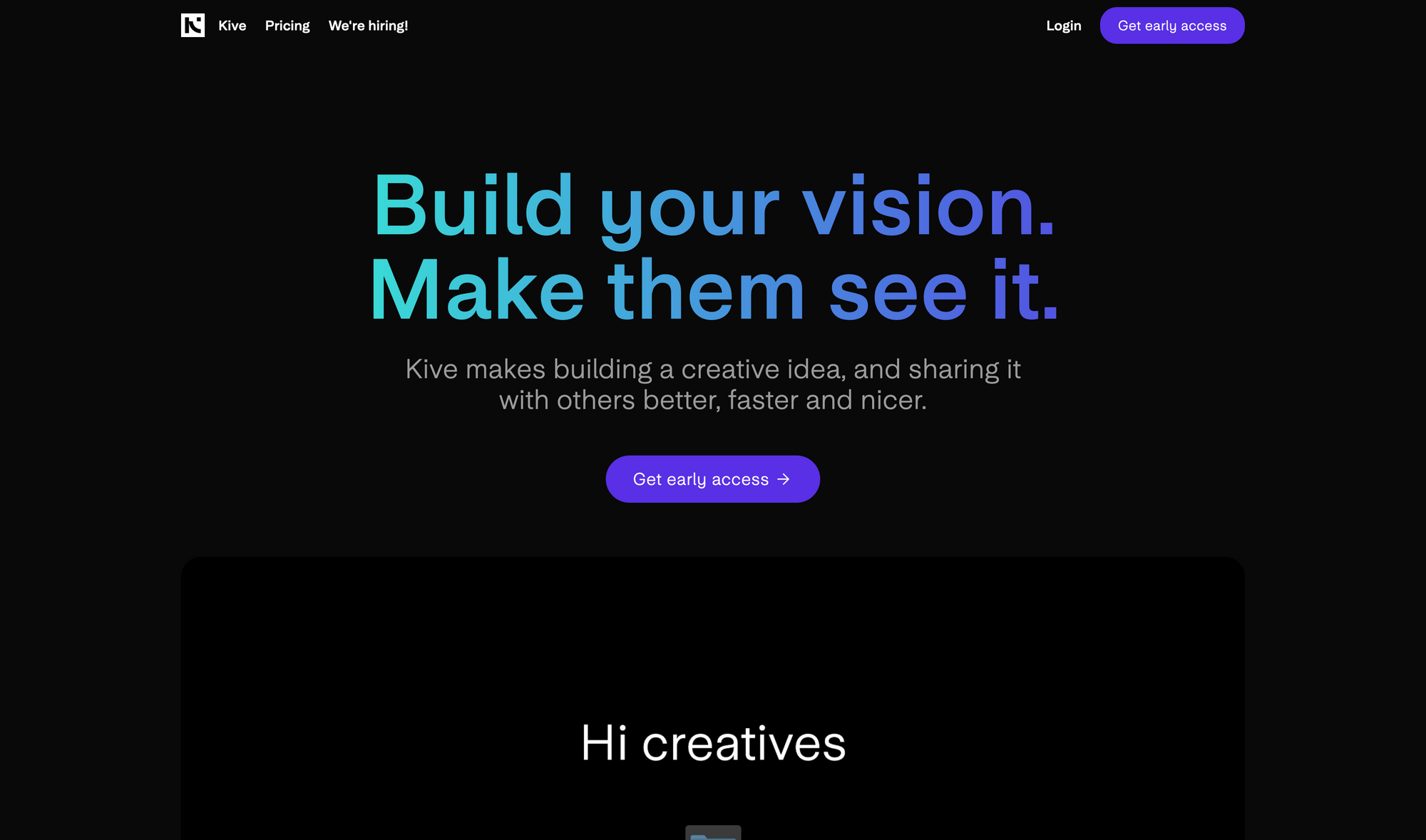 Kive is an AI-powered tool to make building creative ideas, and sharing it with others better, faster, and nicer. Kive gives you the possibility to create your own reference library, powered by AI. Creating such a library with Kive is as easy as it can get. Upload all your archive of images or videos straight to Kive and it will handle the rest. Uploading videos to Kive unfolds its true AI magic since video will automatically get extracted into frames.
With Kive, you can say goodbye to hundreds of folders, which gave you a hard time keeping track of your archive. Kive delivers a powerful AI library, lightning-fast search, teamwork, and time-saving tools. After uploading your archive to Kive, you can sit back and relax, as Kive will sort and organise your archive with AI tagging. Based on that, there is no longer the need to remember filenames, as Kive gives you the possibility to search by image content. It is also easy to set up shared workspaces within Kive, so you can share your library with your team whenever you want to. With Kive's apps, you can access your library anywhere, in the browser, on iOS, and on iPad. As already mentioned, one of the most powerful features of Kive, is the fact that it extracts frames and GIFs from videos within seconds. Choose a video, select if you want frames from each shot or entire shots as GIFs, upload it, and Kive handles the rest.
Kive's browser extension lets you add anything you want directly to your library with a single click. Kive has a strong focus on collaboration, so sharing your workspaces with your colleagues and teammates, lets you get feedback, select files together, and skip countless emails back and forth to collaborate. Additionally, you can easily build beautiful boards of the content you have within your library and share those boards with a single link afterwards. Besides that, Kive lets you automatically create assets for social media from the files you have uploaded, share public links with everyone, directly move your assets from Dropbox, create your own custom tags, and a lot more. Kive has a free plan for up to 1000 items, 20 boards, 30 items per board, and 5 projects. The Pro Plan will cost $16 per month per member, for up to 10000 items, and unlimited boards, items per board, and projects.
If that still is not enough, you can choose the Team Plan for $30 per month per member, which gives you unlimited access to Kive. You can sign up now to get early access to Kive.
---
Mental Wealth
➢ Trends are dead – "One of the recent trends on TikTok is an aesthetic called "night luxe." It embodies the kind of performative opulence one usually encounters at New Year's Eve parties: champagne, disco balls, bedazzled accessories, and golden sparkles. "Night luxe" doesn't actually mean anything. It isn't a reaction to wellness culture, nor is it proof that partying is "in" again (has partying ever been "out"?). It's just one of many aesthetic designations for which the internet has contrived a buzzy, meaningless portmanteau. Rest assured that night luxe will likely have faded into irrelevance by the time this article is published, only for another meme-ified aesthetic (i.e., coastal grandmother) to be crowned the next viral "trend.""
➢ A neuroscientist debunks the most annoyingly common productivity myths – "Increasing your productivity is easy. It's just a matter of making a few simple changes to your routine, or behaviour, or thinking, and your productivity will soar. At least, that's what countless online articles claim. The actual science tells a different story. Even a modest amount of research reveals that some of the most commonly touted claims about how to boost productivity fall apart in the face of the evidence. So, here are some of the most common myths around boosting productivity."
➢ Become Your New Habit – "Quitting an old habit or forming a new habit is fairly simple when it comes to the steps to doing it: find your trigger and do a new habit at that trigger over and over. Remind yourself to do it. Make it rewarding. The simplicity is deceptive, though: there are some physical urges and even more mental habits that keep us stuck in our old patterns. The physical urges are not so hard: if you stay away from an old habit (like cigarettes) for a week, the urges die down. It's the mental habits that trip us up. We have a way of seeing ourselves that includes our old habits (like smoking, eating a certain way, etc.) and so we form a bunch of mental habits that keep us stuck in that version of ourselves. Here's a method that will change everything for you: become your new habit."
➢ Why moving from pixels to people is never a straight line – "Moving from managing pixels to managing people isn't a straightforward decision. Many of us underestimate the change in pace, scope and challenges that come with a design management or leadership position. Here are some tips for those who find themselves at that proverbial fork in the road, unsure whether to go right or left."
---
Do not miss out on this …
These are paid promotions or affiliate links to support Creativerly. If you are interested in putting your tool, product, or resource in front of over 1600 creative minds, consider advertising in Creativerly and book a sponsor or classified ad spot. Find all the important information at creativerly.com/advertise.
---
Appendix
➢ ICYMI
Creativerly's interview with Elizabeth Butler (creator and founder of Calmer Notes*) is out now. If you want to get insights into how a productivity and personal knowledge management enthusiast is structuring and organising notes, managing projects, building in public, and if you want to read about thoughts about the PKM space in general, then I encourage you to check out Creativerly's interview with Elizabeth Butler. Head over to creativerly.com and give it a read.
➢ Quick Bits
---
Twitter thoughts
---
Till next time! 👋‌‌‌‌
Support: Do you have a friend who is looking for inspiration, news about design, and useful tools and apps? Forward this newsletter to a friend or simply share this issue and show some support. You can also show some love by simply clicking the button down below and keep this newsletter a sustainable side-project by buying me a coffee. ☕️ 🥰
---
---
Some of the links in my newsletter and my blog posts are affiliate links. Those links are marked by an asterisk. If you buy something through the link, the product will not cost you anything more, but I will receive a small commission which not only supports Creativerly and my work but also helps me to keep this publication a sustainable side-project.