Newsletter
Read better online & Transform your workspace
In this week's issue of Creativerly: The joyful productivity tool, create interactive user flow diagrams, what occupies your mind, and a lot more.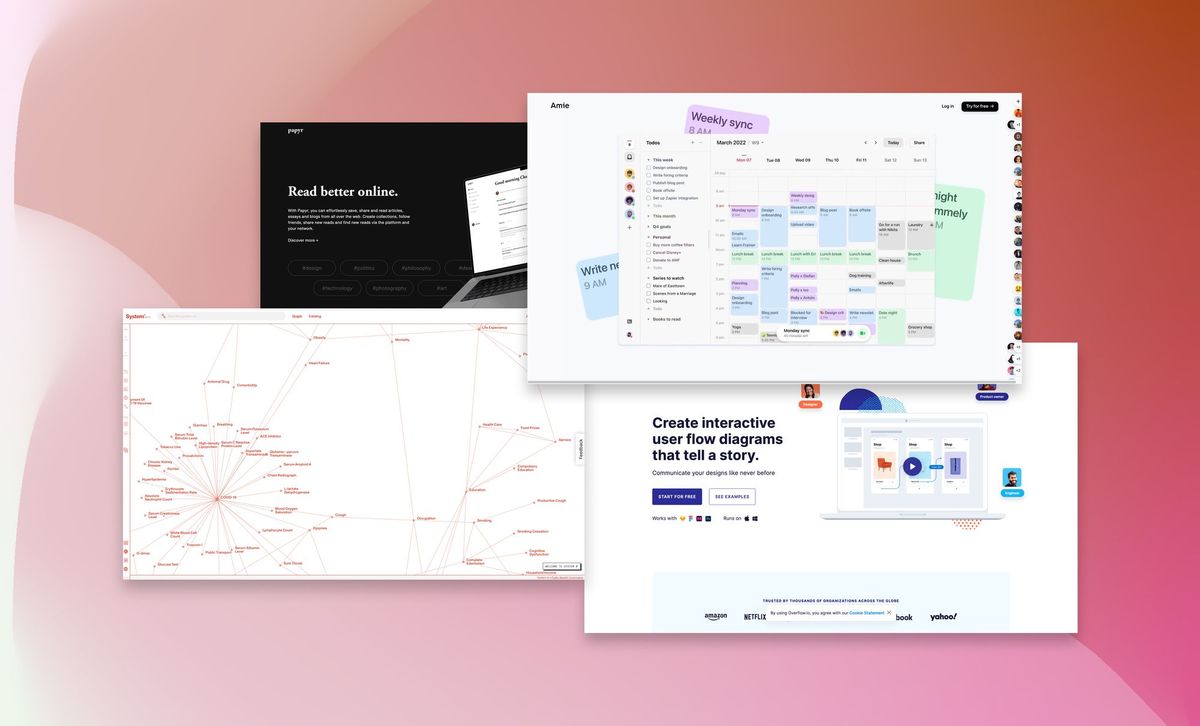 You are reading Creativerly, the weekly digest about creativity and productivity-boosting tools and resources, combined with useful insights, articles, and findings from the fields of design and tech. The newsletter built for the creative community.
---
Hey and welcome to Creativerly 161 👋
A couple of weeks ago, I got access to Scrintal a tool that combines mind mapping with the power of networked note-taking. As I spend more and more time with Scrintal, I realise that the knowledge graphs we already know from tools like Roam, Obsidian, Logseq, or RemNote should have been what Scrintal is building as a standalone and powerful tool. When I first discovered what knowledge graphs are, I immediately got intrigued by the idea to visualise how my notes, ideas, and thoughts are connected to each other. As my personal knowledge base grew, so did the connections I have made. At that point, I realised that the knowledge graphs within Obsidian, Logseq, and others are purely visual aesthetic. It is nice to look at them to see how your knowledge grows, but at least personally I do not get an additional benefit from it.
Scrintal on the other hand uses the visual approach to always show you the connections you have made in the big picture. In Scrintal, every note you want to take is a card. If you create a new link for a specific topic, a new card gets created. As you expand on a certain idea or thought, you will find yourself on a beautiful infinite canvas, packed with visual cards of the notes you took and the connections you have made. No matter how many cards or notes you create, Scrintal will always provide you with the big picture. You always get a crystal clear view and image of your thinking, you can always write creatively, and ultimately share your findings easily. Traditional knowledge graphs are cluttered. Scrintal gives you the possibility to turn unorganised information, notes, and thoughts into visual knowledge.
Before I started using Scrintal, I was a folder/tag guy when it came to structuring and organising my notes, and actually, I still am especially when it comes to traditional note-taking, but I like exploring other workflows for specific use-cases like researching a topic for a blog post, learning, or deep dives, as I think this is were visual note-taking and in addition to that Scrintal really shines. Therefore, I was pretty new to the field of visual note-taking. Just after a few weeks, I already see why visual note-taking for specific use-case just like the ones I mentioned earlier, can make an incredible difference. It is a special feeling to start with a blank canvas, on which I can just drop my thoughts about a specific topic or blog post idea. Seeing my ideas scattered in form of cards makes it easy to focus on each one specifically and start connecting them. With a workflow like this, outlining and writing a blog post becomes pure joy.
I am excited to dive in deeper. I am looking forward to spending more time with Scrintal and exploring the tool even further and learning about new workflows. Scrintal is onto something, and the team is working hard to further evolve the tool. One of the newest product updates included the possibility to save your desk so you can create boards and basically manage your work into projects. I can also tell you that there are some exciting things coming up. If you want to get access to Scrintal, make sure to sign up to their waiting list as they are constantly opening up their tool and get more users onto it to try it out, explore it, and provide feedback.
---
Visual space to organize & manage work with clarity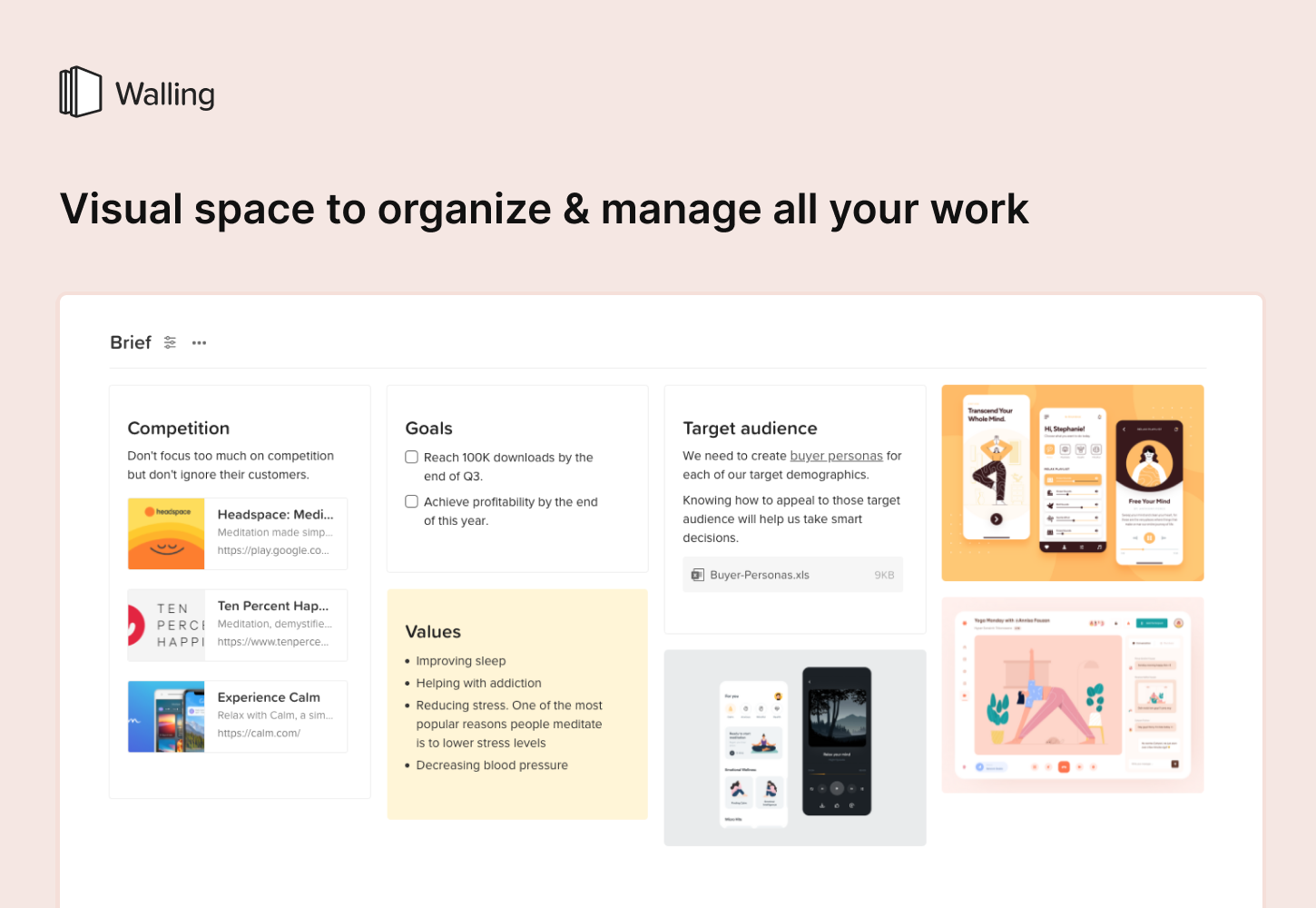 Drowning in ideas and tasks? Meet Walling, a visual tool to organize all your ideas, tasks and inspirations, side-by-side, all in one place. Get a bird's eye view of your entire work to see clearly what needs to get done and what is important to your projects. Try Walling For Free!
---
Apps, Software, Tools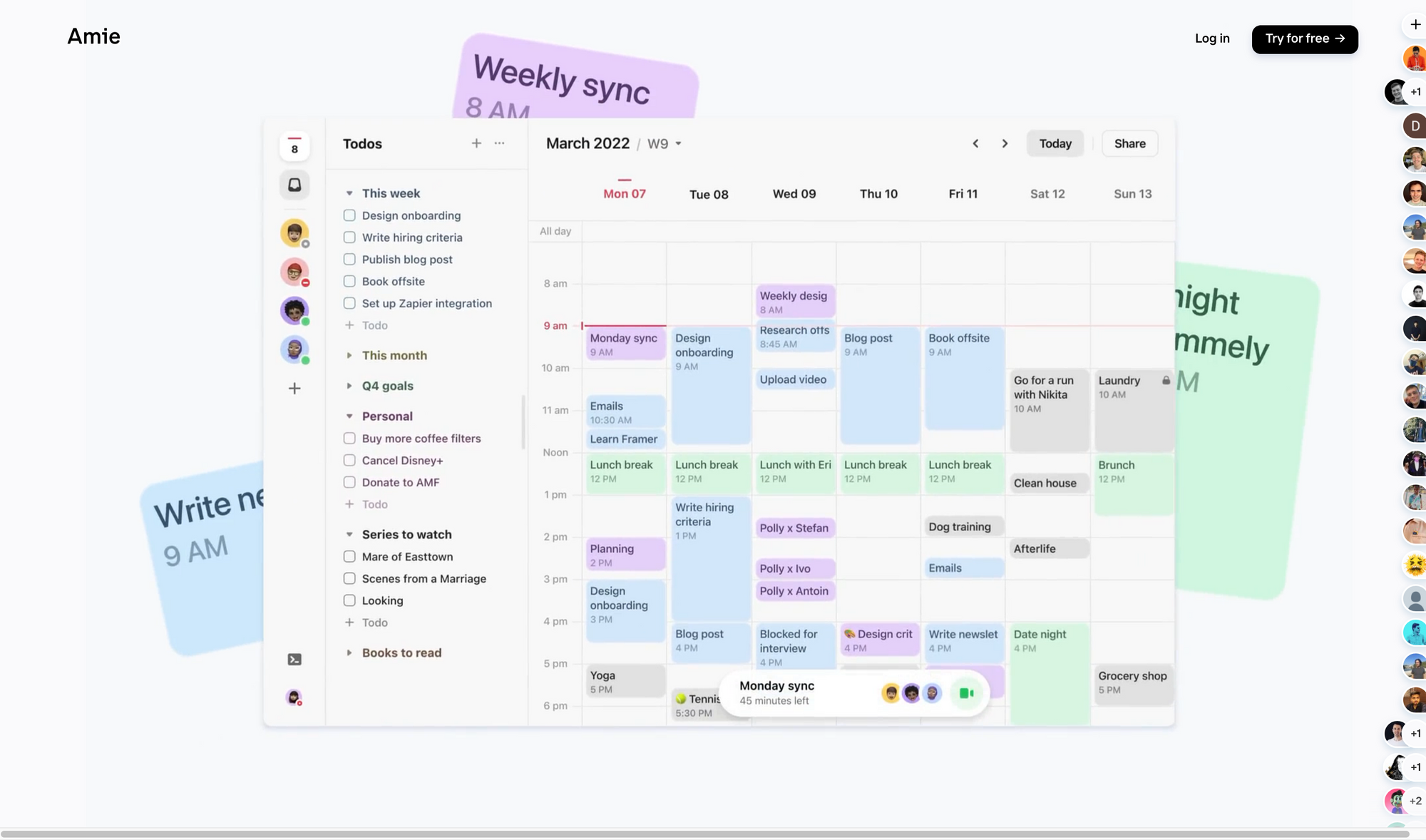 I wrote about Amie for the first time within Creativerly back in July 2020 as I featured it in issue 73 and wrote a short follow-up in issue 74. Time flies by and I am excited to tell you that Amie launched their Beta. As part of their official launch, the team behind Amie also worked on a lovely new website, which surely is one of my top three product websites of all time. The website clearly reflects all the effort, time, work, and love for details that went into crafting such a beautiful piece of internet treasury. For most of us, scrolling through Amie's website means we get to see actual interface screenshots of the tool itself for the first time.
Although I am using task management software for the longest time now, I always have been a strong advocate of connecting task management with your calendar, so you will be able to see all your open tasks in context. With traditional task management software, people tend to build a backlog of tasks. Some of them might get lost over time, some of them will never get done, and some of them are even not that important to keep track of. If you combine your tasks with your calendar you will be able to see them in context, give them a timeline and a due date. Amie does exactly that, and in fact, much more. Amie is the joyful productivity tool, that lets you schedule time for your todos, events, and contacts. Amie combines your Calendar, Tasks, Scheduling Links, and your Personal CRM in one beautiful app.
Amie makes it incredibly easy to share your availability with your colleagues, teammates, clients or anybody else. On top of that, if you share a link to your availability, the receiver will get a beautiful page to book a slot with you. If you ever struggled to keep up and remember the personal things and birthdays of your family and friends, Amie lets you set up reminders for those so you never forget anything. With Amie, any action is just a few keystrokes away since there is a command bar that gives you the possibility to quickly search for dedicated events or quickly create new todos. In general, Amie offers shortcuts to duplicate, join calls, and much more. If you are working across a remote team, Amie lets you easily set multiple timezones and team calendars.
Amie just launched their Beta, and they are opening up their tool to their waiting list first. Amie is available for Web, macOS, iOS, and Windows (an Android app is coming soon).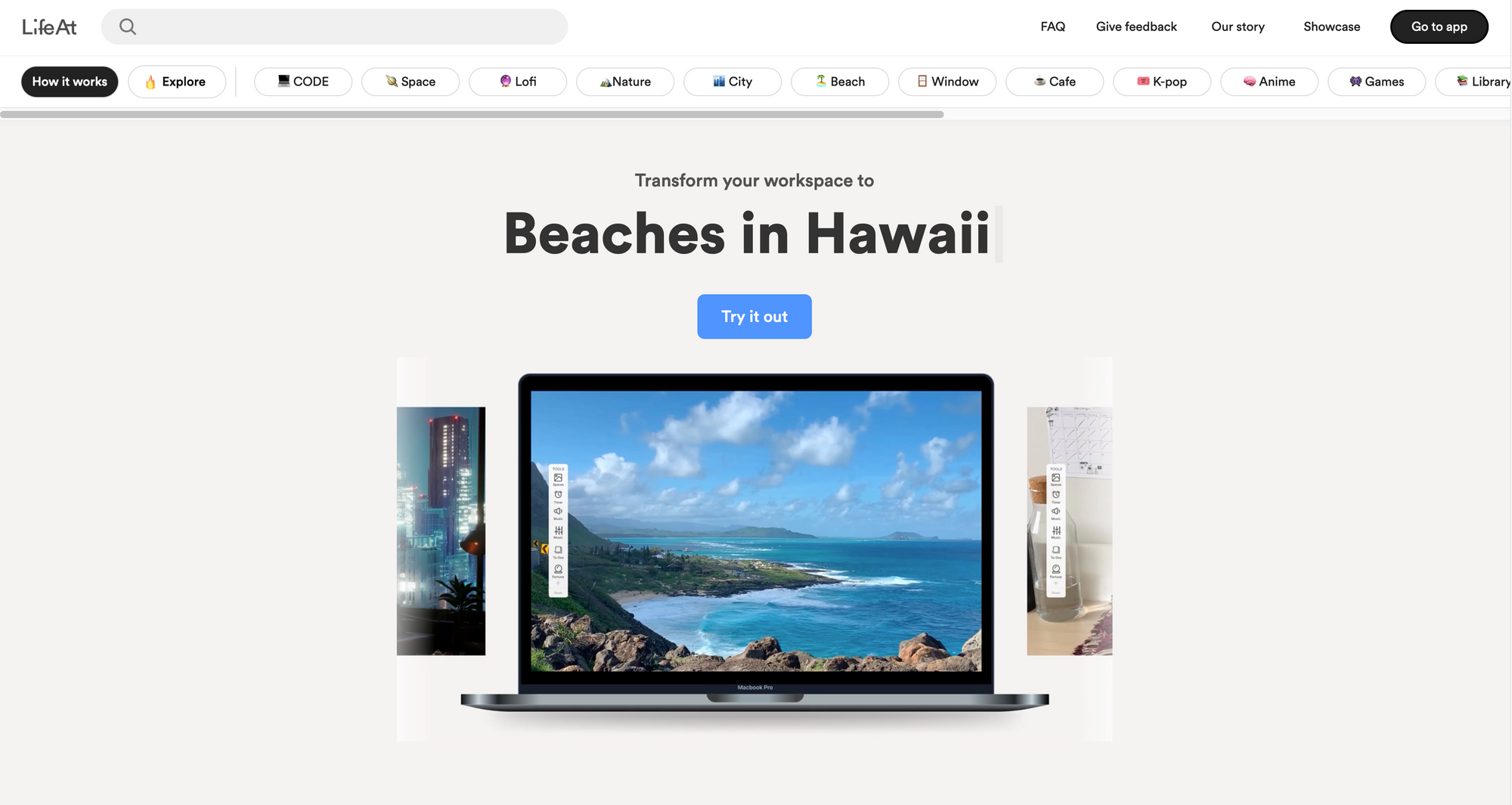 As people regularly move from a traditional working model to a hybrid or even fully remote one, there are also others who are concerned about working away from their colleagues and teammates. Those concerns are legit. Working from home, or 100% remotely without getting in contact with your colleagues in real-life, can lead to feeling lonely at some point. LifeAt is a tool that wants to help you improve your routine while working remotely, with beautiful sceneries, music, productivity tools, and the possibility to vibe either solo or with others.
For people who have never experienced working from home or remotely before the pandemic led to a general shift within our working models, there was the risk to feel stuck and unmotivated without having a dedicated routine and constant contact with your colleagues and teammates. LifeAt provides a global community of folks personalising their LifeAt workspace with backgrounds from around the world and productivity tools to get their work done. When you enter LifeAt you set your screen based on your mood by browsing and exploring hundreds of video spaces, from the top of the Himalayas to Library in NYC.
Once you settled on the mood of your workspace, it is time to personalise it. Within LifeAt you can drag and drop productivity tools like a Pomodoro Timer, a To-Do List, or even a Spotify right on your workspace and place it how you like it. If you check in daily, LifeAt will keep track of your streak to improve your focus. The lovely thing about LifeAt is the dedicated community aspect since you can explore the workspaces other LifeAt users have created. No matter if you are into coding with others, viewing city skylines, beaches, nature, or if you would like to hang out in a cafe, virtually, LifeAt gives you the possibility to set the space for your current mood.
Head over to LifeAt, create an account, explore the different categories like Study with me, City, Library, Beach, and more to set up your space, invite others to your workspace, and get in the mood.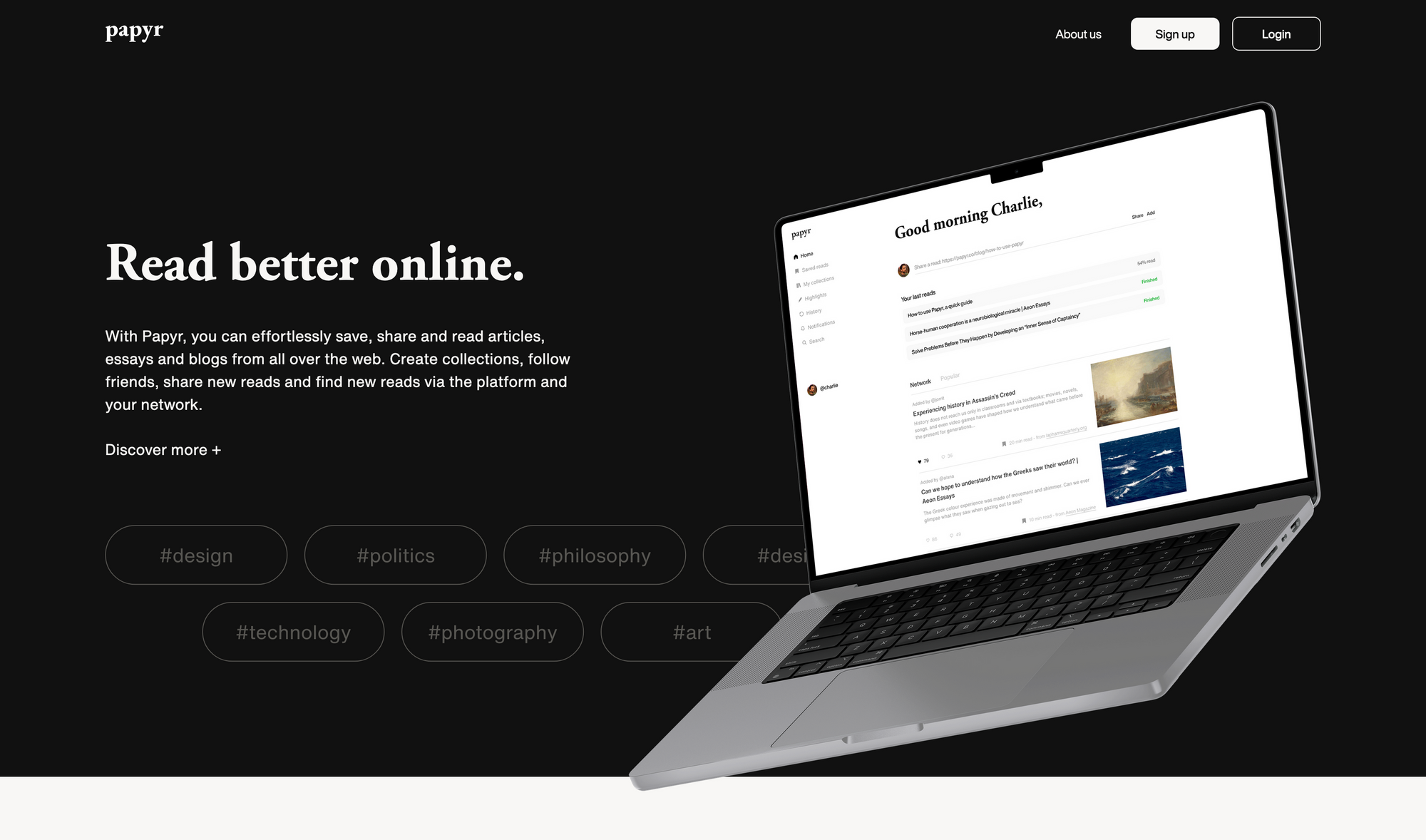 For quite some time now, I use Refind to discover new articles within my field of interest, and at the same time, it also functions as my preferred app to read and consume articles, since Refind features a beautiful Reader View. Nevertheless, it is exciting to see that there is an increasing number of new reading apps entering the market. Papyr is one of them.
Papyr is a tool that you can use to save, share, and read articles, essays, and blogs from all over the web. Loads of online magazines and news sites are packed with ads, banners, and unnecessary elements, which make it hard to actually read on the web. This is where reader apps, just like Papyr can really shine, as it not only gives you the possibility to keep track of the stuff you want to read, it also serves you with a beautiful interface that gives you the possibility to read the articles you have saved without any distractions. Additionally, Papyr lets you also create collections you structure all your saved articles, follow friends, and share and find new reads.
Personally, I have a growing library of blog posts and articles I want to read, but I do not stress myself to go through them. Whenever I have time and I am in the mood to read I go through my archive and search for something that catches my interest. Papyr makes it easy to organise your reads since you can create topical collections, highlight the most noteworthy read and even take notes within those. This is great to always find what you are looking for. On top of that, Papyr also functions as a discovery tool. Within Papyr you can follow friends to see what they are reading, browse through new topics, and simply see what is currently popular on the platform.
If you found an interesting article you want to read, Papyr provides you with a beautiful and distraction-free interface without any clutter. To keep your reading streak going, Papyr provides you with similar articles based on your interests and the topics you are reading. To keep track of any important bits you find within the articles you have read, Papyr lets you highlight parts and save them for later. Papyr is currently free to use, so make sure to sign up for an account right now and give it a try.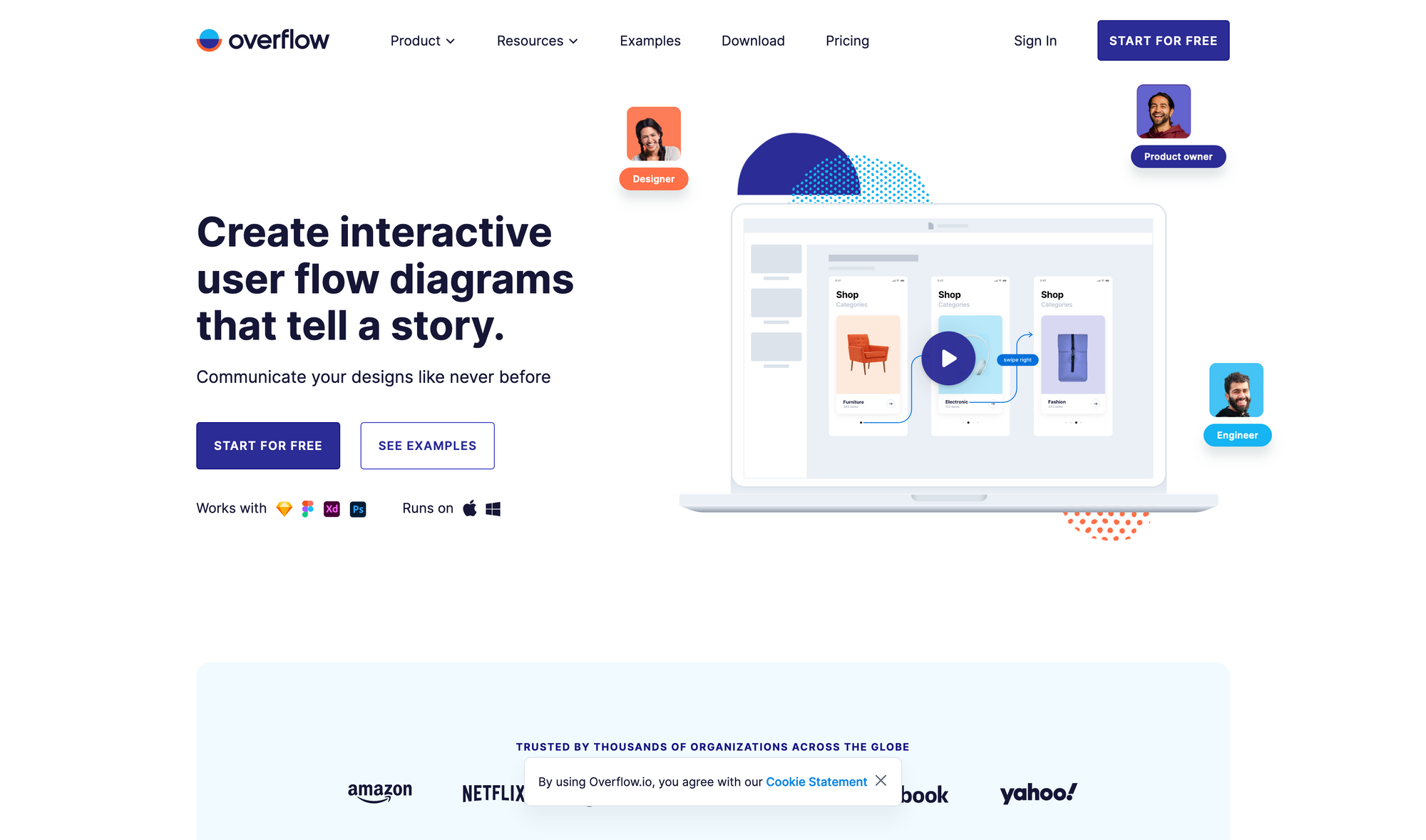 Overflow is a tool to create interactive user flow diagrams that embrace the communication of your designs like never before. When working on new user flows it is important to communicate your ideas, thoughts, and the interaction you have designed. Overflow gives you the possibility to create interactive user flow diagrams and design presentations with ease and speed.
If you are already using design tools just like Adobe XD, Figma, Sketch, or Photoshop, Overflow seamlessly integrates with those, so you can simplify the process of creating user flow diagrams with the designs you have already created. While working on your interactive user flow diagrams, you can also invite teammates to collaborate on your documents and build more impactful design presentations together. Overflow's presentation features make it easy to navigate between screens and keep your audience engaged from start to finish. If you are looking for even more feedback and opinions, you can share your user flow or design presentation online, and allow your team or clients to navigate through the work you have done freely and on their devices. This gives you the possibility to receive asynchronous design feedback.
Overflow is an incredibly powerful tool, no matter if you are working within a Product, or Design Team, in an Agency or at a Tech Startup, with Overflow you can streamline the process of creating interactive user flow diagrams, and present your work in a beautiful and clear setting. Overflow is available for €12 per month per person (billed yearly) and gives you access to 1GB of Cloud Storage per user, private and team folders, comments, and a lot more. The Pro Plan also comes with a 14-day free trial so you can explore the tool and see if it is a fit for you and your team.
---
Useful Resource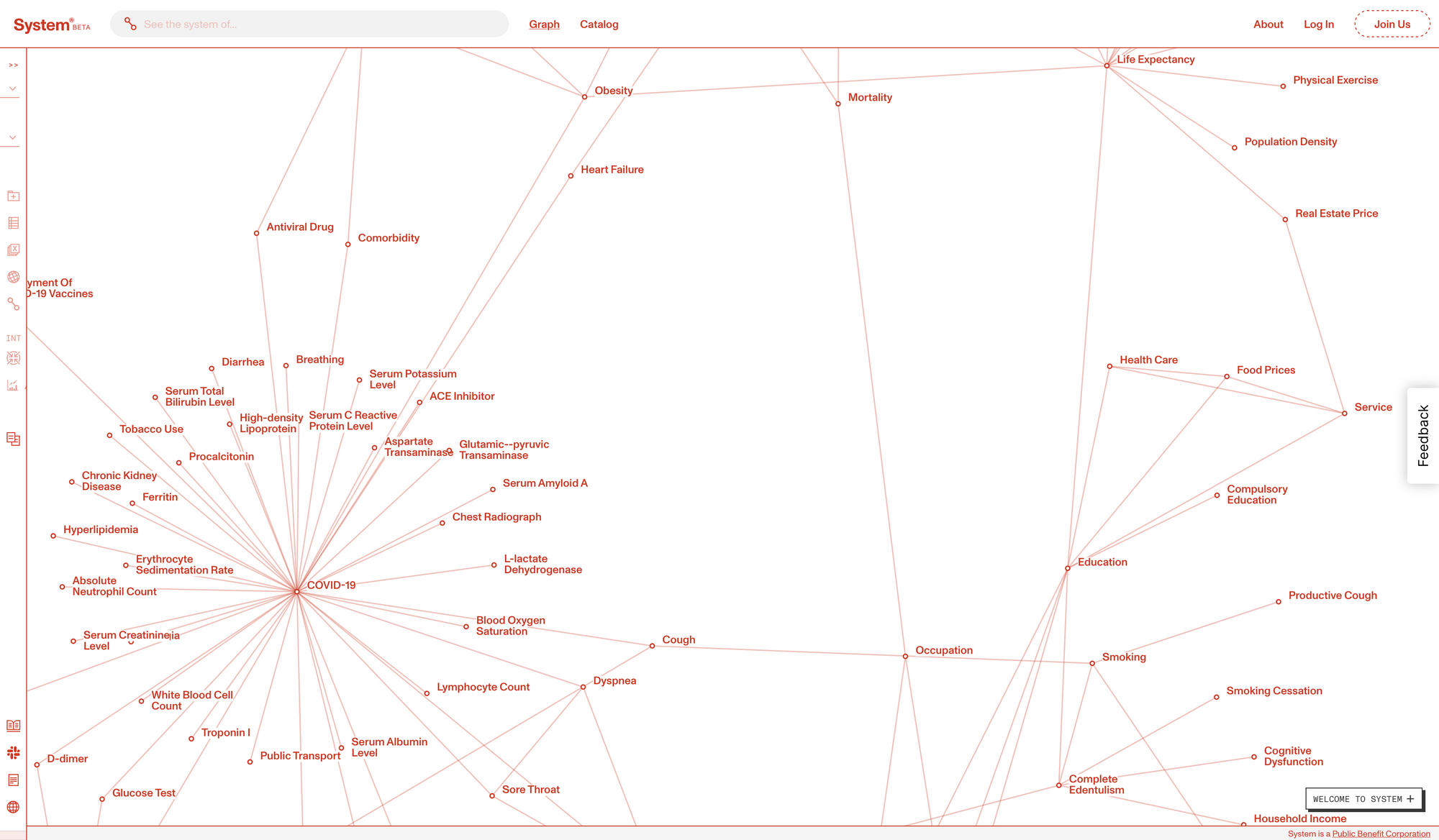 Did you ever ask yourself how certain things in our world are related and connected to everything else? No matter which topic you are currently thinking about, everything is a system made up of endlessly interacting, flowing, dependent parts. In nowadays world, we literally have every kind of information about these parts at our fingertips. But on the other hand, it is hard to see how these parts relate to each other. As a result, we often make decisions without being able to predict outcomes. This is where System is entering. System is an awesome resource, that gives you the possibility to see the world as it actually is, related and connected. System is a free, open, and public resource, that aims to explain how anything is related to everything else.
If you are familiar with knowledge graphs that are part of Personal Knowledge Management tools to showcase the connections you have made while taking notes, you can think of System as the knowledge graph of our world showcasing the connections of any topic with others. System works by gathering statistical evidence of relationships between topics. It organises and visualises the gathered information with all the supporting data by its side. The result is a holistic view. It is pure joy to use and browse.
---
Mental Wealth
➢ What You Find When You Leave Your Job – "When Winnie Lai joined the more than 47 million Americans who quit their jobs in 2021, she worried most about what she would tell other people; leaving a great position as an attorney felt silly. "It was really hard. I talked about it extensively in therapy," the 37-year-old told me from her home in New York. Though she knew resigning and taking a less demanding gig was the right move for her and her family, being a lawyer was more than a job—it was a major part of her identity. Lai's struggle isn't singular, and it illuminates the mental adjustment that so many people taking part in the "Great Resignation" have had to make. More and more Americans are realizing that voluntarily leaving your job today isn't always just about securing a better lifestyle; it's also about the redefinition of self."
➢ What Occupies Your Mind? – "Most people, myself included, are holding onto at least one thing way past its expiration date. It could be a belief, perhaps that your hair is falling out and you are ugly and unlovable as a result, that you can't say what you really feel in an intimate relationship, or that you must lose ten pounds to be attractive. It could be a desire, such as wishing someone would treat you better, pushing to make a project be successful, yearning for a certain kind of partner, or wanting to cure an illness. It could be a feeling, like a fear, grudge, resentment, longtime grief, or a sense of low worth. It could be a behavior, such as jogging with aging knees, playing video games, or buying clothes. It could be something you insist others do, such as make their beds, drive a certain way when you're in the car, or meet particular goals at work."
➢ Work is learning and learning is the work – "We have come to a point where organizations can no longer leave learning to their HR or training departments. Being able to understand emerging situations, see patterns, and co-solve problems are essential business skills. Learning is the work. I had mentioned that I was talking to a financial advisor at a bank the other day and I asked her what kind of professional development she did. The bank has a central online learning portal where employees can take 'courses', particularly compliance training. The financial advisor told me she just went to the end of each course and did the test. She found it rather useless."
➢ Nine Tips for Giving Better Feedback at Work – "Matt Dailey, a software engineer for a data management company, was managing a team with an engineer who wasn't performing well. This was clear to Dailey—and to the employee. Yet, as I describe in my new book Mastering Community, Dailey said he "wasn't bridging the gap of how to make the situation better." His team missed their deadline."
---
Classifieds
If you are interested in putting your tool, product, or resource in front of over 1500 creative minds, consider advertising in Creativerly and book a sponsor or classified ad spot. Find all the important information at creativerly.com/advertise.
---
Appendix
➢ ICYMI
If you are on the hunt for productivity tools that have a strong focus on privacy, respecting their users' data, featuring end-to-end encryption, and are open-source, I am excited to showcase ProductivePrivacy to you, a directory website packed with privacy-focused productivity tools ranging from note-taking, task management, and project management tools. Head over to productiveprivacy.com and browse through the director.
➢ Quick Bits
---
Twitter thoughts
---
Till next time! 👋‌‌‌‌
Support: Do you have a friend who is looking for inspiration, news about design, and useful tools and apps? Forward this newsletter to a friend or simply share this issue and show some support. You can also show some love by simply clicking the button down below and keep this newsletter a sustainable side-project by buying me a coffee. ☕️ 🥰
---
---
Some of the links in my newsletter and my blog posts are affiliate links. Those links are marked by an asterisk. If you buy something through the link, the product will not cost you anything more, but I will receive a small commission which not only supports Creativerly and my work but also helps me to keep this publication a sustainable side-project.