Newsletter
Supercharge Accessibility & Why designers quit
In this week's issue of Creativerly: Your agile iPad app for deft note-taking, where remote teams work together, a short notes manager, and a lot more.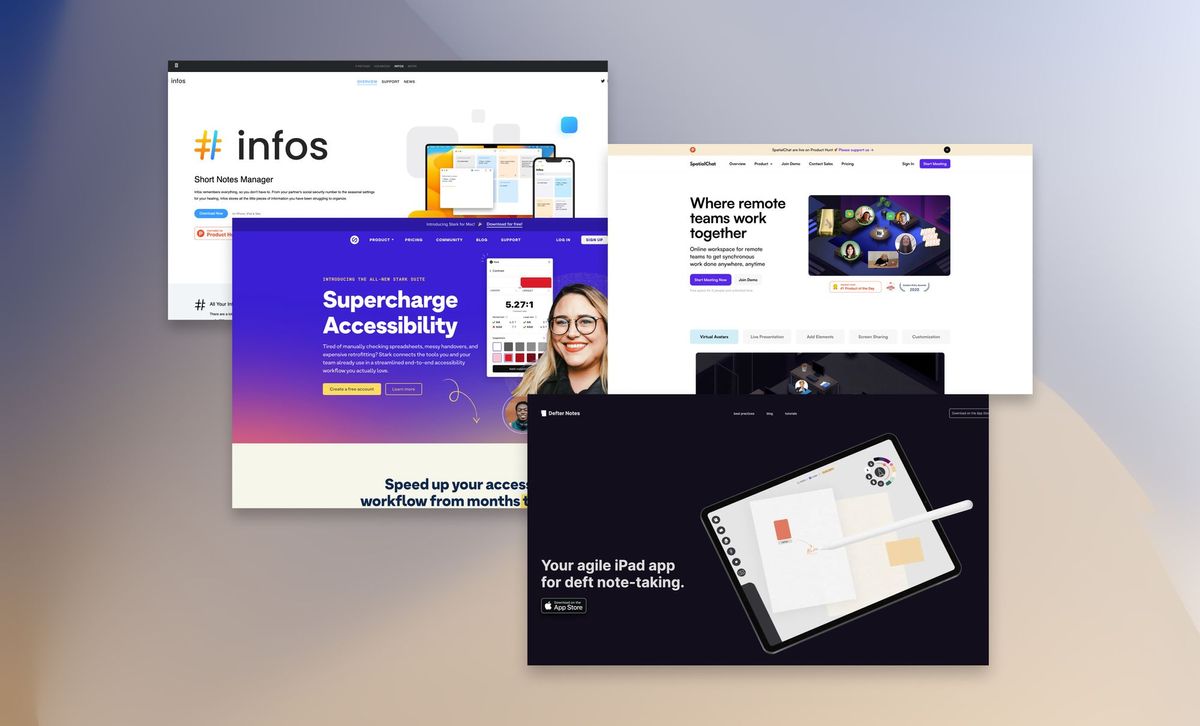 My name is Philippand you are reading Creativerly, the weekly digest about creativity and productivity-boosting tools and resources, combined with useful insights, articles, and findings from the fields of design and tech. The newsletter built for the creative community.
---
Hey and welcome to Creativerly 189 👋
I have to admit, I love writing about the following news. Back in July, I wrote about Italy following Austria, The Netherlands, and France by banning Google Analytics and declaring it illegal. I am excited to share with you the news that Denmark is the next country following this decision and ruling. The Danish Data Protection Agency ruled the use of Google Analytics illegal after reviewing its settings and the terms under which the tool is provided. This means danish organizations will have to consider whether they use Google Analytics in compliance with data protection law, requiring them to either bring their use of the tool into compliance or, if necessary, discontinue using it altogether.
Google tried to comply with GDPR but it failed, until today. In 2022 GA4 (the newest Google Analytics Suite) is still not compliant with GDPR. Google is yet to regulate EU-US data protection. At present, the company doesn't sufficiently protect EU citizens' and residents' data against US surveillance laws. This is a direct breach of GDPR.
The funny thing about this whole scenario is: for me personally it seems like Google does not really care. Why should they? They are a multi-billion dollar company with an armada of lawyers. But somehow Google draws the picture for me, that they not only wait until the last resort because they have such a strong and powerful legal team but more importantly that they rely on the data that gets illegally tracked and sent to the US. Because once the data leaves the EU and is handled on US servers, you are pretty much powerless. Google can state as often as they want that they do not collect personal data, that data is anonymised, and no one knows what data specifically gets collected and what happens to it once it got sent to US servers.
If you care about the privacy of your users and visitors, the most important thing you can do right now is to think about and search for a Google Analytics alternative. The market for privacy-friendly Google Analytics alternatives is growing fast, which is great news. To get a starting point for your research on which Google Analytics alternative suits your needs best, you can head over to Creativerly and check out my blog post about privacy-focused Google Analytics alternatives, which includes over 25 different services. Respect your users' privacy, ditch Google Analytics, and use a privacy-friendly alternative.
---
Sidenote: I already wrote about Scrintal quite often, but if you do not know about it here is a quick introduction: Scrintal is a tool that combines visual note-taking with mind mapping and personal knowledge management. It is one of the most exciting tools within the field of PKM software. Scrintal is still in an early stage, but the team managed to attract over 25,000 users for their waitlist. Back on Thursday, Scrintal introduced an special and limited early access pricing plan, which gives you immediate access to the platform and also locks in the pricing. For $60 per year, you get direct access to Scrintal and are able to start using it immediately. Head over to Scrintal.com for more information.
---
Get smarter every day.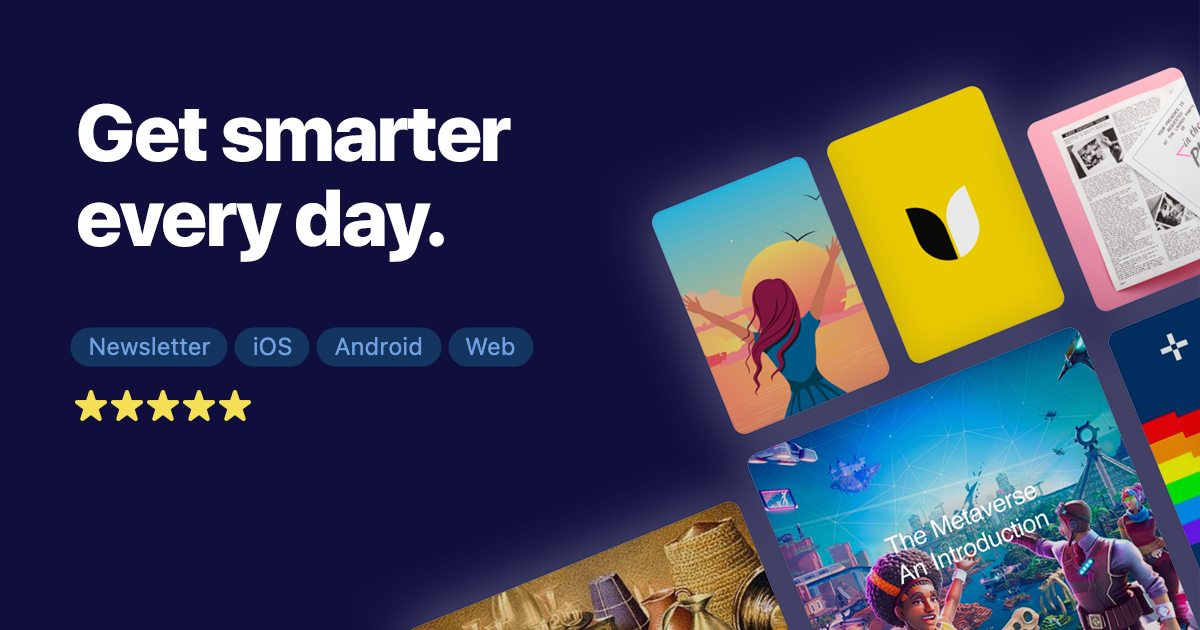 Every day Refind picks 7 links from around the web for you, tailored to your interests. Loved by 50k+ curious minds.
This is a sponsored message. If you also want to highlight your app, tool, resource, newsletter, job offer, in front of over 1800 creative minds, head over to creativerly.com/advertise* and get in contact.*
---
Apps, Software, Tools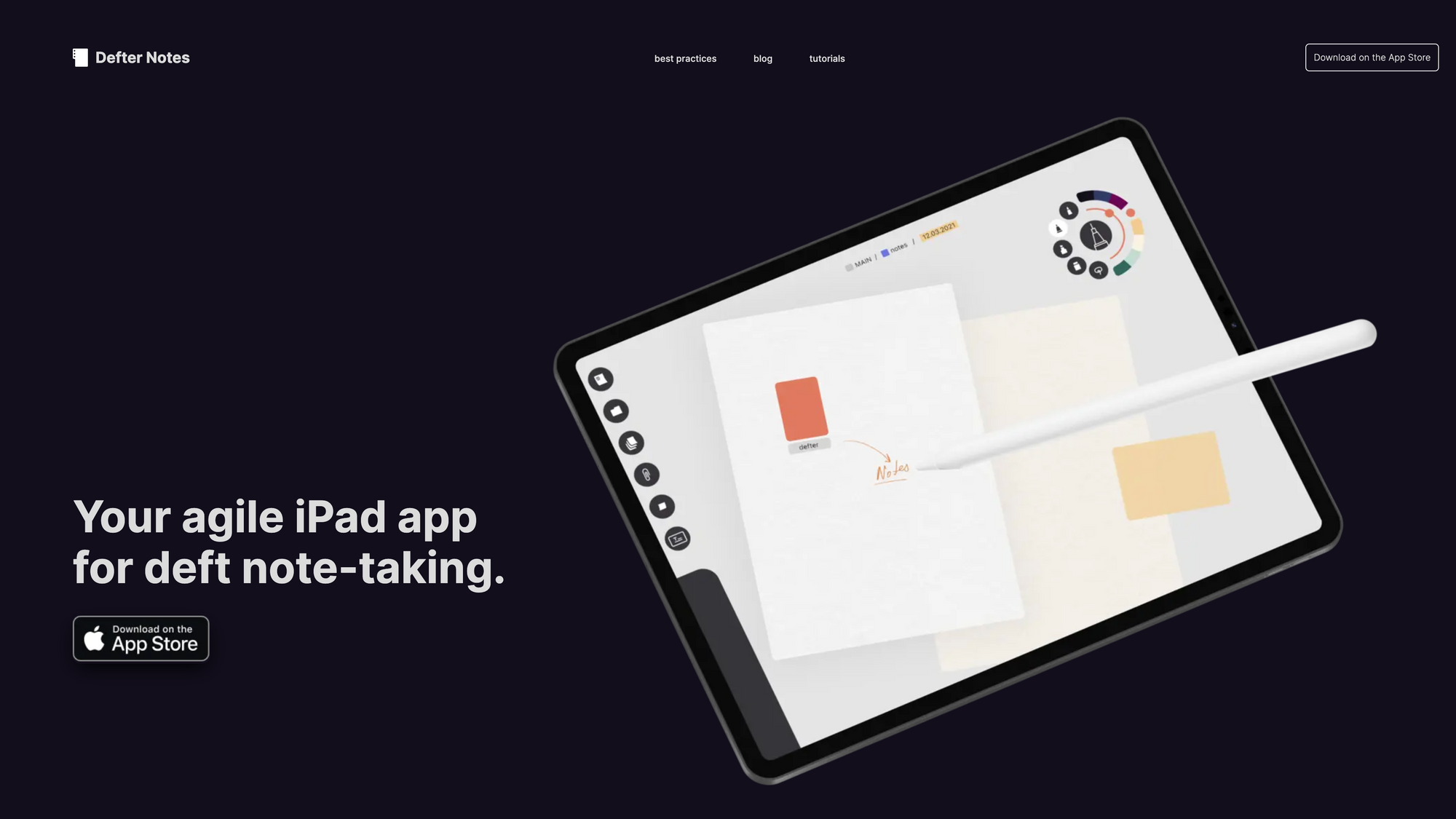 Defter Notes is an agile app for deft note-taking. It gives you a dedicated place for all your notes, documents, and files, right where you need them.
With the introduction of iPads and Tablet devices in general, we got access to new possibilities, new workflows, and new ways to work and be productive. It is exciting to see, that companies and apps are leveraging the possibilities of iPads and creating and building dedicated Tablet experiences. Defter Notes is one of those apps. With Defter Notes you get access to a spatial note-taking space. This spatial space lets you create nested folders, in which you can spread out and organise documents. To enrich your documents and your spatial space, easily attach images, files, an PDF stacks. No matter if you want to arrange professional projects or personal notes, Defter Notes allows you to keep track of everything in one place.
A powerful feature of Defter Notes is multiple PDF support, which allows you to cross-reference multiple documents side by side. With Defter Notes you can add notes to your documents, insert or remove pages, and layout PDFs as bound or individual papers. This is an incredibly powerful feature while doing research, learning or studying, reading, or simply if you want to bring more context to your documents. Defter Notes PDF stacks are a lovely feature for different tasks while reading or researching.
On top of that, Defter Notes features a beautiful and clean interface, with an intuitive workspace, designed to be customisable to fit your style of note-taking. Using your Apple Pencil, you will be able to take handwritten notes with Defter Notes. Additionally, you can convert handwriting to text in Defter Notes, which is super powerful (sidenote: this feature is possible because of Scribble which is a handwriting-to-text capability by Apple, therefore this feature is only possible with Apple Pencil). With Defter Notes you can draft, sketch, and quickly take handwritten notes, and as you move forward with an idea or a project you can polish your documents.
Defter Notes is a great tool for taking notes during a meeting, improving your process for research and academic studies, thinking visually, journaling, and a lot more. Defter Notes is available for iPad and it will cost you $19.99.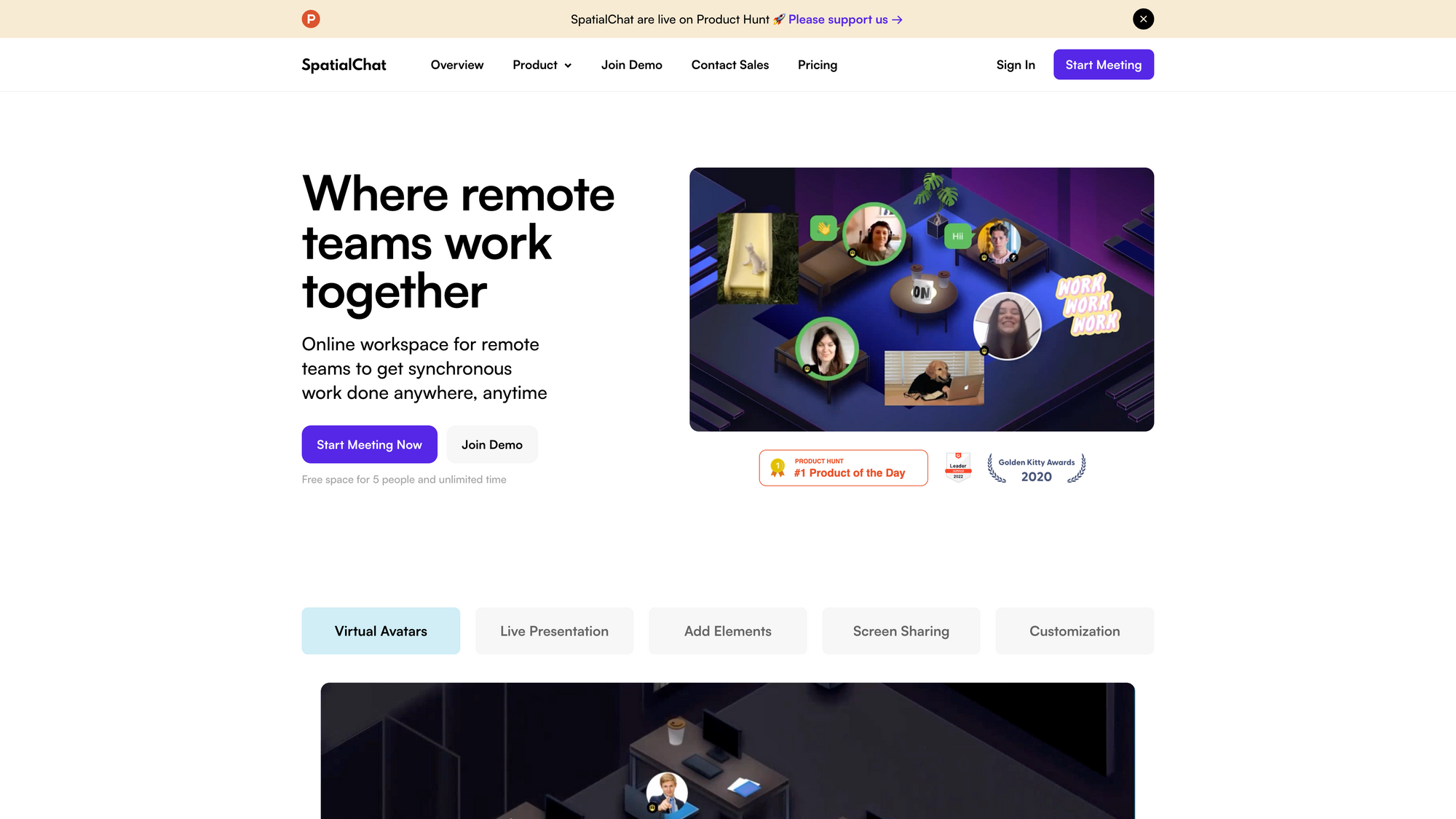 SpatialChat is reinventing the way remote teams are getting and working together. It is an online workspace for remote teams to get synchronous work down anywhere and anytime.
SpatialChat uses a spatial online workspace in which you and your colleagues are represented with virtual avatars. To connect and start talking to your colleagues within the online workspace, you simply need to move your virtual avatar next to your colleague's avatars, after that, you will be able to voice or video chat with your team. SpatialChat transforms how your teammates connect, engage, and collaborate with interactive virtual space for work. With SpatialChat you get the possibility to build your custom digital HQ and embrace your virtual office.
SpatialChat is packed with features like Live Presentation, Screen Sharing, and Customisation. To empower the collaboration between your team member, you can embed your favourite whiteboard, and share a single screen or multiple screens simultaneously. By designing virtual rooms you can improve your team communication and create an immersive remote culture. For running all-hands for the whole team, you can host live sessions on Stage with interactive presentations and attendees' reactions. To make SpatialChat even more powerful, you can customise the whole experience of it, by integrating SpatialChat seamlessly with your favourite services, like Miro, Vimeo, YouTube, and others. No matter if you are planning a brainstorming session, a design sprint, pair programming, or a regular meeting, SpatialChat helps you to work on projects more closely. Embed your preferred external services, interact with them, participate in joint activities, record results, and communicate from a central hub.
While using SpatialChat at work, you can be sure that your data will get treated with the highest privacy and confidentiality standards. SpatialChat was built with the highest standards of GDPR and SOC 2 Type II compliance. With SSO you can even ensure more privacy, to allow employees to log in with a single ID. According to SpatialChat's website, it is already trusted by 6 million users around the world. If you want to give it a try, you can sign up to the Free Plan which is limited to five team members, one space, and three rooms per space. The Regular Plan will cost you $6 per team member per month (billed annually) and it gives you access to unlimited guests, up to 10 spaces, private spaces, and up to 5 call recordings.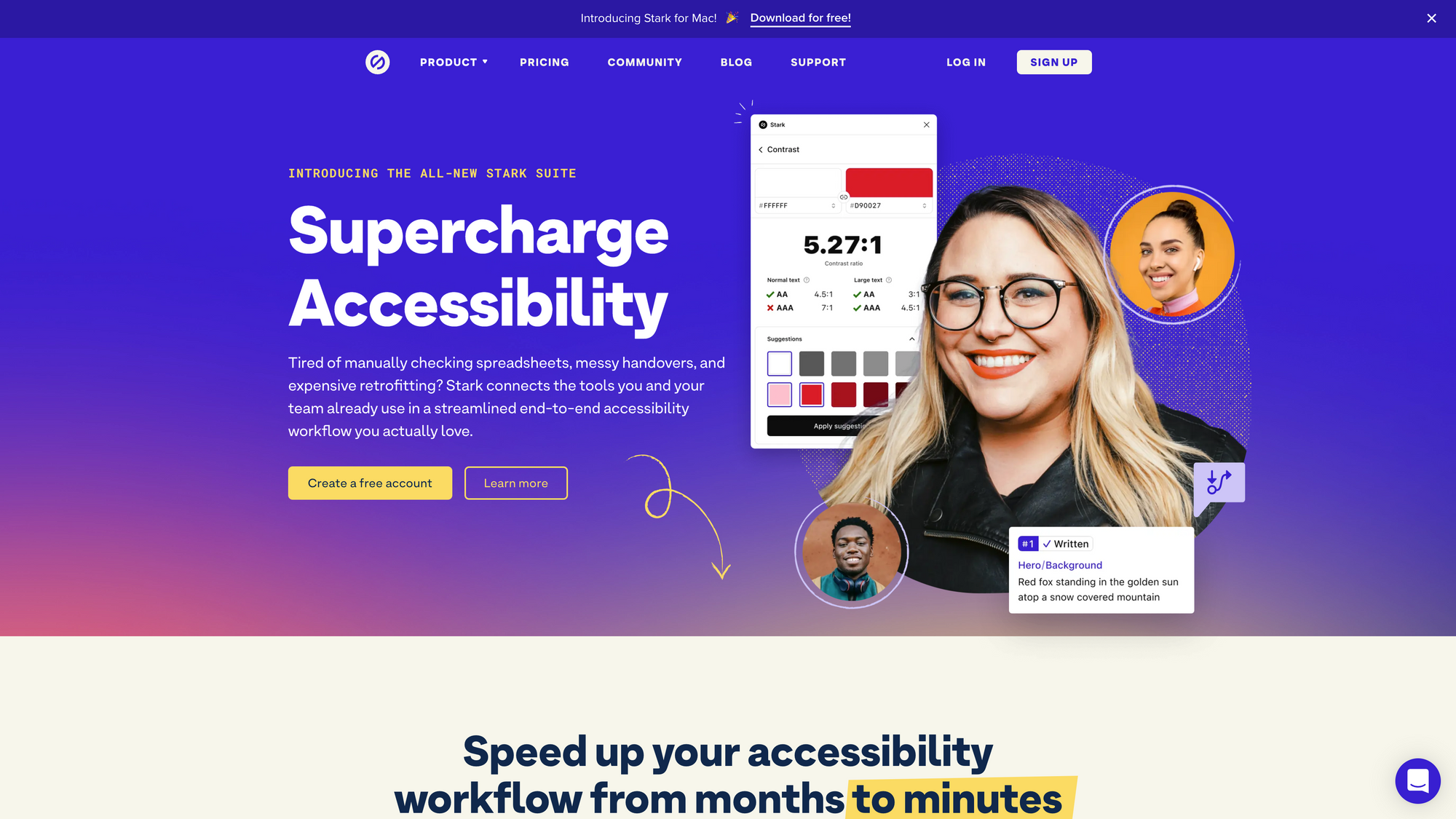 Accessibility in User Interface Design is such an important topic, that still needs a much bigger focus in loads of companies. There is one dedicated tool that supercharges accessibility, and that tool is Stark. Stark connects the tools you and your team already use to streamline an end-to-end accessibility workflow.
Stark is already used by more than 40,000 users from 12,000 companies, and for all of them, it became a crucial part of their product development cycle. No matter if you are building a website, an online shop, a mobile app, or a SaaS product, it is as important as ever to make your product accessible to everyone. With Stark, you get the manual and automated tools to ensure your product is accessible. Stark is packed with features like a Contrast Checker with colour suggestions, Alt-Text Annotations, Focus Order, and a lot more. It gives you all the tools you and your team need to design, build and test software that meets the latest accessibility standards, and you can use it right in your design app or browser of choice. On top of that, Stark follows the mission to turn everyone into an accessibility expert. Therefore, you will get the chance to learn best practices and get tips on how to fix any issues while you are using Stark.
What makes Stark such a powerful tool, is the fact that it makes accessibility as easy as one, two, three, since it simplifies and accelerates collaboration on accessibility issues between designers and developers. With Stark's browser extensions you can not only test and check for accessibility issues but also apply colour suggestions or typography improvements.
The newest addition to Stark's product suite is Stark for Mac. Stark for Mac helps you find and fix accessibility issue in your existing Figma and Sketch files, and gives you access to powerful tools, automated checks, and smart suggestions, so you can supercharge your accessibility workflow. Besides the macOS app, Stark is available for Figma, Sketch, and Adobe XD as a plugin, and for Chrome, Brave, and Edge as a browser extension. To get started and supercharge your accessibility workflow, you can use Stark for free with limited access to a set of tools in Stark for Sketch, Figma, Adobe XD, Google Chrome, Microsoft Edge, and Brave, access to a maximum of three projects in Stark for Mac, and access to Stark's community. The Pro Plan will cost you $10 per month and gives you unlimited access to Stark's product suite, plus new Pro features like Focus Order, Landmarks, Alt-Text, Typography Analysis, and more. The Team Plan starts at five seats and will cost you $15 per month, including everything in Pro plus group billing, admin dashboard, multi-team management, priority support, and SSO.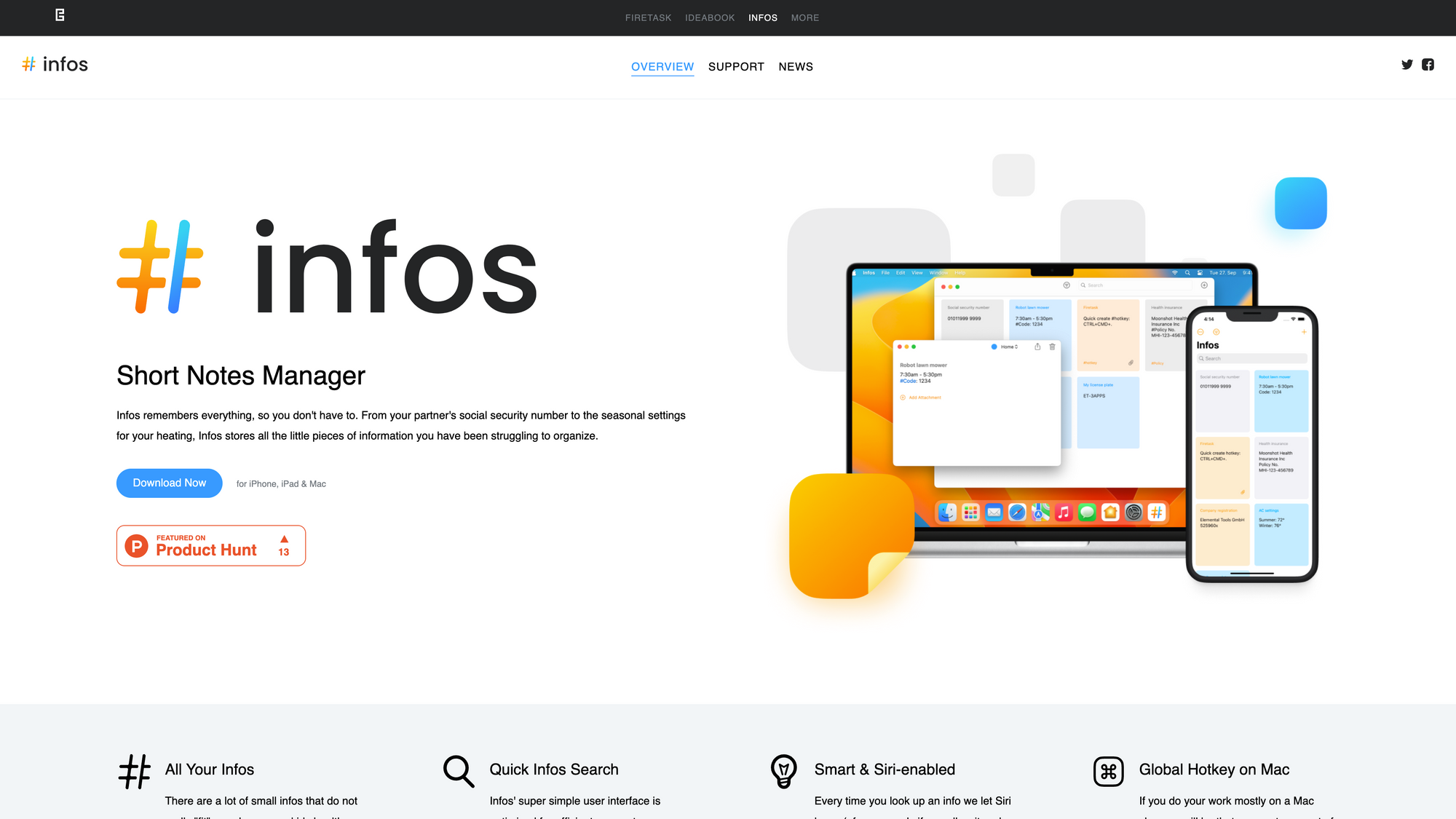 There is no doubt, that we are all different kind of note-takers. Some folks like to write their notes with the outliner approach, others like to write long-form text, and others just want a space to quickly jot down short bits of information to keep track of them. For the people who count themselves to last group I just mentioned, Infos might be worth taking a look at.
Infos is a short notes manager by Elemental Tools, the company behind other awesome apps like Firetask and Ideabook. Infos remembers everything, so you do not have to. No matter what kind of information you want to remember, Infos was built to give that kind of bits a home and structure and organise them in a nice and clean way. Most of us probably stumble across a lot of different informational bits every single day. At some point, you will find yourself in a situation where you are unsure where to put and store that kinds of bits. With Infos you no longer have to think about where to put it, simply open the app and store your short note. Infos was created to let you store information pieces in a fast and intuitive way while intentionally providing only minimal ways to organise them. This keeps things really simple. The only two ways to organise your short notes in Infos are tags and categories. You will quickly realise that you do not need additional organisational layers, especially for short and quick notes.
To always stay on top of your short notes, you can use Infos' quick search. Infos' interface is optimised for efficient access to your information. The search is always visible on top, which gives you the possibility to quickly search for text and tags and the option to narrow down your search via the categories filter. Infos is deeply integrated with the Apple ecosystem. For example, Infos uses Core Spotlight to index information, which makes it possible to find information also via Spotlight and Siri. On top of that, Infos features a global hotkey on macOS, which comes in handy if you are doing most of your work on a Mac, since then you will be able to quickly create new short notes simply by using the global hotkey.
To sync your short notes across all your devices, Infos is using secure iCloud sync, which ensures a high level of privacy. If you do not use the iCloud sync, all your notes will stay on your devices.
Infos is a lovely little app that lets you quickly capture short bits of information and stores them in a beautiful way so you can always find dedicated notes again if you need them. It is available for macOS, iPadOS, and iOS. You can use Infos for free with a limitation of 10 "infos" or short notes. To unlock unlimited infos, you can choose between a monthly subscription which will cost you $3.99, a yearly subscription for $19.99, or a one-time purchase which will cost you $49.99.
---
Mental Wealth
➢ How to get better at making every type of decision – "Life is a neverending series of decisions: Who to play with at recess, who to take to the school dance, what to major in, where to go for happy hour, where to live, whether to end a relationship. Some of these decisions bear little weight on the rest of your life, but others can have huge consequences. Choosing to relocate across the country for a job, for example, has a ripple effect, impacting finances, routines, and, ultimately, happiness."
➢ Why designers quit – "53 percent of designers who responded to my survey were UX/Product Designers, around 17 percent were graphic, 9 percent web designers, 6 percent design generalists, 6 percent UI and visual designers, and around 4 percent were design managers. I have to admit that I'm surprised by these numbers as I didn't expect such a large chunk of UX and Product designers. The "Product designer" title seems to have gained in popularity in the last couple of years so it would actually be interesting to see the breakdown of this largest group. I'll separate the two the next time I run this study."
➢ Start finding your purpose and unlock your best life – "Finding purpose in life is one of those things that most people want. Whether we know it or not. As nice as it sounds, it can seem challenging to attain. If you haven't spent a lot of time thinking about your own purpose, you might have some preconceived ideas about the purpose of life. These baked-in ideas about life often come from our family and the communities we grow up in. The purpose of our life is to get married and have kids. Or, maybe it's earning a certain amount of money or achieving a certain position in society."
➢ When Productivity Tools make the problem worse – "We think we use our productivity tools to get stuff done, but we're actually using them to regulate our emotions. We're usually blind to this—which means our tools never actually do the thing that we hope they will do. So we get frustrated at the tools and quit, or blame and shame ourselves for not being good enough at using them. But if we get into a proper relationship with ourselves, we'll end up using our tools better—and actually accomplishing more."
---
Do not miss out on this …
Every day Refind picks 7 links from around the web for you, tailored to your interests. Loved by 50k+ curious minds.
Start your morning with The Newsette - a newsletter for women, written by women, about topics that are important to women.
Each morning, The Sample sends you one article from a random blog or newsletter that matches up with your interests. When you get one you like, you can subscribe to the writer with one click. Sign up here.
These are paid promotions or affiliate links to support Creativerly. If you are interested in putting your tool, product, or resource in front of over 1900 creative minds, consider advertising in Creativerly and book a sponsor or classified ad spot. Find all the important information at creativerly.com/advertise.
---
From the archive
On September 5th 2021, I wrote about ...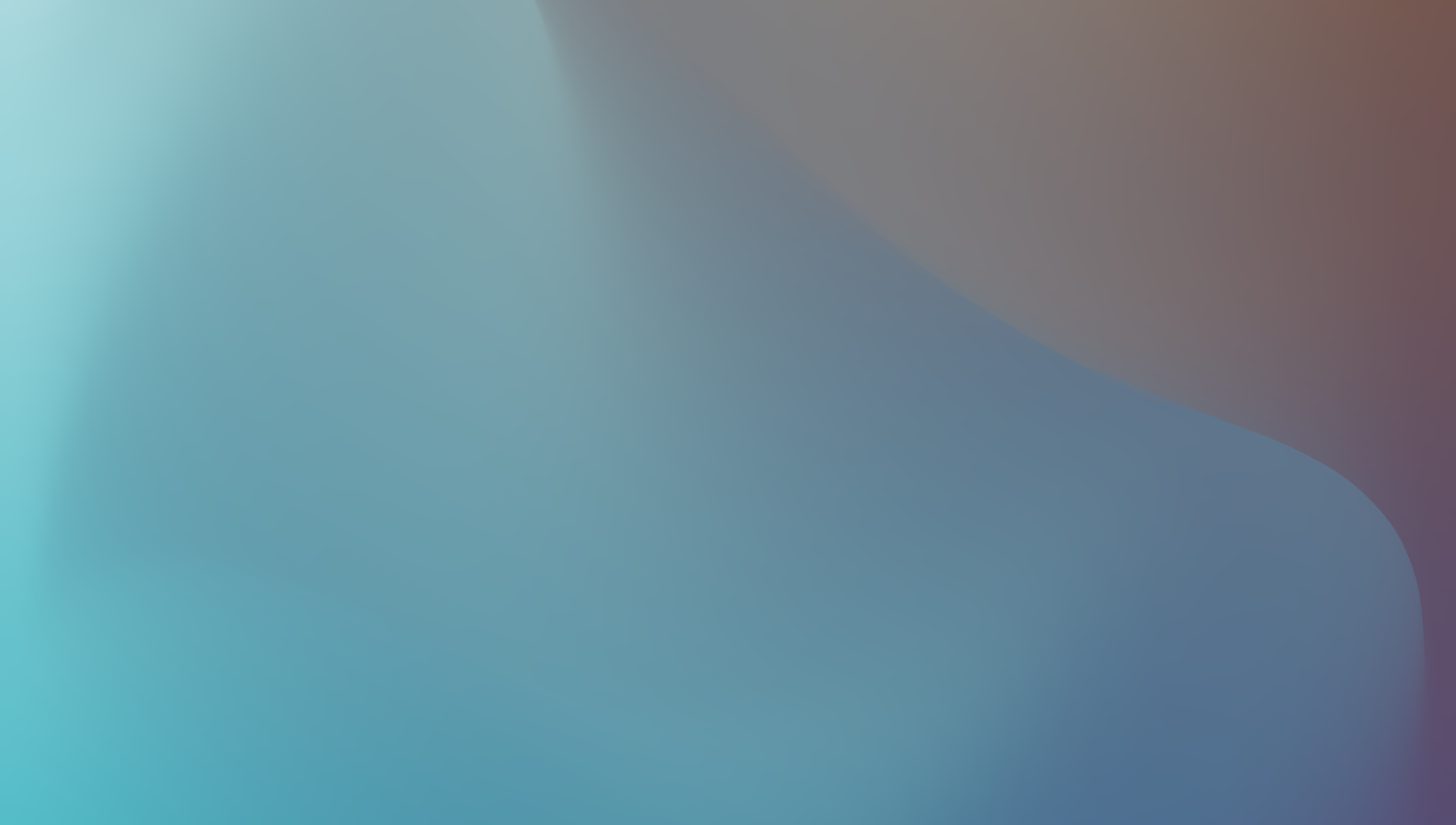 ---
Appendix
➢ ICYMI
With privacy-friendly analytics services you get the chance to get insights about the traffic happening on your website, without invading your users' and visitors' privacy. You do not need to use Google Analytics. There is a wide range of Indie Hackers, Solopreneurs, and companies building ethical and privacy-focused analytics tools. If you are looking for an overview of privacy-focused analytics tools, I gathered some of them in a blog post to find the right service for your needs.
➢ Quick Bits
---
Twitter thoughts
---
👋
Till next time!
Share or forward this newsletter to your friends, if they are also looking for creativity and productivity-boosting tools and resources. If you need help to discover your next favorite task management, note-taking, or PKM app, Creativerly delivers the insights you need. Creativerly is an indepentend publication and I am writing and maintaining it in my free-time. You can support Creativerly and my work by sharing it with the world,
booking an advertising spot
, or by
buying me a coffee
.
---
Some of the links in my newsletter and my blog posts are affiliate links. Those links are marked by an asterisk. If you buy something through the link, the product will not cost you anything more, but I will receive a small commission which not only supports Creativerly and my work but also helps me to keep this publication a sustainable side-project.