The clipboard as it should be & The problem of what others think
Threads by Meta - the new privacy nightmare, a powerful mockup editor, Bear 2 is coming, Proton Pass is available, and a lot more in this week's issue of Creativerly.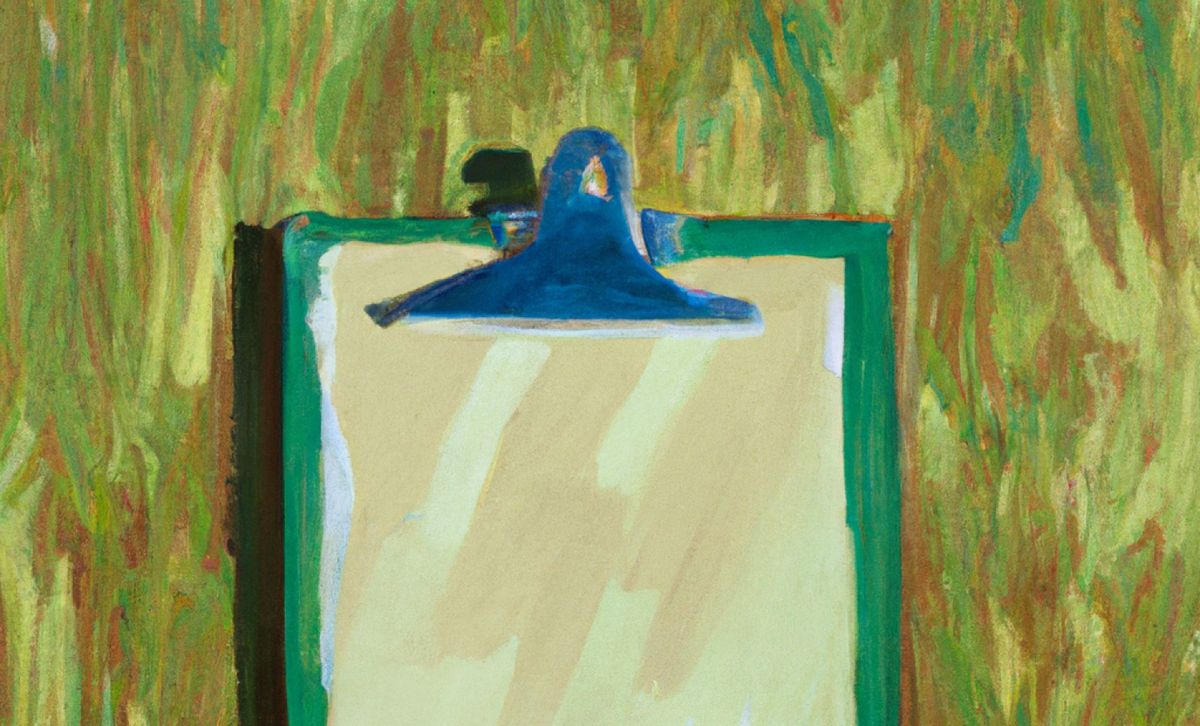 My name is Philipp and you are reading Creativerly, the weekly digest about creativity and productivity-boosting tools and resources, combined with useful insights, articles, and findings from the fields of design and tech. The newsletter built for the creative community.
This issue of Creativerly is brought to you by
Fathom Analytics
, the cookie-free, GDPR-compliant, and privacy-focused website analytics tool. Try it now for free for 7 days, and save $10 on your first invoice.
---
Hey and welcome to Creativerly 229 👋
Last week, Meta launched its Twitter competitor called "Threads". While every other social network got flooded with Threads profile links that people shared once they signed up, folks from the EU were all just watching, for good. There is a reason why Threads did not launch in the EU, and probably never will. As of now, the main issue for Meta is the EU's Digital Markets Act, which contains provisions for sharing user data across different platforms. The Guardian reported that "Two recent rulings against Meta have created problems for the company's operations in the EU. This week the European Court of Justice upheld the right for EU watchdogs to investigate privacy breaches in a ruling that said user consent was needed before using their personal data to target them with adverts."
To put it into other words, Threads is a privacy nightmare, and let alone the list of data (on the App Store) Threads is collecting from their users is enormous. Within my Mastodon bubble, most people were shocked as soon as they saw that list on Threads' App Store page. People got worried. They shared their thoughts about Meta, and about why they would introduce yet another data-grabbing monster. People shared the data collection list of Threads in comparison with the one from Mastodon. 24 hours later, Threads was available to download, and suddenly all the people that complained about the data collection shared their Threads profile links on Mastodon. It was one of those moments in which I simply did not understand human beings. What happened within those 24 hours that changed those people's minds? Like, completely, a 180 degrees turn into the other, wrong direction. You are supporting a corporation that is known for various serious data-abusing actions, the most recent one led to a $1.3b fine for breaching GPDR's requirements and data exports.
Quickly, discussions started to kick off, involving privacy advocates and people who seem to just not care about their data. Among the comments, you also found the obligatory "I do not care about how much data they collect, they can not steal anything from me since I do not have anything to hide." which is probably one of the worst takes ever since if this is your mindset, you did not understand what data privacy means. There is simply no legitimate reason that a company that is building a social network collects, stores, and sells any kind of your data. Period. Another incredible bad take came from John Gruber, creator and writer of Daring Fireball and inventor of the Markdown language. On Mastodon, he shared a Toot in which he said that "Threads is the most fun, and most interesting new product of the year, and no one in the E.U. can use it or will be able to use it anytime soon, because their own elected officials passed a law that effectively bans it." I have no words how someone with such a technical background as John Gruber has, simply does not understand that the problem is not EU laws and the elected officials but rather the companies that somehow think they need to spy on its users and collect their data.
If you are on Threads already, that is fine, if you decided to sign up despite the worrying data collection list displayed on the App Store, that is fine too. You will never find me on Threads, on the one hand, because it probably will never be available in the EU, and on the other hand because I simply do not want to support Meta and their app.
Within Creativerly, I will continue to spread awareness about the fact that everyone should simply question certain kind actions of big corporations before handing over their data for free. Privacy is a right. The problems are not laws aimed to protect your privacy; the problems are the companies deciding to collect data, so we need laws to regulate them.
---
Apps, Software, Tools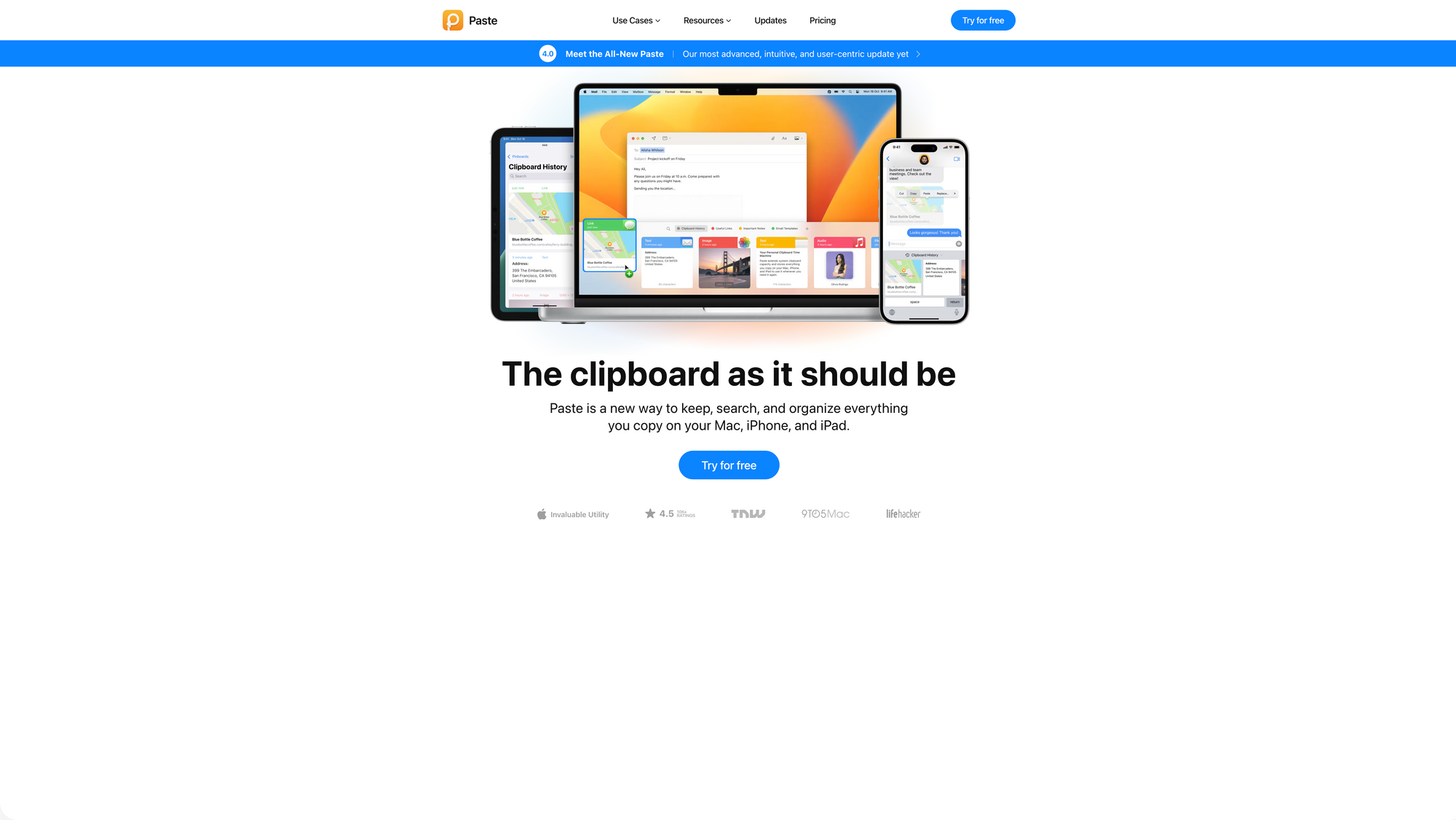 Probably one of the most executed actions on a computer might be copying and pasting content. While working across different apps, and managing different kinds of content, it can happen that you will copy and paste the same content over and over again. In those situations, a clipboard manager could boost your productivity immensely. One of the most popular clipboard managers for macOS is Paste, which just released v4.0 with loads of updates, new features, and overall design and UI improvements.
With Paste you stay in control over all the bits of information and content that you copy and have copied on your Mac. In the past, I struggled with keeping up with the content I copy and pasted, it even lead to losing things I had found. Paste helps you to never lose what you already found or write what you already wrote. Everything that you ever copied is saved within Paste. That gives you an incredible productivity boost since there is no longer the need to do what you have already done. Paste is more than just a clipboard manager since you can use it to save your favourite sites, photos and messages. You can use it to store a travel wishlist, links to sources for your next book, canned birthday greetings, or anything else. To stay organized, you can use collections for different projects within Paste. No matter if you are taking on a renovation project, researching your family tree, gathering inspiration for your next design project, or anything else, Paste gives you the possibility to use themed pinboards to organize what you have copied for respective projects.
What makes Paste so powerful is the fact that there is no limit when it comes to storage. You can store an unlimited amount of items within Paste. It gives you the freedom to store as much as you need so you always have it regardless of whether you copied it an hour, a week, or a year ago. To stay on top of everything you have saved and stored, Paste offers a fast and powerful quick search. Since Paste is available for macOS, iOS, and iPadOS, you can quickly retrieve anything you ever copied on your Mac, iPhone, and iPad.
For developers, Paste can become an assistant that knows your preferences and never loses a thing, since it reliably works across all developer tools, which makes it the intuitive way to eliminate routine tasks. With Paste, Developers can create versatile code-snippets collections with ease and even create powerful automation with Siri Shortcuts to automate tasks that you do repetitively. For designers, Paste is the helping hand within your daily design ritual. With ease, you can access your design assets, stop copying over the same things, and be more creative. Paste can help designers to collect colours for respective products and brands, find and re-use approved text, logos, and images, keep frequently used icons, styles, and other assets right at your fingertips, or save any guidelines for cross-checking your work.
With the newest update, v4.0, Paste introduced resizable windows, which means Paste now adapts to your needs, whether you want more items or need larger previews. The large size delivers more space for detailed previews, the regular size strikes the perfect balance for content display, and the compact size maximizes display without sacrificing content. In addition to that, the content you save in Paste now dynamically adapts to address your unique requirements. Besides that, every pixel has been refined and polished with care, resulting in a harmonious balance between aesthetics and usability.
Paste is available for macOS, iOS, and iPadOS. The universal subscription costs you $14,99 per year and gives you access to all their apps. Thanks to a 14-day free trial, you can give Paste a try before committing to the subscription. If you already own a Setapp subscription, you can download Paste right away. With Setapp you get immediate access to Paste and over 230 other apps for macOS and iOS for a single subscription, which costs $9,99 per month.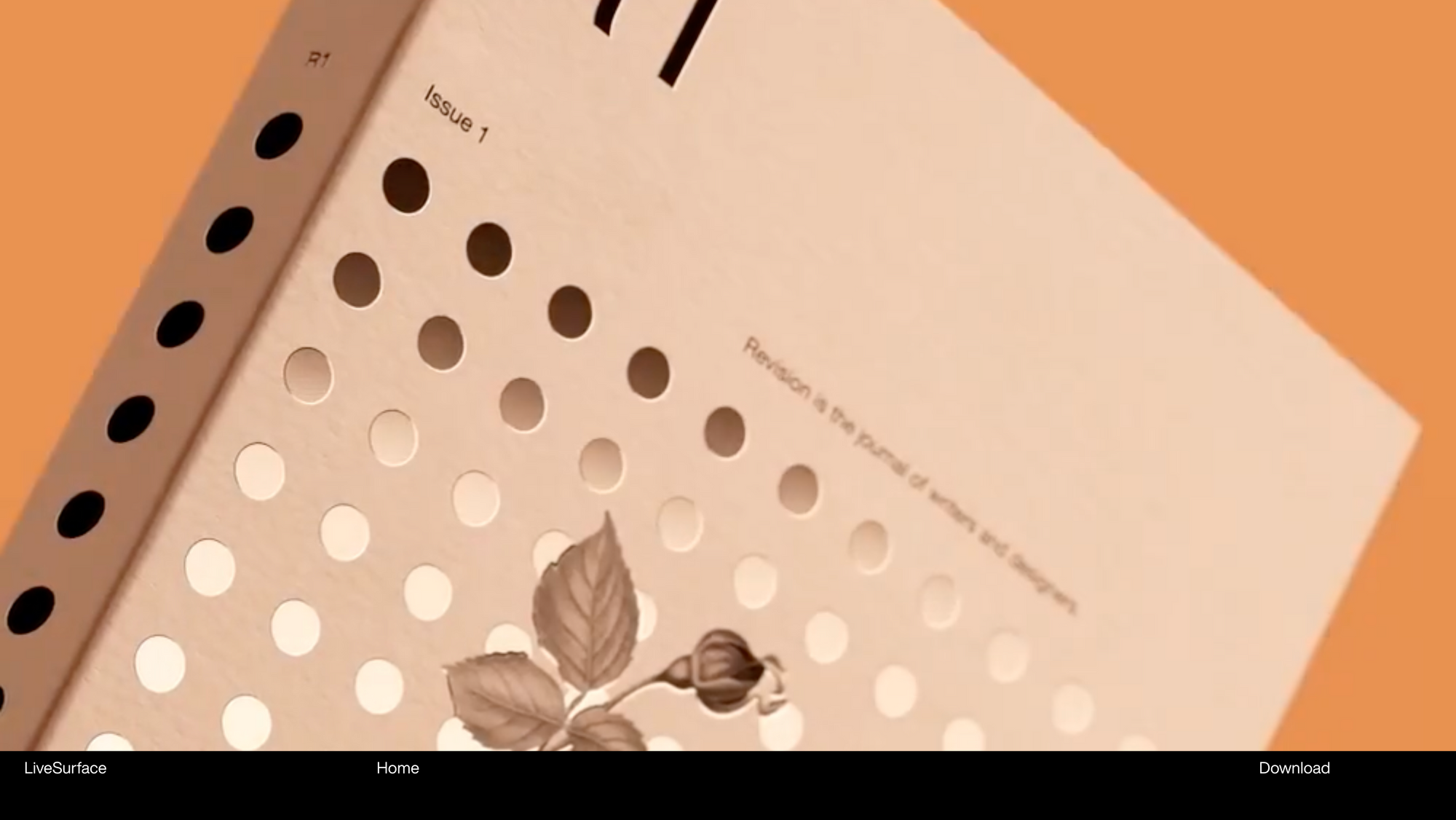 A couple of weeks ago, in issue 215, I wrote about Maneken, the effortless online mockup editor that makes it easy to create high-quality mockups for your work. Last week, I stumbled across LiveSurface, another tool operating in the field of mockup creation to showcase your work. With LiveSurface you can see your design in the real world, with real ink, lighting, and textures. Designers who work or have worked within the field of Graphic Design probably know the struggles when it comes to finding high-quality mockups and then working with them in design tools like Photoshop or Sketch. Especially Photoshop always crashed when I was working on large mockup files since it simply isn't the most performance-orientated app. To make it easy to work with mockups, LiveSurface introduced a drag-and-drop editor.
Its game-changing design visualization software features a re-engineered context engine and is optimized for real-time performance. With the drag-and-drop editor, you can simply choose the mockup you would like to use and drag and drop your designs onto it. Thanks to advanced lighting and physically-accurate materials, you can create design visualization that simply looks incredible. Creating mockups and working with your designs has never felt so fluid. You can literally edit and customize everything in real-time. Within the Surface Store, which is LiveSurface's own library, you can browse through and choose from photo-real renderings and presentation quality featuring surfaces. At the heart of LiveSurface are images that get created by a global array of exceptional photographers, designers, and modellers. The goal is to create images that not only elevate ideas but spark inspiration. In the beginning, you will always find a great image. How that image accepts your artwork is what makes it a surface. By using a patented approach to embedding 3D, LiveSurface made it possible to transform flat images into dynamic surfaces.
Unlike images, those surfaces, that you will find within the Surface Store, react to their environment. That means foils, fluorescents, varnishes, and embossing can cast shadows and reflect their environment. Your artworks always wrap around surfaces accurately. LiveSurface also gives you the power to go from foil to fluorescent as fast as you can pick a swatch. You have the power to customize colour, texture, and lighting with simple and powerful controls. Beyond that, LiveSurface fuses the power of 3D with the simplicity of design. By simply using a few slider controls, you can create nearly every material. With ease, you can edit colour tint, smoothness, reflectivity, metallicity, glow, transparency, and more.
LiveSurface is an incredibly powerful tool to raise your design and artwork to another level by presenting them with outstanding mockups and surfaces that can be customized to your needs. If you want to give LiveSurface a try, you can use it for one month for free. The Pro Plan will cost you $18 per month or $172 per year. LiveSurface also offers a Studio Plan for $172 per year per seat.
---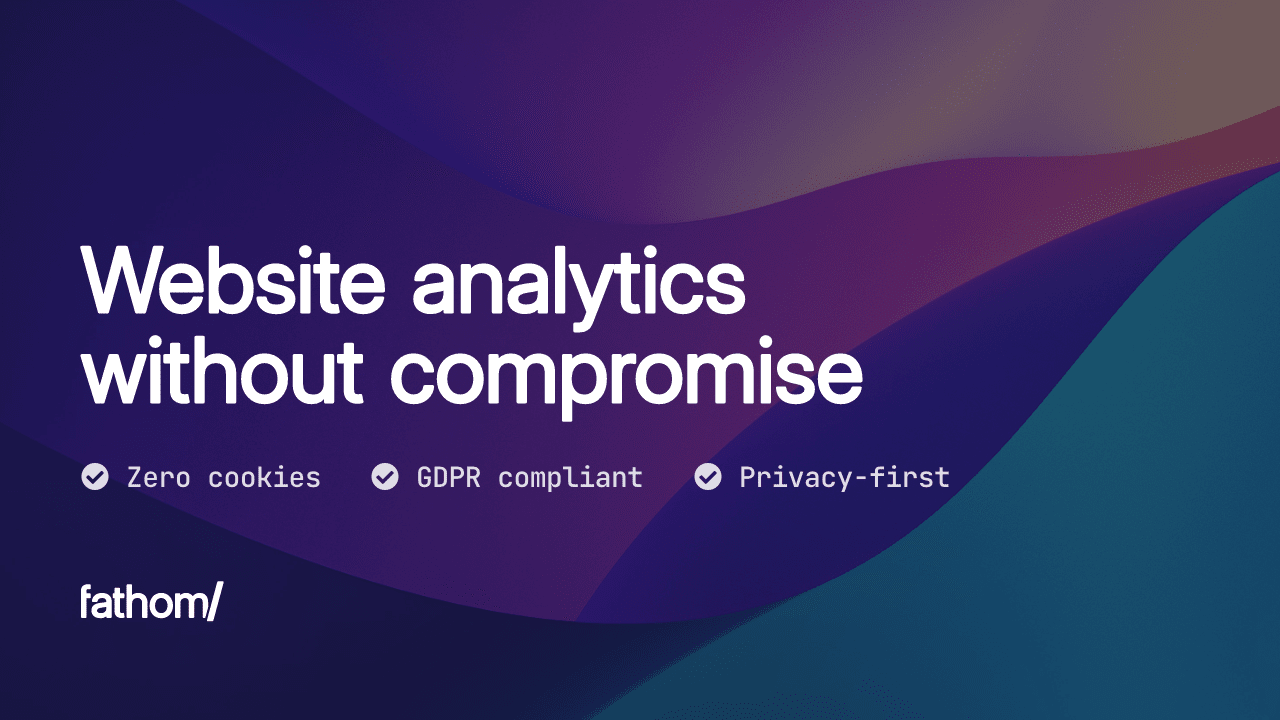 The cookie-free, GDPR-compliant, privacy-first website analytics software.

Avid Creativerly readers know that I am a privacy advocate. Privacy is a right. Therefore, I am deeply invested in writing about and highlighting apps and tools that have a dedicated focus on privacy. It is crucial for me to use tools that not only respect my privacy, I want to make sure that folks who are reading Creativerly or visiting the website can expect the same respect. Based on that, I am using Fathom Analytics which is a privacy-focused analytics service that makes sure that no kind of data is related to any Creativerly visitor. But at the same time, it gives me the tools and insights I need to make sense of the traffic that happens on my website.

There is no doubt that Fathom Analytics offers probably the most-beautiful dashboard of all the various analytics tools out there. It is pure joy to see and visualise the traffic happening on creativerly.com, especially when I can make sure that at any time the privacy, security, and data of my visitors gets respected. Fathom Analytics is not only a great solution for small sites like Creativerly, among the customers of Fathom Analytics you can find Fortune 100s, banks, governments, and companies of every size. If you want to switch to a privacy-first, GDPR-compliant, and cookie-free website analytics solutions, make sure and give Fathom Analytics a try. Simply start with a 7-day free trial, after that the pricing starts at $14 per month.

By using the URL provided by me, you will save $10 on your first invoice, and at the same time you will support my work, Creativerly, and independent media.
This is a paid promotions or affiliate link to support Creativerly. If you are interested in putting your tool, product, or resource in front of over 2000 creative minds, consider advertising in Creativerly and book a sponsor or classified ad spot. Find all the important information at creativerly.com/advertise.
---
Fresh Updates & News
After being in closed alpha for more than three years, Anytype opened up its doors, starting with its earliest supporters. The current version of Anytype is still a pre-beta version, so you will probably encounter some bugs and things that do not work as intended. Nevertheless, this is a great opportunity to provide feedback to the team behind Anytype.
If this is the first time you are reading about Anytype, here is a quick introduction: Anytype is a playful and joyful knowledge management app built around a graph of objects. It is local-first, end-to-end encrypted, offline-first, and P2P-synced. Anytype itself states that it is "the everything app for those who celebrate trust and autonomy". You can use Anytype for daily journaling, strategic writing, building up and maintaining a knowledge base, planning a trip, creating a study hub, and more. To learn more about it, head over to the website, or download the app and give it a try.
Folk is a lovely and powerful CRM app. While Folk has been available only as a desktop app for quite some time, the team now announced its long-awaited macOS app. Folk is a lightweight, customizable, and beautifully-designed CRM powered by AI. Now you can enjoy it on your Mac as a desktop app too.
There is no doubt that Bear is one of the most popular note-taking and markdown editors. It is simple, minimal, beautifully designed, and yet offers lovely features to take and manage all your notes. Bear just announced that Bear 2, probably their longest-awaited and most anticipated update ever, is just around the corner. Bear 2 will introduce over 20 new features. Among them, you will find tables, backlinks, tables of contents, and much more. I am incredibly excited about this update. I always wanted to stick with Bear for my personal note-taking workflows, but the fact that it did not support native backlinks, sadly put me off. I still have a subscription though, and I am very much looking forward to giving Bear 2 a try soon.
The recently introduced password manager by privacy-focused companies Proton from Switzerland is now publicly available for everyone. Proton is primarily known for its privacy-focused products like Proton Mail, Proton VPN, or Proton Calendar. Now, with the introduction of Proton Pass the product catalogue has been extended with yet another lovely app. Like all the other Proton services, Proton Pass was built with the strongest focus on privacy and encryption. Proton Pass uses end-to-end encryption on all fields, including username, web address, and more. Since privacy is a fundamental right, the free version of Proton Pass supports unlimited logins, unlimited encrypted notes, and a limited number of hide-my-email aliases and 2FA logins.
If you want to benefit from additional features such as extra vaults to organize your logins, unlimited email aliases, and unlimited 2FA logins, you can upgrade to a paid subscription.
---
Mental Wealth
❯ The Problem of What Others Think – "One of the great causes of suffering is this maddening worry about what others think of us. I can go into its causes by pointing to evolutionary psychology and our hunter-gatherer roots, but that's neither novel nor interesting. Rather, I want to delve into the asymmetry between what we know about ourselves, and the uncertainty surrounding what others know of us. Because at its core, the worry about what others think is ultimately a function of uncertainty."
❯ The false promise of the 10,000 hour rule – "Our culture loves experts. Whether it's athletes, chefs, or musicians, some of the biggest celebrities are considered masters of their craft, and we admire the long hours they put into practicing over and over again the same skills so they could become second nature. In 2008, Malcolm Gladwell published his popular book Outliers, exploring why some seemingly extraordinary people achieve much more than others. The book mentioned a study of violin students at a German music academy. This is from the abstract: "Many characteristics once believed to reflect innate talent are actually the result of intense practice extended for a minimum of 10 years." Malcolm Gladwell branded this the 10,000-hour rule. Study whichever topic for 10,000 hours, and you will master it."
❯ What Happened to the Creator Economy? – "I called it. While I usually love saying that, this time doesn't feel as good. In May of 2022, I argued that we were about to enter into a creator economy winter. The startups serving the digital entrepreneurs creating online content would struggle. Specifically, I forecasted that because only the top 1% of creators make any real money, a startup would have to either 1) capture a percentage of their biggest customer's revenue or 2) find a way to sell to the long tail of part-time creators. Because of this struggle, funding would dry up and we would see most startups fail."
❯ What's The Perfect Design Process? – "Design process is messy. You might be following a structured approach, but with all the last-minute changes and overlooked details, too often, it takes a life of its own. And before you know it, you are designing in a chaotic environment full of refinements, final-final deliverables, and missed deadlines."
---
Do not miss out on this ...
❉ 1440 is the daily newsletter helping 2M+ subscribers tay informed. Culture, science, sports, politics, business, and everything in between – in a five-minute read each morning, 100% free. Sign up now.
❉ Organize your work and life, finally. Become focused, organized, and calm with Todoist. The world's #1 task manager and to-do list app. Start for free.
❉ Get smarter with Refind. Every day we pick 5 articles that make you smarter, tailored to your interests. Refind is loved by 200,000+ curious minds. Subscribe for free.
These are paid promotions or affiliate links to support Creativerly. If you are interested in putting your tool, product, or resource in front of over 2000 creative minds, consider advertising in Creativerly and book a sponsor or classified ad spot. Find all the important information at creativerly.com/advertise.
---
Appendix
❯ Featured Newsletter
If you are on the hunt for actionable productivity delivered to your inbox, then I recommend you taking a look at The Smarter Brain newsletter. The Smarter Brain helps you cut through the noise on the web and save valuable time, so you can can focus on getting things done. You'll receive actionable insights right in your inbox twice a week to help you level up in just 3 minutes or less. Sign up now completely for free and become smarter and more productive.
❯ Quick Bits
---
Till next time! 👋‌‌‌‌
Support: Do you have a friend who is looking for inspiration, news about design, and useful tools and apps? Forward this newsletter to a friend or simply share this issue and show some support. You can also show some love by simply clicking the button down below and keep this newsletter a sustainable side-project by buying me a coffee. ☕️ 🥰
---
---
Some of the links in my newsletter and my blog posts are affiliate links. Those links are marked by an asterisk. If you buy something through the link, the product will not cost you anything more, but I will receive a small commission which not only supports Creativerly and my work but also helps me to keep this publication a sustainable side-project.
Creativerly is proudly published with Ghost*.