Newsletter
What do we owe each other & The whiteboard for engineering teams
In this week's issue of Creativerly: Smart notes for busy people, stop losing track of your tasks, how to change unhealthy habits, and a lot more.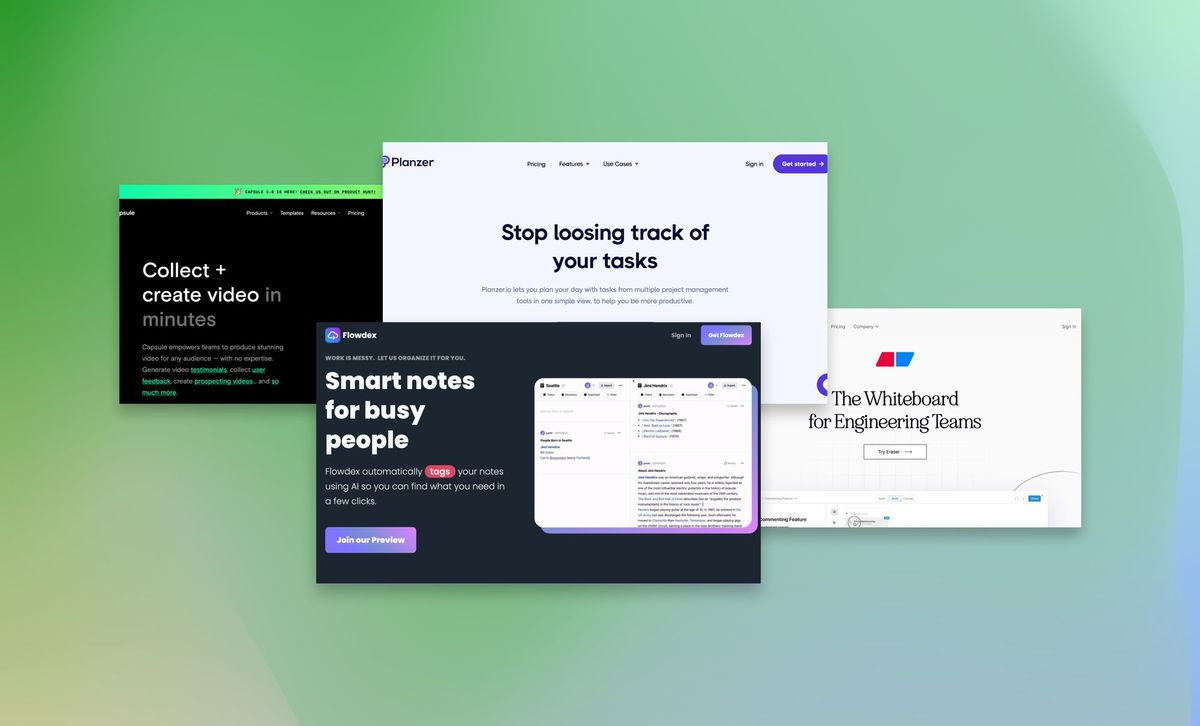 My name is Philipp and you are reading Creativerly, the weekly digest about creativity and productivity-boosting tools and resources, combined with useful insights, articles, and findings from the fields of design and tech. The newsletter built for the creative community.
---
Hey and welcome to Creativerly 182 👋
We are currently experiencing a major shift in social media. Meta announced that it will be switching towards an algorithmic, recommendation-based model of content distribution for Facebook's newsfeed. There has been a backlash on Instagram as the platform prioritized recommended videos over photos from friends. LinkedIn has been criticized since ever for so-called thought-leaders spamming the platform with unsolicited business advice. And recently, loads of Twitter users are complaining about the fact that the major content that has been pushed by Twitter's algorithm were threads. While some of them actually contain useful information, there is also a lot of unsolicited advice.
On top of that, Twitter became hard to filter through, as the main problem with most social media networks is the noise that makes it hard to consume. In general, social networks are shifting more and more towards an algorithmic based feed. The new standard of social media has become recommendation media. It is the new way how content gets distributed throughout the internet.
I am not sure how to feel about the whole shift, especially because the platforms are in control what content gets served, when instead you should be able to simply consume the content from the people you follow, as this is the main reason (at least for me) why you follow certain people on Twitter, Instagram, or LinkedIn, to consume their content. I am excited to see how this general shift continues, how other social networks will react, and if people will realise that there are certain kind of opportunities to build new social networks. It has been a while since people got excited about a radical different social network experience, but I think there is a opportunity to build something besides the recent recommendation shift in social media.
---
Understand your customers without invading their privacy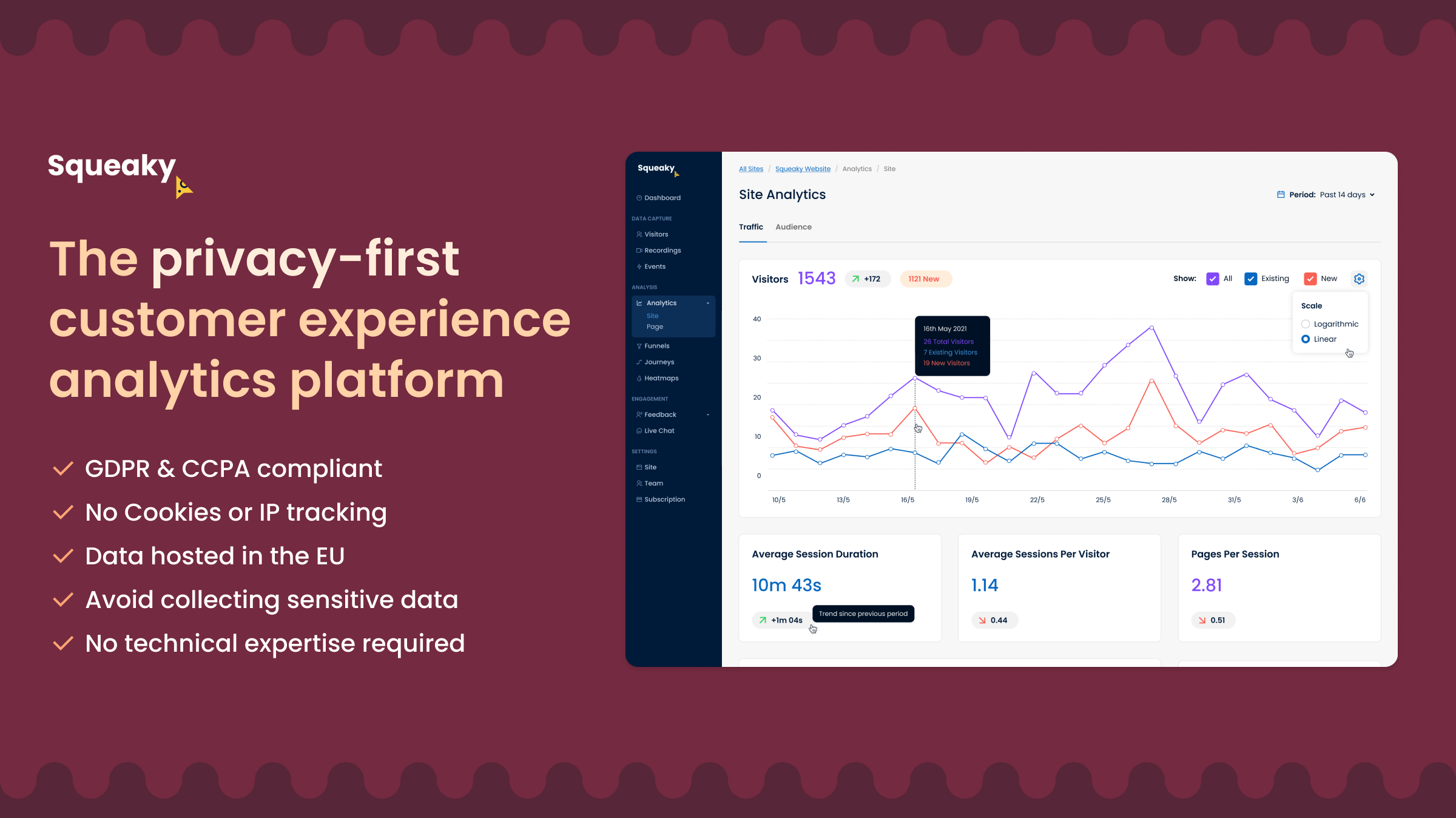 If you're looking for a privacy-friendly and future-proof alternative to Google Analytics or Hotjar then try Squeaky. It's easy to get started, and their amazing analytics suite includes site analytics, events tracking, session recording, feedback widgets, heatmaps, user journey mapping, and more.
This is a sponsored message. If you also want to highlight your app, tool, resource, newsletter, job offer, in front of over 1800 creative minds, head over to creativerly.com/advertise and get in contact.
---
Apps, Software, Tools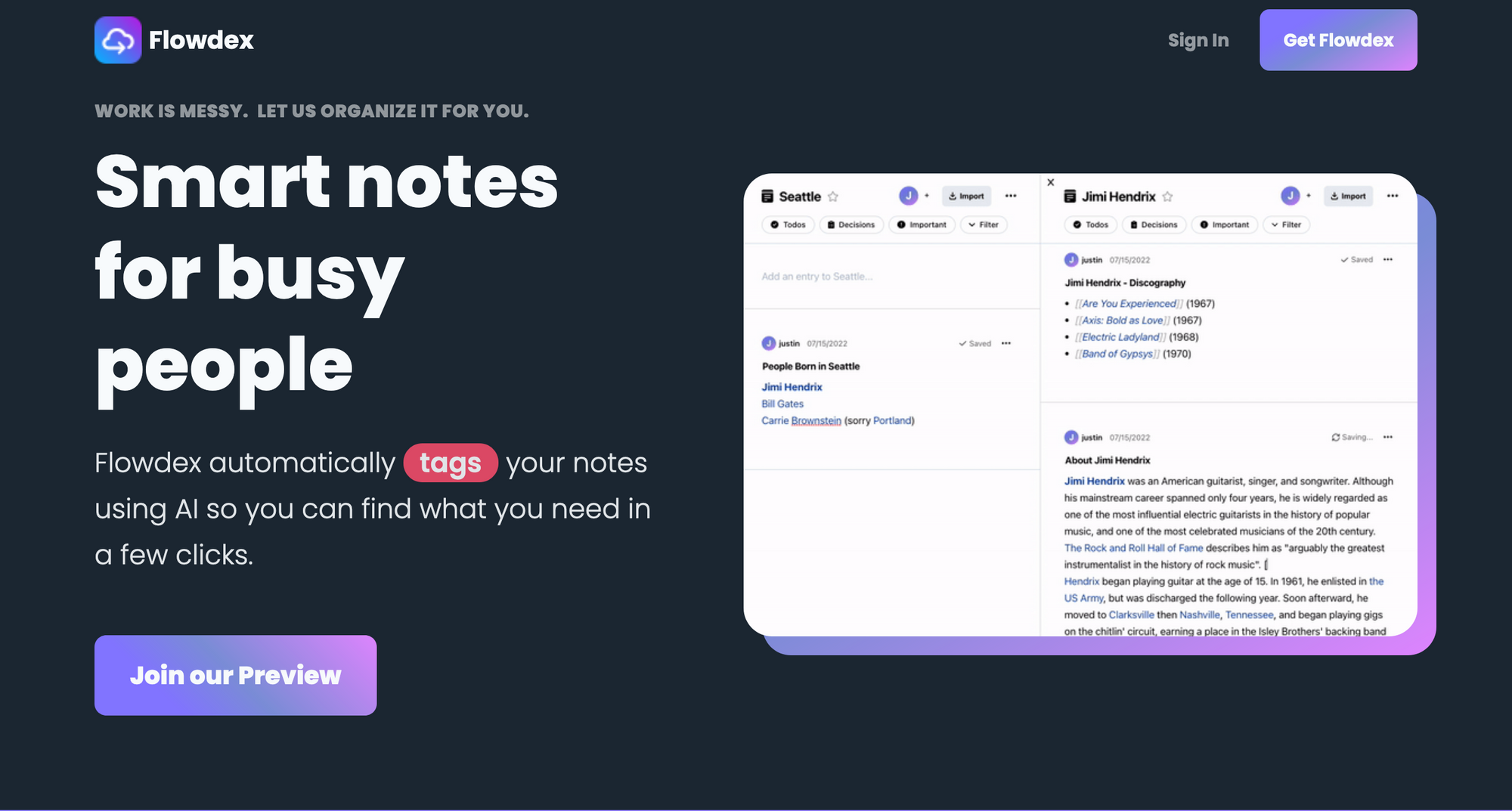 Flowdex is one of the newest note-taking applications I stumbled across. While doing some research regarding some new note-taking apps, I found out that there are increasingly more apps launching that feature the power of AI. Flowdex is also powered by AI. It uses AI to automatically tag your notes so you can find what you are looking for with just a few clicks.
Some of the most popular note-taking and PKM applications do have one thing in common: there is some friction to actually incorporate some workflows because people feel like they need to follow some practices and systems to leverage the full power and potential of those apps. The implementation of AI into note-taking and productivity tools is a great way to get rid of this friction, since you can use and leverage AI to automatically create a system for you. Flowdex for example automatically builds a knowledge graph from your notes. While note-taking and building a knowledge graph is already powerful and beneficial, you can profit even more from it when you are able to turn your notes into data. Flowdex lets you exactly do that, since you can sort, filer, and browse different views to always get both a detailed and big picture of the notes you take.
Flowdex is suited for both, personal and professional projects. No matter if you want to take meeting notes, journal entries, recipes, academic research or anything else, Flowdex is a great place for all your thoughts no matter what you want to capture, the most important thing overall is to actually capture them. With Flowdex you can also keep your whole team in the know. Create a wiki for your team, use Flowdex, and you never have to worry about where to put stuff, but you will always know where things are stored when you need them. Thanks to the power of AI. At the core, Flowdex is built around the idea of flows, and a flow is a stream of notes, about one topic. For example you can set up a flow for a recurring meeting, and within this flow you can then jot down notes and thoughts regarding each meeting about a specific topic. Within a flow you can also jot down tasks, or mark dedicated bits with an important tag. Once you finished taking your notes and jotting down your to-dos, Flowdex lets you highlight specific content of your notes. For example, you can only highlight the task you have jotted down within a flow, or only highlight the bits you marked as important. This is incredible helpful, since you do not have to search through all of your notes and instead use the smart views within your flows in Flowdex.
Auto-tagging within Flowdex is also incredible powerful. Whenever you paste some text or write notes, Flowdex will automatically tag persons, places, and other important terms and upon clicking on them, Flowdex will present you with related items that also use those tags. With Flowdex you do not have to do any manually work to create those connections and links. You can indeed manually tag your notes if you want to, but you do not need to. To keep your notes private and secure, Flowdex encrypts them.
You can sign up now to Flowdex to test it out and give it a try.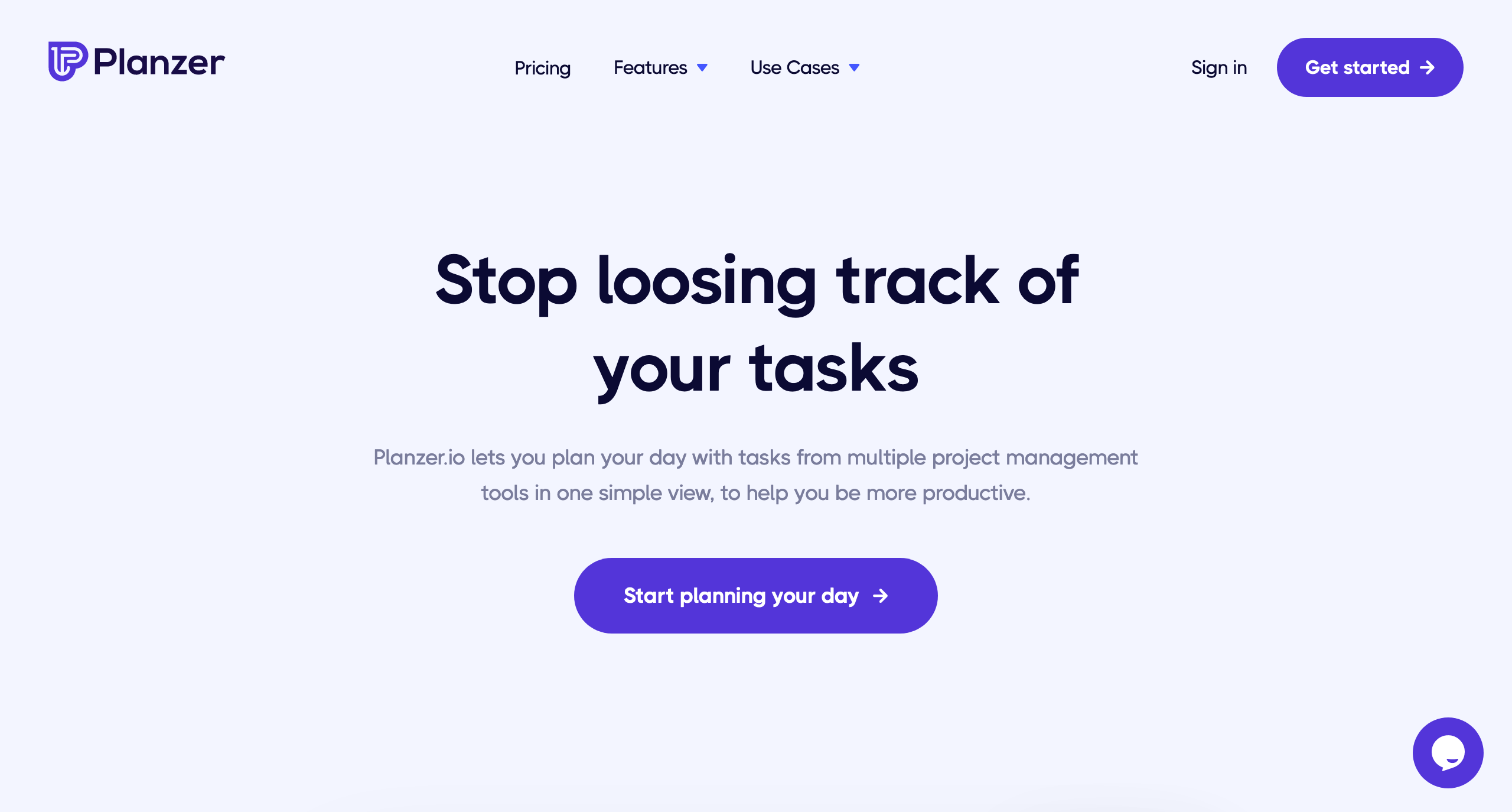 Planzer is a tool that wants to help you stop loosing track of your tasks, by providing you with a simple view, powered by multiple project management tools to plan your day and be more productive.
With Planzer you get native integrations for Notion, Trello, Outlook, Google Calendar, and Outlook Calendar. Once you integrated some of the tools you already use to keep track of your tasks with Planzer, you will get the power to organise all your tasks across multiple applications, and never loose track of your day. Additionally, you can also track your goals by assigning tasks, set goals with specific time frames, limit distractions by focusing on what matters, staying aware of what meetings and due dates are coming up, and practice accountability by evaluating your goals list, reflect on your progress and identify the steps you need to take next.
Thanks to Planzer's integration support you can track your progress across multiple application and easily plan your day. With features like setting up weekly goals you can make sure to stay on track. Adding tasks to your goals helps Planzer to track the progress for you. When you communicate a lot through email throughout your day, there is an increased possibility that some of your emails should be converted into tasks. Planzer pulls in your emails and tasks from multiple places, which gives you the possibility to immediately act on the emails you receive and turn them into actionable tasks. As mentioned earlier, Planzer features a wide range of integrations like Monday, Notion, Trello, or Google Calendar, so you can be sure that you are able to pull all your work scattered across those tools into Planzer and create one simplified view to get your things done.
Within Planzer you can then see all the tasks pulled in from integrations, create and set up a backlog module to quickly jot down tasks that do not have a high priority, and a calendar view to stay on top of your schedule.
Planzer is offering a 14-day free trial which does not need any payment information or credit card details, so you can test the app for free to get an idea if it is a fit for you.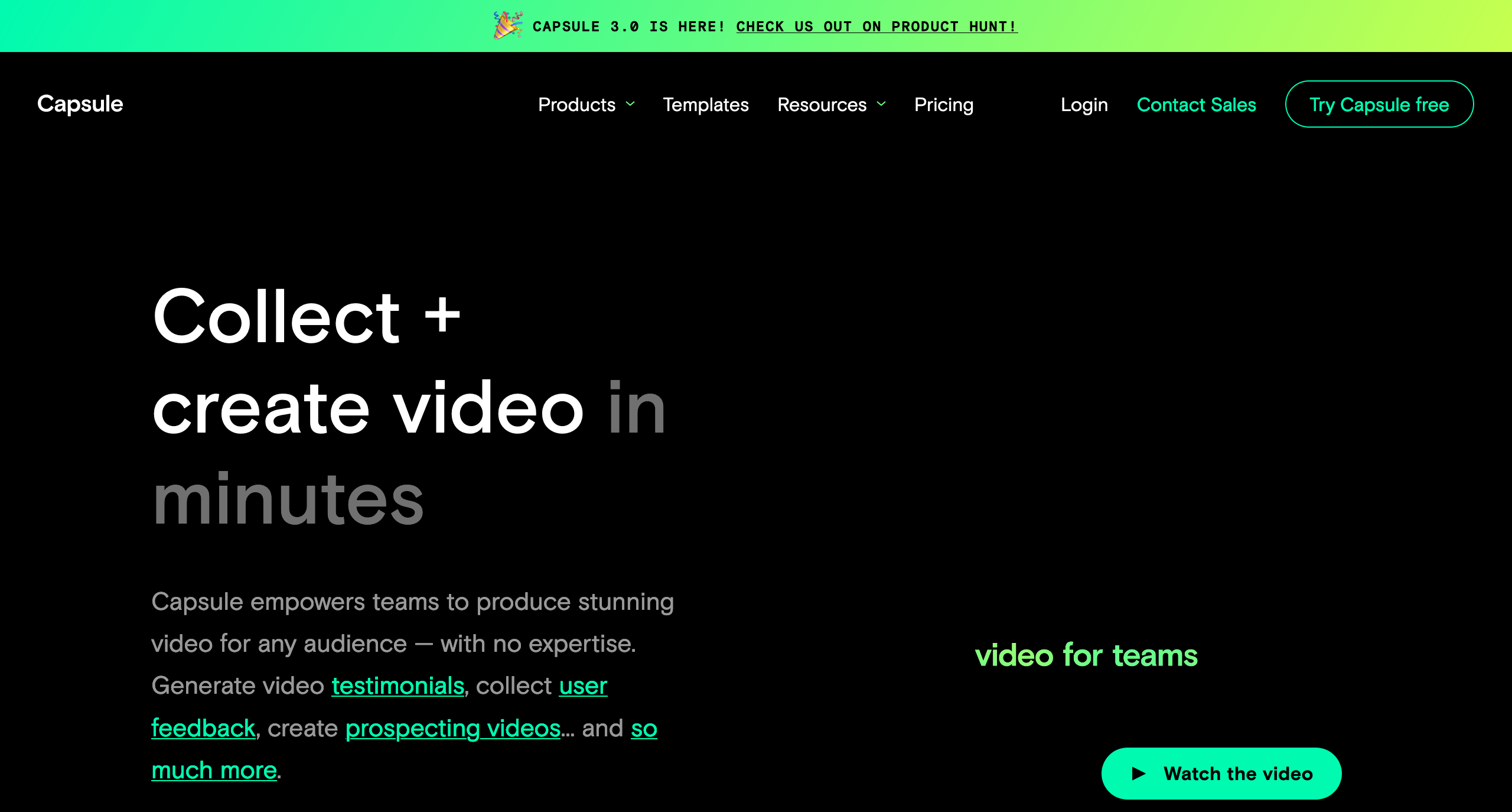 Capsule is the ultimate tool to collect and create video in minutes, no matter if you want to generate video testimonials, collect user feedback, create prospecting videos, or anything else. Capsule empowers team to produce stunning video for any audience. And the most important thing, no expertise needed.
Capsule gives you and your whole team access to video tools, that help you crowdsource, edit, and distribute video effortlessly. With Capsule you can create branded video at scale for a fraction of the cost. You might ask yourself now what crowdsourced videos are, so let us take a look at how you can create crowdsourced videos with Capsule. Once you have signed up to Capsule you can capture video from anyone, anywhere. As a first step, you set a prompt, which could be asking a specific question or add quick instructions. Users will then see your custom guided prompts as they go. After the prompts are ready, you can invite your contributors by sharing an invite link or embed Capsule's camera in your website and apps to collect video from anywhere. The third and last step is then capturing the video content. Users can record or upload videos right from their devices.
As you will receive more and more videos, Capsule gives you the possibility to manage all your content in one dashboard. On top of that, Capsule Studio also lets you turn raw footage into polished video. Capsule Studio is powered by browser-based video editing tools, which makes it easy to create stunning videos fast. No matter if you want to cut unwanted sections with an intuitive trimming tool, or apply templates and branding, adding your logo, music, captions, and more, Capsule Studio got you covered.
Folks who are working within the field of community and events, can leverage Capsule to introduce speakers, run a video Q&A or collect testimonials, HR and employee experience can welcome new hires, host employee awards, or shout-out a colleague, marketing and product can run a video contest, generate user reviews, or crowdsource testimonials, or leadership and comms can use Capsule to make an announcement, share a quick update, or celebrate big wins.
Capsule is available for free as the Personal Plan, which gives you access to up to 10 videos, unlimited creators and capsules, single user, admin dashboard, developer tools, community features, and more. The Creator Plan will cost you $30 per month and is perfectly suited for Solopreneurs as it features up to 25 videos. Businesses can sign up to the Pro Plan which will cost you $240 per month and gives you access to up to 100 videos and 5 team members.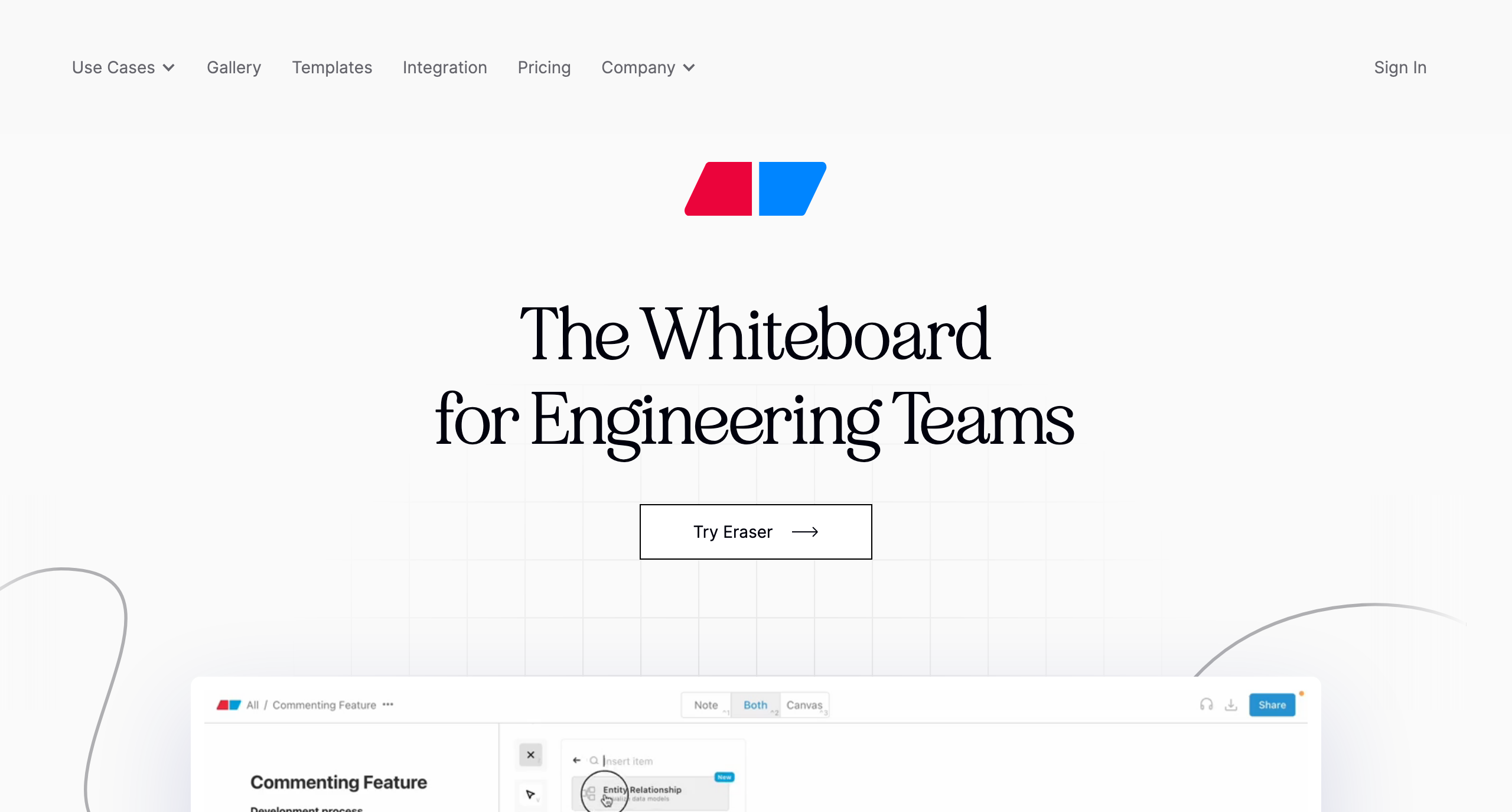 Note-taking and managing a knowledge base is beneficial for every kind of teams, no matter if you are working within the field of design, marketing, HR, or engineering. Eraser is a whiteboard tool tailored for engineering teams. It is exciting to see, that there are companies that are building knowledge management tools tailored especially at a certain kind of teams. Just like Eraser is aimed at engineering teams, I am sure that we will see more and more tools aimed at specific niches.
Eraser is built by engineers for engineers, which means you will find powerful features like diagram-as-code, code blocks on canvas, and markdown compatibility. The biggest advantage of Eraser is the fact that you are able to create visual documents. There is no doubt, that visual documents make it easy to brainstorm and communicate clearly. Within Eraser you can write documents as you used to do, but at the same time you can add visual elements on a whiteboard, to add more context to your documents. Create beautiful diagrams with ease, and link to them within your documents to organise your team's knowledge base within one beautiful space.
To give your team's knowledge base even more structure and Organisation, you can create different workspaces and folders within those workspaces. Working with Eraser is powered by keyboard-first design. Draw at the speed of thought using your keyboard shortcuts and slash commands to make everything within reach. Eraser's whiteboard lets you create flowcharts rapidly, and edit them and the content you want to add to them blazingly fast with shortcuts and slash commands. On top of that, Eraser is also capable of getting your whole team involved and boost collaboration. Brainstorm and present in real-time with Eraser. Leave comments for async iterations. Eraser is a powerful too that lets you work with your team however it works for you.
To get started, Eraser offers a Free Plan for up to 5 workspaces and unlimited collaborators. If you want to get your whole team involved, you can sign up for early access to Eraser's Team Plan which will cost you $10 per user per month and gives you access to unlimited workspaces, private workspaces, team libraries, version history, and GitHub Integration.
Eraser is an incredible interesting app, and yet again a perfect example for why visual-first tools are getting more and more important.
---
Mental Wealth
➢ Why failure is often better than "it's not ready yet." – "I used to be worried about failing... and but now I'm worried about not failing enough. When your biggest fear is how you're received by the market, it's easy to delay making any real progress. When something becomes important to you, like a new project, idea, or hobby, it's easy to fear sharing that with others, for fear that the thing you care most about gets shot down. So, it's easier to hide or keep working on things in the shadows. But failure is often what success looks like at this stage, and that's counter-intuitive."
➢ How to Change Unhealthy Habits – "Do you ever find yourself standing at the refrigerator when you're not hungry? Have you ever reached for the one food in your cupboard that is guaranteed to be bad for you? It's not just you. We all do it. These are "bad" habits—and habits, by definition, are the things we are so used to that they become our default even when we know better. Instead of using the word "bad," however, let's call them "unhealthy"—it's much more accurate and less judgmental."
➢ What Do We Owe Each Other? – "During that first summer of the pandemic, I sat in front of my computer in my childhood bedroom, FaceTiming my best friend from undergrad, Haley. We were both crying. I was hurt that she'd attended a bachelorette party in Lake of the Ozarks, a place which would later be deemed a COVID hotspot, while I was stuck at home with my parents, sheltering in place to keep my compromised respiratory system safe. We wanted to talk through it in real time, make sense of the broken pieces and work to put them back together."
➢ You'll forget most of what you learn. What should you do about that? – "The more I think about this, the weirder it seems. Almost all of us start going to school when we're three or four, and we don't stop until we're somewhere between 18 and 22. Some of us, having nothing better to do, keep going to school long into our twenties and beyond. And yet, invariably, most of what we learn vanishes. We keep a few things: multiplication, spelling, "Columbus sailed the ocean blue in fourteen-hundred and ninety-two." But if we had to retake the exams, we'd flunk."
---
Do not miss out on this …
These are paid promotions or affiliate links to support Creativerly. If you are interested in putting your tool, product, or resource in front of over 1800 creative minds, consider advertising in Creativerly and book a sponsor or classified ad spot. Find all the important information at creativerly.com/advertise.
---
From the archive
On September 27th 2020 I wrote about ... ---
Appendix
➢ ICYMI
If you want to get insights on the traffic happening on your website without invading your visitors privacy, you should take a look at some privacy-focused and privacy-friendly Analytics services. There are a lot of tools available. To kickstart your research regarding which tool is a fit for your needs, I wrote an in-depth blog post featuring a wide-range of privacy-friendly Analytics services.
➢ Quick Bits
---
Twitter thoughts
---
👋
Till next time!
Share or forward this newsletter to your friends, if they are also looking for creativity and productivity-boosting tools and resources. If you need help to discover your next favorite task management, note-taking, or PKM app, Creativerly delivers the insights you need. Creativerly is an indepentend publication and I am writing and maintaining it in my free-time. You can support Creativerly and my work by sharing it with the world,
booking an advertising spot
, or by
buying me a coffee
.
---
Some of the links in my newsletter and my blog posts are affiliate links. Those links are marked by an asterisk. If you buy something through the link, the product will not cost you anything more, but I will receive a small commission which not only supports Creativerly and my work but also helps me to keep this publication a sustainable side-project.