Newsletter
What does it mean to be resilient & The office re-imagined
In this week's issue of Creativerly: Maximise your Mac performance, draw with delight, how to become comfortable with uncertainty, and a lot more.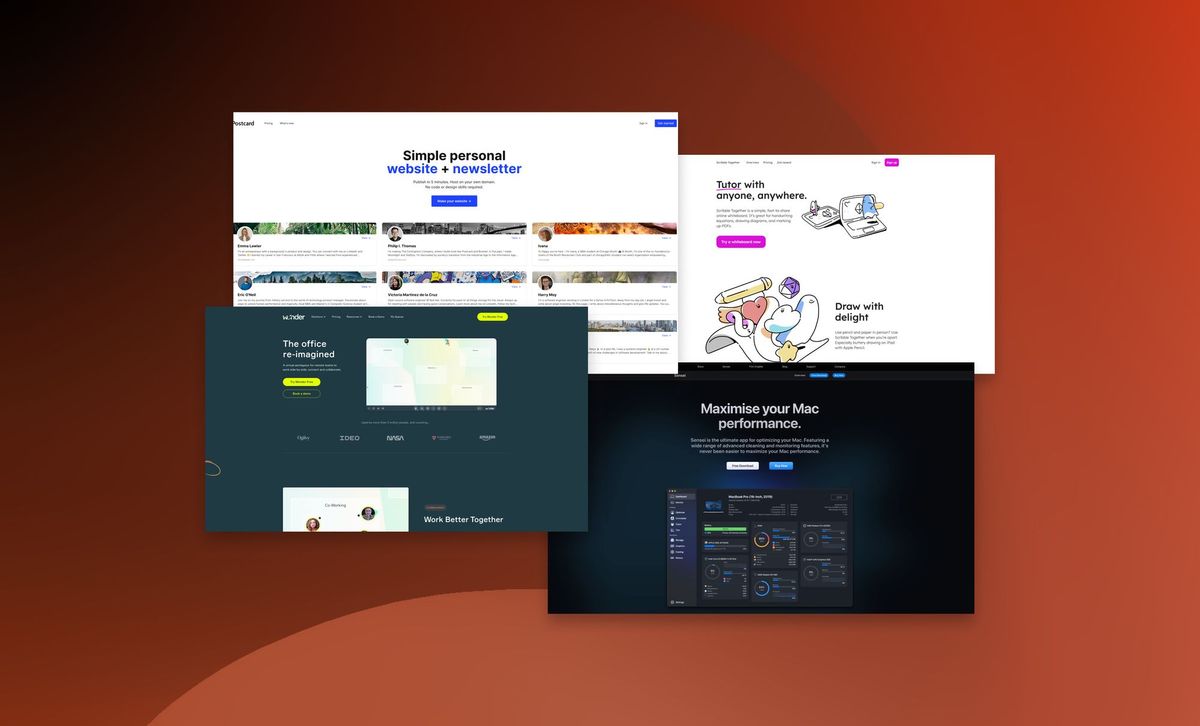 My name is Philipp and you are reading Creativerly, the weekly digest about creativity and productivity-boosting tools and resources, combined with useful insights, articles, and findings from the fields of design and tech. The newsletter built for the creative community.
---
Hey and welcome to Creativerly 198 👋
Some of you might already know that besides writing Creativerly as my main side-project, I am working as a full-time Product Designer. If you are reading this newsletter on Sunday, December 4th the upcoming Monday, December 5th is a special one for me.
For the last 3 1/2 years, I have worked as a full-time Product Designer at iTranslate, where I worked on apps that enable everyone to communicate in any language and compose mistake-free, clear and simple writing. I was involved in the design process of digital products that have been downloaded hundreds of millions of times and are used by millions of people worldwide. As you probably realised, I am using the past tense in my sentences. After those 3 1/2 years, I decided to leave iTranslate and take on new opportunities. Therefore, I am excited to announce, that I joined Scrintal as their first Product Designer.
👉
Some important information up-front: Creativerly will go nowhere. It is still my main side-project, and my passion project, therefore I will continue to write, maintain, build, and grow it. Ultimately, Creativerly was the reason I got in contact with Scrintal and therefore land this role. Also, although I am now working on a PKM tool myself, I will still write and feature other PKM and productivity tools. I might be biased that we build an awesome tool at Scrintal, but I still want to explore and write about all the tools I will come across. So, you can be sure, that everything you will read within Creativerly will stay the same, my raw thoughts about apps and tools from the creative and productivity field. On top of that, I will not use Creativerly to market or advertise Scrintal, I will share exciting updates that we ship, but Creativerly will not become a company newsletter, it will stay my personal newsletter.
I wrote about Scrintal multiple times because I think it is one of the most-exciting tools within the PKM area. I have been one of the first beta users, provided feedback, and ultimately got in contact with them to discuss the possibility to join their team and work on giving everyone the chance to visualise their thinking.
Scrintal is a visual-first PKM tool. No matter if you want to brainstorm ideas, manage projects at a glance, outline your thoughts, design your research, present findings, plan your writing, or learn something new, Scrintal is a powerful tool to free your visual thinking and achieve everything I just have mentioned. While I was beta-testing the app, I started to use Scrintal for my writing workflow. What I especially love about it, was the fact, that I went from an abstract idea to concrete action points incredibly fast. If you are looking to go from outline to finishing blog post fast, Scrintal is a great tool to do so. Just place your first ideas on an infinite canvas. Once you are done with that, you can go through your ideas, connect them to each other, start writing down some more in-depth thoughts, and see how everything comes together. Scrintal also boosted my design process. Whenever I am working on new designs, features, or product ideas, I sit down and start writing about my ideas. In Scrintal, I can just place everything that comes to my head on an infinite canvas, seeing the big picture, but if I want to dive into one specific idea, I can do so too.
Everything that you place on your infinite canvas is a card, so your notes are cards and these cards can be filled with text, images, videos, PDFs. Scrintal was built to create, connect, organise, and use. We are still in a very early stage, the app is still in beta, but we have some exciting updates and features coming your way.
It has been some time since I joined a new team, so I am a little bit nervous, but also incredibly excited to follow my passion and ultimately my dream which has been to work on a tool within the productivity and PKM sector.
---
Meet the Tesla of productivity apps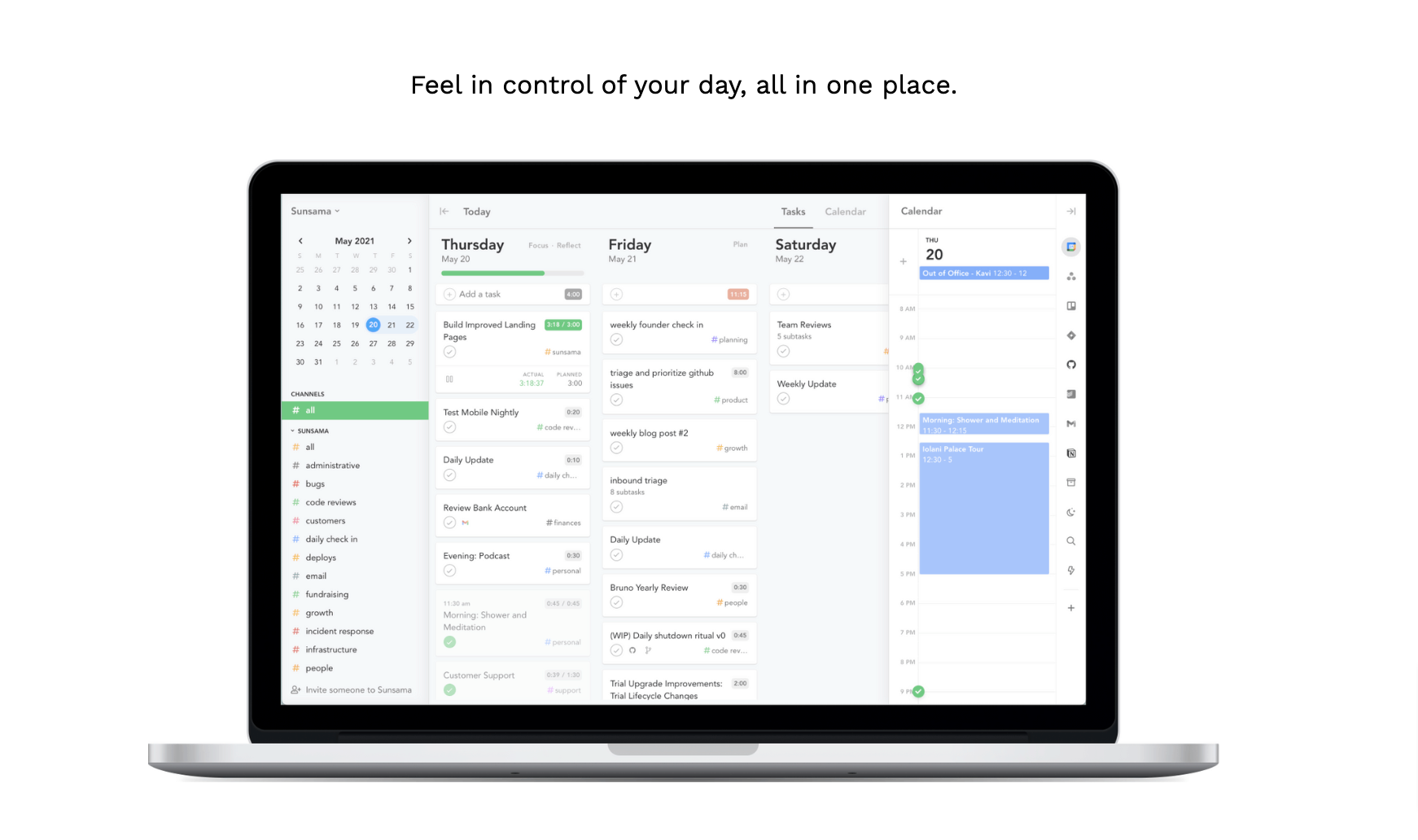 Sunsama helps you create the daily planning routines and atomic habits that lead to working less each day while getting more done! Stay on track with your goals and prevent burnout.
This is a sponsored message to support Creativerly. If you are interested in putting your tool, product, or resource in front of over 1900 creative minds, consider advertising in Creativerly and book a sponsor or classified ad spot. Find all the important information at creativerly.com/advertise.
---
Apps, Software, Tools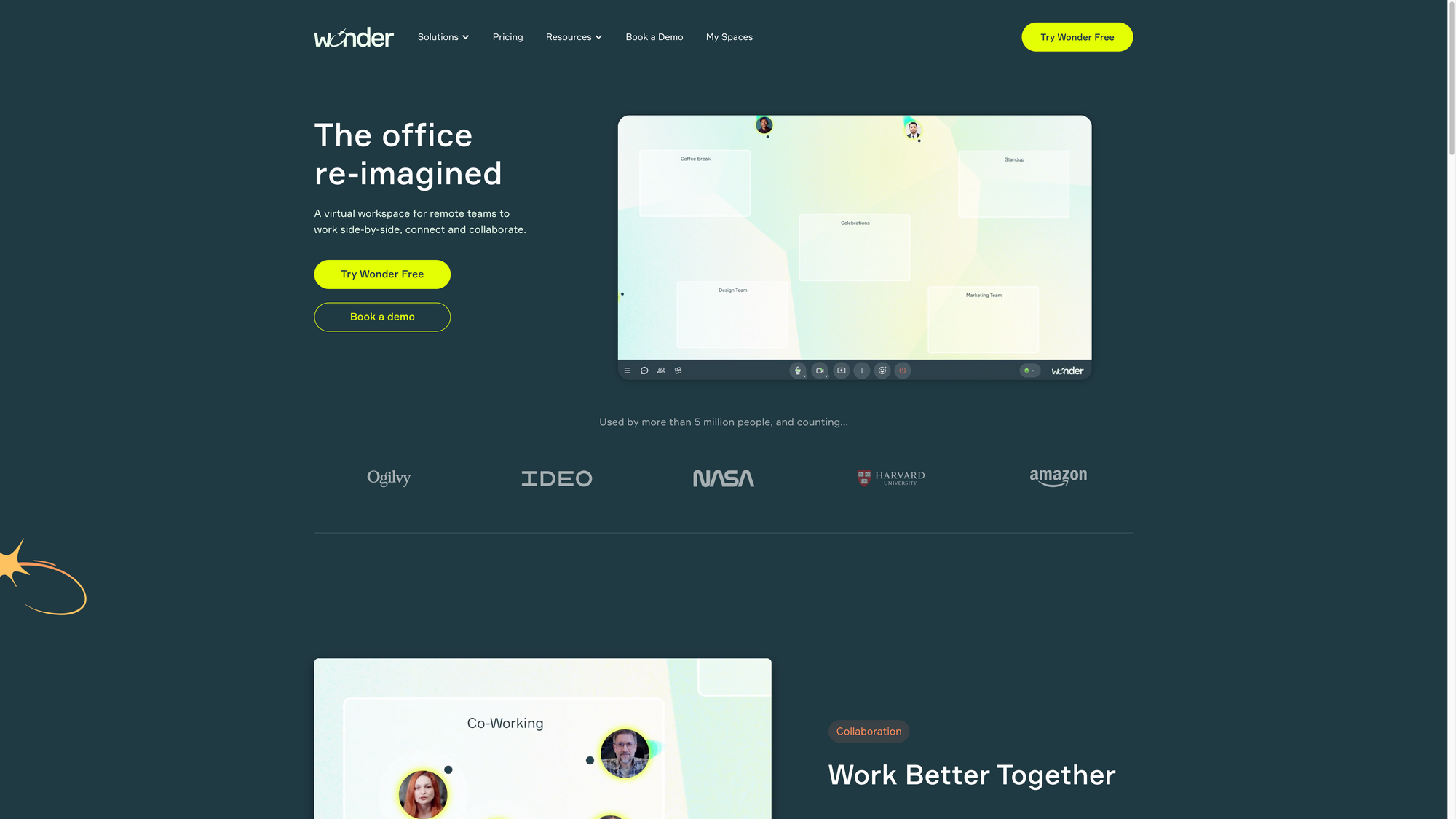 While the remote work culture is on a steady rise, more and more companies joining in on the mission of reimaging the office as a virtual workspace. Over the last couple of weeks and months, I wrote about quite a lot of tools focusing on giving remote teams a way to connect and collaborate better. Wonder is another tool that gives you the possibility to set up a virtual workspace for your remote team to work side-by-side and enjoy collaborating on different tasks.
Wonder has been founded in 2020 and taps into a very current trend, which is virtualising office space and offering advanced videoconferencing. Over the last couple of years, we already experienced a steady movement towards the remote work culture, but during the pandemic, the whole movement exploded in popularity. Tools that help established companies as well as startups and smaller teams to hop on the remote work culture train are booming. Wonder is in touch with the latest trends as it solves a huge problem with traditional videoconferencing tools: people do not just want to listen and get overwhelmed with what has been discussed during a one-hour meeting. They want to engage with each other, want to get involved, and ultimately want to be a part of the conversation. Wonder wants to change that, by offering a solution that focuses on dynamic conversations instead of a traditional lecture mode when you join meetings with other tools. Wonder stimulates in-person social interactions. With Wonder you can set up a virtual space that makes conversations fun, spontaneous, and completely natural.
Virtual spaces within Wonder basically look like a map. The design of those maps is rather minimal and simple, but you will quickly realise that its simplicity is a dedicated feature rather than a flaw. Within the virtual space, you are represented by your own avatar, which can be moved around. The space itself consists of different areas which represent "rooms" you can easily join by simply moving your avatar into one of those rooms. As soon as you have joined one, you are able to see your teammates, who are also in the room and start talking to them. With Wonder, you are always surrounded by your team, no matter how many miles apart you actually are.
Wonder has also removed one bit of team communication and videoconferencing that often leads to struggles: meeting links. I do not know how many times it happened to me that a scheduled meeting either got lost within my calendar, my emails, on Slack or anywhere else. And with it, the link to join the meeting was gone too. In Wonder, you can jump into casual convos with a simple click. No need to send out multiple meeting links. This casual and spontaneous way of getting together makes collaboration fun and engaging. During a meeting or a workshop within Wonder, you can seamlessly share files and work on projects together. Wonder is a truly productivity boost. Your colleagues are always right at your fingertips, you can surface the energy of your team, and work on documents and files together since you can open them right within your video calls. Lovely!
To get to know to Wonder a little bit more, you can sign up for the Lite Plan, which is free and gives you access to up to 5 hours of video calls per user per month, so it is ideal for weekly team meetings, coffee breaks, or one-off workshops. The Pro Plan will cost you €9 per seat (and per month I assume, although the website does not clarify that) and gives you access to your fully functional virtual office for all day-to-day collaboration and communication. You can also try out Wonder for free for 14 days.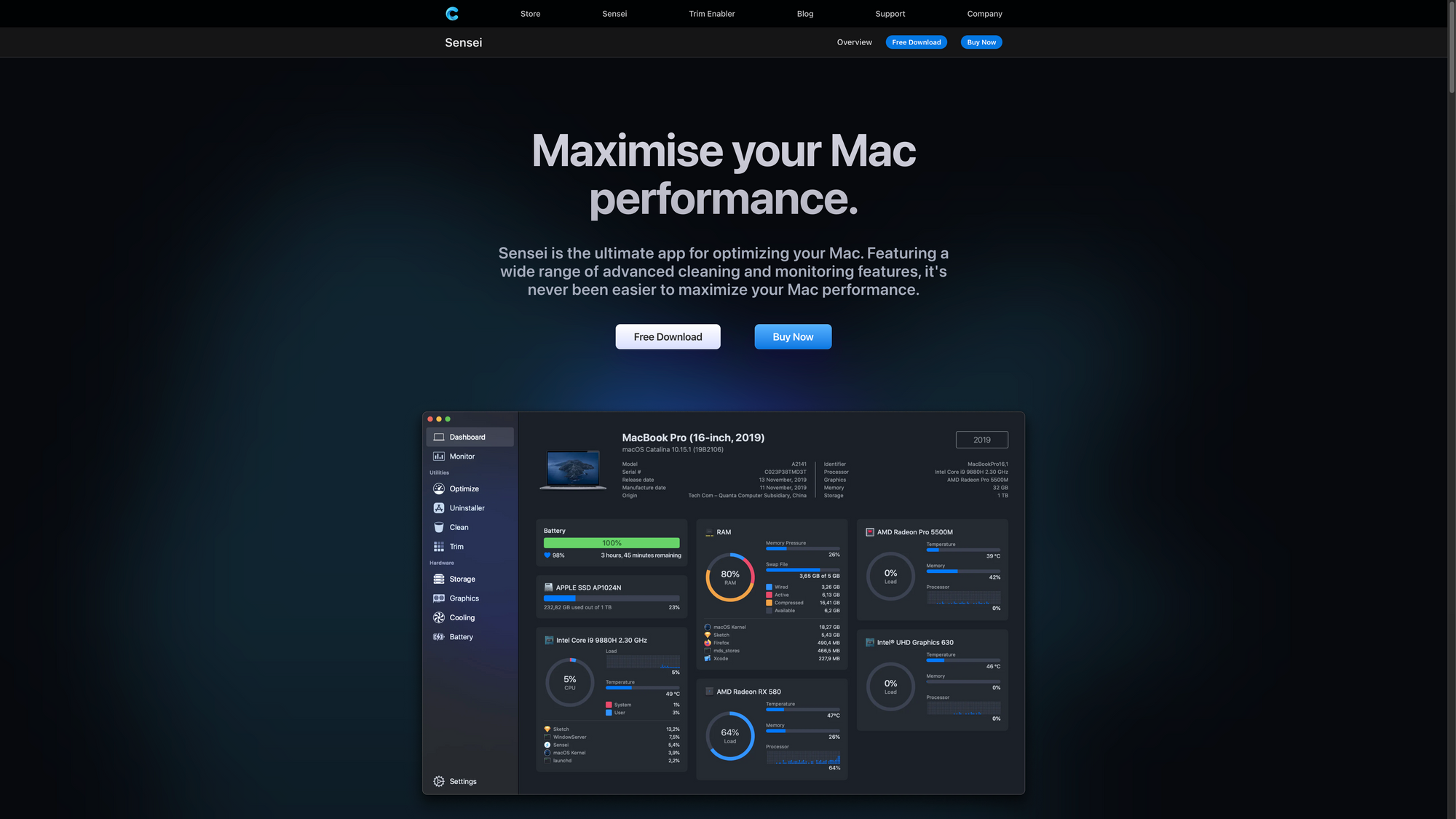 As a Mac user, you will probably reach that point when you start experiencing some performance issues. While the reason for that could be a sign of ageing, on one hand, there are also other possibilities that could slow down your Mac and decrease its performance. If you are looking for a tool to maximise your Mac's performance, Sensei is a tool you should take a look at.
Sensei features a wide range of advanced cleaning and monitoring features which turns it into the one app you need to optimise your Mac and constantly monitor it to see where things could be improved. When your Mac is becoming slow, taking a long time to open apps, or the battery drains incredibly fast, it is hard to find the reasons for that. Sensei Monitor is a brand new way to monitor your Mac performance, so you always stay on top of any kind of issues. It features a state-of-the-art realtime statistics engine which delivers powerful insights into what is happening internally on your Mac. The Sensei Monitor is beautifully designed and it offers amazing customisations. Monitoring every aspect of your Mac has never been that easy. The metrics that are displayed within Sensei Monitor range from software to hardware. It was built to give you powerful insights into the performance and health of your Intel or Apple Silicon Mac in real time.
Within the editor, you can customise Sensei Monitor, which means you get complete control over your monitoring suite. With a few clicks, you can add or customise the widgets that appear in the status bar or within the dropdown panel. You can even create brand-new panels with our own design and tracking. All those elements are meticulously hand-crafted to fit perfectly in with modern macOS design standards. Besides offering such a gorgeous way of monitoring your Mac, Sensei also offers a blazingly fast Clean feature, that will help you find and delete unnecessary files that are taking up your storage space. If you ever wanted to free up gigabytes of storage without touching your personal files, Sensei is the way to go. With a few clicks, Sensei cleans up all the stuff you do not need. This includes old caches, logs, big downloads, and leftover installation files. Sensei is powered by intelligent scanning, smarter means faster. Sensei's disk scanner is built especially for the macOS architecture. Therefore, you will experience a blazingly fast performance. On top of that, it was also built with privacy in mind, which means you control which files get deleted and which are not. Sensei will never delete anything without asking.
But that is not it. Sensei is also capable of removing apps with ease. The Uninstaller by Sensei helps you uninstall apps completely, all the leftover files on your Mac will get deleted. This makes your Mac run faster while also reclaiming extra storage space. Besides the software features, Sensei also monitors the hardware of your Mac. Check the battery health of your mac easily and get information that is normally hidden. Within the Thermal Dashboard, you get a complete overview of your Mac's thermal status. The Disk Benchmark measures the reading and writing speed of your drivers quickly and easily. With the SSD Trim, Sensei allows you to enhance SSD performance and longevity with the flip of a switch.
You can download Sensei for free and test it for 14 days. After that, you need to buy a license to continue using it. The Sensei Plan will cost you $29 per year and includes three licenses. But you can also purchase the Regular License, which will cost you $59 as a one-time-payment. The license is also valid for up to three Macs.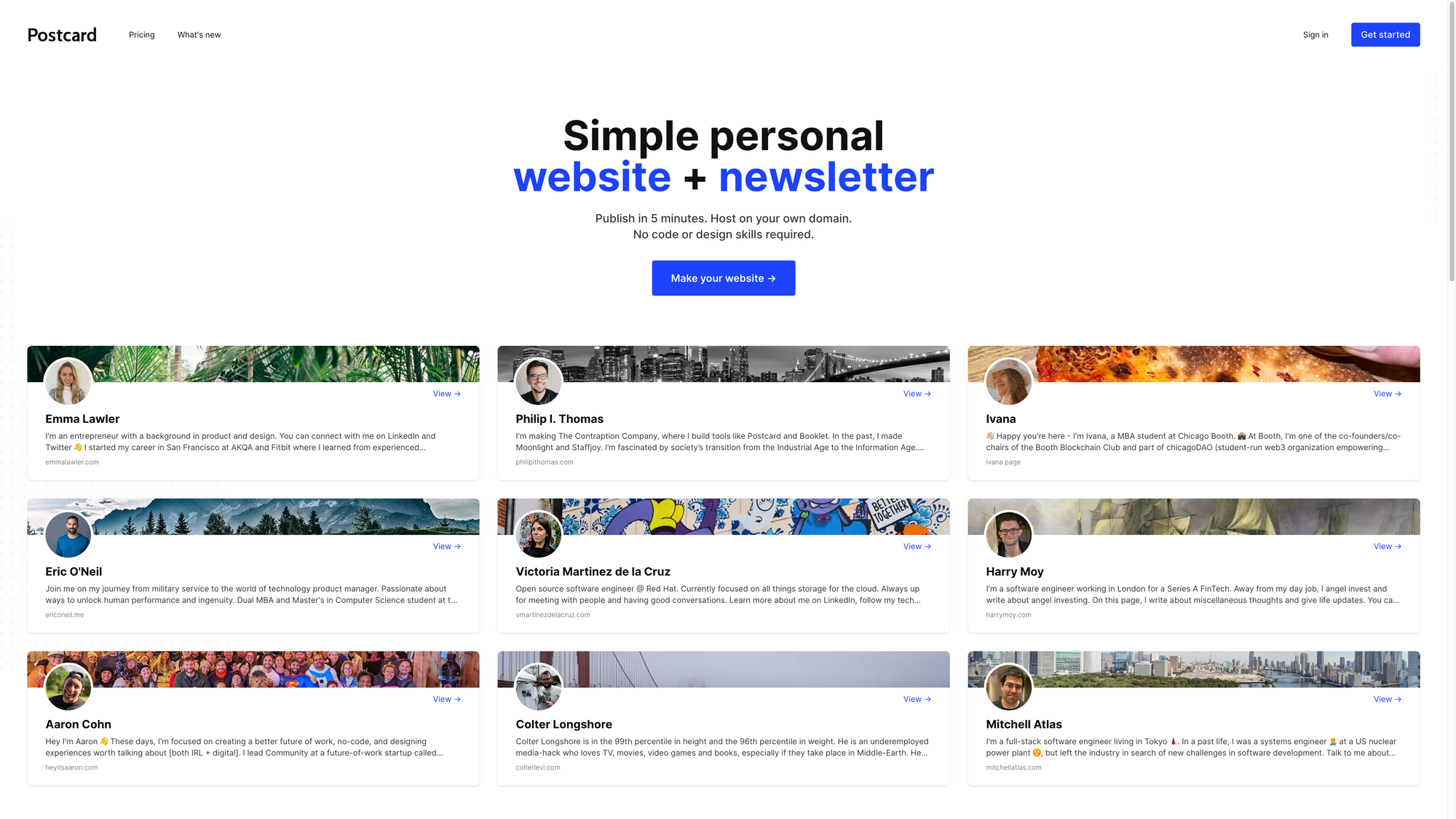 In Creativerly 196, I wrote about blogstatic, a powerful and incredibly simple tool that gives you the possibility to set up a personal blog in no time. I love that kinds of tools and services. Especially in times like these, in which more and more folks are coming back to personal publishing, setting up their blogs and newsletters to share their thoughts, ideas, and updates about their projects. Postcard is another service that gives you the possibility to create a simple personal website and a newsletter with ease.
With Postcard, you can publish your thoughts and ideas in five minutes. To set up Postcard you literally need zero coding or design skills. All you need to do is head to their website and click on "Make your website". Postcard is an all-in-one tool for your personal website. Once you have created your page, you can customise it to your liking. Set a profile photo, create a cover image, and choose a colour scheme. You can update them at any time. Your personal homepage in Postcard looks incredibly clean. There are no unnecessary buttons or UI elements, which means your visitors can directly focus on the content you create. As already mentioned, Postcard allows you to set up a personal website to publish your content. Besides writing and publishing blog posts, your readers subscribe to your posts and you can send polished emails through Postcard. By embedding a signup form on your site (with no extra software needed) you are ready to build and grow your personal newsletter. If you ever have the feeling you want to move on to a different platform, Postcard allows you to export your email list at any time. This is an incredibly important factor and feature, because it means Postcard does not lock you into its platform, you are free to choose if you want to stay or move on.
Personal blogging and publishing are definitely on the rise, and I welcome the new tools and services that give everyone the chance to set up a blog and newsletter without any hassle. Of course, you will not find Ghost- or Substack-like features within Postcard, but you can not compare those platforms with Postcard anyways. Postcard follows a different approach. It was made for folks who want to dive into personal blogging and publishing, while Ghost and Substack is mainly focused on folks who want to monetise their content.
Postcard is built by Philip I. Thomas, founder of The Contraption Company, under which he builds and crafts dependable software tools. The core focus of The Contraption company has always been to build simple and reliable tools, with an explicit business model, optimising for utility and not noise, and ultimately offering support from humans. When you take a closer look at Postcard, you can definitely see and experience those core focus points.
You can use Postcard for free when you host it on a postcard.page domain. It will give you access to your personal homepage and a newsletter, you can customise your homepage, collect email sign-ups, and send emails to your subscribers. For $8 per month, you can upgrade to the Premium Plan, which lets you connect Postcard to your own domain, add custom code, and soon you will be able to use integrations and APIs.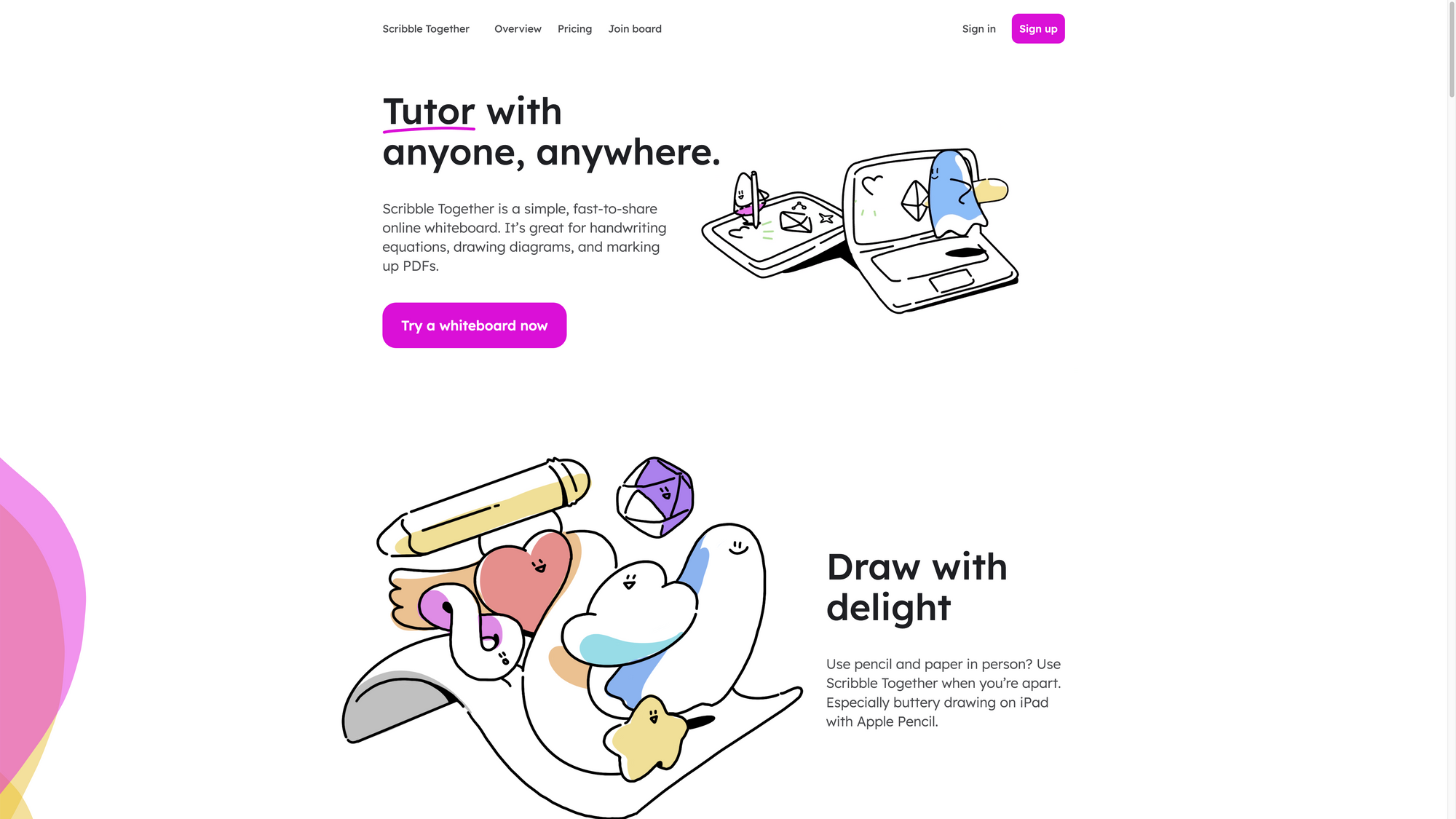 Do you like to use pencil and paper to draw and scribble your ideas? Did you ever want to have the ability to collaborate with your friends and colleagues, so you can draw and scribble ideas together? Then, I am excited to present to you Scribble Together, a simple, fast-to-share online whiteboard, that lets you draw, tutor, write, study, or solve with anyone, anywhere.
Scribble Together is great for handwriting equations, drawing diagrams, and making up PDFs. Speaking of PDFs you can easily import them into Scribble Together, mark them up, and export them back out to PDF, including all marks. This is a lovely way to work on PDFs, especially when you are studying together since everyone can easily export the PDF you just worked on together. When you are collaborating with your friends or colleagues within Scribble Together, you can flip a switch to let your guests scribble. With another switch, you can navigate together which enables everyone to literally stay on the same page. You can invite guests by simply sending them a link or reading them a temporary 4-digit code. This gives you the possibility to control who joins one by one. Guests who are using Scribble Together do not need a registration or password.
With Scribble Together you can enhance the expressiveness of handwriting with powerful extra perks. You can customise your whiteboards by choosing between different grid and graph papers. No matter if you want to use a dot-grid, isometric, isometric dot, or music staff backgrounds, Scribble Together got you covered. Additionally, you can also control the paper size and show page breaks. When you use Scribble Together while presenting to your friends or colleagues, you can keep the flow of conversation fluid by circling, underlining, and pointing with disappearing bright ink.
Since Scribble Together runs as a web app, you can work with people on any platform. No matter if your friends use Mac, Windows, Chromebook, Android or anything else, collaborate and work together with Scribble Together's web app. There are native apps for iOS and iPad OS available. The iPad app especially delivers a smooth and powerful experience when you are using it in combination with an Apple pencil. Since Scribble Together is optimised for mobile devices, you can take notes on the go and access them from your desktop at a later point. If you want to manage multiple projects with Scribble Together you can create as many whiteboards as you want. The infinite canvas of each whiteboard offers unlimited space for thinking.
You can use Scribble Together for free. The Free Plan gives you access to a personal notebook for iOS, offline only, unlimited whiteboards, infinite canvas, and join as a guest. Member Plan will cost $4.16 per month and lets you sync scross devices, share, and collaborate. It will give you access to everything in the Free Plan plus the ability to invite guest to scribble with you, no limit to number of guests, create boards via web, access boards across devices, and sync shareable notebooks across devices.
---
Mental Wealth
➢ What Does It Mean to Be Resilient? – "Resilience involves the ability to recover and rebound from challenges and setbacks. Being resilient can be important for helping people deal with a variety of problems and bounce back from trauma. What makes a person resilient? There are many factors that contribute to resilient behavior, including personality traits, upbringing, genetics, environmental factors, and social support. If you want to become more resilient, learn about the characteristics of resilient people and when and how to ask for help building resilience."
➢ Networking is a necessary — and misunderstood — skill. Here's how to hone it. – "At the end of my sophomore year of college, I found myself at a career crossroads. The pandemic hit a few months earlier and like most students across the country, I was kicked off campus and sent back home. As I spent the remainder of the school year sitting idly in my childhood bedroom, I had no choice but to wrestle with the ever-looming question: What do I really want to do with my life?"
➢ Writing as a thinking tool – "Writing has many science-based benefits. It can help you develop your self-authorship, reflect and create metacognitive routines through journaling, and has been shown to make you happier and healthier. For something that's completely free, it's a pretty good deal. Beyond these benefits, writing is also a thinking tool. Not only for personal management, but for ideation as well. From consuming information to creating your own content, writing can be used every step of the way."
➢ How to Become Comfortable With Uncertainty – "Have you ever been in a team meeting where someone has an idea they're so wedded to that they can't entertain other options? Some people in the group might agree, while others might disagree and suggest other solutions. Depending on the group dynamics, each person may become increasingly attached to their own position. If you're lucky, however, there's another person in the group who avoids getting caught up in these strongly held opinions. This person can look at all the different ideas at once, perhaps seeing some that haven't been suggested, and can move flexibly among them to weigh their pros and cons. They don't get stuck in one worldview."
---
Classifieds
These are paid promotions or affiliate links to support Creativerly. If you are interested in putting your tool, product, or resource in front of over 1900 creative minds, consider advertising in Creativerly and book a sponsor or classified ad spot. Find all the important information at creativerly.com/advertise.
---
Appendix
➢ ICYMI
The newest Creativerly interview is out now. This time, I got joined by Emmanuel Lefort, founder and CEO of Weavit, who has been working on a PKM app that got shut down back in September 2022. If you want to find out why Emmanuel decided to leave the PKM app of Weavit behind and start a new chapter for Weavit as a company, read about the challenges and struggles of building a startup in a crowded place, how he observes the space of PKM and productivity software, and a lot more, make sure to check out Creativerly's newest interview.
➢ Featured Newsletter
What is the optimal free trial length? (Answer: 7-days). At what time should you post on social media? (Answer: Morning for educational content, evening for entertaining content). How should you position products in your ads? (Answer: In a way that is 'graspable' by the viewer's right hand). These are all questions that scientific research has answered. But most marketers are decades behind the latest science. They rely on opinions or waste time reinventing the wheel. Don't be one of them.  Ariyh turns the latest scientific discoveries into 3-min practical marketing recommendations. Subscribe here to join 15,000+ evidence-based marketers. Written by an ex-Googler that was sick of marketing BS.
➢ Quick Bits
---
Twitter thoughts
---
👋
Till next time!
Share or forward this post to your friends, if they are also looking for creativity and productivity-boosting tools and resources. If you need help discovering your next favourite task management, note-taking, or PKM app, Creativerly delivers the insights you need. Creativerly is an independent publication and I am writing and maintaining it in my free time. You can support Creativerly and my work by sharing it with the world,
booking an advertising spot
, or by
buying me a coffee
.
---
Some of the links in my newsletter and my blog posts are affiliate links. Those links are marked by an asterisk. If you buy something through the link, the product will not cost you anything more, but I will receive a small commission which not only supports Creativerly and my work but also helps me to keep this publication a sustainable side-project.