Newsletter
After Twitter & Love your tabs
In this week's issue of Creativerly: A great collaborative to-do list app, your new favorite blogging tool, what to do after you launch, and a lot more.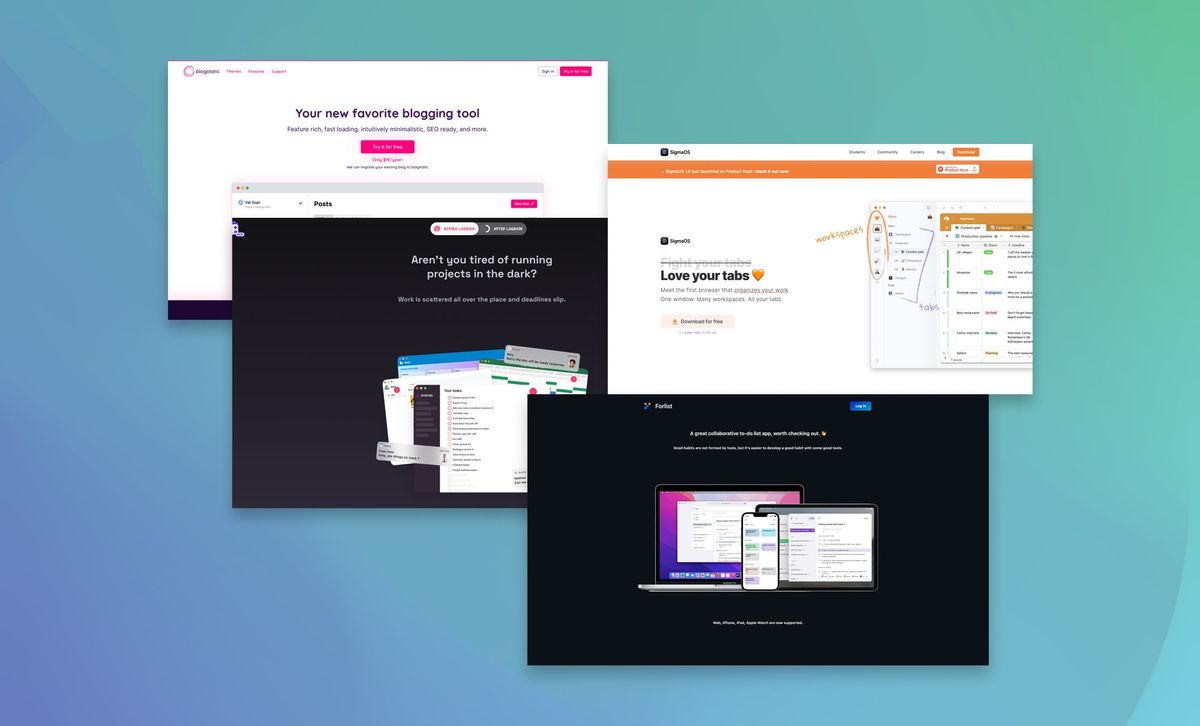 My name is Philipp and you are reading Creativerly, the weekly digest about creativity and productivity-boosting tools and resources, combined with useful insights, articles, and findings from the fields of design and tech. The newsletter built for the creative community.
---
Hey and welcome to Creativerly 196 👋
Most of you probably received Creativerly's issue of Wednesday. Yes, I know, an unusual day to publish for Creativerly. But this issue was something special. Therefore, I want to resurface the post in this issue's intro once again. Especially, because I would like to give you some background information about the whole process of Tejas and me getting together and co-writing a post over the course of the last six months. If you do not know what I am talking about or missed Creativerly's issue from Wednesday, long story short, I collaborated with Tejas Gewande from Probably Nothing and we wrote The Ultimate Productivity System for Knowledge Workers together.
This has been the first time, that I collaborated with a fellow content creator. It has been an exciting experience. While both, Tejas and I, got dragged away by other priorities every now and then, we kept pushing ourselves back into writing and ultimately finishing this piece. All in all, the whole post has been in the works for six months. This might seems like an incredibly long time for most of you, but keep in mind, that we both were working full-time, and all the writing happened on the side. Before we could even start with the writing process of the different sections, we did in-depth research. We gathered the tools we would like to write about, the workflows we would like to showcase, and the struggles knowledge workers are facing.
From there, we moved from the research to the actual writing phase. During the writing phase, we did not want to limit ourselves in any way. What came to our minds regarding the different sections, got written down. I do not have a dedicated writing process. But as a first step, I always follow some kind of brain dumping, meaning that I simply write about everything that comes to my mind related to a dedicated topic. Once we finished our drafts for the different sections, we went through everything and started with the editing. This phase went on and off. Both, Tejas and I were writing this post on the side. At some point, we were decked out with work, and other life stuff, so we took some small breaks. The important thing, we always came back to the post and pushed ourselves to continue writing on it, as we were both excited about the progress we had already made.
After a little bit over six months, we finally hit publish and the post went live. I am not only excited about this post, I am incredibly excited about this collaboration, and I am looking forward to writing some more posts together with Tejas in the future, and we will see if there are also other collaboration opportunities, I would definitely be open to that.
Anyways, check out The Ultimate Productivity System for Knowledge Workers, written by Tejas and me. If you like the post, make sure to share it online. We would really appreciate the support.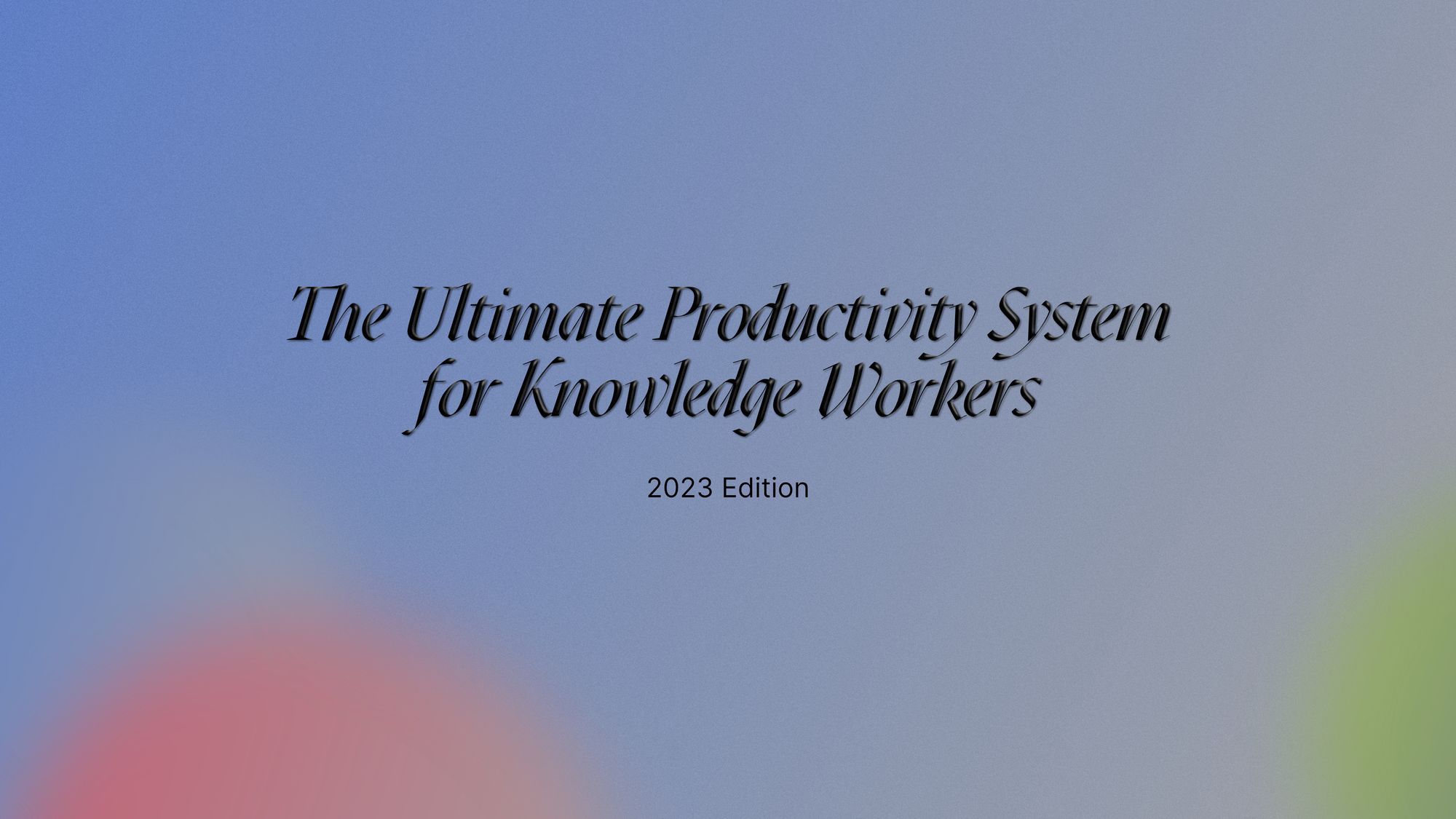 ---
Get Smarter every day.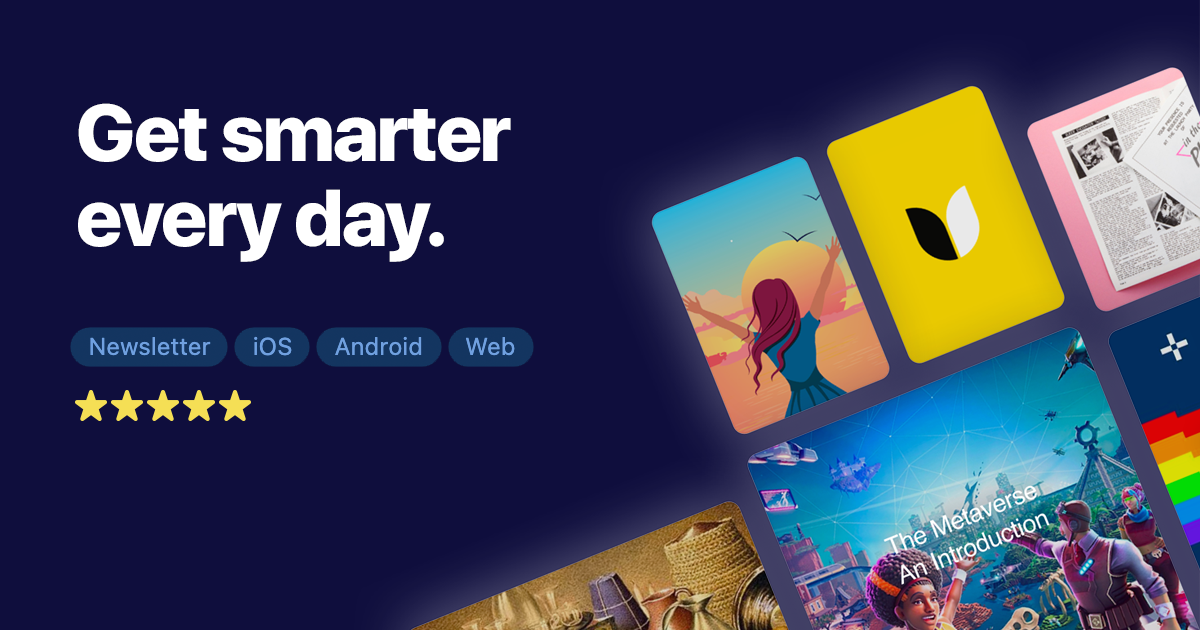 Every day Refind picks 7 links from around the web for you, tailored to your interests. Loved by 50k+ curious minds.
These is a paid promotions or an affiliate link to support Creativerly. If you are interested in putting your tool, product, or resource in front of over 1900 creative minds, consider advertising in Creativerly and book a sponsor or classified ad spot. Find all the important information at creativerly.com/advertise.
---
Apps, Software, Tools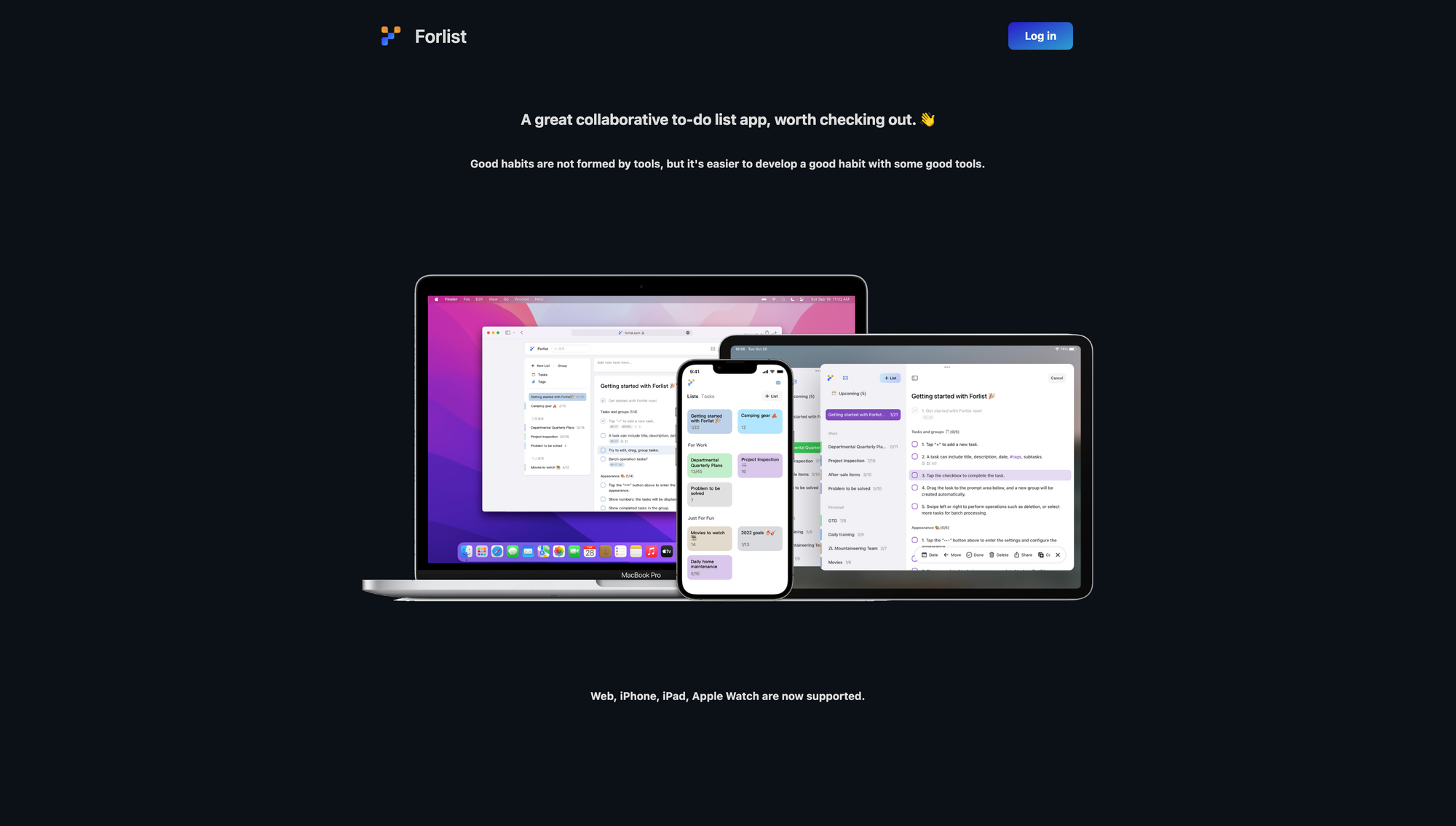 I am not using task management that often anymore. I became a fan of keeping track of my tasks within my preferred journaling and PKM tool. Since I am writing daily notes regularly and managing my projects within the same tool, it is a more suitable workflow for me to jot down tasks as part of my note-taking process. Nevertheless, I still like to explore new task management tools. Forlist is the most recent tool I have discovered within that field.
Forlist is a minimal, simple, lightweight and yet powerful to-do list app. The crucial thing about task management software is that managing your tasks should be easy and simple enough so you can focus on getting your work done. You should not spend your time only managing your tasks. Otherwise, you will end up with an ever-growing backlog of tasks without actually getting stuff done and evolving your projects. Forlist was built to be suitable for use at work, your side projects, and so you can collaborate with friends and colleagues.
The basic management layer within Forlist is, as the name implies, a list which you can use to determine a goal or a project, Organise your tasks centrally, and manage related members to join in on the collaboration. On the homepage within Forlist, you can drag and drop your lists to sort them or drag them to different groups. To quickly create a new group you can drag and drop a list to the bottom of your homepage and a prompt to create a new group will arise. Sometimes, it can happen that lists are not in use temporarily. In Forlist, you can archive those lists, which means they will not get displayed on your homepage anymore, but you can still find them in the archived lists section. From there you can view more details and restore lists if needed.
On top of that, Forlist allows you to export either lists or history records in the form of copy text, images, markdown text, or print. When creating those tasks you can set a title, add a description, create subtasks if needed to further split your tasks in separate actions, and you can also add a date. Additionally, when editing a task, a set of icons will appear which let you easily set and edit those task attributes. As already mentioned, Forlist also features the possibility to invite members to your list so you can collaborate on tasks. Your friends or colleagues can join your lists with just a link.
Forlist is available as a Web app, and for iOS, macOS, iPadOS, and watchOS.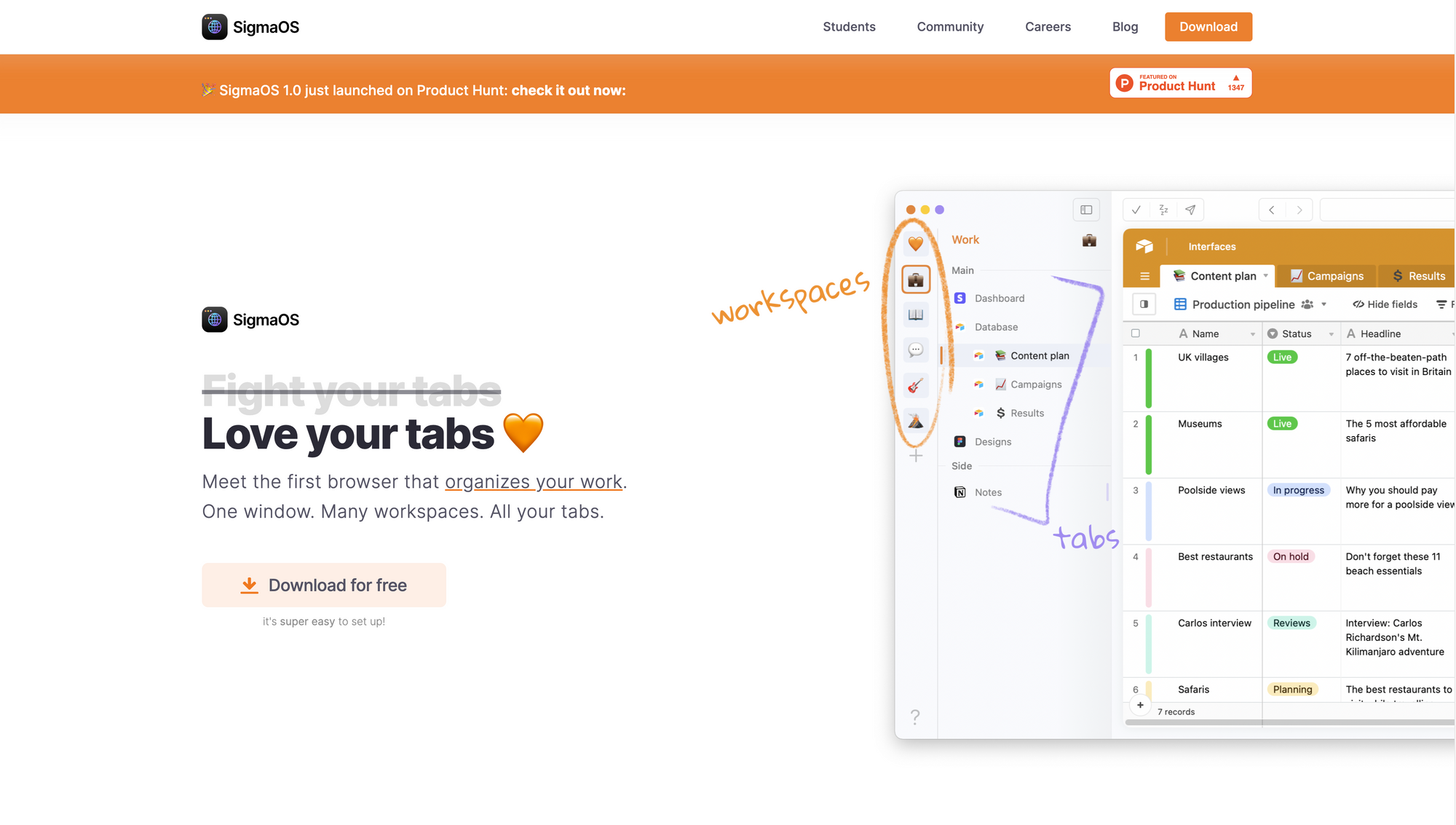 I have already written about SigmaOS in the past. It was and still is one of the most exciting browsers out there. As browsers became more and more powerful, a lot of folks are heavily relying on them during their daily life. But with traditional browsers, you probably fight for your tabs. SigmaOS makes you fall in love with tabs again, as it is a browser that organises your work in one window, with many workspaces, and all your tabs. Recently, the team behind SigmaOS launched version 1.0 and attracted over 1300 upvotes on Product Hunt.
With SigmaOS you can structure and organise all your work and all your tabs within workspaces. This means you can set up dedicated workspaces for your work, personal life, social networks, side projects or whatever comes to your mind. The beauty behind workspaces within browsers is the fact that they allow you to group certain tabs easily. There is no longer the need to search through all your open tabs to find what you are looking for. Structure your tabs within workspaces once and you can come back to them whenever you want and need to. Frequently used tabs can be locked within SigmaOS, which means they always stay where they are. If you want to hide certain tabs, you can snooze, or if you no longer need one, you can mark it as done. SigmaOS features a beautifully designed interface that makes the product incredibly joyful to use.
One of the most powerful features of SigmaOS is called Lazy Search. It gives you the possibility to search through your own internet. By that I mean, tabs, searches, commands, bookmarks, and so on. SigmaOS' Lazy Search is the one tool to search them all. No matter if you want to start a quick search, jump to a tab with a few keystrokes, create a new document, or browse your bookmarks, Lazy Search got you covered. Control your browser the way you want to. Whenever I am writing the new Creativerly issue, I usually pull up my note-taking app on one side of the screen and my browser on the other side. SigmaOS features Split Screen, so there is no need to open multiple windows or apps, just create and open two tabs at once. Split Screen within SigmaOS makes multitasking incredibly easy and yet again it delivers a joyful experience while working and being productive. Split Screen is great for taking side notes, clearing your to-do list, dragging and dropping images, keeping an eye on socials, or controlling your music. It is an awesome feature.
Since SigmaOS uses cloud sync, you can use SigmaOS on many different devices and pick up your work from anywhere. Besides that, SigmaOS uses Apple Keychain to protect your passwords and lock them behind biometrics (when available). Additionally, SigmaOS works with Chromium Extensions, which means you install any kind of extensions available within the Chrome Web Store. The built-in Ad Blocker of SigmaOS makes sure that you can say bye to ads. Loads of different keyboard shortcuts let you navigate through SigmaOS lightning fast. There are so many more awesome features, that I encourage you to head over to SigmaOS, check them out and give it a try.
You can use SigmaOS for free. The Personal Plan includes three workspaces, the built-in ad-blocker, split screen, and everything else a regular browser is offering. If you need unlimited workspaces, cross-device syncing, and one co-browsing workspace, you need to upgrade to the Personal Pro Plan for $8 per month, billed annually.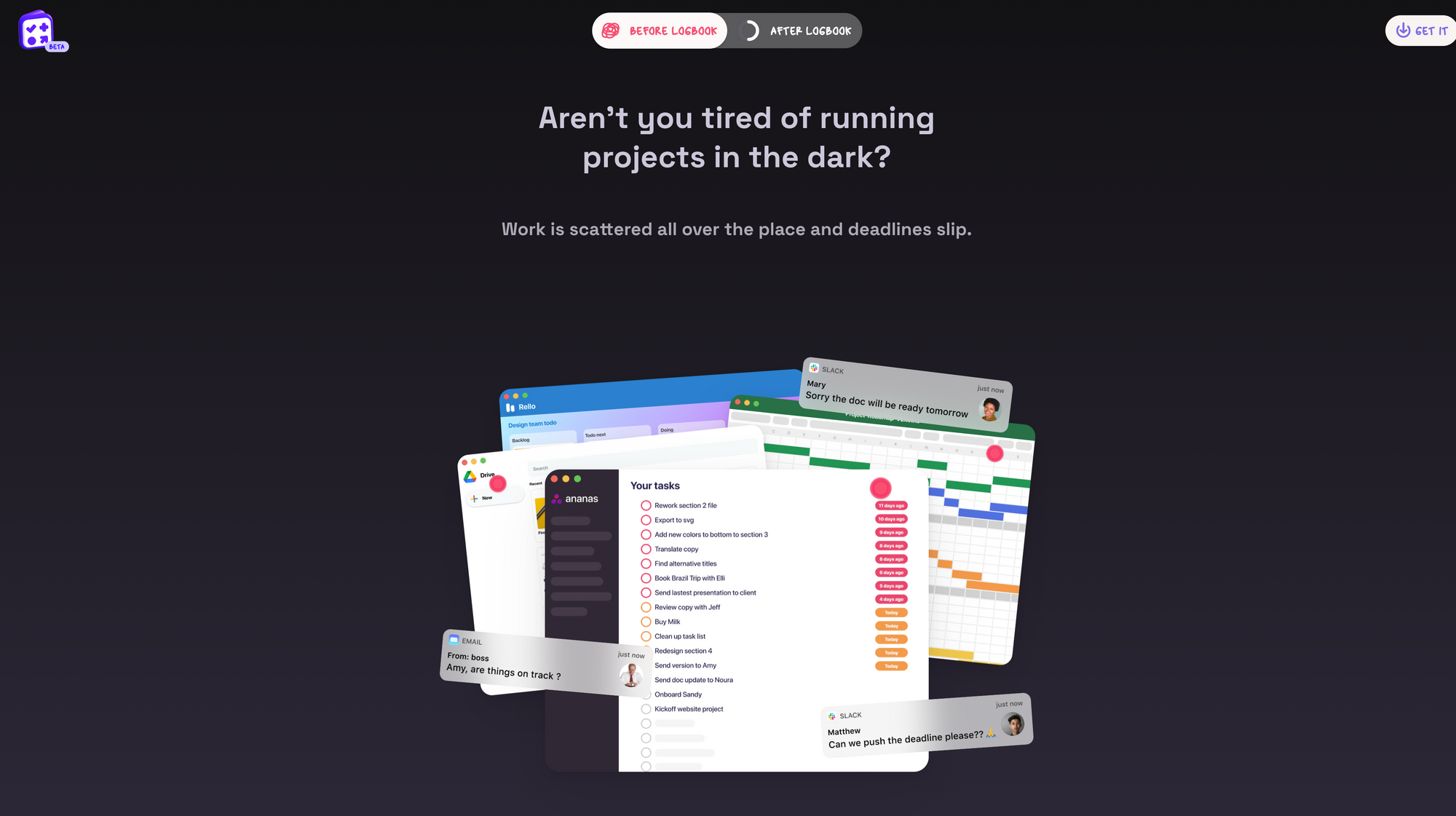 Logbook is a tool that has been quietly in the making for two years. Now, they opened up the private beta and rolling out inivites. It is an interesting tool for folks who are tired of running projects in the dark, especially when the work is scattered all over the place, because you are using multiple apps for different purposes.
Loads of people nowadays heavily rely on tools like clouds, document managers, team messengers, and others. Working on a single project often involves multiple streams of information. Your work gets scattered across different folders, channels, and tools. Keeping everything organised, but especially finding what you are looking for fast, can become really hard. Task management tools can become ever-growing backlogs, as most people tend to throw everything inside them, thinking it will help to not forget about the things that need to be done. Instead, it becomes hard to separate the important tasks from the merely urgent ones.
Logbook is a tool that clarifies your projects with a smooth process. It features a beautiful interface. Logbook turns your projects into a relay race, so you can be sure to deliver in time. I have never seen a similar approach, which is incredibly exciting. So, let us take a closer look at Logbook's approach. For example, if your next team project is creating a new company website, you would set that up as a dedicated project. Within Logbook you can then set an estimate for the whole project. Then, you add your team members which are involved in that Project. All along the project, Logbook will remind members of their respective priorities with a specific countdown. It can always happen that your team members deliver ahead or behind schedule. In that case, Logbook will make the priorities back up to the estimated end date, so you can track them against the target date. As multiple team members work on that project, it can be split up into different sections. The first might be to create, finish, and present the project brief. Then, speaking of launching a new website, you might want to gather some ideas and inspiration by creating a mood board. After that, the designer can start creating the first drafts, while the copywriter already starts writing the text that will be displayed on the website. Then, the developer will actually build the website. Ultimately, after everybody has reviewed the product it is ready to launch. Logbook gives you the possibility to visualise all these different sections of the whole project on a vertical timeline. You can create a map by splitting your project into key steps and dependencies, assigned to your team members. I have never seen something like this, but it is a beautiful way to visualise, display, and map out a project.
Since everyone has a different workflow for finishing each of the key steps of the project, Logbook has besides the timeline/map another view on the side which gives you and your team members the possibility to add workflows. Those workflows ensure your project steps are delivered in a structured manner. Workflows can include briefs, tasks, deliverables, and discussions. You can pick the ones that you need, in the order you want them to get done.
The beautiful thing about this is the fact that it encourages every team member to think through the assigned key steps, so they are aware of what kind of tasks and workflows are necessary to get their work done. Everyone keeps a clear status not only of the whole project but also of the small bits which combined lead to the final product.
I am incredibly excited about Logbook. Currently, the tool is in private beta. You can sign up for the waiting list right now.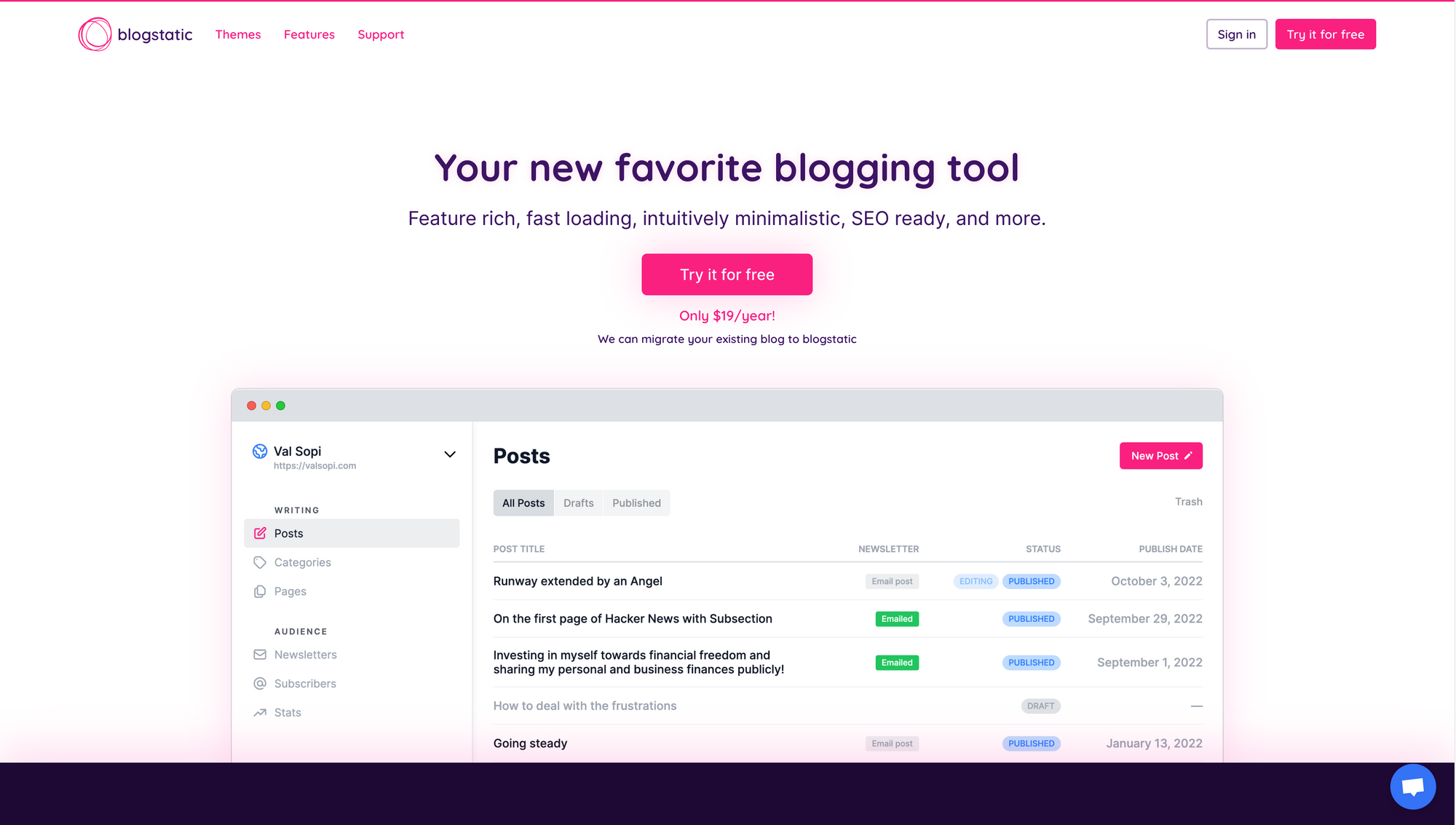 When I got into the no-code field a couple of years ago, one of the first tools I have discovered was Carrd*, a super simple and free website builder to create beautiful and responsive one-page sites for literally everything. The first version of Creativerly's website was actually built with Carrd, and whenever I kicked off a new project, I was able to build a landing page with Carrd in literally minutes. Therefore, I signed up for the Pro Plan to be able to build more sites, use custom domains, custom templates, and more. One of the biggest advantages of Carrd, the Pro Plans start at $9 per year, yes per year, you read that right. It is literally the easiest and most valuable way to quickly build a one-page site. But, there has been one disadvantage of Carrd. You were not (and still are) able to set up a blog. A super simple blog, just a few clicks to start publishing some content. I always hope for a service that lets you create a blog, with a beautiful interface, easy-to-build, and reasonable pricing, just like Carrd. Well, with blogstatic, I think I found exactly that service.
blogstatic is like Carrd but for blogs. For only $19 per year (yes, again per year), you get probably the most versatile no-code blogging tool out there. Blogstatic is feature-rich, fast-loading, intuitive, minimalistic, SEO-ready, and more. Setting up, running, and maintaining a blog has gotten more and more complex over the last couple of years. People with little to no technical understanding had a hard time simply set up a blog, being able to focus on writing and putting their content out there. blogstatic allows everybody to set up a blog fast and easily, so you can focus on writing and publishing your posts. In my blog post about tools and services to build your personal website, blog, or portfolio, I wrote a dedicated section about blogging and publishing platforms. In the post, I featured tools like Telescope, Bear, Typehut, Diary.by, and Svbtle. All of these are minimal, easy-to-use, and simple publishing platforms. But every single one has some kind of limitations. None of them offers such a feature-rich product for $19 per year just like blogstatic does.
You can set up a blog using a free blogstatic subdomain. The paid plan lets you connect any custom domain that you own. You can even serve your blogstatic blog on the subdirectory of your main domain. blogstatic delivers a no-code experience, everything is ready out of the box, and you do not have to write a single line of code to get started. Additionally, blogstatic took care of on-site SEO, so you can focus on your writing. Hosting is already included with using blogstatic. It is running on fast and dedicated servers, that are even powered by 100% green energy. To make sure your site is secure and protected, blogstatic comes with its own SSL certificate that is ready within minutes.
If you want to structure your posts within blogstatic, you can set up different categories and give your readers a way to further filter your posts. Out of the box, you can choose from an ever-growing collection of various themes, so you can switch to a new layout quickly and easy. Since blogstatic is supporting the create multiple authors for a single blog, you are able to invite others and let them write under their name and profile picture.
But that's not it, yet. blogstatic features scheduled, related, and pinned posts, which means you can set your posts to be published sometime in the future, include similar posts at the end of each article, and set specific posts to appear at the top of your blog on the homepage. Besides that, blogstatic has a built-in subscriber feature, that allows your readers to subscribe to your blog, so you can email them your freshly published posts. You can even send out newsletters to your subscribers. There are still a lot more features. So make sure to visit blogstatic's website and read through all of them.
It is beyond mind-blowing that all of those features are available for $19 per year.
---
Mental Wealth
➢ Envy, the Happiness Killer – "In the 13th canto of "Purgatorio" in Dante's Divine Comedy, the 14th-century Italian poet describes the ultimate punishment of people who in life had fallen prey to envy, one of the seven deadly sins. He shows them perched precariously on the edge of a cliff. Because envy started with what they saw, their eyes are wired shut. To avoid falling, they must support themselves upon one another, something they never did in life. This is a pretty grim punishment—not surprising, perhaps, given that envy is the only sin that is forbidden by not just one of the Ten Commandments in the Catholic tradition, but two."
➢ What to Do After You Launch – "Let's say you just launched a product to a group of users for the first time. (I'm speaking purely hypothetically, of course 😉.) Launch went pretty well: good signups, hearty praise, and some promising early data. Or maybe you're not sure how well it went. Now what? In the movies, what happens next is a montage where you work tirelessly day and night—on what, exactly, it's not clear—and all the graphs go up and to the right, until you find yourself in the conference room of a law firm in Palo Alto with some partner telling you to that a $65 million settlement with the Winklevoss twins is just a "speeding ticket," because that's how rich you are.In real life you have to do things to make the graph go up and to the right. Often it's not exactly clear what to do."
➢ The Boss is Watching – "It's no coincidence that the dictatorial head of Electro Steel Corp. in Charlie Chaplin's Modern Times strikes an uncanny resemblance to Henry Ford. The classic silent comedy from 1936 not only tells us about the state of Depression-era labor standards and the pitfalls of unfettered capitalism. It also reveals the unforgiving realities of working on the moving assembly line, one of the most transformative innovations in modern history. The film was inspired by Chaplin's real-life rendezvous with the legendary factory boss in October 1923 at the Ford Motor Company in Highland Park, Michigan. During his visit, Chaplin learned that young men were plucked from neighboring farms and hired to work on Ford's factory floor. As depicted in the film, many of these men succumbed to nervous breakdowns, a typical symptom of the breakneck tempo of both the assembly line and the industrial age."
➢ After Twitter – "For writers, artists, podcasters, journalists, and people who make things in public, Twitter was the one social networking site we all had to use. It's as if Twitter has been stretched out across the map of the internet, and whatever parts of the map it didn't cover, it could still reach. Everything happened there. Even things that started on some blog, podcast, or real life still really happened on Twitter."
---
Do not miss out on this …
Want to receive the latest in business, entertainment, and internet culture every single morning? That's what TheFutureParty newsletter is all about.
Start your morning with The Newsette - a newsletter for women, written by women, about topics that are important to women.
Smartr Daily - The Essential Newsletter For Curious Minds. Sourcing the smartest articles on the Web - Thought-provoking ideas and insights delivered straight to your inbox daily!
These are paid promotions or affiliate links to support Creativerly. If you are interested in putting your tool, product, or resource in front of over 1900 creative minds, consider advertising in Creativerly and book a sponsor or classified ad spot. Find all the important information at creativerly.com/advertise.
---
From the archive
On January 23 2022, I wrote about ...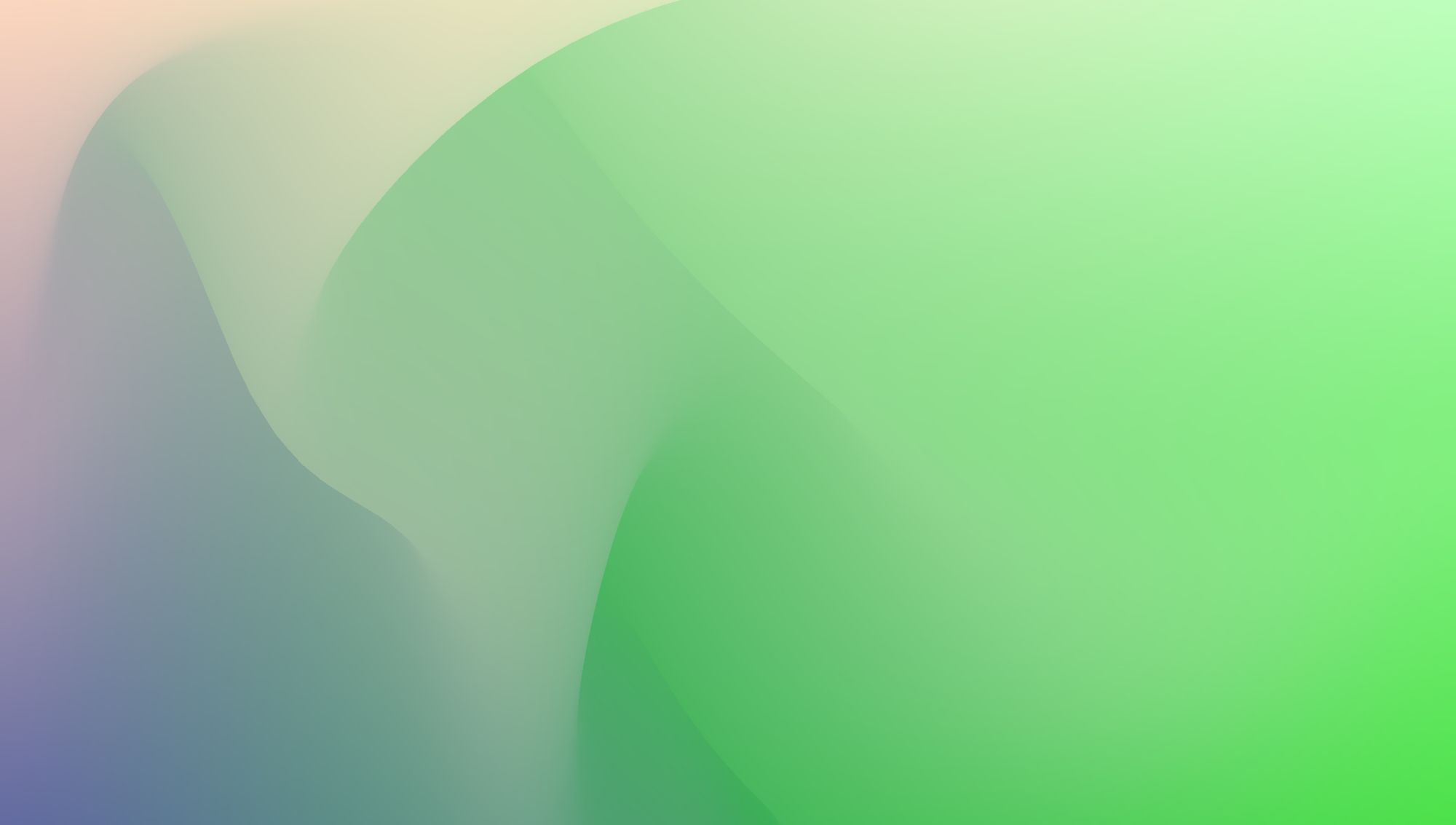 ---
Appendix
➢ ICYMI
Highlight your app, tool, resource, or service in front of over 1900 creative minds coming from different backgrounds like design, development, journalism, VC, Indie Hacking, and others. The Creativerly audience is actively looking for tools and resources which boost their creativity and productivity. If you are interested in booking a sponsor spot in Creativerly head over to creativerly.com/advertise for all the important information.
➢ Quick Bits
---
Twitter thoughts
---
👋
Till next time!
Share or forward this post to your friends, if they are also looking for creativity and productivity-boosting tools and resources. If you need help discovering your next favourite task management, note-taking, or PKM app, Creativerly delivers the insights you need. Creativerly is an independent publication and I am writing and maintaining it in my free time. You can support Creativerly and my work by sharing it with the world,
booking an advertising spot
, or by
buying me a coffee
.
---
Some of the links in my newsletter and my blog posts are affiliate links. Those links are marked by an asterisk. If you buy something through the link, the product will not cost you anything more, but I will receive a small commission which not only supports Creativerly and my work but also helps me to keep this publication a sustainable side-project.