Newsletter
Why Great Things Never Came From Comfort Zones & All notifications in one place
In this week's issue of Creativerly: A powerful email client built right into your browser, clean forms - on brand, why you should keep a journal, and a lot more.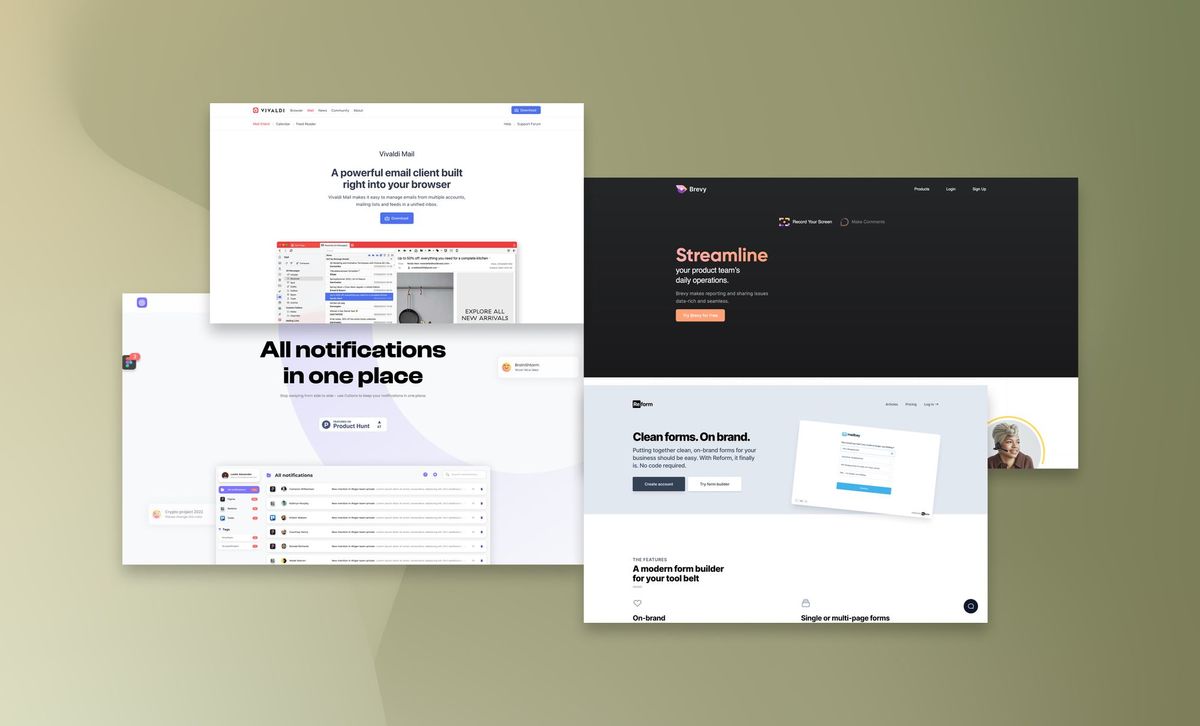 You are reading Creativerly, the weekly digest about creativity and productivity-boosting tools and resources, combined with useful insights, articles, and findings from the fields of design and tech. The newsletter built for the creative community.
---
Hey and welcome to Creativerly 173 👋
I was incredibly excited when I read an email by Raphael Schaad, founder and CEO of Cron, back on Thursday, June 9. informing its users that Cron has been acquired by Notion. The reason why I was so excited about this news is the fact, that Cron has only opened up its beta in 2021, and was part of the Y-Combinator winter batch in 2020. This means, that Cron is a relatively young startup, that attracted a huge number of users within a very short time.
Since getting access to Cron in early 2022, I have been using it daily at work. Keeping track of events and meetings, sharing your availability with your teammates, and simply managing your time with Cron is pure joy. The team behind Cron put a lot of effort, time, and craft into designing a beautiful tool and an outstanding experience. Usually, I am always a little bit sceptical at first when I read about the exit of an app, especially because it is a very common practice that the app gets shut down afterwards. In a blog post, Cron and Raphael Schaad stated that Cron will keep operating as a separate app after the acquisition, which ais huge news for all its users. At this point, I got really excited about the acquisition. Although I am not a Notion user anymore, I have always been amazed by how Notion always kept a high standard when it comes to craft and love for detail, as Notion is simply a beautiful tool.
Ivan Zhao, founder and CEO of Notion, and Raphael Schaad met earlier this year and realised that both companies are following a shared vision of building the next-generation productivity tools. Therefore, they decided joining forces to build this vision together is the next step in the right direction, and I can not wait to see how both teams are leveraging the expertise one another to push both Notion and Craft forward.
I decided to write a blog post about this acquisition with some more information about the acquisition in general, the companies, and my thoughts about it, give it a read and let me know what you think about it, because I really enjoyed writing it, and I might start writing more of these in the future.
---
Choose the best Google Analytics alternative.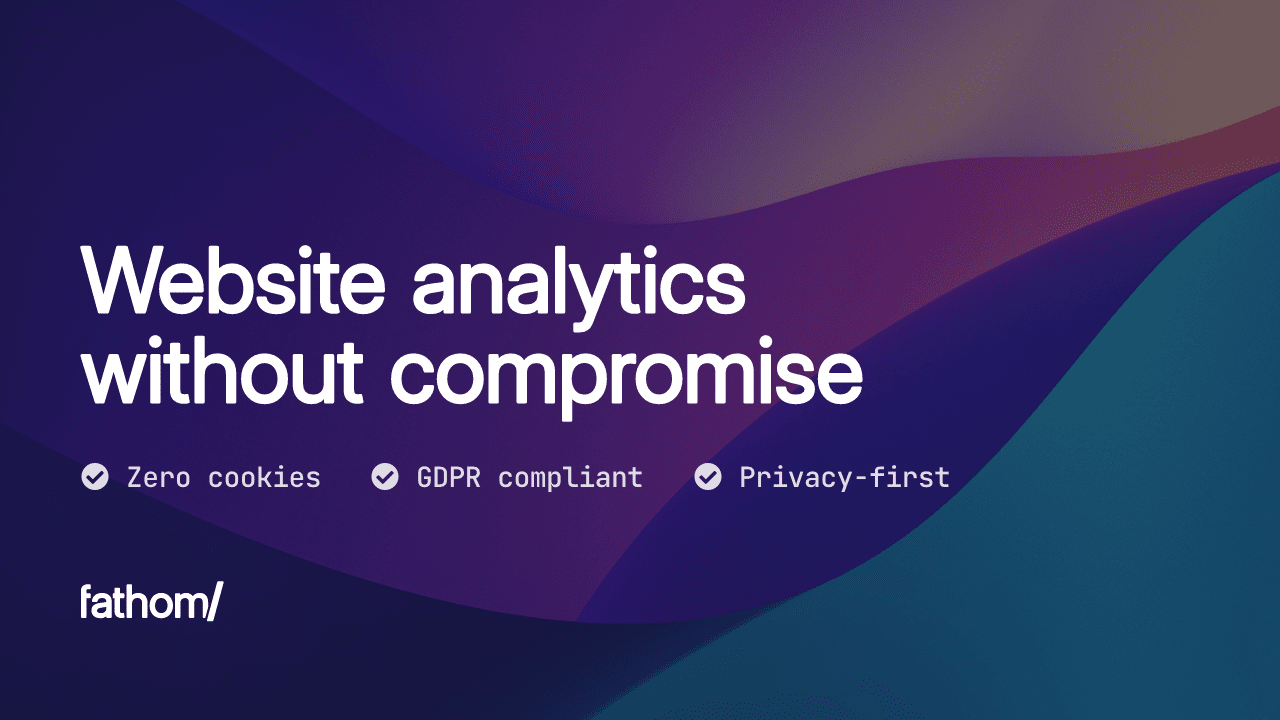 If you are on the hunt for a privacy-focused Google Analytics alternative, that features simple and straight-forward web analytics, you should check out Fathom Analytics. Fathom revolutionized website analytics by making them easy to use and respectful of privacy laws.
Get $10 off your first invoice
This is an affiliate link to support Creativerly. Buying a product through a link provided by Creativerly leads to a small commission that supports my work. If you want, you can also highlight your app, tool, resource, newsletter, job offer, in front of over 1700 creative minds. For more information head over to creativerly.com/advertise* and get in contact.*
---
Apps, Software, Tools
Brevy is a tool to streamline and enhance your product team's daily operations. If you have ever searched for a tool that makes reporting and sharing issues data-rich and seamlessly within your team, Brevy is the tool you need to check out.
With Brevy, you get access to Brevy Record, which lets you create short screen recordings while recording yourself via your webcam. This gives you the possibility to be more efficient and create a more personal way to communicate any product issues. Each recording you create within Brevy is immediately accessible through a single shareable link. Brevy makes screen-recordings incredible easy. You can access Brevy Record at any time right from your browser. You can even decide to record only an app or your entire screen. Once you shared your recording with your team, they can make comments which get automatically timestamped, so you can see them in context. This also makes discussing recordings incredible easy and it gives you the possibility to get rid of countless follow-up meetings.
Besides Brevy Record, there is also a feature called Capture, which lets you capture and report directly on your web app. Brevy is available as a Chrome Extensions, which gives you the power to annotate, screenshot, and report issues on your web app and dispatch them to your issue tracking tools, all with a single click. This is a huge productivity boost as you are able to point out issues directly on your product, there is no more need to switch context between apps to track your issues since once you found them on your product you can directly push them to Slack or Jira. With Brevy, Product Managers can make sure your whole team is aligned, they can create a culture of ownership and ultimately collaborate better together. Designers get the possibility to visually communicate with product managers and engineers, they can create design walkthroughs, and prevent screenshot clutter.
Brevy is a tool that raises your product team to another level. You can use Brevy for free for up to 50 users, up to 25 videos, up to 5 mins per video, up to 30 annotations, and up to 20 flashbacks. For unlimited videos, record length, annotations, quick/retro capture, and all integrations, you can upgrade to the Pro Plan which will cost you $12 per user per month.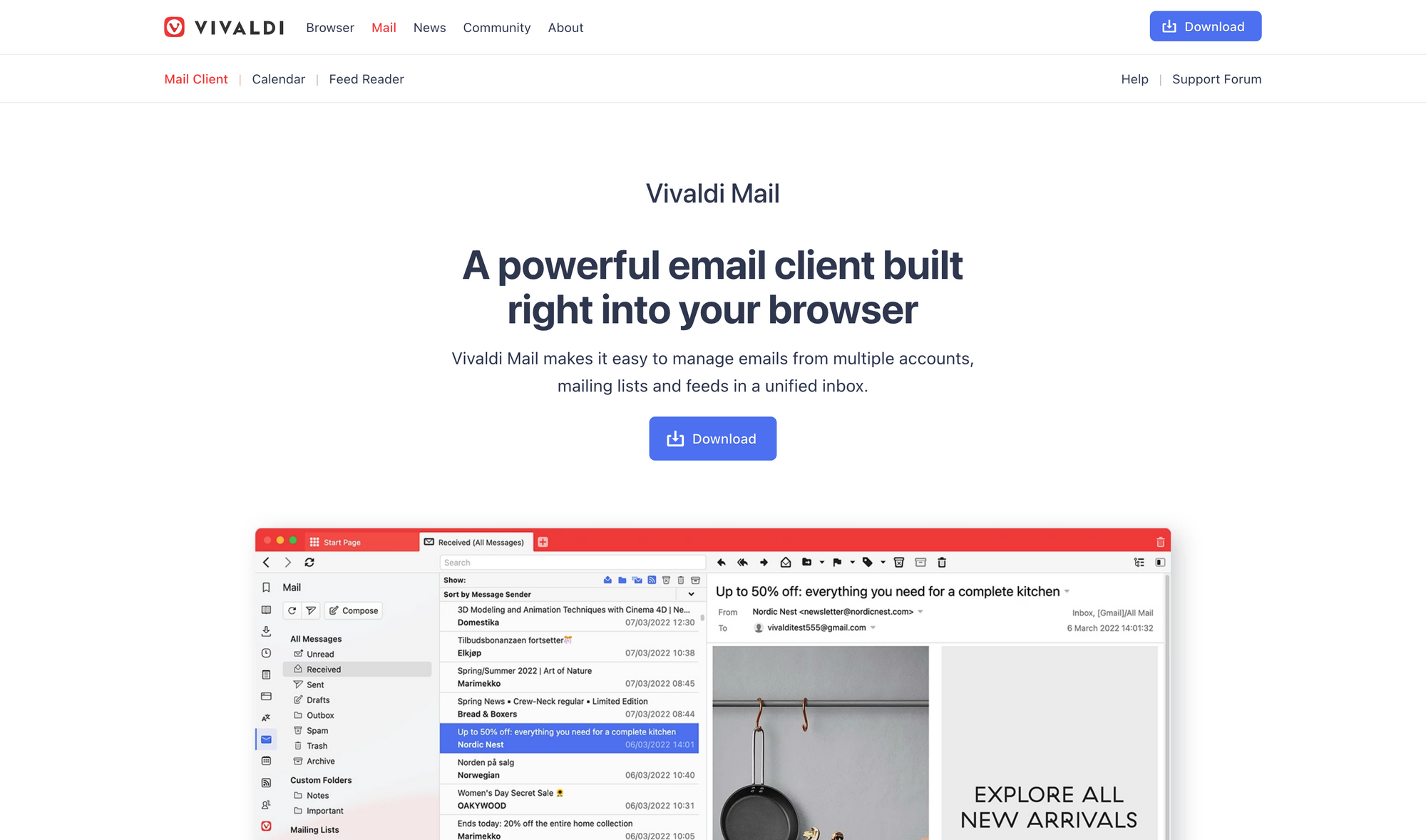 Most of you will probably know about Vivaldi, a great secure browser alternative to Google Chrome, which can be tailored to your needs. Although Vivaldi only has a small market share, there is a great community around it. Vivaldi Mail is the newest product by the team behind Vivaldi, bringing you a powerful email client built right into your browser.
Vivaldi Mail gives you the power to manage emails from multiple accounts, mailing lists, and feeds in a unified inbox, straight within your browser. When I find out about new email clients, I am always bummed by the fact that most new email clients only support Gmail and Google accounts. Then there are also a few, who support Outlook in addition. Vivaldi nearly supports any email provider, straight out of the box. No matter if you have email accounts from Gmail, iCloud, Fastmail, Outlook, or anywhere else, Vivaldi Mail has IMAP and POP3 support, so you can literally have all your email accounts in one place.
With Vivaldi Mail, you get access to a wide range of powerful features to deliver you a delightful email experience. First of all, there is the database, which is a dedicated space for all your messages, labels, filters, and searches, maintained by Vivaldi and the bedrock of its powerful email client. All the mails from your accounts are indexed, which means you can search through them, even when you are offline. Since Vivaldi Mail sits right within the browser, you get browser benefits, like composing messages in new tabs, keeping multiple messages open, and managing them with Vivaldi's extensive tab features. Within Vivaldi Mail, you will find two counters next to folders, they stand for unseen and unread, the difference between the two is that emails that have never been seen before are called Unseen, and emails that you have seen but not dealt with yet are Unread. Throughout Vivaldi Mail, you can use customisable keyboard shortcuts to work through your email faster.
Another super interesting feature of Vivaldi Mail is its integrated feed reader, which displays new feed items from Vivaldi Feed Reader like your other messages in the mail interface. You can even search or filter them, and reply to authors if they have provided their details. On top of that, Vivaldi Mail will give you access to saved searches, which lets you save searches as filters, the possibility to manage events with Vivaldi Calendar, and even more. With over 2.4 million active users and over 1 million community members, Vivaldi is here to stay.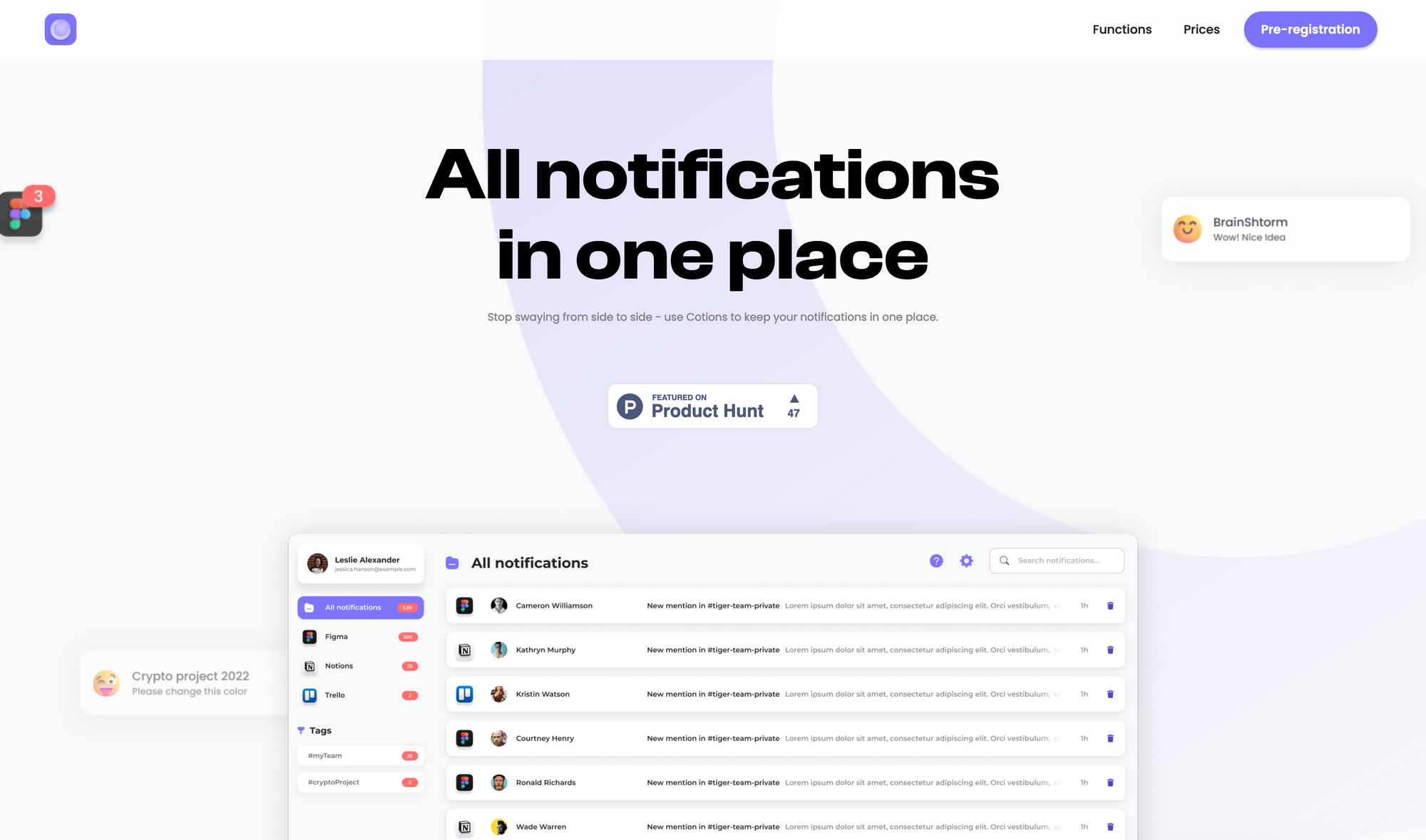 When you keep adding more and more tools to your productivity tech stack, you will experience at some point that your notification will get scattered across all of these tools, and it will become hard to stay up-to-date and filter which notifications actually need your attention.
Cotions is a tool that brings all your notification into one place. With Cotions there is no need to jump back and forth between all your apps just to get an idea of all the notifications, as Cotions gathers them in one beautiful place. Once you have set up Cotions, you can connect all the apps you use on a daily basis. Cotions will give a tab which displays all the notifications from all the apps you have connected, but if you want to you can also organise and sort all the notifications by individual workspaces and apps. Additionally, Cotions gives you the possibility to create your own tags for filtering. This means you can set up individual tags for each group which will help you sort notifications more efficiently and faster. On top of that, you can also be sure to not miss the important notifications you want to keep track of.
Cotions is available as a web app, so you can use it on any device, anywhere, anytime. Cotions very own push notifications on your device will also keep you informed about any important changes happening within the apps you have connected with Cotions. As people are adding more and more tools and apps to their daily work life, it became hard to keep track of all the notifications happening in different places. Sometimes, notifications are redundant, but then there is also the possibility that important ones are getting lost in the flood of notifications we are receiving on a daily basis. Checking each of the tools you use every day to keep up with notifications is time-consuming and since you need to switch back and forth between all of these tools, you get dragged away from your work. Cotions want to prevent that, and I can totally see the clear value of having a dedicated place for all of your notifications to keep up with everything happening within the tools you use every day.
You can use Cotions for free with the limitation to add up to two apps, if you want to add unlimited apps, you need to upgrade to the Premium Plan which will cost you $5 per month, and gives you access to collections of all notifications in one place, filtering by date, alphabet, or application, push notifications, and creating tags to group notifications.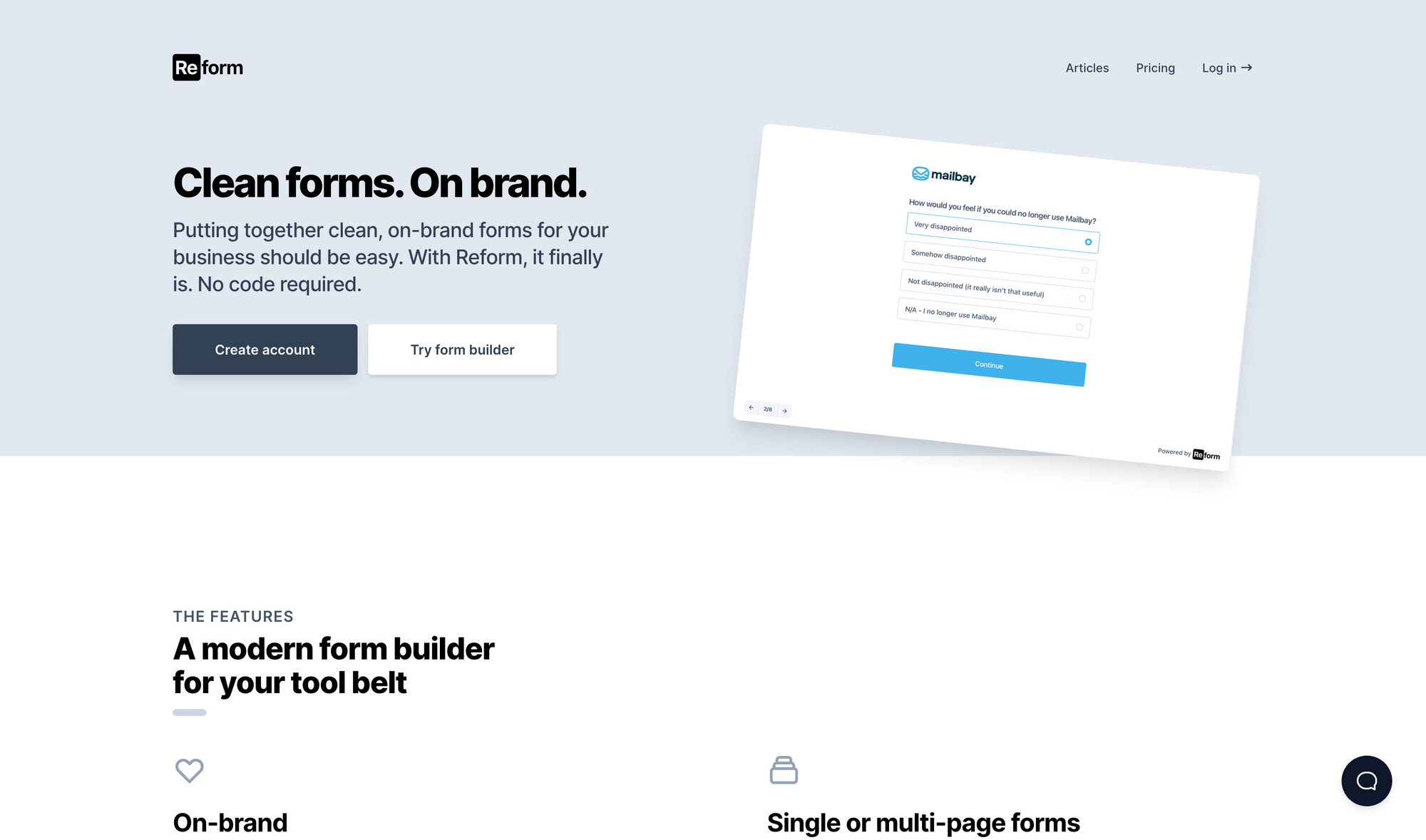 Reform is a beautiful tool to create clean and on-brand forms for your business. It features a modern form builder, no-code required, to create beautiful forms to get insights from your users.
With Reform you can always be sure that your forms look great. It is incredible easy to add your own branding to your forms, so you are able to spice things up. Additionally, Reform gives you the possibility to create either single or multi-page forms. Sometimes, a single page works and looks better, but with Reform you have the freedom to decide in which circumstances a multi-page might work and look better. To give you even more creative freedom, Reform lets you control the respondent flow of your forms. On top of that, it perfectly integrates with your already existing stack, since you can embed your forms everywhere and pipe responses into the rest of your stack with webhooks or Zapier.
Reform itself is a no-code tool, which means there is no learning curve to start creating beautiful forms. If you are familiar with code, you can integrate Reform directly within your app. To stay informed about the submissions of your forms, you can turn on email notifications to receive responses right into your inbox, where you can even reply directly to respondents. On top of that, reviewing submissions with Reform is super easy, since you can even export submissions into a spreadsheet.
The general idea behind Reform is to provide everyone with an easy way to create beautiful forms with the possibility to add your own branding to them. There are loads of different tools and services available, but most of them lack in design or do not let you change the branding to fit the style of your company. Additionally, Reform is 100% free. You only pay if you want to remove the Reform branding on forms, and if you would like to set up custom "Thank you" pages. The Basic Plan of Reform will cost you $15 per month and includes 1,000 responses, the Pro Plan also comes with file uploads and team access and will cost you $25 per month, and the Business Plan will cost you $85 per month for everything in Pro, plus 10,000 responses and early access to new features.
---
Mental Wealth
➢ Why talking to strangers is the best thing you can do for your mental health – "If we can only break through the awkwardness barrier, striking up conversations at random is the cheapest form of therapy there is "That's great work you're doing there. It really is the most neatly arranged stack of loaves of bread I've seen in a long while…" These words have all taken a running cliff-dive out of my mouth, and now I can never get them to go back in. They are so weird that the guy I'm talking to, maybe 18 or 19, who's filling shelves in a bakery, is taking a full five seconds to process them. "Thank you?" he offers. We stare at each other for another three seconds or so. "Are you looking for anything?" he asks cagily."
➢ Why Great Things Never Came From Comfort Zones – "If you make comfort your primary goal, you might miss out on the challenges that give life meaning. That's why quotes like: "Great things never came from comfort zones!" are flooding the internet space. But what does this really mean? Most people fall into the following trap: They focus on doing comfortable things without realizing how uncomfortable their lives become. To portray this. Consider purchasing a boat. At first, this looks like a glamorous possession. An artifact that few can afford."
➢ Sometimes other people know your pain better than you – "We all experience physical pain. While some causes of, and remedies for, pain are obvious – eg, I wasn't careful chopping onions and now I need a bandage, or I celebrated a bit too much last night and now I need water and a nap – the types of pain that can be experienced are diverse and, in some cases, poorly understood. Sometimes, the source of one's pain isn't obvious, especially when it lasts a long time, and can't be treated by a quick trip to the medicine cabinet. In such cases, treating pain may require conceiving of it not as simply a physical condition but a mental one too."
➢ Why you should keep a journal – "What should in an ideal world define someone as a writer isn't that they publish books, or give talks at literary festivals or wear black; it's that they belong to a distinct group of people who — whenever they are confused or in distress — gain the greatest possible relief from jotting things down. 'Writers' in the true sense are those who scribble — as opposed to drink, exercise or chat — their way out of pain."
---
Do not miss out on this …
These are paid promotions or affiliate links to support Creativerly. If you are interested in putting your tool, product, or resource in front of over 1700 creative minds, consider advertising in Creativerly and book a sponsor or classified ad spot. Find all the important information at creativerly.com/advertise.
---
Appendix
➢ ICYMI
Highlight your app, tool, resource, or service in front of over 1700 creative minds coming from different backgrounds like design, development, journalism, VC, Indie Hacking, and others. The Creativerly audience is actively looking for tools and resources which boost their creativity and productivity. If you are interested in booking a sponsor spot in Creativerly head over to creativerly.com/advertise for all the important information.
➢ Quick Bits
---
Twitter thoughts
---
👋
Till next time!
‌‌‌‌
Support:
Do you have a friend who is looking for inspiration, news about design, and useful tools and apps? Forward this newsletter to a friend or simply share this issue and show some support. You can also show some love by simply clicking the button down below and keep this newsletter a sustainable side-project by
buying me a coffee
. ☕️ 🥰
---
Some of the links in my newsletter and my blog posts are affiliate links. Those links are marked by an asterisk. If you buy something through the link, the product will not cost you anything more, but I will receive a small commission which not only supports Creativerly and my work but also helps me to keep this publication a sustainable side-project.