Newsletter
How to make yourself into a learning machine & Better Email
The website builder that's gonna shake the game rules up, Clover's final call, Pebble shutting down, Clarify your thinking, and a lot more in this week's issue of Creativerly.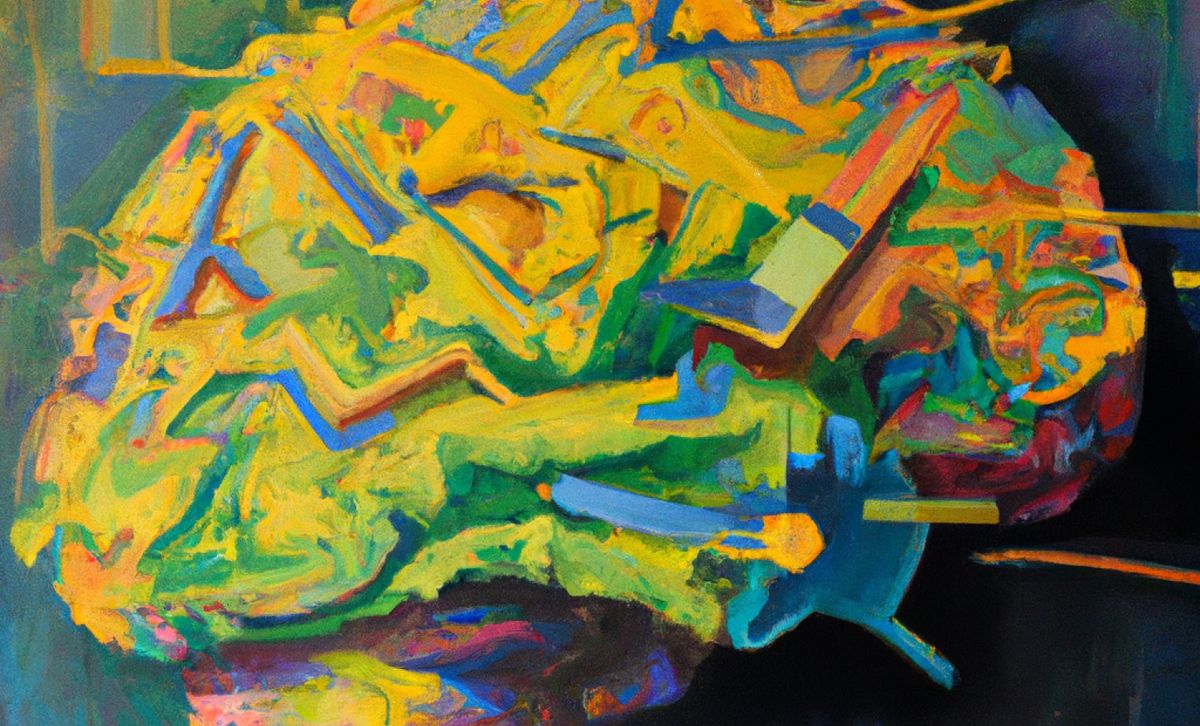 My name is Philipp and you are reading Creativerly, the weekly digest about creativity and productivity-boosting tools and resources, combined with useful insights, articles, and findings from the fields of design and tech. The newsletter built for the creative community.
---
Hey and welcome to Creativerly 245 👋
One of my favourite publications is Every, co-founded by one of my favourite writers Dan Shipper. The quality of content Every is publishing is top-notch. While I do not feel attracted to every (no pun intended) single piece Every puts out, the Superorganizers publication has been a gold mine to get insights into how smart people organize what they learn. The most recent piece published by Superorganizers and Dan Shipper is a deep dive into Simon Eskildsen's, Shopify's director of production engineering, workflows which turned himself into a learning machine by treating his minds like technology infrastructure.
Simon Eskildsen's story on how he landed at Shopify is amazing: he was 18 years old, had a high school degree, and heard about a company called Shopify while reading through a Rails community. Shortly after he graduated, he did an interview with them. Simon Eskildsen flew to Ottawa, Canada, interviewed with them again, and decided to spend a gap year working at Shopify. Things went well leading to him staying at Shopify where he has now been working for six years. He was thrust into management and he is now leading a team of people who are 10 or 20 years older than him. Because Simon Eskildsen became a manager early in his career, he felt the obligation to be the best lead he could for the team. It was a big responsibility. He decided that the best way to meet this responsibility was to wake up earlier and read something every day before he started work.
It is fascinating to read through Simon Eskildsen's story, his workflows, how he leverages the tools he is using, and how he makes sense of what he is reading. I adore reading pieces about people's workflows, giving me the feeling they nailed down a system that works for them, a system that they can profit from.
The core of Simon Eskildsen's system is highlighting. He mostly reads on his Kindle, highlights things he finds interesting and syncs them to Readwise (using that link will give you an extra free month to the 30-day free trial). Once you set up the integration between Kindle and Readwise, all your highlights will get scraped and Readies puts them into one place where you can search, tag, and review them. Recently, I also got back into using Readwise, since I wanted to streamline the process of digitizing the highlights of my physical books, so I can then incorporate them in my note-taking system. Readwise supports capturing highlights by taking photos of your physical book pages, you can then select the portion of text you would like to highlight, add the highlight to your account, and once you get back in front of your computer, you can access all the highlights with ease.
Thanks to Readwise, Anki, a custom Zettelkasten based on markdown files, and Things, Simon Eskildsen not only created the perfect learning system for him, but he also turned himself into a learning machine. I am not spoiling on the insights into his workflows, since I encourage you to take 13 minutes of your time to enjoy reading through How to Make Yourself Into a Learning Machine by Dan Shipper and Simon Eskildsen.
---
Apps, Software, Tools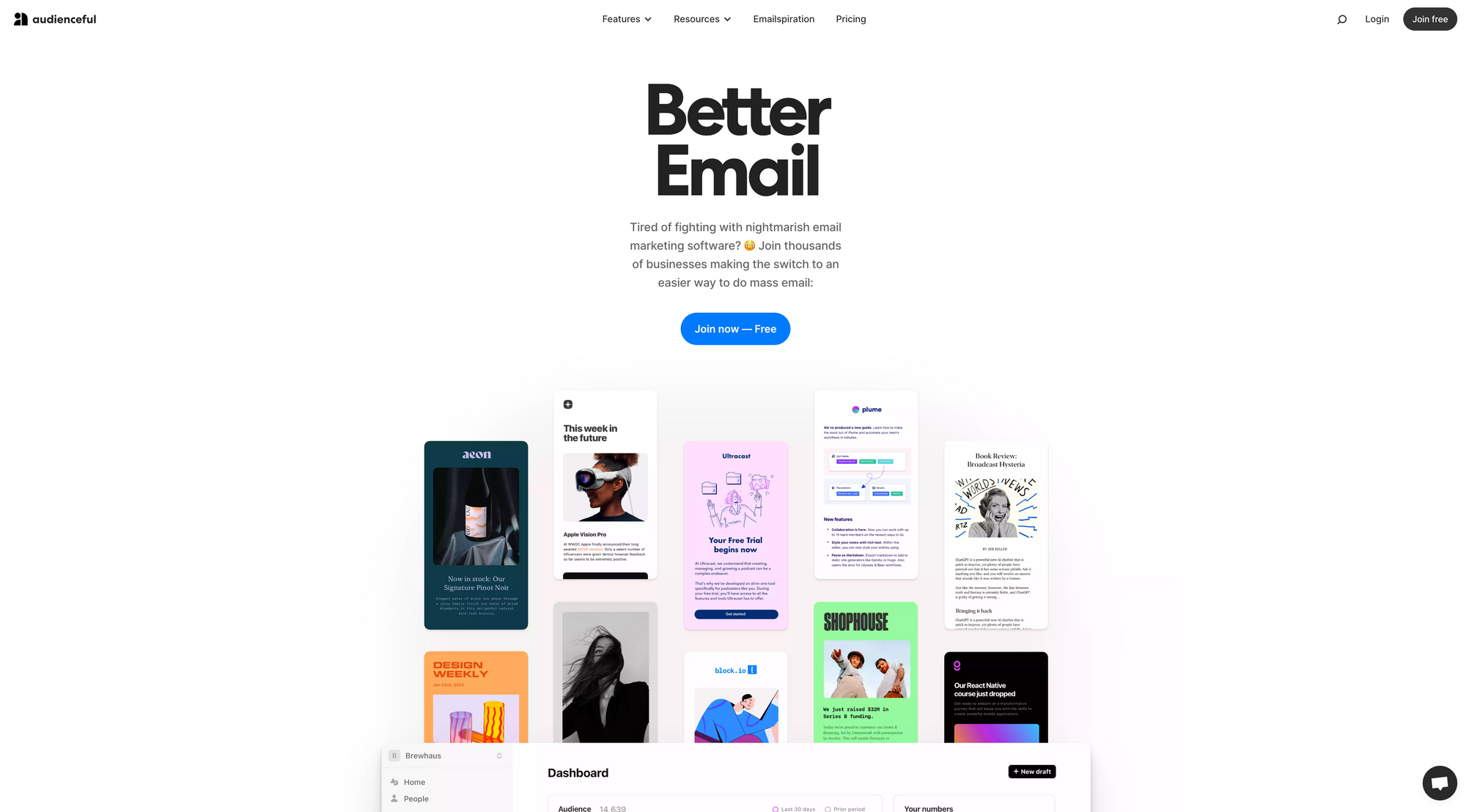 Email is one of the most important and powerful mediums to stay in contact with your customers, users, audience, true fans, and even with your family. I have been writing a weekly newsletter for four years, and no other medium has been of such high value as maintaining and building this newsletter. While there are great services and tools for individuals to simply start writing a personal newsletter, there hasn't been that much innovation when it comes to marketing email software. For the longest time, services like Mailerlite or Mailchimp have been dominating the market. Therefore, I am excited to see new services like Loops (featured in issue 239) and Audienceful, which I am featuring today, getting more popular.
Audienceful's goal is to make mass email as easy as possible. It reinvented email marketing for the 2020s. If you are looking for a multiplayer, lightweight, and powerful solution to send out email marketing campaigns, read on and learn more about Audienceful. First of all, Audienceful offers a modern and beautiful interface, that gives you the possibility to write emails as easily as writing a doc. There is no need to struggle with clunky and bloated email builders. Write and collaborate with your team within a beautiful text editor, just like you do in Notion or other doc apps. By setting up a simple email design system you never have to hassle with templates again, and create branded, modern emails with just a single click. Everything you create and send with Audienceful is accessible, optimized for mobile and deliverability, as well as dark mode friendly.
No matter if you are part of a single team, or manage emails for multiple businesses and clients, since Audienceful offers support for multiple workspaces, you can easily switch between all your projects. By segmenting your subscribers into multiple audiences with tags, custom fields, and powerful conditionals, you are set and prepared to send different emails to different groups. With Audienceful's forms, you can easily collect signups, use the data to personalize emails, and track per-subscriber events and analytics, everything you need to grow your email list.
Sometimes you need to send the same email multiple times, or even consistently whenever someone signs up. Thanks to automated email sequences, Audienceful gives you the possibility to create simple drip sequences for any use case, including onboarding, lead magnets, email courses, trial nurturing, and a lot more. To distribute the content you send out via email, you can publish it to your website by cross-posting your emails directly to CMS platforms like Webflow. Audienceful's sending infrastructure is powered and managed by Mailgun, the service companies like Microsoft or Lyft are trusting. Besides that, Audienceful follows a privacy-friendly approach since it collects far less data than most email marketing platforms. Beyond that, Audienceful strives to comply with all global privacy regulations.
You can get started with Audienceful completely for free. Up to 1,000 contacts are free of charge. The Essentials Plan starts at 3,000 contacts and will cost you $29 per month (billed annually).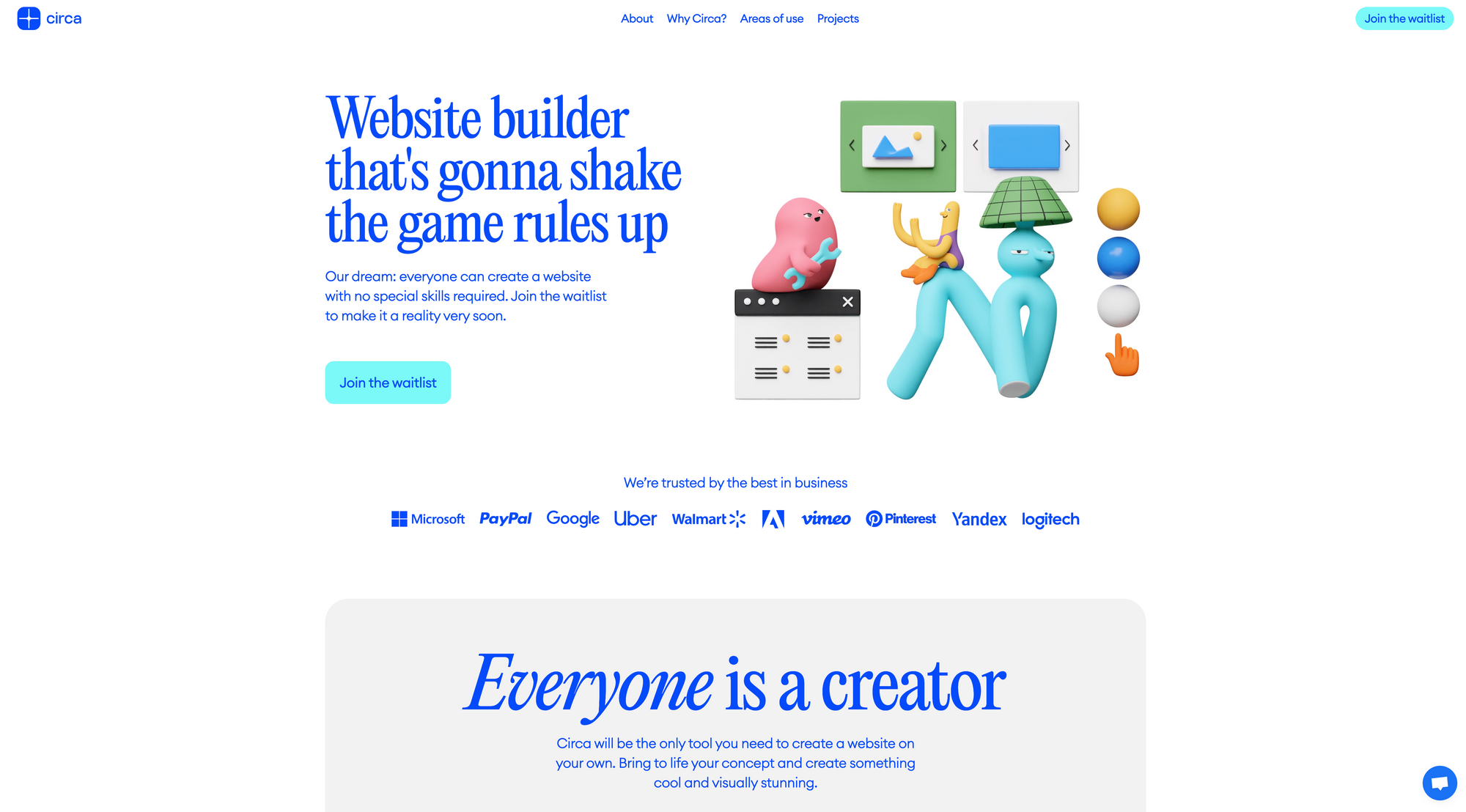 In last week's issue of Creativerly, I wrote about Control, a new and upcoming website builder that I stumbled across. I mentioned that, I have the feeling that Framer and Webflow are taking up a large chunk of the website builder market, but it still nice to see that there are other options popping up. One week later, and I discovered another upcoming website builder called Circa.
I am not a huge fan of making statements on a website of a tool that is still locked besides a waitlist, which are as bold as Circa's. The hero section on their landing page says "Website builder that's gonna shake the game rules up". This leads to high expectations. When it manages to answer them, lovely and great work, but if not it is yet another example why you should not aim to high. Webflow shook up the rules, Framer did too, so how is Circa going to achieve that? We will see. The goal of Circa is to give everyone the possibility to create a website with no special skills required. It wants to become the only tool you need to create a website on your own. No matter if you are content creator, freelance designer, artist, photographer, whatsoever, Circa aims to become the simplest solution to build a website by offering an easy-to-use tool structure for any level of design skills, 100% proper results, and the possibility to export in one click, so you can move it to your server whenever you want.
Circa's website builder is based on blocks which are flexible and versatile. Circa's handy constructer adjusts blocks and components automatically. With its minimalistic function set, that will deliver quick results and ensure your success, Circa sets out to stream the whole process of designing and creating a website. If you do not want to start from scratch, you can choose from a curated collection of design templates, which give you a head start, since all you need to do is to add your content and flair. Thanks to adaptive layouts, Circa adjusts to any screen size, so you can be sure your website looks perfect no matter on which device your visitors are viewing it.
No matter if you want to build a portfolio, blog, online shop, or a website for your restaurant, service, app, or anything else, with Circa you can free your creativity and build a website for any kind of business. Besides it curated collection of templates, Circa gives you access to over 3800 premium and royalty-free vector and 3D illustrations that you can use for your website projects. To get a taste of what you can build with Circa, you can check out Craftwork Design* and Storytale, two sites that have been designed and built with Circa. As of writing this, Circa is not yet publicly available. Sign up for the waitlist to be among the first to get access to it.
---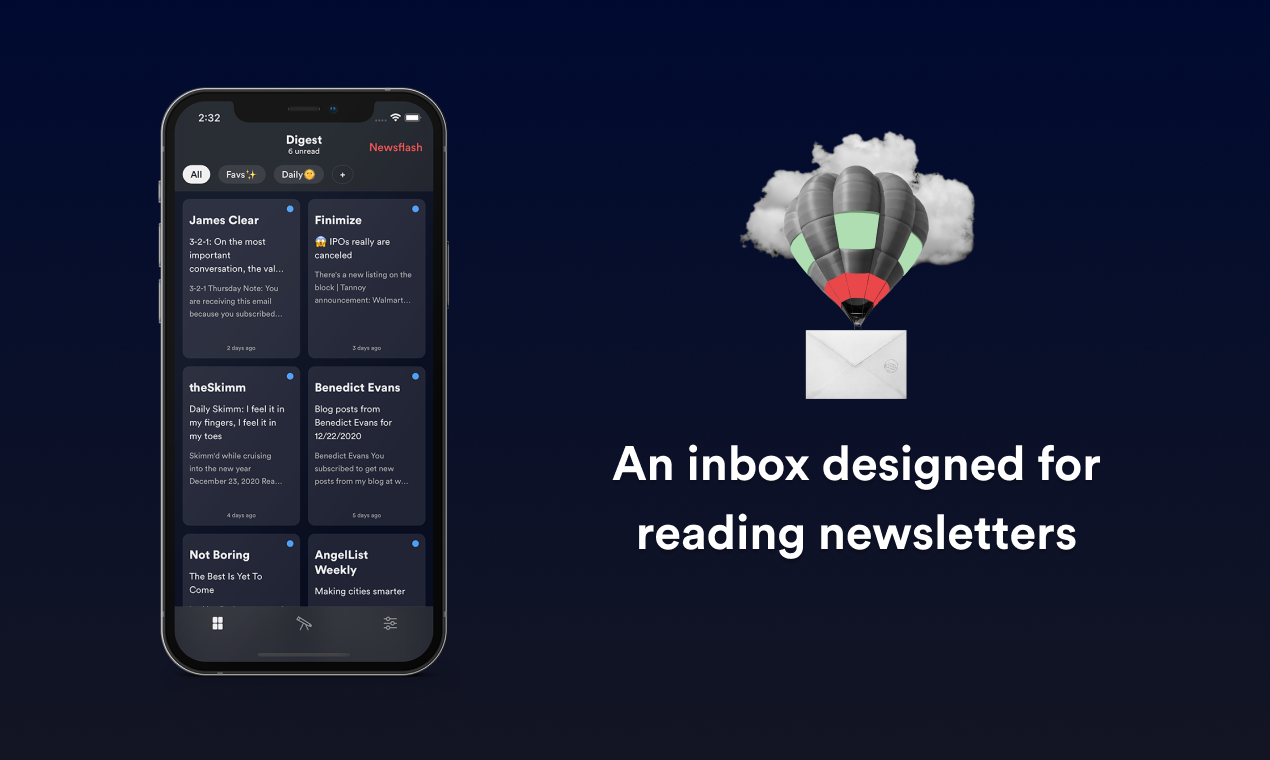 "An organised life start with an organised inbox." - Socrates
Ever stopped yourself from subscribing to a potentially amazing newsletter because you're worried about cluttering your inbox? With
Meco
, you can enjoy your newsletters in an app built for reading while giving your inbox space to breathe.
Over 10k readers enjoy their newsletters (and decluttering their inboxes) with Meco - try the app today!
This is an affiliate link to support Creativerly. If you are interested in putting your tool, product, or resource in front of over 2000 creative minds, consider advertising in Creativerly and book a sponsor or classified ad spot. Find all the important information at creativerly.com/advertise.
---
Fresh Updates & News
A few weeks ago, Craft introduced Smart Links, a nice way to connect other platforms and services to Craft to display useful information about issues, projects, and videos just by sharing a link within a document. With the most recent update, Craft added support for more platforms including Figma, Apple Music, and Mixcloud. Designers who are using Craft will definitely enjoy this update, since now Figma links within Craft will show the thumbnail of your design doc, the name of your file, how many pages are in the file, and the date it was last edited.
Additionally, the newest update added a new option in the share panel for customers on the Craft Business plans. Users can now invite collaborators to your document via email or give access to anyone using a specific email domain.
Besides that, Craft recently launched its AI Document Creator. Whenever you feel you need some help getting started with a document or project, Craft's AI Document Creator will help you. All you have to do is describe the type of document you want to create, and AI will do the rest.
I am a huge podcast fan, and Pocket Casts is my favourite app to listen to. I was a bit worried when they announced that they got acquired by WordPress' mother company Automattic, but the recent updates proved me wrong. One of the biggest updates which is currently in the pipeline is the rating project, which will allow you to show your favourite podcasts some love by rating them directly in the app. Additionally, the Settings sync is already in the works. This will securely store your applicable custom settings on your account for easy setup when switching devices or reinstalling. Pocket Casts is offering pro subscriptions which give users access to additional features, an upcoming Pro feature will be Bookmarks, which enables users to save episode timestamps. A lovely way to revisit your favourite moments or reference essential information.
As reported in the past, Clover has been acquired by Figma. Now, the time has come and Clover will officially shut down on October 31st. If you still have data within Clover, this is the last chance to export and move it to a different tool. While it does not offer the same set of features as Clover, you can check out Scrintal (the app I am working on), and give it a try as an alternative.
Pebble, which has been previously known as T2, an early Twitter alternative, has announced it will shut down all its services because it did not grow fast enough for investors to believe that it will break out. As of Oct. 2023, number Pebble has 20k users. Growth was stagnating, but the folks behind Pebble also realized that the numbers of competitors with a similar vision made it hard to enter the field.
---
Mental Wealth
❯ How to Make Yourself Into a Learning Machine – 'Imagine this: you're an 18-year-old with just a high school degree. You immigrate to a new country that speaks a different language, and start work with some of the brightest engineers in the world. Soon after, you're thrust into management. Now, you're leading teams of people who are 10 or 20 years older than you, working on one of the fastest-growing internet companies of the last decade.'
❯ Clarify Your Thinking by Drawing Concept Maps – 'Drawings aren't just for conveying meaning; the act of drawing itself helps you understand. And few drawings are more helpful for understanding complex ideas than concept maps. However, concept mapping can be surprisingly challenging. In this post, I'll explain the basics and give you pointers to get started.'
❯ The Science of Brainstorming: How to Effectively Generate New Ideas – 'Many people believe that creativity is a natural gift that only a select few are born with and that it cannot be taught or learnt. This could not be further from the truth. Yes, creativity is innate in the sense that we are all born with it. But, as we grow up, most of us slowly unlearn it. The good news is that what is unlearned can be learned again. It's just a matter of figuring out how.'
❯ "Meraki": How to cultivate passion in your work – 'There is a particular type of person on social media who is, at first glance, insane. They're the ones who post things like, "I can't wait to get back to work," when they're on holiday, or, "I don't work for the money — I work because I'm driven to succeed!" (You can find more of these people on the subreddit r/LinkedInLunatics.) This attitude might seem strange. After all, work is work, and anyone who enjoys it more than their free time must be unhinged, right?'
---
Do not miss out on this ...
❉ Turn your audience into a business, with Ghost, the powerful app for new-media creators. Get started for as low as $9 per month*.
❉ Think tasks, not apps. Setapp* is you one-stop subscription to solving every task on Mac and iPhone.
❉ Fathom is cookie-free, GDPR compliant, privacy-first website analytics software. Get $10 off your first invoice and a 7-day free trial when you use this link*.
These are paid promotions or affiliate links to support Creativerly. If you are interested in putting your tool, product, or resource in front of over 2000 creative minds, consider advertising in Creativerly and book a sponsor or classified ad spot. Find all the important information at creativerly.com/advertise.
---
Appendix
❯ Quick Bits
---
Till next time! 👋‌‌‌‌
Support: Do you have a friend who is looking for inspiration, news about design, and useful tools and apps? Forward this newsletter to a friend or simply share this issue and show some support. You can also show some love by simply clicking the button down below and keep this newsletter a sustainable side-project by buying me a coffee. ☕️ 🥰
---
---
Some of the links in my newsletter and my blog posts are affiliate links. Those links are marked by an asterisk. If you buy something through the link, the product will not cost you anything more, but I will receive a small commission which not only supports Creativerly and my work but also helps me to keep this publication a sustainable side-project.
Creativerly is proudly published with Ghost*.