Newsletter
Just Write & Soliciting hard feedback
In this week's issue of Creativerly: Open Source and privacy-first Notion alternative, learn 10x faster, a simple way to introduce yourself, and a lot more.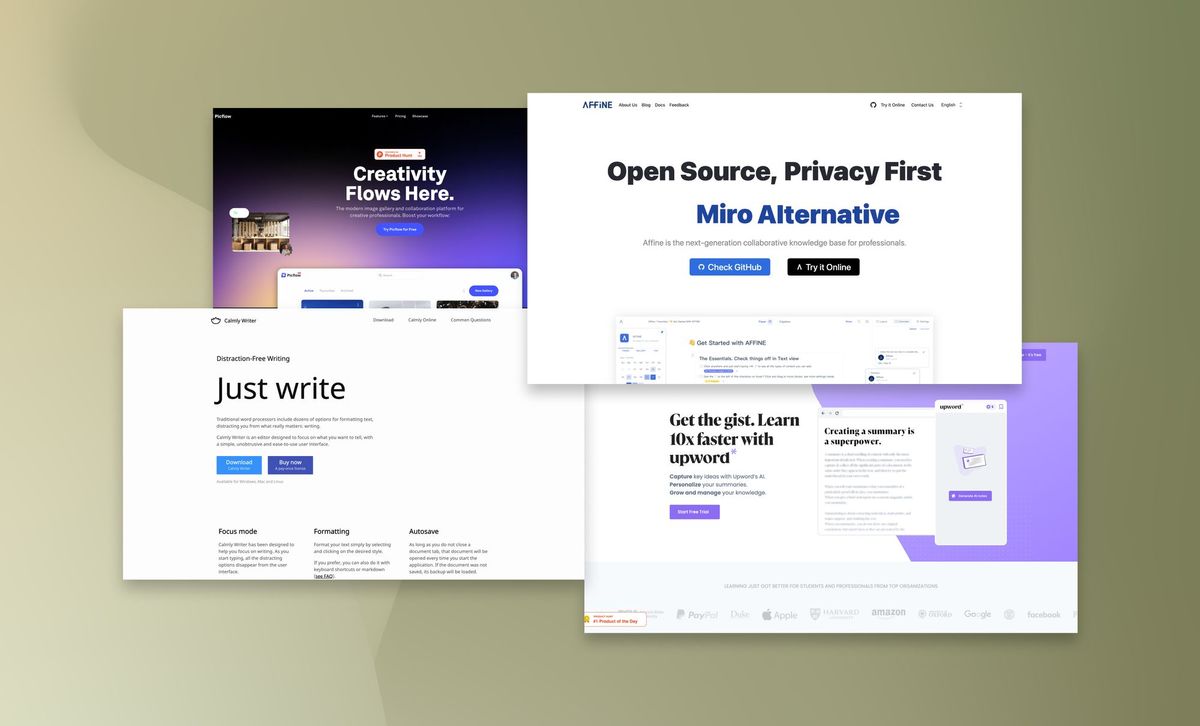 My name is Philipp and you are reading Creativerly, the weekly digest about creativity and productivity-boosting tools and resources, combined with useful insights, articles, and findings from the fields of design and tech. The newsletter built for the creative community.
---
Hey and welcome to Creativerly 187 👋
Quick note: I wrote this intro section of this issue before the news of the Figma acquisition by Adobe arised. Nevertheless, I wrote about the whole topic, sharing my personal thoughts and the ones by other designers. You can read the full post here. ---
Recently, I went through some changes in my life, and suddenly I got reminded that change is scary, but on the other hand, so is staying the same.
Probably, loads of people miss out on awesome opportunities simply because they prefer to stay within their comfort zone. While this is legitimate and there are also people who thrive within their comfort zone, it often happens that we tend to stay within our comfort zone, because we fear what will happen if we leave it. It is interesting that this comfort zone can even be not that comfortable, but we still prefer to not leave, just because we are scared of change. The scary thing about changes is also the fact, that we can project what will happen after the change. In the fear of making a wrong decision, we prevent the headache and stick with the same thing.
But once you realise that you haven't left your comfort zone in ages, staying the same also becomes a scary thing. It is a natural behaviour to fear failure or criticism. While you will experience this anyways in your life, you might finally decide to pursue your best life. The most exciting thing about change is the fact that you will grow and learn.
When you are struggling with motivation while staying within your comfort zone, it might be time to change something. These changes can involve both your personal and professional life. But keep in mind to not push or force yourself into something. Also, changes you make to your life do not come overnight. Change is a process and it will take time.
---
Visual way to organize your ideas and projects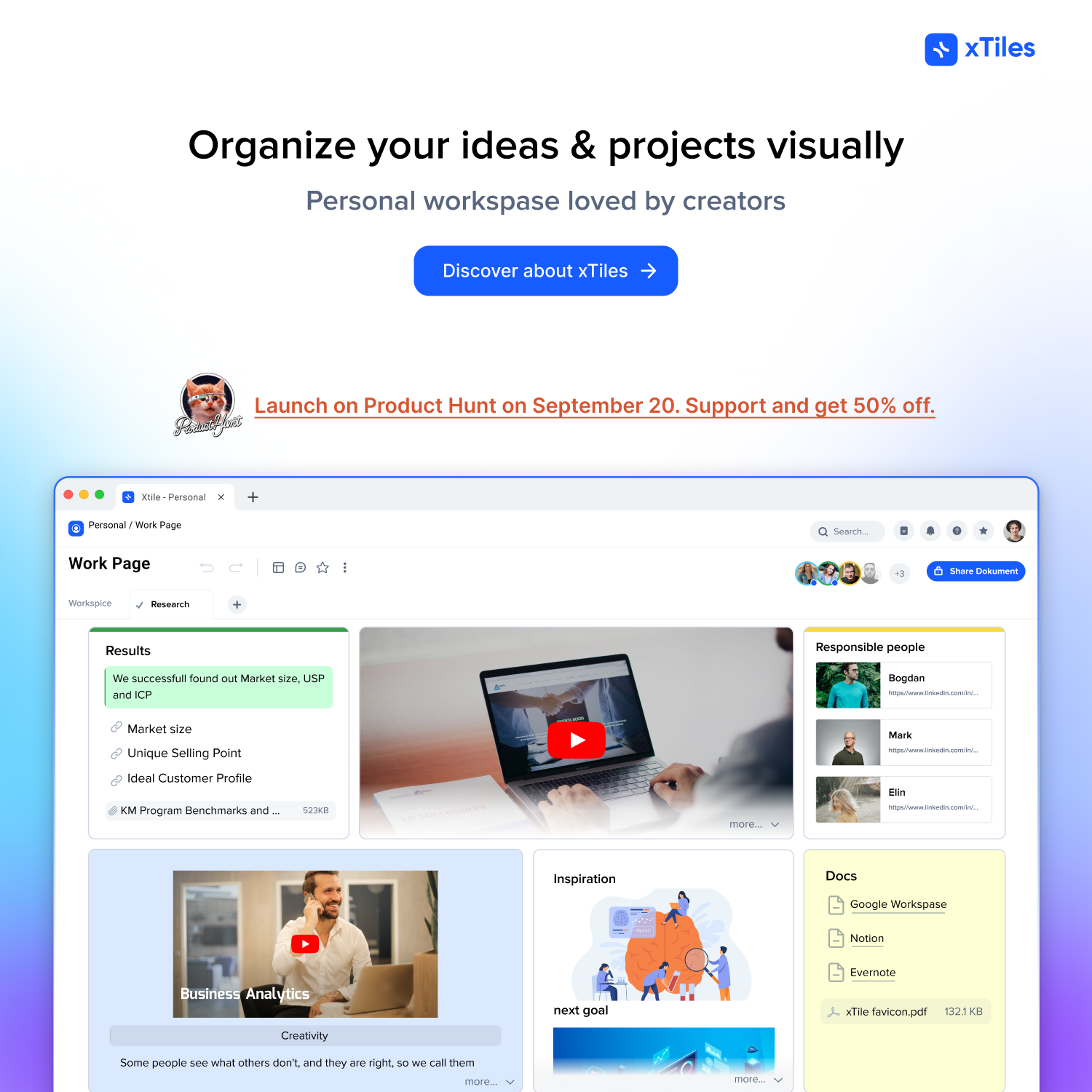 xTiles is a cross-platform note-taking app helping creators structure, enhance and present projects in one place.Our mission is to create the best tool for thoughts for creative persons such as marketers, researchers, writers, students, and chiefs. Feel free to try it out, and don't miss our big PH launch!
This is a sponsored message. If you also want to highlight your app, tool, resource, newsletter, job offer, in front of over 1800 creative minds, head over to creativerly.com/advertise and get in contact.
---
Apps, Software, Tools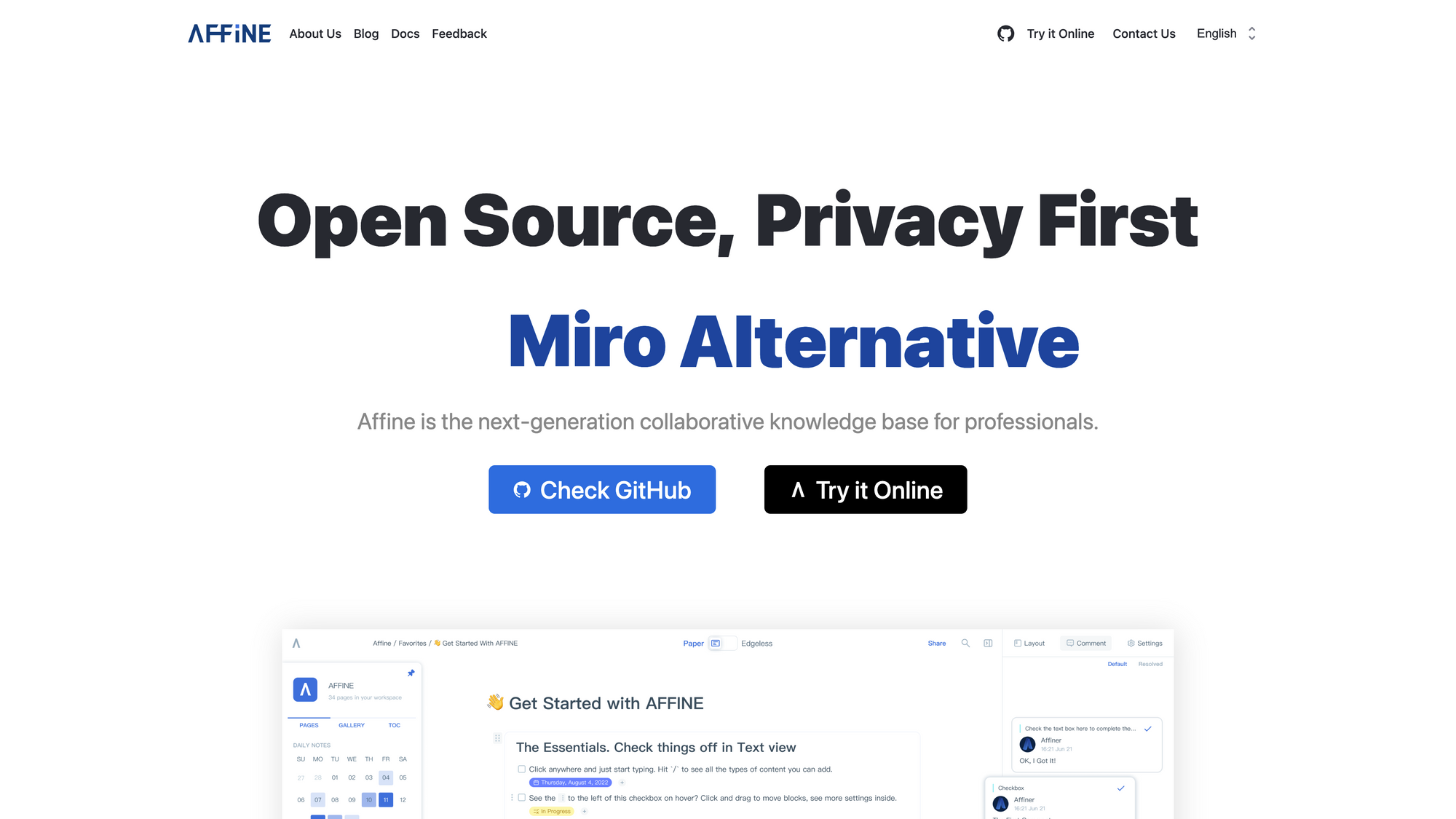 Affine has been on my personal watchlist for quite some time. If you haven't heard of Affine yet, I am excited to present you this open-source and privacy-first Notion, Monday, and Miro alternative.
Affine is the next-generation collaborative knowledge base for professionals. First and foremost, Affine features a beautiful and polished interface. A lot of open-source tools I have used and tested in the past had one thing in common, they were lacking in user interface design and user experience. But Affine is different. It is clearly visible that a lot of time and love went into building a beautiful interface and crafting a lovely experience. As mentioned earlier, Affine is an alternative to tools like Notion, Monday, and Miro. But it is not just a collection of docs, whiteboards, and tables. With Affine you get the possibility to transform any building block as you like. In Affine you store your data once and keep it as you like.
No matter if you want to create a traditional document, Kanban Boards, or databases, everything is fully functional anywhere and anytime. You can think of Affine as a truly what-you-see-is-what-you-get environment for your data, thoughts, ideas, and projects. One feature that really excites me, is the possibility to switch between two different modes while creating content, jotting down thoughts and notes, or keeping track of your open tasks. The first mode is called Paper Mode and basically is a traditional document view of your building blocks. But then, you can switch to the second mode which is called Edgeless Mode, and turns your document into a whiteboard, so you can edit your content and your building blocks visually. This is incredible since it gives you the best of both worlds. When starting a new project, it is always useful to get your first ideas and thoughts out of your head. Using visual note-taking like mind-mapping or simply dropping your ideas on a digital whiteboard gives you the possibility to keep an overview of everything you are jotting down. Once you are ready to progress with the project in detail, Affine gives you the possibility to bring order to your idea chaos by switching to Paper Mode, which displays your content in a structured document.
Additionally, Affine lets you manage, structure, and organise your tasks in multiple views. Quickly jot down new tasks that come to your head with Markdown, and seamlessly edit everything within a Kanban Board.
At the foundation of Affine you will find privacy as one of the core pillars. Affine is a privacy-first tool, which means your data always stays yours, since everything within Affine ist stored and secured locally, available to you at any time. With this core focus on privacy, Affine is still able to implement features like real-time editing and sharing with others, without the need for a cloud setup. So, if you want to get your whole team and colleagues involved with Affine, you are ready to go.
It has been a while since I stumbled across a tool like Affine, a tool that brings me pure excitement. As a privacy advocate and fan and supporter of open-source software, it is exciting to see that folks are building such an awesome product.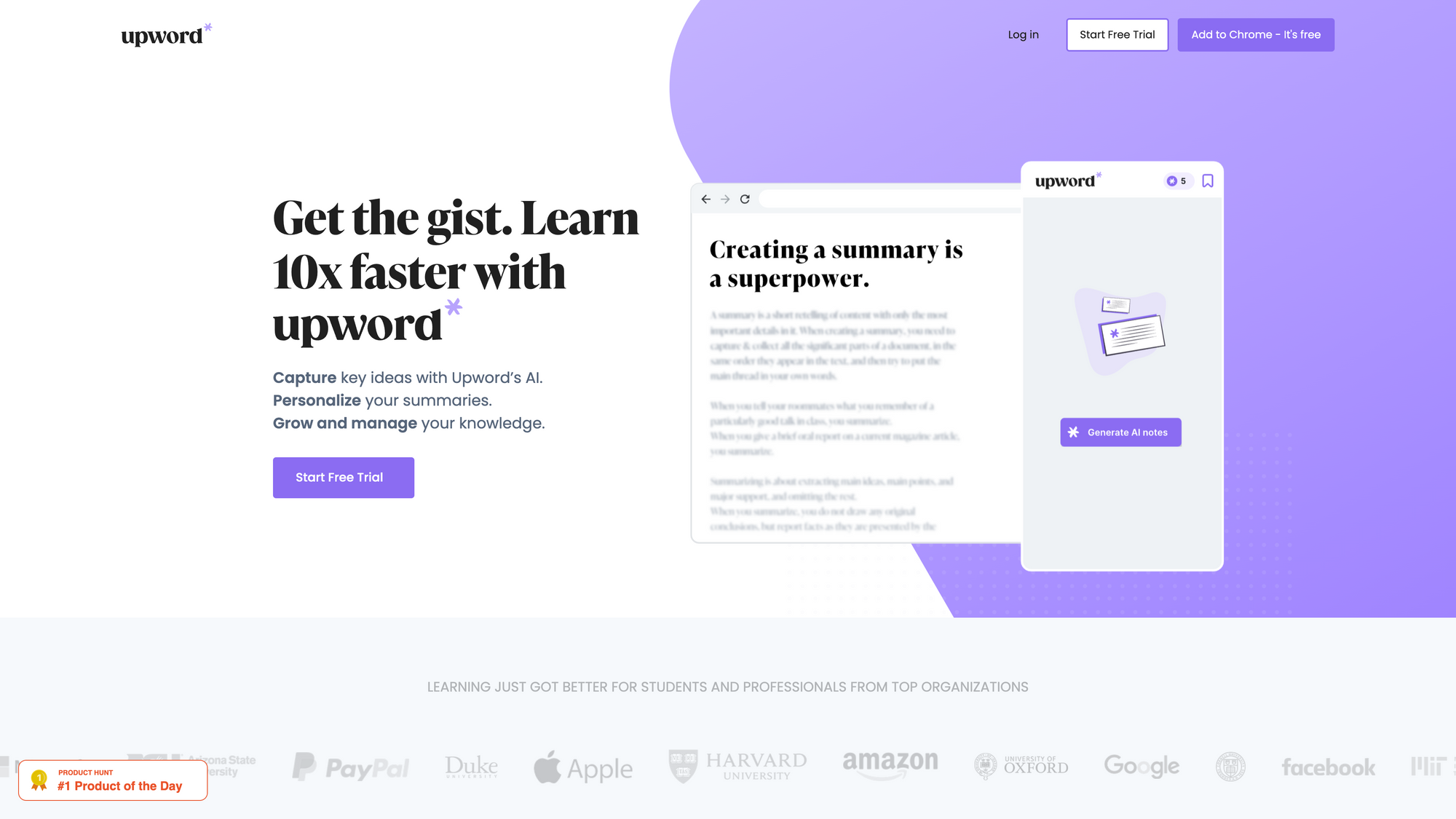 For everyone who follows the idea of being a lifelong learner, Upword is definitely a tool to give a closer look.
No matter if you are a college student, a young professional, or simply a curious individual, Upword was built for learners at heart and in mind. Upword aims to help you take your learning experience to the next level, powered by AI. Upword features powerful AI tools that give you the power to create efficient summaries of the content you consume to learn. With Upword's AI you are able to cut your reading time by up to 85% while still getting the insights you are looking for. Upword scans the text you want to read or study for you and captures only what is actually important. Once Upword finished creating your efficient summary, you can add your own notes to fit your style. Advanced editing methods in Upword give you the possibility to highlight and capture info, comment and add your own thoughts, or attach files and URLs. Personalising your learning experience never has been that easy.
Once you finished creating a summary, Upword becomes incredible powerful. With Upword you can transform your notes into an audio clip with a single click. A feature like that lets you create playlists to manage your knowledge. No matter when you are in the mood to consume some of it, just play it back and learn the way that works for you.
Upword is a powerful summary builder, packed with powerful AI tools which can be combined with your own notes to create faster, more efficient summaries, you can then read or listen to. As of writing this, Upword is only available for Desktop PCs and Laptops. But it would be amazing seeing Upwords core mission transformed into mobile devices. Listening to your summaries on the go could be a game-changer.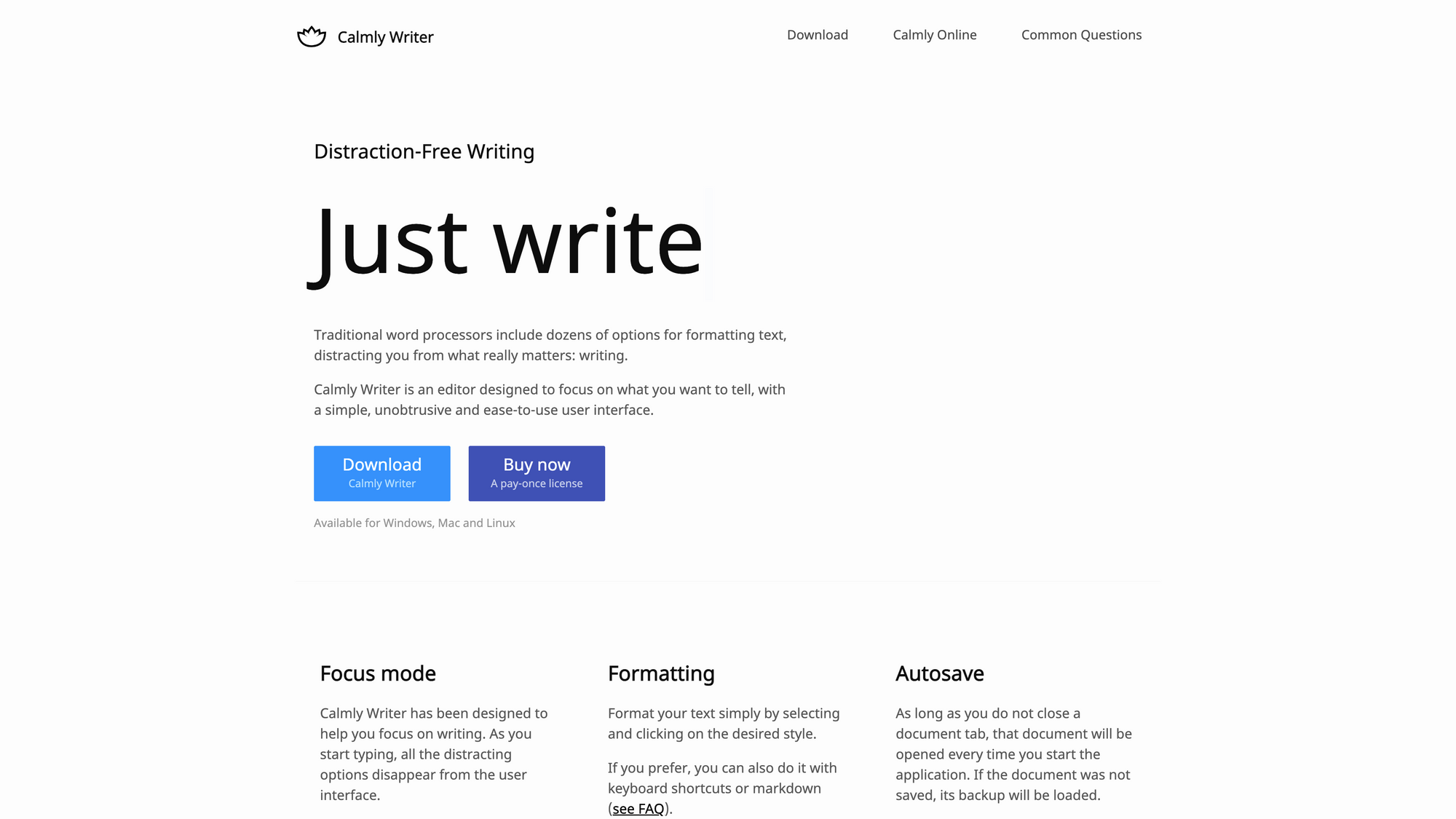 I am a huge fan of writing, and therefore I also love to explore different kinds of writing apps. In the past, I have used iA Writer (still my favourite today), but recently, I am spending some time with Ulysses, Craft is the core app for all kinds of writing, and on my Android Smartphone, I like to use Upnote. The most recent addition to the writing apps I am exploring, is Calmly Writer, a distracting-free writing app, available for Windows, Mac, Linux, and on the web.
Compared to traditional word processors that include dozens of options for formatting text, distracting you from what really matters, which is writing, Calmly Writer was designed to focus on what you want to tell, powered by a simple, unobtrusive and easy-to-use interface. Calmly Writer is the most fitting name for an app like it. It has been designed to focus solely on writing. Once you start writing in Calmly Writer, all the distracting options will disappear from the user interface. Entering the Focus mode will even only highlight the paragraph you are editing at the time. This is truly a focused and distraction-free writing environment.
To format your text you can either simply select and click on the desired style, use keyboard shortcuts, or use Markdown. When you write your next article with Calmly Writer, any changes you make to it will be automatically saved. As long as you do not close a document tab, it will be opened every time you start Calmly Writer, so you can always continue where you left.
Besides all of that, Calmly Writer also features word count, which means it displays the number of words and characters written, Color themes, so you can choose between light, dark, dark blue, dune and old school mode, and even more. You can even import and export to HTML, plain text, Markdown, Microsoft Word doc and PDF.
Calmly Writer is available as a desktop app for Windows, macOS, and Linux, but there is also an online version available. The desktop app runs offline and you can work directly with local files, open several documents at the same time, and organise them in tabs. Calmly Writer is an indie development by Yusef Hassan and Amal Amrani, so make sure to support their work, since the app is free-to-use.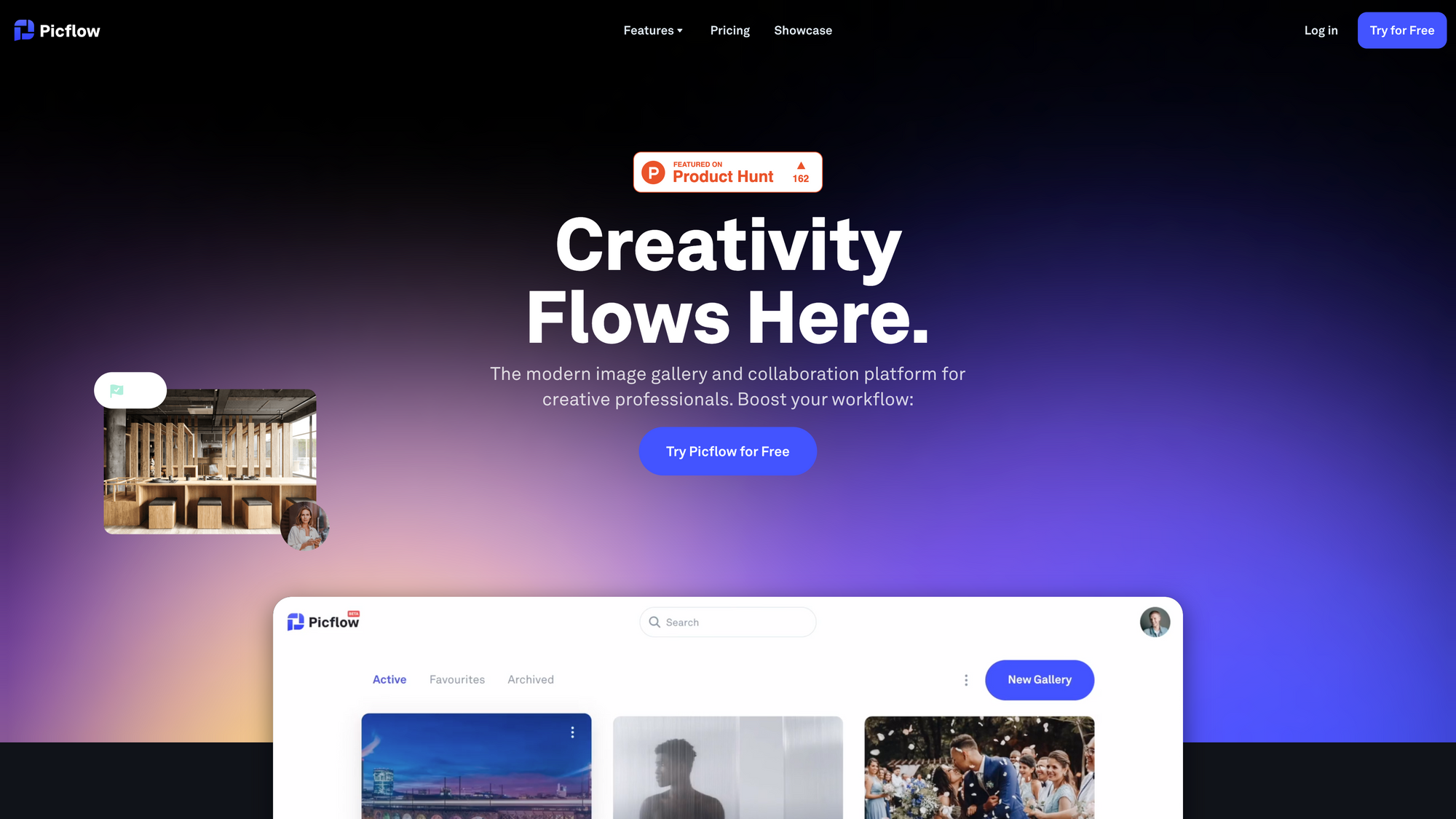 Picflow is a modern image gallery and collaboration platform, built for creative professionals that are looking to boost their creative workflow.
With Picflow you can share your work beautifully, get selections done quickly and improve the delivery process of your creative work. Adding images to Picflow is incredibly easy and fast. All you have to do is drag and drop images to create a gallery and upload all your images with speed. With the Gallery Designer you are able to flexibly change the appearance of your galleries, thanks to intuitive layout controls. Once you have created a gallery and uploaded all the images you can choose between multiple review options and track client activity. With Picflow you can truly step up your game while saving time and impressing your clients. Additionally, you can add a security and privacy layer to your galleries, by sharing links with password protection and other access options.
Picflow's Gallery Designer is incredibly impressive since it gives you the tools you need to create stunning galleries that look great on any device. To customise it you can choose between layout options, add multiple sections, and control the image sizes. There is also the option to embed videos, music or social posts from your favourite platforms to enrich your client galleries.
To simplify the approval process between you and your clients, you can allow your clients to give feedback using favourites, flags, color labels, and annotations. Each of these review tools is optional, so you can decide what fits best.
Within Picflow's Workflow Mode you can get work done quickly with review filters, bulk actions, filename exports, and a lot more. On top of that, Picflow is optimised with powerful shortcuts, so you can blast through images and reviews quickly without moving your hands off your keyboard.
You can use Picflow for free for unlimited galleries, 2GB storage, four review tools, and password protection. The Plus Plan will cost you $8 per month (billed yearly) and gives you access to an additional 100GB of storage, five review tools, and custom branding. The Pro Plan for $16 per month (billed yearly) will give you 1TB of storage, all review tools, and the possibility to add your own domain. Both paid plans are offering a 14-day free trial.
---
Mental Wealth
➢ Soliciting hard feedback – "Last week, I wrote about ways I've learned to deal with hard feedback. But getting that feedback in the first place is just as important. The times most of us get tough criticism — annual performance reviews, or when something is going really wrong — are infrequent and way too slow. Imagine how much faster we could grow if we had those insights in real-time and could take quick action to respond."
➢ A Fail-Safe Trick in your Search for the Right Productivity Apps – "The internet is inundated with articles that have titles like "The Best Productivity Tools of the Year" and "Productivity Apps That Will Make Your Life Easier." Dozens if not hundreds of apps claim to help people focus, manage their time, and stick to healthy habits. The productivity app market is expected to expand at a compound annual growth rate of 13.8% from 2022 to 2030. If you're not careful, the search for productivity apps can become a distraction in itself. You're in danger of going from tool to tool thinking that all you have to do is find the right one to end your productivity problems for good."
➢ A Simple Way to Introduce Yourself – "You know the scenario. It could be in an online meeting, or perhaps you are seated around a boardroom table. The meeting leader asks everyone to briefly introduce themselves. Suddenly, your brain goes into hyperdrive. What should I say about myself?"
➢ Your "social location" shapes how you dream about the future – "I was in the car, running last-minute errands for the Christmas holiday, when I heard a radio talk show host pose this question: If you knew you could not fail, what would you do? The host encouraged listeners to call in with their answers and, almost immediately, the station's phone lines lit up. Everyone had ideas to share: visions of fame and fortune, dreams about romance or happiness, healthy families, yearnings for exciting futures filled with adventure. People started sharing and I couldn't stop listening."
---
Do not miss out on this …
Founders' Book is built to educate, encourage and empower founders and startups to equip them with the best-curated tools and resources.
Start your morning with The Newsette - a newsletter for women, written by women, about topics that are important to women.
Each morning, The Sample sends you one article from a random blog or newsletter that matches up with your interests. When you get one you like, you can subscribe to the writer with one click. Sign up here.
These are paid promotions or affiliate links to support Creativerly. If you are interested in putting your tool, product, or resource in front of over 1800 creative minds, consider advertising in Creativerly and book a sponsor or classified ad spot. Find all the important information at creativerly.com/advertise.
---
From the archive
On February 20th I wrote about ...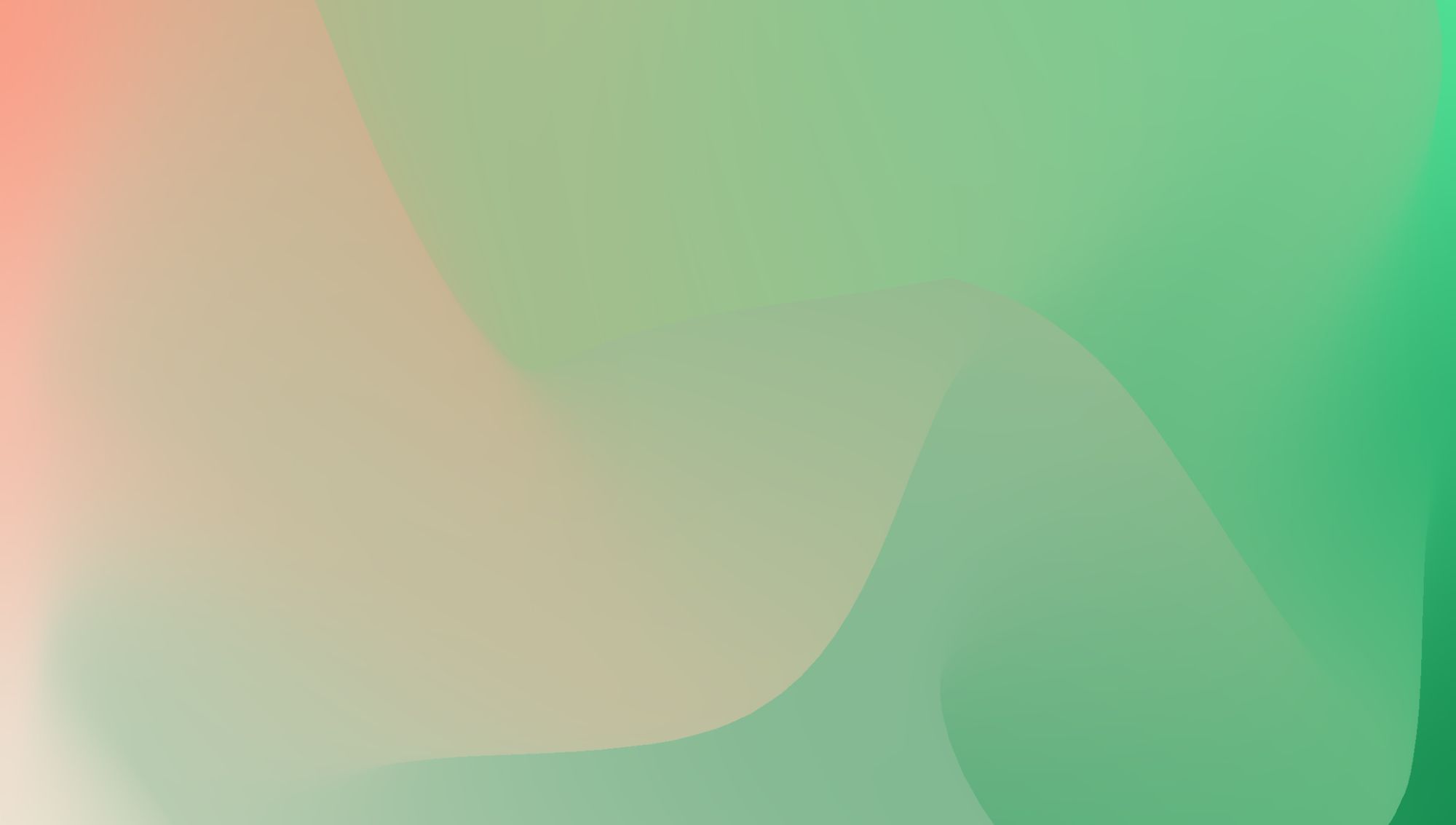 ---
Appendix
➢ ICYMI
With privacy-friendly analytics services you get the chance to get insights about the traffic happening on your website, without invading your users' and visitors' privacy. You do not need to use Google Analytics. There is a wide range of Indie Hackers, Solopreneurs, and companies building ethical and privacy-focused analytics tools. If you are looking for an overview of privacy-focused analytics tools, I gathered some of them in a blog post to find the right service for your needs.
---
Twitter thoughts
---
👋
Till next time!
Share or forward this newsletter to your friends, if they are also looking for creativity and productivity-boosting tools and resources. If you need help to discover your next favorite task management, note-taking, or PKM app, Creativerly delivers the insights you need. Creativerly is an indepentend publication and I am writing and maintaining it in my free-time. You can support Creativerly and my work by sharing it with the world,
booking an advertising spot
, or by
buying me a coffee
.
---
Some of the links in my newsletter and my blog posts are affiliate links. Those links are marked by an asterisk. If you buy something through the link, the product will not cost you anything more, but I will receive a small commission which not only supports Creativerly and my work but also helps me to keep this publication a sustainable side-project.