Newsletter
The search engine for your life & How will we write in 2030?
In this week's issue of Creativerly: The work-in-progress platform for your entire team, the way developers get things done, and a lot more.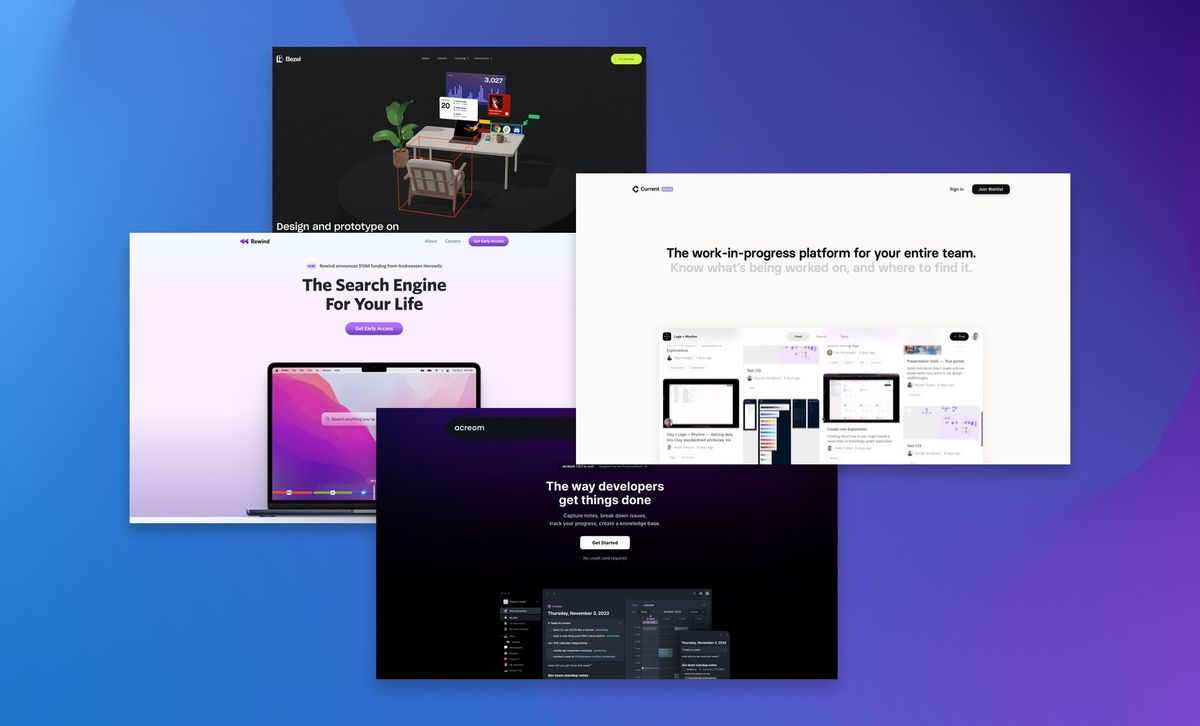 My name is Philipp and you are reading Creativerly, the weekly digest about creativity and productivity-boosting tools and resources, combined with useful insights, articles, and findings from the fields of design and tech. The newsletter built for the creative community.
---
Hey and welcome to Creativerly 194 👋
Most of my readers have probably been following the events that happened on Friday as Elon Musk, the new owner of Twitter laid off 50% of Twitter's workforce, basically without any warning. Over 3,500 people lost their jobs because of a maniac.
Elon Musk not only cut Twitter in half, he wants to turn the verification mark into a paid subscription add-on, and plans some further weird and crazy changes to the platform. People are getting worried what will happen with Twitter. Some people within my circle already left Twitter and set up new accounts on an alternative platform called Mastodon. Mastodon is a decentralised social network, which can not be bought by some crazy billionaires. At the core, it works very similar to Twitter, but to sign up for an account you need to join an instance, which could be large ones like mastodon.social, or smaller ones focused on dedicated niches like mastodon.design. After you have signed up to an instance, you can follow folks within that instance, browse through the content, and interact with folks. But you can also follow people from other instances, by browsing through the Fedaverse.
Mastodon has been around since 2016, but since the Musk-takeover of Twitter, it gained over 200,000 users, and now has over 600,000 active monthly users. Media is even talking about Mastodon being on fire and constantly growing its user base. I signed up for a Mastodon account a while back, simply because I got excited about a new social network. Now, it seems like more and more people from my circles are joining in on the platform which might turn it into an actual Twitter alternative.
At this point, I have no idea what will happen to Twitter in the near future. It is just devastating to see so many great people losing their jobs. If I have Twitter folks among my readers, I would love to help you spread the word regarding being on the look for your next job. Just message me and I will add you the newsletter with a shoutout. Also, if you or your company is hiring across different departments make sure to spread the word on Twitter, since some amazing folks are currently on the lookout for their next role after the huge layoffs at Twitter.
Let me know what you think about the future of Twitter. And, if you are already on Mastodon, let us connect, you can find my profile here.
---
Your next business idea, delivered weekly.

Trends tells you the next big thing – months before everyone else. Their dynamic team of business analysts already outlined 1,000+ vetted business ideas you can start in a weekend, and they send new ideas and market signals straight to your inbox weekly.
This is a sponsored message. If you also want to highlight your app, tool, resource, newsletter, job offer, in front of over 1900 creative minds, head over to creativerly.com/advertiseand get in contact.
---
Apps, Software, Tools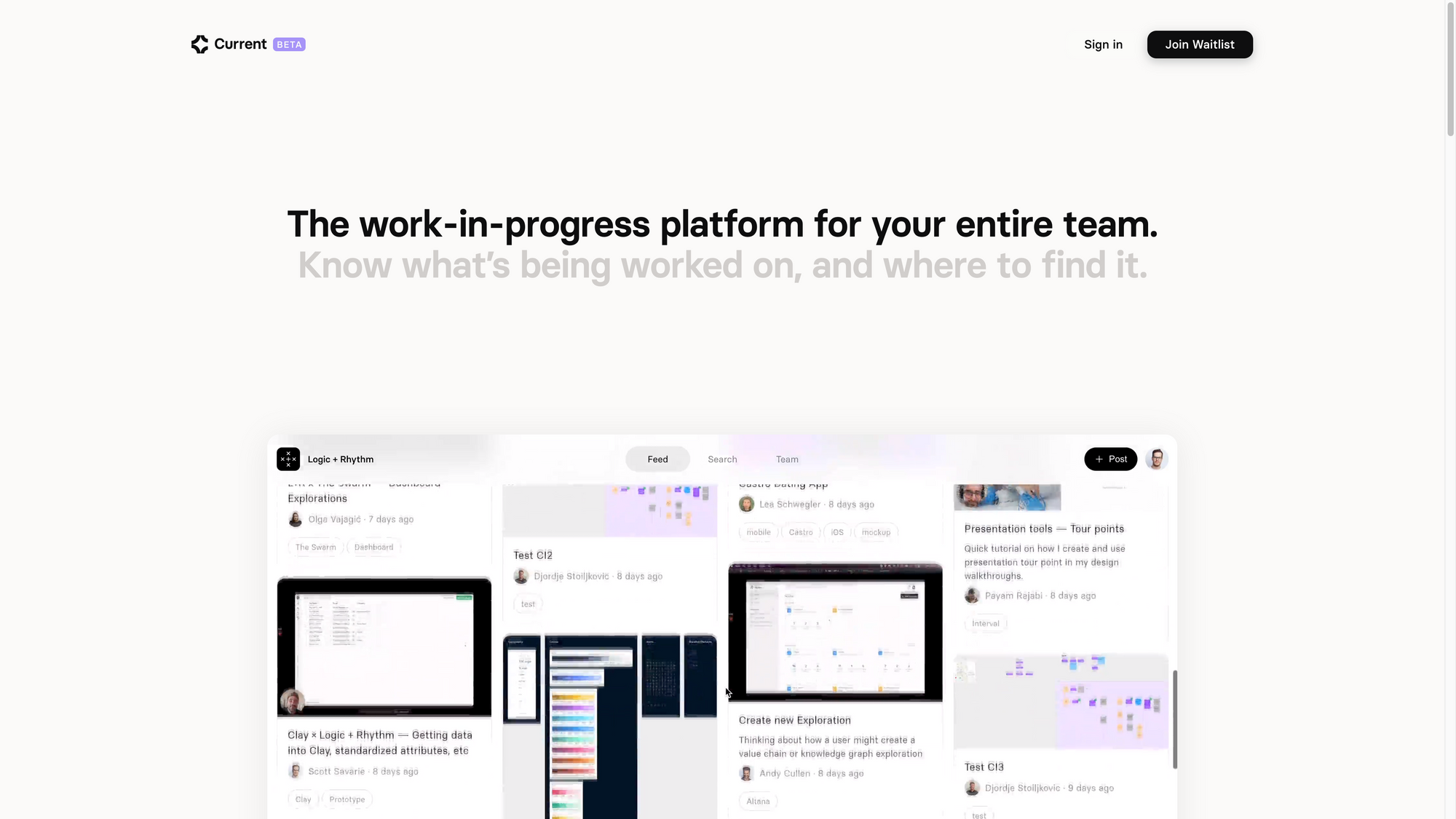 Current is an interesting tool that I have been following for a while now. It is a platform to share your design work-in-progress with your whole team, so everyone stays in the loop about what is currently being worked on and where to find it.
If you want to keep everyone on your team informed and updated about the status of certain kinds of design projects, you do not have that many options regarding a streamlined process. Sure, one thing you could do is share Figma files or even screenshots within Slack (or the team messenger of your choice). But the disadvantage of that is the fact that you are not able to manage your work-in-progress, you do not have an overview of what has been shared, and ultimately it is just hard to keep track. With Current, you always have a dedicated place to follow what is currently being worked on. With ease, you can share Figma files, Loom recordings, and more. Simply use the same links you already have on hand. You can even cross-post to Slack to keep the right people in the loop. But instead of piling up links within Slack, your colleagues can always head over to Current and browse through the work-in-progress you and others have shared. Other than that, Current sends out weekly digest emails about the posts and changes that happened within your Current space, so even if you are not actively following updates on Slack, you are able to stay in the loop via emails.
Within Current you are able to create an archive of your team's ideas. Once you added a new work-in-progress design to Current, you can add tags which make it easy to structure and organise your ideas. Additionally, those tags give you the possibility to always find what you are looking for in no time. To make the sharing-to-Current process as easy as possible, there is a dedicated Figma Plugin. This gives you the power to share the designs your are working on, directly from Figma to Current.
Your whole workspace within Current can be customised to your liking. With a few clicks, you can make Current your own by theming it to match your company. Since Current features an enterprise-grade infrastructure, you can be sure that your workspace is private and safe. You can sign in with either SAML SSO or Google OAuth. As of writing this, Current is still in beta, and you can join the waitlist if you want to. During the beta, Current will be free. Currently, there is no information about future pricing plans available. The free-during-beta-plan gives you access to unlimited team members, unlimited posts, SAML SSO, Slack integration, Figma plugin, and customisable workspace, and currently in the works is a mobile app and SOC-2 compliance.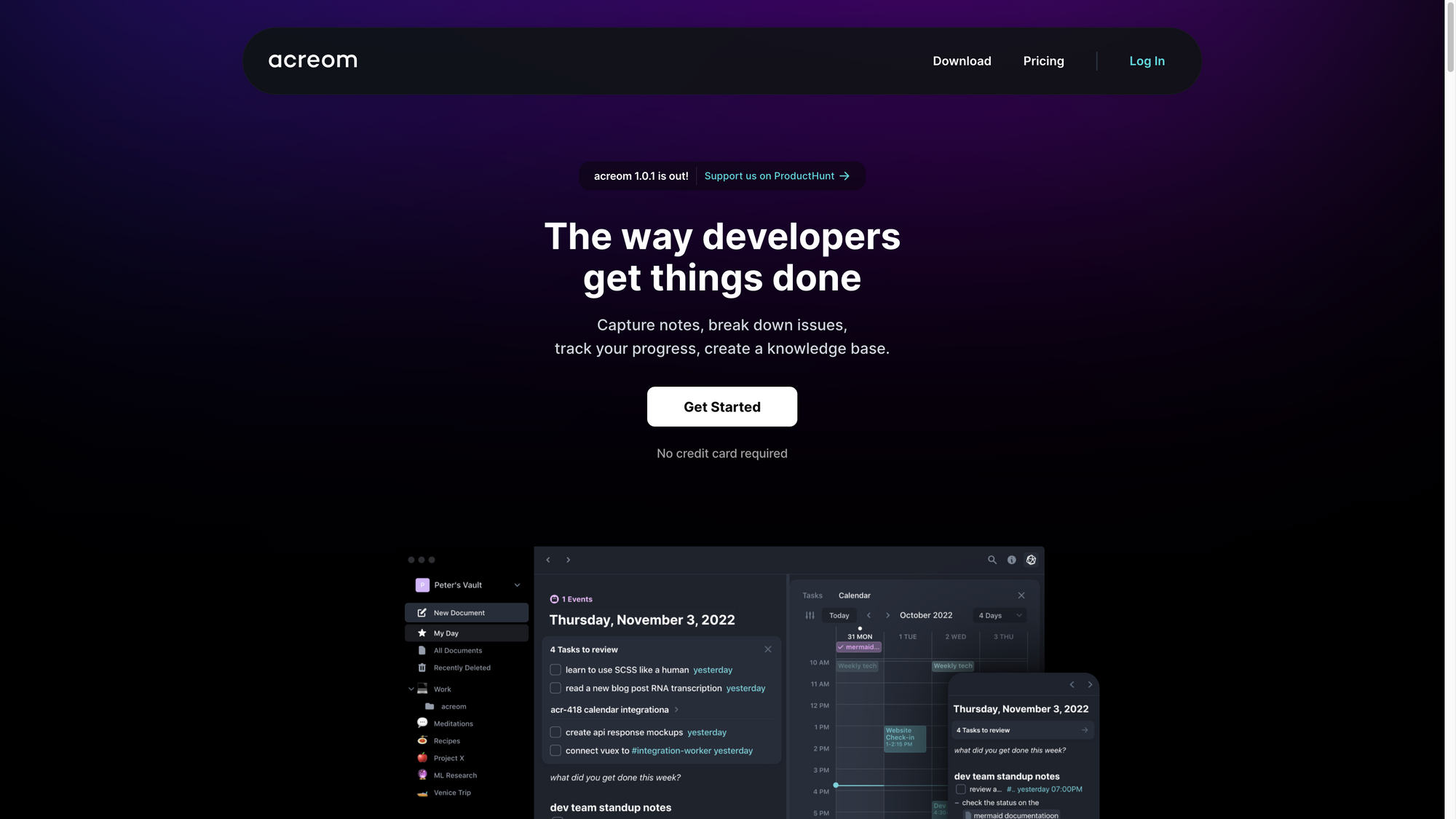 I wrote about acreom back in issue 145, but since the team now launched version 1.0 of it, I decided it is the right time to take a look at it once again and write about what has been updated and how the tool has evolved over time. The first thing I immediately realised was the fact that acreom now directs its product to developers, as the H1 on the website changed to "The way developers get things done". But let me tell you this up-front: I have been using acreom on and off for a while, and you do not have to be a developer to use this lovely and beautifully designed tool.
Acreom is a local-first app to capture notes, break down issues, track your progress, and create a knowledge base. I am totally into taking daily notes or journalling, and the daily notes experience within acreom is simply top-notch. You can think of it as your personal daily organiser. No matter, if you quickly want to jot down some thoughts, or ideas, or brain dump some notes, issues, and tasks, you can do it all within the daily notes section in acreom. Daily notes within acreom also feature smart review for your overdue and scheduled tasks. Whenever you write your daily notes and think a dedicated idea should be turned into a document, you can easily convert your ideas or issues which might need more attention, into separate documents. Acreom will then take care of the backlinks automatically, so you never lose context. Additionally, within acreom you can tightly integrate your tasks and documents since you can sync your Google Calendar.
For quite some time now, I have committed to Craft as my preferred note-taking, journaling, and PKM app, but recently I had the feeling that the app is going into another direction. My concerns mainly comes from the focus of recently shipped updates. A year ago, Craft shipped some solid updates, improving the daily notes experience a lot, but ultimately, it still seems like it has a strong focus on delivering a tool build, write, and create beautiful documents, share and collaborate on them with your team. What I have always be missing with Craft, was a way to display all your open tasks in a dedicated view. Acreom, on the other hand, offers an intelligent IDE-like experience by giving relevant suggestions in the right context. This gives you always access to tasks that you have created across the app. They are even structured and organised with sections, and the sections are the documents in which you have jotted down the tasks. Managing tasks within acreom is pure joy, as you can set the date and time, create recurring events and tasks with deadlines.
With acreom you can truly stay on top of your work by splitting your large tasks into smaller issues. Fly through the whole app with powerful keyboard shortcuts, take markdown-powered notes, create documents for newly assigned features, and solve large problems efficiently. Acreom also lets you track your progress with ease, since you can use quick filters and views on your tasks.
Besides that, acreom is private by design. You will keep full data ownership, there is no proprietary data format, no vendor lock-in, since you can use local vaults to store all your notes. Everything is stored locally as plain-text .md files by default. You even do not need an internet connection to run acreom, local vaults are offline by default. If you are using synced vaults they automatically sync when possible.
You can use acreom for free forever with their Personal Plan, which includes local vaults with unlimited usage, .ics calendar sync, templates, and community support. The Pro Plan will cost you $6.75 per month (billed yearly) and gives you access to cloud vaults, mobile apps (which are currently in beta), Google Calendar sync, document publishing, acreom assistant, access to R&D Discord channel, real-time collaboration (currently in the works), priority support, and you support the development of acreom. There is also a Team Plan available for $8 per seat per month (billed yearly). As of writing this, acreom is available for macOS, Windows, Linux, and as a web app, with mobile apps being in beta.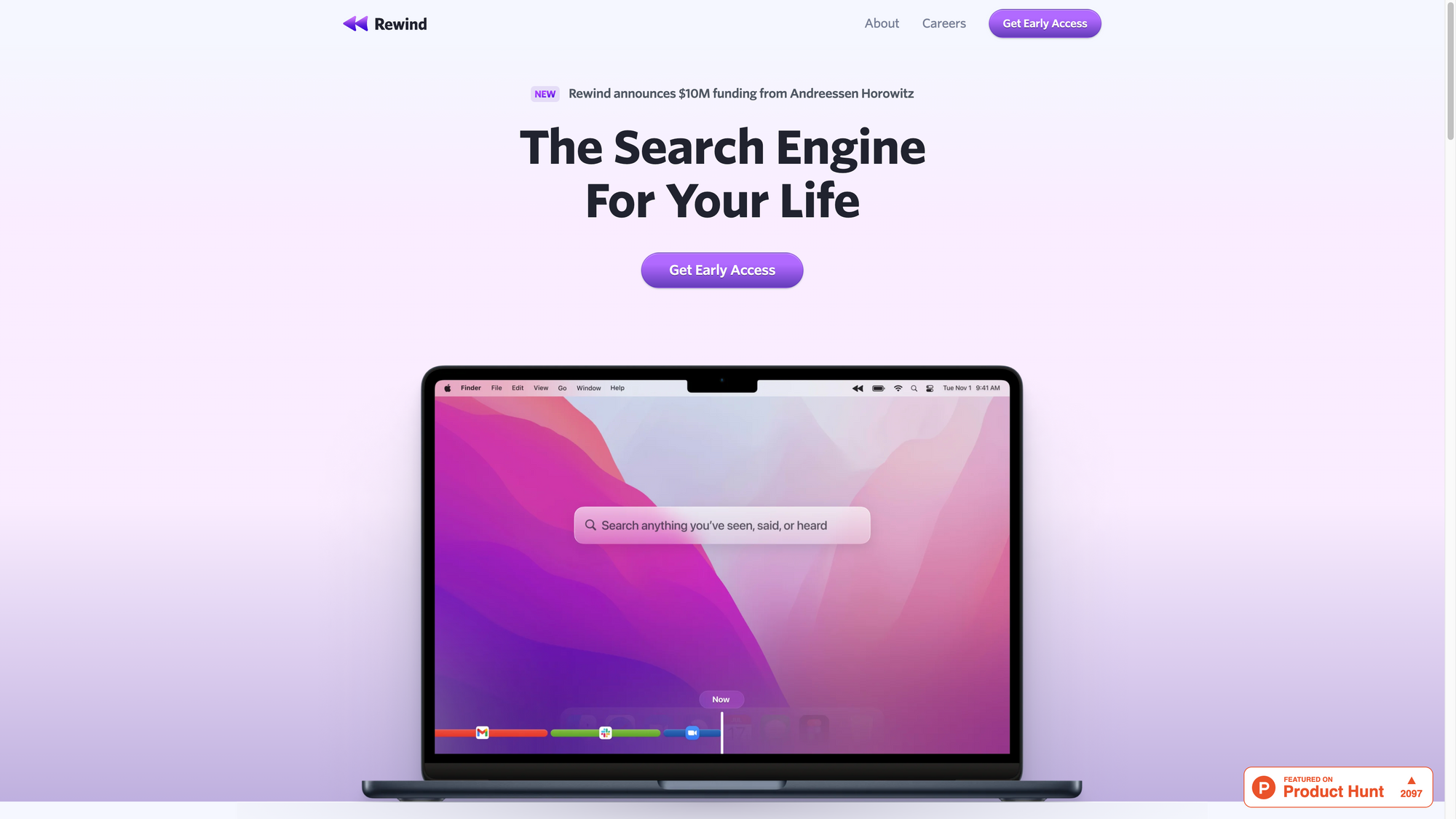 Rewind recently came out of stealth, announcing their $10m funding by Andreessen Horowitz at a valuation of $75m, and reaching over 2000 upvotes on Product Hunt. Rewind entitles itself as "the search engine for your life".
When you searching for something you have recently searched for within your browser, you are taking a look at your browser history or archive to find it again. Most of the time, you will find experience satisfying results. In the past, there have been a lot of tools looking to be the one search for everything. Rewind takes this even one step further by being the one search engine for your life. Rewind records anything you have seen, said, or heard while working on your Mac. Then, they make it searchable. Now, you will probably have some legitimate privacy concerns. Rewind though, states that all the recordings will be stored locally on your Mac, and only you will have access to them. Any kind of recording data gets never sent off your Mac, and all compression and Automated Speech Recognition will stay locally on your Mac. Since all the storing of the data happens locally, there is a lot of compression involved. Rewind compresses raw recording data up to 3,750 time, which means even with the smallest hard drive, you are able to store years of recordings.
Rewind uses native macOS APIs and Optical Character Recognition to analyse everything that happens on your screen. There is no need to integrate with any kind of cloud services since Rewind starts capturing apps like Gmail, Dropbox, or Slack right away. You can think of Rewind as your personal timeline on which you can go back and forth to rediscover what you have said, seen, or heard. It is like entering a completely new dimension on your Mac. But what makes Rewind so incredible is the search itself. When you type in a search query, for example, 'note-taking', Rewind will show you search results across all the apps you have used in which the term 'note-taking' appeared on screen, or someone has said or mentioned it in a meeting. You can even filter the search results by selecting different apps. This is not only incredibly powerful but also mind-boggling.
As already mentioned, Rewind can automatically record all your meetings and make them searchable. Whenever I am in a meeting and taking notes on the stuff that has been said, I find it hard to focus on either those things. I can not focus on what has been said, while taking notes, and vice versa, I can not focus on taking notes while someone is constantly talking. If you have the power to automatically record meetings with Rewind, you do not have to worry about that, since you can search through everything that has been said within the meeting.
You can sign up to get early access to Rewind. It is only available for macOS.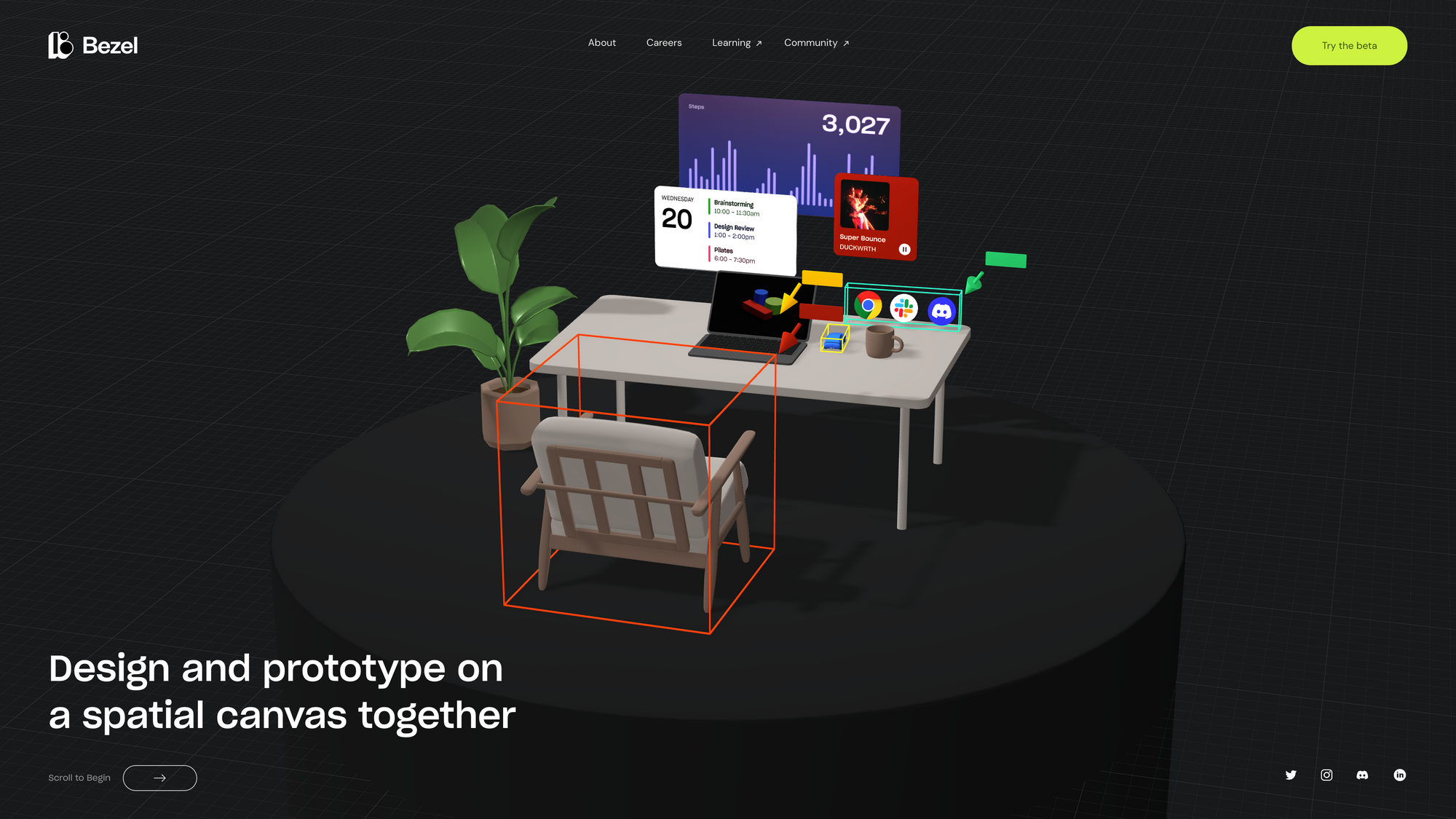 It is beyond amazing to see how different tools are leveraging the power of browsers. Bezel is a tool that lets you design and prototype on a spatial canvas together, right within your browser.
With Bezel, you are able to create compelling 3D designs and prototypes. It is inspired by familiar 2D design tools, which means even if you do not have experience with 3D tools, you can start right away without the need to spend multiple hours to actually learn the tool first, before you are able to create something with it. Bezel also features real-time collaboration. Working together with your team and colleagues is just more fun. Therefore, you are able to invite your team to a file and start ideating together, sharing ideas, and collaborating. To access actions within Bezel easily, it is featuring a command center, so you can move through the app with your keyboard easily, without the need to remember any complicated shortcuts.
Sharing files with others and getting feedback in Bezel is also streamlined. You can pin comments directly to models in your files. To keep your team in sync, you can create 3D components for your whole team and share design systems to make sure your models stay up-to-date over time. Additionally, Bezel makes it easy for designers to hand off 3D prototypes, so you can focus on design instead of hand-wavy specs. Since Bezel sits right within your browser, it is flexible for wherever you work. Use it on desktop, mobile, or even VR. You and your whole team can work from any device, at the same time. It is a lovely workflow, being able to work on your 3D prototypes on desktop, review them on-the-go while being on your smartphone, or even get immersed in your headset. Another advantage is the fact that no-one needs to download or install anything, just jump straight in and start designing in your browser.
Currently, Bezel is still in beta. You can try out the beta and experience powerful 3D design right within your browser right away. Just head to Bezel's beautiful website, and sign up for the beta.
---
Mental Wealth
➢ When Speaking Up, Timing Is Everything – "Decades of research have shown that when employees offer ideas or flag concerns, their voice is not always appreciated or valued by their superiors. The contribution may be seen as disruptive or a waste of time. Managers may even take it as an implicit criticism of themselves. Speaking up with work-related issues, therefore, is very much a risk-reward game. If you raise a valuable idea or concern that your boss is receptive to, she will recognize and reward you for it. But raise something deemed distracting or disruptive, and you may be penalized."
➢ To benefit from wonder, make sure you've got the genuine kind – "Wonder is generally thought to be a good thing. We cultivate it in young children and commend it in our greatest scientists. Curiosity and awe, each representing distinct facets of wonder, inspire public enthusiasm for science and are integral to the advancement of knowledge. Yet, for all the praise it garners, wonder has long been met with vocal detractors."
➢ How will we write in 2030? – "The news came as a bombshell. Last week, Jasper, the AI content start-up founded in 2021, announced a record $125 million fundraising round at a valuation of $1.5 billion, which makes it a unicorn, a species that has become a bit rarer these days. The funding follows strong growth for the sector as the AI writing assistant software market has been valued at $410.92 million in 2021 and is expected to reach $1,363.99 million by 2030, with a CAGR of 14.27 per cent from 2023 to 2030. But what do we mean by "AI content" exactly? First, we had the proofreading tools. In fact, who hasn't already copied and pasted entire texts into Grammarly? Except that, until now, Grammarly, founded in 2009, corrected your text according to specific spelling and grammatical standards, but the corrector did not respect your style, your tone of voice or your usual way of speaking."
➢ How to reframe (and solve) a tricky life problem – "Most of us have found ourselves staring down a life problem that makes us feel like we're absolutely trapped. You ruminate and look for solutions, but the whole affair is mired in a feeling of constraint. Just thinking about the problem can cause a tight feeling in your chest, as though you're being squeezed by giant rubber bands, or feelings of numbness or stomach upset. When this happens, you may be dealing with an "anchor problem" or a "gravity problem." This terminology comes from Dave Evans and Bill Burnett, co-authors of the book Designing Your Life and co-founders of the Stanford Life Design Lab, who form a useful framework for breaking out of that hellish loop."
---
Do not miss out on this …
Want to receive the latest in business, entertainment, and internet culture every single morning? That's what TheFutureParty newsletter is all about.
Start your morning with The Newsette - a newsletter for women, written by women, about topics that are important to women.
Smartr Daily - The Essential Newsletter For Curious Minds. Sourcing the smartest articles on the Web - Thought provoking ideas and insights delivered straight to your inbox daily!
These are paid promotions or affiliate links to support Creativerly. If you are interested in putting your tool, product, or resource in front of over 1900 creative minds, consider advertising in Creativerly and book a sponsor or classified ad spot. Find all the important information at creativerly.com/advertise.
---
From the archive
Back on July 25th 2021, I wrote about ...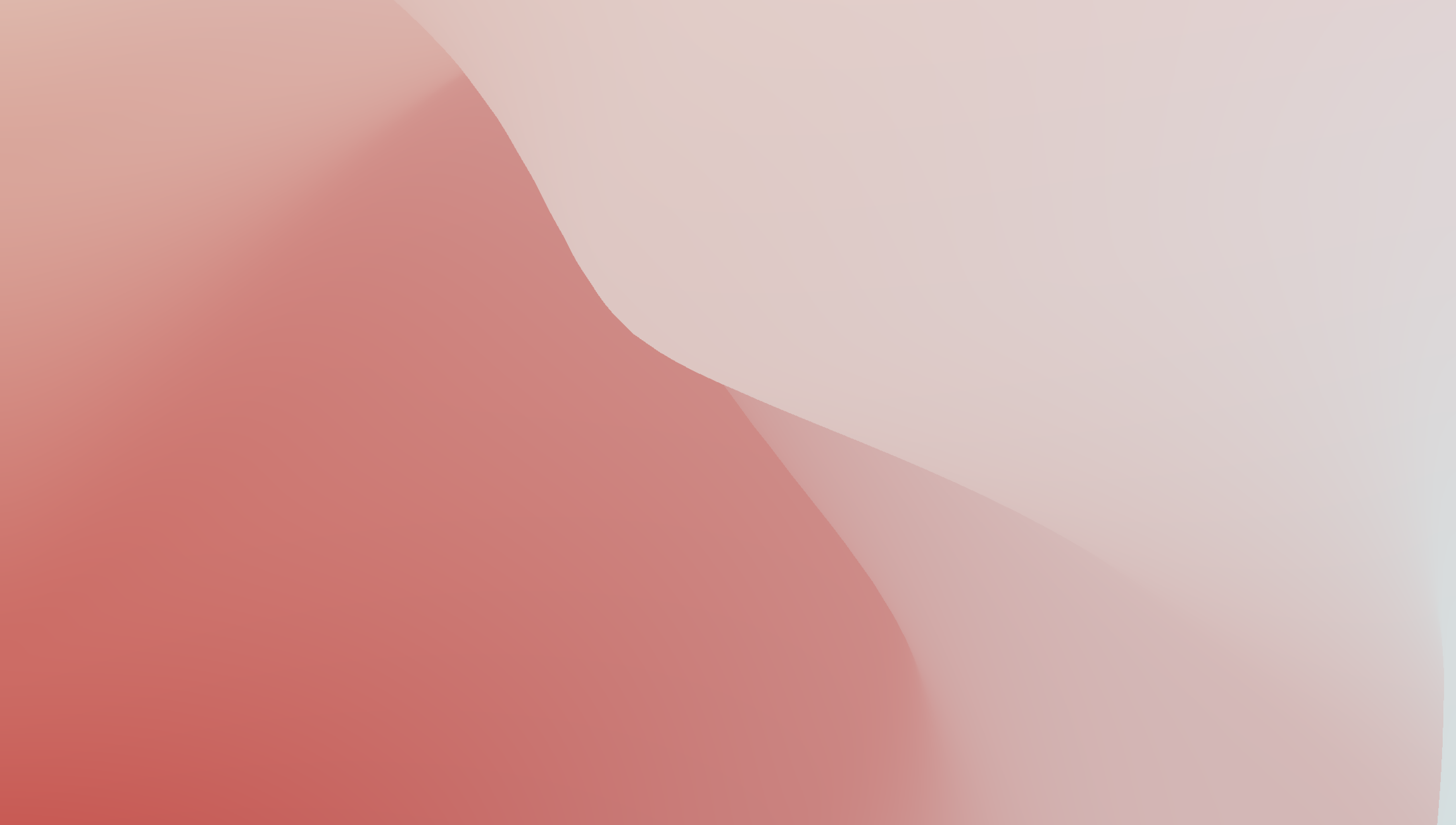 ---
Appendix
➢ ICYMI
Highlight your app, tool, resource, or service in front of over 1900 creative minds coming from different backgrounds like design, development, journalism, VC, Indie Hacking, and others. The Creativerly audience is actively looking for tools and resources which boost their creativity and productivity. If you are interested in booking a sponsor spot in Creativerly head over to creativerly.com/advertise for all the important information.
➢ Quick Bits
---
Twitter thoughts
‌
---
👋
Till next time!
Share or forward this newsletter to your friends, if they are also looking for creativity and productivity-boosting tools and resources. If you need help to discover your next favorite task management, note-taking, or PKM app, Creativerly delivers the insights you need. Creativerly is an indepentend publication and I am writing and maintaining it in my free-time. You can support Creativerly and my work by sharing it with the world,
booking an advertising spot
, or by
buying me a coffee
.
---
Some of the links in my newsletter and my blog posts are affiliate links. Those links are marked by an asterisk. If you buy something through the link, the product will not cost you anything more, but I will receive a small commission which not only supports Creativerly and my work but also helps me to keep this publication a sustainable side-project.