Newsletter
Creating a more spacious life & Personal CRM made easy
In this week's issue of Creativerly: The best place to write things down, take beautiful screenshots, a super simple writing app, and a lot more.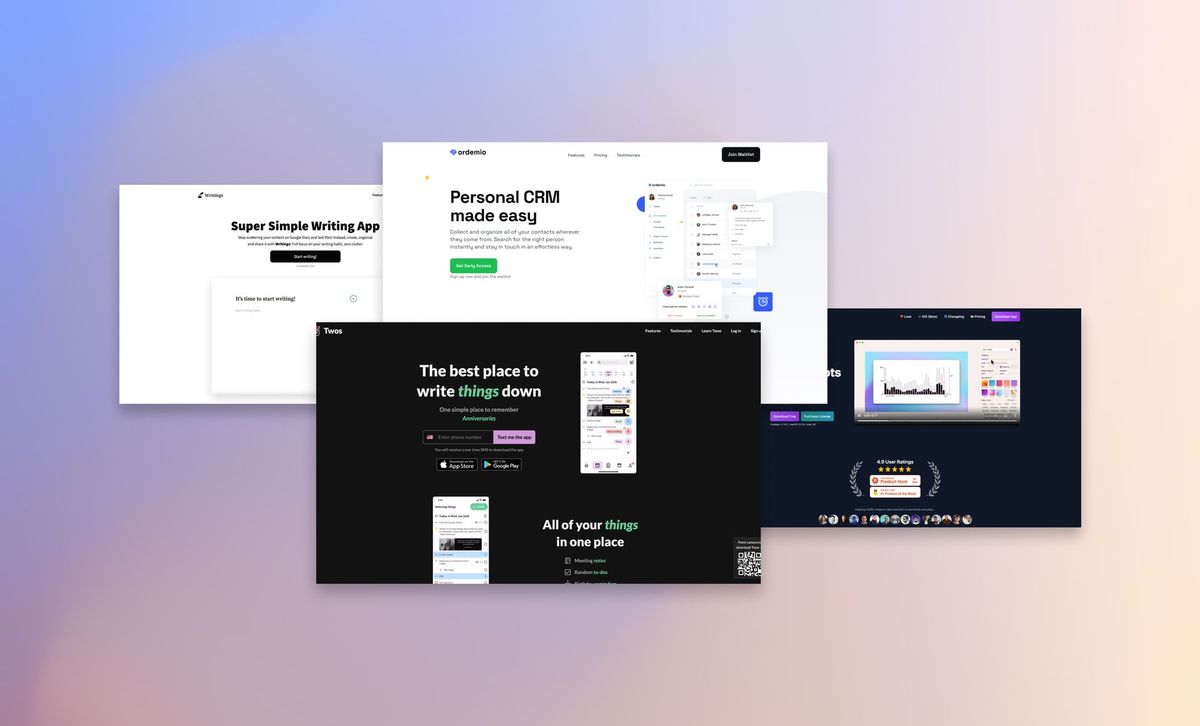 My name is Philipp and you are reading Creativerly, the weekly digest about creativity and productivity-boosting tools and resources, combined with useful insights, articles, and findings from the fields of design and tech. The newsletter built for the creative community.
---
Hey and welcome to Creativerly 188 👋
Since we are about to wrap up September, we are entering the last quarter of 2022. Therefore, I started to work on some preparations for this year's "Creativerly's Favorite Apps of the Year" post. Last year, I gathered five apps that stood out to me throughout the course of 2021. This year, I want to do the same and kick off a new tradition. Currently, I am unsure if I can limit my selection to five apps, since 2022 has been packed with awesome product launches and feature updates.
During the process of gathering the "nominees", I especially take a look at the apps that became my personal favourites throughout the year, but I also consider already established apps that shipped awesome and intuitive feature updates. I really enjoy this process of sitting down and reflecting on all the amazing products I have written about and featured in Creativerly over the course of the last months. "Creativerly's Favorite Apps of the Year" is my very own way to honour outstanding apps, but more importantly the teams and folks behind creating them.
There are still three months left of this year, so enough time to ship an exciting feature or launch an exciting product, but nevertheless, I already have a small selection of apps that really stood out to me until now. In general, I can say that the fields of calendar, PKM, and browser apps have been probably the most exciting ones for me this year. Therefore, you can expect to find some apps from these areas in my post. The post will be published at the very end of the year. In the meantime, you can check out last year's post.
I am also interested and curious to read about your personal favourite apps of 2022 so far. If you already have some you would like to share with me, simply reply to this email, I am looking forward to hearing from you.
---
The future isn't a mystery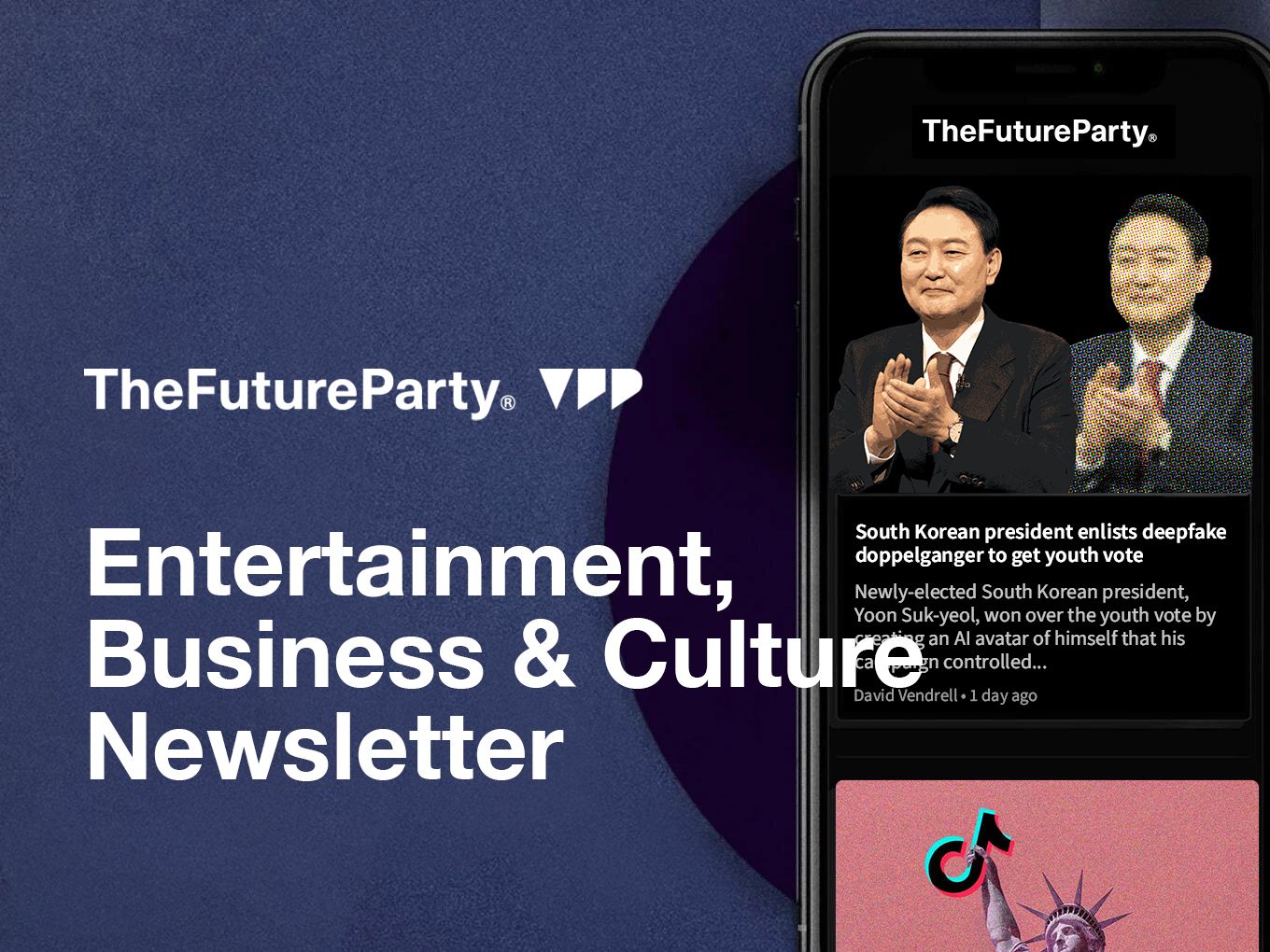 Want to receive the latest in business, entertainment, and internet culture right to your inbox every single morning? Not just the stuff everyone else is covering–these are the stories that drive the future, all in a quick and witty package. That's what TheFutureParty newsletter is all about.
This is a sponsored message. If you also want to highlight your app, tool, resource, newsletter, job offer, in front of over 1900 creative minds, head over to creativerly.com/advertise* and get in contact.*
---
Apps, Software, Tools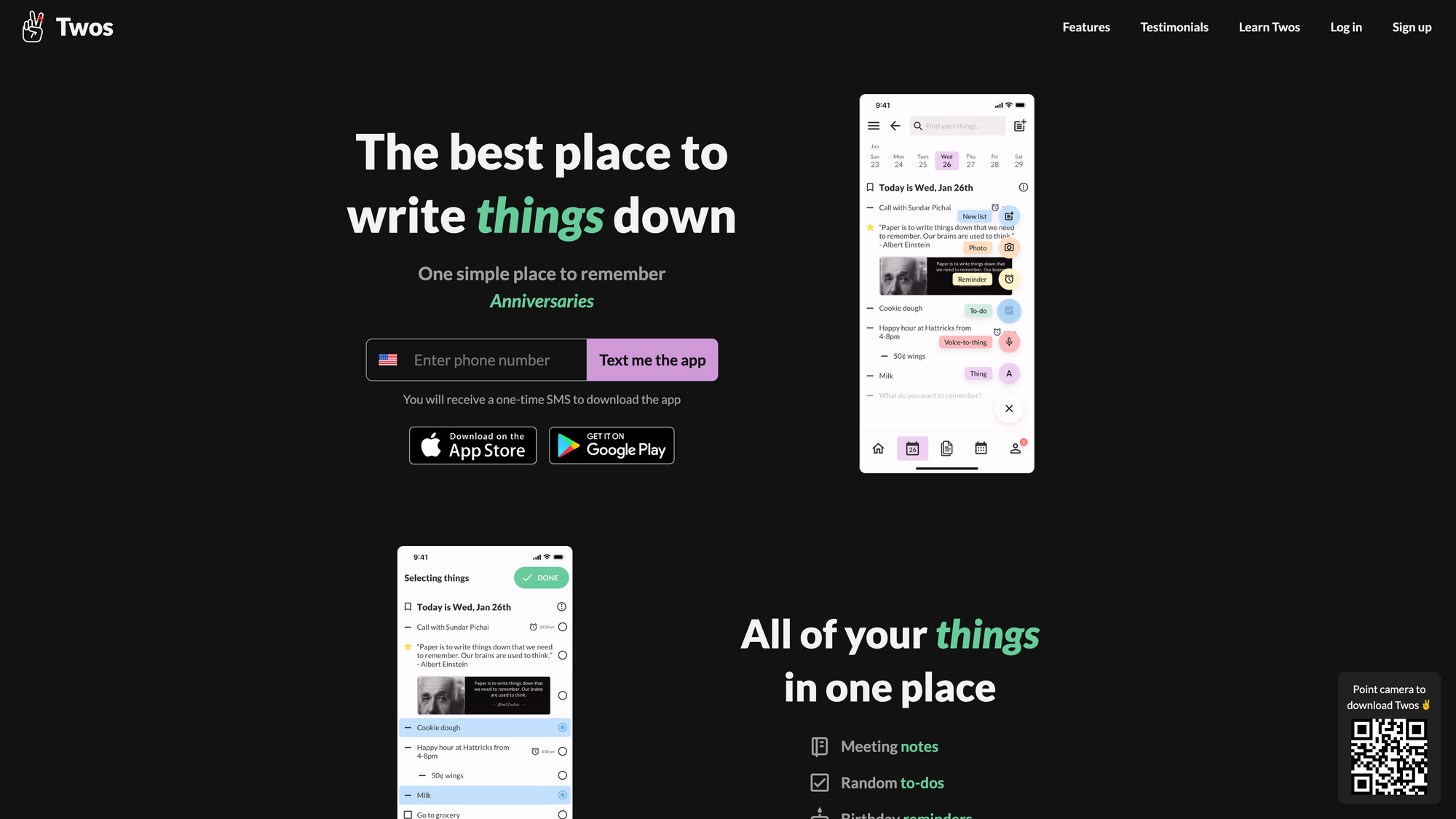 Twos is an app that has been mentioned constantly on my Twitter timeline. Therefore, it is about time to give it a closer look. In case you never heard of Twos, it is an all-in-one place to remember your ideas, tasks, goals, recommendations, and basically all the things that matter in your life.
Twos aims to be your digital companion in today's digital age, in which our attention spans are shorter than ever. We expect digital tools to help us throughout our days to keep track, remember, and resurface names, tasks, ideas, notes, and other important things. But there are a lot of tools that add too much friction to a process that should be simple and fast, giving you the possibility to capture your thoughts with a few clicks or taps.
Twos is a great app to take and keep track of your meeting notes, create to-dos, or set up birthday reminders. Whenever you open up Twos you will see a blank daily list, ready to be filled with the things you would like to remember. No matter if you are jotting down your to-dos for that specific day, found a fresh idea for a new blog post or project, or simply want to keep track of thought, Twos is your dedicated space to remember. Besides that, Twos is packed with delightful features. Unfinished to-dos will get carried over to the next day automatically, you can connect your calendar to remember events, sync your notes between any devices, you can use natural language to set reminders, or share and collaborate on lists you have created.
What I also love about Twos, is the fact that it is free to use. There are several upgrades, but you only pay for the additional upgrades you really need. You own your data, and you do not need to set up a profile when you want to use Twos. I would love that Twos brings some more context to their website by adding some more GIFs or screenshots of the different use cases of Twos. Currently, there are only two GIFs showcasing some functions and features of the mobile app, but they are pretty much out of context with no additional description. Although, I got "sold" by taking a look at the website, there is so much more that could get presented to give potential users a clear idea of why Twos is actually so powerful and how it can benefit in their day-to-day life.
As of writing this, Twos is available for iOS, Android, as a Web App and as a Chrome Extension.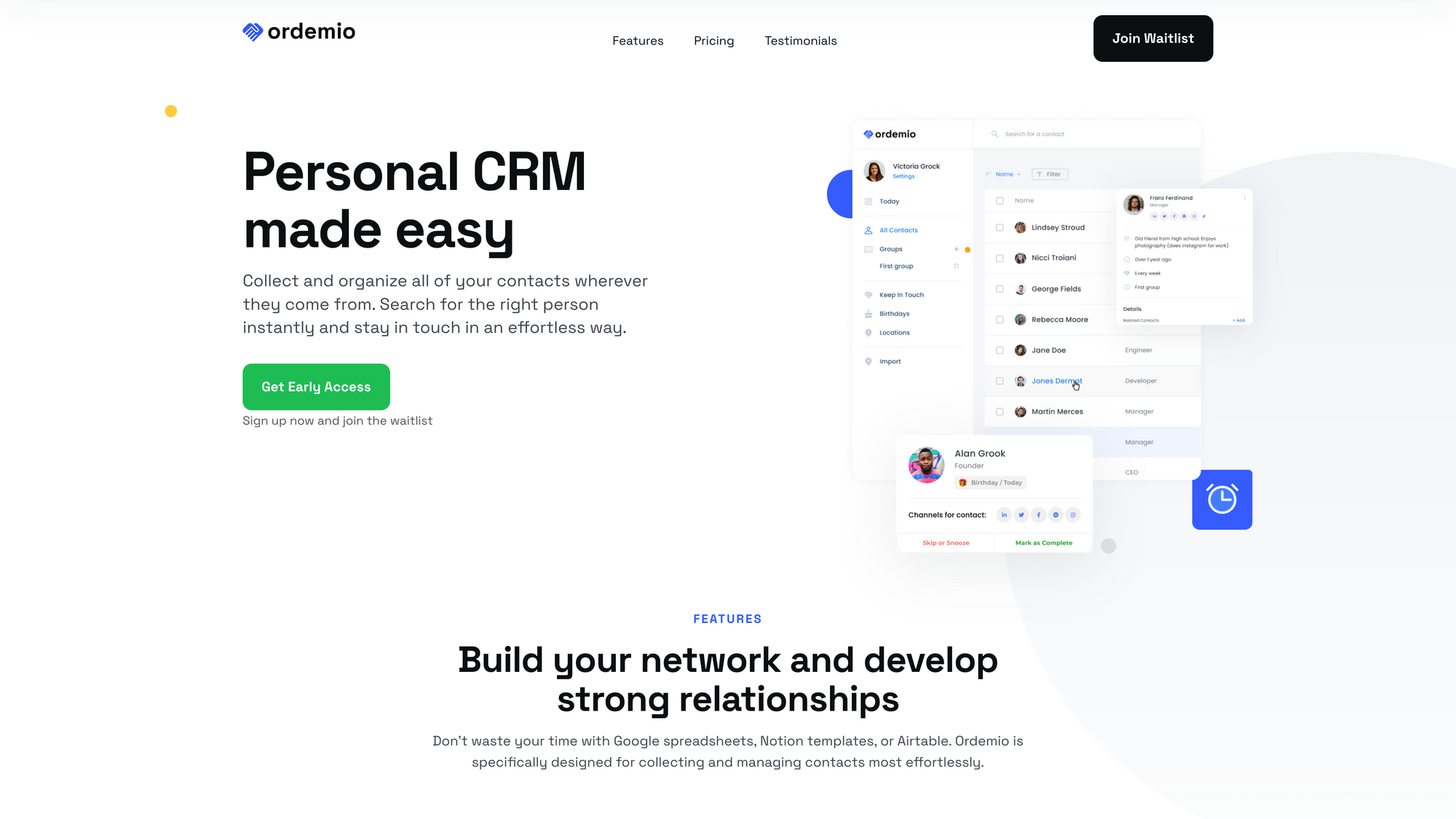 Building a network and keeping track of the connections you make in a personal CRM, can be a game-changer for your personal and professional life. Ordemio is a tool that makes creating and maintaining your personal CRM incredible easy. While you could build a somehow personal CRM in tools like Notion, Airtable, or Craft, there are benefits if you are using an app like Ordemio, which was specifically designed for collection and managing contacts.
With Ordemio you no longer need to add any kind of data entries manually. You are able to add new contacts from variable sources with just a few clicks. No matter if you want to add email and phone contacts from iPhone or Android, Outlook or Gmail, social networks like LinkedIn, Instagram, or Facebook, or from messaging apps like WhatsApp, Telegram or Messenger, Ordemio got you covered so you can easily add new contacts and connections to your CRM. Once you imported your contacts, Ordemio gives you access to a beautiful structured interface to manage your contact list in the right way. Keeping track of your contacts on your phone and in messaging apps is messy. Contacts like family members, friends, work colleagues, clients, or partners all get mixed up.
Ordemio is packed with features like categories, tags, location, and priority, so you can structure and organise your contact list and ultimate the people in your network, in ways tailored to your needs. Ordemio's powerful smart search makes sure you always find the right person or group of people in seconds. While we are living a fast-paced life, it is always hard to remember all the important dates. Besides that, maintaining a professional network also means reaching out to the right persons at the right time and remembering where you dropped off. With Ordemio, you can finally build and maintain the relationships and connections that matter to you. Lovely features like one-time and recurring reminders help you to stay in contact and know when to reach out. The circles feature lets you set up groups of people and define how often to contact them.
Building and maintaining a personal CRM is incredibly powerful for entrepreneurs, professionals, networkers, creators, bloggers, and literally everyone. Ordemio is building the tool that gives you all the tools to create and maintain a personal CRM, easily and conveniently, accessible cross-platform from mobile, browser, and desktop apps, automatically syncing from iOS, Android, and LinkedIn. On top of that, Ordemio has a strong focus on privacy, since it is using end-to-end encryption to protect your data. With integrations for the tools you are already using, you can tailor Ordemio to your needs. Ordemio has a Basic Plan which is free and gives you access to up to 30 contacts, unlimited groups and tags, unlimited notes and reminders, keep-in-touch circles, browser extensions, and mobile and desktop apps. The Pro Plan will cost you $99 per year and gives you access to 3 active projects, email and calendar integrations, contact sync, and priority support, in addition to everything included in the Basic Plan.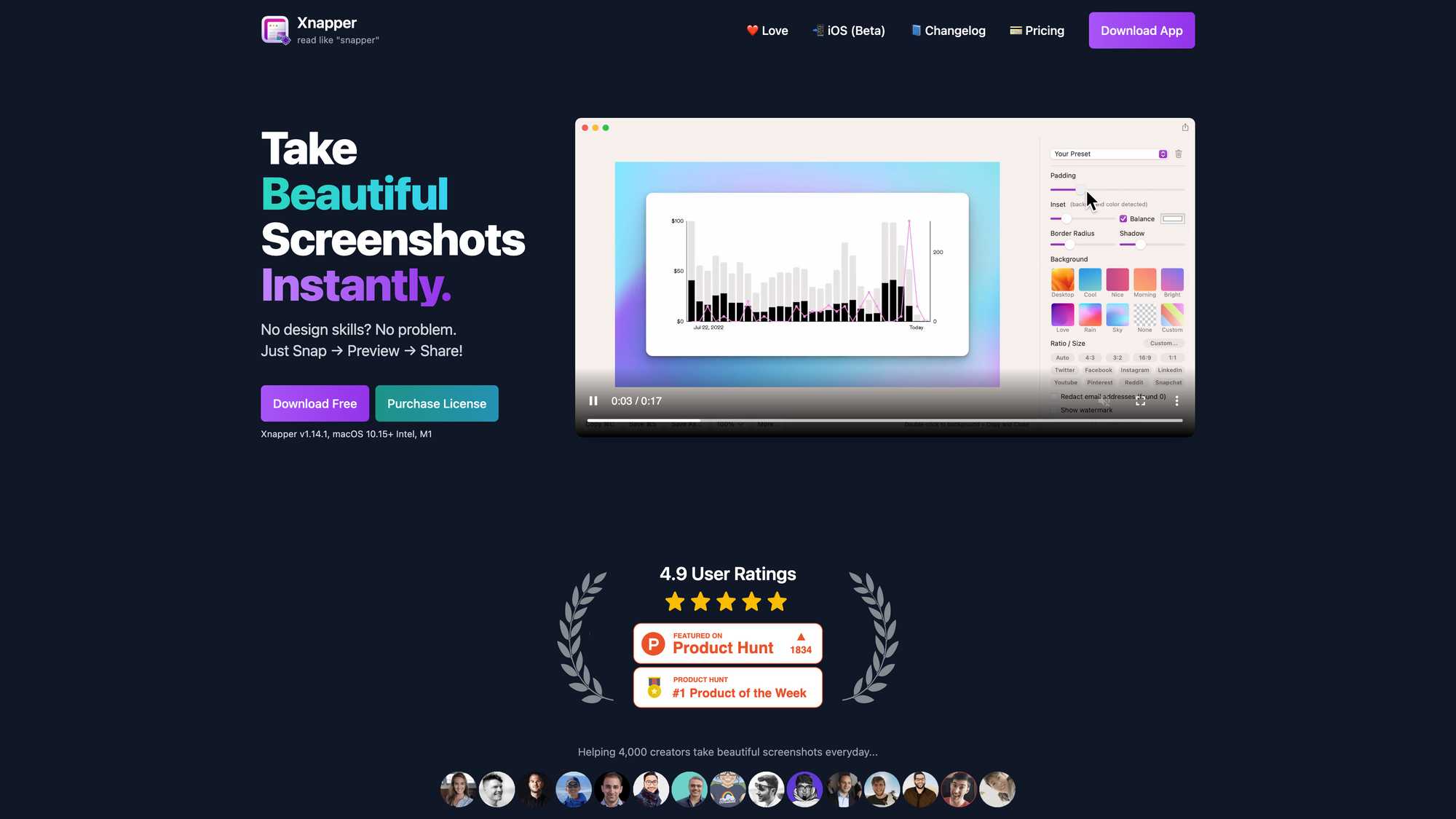 As a designer, there is one specific action I am repeating multiple times every single day and that is taking screenshots. While I capture screenshots most of the time for my personal Product Design archive, sometimes I want to take beautiful screenshots of websites, apps, or other products which I can then share on social media. For the longest time, I have been using CleanShot X for these use cases. But recently, I stumbled across Xnapper, a dedicated app to take and create beautiful screenshots instantly, no design skills needed.
Creating beautiful screenshots can be time-consuming. First, you need to take the actual screenshot of a dedicated section of a website, a dashboard, a digital product, or anything else. Then, you probably move the screenshot to your preferred design tool, and add a background, some bounds or outlines, maybe a watermark, and some text. With Xnapper you combine this whole creative process into just a few seconds. After taking a screenshot with Xnapper, the area in which you have taken the screenshot will get placed in a card element on a coloured background, ready to share online. On top of that, Xnapper gives you powerful tools to customize and edit the screenshot to your needs. Add or remove padding, inset or balance your screenshot with a single click, increase or decrease the border radius of the card layout, add a shadow, customize the background or the ratio or size of the screenshot. It is a truly magical experience.
Another powerful feature of Xnapper is the automatic redaction of sensitive information. This is useful when you want to share screenshots that include emails, credit cards, IP addresses, API keys, or other sensitive information, that you need to hide. In Xnapper it needs a single click to redact those kinds of information since Xnapper automatically finds the information in the screenshots you take. Powered by the built-in macOS vision engine, you can easily select and copy text from your screenshots.
Besides that, Xnapper features other useful tools like window capture, screenshot history, social media sizes, presets, or a fast and native macOS app. Soon you will also be able to add arrows, shapes, text, and blur to your screenshots, as well as upload your screenshots to the cloud. Xnapper is available for macOS. You can use it for free or pay a one-time fee to remove the watermark.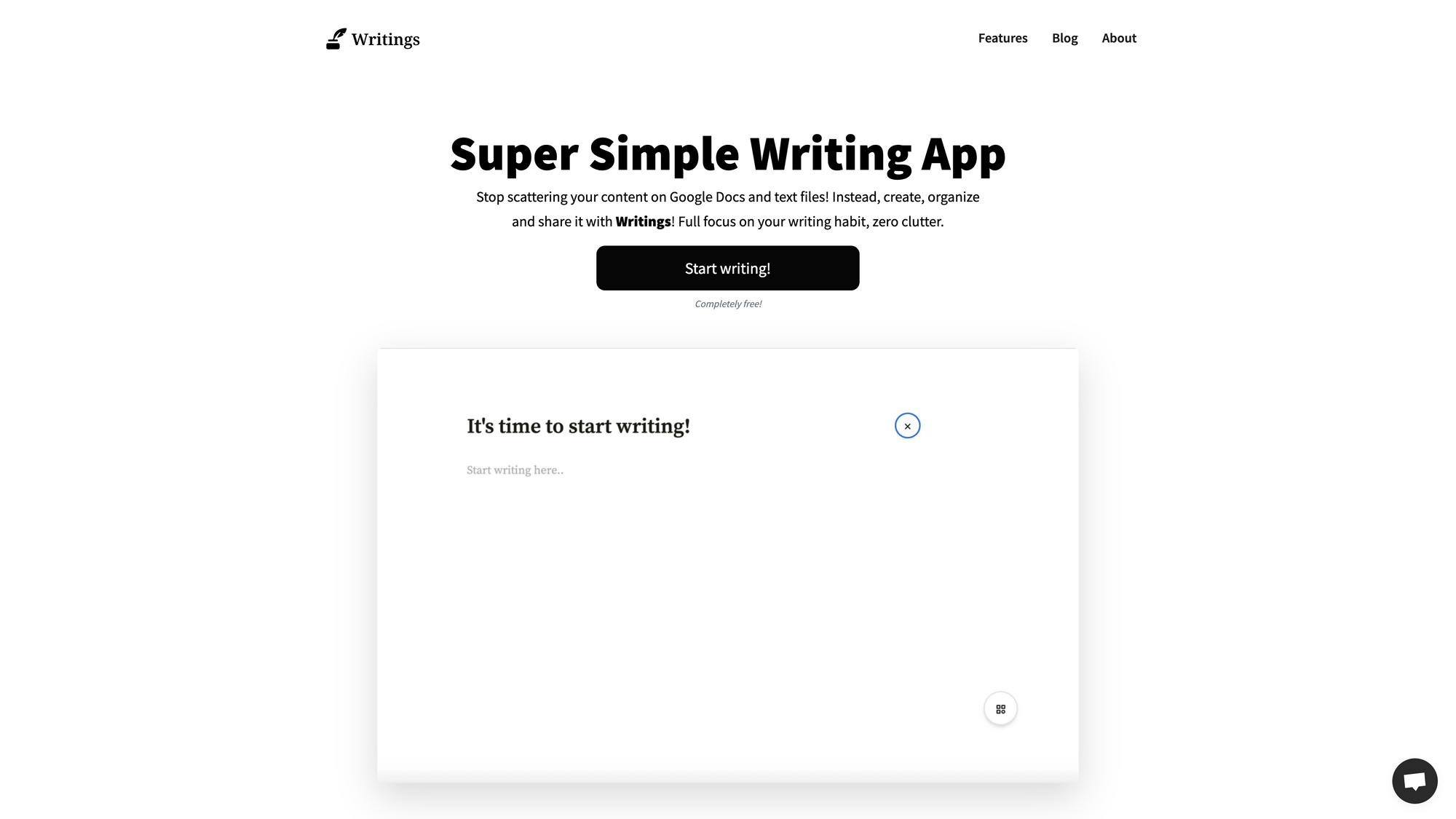 Recently, I have been stumbling across different distraction-free and minimal writing apps, which is always exciting for me, because I love writing. Writings is one of them.
Whenever I get the chance to get a glimpse into the writing workflows of journalists, newsletter writers, bloggers, content creators, and writers in general, I am often astonished at how many of them do 100% of their writing in Google Docs. I am not ranting or bashing against Google Docs, I am just surprised that based on the fact how many beautiful and distraction-free writing apps exist, still, a significant number of writers rely on Google Docs, although Google Docs is the exact opposite of what I would call distraction-free. Writings is indeed a distraction-free writing app, delivering a lucid interface and a clean writing experience. In Writings you can create, organise, and share the content you create, with a clear focus on your writing habit, removing all the clutter you might have experienced with other tools.
When it comes to writing apps, I am a huge fan of tools which are not bloated with features that do not benefit my writing experience. Writings does not need any installations or configurations, you can start writing immediately. As you are progressing with your writing, creating more and more content, Writings allows you to list your content by date of creation or by the applied label, so you keep an overview of everything you are creating and find what you write easily. With a few clicks, you can also share your content via a public URL or as an image on Twitter.
Writings features a powerful rich text editor to emphasise and structure your writing as you wish. To structure and organise your writing in general, you can add labels to your writing so you can later organise them by categories. As of writing this, Writings is still in beta but you can try it out right away. As with all beta products, feedback is always welcomed and appreciated. What I really love about Writings is the fact that it is built by Aleksandar Balalovski, the solo developer behind the project.
---
Mental Wealth
➢ Quiet Quitting Is About Bad Bosses, Not Bad Employees – "Every employee, every workday, makes a decision: Are they only willing to do the minimum work necessary to keep their job? Or are they willing to put more of their energy and effort into their work? In the last few weeks, many of those who choose the former have self-identified as "quiet quitters." They reject the idea that work should be a central focus of their life. They resist the expectation of giving their all or putting in extra hours. They say "no" to requests to go beyond what they think should be expected of a person in their position."
➢ Creating a More Spacious Life – "I've worked with a number of people who want more spaciousness in their lives — more time for rest, play, reading, reflecting, self-care, hanging with friends and other loved ones. The challenge isn't that it's hard to create more time (for some people, it is actually very hard) … the challenge is that no matter how much time we have, we are not likely to experience it as spacious, restful, joyful, playful."
➢ How to figure out what you want out of life – "Berrak Sarikaya always knew she wanted to be a lawyer. In high school, she threw herself into mock trial and debate. The oldest child of Turkish immigrant parents, Sarikaya understood the gravity of getting into a good college and the necessity of scholarships to fund that schooling. "One of the biggest reasons that we came to the US was for me and my brother to get a good education and have better opportunities," Sarikaya, 37, says."
➢ Don't Objectify Yourself – "One night several years ago, after filling up my car at a gas station and pulling away, I noticed a strange sound behind me in traffic—sort of a metallic clanking noise. It sounded to me like someone was dragging a muffler or bumper, so I started looking for the car to alert the driver. But no matter how fast or slow I moved, or where I turned, I couldn't locate the car. At this point, I noticed people on the sidewalk pointing and laughing—at me. I stopped and found the gas hose still attached to my car. I immediately pulled out the hose and drove back to the gas station, where I was educated on the economics of breaking a gas pump."
---
Do not miss out on this …
Founders' Book is built to educate, encourage and empower founders and startups to equip them with the best-curated tools and resources.
Start your morning with The Newsette - a newsletter for women, written by women, about topics that are important to women.
Each morning, The Sample sends you one article from a random blog or newsletter that matches up with your interests. When you get one you like, you can subscribe to the writer with one click. Sign up here.
These are paid promotions or affiliate links to support Creativerly. If you are interested in putting your tool, product, or resource in front of over 1800 creative minds, consider advertising in Creativerly and book a sponsor or classified ad spot. Find all the important information at creativerly.com/advertise.
---
From the archive
On April 10th 2022, I wrote about ...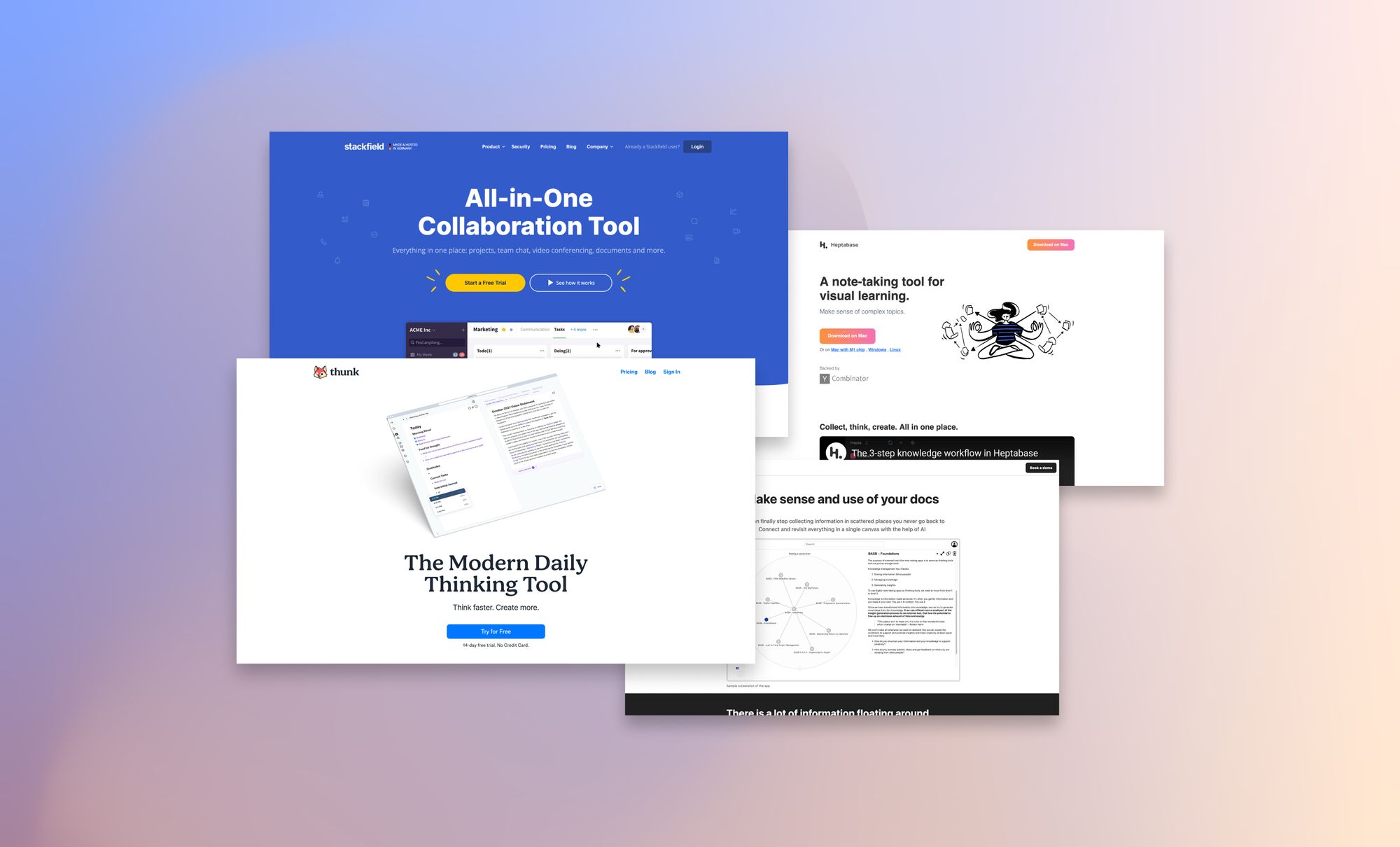 ---
Appendix
➢ ICYMI
Adobe put down $20b to acquire Figma in which is the biggest acquisition in the creative and design field in modern history. I wrote a post in which you can find out more about the acquisition, and read about my personal thoughts and what this means for designers and the creative scene.
➢ Quick Bits
---
Twitter thoughts
---
👋
Till next time!
Share or forward this newsletter to your friends, if they are also looking for creativity and productivity-boosting tools and resources. If you need help to discover your next favorite task management, note-taking, or PKM app, Creativerly delivers the insights you need. Creativerly is an indepentend publication and I am writing and maintaining it in my free-time. You can support Creativerly and my work by sharing it with the world,
booking an advertising spot
, or by
buying me a coffee
.
---
Some of the links in my newsletter and my blog posts are affiliate links. Those links are marked by an asterisk. If you buy something through the link, the product will not cost you anything more, but I will receive a small commission which not only supports Creativerly and my work but also helps me to keep this publication a sustainable side-project.