Newsletter
Noise-cancelling headphones for emails & The design-first approach
In this week's issue of Creativerly: Write lika doc - present like a deck, the next-gen communication app for teams, how to fall back in love with reading, and a lot more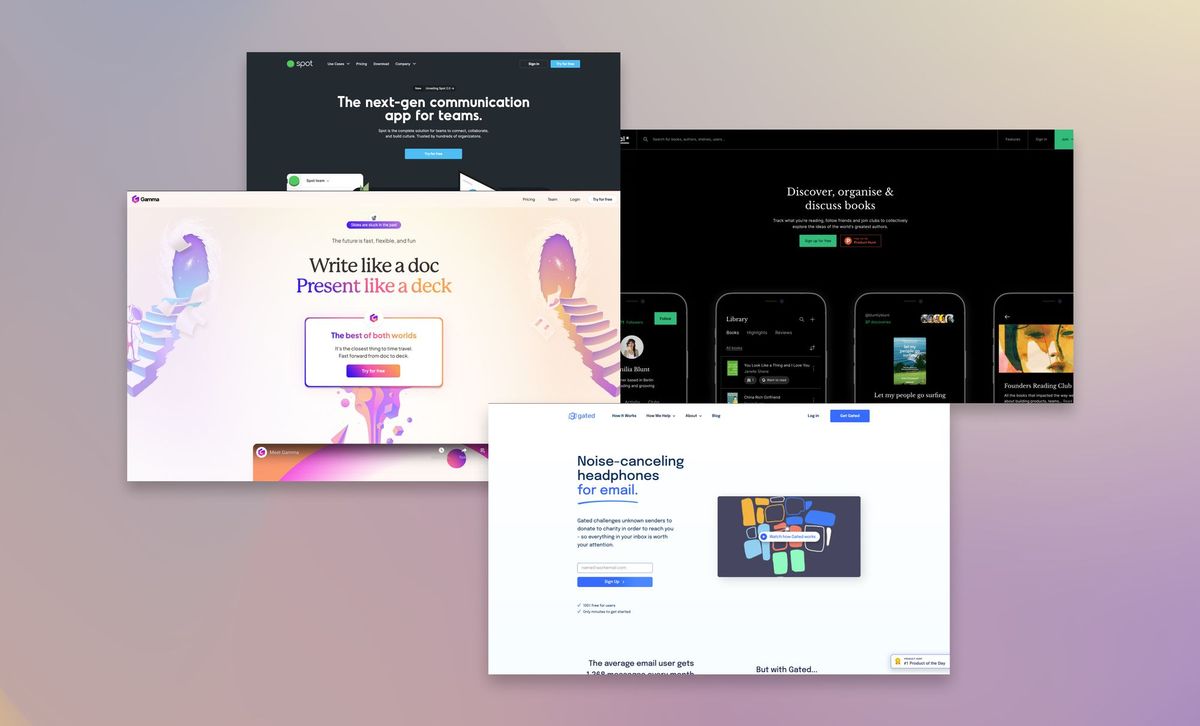 My name is Philipp and you are reading Creativerly, the weekly digest about creativity and productivity-boosting tools and resources, combined with useful insights, articles, and findings from the fields of design and tech. The newsletter built for the creative community.
---
Hey and welcome to Creativerly 183 👋
On August 16th, Betaworks, a VC investing, accelerating, and building companies and projects from scratch, with a focus on tools for thinking, held a one-day event, called "Render();". The topic of the event was Tools for Thinking - How New Technologies are Changing How We Create, Share, and Build Knowledge. The whole event was streamed on their website, and thankfully, there are recordings of those streams. There are not that many events, talks, and streams about the topic of Tools for Thinking, therefore I was excited to have found out about this event by Betaworks.
After sawing the lineup of speakers, I got even more excited. Among the speakers you will find the founders of Readwise, Daniel Doyon and Tristan Homsi, talking about inflection points for Tools for Thinking, Gordon Brander, founder of Subsconscious, giving a demo on Protocol Design for Tools for Thinking, Howard Rheingold, independent thinker and author of Tools for Thought, talking about the history and future of software as Tools for Thinking, and other exciting thinkers and creative minds sharing product demos and talking about all and everything around Tools for Thought.
You can re-watch the whole event on Betaworks' website. All you have to do is following this link. There you will find an embeded Vimeo Player, with a playlist of all the talks that were part of the Render event by Betaworks.
Although the space around Tools for Thought is a constantly growing one, we are still at the very beginning. There are a lot of founders, entrepreneurs, and contributors who are exploring ways to not only boost their productivity, but also their thinking. Betaworks' Render conference was a great event to get insights on new projects, learn about knowledge graphs as a public resource, see how other creative minds use tools to boost their thinking, and a lot more.
I can highly recommend re-watching the livestream and join the folks at Betworks as they explore the past, present, and future of tools for thinking.
---
Apps, Software, Tools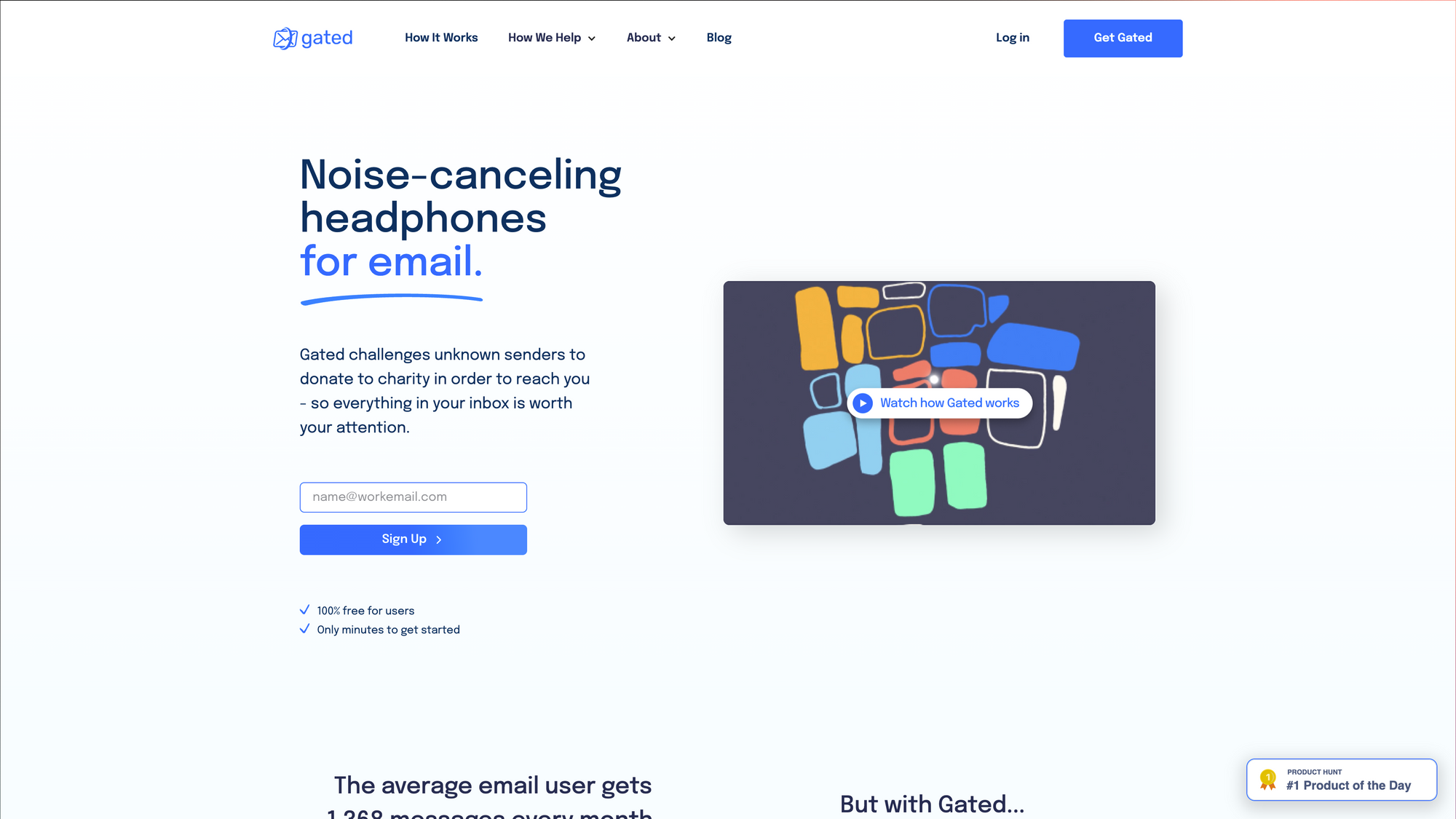 The email inbox is an intimate and private place. There are a lot of people who do not respect this place and flood you with emails that do not need your attention, are spam, or simply worthless. Emails who actually need your attention are drowning between noise. Gated is a tool that gives you nose-canceling headphones for your email inbox. Instead of getting flooded with emails every month, Gated challenges unknown senders to donate to charity in order to reach you, so you can be sure that everything in your inbox is actually worth your attention.
You read that right, if an unknown sender tries to get in contact with you, Gated asks this sender to donate to charity, so the email actually reaches your inbox. As stated on Gated's website, an average email user gets over 1,300 emails every month, which makes it incredible hard to filter through it and decide which emails need your attention and which don't. With Gated you can free up your inbox, in fact on average, Gated reduces this number by 43%. Filtering your inbox and removing unwanted emails means you are free to be more focused, productive, responsive, and peaceful.
So, let us take a look at how Gated actually works. First of all, you need to sign on with your Google account to activate Gated in your existing inbox. After that, you can use Gated across all of your email accounts. Once you completed the setup, Gated automatically builds your Allow List, based on who you have communicated with. While you are using Gated and your email every day, Gated continues to learn from the actions you take. All the messages from senders that aren't on your Allow List go into a Gated folder, which you can see anytime or never again, you decide, you stay in control. But here is the unique feature that makes Gated special: Unknown senders automatically receive a Challenge Email. In this Challenge Email, the unknown senders are getting asked to donate to a nonprofit of your choice, to reach you. When someone of those unknown senders donates, the message will get delivered to your inbox and marked clearly. The donation can be as low as $1. With Gated you can not only be sure that you are only receiving meaningful emails, but you can also support a cause that matters to you, as you can pick the nonprofit that benefits when senders pay to reach you.
Within your Gated account you can always update your allowed sender list, set the price to reach you, select a nonprofit, and customise your challenge email. On top of that, your Gated dashboard gives you personalised insights into how you use email. Your email account always stays secure, since you log into gated through your email provider, which means you are the only one who read your email, Gated never looks at the content of your messages.
The beautiful thing about Gated, it is free. Gated does not sell your data or spy on you to make money. They are financing the company through taking a cut on sender donations. This is the reason why Gated can stay free for everyone.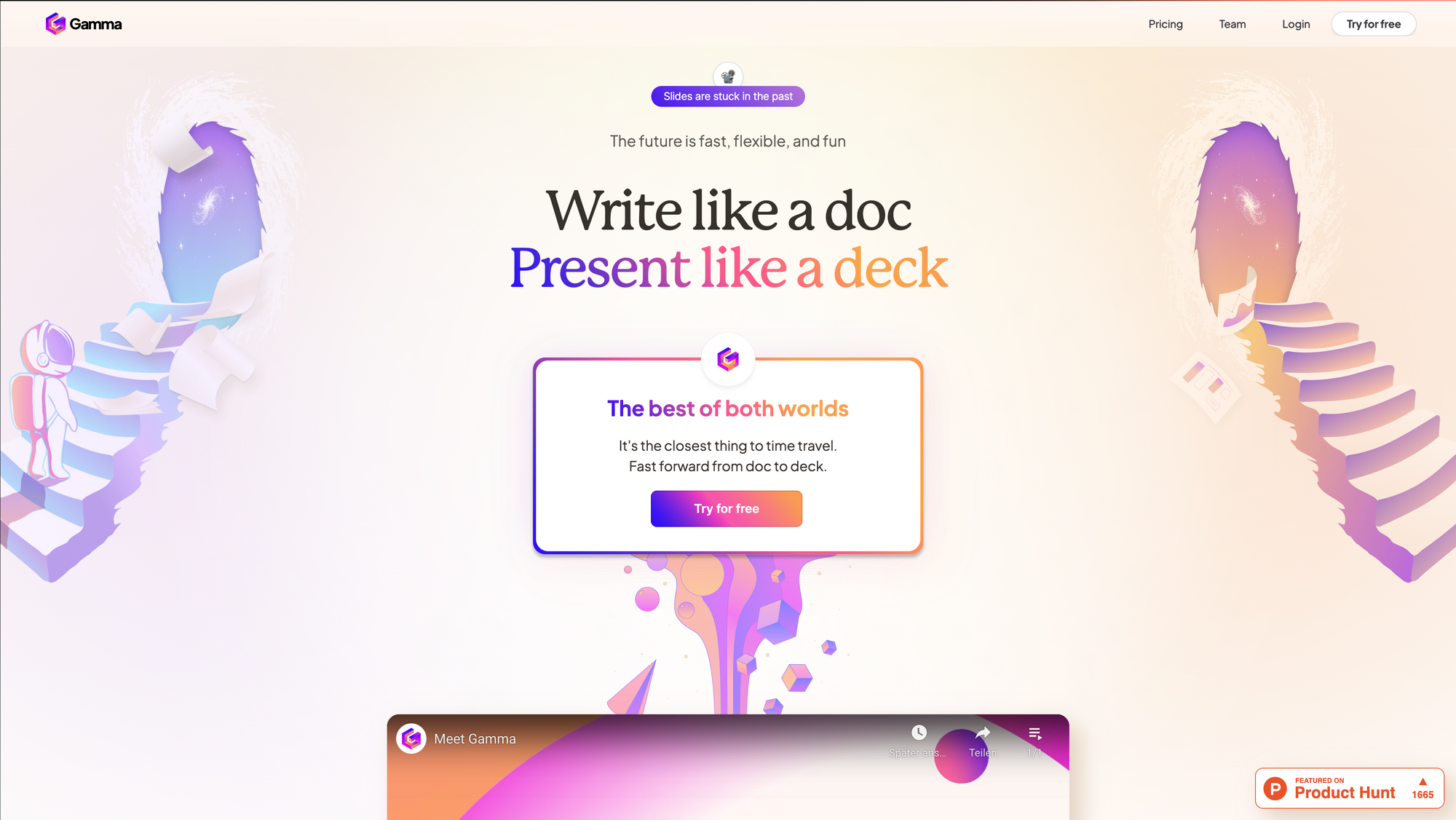 Over the last couple of months, I wrote about different tools that are currently disrupting the area around presentation software (Chronicle in issue 180, weavve in issue 168, and Tome in issue 162). Gamma is another interesting tool, that gives you the possibility to create decks and presentations by writing a doc.
With Gamma you focus on content and not formatting. As you just start writing in Gamma, you can save hours spent formatting and fitting boxes or elements on a slide, by using flexible cards and fluid layouts that expand as you add new blocks. This gives you the experience of building and writing a doc. On top of that, you can package up information in a unique way you would not be able to if you were using traditional slides. Gamma frees you from slide masters or template lock-ins. Your decks are polished and ready in one click. With flexible templates you can work faster by always keeping your decks beautiful and on-brand. If you want to switch things up, you can restyle the entire deck with a single click. In traditional presentation tools, creating polished and on-brand slides can get tedious. Gamma is aiming to help you work faster and create beautiful decks.
Since you create decks in Gamma with flexible cards and fluid layouts, you can share them just like you would share a doc. The people who are receiving your deck created with Gamma, can then simple scroll through it as they would with a normal doc. Once you enter the presentation mode in Gamma, one card at a time will be in focus, so you can get your point across. If there is the need to drill into details, you can even use nested cards. To keep things concise within your cards, you can also use footnotes.
Bringing your ideas to life is as easy as it can get with Gamma. Move beyond walls of text and literally embed anything: GIFs, Videos, Charts, or websites. Your audience can always follow along live and keep exploring everything in detail after the meeting. While presenting, it is important to keep your audience engaged. Gamma is featuring quick reactions, and the comments feature make collaboration straightforward. Built-in analytics give you the possibility to measure the overall engagement. If you would like to experience what it means to work more visual than within a doc, more collaborative than a slide deck, and more interactive than a video, give Gamma a try.
The Starter Plan of Gamma is free for unlimited users, unlimited decks, and it gives you access to basic analytics, custom themes, built-in templates, and PDF export. Since Gamma is still in beta, you can also use the Pro Plan for free during the beta (once it is out of beta it will cost you $10 per user per month). The Pro Plan includes everything in the Starter Plan, plus advanced analytics, unlimited customisation, content library, unlimited change history, subdomains, and advanced permission and admin tools.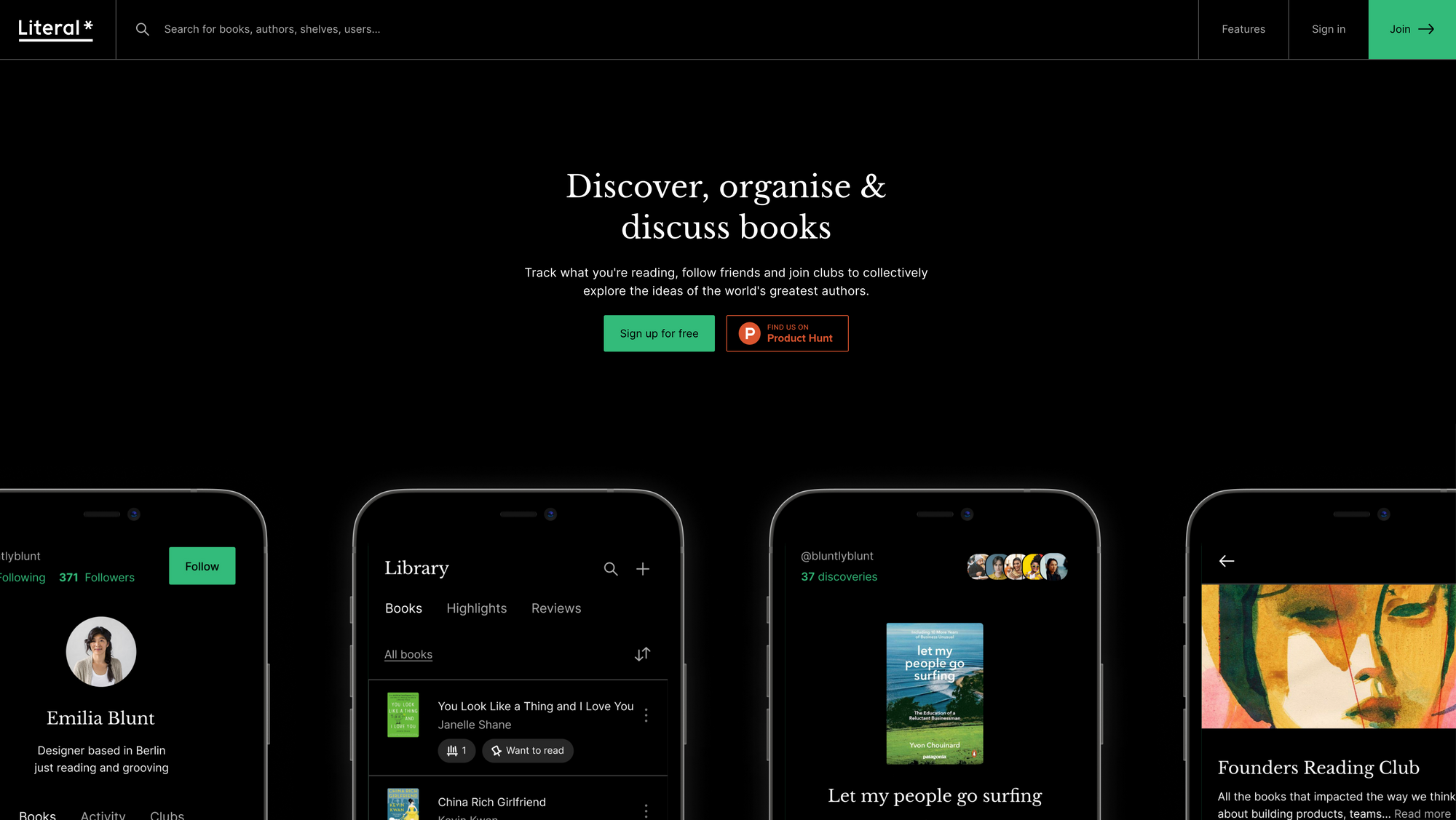 I am a huge fan of books. Most of the time, I am reading physical books, but I also read eBooks and recently I started listening to audio books. As my reading (and listening) history is spread across those different mediums, I was on the hunt for a way to organise my books and track what I am reading (or listening to). I tried to manually build a reading tracker in my note-taking tool, but I quickly realised, I not only what to keep track of what I am reading, I would like to discover books based on what I am reading, and ultimately I would like to connect with others who have the same (or different) interests to learn about their favorite books. I am happy to have found my perfect solution for what I was looking for, and it is an app called Literal.
Literal is a beautiful app to discover, organise, and discuss books. On top of that, you can follow friends and join clubs to collective explore the ideas of the world's greatest authors. There is no doubt, that the online experience for book lover has mostly stagnated over the last decade. Literal was built with the idea in mind to create a place where you can connect with people around topics and ideas that fascinate them. I have used Goodreads in the past to keep track of the books I am reading, but I quickly left the platform, because it gave me a certain kind of pressure as it turned reading into an achievement. Kat Smith found the right words in her article about why she left Goodreads "Quantifying, dissecting and broadcasting our most-loved hobbies sucks the joy out of them." But that is not the only reason, why Goodreads has such a bad reputation. It features a clunky user interface, therefore it lacks regarding the user experience, and ultimately, it is owned by Amazon. Reading is something a lot of people are practicing to relax, learn, and enjoy. Goodreads pressured readers with reading challenges to read as much books as possible within a year, making it look like as that would be the main goal when you want to read.
Literal is different. Literal provides a sense of community, I like the recommendations so far (although they are not always a fit), and it does not force you into reading more and more just for the sake of finishing a book. It is not about finishing a book it is about enjoying a book. Do not force yourself to read books when you are joining a platform like Literal. Take the chance to engage with like-minded readers, get recommendations, and enjoy the books you are reading. Literal also wants to make sure to constantly work together with local bookstores to bring their storefront online. Amazon takes up a huge piece of the worldwide book sales, although there is probably a local bookstore close to offering the very same book you just ordered on Amazon. Literal wants to make sure to highlight local bookstores instead of online giants.
Literal features a beautiful, minimalistic, and lucid user interface. It gives you access to features like Reading Progress, to track how far you are in a book with minutes, % or number of pages. Additionally, you can organise your library, by creating shelves to group books together and get an overview of your reviews and highlights. You can use Literal's iOS or Android app to scan in quotes and highlights from books with your phone camera, and store and share them on your profile. If you would like to connect with fellow book lovers, you can join clubs. The newest feature of Literal is the Chat, which gives you the possibility to set up group chats to share book recommendations, send photos and file attachments, or organise a reading group.
Recently, Literal opened up its platform for anyone as they moved out of the closed beta. This means, you can head over to Literal, create your account, and start tracking your reading.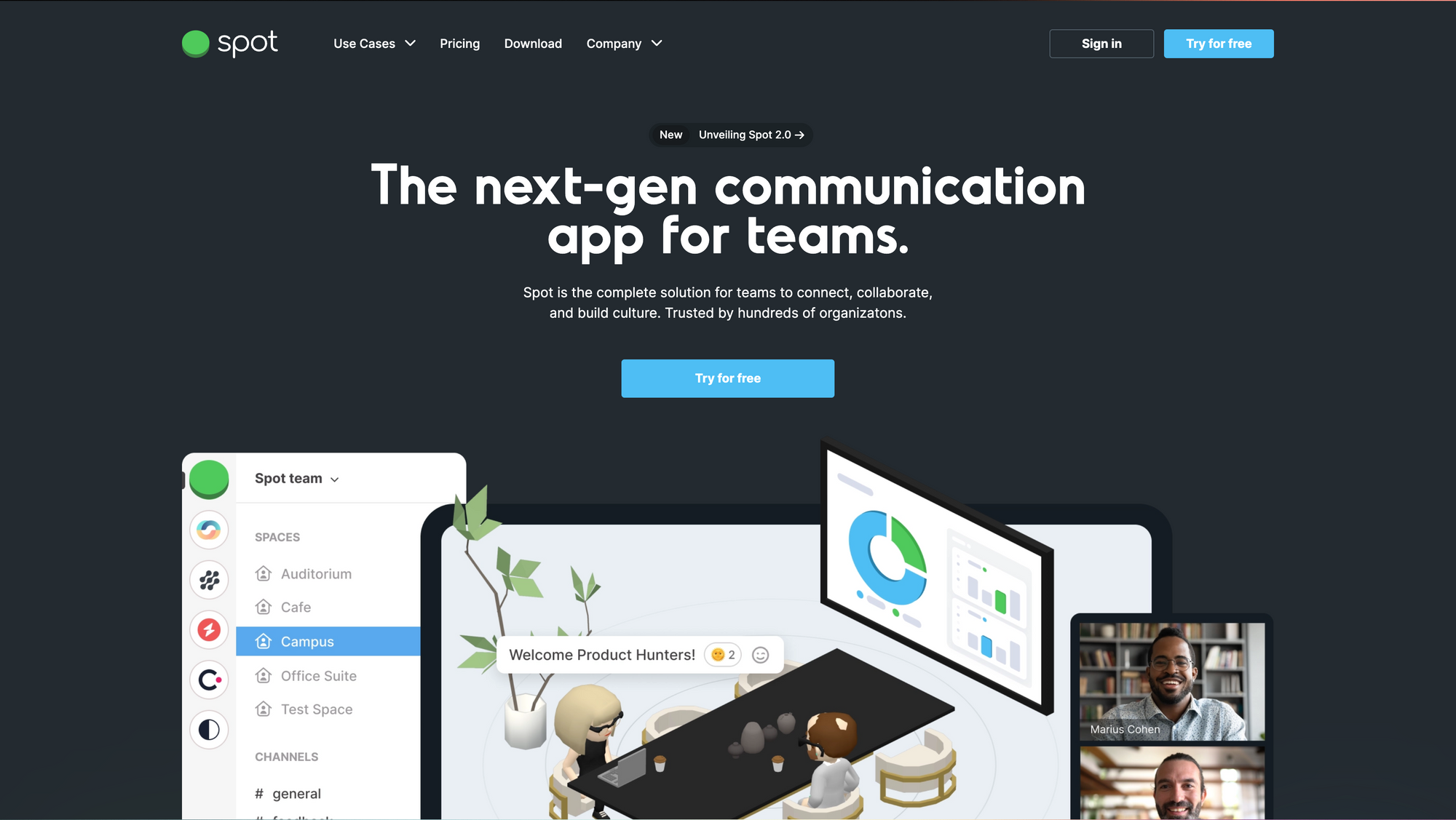 It is exciting to see that there is an increasing number of companies with the goal to built the next-generation communication tools for teams. Spot is among them, with the goal to create and offer a complete solution for teams to connect, collaborate, and build culture.
At the core, Spot offers a seamless experience with channels, direct messages, replies, reactions, and a lot more. Based on that, there is no difference between other team-messaging apps, just like Slack for example. What differentiates Spot indeed from other team-massing apps is the possibility to create and build a customised workplace for your distributed team. Your workplace will be a 3D map, that lets you see who's around and get a sense of what is going on in the workplace. To start a conversation with your colleagues, you just walk up to someone and start talking. Additionally, Spot also features advanced collaboration features. It makes it easy to set up meetings and collaborate with your colleagues. During those meetings you can share multiple screens, embed websites, and get stuff done.
Spot brings your team together, by creating a digital experience of an office. It is an always-on virtual space for your organisation in which you can naturally move between rooms and conversations. Spot's virtual office experience was built, engineered, and optimised specifically for the web. Anyone can join instantly with just a web browser. Spot even goes further by not only offering the possibility to create a virtual office, you can also create an experience for virtual events. No matter if you would like to set up networking events, meetups, workshops, conferences, career fairs, or anything else, with Spot you can create a fully customised immersive space for all types of events.
Spot is offering Free Plans for both, Virtual Offices and Virtual Events. The Virtual Office Free Plan is great to try out Spot and it is suited for small groups and communities for up to 6 members and up to 10 simultaneous guests. The Virtual Events Free Plan includes 1 organiser and up to 15 simultaneous guests. Paid Plan for the Virtual Offices start at $17 per user per month, and at $3 per attendee per day for the Virtual Events.
---
Mental Wealth
➢ The Design-First Approach – "The best technology products are those that emulate human nature rather than try to change it. Most of the time, technology strikes a chord with us when it reflects our own nature back at us. Whether we deem a product successful can often be narrowed down to just a few core reasons: it inspired us and connected us to others; it functionally improved an everyday aspect of our lives; or it gave expanded or complete access to a utility (information, product, or service). I've learned that developing a functional product that resonates with users requires a design-first approach to innovation, and that design must be rooted in the understanding of how people work, think, and take action."
➢ How to fall back in love with reading – "I doubt you need to be told you should be reading more. There's a good chance you struggle to make time for reading, and it feels like just another obligation, like hitting your daily step goal, or drinking more water. You're not alone. In early 2021, nearly a quarter of Americans told the Pew Research Center that they hadn't read any books at all the previous year. Earlier this year, a Gallup poll revealed that even those who were reading books were reading fewer than ever."
➢ We don't have a hundred biases, we have the wrong model – "From the time of Aristotle through to the 1500s, the dominant model of the universe had the sun, planets, and stars orbiting around the Earth. This simple model, however, did not match what could be seen in the skies. Venus appears in the evening or morning. It never crosses the night sky as we would expect if it were orbiting the Earth. Jupiter moves across the night sky but will abruptly turn around and go back the other way. To deal with these 'anomalies', Greek astronomers developed a model with planets orbiting around two spheres. A large sphere called the deferent is centered on the Earth, providing the classic geocentric orbit. The smaller spheres, called epicycles, are centered on the rim of the larger sphere. The planets orbit those epicycles on the rim. This combination of two orbits allowed planets to shift back and forth across the sky."
➢ Why doing your best is sometimes the worst thing you can do – "In the best-case scenario, you would be the best. But if you can't do that, then you should at least do your best. This advice is everywhere – especially in the mind of a person trying to save a fraught relationship: can I transform this dynamic through my own determination? Having recently left a difficult relationship behind, I am finally able to look squarely at the consequences of doing my best at marriage for most of the past decade. Unlike my writing, my teaching or even my garden, the relationship would not respond to my effort, no matter how much I poured into it. My striving began to compromise my goodness, leaving me with a double failure. Though I haven't lost interest in lifelong commitment, I have become wary of the impulse to 'do your best'."
---
Do not miss out on this …
These are paid promotions or affiliate links to support Creativerly. If you are interested in putting your tool, product, or resource in front of over 1800 creative minds, consider advertising in Creativerly and book a sponsor or classified ad spot. Find all the important information at creativerly.com/advertise.
---
From the archive
Back on January 2nd 2022, I wrote about ...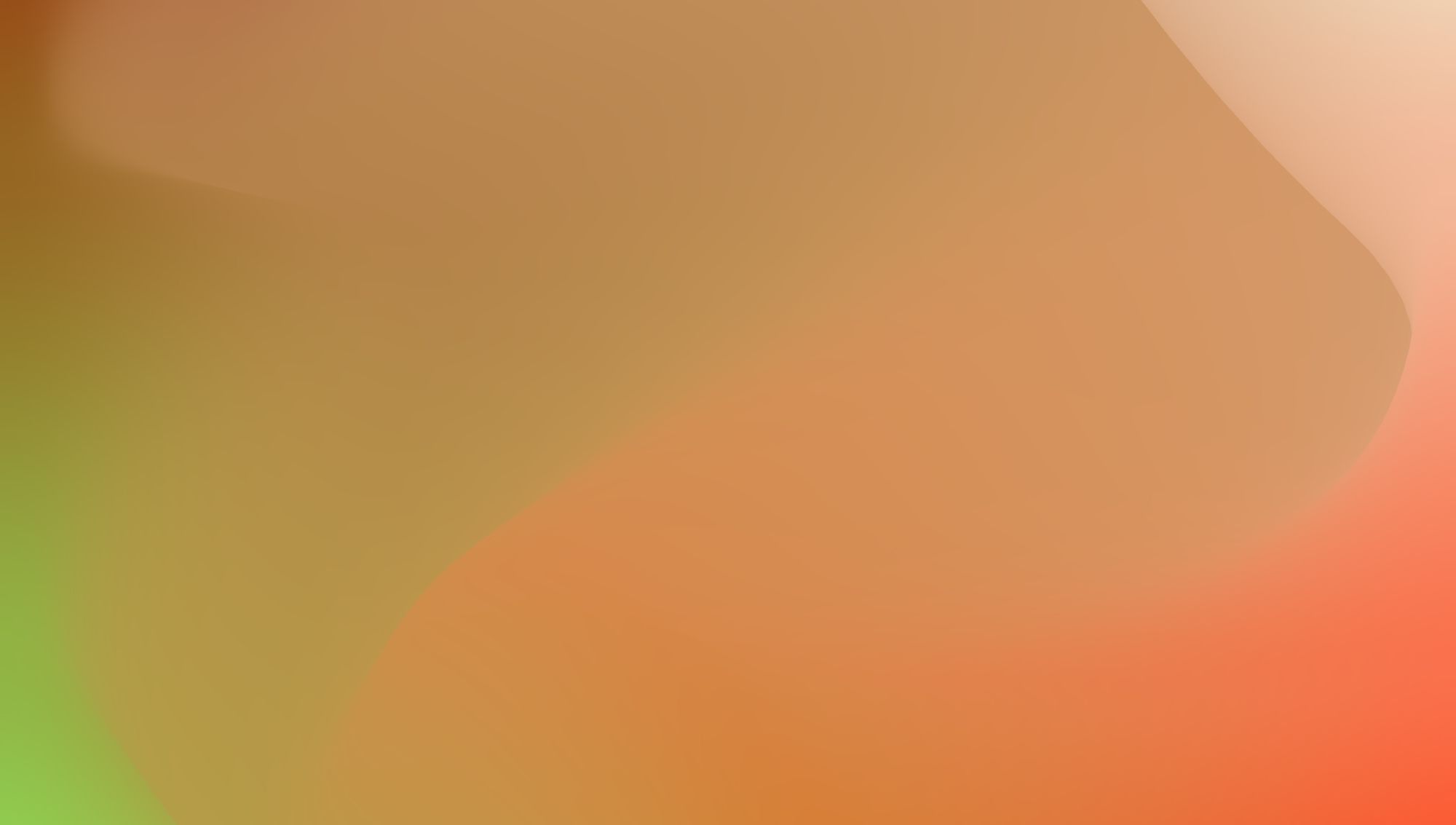 ---
Appendix
➢ ICYMI
If you want to get insights on the traffic happening on your website without invading your visitors privacy, you should take a look at some privacy-focused and privacy-friendly Analytics services. There are a lot of tools available. To kickstart your research regarding which tool is a fit for your needs, I wrote an in-depth blog post featuring a wide-range of privacy-friendly Analytics services.
➢ Quick Bits
---
Twitter thoughts
---
👋
Till next time!
Share or forward this newsletter to your friends, if they are also looking for creativity and productivity-boosting tools and resources. If you need help to discover your next favorite task management, note-taking, or PKM app, Creativerly delivers the insights you need. Creativerly is an indepentend publication and I am writing and maintaining it in my free-time. You can support Creativerly and my work by sharing it with the world,
booking an advertising spot
, or by
buying me a coffee
.
---
Some of the links in my newsletter and my blog posts are affiliate links. Those links are marked by an asterisk. If you buy something through the link, the product will not cost you anything more, but I will receive a small commission which not only supports Creativerly and my work but also helps me to keep this publication a sustainable side-project.