Newsletter
The first app for power readers & Work better, not more
In this week's issue of Creativerly: Build teams collaboratively, handwritten calendar and digital agenda, the riddle of rest, and a lot more.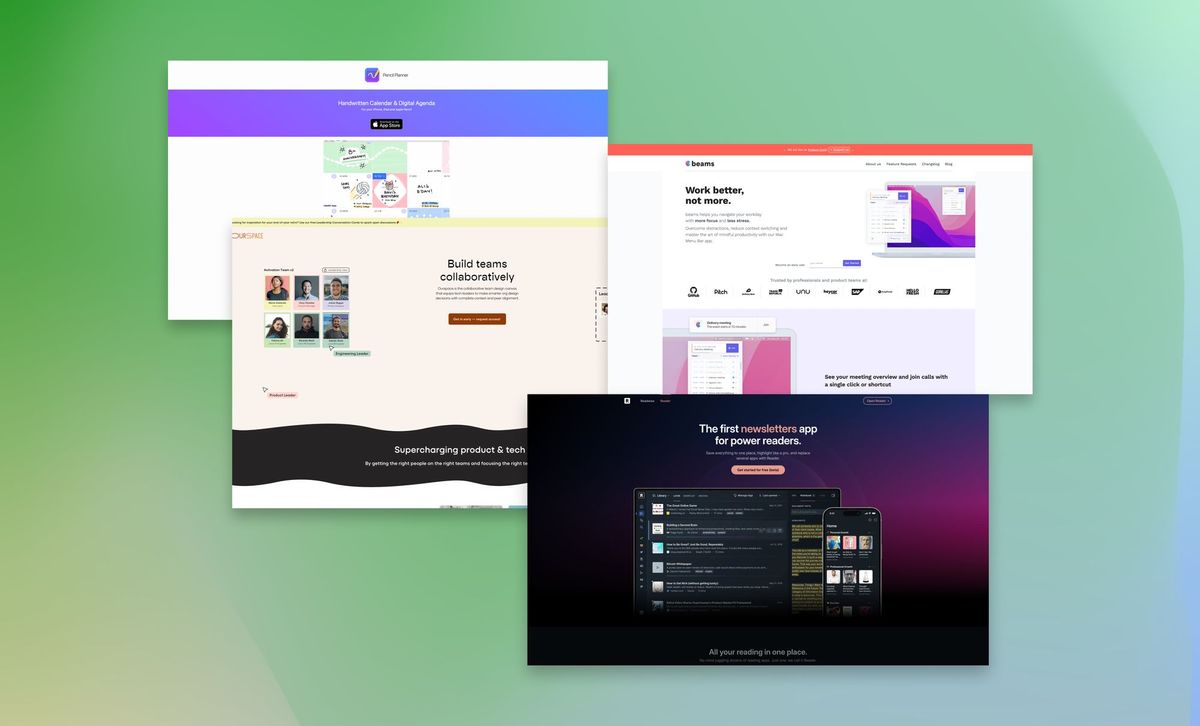 My name is Philipp and you are reading Creativerly, the weekly digest about creativity and productivity-boosting tools and resources, combined with useful insights, articles, and findings from the fields of design and tech. The newsletter built for the creative community.
---
Hey and welcome to Creativerly 200👋
It is a little anniversary today since you are currently reading issue 200 of Creativerly, which means I am writing this newsletter now for 200 consecutive weeks. What an awesome feeling to be that consistent. Over the course of those 200 newsletter issues, the style and content have changed quite a bit. But since Creativerly is a side-project, it is always evolving and developing. Additionally, Creativerly is no longer just a newsletter. I have done interviews with creative minds sharing interesting insights, I wrote long-form posts about topics like privacy-friendly Google Analytics alternatives or website builders to create your personal website, I covered news like Notion acquiring Cron and Adobe acquiring Figma, and last but not least I wrote deep dives about exciting tools, just like Napkin.
As the year 2022 is coming to an end, I am reflecting on the whole year, how Creativerly evolved, what has worked out well, what did not go as planned, and what I want to focus on next year.
Besides that, I am also finishing up Creativerly's Favorite Apps 2022, a tradition I born last year, a blog post in which I gather my favourite apps of the year to highlight those apps but also the incredible teams behind them, crafting and building those apps. If you want to take a look at last year's selection, you can do so here.
All in all, it has been yet again an awesome year for Creativerly. I love how the project evolves every year, and I can not wait to see what 2023 has prepared for Creativerly. While I will continue writing the weekly newsletter, blog posts, deep dives, and interviews, I am also exploring some new ideas and possibilities. Something I definitely want to revive for 2023 is the Creativerly community. The community has not received the attention it deserves, and this is 100% my bad and my fault. But, I still believe in this community space for all sorts of creative minds to discuss, learn, and share together. So, definitely, be prepared for that.
I wish you in advance Merry Christmas, happy holidays, and a lovely time with your family and friends.
---
The Essential Newsletter for Curious Minds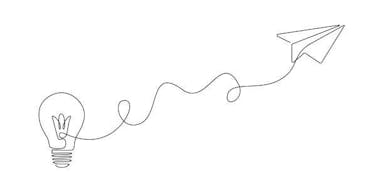 Sourcing the smartest articles on the Web - Thought-provoking ideas and insights delivered straight to your inbox daily!
This is a sponsored message to support Creativerly. If you are interested in putting your tool, product, or resource in front of over 1900 creative minds, consider advertising in Creativerly and book a sponsor or classified ad spot. Find all the important information at creativerly.com/advertise.
---
Apps, Software, Tools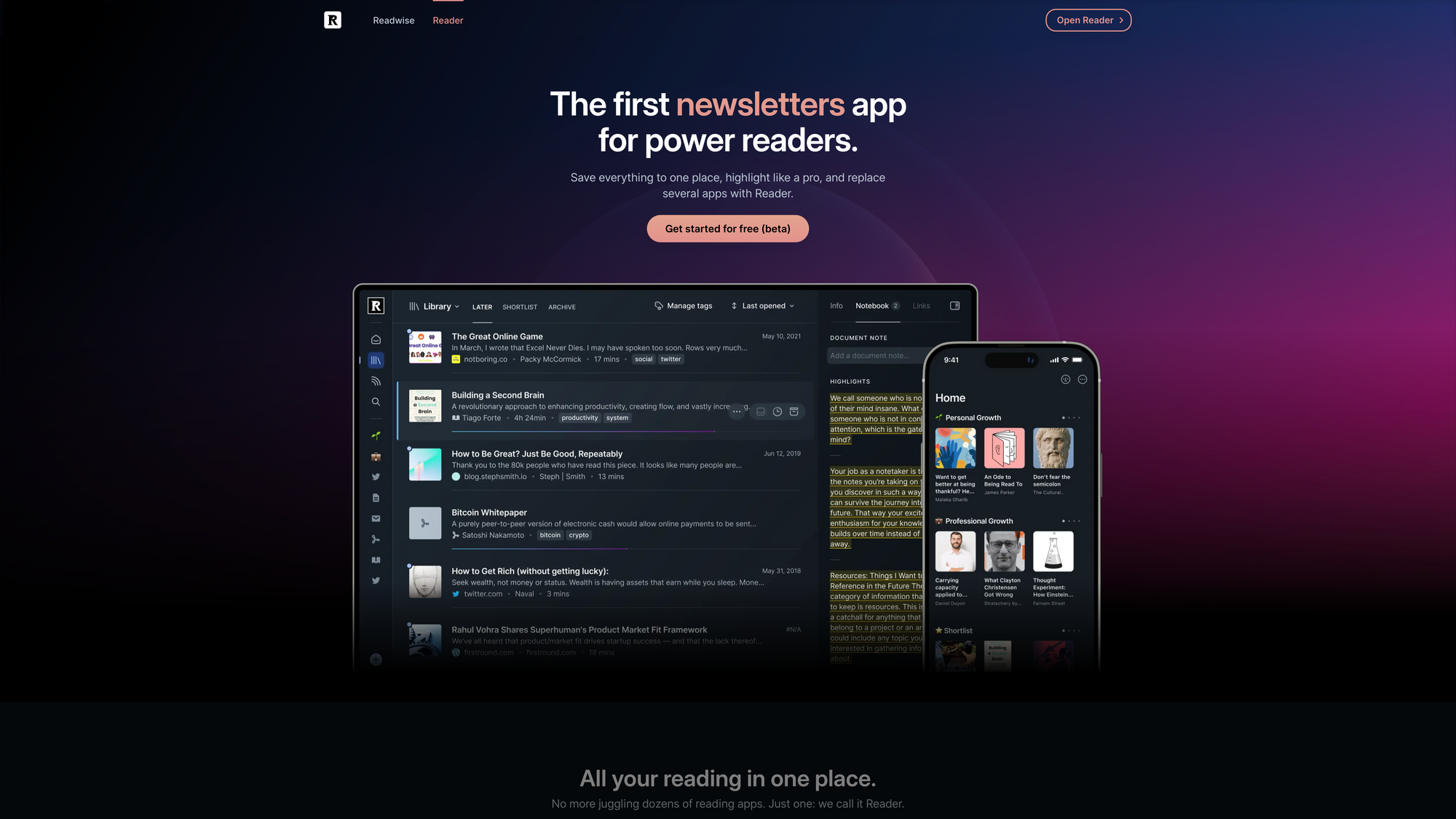 I love reading, no matter whether it is books, blog posts, magazines, or articles, I just love reading. Throughout my week, I come across multiple articles and blog posts, which I do not immediately read but I still want to save for later. Until recently, I have used Pocket for this purpose. It is a lovely app that lets me be safe and read all the articles on all my devices. Besides Pocket, I also used (until recently) NetNewsWire as my RSS-Reader. I follow a couple of RSS feeds by individuals I admire, online magazines, and news outlets to stay up-to-date and informed. When I received access to the Readwise Reader private beta, I quickly realised that this tool will definitely replace Pocket and NetNewsWire for me. I am excited to let you know, that Readwise Reader is now in public beta, which means you can sign up right away to give it a try.
Readwise Reader is a read-it-later, newsletter and RSS reading, and web highlighting tool, built by the awesome folks from Readwise, the probably most popular tool to revisit and learn from your ebook and article highlights. Readwise Reader has been in private beta for quite some time now, but as of writing this, everyone can sign up and start using it now. Folks who have been looking for a beautifully designed app to save everything to one place, highlight like a pro, and replace several apps with one, should definitely check out Readwise Reader.
With Readwise Reader you can unify features like web highlighting, RSS, reading PDFs, watching and transcribing YouTube videos, reading Twitter threads, saving articles for later, reading ebooks, and bringing it all your favourite newsletters, into one single tool. Web highlighting within Readwise Reader is incredibly powerful. Sometimes you need to highlight on the spot, and Reader's browser extension lets you do exactly that, freely highlight and annotate the open web. With the RSS feature, you can subscribe to the RSS feeds of your favourite websites to never miss a post. You can even upload your own PDFs to integrate them into your reading workflow. Since YouTube became one of the biggest learning platforms, Readwise Reader lets you watch YouTube videos and highlight the transcript. Additionally, you can compile hard-to-read Twitter threads into proper long-form articles inside Reader. It is a fact that most websites were not made for reading. Therefore, Readwise Reader lets you save articles for a distraction-free reading experience. You can get the same reading experience for your ebooks. Simply upload EPUBs to Reader and enjoy reading them there. Last but not least, Readwise Reader gives you the possibility to subscribe and sign up for your favourite newsletters, pull them into Reader and offer a beautiful reading experience.
I am using Readwise Reader for pretty much everything I just mentioned. I am not using if for my newsletter subscriptions though. The reason for that is, that I still think newsletters are made for more than just reading them. As a newsletter subscriber, I want to be able to engage with the newsletter creator and author, ask questions, and sparkle some discussions. With a newsletter reading app, the only thing you can do is subscribe to and read the newsletter. But the provided email address does not let you send emails too.
Readwise Reader reinvents the digital reading experience. With a powerful keyboard-based reading flow, you can glide through your documents without ever using the mouse. Recently, Readwise Reader introduced Ghostreader, a GPT-3 copilot for reading. It lets you ask questions, define terms, simplify complex language, and a lot more. With Reader's blazingly fast full-text search, you can find whatever you are looking for, even if you only remember a single word. Since your annotations should flow effortlessly from your reading app into your writing tool of choice, Readwise Reader integrates and connects seamlessly to Obsidian, Notion, Roam Research, Evernote, Logseq, and more. Readwise Reader is available as a local-first web app, and for iOS and Android.
As of writing this, Readwise Reader is in public beta, and you can use it for free during that beta period. Reader will exit the beta sometime in 2023 and according to information from its website, the team at Readwise has not yet figured out how to price Reader. Existing Readwise subscribers will get lifetime access to Reader for $7.99 per month (billed annually).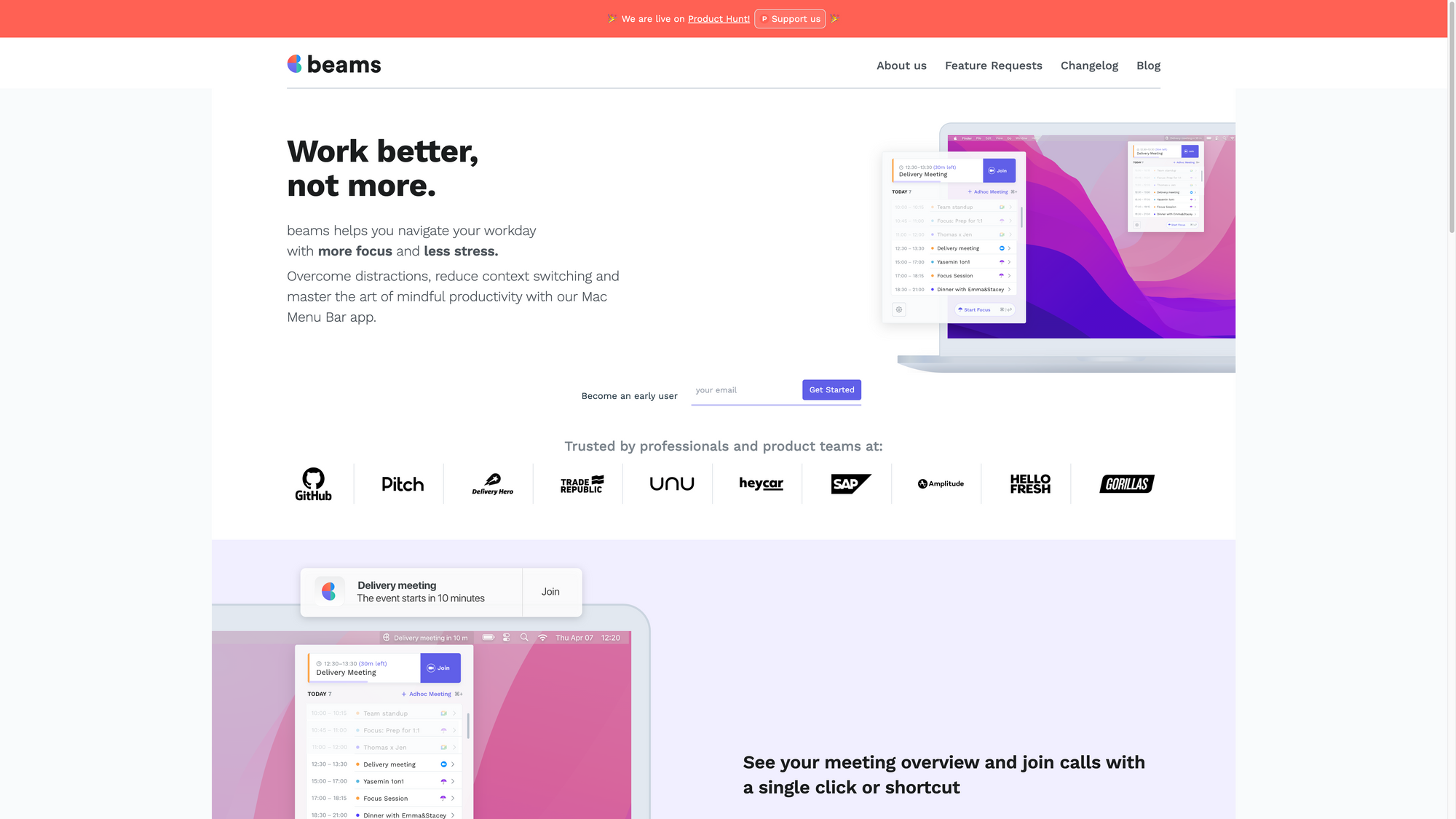 I am a huge fan of lightweight and single-purpose apps. Most of the time, the most powerful tools are not those which are basically offering everything, instead, tools that really make a difference to your workflows are tools that are focusing on a very specific use case and purpose. For example, beams is a lovely app that sits right within your Mac's menu bar, helping you to navigate your workday with more focus and less stress.
With beams you can overcome distractions, reduce context switching, and master the art of mindful productivity. With a single click or shortcut, beams allow you to see your meeting overview and join upcoming calls. See at a glance when your next meeting starts and always be on time since beams help you to effortlessly navigate your workday. To overcome unwanted distractions and unlock your flow state, beams are offering the so-called focus mode. The timed focus mode within beams reminds you to take breaks. Also, it is integrated with Slack and Google Calendar, so your colleagues will know when you are busy. When you will use beams more and more during your daily work, it will identify your distraction patterns and provides you with personalized, actionable reports. This gives you the opportunity to learn and become the best version of your work self.
The company is built by Mihriban Minaz (who has a background in software development) and Jana Schellong (who has a background in product management). Together, they witnessed first-hand the rise of a tech work culture that prizes instant availability over creative focus time. Therefore, they decided to build beams, following a forward-thinking approach to productivity and well-being.
Beams is backed by Angel Invest Ventures, AUXXO, and SCNE. It is still an early product, but if you want to give it a try, you can become an early user right away. Just sign up on its website, and download beams for your Mac.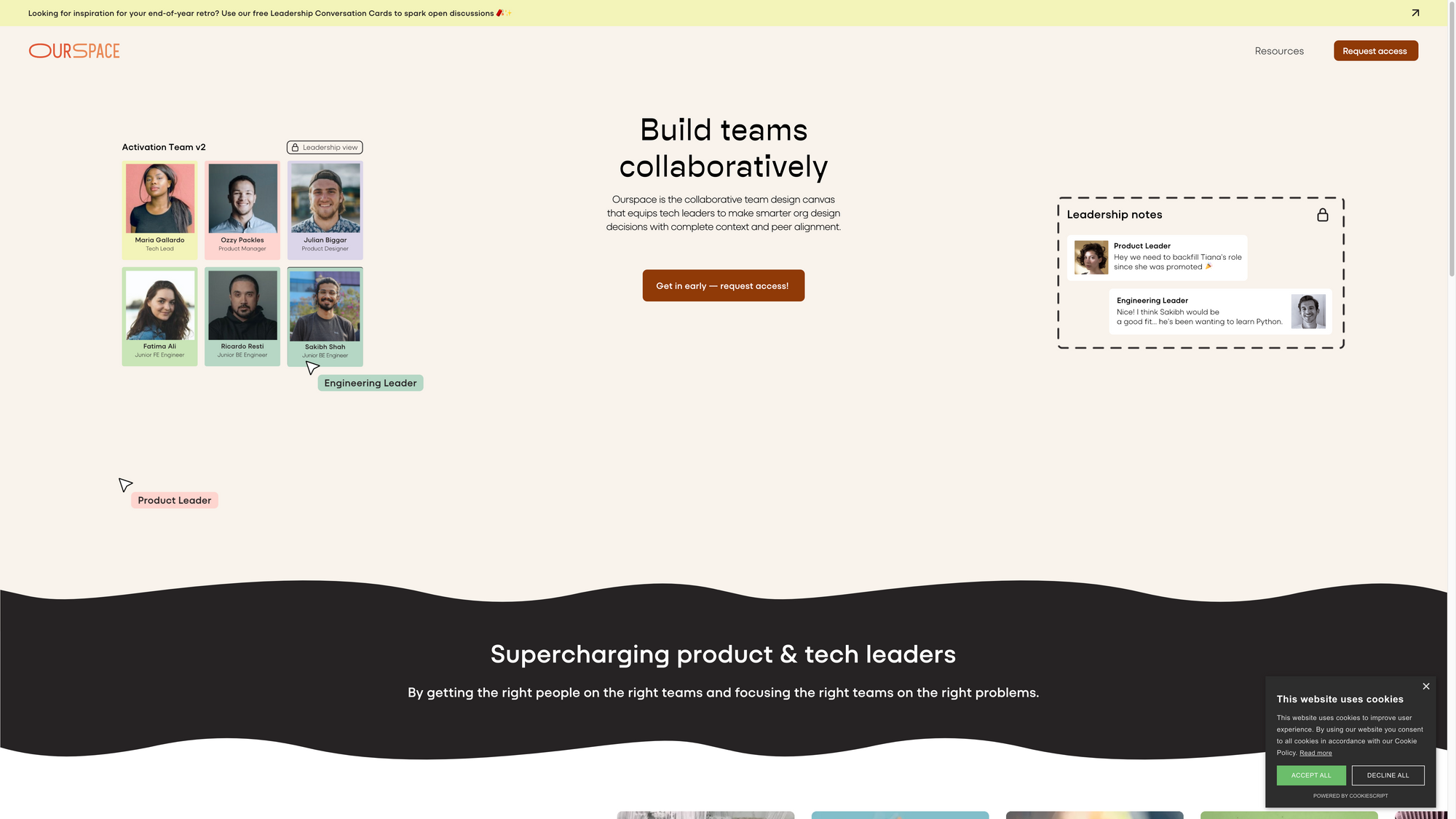 Do you know what team design is? I had some assumptions but wasn't 100% sure about what that term could mean. Basically, team design describes the process of deciding who works where and on what. It is a process that leaders of fast-changing, multi-disciplinary teams are already doing every single day. Ourspace is a tool that takes team design to another level. If you want to build teams as you scale up or down, build teams for goals, or collaboratively, you might want to check out Ourspace.
Ourspace is a collaborative team design canvas, that equips teach leaders to make smarter org design decisions with complete context and peer alignment. To supercharge your product one of the most important factors is to get the right people on the right teams and make sure that the right teams focus on the right problems. With Ourspace, you can visualize how the surface area of your product and tech stack could be distributed among more or fewer teams. You get an idea of how to put our people on the right priorities by leveraging key context about each person when you need it most. Additionally, you can create an accurate map of who works on what in just seconds. Any colleague can reference to that map to navigate your dynamic people and teams.
Ourspace can help you optimize your organization through both a people-centric and business outcome lens in one dynamic source of truth. But Ourspace is not only for leaders, it is for everyone to navigate the change of people, teams, and ownership areas. Teammates can showcase their skills within Ourspace. Additionally, they can share how they want to grow within the company and visualize their journey. Ourspace is purposefully built for modern organizations, where their people, product, and priorities are in a constant state of flux. Ourspace stands for complete context, collaboration with control, and one source of truth when it comes to team design.
If you are interested in building a better space for your team to thrive, you can sign up to Ourspace's waiting list to receive early access.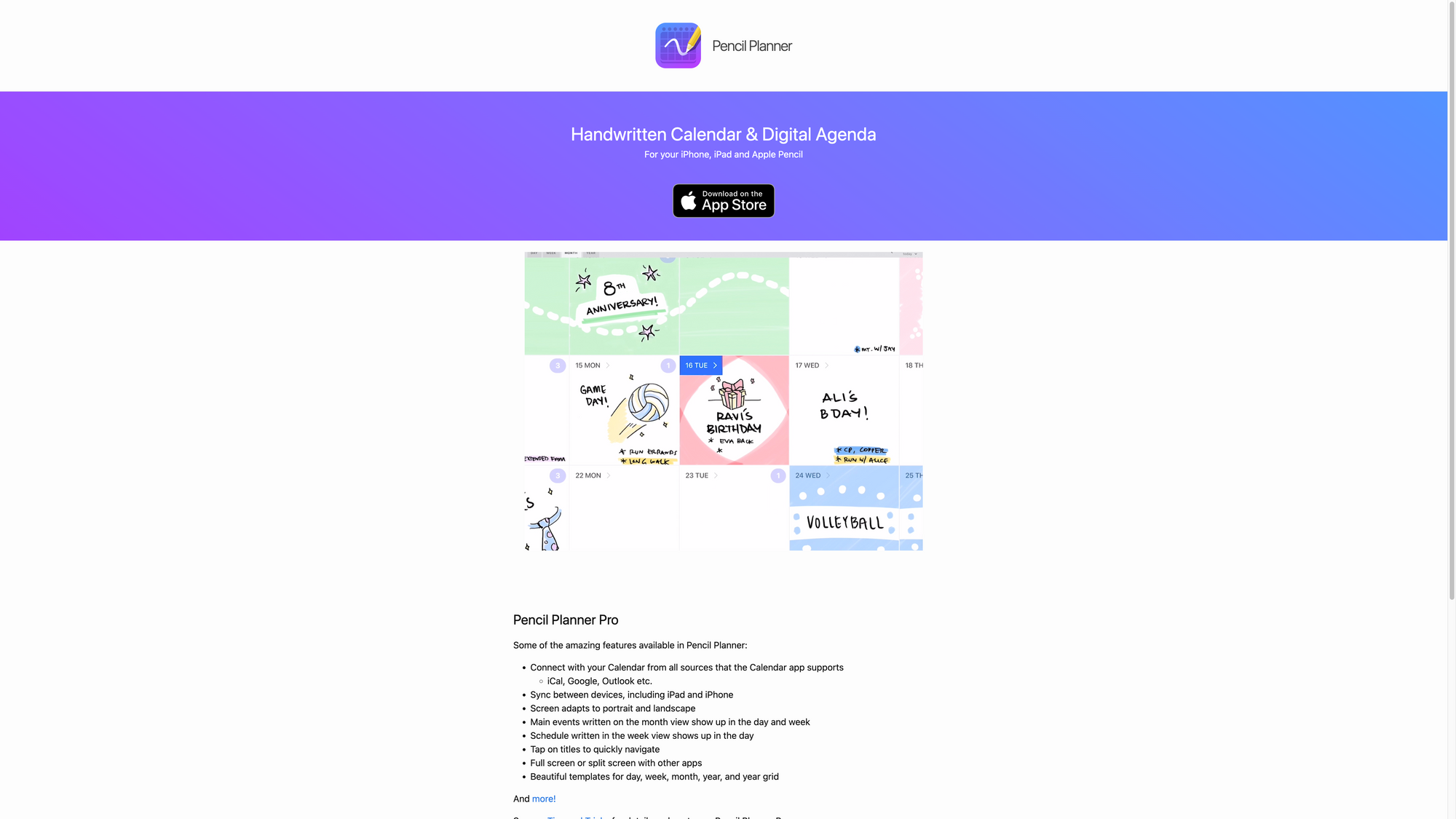 Pencil Planner is a lovely app that combines your daily digital calendar with your paper planner. Folks who can not decide between typing or handwriting their schedule, events, and reminders, will get the best of both worlds with Pencil Planner.
With Pencil Planner you write directly over the events that come from your Calendar app. The iPad and the Apple Pencil take your paper agenda to the digital world. No matter if you want to plan daily, weekly, monthly, or yearly, Pencil Planner got you covered and is your perfect companion to serve you as a bullet journal, agenda, and diary. You connect Pencil Planner with your Calendar to gather all your events from different sources. Pencil Planner supports iCal, Google Calendar, Outlook Calendar, and others. Once you integrate your calendar with Pencil Planner, you can sync your events between all your iPad and iPhone devices. Additionally, Pencil Planner also integrates with Apple's native Reminders App.
Just like on real paper, Pencil Planner offers a natural writing experience that is fluent, and precise. If you are using an Apple Pencil, a Logitech Crayon, or any other capacitive stylus, you can experience the natural writing flow of Pencil Planner. Within Pencil Planner, you can seamlessly select and customize your pen colour, thickness, and style while planning your agenda and writing down your upcoming events. On top of that, you can also switch between pen, highlighter, and eraser to tackle on every occasion.
Pencil Planner offers beautiful pages for the day, week, month, year, and year grid views. As you write down more and more events and plan your agenda, Pencil Planner lets you easily select and move your handwriting. With the powerful and smart eraser tool, you can choose between erasing the entire stroke or only parts of your handwriting. Pencil Planner is truly a lovely tool if you want to digitalize your planning and agenda workflow, while still being able to enjoy the flexibility of handwriting. You can use Pencil Planner for free on your iPad and iPhone, but there is also Pencil Planner Pro, a paid subscription available for $4.99 per month or $24.99 per year. The Pro subscription gives you access to unlimited entries, unlimited storage, unlimited devices, cloud back and sync, and an incredible planning experience.
---
Mental Wealth
➢ The Riddle of Rest – "When you gaze at a still lake or a stunning sunset, what do you feel? Do you feel at peace? Do you feel calm? Or do you feel a bit… restless? Now, it may seem odd to identify restlessness as a response to the beauty of the natural world, but if we take a moment to explore the mind in these moments, you'll see that this is often the case."
➢ Three Pillars of User Delight – "Why does user delight often feel so elusive? Not only is producing delight a difficult task, but the threshold for "delight" can be unclear and subjective. Does "delight" mean that the user smiles? Laughs? Comments positively? While a clear criterion like that would certainly simplify things, delight is experienced in many different ways — not just from person to person, but one person alone can experience many different kinds of delight within a single moment."
➢ Your Competitors Aren't Always Who You Think They Are – "Most executives think they know who they're competing against — the major firms in their field or entrepreneurial "ankle biters" with a new technology or business model. But what happens when your competitors aren't who you think they are? Specifically, how do you devise a winning business strategy when you are competing not just against incumbents or upstarts from your industry, but against the ever-changing expectations of your customers, whose encounters with products and services reach far beyond the established boundaries of your industry?"
➢ Does solitude equate to loneliness? – "I recently shared a graph on Instagram representing whom we spend time with across our lifetime, collected from 2009 to 2019 as part of the American Time Use Survey (Figure 1). For the most part, the numbers make intuitive sense. The amount of time we spend with our coworkers starts dropping in our mid-fifties as we begin to retire, and time with partners rises concurrently. Time spent with children spikes during the typical child-bearing years of our twenties and thirties and falls again as we reach the "empty nest" stage."
---
Classifieds
These are paid promotions or affiliate links to support Creativerly. If you are interested in putting your tool, product, or resource in front of over 1900 creative minds, consider advertising in Creativerly and book a sponsor or classified ad spot. Find all the important information at creativerly.com/advertise.
---
Appendix
➢ ICYMI
The newest Creativerly interview is out now. This time, I got joined by Emmanuel Lefort, founder and CEO of Weavit, who has been working on a PKM app that got shut down back in September 2022. If you want to find out why Emmanuel decided to leave the PKM app of Weavit behind and start a new chapter for Weavit as a company, read about the challenges and struggles of building a startup in a crowded place, how he observes the space of PKM and productivity software, and a lot more, make sure to check out Creativerly's newest interview.
➢ Quick Bits
---
Twitter thoughts
---
👋
Till next time!
Share or forward this post to your friends, if they are also looking for creativity and productivity-boosting tools and resources. If you need help discovering your next favourite task management, note-taking, or PKM app, Creativerly delivers the insights you need. Creativerly is an independent publication and I am writing and maintaining it in my free time. You can support Creativerly and my work by sharing it with the world,
booking an advertising spot
, or by
buying me a coffee
.
---
---
Some of the links in my newsletter and my blog posts are affiliate links. Those links are marked by an asterisk. If you buy something through the link, the product will not cost you anything more, but I will receive a small commission which not only supports Creativerly and my work but also helps me to keep this publication a sustainable side-project.